Best Shoe Organizers and Storage Ideas Reviewed & Rated
In a Hurry? Editors choice: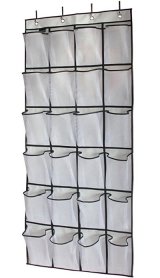 Test Winner: MISSLO Over The Door

Some people collect shoes for the beauty of the collection as they are a connoisseur of the industry. In fact, one study found that the addiction to buying shoes signals the prefrontal cortex in the brain that assimilates it with the collecting spot; signifying that shoes are a collector's item whether they are always perceived that way or not. We all have seen it before. That mound of shoes that covers the floor. It doesn't matter if you have 5 pairs of shoes or 50, if you don't have anywhere to store them, they end up scattered. That is why it is beneficial to have a storage system that can house all of your shoes. With so many options for shoe organizers and storage systems that are available, you should have no trouble finding a space-saving piece of furniture that works for you.
Standout Picks
Criteria Used for Evaluation
Capacity
When examining the space you plan to use the shoe organizer it is super important to consider the dimensions of the space and the dimensions of the shoe organizer. You might have only a small space and therefore only need one organizer. However, you could need more than one but will need to plan accordingly for you to have a system that fits. That will also play a role in the characteristics you search for when buying. For example, if you need one for in under your bed, it is more than likely going to need room to accommodate wheels.
Next, these shoe organizers are available in many different shapes and sizes. Companies make them tall, short, square, tiered, etc. There really is not a shortage of options when it comes to the shapes. For your particular space, it is important to see what will fit best. Do you need a tall and skinny one that probably only holds one shoe per row? On the other hand, is your space wide enough to hold an organizer that might only be 3-4 shelves but wide enough to squeeze 6 plus pairs of shoes per tier.
If you so happen to be a person that wears a larger size of shoe, it is very imperative that you take notice of the depth of these organizers. It really will not be purposeful if your shoes hang off of the edge and fall off of the organizer because your compartment is too small. Make sure when you measure your shoe length you account for around one extra inch for the depth of the organizer compartment or shelf.
The last dimension worth mentioning is the height. This is the height between the two shelves, compartments, racks, etc. If you are looking for a shoe organizer that is going to be tall enough and spacious enough to accommodate tall boots, heels, tall hi-top sneakers, etc, you absolutely must measure the space from the top to the bottom that holds to the shoe.
Use
There are simple shoe organizers that hold just a few pairs of shoes. If you need more, you can get ones that hold up to 50 pairs of shoes. Plus anything in between. However, should you be the ultimate shoe collector, you can get more than one so long as the space you have is adequate. Examining your shoe collection is the best place to start and count how many slots you will need to hold all or almost all of your shoes. This will also be the perfect time to purge your closet of unwanted or damaged shoes.
From there get a shoe count. It is also a good suggestion to break the shoes into categories. Here is how you can determine what type of system will work best.
Do you need an over-the-door holder that has sections for each shoe?
Would a rack system be better as your shoe sizes are varied and require more than a uniform pocket?
It goes without saying that now is also a good time to think about expansion in the future for when you do buy more shoes.
How much space will you have left over in your designated area?
Should you go ahead and buy additional organizers?
Having a clear plan now makes it easier to keep the space cleaned and prepared for more shoes in the future.
Features
You have your new product and then it's the usually dreaded part of buying something that needs to be put together. Some people have no trouble and can put an item together faster than a track car races a lap. That is an awesome skill to have. They might not even need directions as things just cognitively click for them. Looking at something on paper immediately pops out at them and they can see the pieces broken apart. From there, their brain quickly and efficiently replicates what their brain saw just moments earlier.
On the other hand, there is everyone else. These are the people that fret over trying to assemble something. They are the ones that read the instructions once over before assembling even begins. That is ok too! From the once over, you need time to get your tools and parts organized. Then, it is time to start with step 1. The same steps that took the speed assembler 5 minutes to put together may take other individuals 45 minutes or more. Consumers can get frustrated if something does not come together with ease. Chances are if it is too complicated the piece might never get assembled, sent back, or trashed. That is not beneficial.
What's more important than the time is the quality once it is put together. Once fully assembled, it is important to have a finished product that is going to withstand the weight and not collapse because a screw was put in incorrectly. We examined the ease of assembly as not everyone has the skills required to quickly and efficiently look at a manual and have it all figured out. If the shoe organizer required too many steps or didn't have enough information provided regarding assemble, it did not make it to the list.
Materials
When consumers research any new product to purchase they are going to be largely concerned with the quality of a product. The same is exactly true for a shoe organizer. Part of the factors that make it a high degree of quality is the sturdiness of the shoe organizer.
Once fully assembled is the shoe holder going to withstand daily use, the weight from numerous pairs of shoes, the seams of the sewn pockets are strong, etc? These are all valid questions that one must ask when researching a product so you can avoid a short lifespan of the organizer. This concern also comes down to the type of organizer. Examining traits for a cloth holder that hangs over the door will be different than the traits that a metal rack system would be examined by.
Cloth- When looking at cloth or fabric organizers we want to examine the materials used to make them. Are they a strong material or one that is known to rip easily. Typically, these type of holders is made of plastic, vinyl, mesh, etc. From there, it is important to observe how the pockets are attached to the main holder. Are the seams strong if they are sewn together? How about if they are glued? Does the glue seem firm when you gently tug on the individual shoe holder? Lastly, how about the pocket itself. Is it made from a thick vinyl or plastic that will keep it from ripping when putting the shoes in and out? Those are all super important questions to ask regarding a cloth shoe organizer. In rating the shoe organizers we put on this list, they are all highly-reviewed for durability.
Metal- In some aspects a shoe organizer that is made from metal or aluminum is easily thought to be more durable than a cloth on. While that may or may not be true, it is important to analyze the metal shoe racks durability based on their own set of questions and standards. For example, the metal, does it seem sturdy? Is it easy to bend? Is it one solid piece from end to end or does it have an adjustable aspect? Even though the adjustable feature is nice, it can sometimes lessen the durability of the bars as they are then two separate pieces instead of one solid one. Lastly, it important to examine the end pieces. This is where the brunt of the stabilization falls. If the end pieces seem flimsy or not put together well, that will, in turn, affect the overall durability.
Plastic- Plastic is usually known as a very durable material. When plastic is used in a shoe organizer, it could be used in an over-the-door model or a floor model. The plastic needs to be strong enough to not rip with repeated use in the hanging version. Also, important to note, concerning the rack type model, making sure the plastic is rigid enough to not bend when the shoes are sat upon it is a huge consideration.
Some of the shoe organizers that are available are a combination of one or more of these materials. Some are metal but have a cloth covering. Others could be mostly plastic but have metal ends. There really is not a "correct" composure for what makes the best shoe organizers. It has to do with your personal needs and what type works for your situation the best. Each material used has its pros and cons. Some of the cons to consider is the fact that racks will take substantially more floor space than an over-the-door model. However, over-the-door models make more noise as the door is constantly moving. Plus the shoes can beat and bang into the door they are on, thus causing wear and tear on your door. A few of the rack style holders have only two bars that make the "surface" for the shoes to rest on. This can be good if you are sticking multiple height shoes in the racks. However, if you are small-footed, you will have to make sure your shoes will fit securely on the two bars and do not fall through as the heel and toe area will be the only portion resting on a platform.
Value
Let's face it, people have a certain price point in mind when they begin to investigate a certain product, whether it be a new house or a shoe rack organizer. The second facet of this is, they tend to stick closer to budget on small item purchases than much larger items. In this manner, affordability places a huge part in the decision a consumer makes when buying a shoe holder.
Consumers are not looking to spend an enormous amount on free-standing shoe organizers. The price point must be competently related to the cost of a remodel project. If the shoe organizers creep past a certain point, some consumers might be more tempted to remodel their closet to accommodate the shoes versus purchasing a simple shoe organizer or many. Another theory on this, a shoe organizer is deemed a luxury and not a necessity. Therefore, if it gets out of the budgeted range, most people will not buy them. That threshold is important to understand when we ranked our top 10 choices. We kept affordability in mind and a set price range when we started to narrow our choices down.
10 Best Shoe Organizers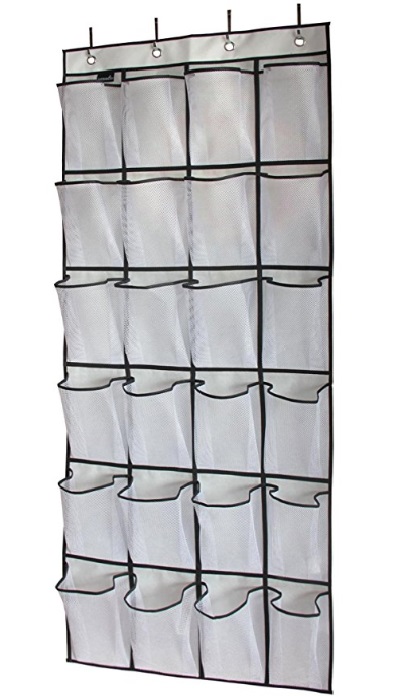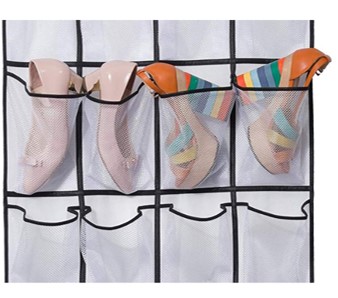 This over the door shoe hanger is a great choice for those that need to organize a decent amount of shoes in not a lot of space. The clear pockets are see-through so you can see the shoes you have inside the pockets. The pockets are also very roomy and can accommodate most size shoes. The hardware you need to secure this holder to the door is included. There is no actual assembly required. It is very easy to use immediately out of the box. It also folds easily for taking when you when you travel. The shoe organizer is versatile too as you can store some objects from legos to craft supplies; not just shoes.
The generous pocket size makes this organizer a good choice for men or women's shoes. Each pocket measures 7.8"H x 5.4"W x up to 2" depth allowing you to store so many of your shoes or crafts, etc.
The mesh itself is breathable and the pockets are washable. That is a great thing if you need to clean your organizer. Also, the fabric is made from a durable non-woven material that is strong. If you don't overweigh the pockets and the organizer in general, you should have no trouble with the pockets not ripping.

2

. SONGMICS 10 Tiers Shoe Tower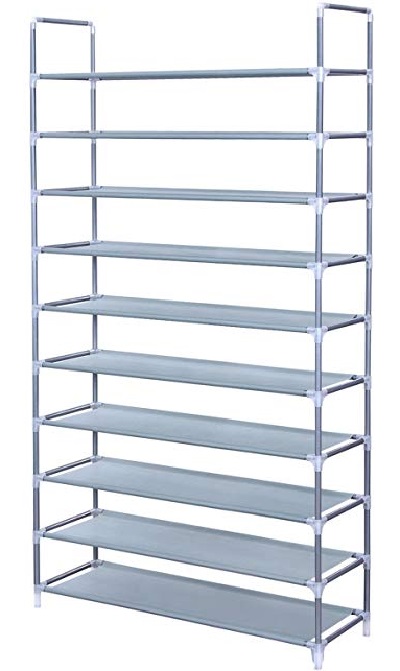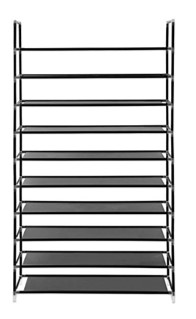 This shoe organizer is made from heavy-duty construction that will fully support up to 50 pairs of shoes! It is made from strong iron pipes and high-quality PP connectors. The waterproof, non-woven fabric tiers make a strong support to your shoes. The organizer itself is easy to put together by simply snapping into place. What's more, this holders offers a few configurations to customize to your needs.
If you need a larger space between shelves to store tall items such as boots, you can simply leave out a tiered shelf. Additionally, you can assemble this unit in sets of 5 or 3 to accommodate your space. This also makes it smaller in height so a shorter person or child can still take full advantage of this unit.
This holder can shelve up to 50 pairs of shoes. That is enough to organize even the most avid shoe collector. Also, with proper spacing and weight distribution, you could use this shelving unit to hold more things than shoes. It is a versatile piece that can be put to good use.

3

. Seville Classics 3-Tier Slat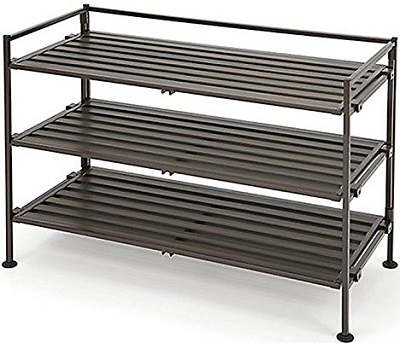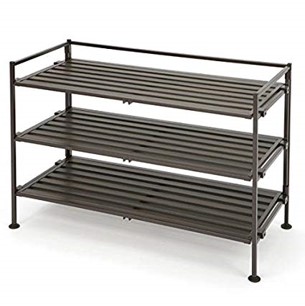 This 3 level tier shoe system is a great addition to your home. Each of the three shelves can hold up to 30 pounds of weight when evenly distributed. That much weight can be held thanks to durable iron frame construction. It is then coated with a nice resin to give a slick finish. That coating also helps to seal the iron and prevent corrosion. If using this for shoes, you can easily store up to 9 pairs of shoes depending on the size and style. Lastly, it can be used around the home to hold other essentials while keeping with the trendy style.
This model is fully stackable with others of the same model. You can go as tall as you want by adding more 3-tier units. They fully interlock to provide additional stability. Also, this unit snaps together requiring no tools for full assembly.
Even your heaviest of boots will store nicely on this shoe organizer. Not to mention the generous 30 pounds that can be held can come from household goods, books, clothes, etc. This multi-purpose stacking unit is one of the most versatile units while still looking much nicer than a plastic garage shelving unit.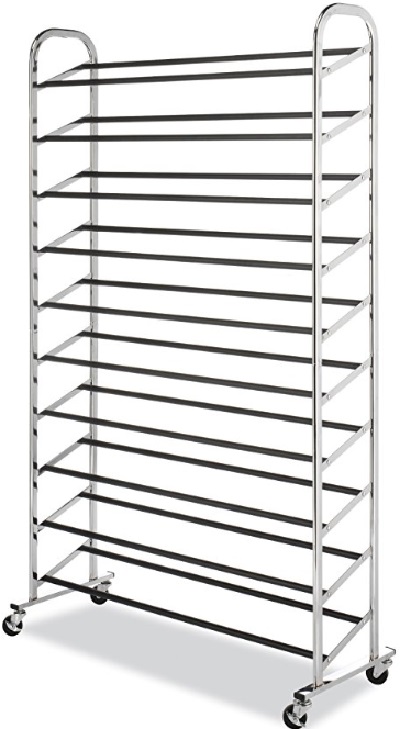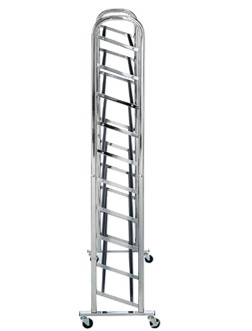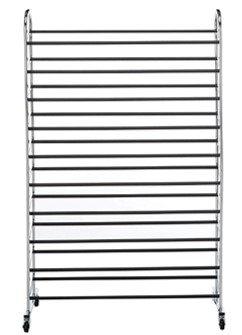 While this thing looks like a bakers rack more than a shoe holder it is actually a fantastic piece and addition to any closet. The rack has 10 tiers and can hold around 50 pairs of shoes, depending on the size and dimensions of the shoes you are storing. The bars on the rack are all non-slip coated which means your shoes will stay in place when you set them on the rack. You can easily maneuver this rack around your closet or your house since it sits atop rolling wheels. Once you find the perfect current spot for your rack you can simply lock the wheels so you don't worry about it rolling away.
This shoe organizer may look daunting to assemble. However, it is exactly the opposite. It is so easy that the manufacturer does not even require tools. Quick snap together construction does not mean the quality is lacking either. It is very strong and durable.
The unit can be built as a stationary piece that sits on the floor. Or if you crave flexibility and the ability to move your shoe rack you can easily attach the wheels and move it to its new location. When you are satisfied with where it is at, simply lock the wheels in place to prevent the cart from rolling unnecessarily.

5

. SONGMICS Covered Cabinet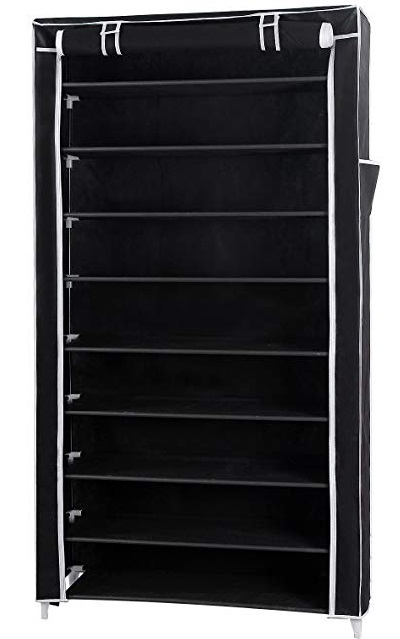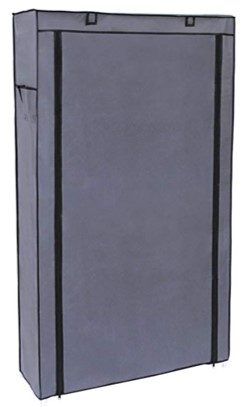 Looking to have a shoe organizer that has a cover so you can store your items out of sight? The 10 tier system from SONGMICS is the perfect solution for you. You can store up to 45 pairs of shoes on the 10 racks. Of course, this will depend on the size and width of the shoes. Also, this storage system is easy to remove tiers if you are looking for more height for tall items such as boots. Load your shoes into it, drop the cover, keep the shoes out of sight and protected from dust since they are sealed off.
This is one of the few in the category on our list that has the drop down cover. That is a nice feature because it lets you not only protect your shoes/items from dust and debris but it stores everything nicely out of sight.
The shoe organizer here has tiers that you can customize to your needs. If you need taller space, you can easily leave a tier out to accommodate boots or anything that requires more height.

6

. Seville Classics 3-Tier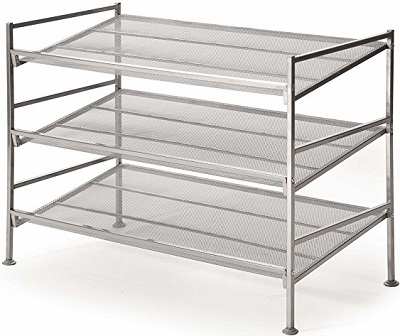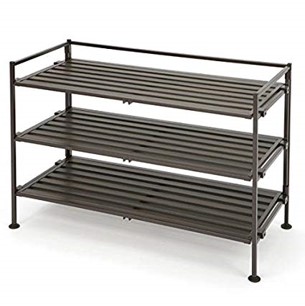 This 3-tier shoe rack system has one advantage over most of the others in the category like it. Not only can you store your shoes completely flat, this racks on this one are adjustable. If you prefer to have your shoes stored at a slant, this one can adjust quickly and easily. The shelves themselves are made from a strong wire mesh that prevents the shoes from falling through the cracks. You can store up to 9 pairs of shoes and up to 30 pounds per tier, making this an extremely durable shoe organizer. Lastly, you can use this for more than shoes making it a multipurpose piece of furniture. Quickly organize things in your garage or toy room with these shelves.
The iron used to construct the shoe rack is coated with a platinum epoxy finish. Therefore, it is fairly corrosion resistant in dry environments. This will extend the life of your shoe holder.
You can add to these shelving units as they are compatible with each other. You can stack this with other 3-tier shelving units. They easily interlock to create a tall tower to give you even more room for shoes. As well, these are great for other items aside from just shoes.

7

. SONGMICS 7 Tier Cabinet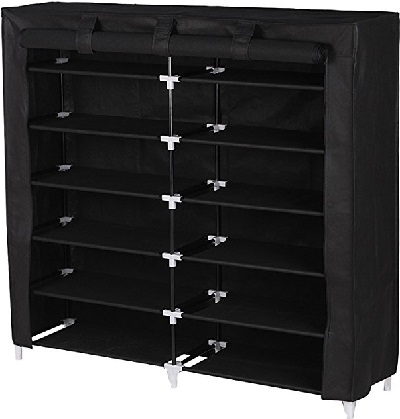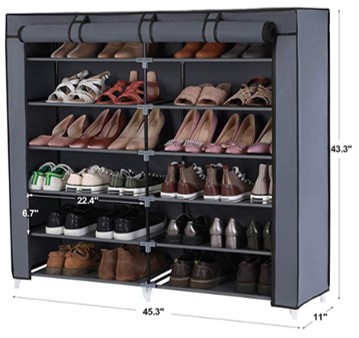 Made from steel tubing and a non-woven mesh fabric, this holder is stylish and sturdy. It holds up to 36 pairs of shoes. If you don't want to use it for just shoes, you can use it for other items. It is very sturdy and durable. Package your shoes the correct way and evenly distribute the weight. You can also remove tiers if you need to store tall items. You can also drop the cover to securely protect your shoes from dust as well to store your items out of sight.
If you don't want to use the shelves as they are, you can leave shelves out to customize your storage space. It gives you the chance to store tall items such as boots whereas some others in the category are non-customizable.
This shoe organizer is easy to assemble. No tools are required. You simply snap the pieces together and start stacking your shoes. Ever connector is included in the box for you to build the full unit.

8

. Oceanstar 2-Tier Bamboo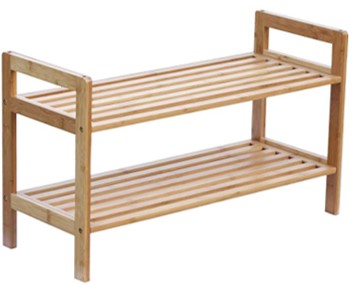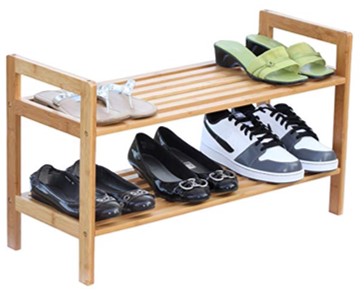 While some organizers are constructed from metals like nickle, steel, or something else, sometimes, having a rich looking wood to show off your shoes can be an accent to a room. The Oceanstar 2-Tier Bamboo shoe organizer is a smaller sized organizer with 2 shelving units to place your footwear. However, with the rich look of finished bamboo, it adds a bit of warmth as a piece to anyone's bedroom or closet. The tiers are slatted to make the best use of flats and heels without becoming disorganized.
Truly crafted to visually appeal to the user, the Oceanstar Bamboo shoe organizer utilizes rich looking bamboo wood, with a texture and grain that can complement a walk-in closet or open space for shoe storage. It has rounded handles which can help minimize damage during use or transport, and won't leave marks should you accidentally bump into it. It's smaller in size with only two racks, and will fit 6-9 pairs of shoes. Dimensions give it a minimalistic 27 inches wide, and 15.5 inches high, allowing you to place it in several smaller spaces, or under clothing in a closet with ease.
This 2-tier rack is versatile as well. Should you choose to store something other than shoes, it's pleasing aesthetic will allow for open viewing of plants, vases, or other décor. The slatted tiers also allow for air flow, helping to keep shoes dry and help maintain their quality. Easy to assemble, the Oceanstar Bamboo rack is quite light, weighing in at only 6 pounds. It's great for those in search of something simple, pleasing to the eye, and versatile for use.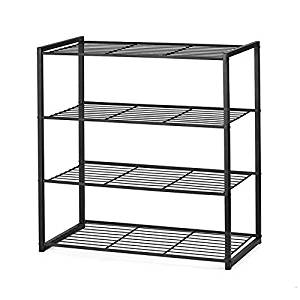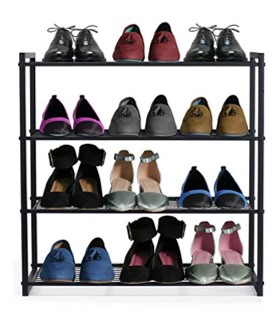 The Titan Mall 4-Tier is the shoe rack you've been looking for, if you always wanted something that is functional, stylish and sturdy. Enough for 12-16 pairs of shoes, you can stock shoes, sneakers, boots, heels and flats; whatever your heart desires!
Made with strong, durable iron and reinforced connections, it is coated in anti-rust materials. To ensure long-term use, we recommend not overloading it with things other than shoes.
That being said, you can use it for other things than shoes. It's multipurpose design makes it highly versatile and an asset to any home.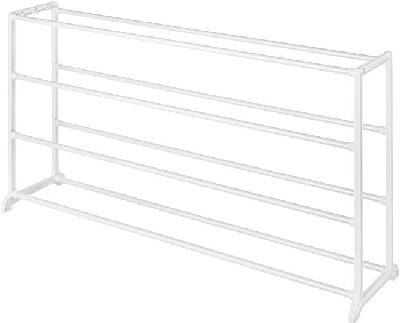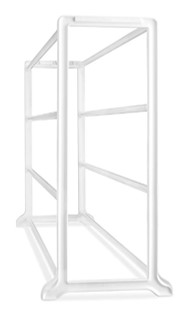 This is a fast and easy solution for holding up to 20 pairs of your favorite footwear. It is durable; made with white resin and epoxy-coated steel. With four tiers, you don't have to worry about too much height taking up valuable room and space. In other words, this is a great space-saver and the white coloring will make those gorgeous shoes pop, as though they are on display.
The four tiers will hold up to 20 pairs of shoes. It is simple, yet elegant in its design and colorful footwear seems to pop right out of an illustration book.
No tools are required to assemble this product. Snap and go, so to speak. After it is assembled, the framing solidifies this as a rather stable rack and it should last a very long time.

Subscribe to our Newsletter