Best Shoes You Can Wear Without Socks Reviewed & Rated
In a
Hurry? Editors choice: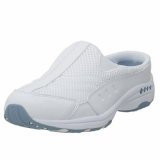 Test Winner: Easy Spirit Traveltime Mule

Most have us have always been told to wear socks for a variety of reasons: keeping your shoes clean on the inside, prevent blisters, avoid catching a cold, and if you ask my grandmother, she'll tell you that they prevent calloused feet. However, there can be health benefits to going without socks. We have done the research for you to find 10 great pairs of sockless. So, whether you want to feel liberated in your shoes or you just don't want the trouble of finding your socks, below are ten pairs of shoes you can wear without socks that will suit your whole barefoot thing.
Standout Picks
Criteria Used for Evaluation
Comfort
During our research, we found that the material is a huge factor in the comfort of sockless shoes. After all, when wearing a shoe without socks, you still want to be comfortable. A shoe can look great sitting on the shelf. However, it must be comfortable in order for buyers to value and enjoy their purchase.
Shoes can be made from virtually any material – rubber, plastic, leather, hemp, canvas, synthetics, and the list goes on. A shoe that is made of a heavy and hot material such as vinyl or a heavy leather will probably not be comfortable on the skin of a sockless foot. Vinyl-lined shoes will more than likely stick to the skin and make it sweat and sweaty feet are uncomfortable. However, a material such as canvas will allow for much more breathability and will keep the foot happy and cool. Light leathers, breathable meshes, and shoes with portholes built in can all help your feet breath and remain dry.
Would you want to walk around with buckets of water strapped to your feet? Absolutely not! That is why it is important to find a shoe that breathes well. Moreover, keeping the feet dry on the inside of a shoe is important not just to the comfort of the foot but to the health of the foot. The integrity of the shoe will also be maintained over time by keeping the inside of the shoe dry. Did you know a typical shoe can have almost 3,000 units of bacteria on the inside? Bacteria grows from moisture buildup in the shoe and from the environments the shoe is worn in. By keeping the airflow inside of a show at a high level it cuts down on the "petri dish" effect. Not just cutting bacteria growth down, but keeping the moisture out of the shoe lowers the risk of blisters as well.
Some individuals wear socks as an extra layer of padding for the shoe. When going barefoot in a shoe, it is important to find shoes that are padded or plush so that it has the same comfort as a sock and shoe combination. We looked for shoes that had padded insoles and rubber or foam outsoles. Some of our choices even have memory foam inserts or foam liners. These are not the only materials that are found to be comfortable. Interestingly, something such as cork is known for being supportive but also cushioning. The shoes we researched were all found comfortable by reviewers.
Style
We searched through hundreds of different shoe designs to bring a wide variety of choices to the forefront. Furthermore, most people assume that the only time shoes can be worn without socks is when wearing flip-flops. This is simply not true. There are many designs of shoes that beg to be worn without socks. We scoured many styles and found an assortment of clogs, flip-flops, slip-ons, and sneakers that can be stylishly and comfortably worn without socks. The varied amount of designs we found can be worn for all sorts of occasions. There are shoes in this list that can be worn to the office, on vacation, and even to the gym. Moreover, going sockless can become part of your everyday routine instead of just a once-in-a-while thing thanks to the many stylish designs we found.
Going sockless for many people represents a fashion faux instead of a fashion go. We evaluated many shoes and are proud to have a list that represents style and function. The shoes we picked were all highly revered for being in trend and being very versatile. Picking one or more of the shoes on this list will make even the most fashion conscious person lose their inhibitions about going sockless. The shoes are so stylish that it will be hard to pick just one pair. Make sockless shoes part of your routine a few times a week for the fashion aspect and the health aspect of your feet.
Fit
It is very difficult to choose the proper size to accommodate your feet depending on the style. Throw in the fact that sizing is different depending on the socks (or lack thereof) that you choose to pair with them, and you're looking at the possibility of an awkward fit.
Wearing shoes that have a good fit is very important, and not only because it alleviates pain and creates comfort. Ill-fitting footwear can cause a lot of health problems, and unsightly side-effects. For an example, if you size-up because you feel like the life is being squeezed out of your feet, you may have made mistake – if the fit is narrow and tight, it is likely you need wider, not longer shoes! Callouses and corns can appear when you wear constricting footwear, and they are very hard to get rid of, painful, and look nasty!
So what does one do in this situation? Choose footwear that promotes foot health, and always check if the size is correct. If you don't want to spend a fortune, try choosing cheaper options. And always choose comfortable shoes, even if they are not so pretty to the eye compared to sky high-heels or narrow pointy-toes!
Durability
The best shoes are not cheap. But we know not everyone can afford to buy shoes just because they're great. That's why we made sure to feature only those that are durable enough that the cost, while still high, will ensure that you won't have to buy another pair in a few months. One would expect that a product with a big price tag is durable, but that's not always the case, unfortunately.
The durability of a shoe will depend on multiple factors. While we didn't look for bulky, heavy materials, we didn't select short-life materials either. The technologies incorporated into the shoe should also be durable. If these appliances deplete their usage time before the shoe as a whole, it will defeat their purpose. Keep in mind that not all of them are protected against water damage.
Value
Shoes can be very expensive. Finding shoes that have sublime looks, are gentle towards feet and have low prices is a very tough task. Usually, one thing is sacrificed in favor of the other, and you end up with dull footwear or angry, sore feet. Having choices that combine all three is a very important agenda and today, there are plenty of options available.
And sometimes, it's better to invest in a proper pair that will last for ages, instead of choosing a cheaper, poorly made one. Shop smart, and you won't even feel the money going towards shoes!
Top 10 Shoes to Wear Without Socks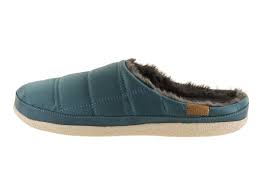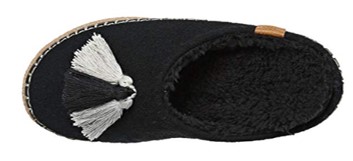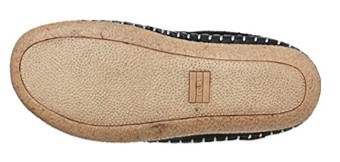 Designed for laid-back comfort and style, the Toms Ivy will become your favorite shoes to wear without socks. The interior is so soft with the shearling lining and footbed will make your feet feel like they are on a cloud. The quilted textile upper material allows the shoes to stretch should your feet need a bit more room. It is also lightweight to not feel like you are dragging around weights on the bottoms of your feet. The thin and flexible outsole stays with your foot with each step to give a fluid step every time.
The easy slip-on design will make these your new favorite shoe. They basically feel like slippers but with, we think, a little more style. The quilted upper not only gives you a warm and cozy feeling but has a unique and elegant look. The shearling lining and footbed just add to the warmth and comfort.
The durable rubber outsole has great traction for either indoor or outdoor use. And don't forget, with every pair you buy from TOMS, you're helping give a new pair of shoes to a child in need.

2

. Easy Spirit Traveltime Mule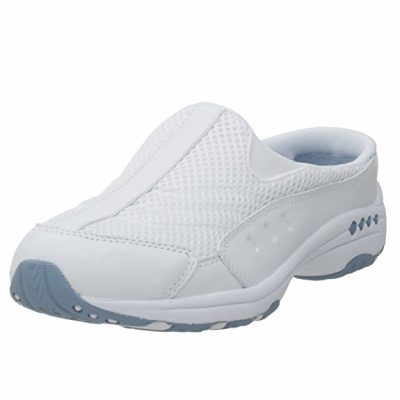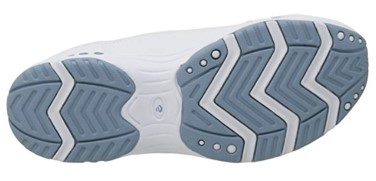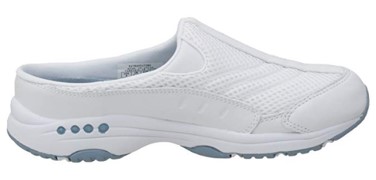 The Easy Spirit Mule are great sockless shoes. It has an easy on and off ability and is very soft against bare skin. The shoe is very lightweight and made of a breathable synthetic material. It also has a removable sockliner so the shoe is customizable for your comfort and arch requirements. It has a very padded foam interior to guarantee that the shoe is as comfortable as possible and will feel like it is not even on the foot.
Should you require a specially made or more supportive orthotic insert this is the perfect shoe to handle that. It has a removable sockliner in case you need more interior space for your own orthotic insert. It is also able to handle an extra insert added to the one that is already inside the shoe.
For some people, having to tie shoelaces is hard due to health ailments such as arthritis. This shoe makes it easy to get on and off as it as a convenient slip on and off capability. No more having to hassle with laces because of health or just because you simply don't want to worry about them staying tied.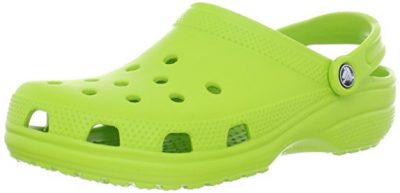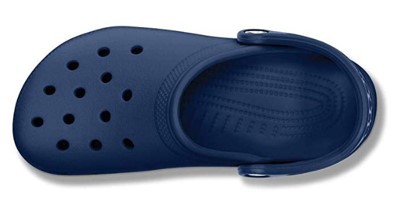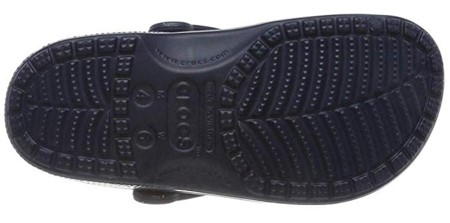 Crocs brand of shoes have two characteristics that make them stand apart from any other shoe it is compared against. They have ventilated air holes that keep the feet cool and help drain water away if they should get wet. Also, these sockless shoes are constructed of Crocs patented Croslite foam cushion for the softest and supportive feel you get all day with these shoes. The material is very soft against and underfoot. Crocs have massaging nobs on the top of the inner sole that stimulates the feet and encourages blood flow to the feet. They also help to keep feet from feeling as tired after wearing all day. These nobs feel strange and delightful against bare skin making these shoes the perfect shoes to wear without socks.
A huge concern many people have about going sockless is the odor that can ensue from the shoe and/or foot. With proper hygiene, the feet will smell clean and these shoes are made from a material that is odor resistant. Even though the shoe is open it will not absorb odors from your foot or from the environment.
If you are looking for a shoe to wear at the water park, lake, or beach then look no further than these Crocs Classics. Not only are they great for being around water as they dry very fast, but the shoes are water buoyant. Should you be floating on a tube at the lake and a shoe pop off, no worries because it floats.

UGG has become ubiquitous with softness. Not only are their shoes you can wear without socks made from the highest quality sheered wool lining they are incredibly soft and flexible on the foot. This makes them the perfect compliment to wear with bare feet. UGG actually has in their recommendations to not ever wear socks with these shoes as it takes away from the integrity of the moccasin. The wool is made to keep feet warm and cool at the same time. It can be worn at most temperatures without overheating the feet.
People worry about wearing suede because you might get caught in a lite rain. UGG made this shoe from a water-resistant suede so you can wear the shoes in a little bit of rain and be fine from markings.
The sole of this shoe is one of the best we have seen for traction without looking obtrusive. The sole is made from a material that gives stability underfoot. You won't have to worry about walking on a slick floor in these shoes. You will feel stable and secure in your steps.
Teva sockless shoes have widely gained popularity over the past 10 years as mainstream footwear. No longer are they considered shoes for just hikers or beach bums. However, they are the ultimate shoe in that they are designed for water and will dry quickly; they have a soft, padded strap setup that will ensure it does not chafe bare skin. The straps are also adjustable making them a perfect fit for many different feet types.
As an added layer of comfort and extra stability, the midsole of this shoe is designed with EVA foam. That will help to cradle the foot while providing a reinforced sole to support the foot and all of its curves.
Teva goes above and beyond with their outsole on this shoe. It provides the ultimate grip so you can wear the shoes without worrying about accidental slips. The shoes are made to go over any surface whether it is a wet floor or dirt and grain trail.
While originally being thought of as just a shoe for skateboarders, Vans has since transformed into pop culture. Once people started giving them a try the undoubted comfort and versatility of the shoe could not be ignored. Wearing the Vans Classic without socks is the only way to go for this shoe. The ease of the fabric makes it going on and off a breeze. Elastic inserts around the tongue make the shoe have a little more stretch so almost every foot will feel great inside this shoe.
Canvas is widely accepted as a breathable and soft fabric. The Vans being constructed from a canvas upper means you can wear these shoes in warm or cold weather. No worries if they get wet either as canvas shoes dry pretty quickly.
Sometimes shoes that are canvas have a tendency around the heel to chafe the skin. Vans took preventative measure and highly padded the collar of the shoe. Wearing these shoes without socks will cause no worries as the material is super soft and will not rub into the skin around the ankles.
For a shoe that you can wear every day and at an unbeatable low price, you can lose by purchasing these shoes. Vans have a strong brand and reputation for being durable and well-built. Buyers can be assured that when they purchase these Classic slip-on shoes, they will get their value on the high return because these shoes will quickly become a favorite to wear without socks.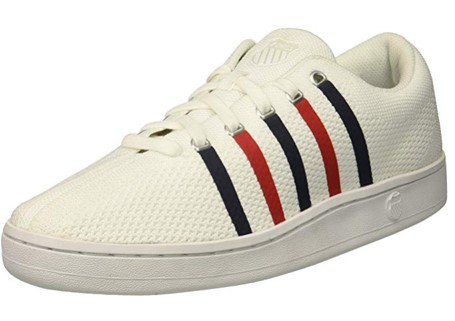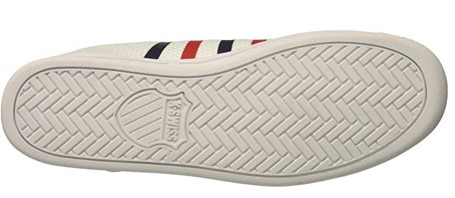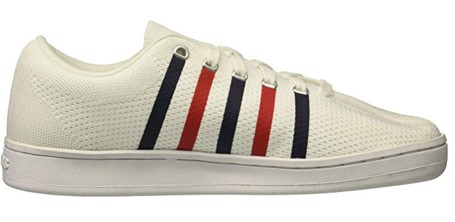 One of the best things for a barefoot feel in your footwear, is having a knit material that's soft, breathable, and still stylish in its look and appeal. The K-Swiss Classic 88 keeps a retro feel about its look, with classic K-Swiss stripes along the sides, alternating in red and blue, against a creamy knit upper. It's a pair of sockless shoes you can wear to summertime barbecues or fall evening outings in barefoot comfort. Breathable and light, the Classic 88 is versatile for pairing with jeans, casual skirts, shorts, or even slacks for a laid-back business event.
Knitted uppers provide a plethora of benefit in the Classic 88. First, they allow for a textured look about the sneaker, making it a bit more unique than regular leather white sneakers found commonly in fashion. Secondly, knitted uppers allow for better air flow in and out of the shoe, creating a cool environment for the feet, especially when worn without socks. But don't be fooled, since this upper knit also helps insulate the foot in cooler weather since it's thicker than mesh materials.
EVA heel cup helps prevent in shoe slippage, securing the heel in place, while an EVA midsole helps support and cushion your steps. The outsole is also EVA in construction, adding to shock absorption and support each time you walk. Padded collar and tongue help give it even more cushion, helping to prevent irritations or rubbing, while the lace up vamp provides that customized fit. The textured rubber sole allows for grip and traction, even on slippery surfaces. The Classic 88 is definitely a complimentary piece for pairing with retro styles and attire.

8

. Birkenstock Mayari Birko-Flor
Birkenstock has been a name through the decades for freedom in style and from socks. Their shoes you can wear without socks are ultimately built for comfort and support, all without socks. The cool cork footbed and the leather straps will be so soft against the bare skin. The cork is specifically designed to adhere to the shape of your foot over time and give a truly tailored fit and support. Finally, Birkenstock chose a simple yet highly-tractioned outsole to make sure wearers felt comfortable and unworried about slips and falls.
Ethylene Vinyl Acetate is a material used in shoe production that is lightweight and causes the shoe to conform to the specific contours. It is also good for shock absorption which is a high priority in thinner-soled shoes. The foot will not feel hardly any impact from the foot thanks to this material and cork construction.
Cork is naturally known to be moisture wicking and odor resistant. You will not have to worry about funny feet smells while wearing these shoes, especially since you will be sockless. Keep the feet clean before wearing these shoes and you will prevent the cork from absorbing dirt; thus prolonging the life and appearance of the shoe.
9

. Converse CT All Star Low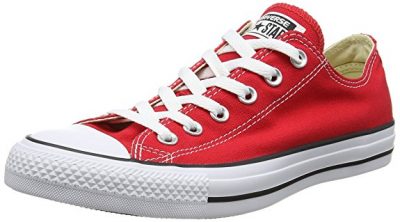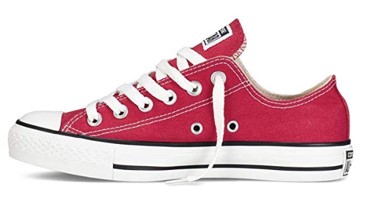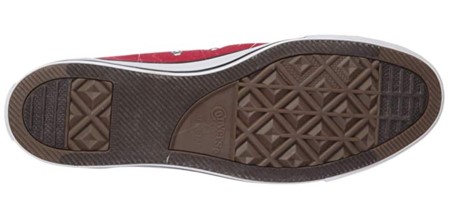 As iconic as the star itself is the Chuck Taylor Classic low top sneaker. The shoes blazed a path when they hit the scene many years ago. Everyone loved the sneaker that was ideally made for rocking without any socks. The upper portion keeps feet cool and has a high breathability because the shoe is canvas. Reinforced eyelets made of metal rings keep the laces securely in place while adding a pop of style.
The insoles of this shoe are made to support and cradle the feet. Ortholite standards suggest great arch support and a cushioned step every time. Their company is known for high-quality supports. These are already integrated into the shoe for style and ease.
Having a patterned outsole that provides good traction in any weather element is a strong characteristic of a shoe. Chuck Taylor Classic has a slip-resistant outsole that provides confidence when walking in the rain or on a slick floor.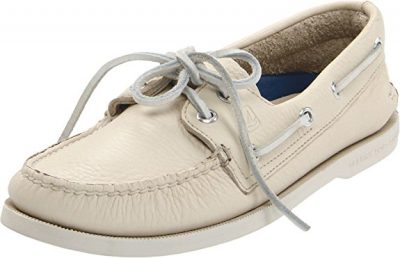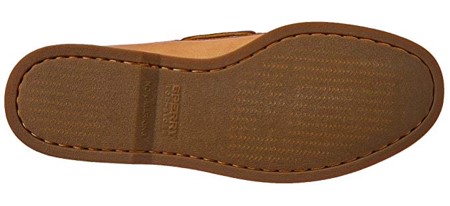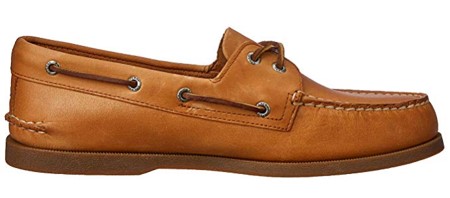 If you are searching for highly-tractioned and fashionable sockless shoes that you can wear almost anywhere, then look no further than the Sperry Top-Sider. What was originally made for a boat shoe because of its almost completely slip-resistant sole, the shoe became a fast fashion statement because of the comfort and style. The shoe can be worn every day and for many different occasions so it is widely adored by men, women, and kids.
Since the shoe was designed to wear on boats with water and slick surfaces, the shoe has a sole that does not protrude or look ugly but will provide the best slip-resistance of any shoe in this category.
Sperry tactfully designed the shoe so a person can loosen or tighten the shoe and it still looks fashionable. This is achieved by the full circle laces that run around the entire collar and over the arch of the foot. The leather laces will last for many days and many tightenings.

Subscribe to our Newsletter