Best Crazy Socks to Add a Pop of Color Reviewed
In a Hurry? Editors choice: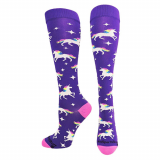 Test Winner: MadSportsStuff Neon Rainbow Unicorn

There's no better way of making your personality shine through than putting on a pair of crazy socks. You know, those colorful choices that feature out of this world patterns, or are made in noticeable colors, or just go full on novelty and include embellishments such as cat ears or wings? Yes, crazy socks are a foolproof way to make you feel instantly better, from the moment you put them on.

Whether you want to wear this type of garment at home, are looking for something that will work for parties, or just like a little mischief on a daily basis, you will find that there are thousands upon thousands of products such as these available. The purpose of this article is to look at the ten best crazy socks you can purchase, ranking them based on criteria such as materials used, style, fit, size, and comfort.
Standout Picks
Criteria Used for Evaluation
Materials
Socks are made up of all kinds such as acrylic, angora, bamboo, cashmere, nylon, silk and wool. They are not made to be complex as shoes. Their role is to be slipped on to your feet to keep your feet warm and also to form a barrier between your feet and the harsher materials of your shoes. The type of fabric they are made from basically states the function they were made for.
As long as they can be dyed, it hardly matters what material crazy socks are made from. The material they are made from all depends on functionality rather than how they can look. For ones needed to be worn with shoes, the manufacturer would look for more breathable material such as cotton and silk.
Cotton is the most used naturally occurring fabric and it's not hard to see why - it's not hard to find and can be reaped on a massive scale. Cotton is lightweight, breathable and able to absorb moisture pretty easily.
Silk has similar properties but because of its source is pretty much harder to find and produce on the scale that cotton is able to be produced. Silk socks are usually thin, while cotton is more versatile in being able to make thick ones.
Speaking of thick socks, another one of the most used materials used is wool, which is a natural fiber gleaned from sheep. As you may know, wool is used by sheep as insulation against cold temperatures. This makes wool crazy socks great for the winter time, especially those knee-high colorful ones. Another material used is cashmere, which is pretty similar to wool but different in that it comes from a goat.
Style
Crazy socks are made to simply fit snugly around your feet and legs, so you won't see much variation in how they look beside color, height, and material. There are some with added ornaments, but not much else. But luckily, unlike shoes, they can be colored and dyed in just about any way that fits your imagination.
This is why we have colorful crazy socks, because why wouldn't you want art on your feet? They have gained in popularity these days as people try to push fashion boundaries to see what goes together and what doesn't. The way they are colored will depend on their function.
For instance, ankle and heel socks will be the least likely to have elaborate designs, as their function is mostly to be worn with shoes and not be seen much. It doesn't mean that you will only find them in white and black, as adding a dash of color to bland sandals or crocs is fashionable.
It's the larger crazy socks that go above the heel and even up to your thighs where manufacturers will usually get creative. It is not uncommon to see cartoons and other artwork on the shaft of novelty socks, as well as complex shapes and lines. These are often worn by themselves or under pants that cover enough to just not look overbearing. But there is nothing wrong with wearing crazy socks with shorter clothing, just as long as they don't look comical or overbearing in public.
Size
The thickness of the socks depends on what they were made up of and their intended use. If they were intended to be worn under dress shoes in the summer, then you will not find them to be very thick. Even in the winter, you will struggle to find very thick crazy socks to be worn with dress shoes, as those shoes are made to fit tightly around a person's feet.
But take for instance those socks made for ice hockey players. They range from 4.0 mm to 4.6 mm in thickness. They are usually made up of material that is good at trapping heat, such as wool and cashmere, but sometimes they are also mixed with other materials such as polyester or nylon for an additional bit of stretchiness. They need to be easy to put on and fit around your feet, and it's very hard to make a material like wool naturally do that.
Thinner crazy socks are usually made for conditions where breathability and temperature are of utmost importance. You will find sports ones that are very thin, at around or less than 0.5 mm. Since they are more susceptible to tears, they will see a lot of mixing going on between materials, such as nylon, spandex, and polyester. Socks that are not meant for these extreme conditions will usually be wholly made from cotton or silk, and sometimes a mix of polyester.
Fit
How a pair of crazy socks fits should greatly affect your decision in whether to buy it or not. The right pair should fit comfortably on the heel, not over or under it. The right one will not bunch at the top or be falling down at the shaft. These signs often point more to faulty manufacturing than to how your feet are shaped. Their height will depend on what you wear. If you're wearing shoes that touch your ankles or go over it, then it doesn't do much good to wear socks that go below the ankles, except in a very few cases.
To make it easier, there are names for socks at certain heights. The smallest of the bunch is the roll top or the low-cut ones, which has the top at 3" from the heel. Then there is the sport or sportlet tab, which has the top at 4" from the heel. These usually touch the ankle. There is then the quarter ones which go above the ankle at 5" and above. Crew crazy socks come next, covering most of your shin and calves at 11", and there are the hi-crews, which touch your knees and go above them at 15" and more.
Comfort
Finding a comfortable pair of crazy socks that wraps your feet in luxury and support with a good level of compression is essential for comfortable feet. When you are trapped in your shoes or boots all day, you need a layer of hygienic, moisture-wicking and heat-retaining or -repelling socks to keep your feet smiling. An overall combination of the other criteria we evaluated our top 10 for, comfort is dependent on the quality of the materials, the thickness and breathability, its fit and also the uniqueness of the wearer.
Materials like cotton are breathable and easily absorb and wick away moisture, making them a prime choice. Materials like silk are much more luxurious and have a great feel against the skin, but are much harder to source due to supply constraints. Which material you prefer will depend on your budget and your personal situation. If you live in warmer climates, you'll want materials that wick away sweat, whereas colder climates will require a material that retains heat, so something like a synthetic blend or natural wool. When evaluating our top 10 crazy socks for comfort, we considered the material and the versatility of wear offered.
The thickness also comes into play when considering comfort. A thick pair of crazy socks is more likely to absorb and retain heat; perfect if you live in Canada, not so good if you live in the tropics. Thickness can also affect how your shoe fits on your foot, as it may interfere with sizing. All of this comes into play when evaluating overall comfort.
That being said, everyone is different and has different lifestyles, preferences and climates that they inhabit. We've ranked comfort based on thousands of customer reviews from all over the world to give you a general impression of what people are saying about the product, but at the end of the day, you know yourself best. Trust your gut!
10 Best Crazy Socks
1

. MadSportsStuff Neon Rainbow Unicorn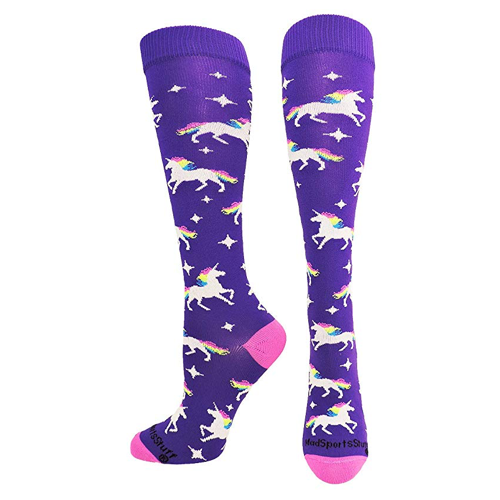 This is the ultimate pair of crazy socks, especially if you like mythical creatures, fun colors and a knee-height shaft that ensures your hosiery is seen by everyone. Made by MadSportsStuff, these come in packs of one or three, which means that you can choose the color options that suit you most.
What differentiates these crazy socks from the other models listed is not the pattern of beautiful unicorns adorning it, but rather all the functional features that are included. This pair includes a double welted top that will prevent them from sliding down, a lightly cushioned sole for all day wear, as well as antimicrobial properties that will prevent the appearance of bad odors.
These crazy socks are made in the USA, and they use quality materials during construction, so you can rest assured you're getting a top product. You'll appreciate the true to size fit, as well as the added arch compression and toe design. It is important to note, however, that these are the most expensive crazy socks per pair listed in this article, but if you want something truly great, then definitely go with this model.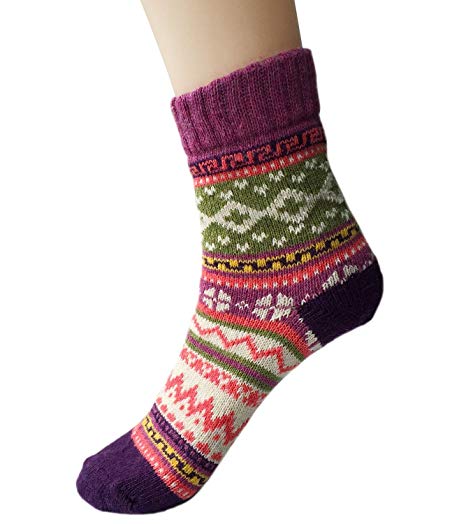 It's right there in the name, you can expect the highest level of comfort when wearing the Loritta Cozy. These crazy socks are made of a mixture of wool and cotton, so you can definitely expect your feet to be sheltered from the cold while allowing your feet to breathe. They are not too thick, so you could wear them alone at home or with your favorite boots during the winter time.
These crazy socks are made from a comfortable mix of wool and cotton, which allow for great air permeability, sweat-absorbance, and odor-resistance. This mix also prevents the common itchy/scratchy feeling that comes along with wool. Their tops are stretchy and hug your legs very well. Your toes will also be warm as well as comfortable.
The prints are pretty conservative, but they're not simple. The Loritta brand managed to mix bright colors with zig-zagging lines along with other interesting patterns. Because of this, you pretty much wear these with any outfit in the winter. When purchasing these, you will get five pairs for a pack, all while paying less than $10 for them. That's an incredible offer considering you're getting 5 pairs of warm, cuddly wool crazy socks.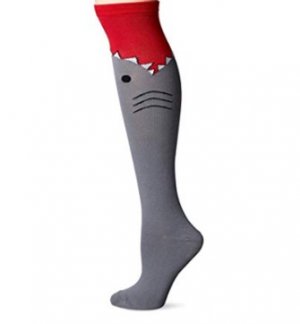 From cult classics (Jaws) to children's songs ("Baby Shark") to d-list movies turned into memes (Sharknado), sharks have become an interesting part of popular culture. These knee-high crazy socks from K. Bell's Novelty collection feature a design you'll want to sink your teeth into (sorry), with a comfortable and stretchy blended fabric.
Cotton is by far the most common material used in clothing, though it is often mixed with other materials. In the case of these socks, cotton is blended with nylon and spandex to give them a little extra give, making them comfortable for those with thicker calves and reducing pinching at the top of the sock.
That being said, when it comes to crazy socks you don't want too much stretch. Excessive stretchiness can distort while you're wearing them, and over time. These K. Bell socks use just enough nylon and spandex to ensure a comfortable fit without being so stretchy that the design gets distorted.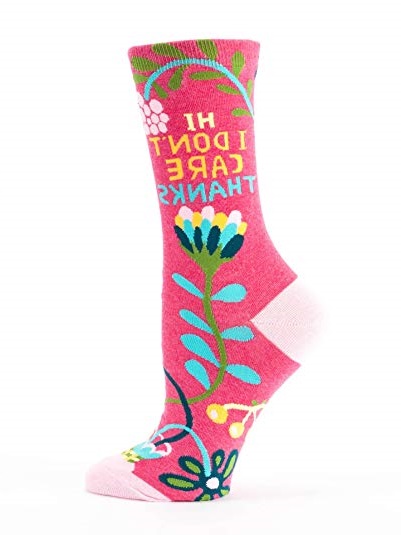 Earlier in the list, we looked at some conservative patterns, but what a pair with more complex and artsy designs? This is seen on the Blue Q crazy socks, which seem to aim at making bold statements. Each sock has some kind of artwork with a message that may not be suitable for younger customers, but they are fun for adults to wear among each other. They actually aim at those who see themselves as bold, sassy and smart and want to show their true colors to the world.
There are bold statements on each sock. It's something that you'll enjoy wearing, but you will not want to wear them in a professional environment. There is a myriad of options to choose from, each coming with their own artwork and messaging. These crazy socks are cool and with a hint of rebellion, which many people will love.
These are crew sock types, which means they will be touching or close to touching your calves. They are made for feet ranging from sizes 5 - 10, so they will most likely fit your feet. These crazy socks are not very thick, but they are made from a comfortable and elastic mixture of 53% combed cotton, 45% nylon, and 1% spandex. They are great to wear for a jog or cycling in the park in the fall.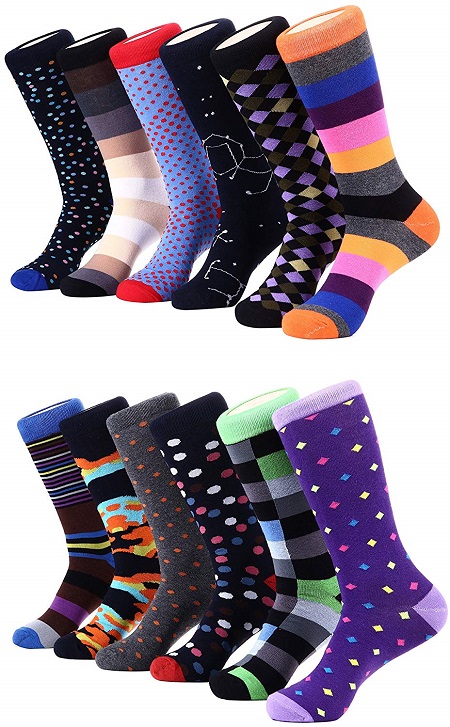 What's better than a pair of fun crazy socks? Twelve of them! These crew socks from Mio Marino come in a pack of twelve different designs with an average unit cost of under $3 per pair. The fabric is a blend of cotton, spandex, and polyester, which is designed to promote breathability without compromising on durability and colorfastness.
Sweaty feet are no fun. They're uncomfortable and can lead to odor, which makes them even more uncomfortable. Just like how breathability is important for shoes, it's also important for your socks, perhaps even more so if you're the kind of person who likes to wear crazy socks to bed or around the house. These Mio Marino socks are made with lightweight blended fabric to promote breathability, keeping your feet dry and comfortable all day long.
Durability is another big point for socks. You will get more use and value out of a pair of crazy socks that is durable, and holes in socks can be uncomfortable depending on where the hole is, especially if the hole is in the toe section. Cotton is often blended with other fabrics such as polyester and nylon to reinforce their overall durability.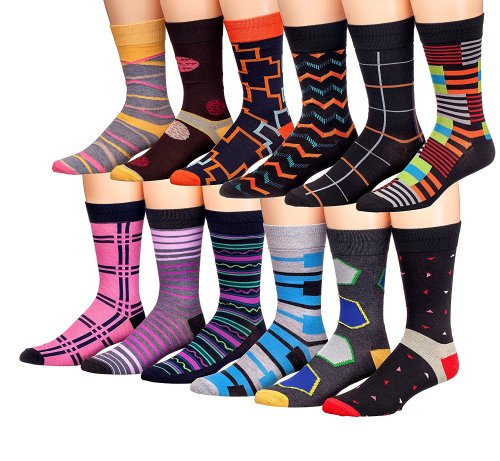 You may struggle to find better colorful dress socks than the ones made by James Fiallo. These come as 12 pairs per pack. These crazy socks not only have colorful patterns and shapes on them, but also some artwork that doesn't look too outlandish or loud to be worn with your formal or semi-formal clothes. The colors are not made too bright either, which makes them just perfect to wear with your grey suit and brown shoes.
All pairs in a pack follow a similar theme. For example, one pack will have simple line patterns and shapes, while another one will have monster faces and colorful lines on them. They even have one pack with very simple patterns but in mostly black and white, with hints of pastel. This is perfect for those that don't want to be too adventurous while wearing crazy socks.
They are made up of a good mixture of cotton, polyester, and spandex. But this depends on the pack that you buy, as some will have more cotton while others will have more polyester. These crazy socks are very comfortable and they surprisingly keep the feet warm. They also don't smell after just a few hours of wearing them.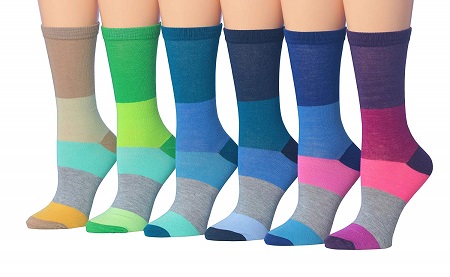 Coming in a staggering thirty-six different style options, there's a pair of Tipi Toe crazy socks for everyone. From bright color blocking to seasonal designs to retro colorways, there's no shortage of styles for these crew socks. The polyester and spandex blend is stretchy and comfortable and will resist both shrinking and fading.
Colorfastness is a big deal when it comes to patterned socks. Colorfastness refers to the potential for the colors to fade over time, be it due to UV exposure, regular wear, or being washed. This is more of an issue with cotton or wool, which is why these crazy socks are made with 98% polyester. Polyester is often used in socks because of its resistance to shrinking and fading.
We love socks that come in a wide range of styles, as this makes them incredibly versatile. Brighter and more vibrant designs can add a pop of color to any outfit, while some of the more muted options are even appropriate for wearing at the office. Each six-pack is available in thirty-six different style options, meaning there are over 200 different styles for each pair! Whether you're looking for something bright, seasonal, or a cute cat-inspired pattern, there's a pair of crazy socks for you.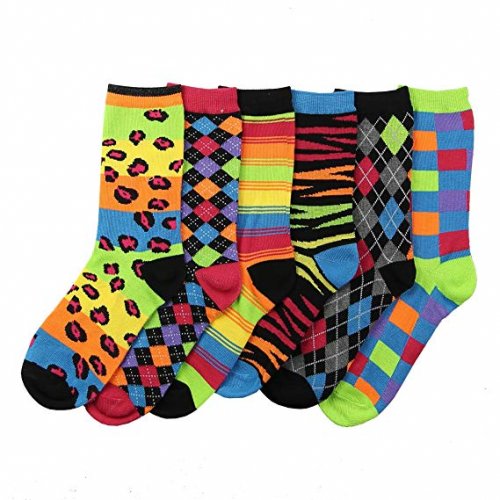 If you need something similar to the James Fiallo crazy socks above, but in a more bright and colorful format, you're in luck! The Eros Fun ones provide a more fun alternative with interesting themes such as Halloween, Monkey and American Flag. They come in packs of 6 pairs, and each pack is uniform in the theme. The Halloween theme pack, for example, has spiders on one pair with web patterns, while another pair has ghosts and bats. They are very good-looking but don't expect them to keep your feet warm, as they're mostly made up of polyester.
In each pack that you buy, you will find a fun theme that you will see on each pair of crazy socks. The colors and patterns complement each other really well. Even the non-colorful theme 'Music Notes' look really well in shades of black and white. For those that don't like too many patterns and shapes, there is a pack of plain color ones with very vibrant colors.
These crazy socks are mostly made up of polyester, which is a very cheap and breathable man-made material. The other materials they are made up of are nylon and spandex. They are 100% made up of man-made fabric, so it's no surprise that they are not expensive at all. The six pairs of very colorful socks will cost you less than $10 per pack.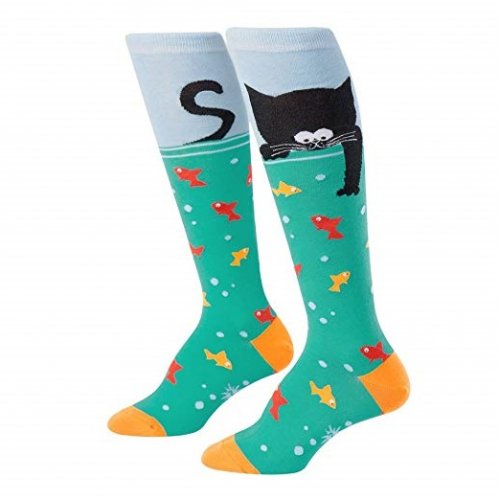 They are funky, but not in a smelly way. Sock It To Me goes for a more creative and quirky design with these crazy socks. They are knee-high and have stylish and adorable patterns, shapes and art on them. If you like cats as much as you like goldfish, you're in luck as there is a pair of Sock It To Me Funkies that has a large black cat reaching for fish in what appears to be an aquarium. It's cool because you don't explicitly see the aquarium, or the whole body of the cat, as both are basically implied. Not only are they stylish to wear but they will feel great on your legs as well.
These stylish knee-highs are made with a nearly equal mixture of cotton and polyester, with a trace of spandex. They will cozily hug your feet while providing the elasticity and breathability that you need from them. There are only three different designs: Gone Fishing, Piñata Party and Winging It. Piñata Party, of course, has piñatas on a red background. There are hints of green, yellow and pink throughout. Winging It is all about unicorns. These crazy socks are obviously great for people who are kids at heart. They're made in Korea and are made mostly out of cotton, mixing with polyester and spandex.
You're only going to get one pair of crazy socks with each purchase, but they are under $10, which is a very fair price for knee-highs. They're comfortable and they look good, making them a great value when buying for yourself or as a gift.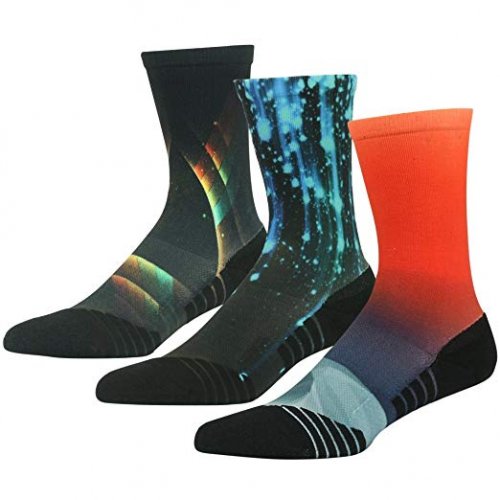 We've seen really vibrant crazy socks so far, but not mind-blowingly vibrant. It's time to take a look at the HUSO Sports pair, which comes in colors that are just out of this world. They come in packs of 3, 4 and 7 pairs. They were made for the outdoors, so they are perfect to wear when playing basketball, for instance.
Each pack will come with pairs that do not follow an obvious theme. Each pack is definitely themed, but they don't follow similar coloring patterns. Instead, the themes are more abstract and depend mostly on the very subtle shapes and lines. There is one pack which has one pair be mostly dark orange, one is black with blue dots and one is black with rainbow looking stripes. But if you look at it carefully, you'll see this three-pair pack follow a cosmic theme, with the orange as most likely the sun or a sunset, the black and blue as falling stars in the night sky, and the black with rainbow-looking stripes as actually the Aurora Borealis/Australis.
These crazy socks are mostly polyester, with lesser elements like elastic rubber, spandex, and cotton. With these ingredients, you can expect them to be very stretchy and very breathable, and they won't stink because of the trace amount of cotton. This makes them perfect to wear with your nice pair of Jordan basketball boots or your Reebok hiking boots. But they can also be worn with regular sandals to kick back in public or at home.

Subscribe to our Newsletter