Best Baby and Infant Socks Reviewed for Comfort
In a Hurry? Editors choice: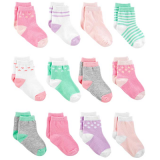 Test Winner: Simple Joys by Carter's Variety Pack

Whether the little one in question is still a babe in arms or is out and about, exploring the worlds on their own hands, knees, and feet, there is a pair of socks on this list for them. There are features ranging from cuffed tops to help the socks stay on newborn feet to no-slip grips to help keep the mobile baby from taking a tumble. Designs run the spectrum from basic solids to patterns that resemble flowers, fruit, monsters, sharks, and iconic
baby shoes
. No matter the style of dress, the occasion, or the
weather outside,
these are the
best socks for infants and babies
.
Standout Picks
Criteria Used for Evaluation
Materials
Socks made of commonly uncomfortable materials were purposefully excluded from this list. A high nylon content, wool that isn't machine washable, and anything slick or overly restrictive are not usually recommended for babies because it will only agitate sensitive skin and lead to the child pulling the sock off. The sock is likely to come off regardless, but the longer it is able to do its job, the better. The type of material is also important to consider because anything worn by babies has to be washed often, including their socks. If a sock is made of a material or blend that cannot be machine washed, it is not practical for a baby's wardrobe. Similarly, if the fabric pills or creates loops that may cause discomfort to a baby's foot, it is not considered a good option.
Look for socks that are made of light and natural materials that are soft on baby's foot, while allowing the foot to breathe. Overall, there are some material options that will work better than others:
Cotton: The go to material for most parents, a pair of cotton socks will be comfortable in contact with the skin and will breathe enough to prevent moisture retention issues. It is available in several thicknesses, making it practical for all seasons, but do note that it doesn't do well with moisture management, so a cotton blend is the best option.
Wool: Used by runners and hikers, it comes as no surprise that wool is a good choice for your child as well. While most types of wool may cause a scratchy feeling, Merino stands out as one of the few natural non-irritating materials available for socks. It's great for insulation, breathability and moisture management, but will be a little harder to keep clean as not all models may be suitable for machine washing.
Synthetic: Synthetic fibers are added to socks because they provide the required elasticity that you need in order to put them on. They can also contribute to the moisture managing properties of clothing, so don't shy away from investing in a product made with a quality blend.
Versatility
Baby socks must be able to cover a range of ages and styles to be considered versatile. If a sock only comes in very small or very large sizes, it is not really practical for babies. Their feet simply grow too fast for socks that don't stretch.
Similarly, a baby's socks should be able to fit in with the rest of its clothing if the parent wants the baby to have a coordinated look. If the socks are limited in their style, they will be less versatile.
This list features a wide variety of models, not just in terms of design, but also functionality. So you may find that what works best for your little one are simple white socks, but others may prefer to invest in cute prints.
Additionally, some models have special features such as non-skid bottoms (perfect for toddlers learning to walk), higher or lower cuffs, or seamless constructions that can all contribute to the way in which these will perform. All of the choices listed above are great ones, but you'll find that your preference lies with one or two of them due to their features.
Durability
Baby socks should also be durable. They need to last through a lot of washings, a lot of pulling them off, a lot of the family pet pulling them off and playing with them while Mom and Dad look away for a moment, and a lot of "what the heck is this stain?" moments.
They also need to stand up to little toenails that seemingly double in length overnight and are very sharp. Look for toes that are reinforced with stitching, quality elasticized material and strong materials like cotton, wool, and polyester for best results.
Also, for your convenience as the parent of a baby (we know, it's tiring!), look for socks that are machine washable and have non-slip grips added to the bottom.
Comfort
We also wanted to look at each sock's comfort. A sock's ability to provide one with adequate comfort when in use is probably one of the most important things to search for, especially for babies who often only wear socks. No one, and I mean no one, wants a pair of socks that feels incredibly uncomfortable when in use.
The socks can look as cute as can be but, if they don't have designs that incorporate cushioning and breathable materials it can be kind of hard to keep your baby comfy and happy. With that being said, comfort is one of the qualities that the socks on this list were vetted for the most; a sock is nothing if it's difficult to wear it.
For the best results, we'd suggest taking a look at the construction of the garment. There are a few good rules to follow, especially when it comes to small children who are yet unable to voice their discomfort due to ill-fitting clothes:
Purchase models with as little loose strings on the inside. These can irritate sensitive skin, or even leave indentations on it.
The toe seem needs to be as flat as possible, especially if the socks are a bit snug, or if your child is going to be wearing shoes.
The cuff should be secure, but shouldn't cut into the leg, as this can slow down circulation, or even cause pain.
If you opt for lower cuffs, make sure that your child's heel is protected from hard shoes, as you don't want to be dealing with blisters and rubbing.
Value
Value does not always mean the least expensive item available. Most baby socks are sold in multipacks. A twelve pack for ten dollars is a better value than a six pack for eight dollars.
When comparing the value of these socks, the number of socks in a pack was taken into consideration as was the quality of the material, the versatility of the sock, and whether or not there were no-slip grips on the bottom of the socks that would effectively do their job.
You will find that the material used will usually determine the price tag associated, but remember that investing a little bit extra in quality can mean a lot in terms of comfort, breathability and moisture management. Those whose children have more sensitive skin need to take special care of what products they buy, as certain design features may cause discomfort and irritation.
10 Best Baby Socks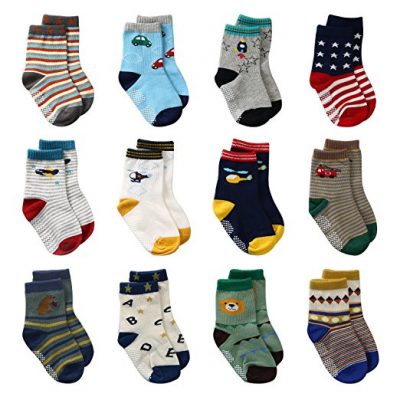 Laisor is a relatively unknown brand at the moment, but if their products continue to rate as highly as these have, that may change. Parents have said time and again that they are not easily slipped off, which is a blessing to someone who has to chase errant socks when a baby decides not to wear them anymore. The designs are bright and cheery, perfectly suited for the ball of energy that will take advantage of the no-slip grips on the bottom.
Laisor has no shortage of adorable designs with which to decorate their socks. Stars, stripes, letters, bears, fire trucks, and the list goes on from there. The designs all come in bold colors, most of them on primary or neutral backgrounds. This makes them excellent for boys or girls and especially ideal for families with multiple littles ones running around in the same sock size.
Some socks on this list run the age range from newborn to three years, but Laisor's smallest size is intended for six months and up, which is generally when infants begin to actively explore their surroundings. With this desire to explore in mind, the soles of these socks are entirely decorated with non-slip grip material to help little explorers keep their feet under them as they crawl, walk, and run.
These socks are one of the best value purchases on this list. The cost for a twelve pack is less than some of the six packs also seen on this list and they seem to hold up well over time so there is no quality sacrifice.

2

. Simple Joys by Carter's Variety Pack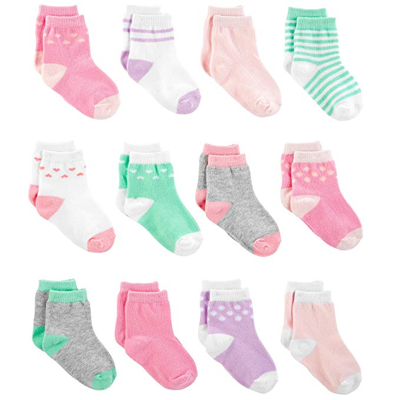 Coming from a brand that's completely dedicated to providing babies and toddlers with affordable, quality clothes, this pack of baby socks is meant to be used from birth until around your child's first birthday. It's quite simple in terms of design, combining neutral whites and grays with pops of color (blue, green and red for boys, pink, purple and mint for girls), and is a great choice seeing that it comes in packs of 12.
These socks combine cotton with polyester and elastane for the best possible fit that's soft but stretchy enough not to cause nightmares when it comes to putting them on. The ribbed cuff is comfort oriented, as it won't cut into the leg, but it will still provide a secure fit.
These are machine washable, and considering that the packs all feature similar colors, laundry day won't be a hassle. You'll find that the price is great for this amount of products (even lower than some lesser quality options), and thanks to the variety of designs, you'll easily find the perfect pack for your baby.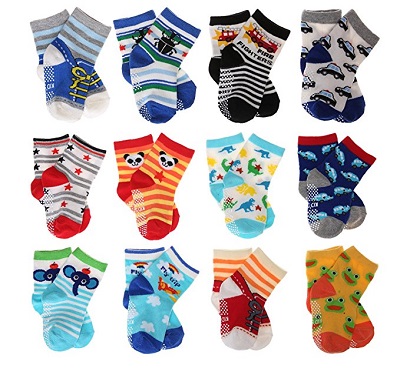 These are soft and breathable baby socks that will fit babies and toddlers between 1 and 3 years old. These are elastic, stretchable and great for all year around. The gender-neutral designs are super cute for any baby in any outfit. They are also non-slip which is important for babies running around in the house all day (when is nap time again?)
These cute little socks are cotton knit and gave little grip pads on the feet so your little one will stay secure on their feet no matter what surface they might be running around one. The socks are a great alternative to having your child wear shoes indoors.
These bright and colorful socks are great for the littlest kids. Cars and dinosaurs and stars and frogs – all things little ones love and with a choice of 12 designs per pack, you are sure to find a soft and comfortable sock for any outfit you dress your child in. The pack of 12 socks is very reasonably priced. There is nothing better than having a selection of safe, comfortable socks to put on your little one's feet. Offering warmth in any season and protection against slipping and sliding when running around or learning to walk, these socks are a great value.

4

. VWU 6 Pack Baby Anti Slip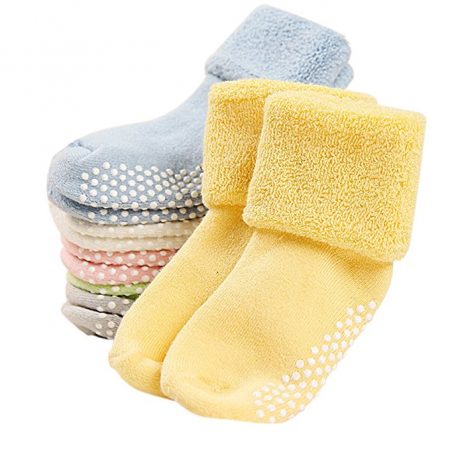 Sometimes fun characters and eye-catching patterns are not what a little one needs. Sometimes all that is needed is a sock that is both soft and warm, non-slip and available in basic colors at a range of sizes. At those times, VWU is the company to look at. Their socks are a great value designed for little movers, from the warm fabric to the no-slip grips on the bottom of the soles.
VWU's socks are made of 82% combed cotton. This gives them a thick and cuddly feel sure to keep even the chilliest baby warm as they're crawling around. They may leave a little lint behind, but their soft fabric doesn't develop loops that can catch baby's toes and cause discomfort. When the soft fabric is combined with a little bit of elastic for a snug fit, they become an ideal pair of socks for little crawlers.
The bottom of these socks features a whole-sole no-slip design. The widespread design gives the socks more traction, meaning more stopping and sticking power when the little one is trying to get their feet settled. A larger amount of non-slip material also means that the grips should last longer and take a little more abuse before the socks have to be replaced. These are an excellent value for the price. The pack comes with six solid pattern socks in unique pastel and neutral colors. Few other companies sell six pairs at so low a price.

5

. Future Founder Non Skid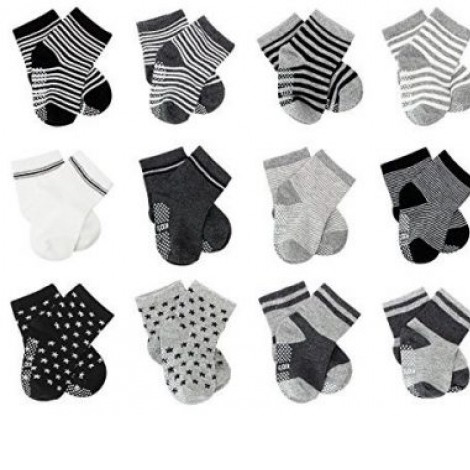 These socks from Future Founder are another great option for parents who need something a little less bright for their child's wardrobe. This six-pack comes with a mix of the designs pictured on the website and are packaged in a cute little bag that can be reused in the diaper bag or elsewhere in the home. Future Founder socks are a little bigger than others, making them ideal for toddlers as they grow into confident walkers.
Future Founder's socks were designed with older toddlers in mind, those who have gotten their feet under them and are trying their best to imitate whirlwinds as they tear around the house. Because of this, the non-slip material is patterned thickly across the entire sole of the sock, giving them more traction on slick wooden or tile floors.
As babies get bigger, parents find it easier to take them more place. Some of those places require a more classic, subdued look and that is where these socks fit the bill. They come in stripes, stars, and spots colored in shades of black, white, and grey. Future Founder also offers a more colorful sock set, but in a world full of wild hued baby socks, subdued can be just as unique as the most inventive pattern. Though the socks have an excellent no-slip sole and come in oddly hard to find neutral colors, their cost might still be a little steep for a six-pack.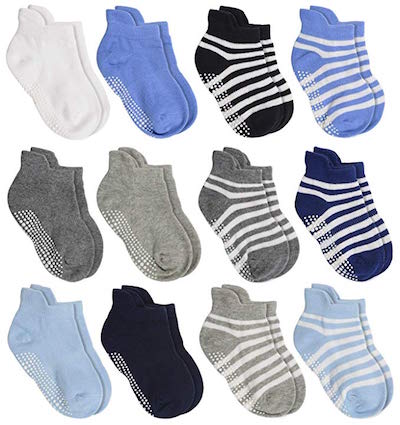 Made for babies and toddlers who have started to crawl and are learning to walk, the Aminson Anti Slip is a functional and comfortable solution for all active bundles of joy. A value pack of either 12 or 6 assorted colors, it's one of those products you can comfortably buy one of, and have all your needs met. It's available in several sizes, and a variety of color options, including both solids and stripes.
In terms of comfort and materials, these are made with 95% cotton and 5% spandex, which is a good combination for those who looking for a soft feel that still fits and stretches pretty well. Machine washable, these won't require any special care, and the best part about them is that they are highly breathable and made from medium thickness material, so that they are suitable for all seasons.
On the bottom of the Aminson are anti-slip spots which prevent falls on slick floors, while a raised heel tab protects the sensitive achilles area in most shoes and sandals, while still providing a comfortable top binding that doesn't cut into the leg. With a cost that's about average compared to the other items on this list, this pack is a great investment for any parent, and being quite cute, can even make for a good gift.

7

. Flanhiri Non-Slip Cotton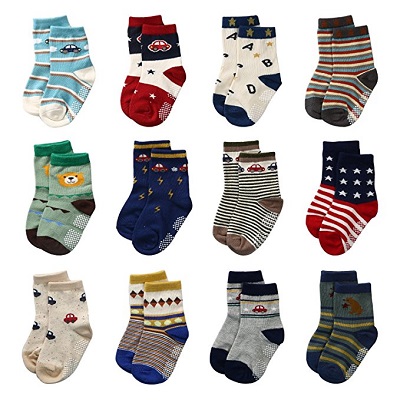 Letters and cars, bears and stars, if your baby could pick their own socks, they would choose the fun and colorful socks contain in this set of 12 (also available in smaller sets of 6). Made of a soft and warm cotton, your little one's feet will be cozy and so comfortable. They are safe and will fit babies and toddlers up to about 3 years old.
Babies fall. It's a natural part of learning to walk steadily and even more fun – run well. So it's important that their socks be secure. These little socks come with an anti-slip beading on the bottoms to ensure your little marathon runner can run safety from morning until at least nap time.
Babies fall but they also grow – really, really fast. Blink and all of a sudden you have a three-year-old! It makes sense to have a sock that will last as long as possible and that includes growing with the baby. These socks will fit your little one from the time they are one until they are approximately three, yay! These socks are on the lower end of the price range which is great since you are getting 12 soft, warm, comfortable, secure socks that will fit your baby for a couple of years. In colorful and fun designs, baby will look stylish as well.

8

. Luvable Friends 8 Pack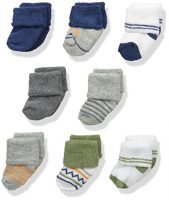 Baby socks are, at once, the most adorable and most frustrating pieces of a baby's wardrobe. They keep the baby's toes warm and help round out an outfit, so long as the baby doesn't pull them off! Their small size means they're easily lost, and Luvable understands that frustration. Their 8 pack of socks, perfect for a girl or boy, is an affordable option for parents of newborns to toddlers.
There is an unspoken understanding that baby clothes are overpriced. And for all the speed with which children outgrow their clothes, there never seems to be baby socks at thrift stores or available as hand-me-downs. This is likely because babies have a fascination with pulling their socks off and throwing them over the edge of the nearest high place, but it doesn't make it any less frustrating. Luvable seems to understand. Their eight-pack of socks vary in price depending on what size you want, but even their higher prices are low enough that these are a real steal for an eight-pack.
Nobody likes their socks to have a rough texture and a baby's skin is especially sensitive. Luvable's socks are made from thick, soft cotton that will be gentle on a baby's skin while keeping their easily-chilled toes warm. The elastic in the socks will also help keep them in place without cutting off circulation to the baby's foot. These are probably the most affordable socks listed here. Each eight pack comes in a variety of styles and Luvable offers a range of sizes so that your child can stay in their socks as they grow.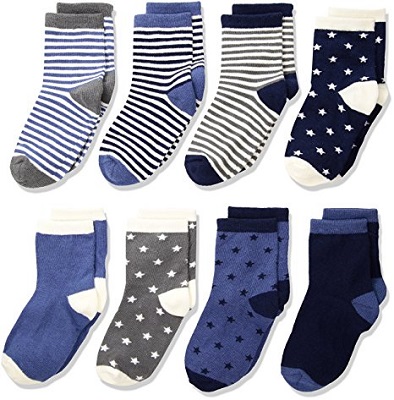 Stylish, coordinated-color designs come in each of the variety of 8 pack baby socks. With that variety to choose from, you're sure to find the perfect set for your little one. These are also available in sizes from newborn through to 4 or 5 years old. Cute little socks to go with the more formal outfits you may dress your child in, they are also warm and soft.
Stripes, polka dots, bows and solids, these cute little socks will go well with any outfit but especially with more formal styles, you may wish to dress your child in. The socks are also made with crew cuffs that prevent them from falling off easily. The socks are made of a stretchable cotton blend that will fit your child's growing foot. The cotton blend is soft and comfortable on your child's foot, allowing little feet to breathe.
The socks are priced at the lower end of the range and for that, you get 12 really cute socks in a variety of color-coordinated options. They are stretchable and will last as your child's foot grows as well.

10

. Simple Joys by Carter's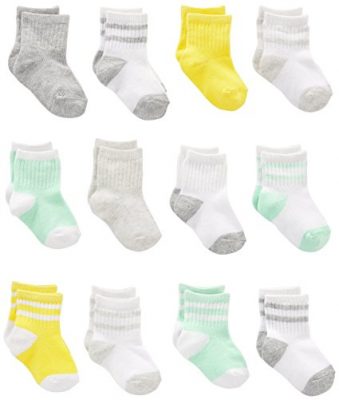 Most of the socks on this list are geared for the new adventurer. The little one just learning to walk and crawl, who needs the extra support of no-slip grips on the bottom of their socks. Carter's Simple Joys is a deviation from this theme. The socks do not have a no-slip grip sole. With sizes that range from newborn to two years, this means that pre-mobility infants and those with their legs under them would have the easiest time with these socks. There are those new walkers, however, who might benefit from the risk of a few slips as they get their feet under them. Only their parents know for sure!
The Simple Joys twelve pack includes a variety of pastel and neutral shades. These colors are arranged in basic designs that include standard solid, the "traditional gym sock" look with two thin bands of contrasting color around the ankle, and several other arrangements. There are no tractors or puppies or flowers to be found here. They are socks in a bright, classic style perfect for boys or girls.
Simple Joys is a Carter's brand, one of the most well-known baby clothing brands on the market today. They're sold nearly everywhere that baby clothes can be bought and for good reason. Carter's clothes are made to last. Their onesies stretch, their seams hold, their sizes almost always fit true, and their socks do not wear out. No matter how many times a little one skids across the floor, pulls them off, or chews on them.
These socks are very well priced. A twelve-pair pack costs as much as a six-pair pack from most other brands. This is likely because they are a lighter weight sock and have no anti-slip coating on the bottom. But if a spring and summer weight sock is on the shopping list, these socks would be a good choice.

Subscribe to our Newsletter