Best Cold Weather Boots Reviewed
In a Hurry? Editors choice:
Test Winner: UGG Adirondack III

It's 20 degrees, snow is falling on top of snow, and your feet are freezing. It's time to get rid of those tennis shoes and grab a pair of foot-gear made to keep feet warm with a stylish flair. Everyone has been caught with their toes out at one point or another. This is why it's important to keep things as simple as possible when choosing the right boot.

Everyone wants stylish winter-wear but it's also important to think about individual needs. In cool but not particularly wet environments insulated footwear will work best. If constant snowfall or rain is an issue insulation and waterproofing would be the best choice. These are not the only conditions to consider, feet serve as the foundation of life. These are the apparatus that allows one to experience the world and are important to every human being.
Standout Picks
Criteria Used for Evaluation
Comfort
No matter what kind of cold weather boots you're looking at, the comfort level must be considered. Comfort can make or break a purchase; if a shoe is not comfortable, you won't get the full benefits out of them, and will likely have to go through the process of returning or exchanging them. We took a number of things into consideration when determining the comfort level of a given boot, including the insole and the overall fit.
Insole: This is the part of the sole making direct contact with your feet, and is responsible for cushioning and to an extent, shock absorption. Arch support is also mostly dependent on the insole. Some common insole types are Ortholite and memory foam, which is both designed to compress and contoured to the unique shape of your feet.
Overall Fit: The number size of a shoe only tells you so much. The width of the shoe needs to be considered, as well as any size variations. Some shoes will run larger or smaller than others; it's a good idea to look at consumer reviews as this will give you an idea of real-world experiences with the product.
Durability
Between snow, salt, and slipping on ice and falling on your butt, cold weather requires durable apparel, including footwear. A durable shoe will keep your feet comfortable and protected in cold weather, and will likely last you longer than a boot that isn't as durable.
Some materials, such as leather, are more durable than others. After all, leather has been used in footwear for thousands of years, and some leather shoes have been found in surprisingly good condition for their age. Other materials can be used in cold weather footwear, though these are often reinforced in some manner.
The outdoor of a shoe is often what will show signs of wear first, and this can be especially problematic in cold weather. Damage to the outsole can leave the interior of the shoe exposed to the elements, which can result in cold or soggy feet, or even both. While cold feet are socially acceptable at weddings, they aren't as acceptable when the mercury dips below freezing. Vulcanized rubber is an often used choice for outsoles. They are made of rubber that has been mixed with sulfur, which acts as a reinforcement.
Effectiveness
The interior of the shoe is important. Ensuring a cozy feel that is lasting will depend on the layering for insulation and comfort. A quick drying material may be incorporated to wick sweat and enhance drying without having feet feel overheated. Many different kinds of materials can line the interior of footgear. But, for cold weather boots, you really should be looking for materials that at least will keep feet warm in subzero temperatures. This is usually stated in the product description and rates from 100 to 1,000 grams. Ranges from 200 to 600 grams will be adequate for most colder environments.
The level of warmth will be determined not only by the amount of activity, metabolism, tightness and blood flow. Most products offer a range but it can vary by up to ten degrees in either way. When looking for extra warmth there are natural fabrics that can be used. These include wool, cotton, and fleece linings. Many modern boots also offer an interior bootie that can be removed. This will make for good extra insulation when needed and even work well as a kind of sock or foot covering while camping.
To keep feet warm footgear that offers sealed seams may be best. If the bottom of an item offers rubber that covers the top of the foot will help keep moisture out. If the tongue of a product is padded this will offer extra comfort and heat. If the material used in cold temperature footwear for the top of the item offers waterproofing or water resistance this will help keep feet dry.
Overall Fit
Nothing can be more frustrating than looking for the right sizing for winter footwear. There are a number of factors to consider when making a good choice. If sizing is different for items in various countries. Usually, manufacturers will have a size conversion chart. Some items, even after choosing the correct size will run smaller than normal or have a weird foot feel. These are a few factors to consider when choosing the best size for warming footgear.
Narrow Fit: If reviews and construction seem to be more narrow it will typically be a good idea to order a half size to a full size up. Keeping in the mind the thickness of socks that will be worn will be imperative. Cultures with typically narrow feet such as Asian or European will have sizing that fits the majority of their population. It's important to keep this in mind when purchasing items that have sizing different from what your country offers.
Sock Thickness: This one's self-explanatory. Winter foot-gear can be tight even after purchasing the correct size. If feet and other extremities are naturally cold they will be even colder in below zero environments. This may require thicker grade socks. This is why it's important to be conscious of what kind of socks are typically worn. Choosing wide sizing for footgear could mean the difference between tightness and a perfect fit.
Lacing: Believe it or not, lacing is a major factor in determining the amount of the desired adjustability. If socks are thicker the ability to have enough extra slack can give just the right amount of room. If lacing systems don't offer adjustability or only tighten around the top of the item, it can make a huge difference in the grade of sock that will be wearable.
Water Resistance
With autumn comes rain and with winter comes snow. So it makes sense to look for footwear that is not only warm but also resistant to water. Water can get into regular shoes such as sneakers and be very uncomfortable. In extreme cases, water in your shoes can lead to hypothermia or frostbite, so it's important to keep yourself protected from the elements. Wet shoes are also breeding grounds for odor-causing bacteria and other germs, which can cause infections if not addressed properly.
Boots made of leather naturally have some water resistance, though for winter conditions it's a good idea to treat them with a protective coating as a second line of defense. Shoes made of canvas or other textiles are not natively water resistant and as such you'll need a pair that is treated with a water resistant coating.
The cut of the shoe is also important. While low-cut boots are often more comfortable for people and allow your feet to move more freely, they run the risk of getting moisture into the top of them. This may not be an issue for light snow or some rain, but when you consider the possibility of a downpour or a blizzard the cut of a shoe matters more. Higher-cut Boots will keep water out of the top better than their low-cut counterparts.
10 Top Rated Boots For Cold Weather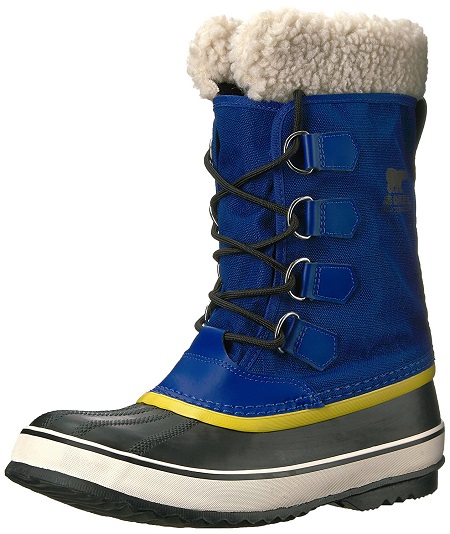 Sorel is well renowned for their high-quality outdoor gear, and the Carnival boots are no exception. Featuring a nylon outer for water resistance and a fluffy sherpa collar, these boots are perfect for when the weather starts to get really cold. Available in a wide range of stunning colors, there's a Sorel Carnival for everyone.
Nylon Outer
Waterproofing is crucial for cold weather boots, as this will greatly reduce the risk of frostbite and spare you the general unpleasantness of having wet feet. Most brands including Sorel will use nylon for the outer, as it is designed to keep the elements out and the warmth in.
Wide Range Of Colors
Color choice is more important than you think when it comes to any type of shoe, not just boots. The color of a shoe is directly related to its overall style, so offering a wide range of colors will let the shoes appeal to a wider range of people. The Sorel Carnival Boots are offered in over ten color options, from classics such as beige and black to adding more vibrant colors like red and blue.
Cost and Value
While the exact price depends on what size and color you get, overall these Sorel boots do fetch a premium. They are, however, priced similarly to other Sorel products, so the price tag isn't necessarily surprising. If you're looking for a waterproof boot that combines form and function, you've found it.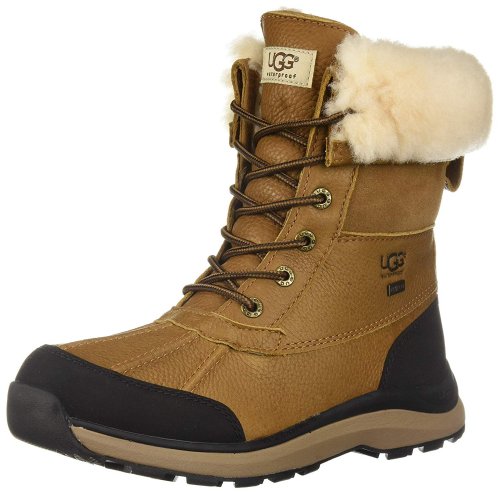 We can't talk about cold weather boots without talking about UGG. Specifically, we're looking at the Adirondack III. This mid-calf boot is constructed specifically to the shape of most women's feet, ensuring a comfortable and secure fit. The wool collar and linings keep the warmth in and the wind out.
Women's Last
A "last" is a model foot that is used when creating shoes. Similar to a mold for a candle or a toy, the last is a guide on how the product needs to be shaped in order to give the best results. The Adirondack III is constructed using a women's-specific last, allowing them to create a design that better accommodates a woman's foot.
Wool Lining
Wool is far more than just itchy sweaters that shrink amusingly in the wash. Wool is an exceptionally warm material that makes it perfect for the linings of boots. Wool keeps heat in while keeping cold air and wind out, keeping your feet warmer for longer.
Cost and Value
These are one of the most expensive products on our list. UGG products are known to be expensive because of their brand recognition and features. The Adirondack features a temperature rating as low as -32F (-35C), making them well worth the investment.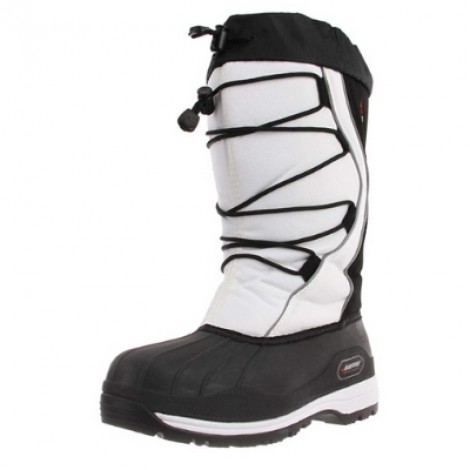 These are crafted for seriously cold temperatures. The manufacturer claims to keep feet warm even at temperatures as low as -148 degrees F. These may still require heavy wool socks but when temperatures hit below zero it's important to have a pair that will offer protection against harsh temperatures. Baffin is a Canada based brand that tests their products against the harshest conditions North America has to offer. The founder, Paul Hubner grew up in a family that constructed traditional Canadian foot-gear. His love of rugged winter attire grew into a passion and he developed a unique layered system to provide warmth in the harshest environments. Baffin is a socially responsible company donating time and money to the indigenous of Nepal to help with reforestation, education and providing healthcare.
Extreme Weather Protection
Sub-zero temperatures can damage feet and require attire that can stand up to wind chill. These aren't the sleekest looking boot but when the temperature drops rugged boots are a necessity. The bottom of this footwear is fitted with rubber to protect toes and the top of the foot from freezing wet conditions. The layered system on the interior of this product has removable parts for adjustable warmth and easy cleaning.
Security
The lacing on foot-gear can make a big difference when it comes to support and ease. Lacing that becomes loose easily can mean the difference between slipping out of footwear or the infiltration of snow into the interior of winter wear. This system not only makes this item easy to put on and off but provides a secure fit as well. The traction on the bottom of this attire will hold up even on ice. This is due to the polar rubber outsole.
Cost and Value
This item is offered in a range of pricing. This range is on the pricey side but the technology used makes this an easy buy. These will last for multiple seasons due to the rugged nature of this footgear. This is an easily reliable brand that is something anyone who purchases can feel good about due to the socially responsible practices. This item offers uncommon flex for such a well-insulated product. The waterproofed collar is also padded for extra comfort and warmth.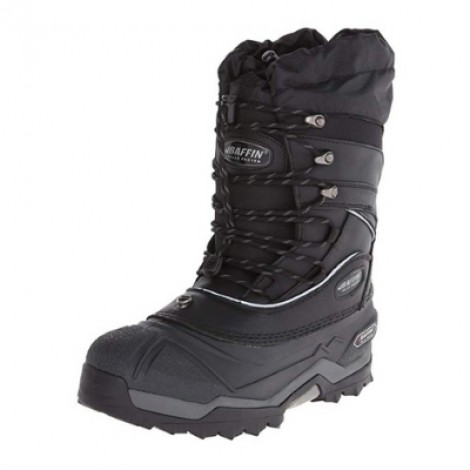 Baffin is one of the premier brands for cold weather attire. This is due to the tradition of marrying passion and innovation. This company is all about boots that stand up to cold conditions and provide a sturdy structure. They even have insulation under the foot via the waffle comb footbed. These are not designed for extreme conditions but will suffice for sub-zero temperatures. Baffin is based out of Canada and keeps most of its manufacturing in the Northeast keeping working conditions favorable for workers. This a brand that someone can feel good about that offers quality items as well.
Layers of Warmth
These are not simply created with as much padding as possible. Creating a wearable product is about so much more than slapping layers together. These are designed specifically to feel lighter in weight than traditional boots while remaining tough when the weather is unforgiving. The exterior boasts sealed seams with a water-resistant base. They should not be submerged in water but will hold up well when wet conditions are unavoidable. The Inside has a removable bootie. While this doesn't exactly sound very masculine it does provide extra comfort and warmth. The interior is removable and at the bottom of this foot-gear has a weird waffle comb construction. This actually bolsters insulation while adding an element for the allowance of air-flow.
Protective Bottoms
The thick rubber bottom makes this a favorable boot for those who need an item that is protective and warm for work. Anything can happen and if steel toes are not required the thick rubber that covers the toe can be a lifesaver. This product is also created for feet to be aligned in an anatomically correct way. This and the abundant cushioned interior makes this item favorable for all day use. The bottom on this footgear boasts exceptional traction. The ICEPAW high grip technology will hold the wearer firmly in place even on icy unpredictable surfaces.
Cost and Value
These are very well made and popular for cold days. They will cost for the quality of this attire. These are layered to protect against the most aggressive winds and feature a very sturdy traction. The exterior features leather and textile with sealed seams. They are not fully waterproof but rather water resistant. They will stay warm during snowy weather but if these are fully submerged may leak.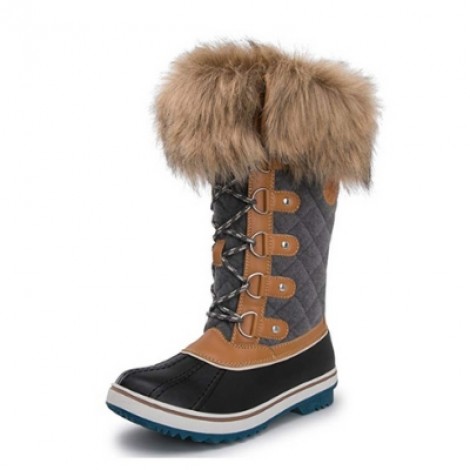 This is a New York Based company the offers quality footwear for cooler days at affordable prices. The Globalwin has an appealing aesthetic that hits the leg around mid-calf. This brand has a traditional lacing system that allows for an individualized fit. They also offer a wide range of color and design options. This is welcoming for those who want foot-gear that has a personalized touch and the ability to offer unique expressive wear. In terms of warmth, these are good for casual environments. Longer hikes and snowy adventures may require thicker socks for cozy toes.
All-Day Wearability
These offer quality in terms of cushioning. If days stretch into evenings having foot-attire on hand that can stand up to long days is a necessity. These offer an interior that has mesh fitted for the bottom of the foot. There is also extra padding over this area to provide a feathery feel making it easy to wear all day. The collar of this attire is padded around the ankle area to give the wearer a snugness that isn't common in all cold weather footwear. This item was designed to keep the foot from feeling weighed down all day. The traditional heavier bottoms are instead fitted with lightweight materials that offer foot flexibility for a more natural stride.
Slip Resistant
The nature of footwear to protect against slipping is a necessity in almost any weather. This ensures the minimizing of injury to the wearer. Along with lacing that is adjustable the bottom of the shoe will be important for stability. When snow is melting the ground can become like slush. This kind of environment can be unpredictable and snow can cover uneven terrain. This is why attire that is fitted with a slip-resistant bottom will be important to choose.
Cost and Value
These are very fairly priced and the exterior is not made from real leather. The exterior is a manmade material making this attire animal-friendly. These also allow for a wide variety of color and pattern options. This is very refreshing for those who value individuality and unique footwear. This item's traditional lacing system and padded ankle collar add extra stability and support in this area. This is also waterproofed up to the ankle area for protection on, particularly wet days.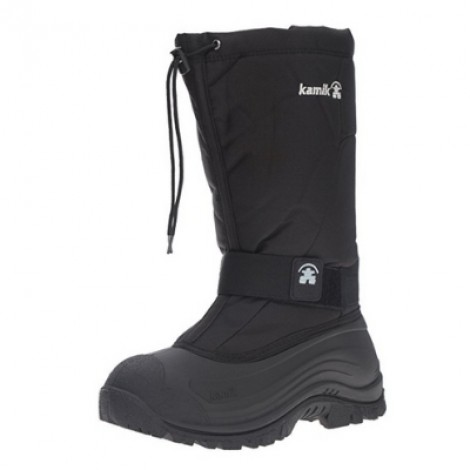 This is an exciting brand for the conscientious consumer. Kamik strives to keep 73% of every product produced made in North America. They have used sustainable methods to reduce their carbon footprint as early as 1993. They also offer a way for their products to be recycled and they use these recycled materials to produce new items. This is also a family owned and operated business for over 100 years. They are made proudly out of Canada where there are a variety of environments where toasty attire is a necessity in cooler months. These were created to be strong for lasting wear and feature a removable liner for ease when washing.
Strength
Endurance is a factor that should not be overlooked when purchasing footgear for colder weather. Nothing can be worse than purchasing a new pair of footwear and the item doesn't provide strength when the wind won't let up and the snow is piling up. When a storm hits acquiring sturdy footwear can be a lifesaver. These are designed with 600 denier Nylon, this grade is very strong and reliable for harsher environments. The top of this shaft measures 20 inches, which is very roomy. The drawstring at the top offers adaptability for ease when loosening or tightening attire around calves.
Durable Rubber Sole
The foundation of any shoe is the sole. The shape and design of the bottom of the shoe will determine if a shoe will be long-lasting and prevent slipping. The bottom of every one of this brand's outerwear is made of recycled rubber. Despite this, these are incredibly strong and long-lasting. The bottom is fitted with very sturdy traction to increase stability in slippery environments. These also are incredibly waterproof to ensure dryness. The removable liners make cleaning easy and painless. This also is a favorable feature in case environments are wet but not incredibly cold.
Cost and Value
These are functional and quaint. They are easy to put on and feature a velcro ankle strap for an added support. The pricing is mid-range and this item is typically long-lasting. They could last a few seasons before needing to be replaced actually. The material is very strong and this is a major benefit for windy winter storms. The drawstring at the top makes these easy to tighten to the desired firmness. The loop at the back of the top of this boot makes it simple to slide these on and go.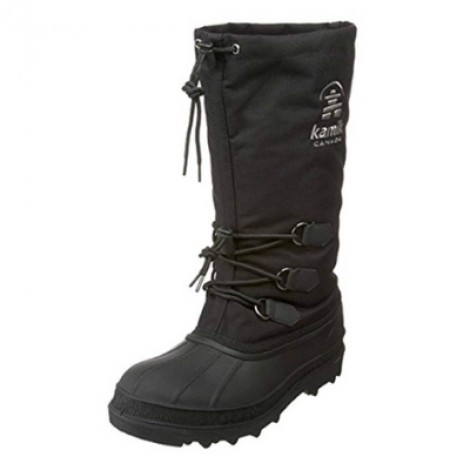 If you must step outside during frigid temperatures, then you must wear tough foot-gear. These were created to stay in place and support the ankle. Kamik is a family-owned company out of Canada with over 100 years in the business of creating tough winter attire. These are also created in an environmentally friendly way. This company strives to leave behind as little of a carbon footprint as possible. These are wonderful for slip-resistant attire that provides stability in even the harshest conditions. The knee-high length is uncommon and great for providing an extra layer of protection during outdoor activities.
Enduring Knee High
Not all warming footgear is created equally. The knee-high appeal of this wear is uncommon and constructed to provide a high amount of protection against chilly winds. Nylon is a very sturdy man-made material that has the ability to be fast drying and have low moisture absorption. These also have the advantage of being highly insulating, helping to keep feet warm and stave off windy environments. The exterior is resistant to damage from chemicals like rock salt and environmental chemicals.
Bungee Cord Tightening
Cowabunga! These incorporate real bungee cord for stability and strength. This is a very unique feature and is sure to be a topic of conversation among other adventurers. This is a feature that isn't only really cool but exceptionally functional. Bungee Cord is made to absorb shock and stay firmly in place. This is a very elastic and forgiving material that will hold up even in extreme environments. The top of the boot and ankle area are secured with bungee cord straps. This uses an adjustable cord for customization.
Cost and Value
These are priced a little high but have a very durable nature. These are crafted with a very strong 1000 Denier waterproof nylon. This feature allows the wearer confidence when facing even the harshest winter conditions. The rubber shell around the front of the foot offers protection for toes and extra waterproofing for wetter endeavors. This product also has a removable liner to keep toes extra cozy. This feature allows for easy cleaning and the liner dries easily if by chance they happen to get wet.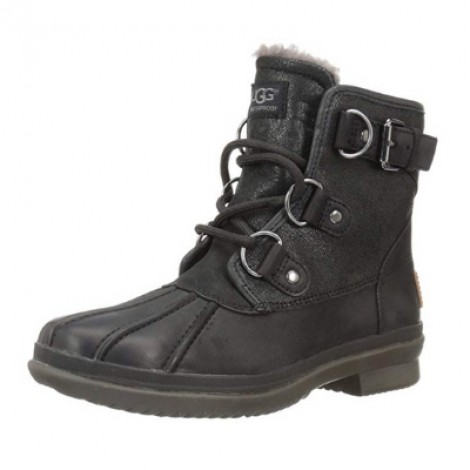 There is no need to sacrifice style for functional winter-wear. These features can co-exist when executed correctly. This is a favorite for those who need foot-gear that offers a stylish appeal and comfort overall. The UGG brands Cecile is as beautiful as the name sounds featuring a small half inch heel and leather exterior. These would look killer with a leather jacket for the busy individual who doesn't want toes to freeze in cooler months. The exterior is fully waterproof as well and will easily handle snow or freezing rain.
Wool Interior
When the temperature drops wool has a nostalgic appeal. It is a fabric that is reminiscent of fluffy scarves and favorite coffee shops. Executing outfits that are warm but still fashionable can be a challenge for some. In many areas, the aftermath of stormy weather can ruin much traditionally worn attire. These have the ability to keep toes warm while walking along streets that may not be fully shoveled. This item even offers a padded tongue for all-around warming.
Unique Exterior
The outside of this shoe is very impressive. The secure lacing has oversized metal loops that are a really unique and stable accent. The mix of materials is interesting. These range from cow leather, lamb suede, and some pig leather. These materials come together offering a contrasting look that is pulled together well. The seams are sealed to offer leak-proof protection. This makes the exterior supple and still offers the quality construction that is to be expected.
Cost and Value
These offer a stylish look and are bolstered with warmth many companies do not have the ability to create. These are a premium product and are on the more expensive side. They are not overpriced because they are fitted with high-quality materials that are designed to be lasting. The exterior is durable and protects very well against wet environments. The loops for lacing are stunning as well as surprisingly strong. The bottoms are flexible enough for easy walking without weighing down feet. They also offer a good amount of traction for slippery environments. This is an all around well constructed stylish product for the functional and fashionable among us.

9

. Columbia ICE Maiden II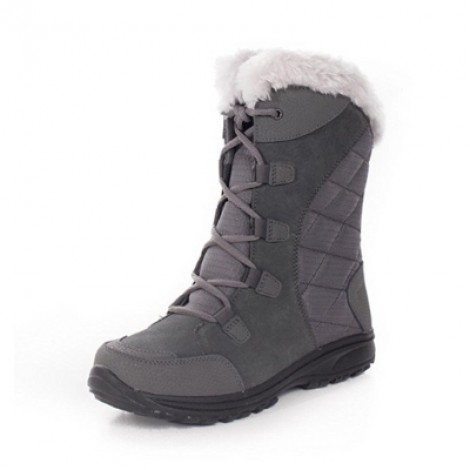 Columbia is a family owned and operated company that is based in Portland, Oregon. After Mrs. Boyles husband died she took over the company. Mrs. Boyle goes by "The Tough Mother" and every product must past stringent testing before she gives it her stamp of approval. She is known for saying, "It's perfect, now make it better." This tradition of creating tough products that can stand up to even the stormiest winter days is well known. This is what has catapulted this company into the success they know today. The ICE Madien not only boasts a stylish design it also is insulated and fitted with waterproofing for warmth on even the coldest days.
Stability
Once the colder weather is upon us style isn't the only feature that is of importance. Stability that offers ease while walking, shoveling, and sledding will become more apparent. Adjustable lacing will offer ankle support to prevent injuries. The bottom of this item offers security in traction. The most embarrassing thing is to slip and fall while people watch. To prevent this extra steadiness is provided by way of good traction on the bottom of this warming attire.
Cozy
There are two factors that come into play when choosing something that will provide coziness. One of those will be connected with the exterior of footwear. This item offers waterproof leather and textile for the exterior. This outside will prevent moisture from leaking onto feet causing wet socks and cold toes. When the temperature drops cold toes can feel numb and uncomfortable. Protecting against this is a matter of insulation. The insulation is superior in this item offering up to 200g of insulation which is good for casual walking around and staying active.
Cost and Value
This is a relatively affordable mid-range product. The value is really good considering the lightweight yet sturdy nature of this cold weather gear. This item offers a stylish look and warmth that will be lasting for those cold days. The waterproofing is superior and the interior is designed to keep feet insulated against cold windy days. These are perfect for the individual that wants something to pair with favorite jeans or leggings on colder days.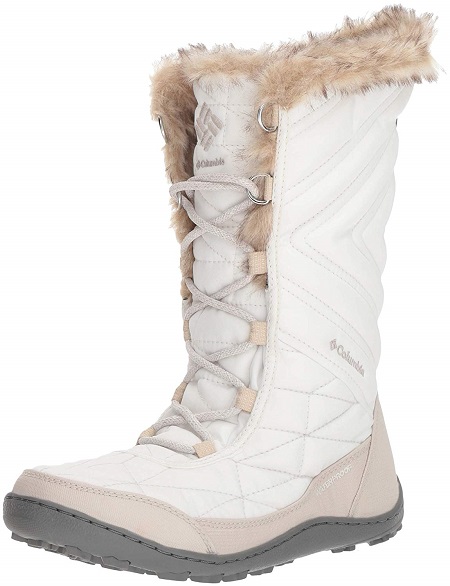 With a temperature rating of as low as -25F (-32C), the latest version of the Columbia Minx boots are made for polar vortex conditions. A waterproof seam-sealed membrane keeps snow and rain out, while the faux fur collar and tongue linings add aesthetic appeal to the boots.
Omni-Grip Outsole
The prefix "Omni" is derived from the Latin word omnis, or "all," so an Omni-Grip outsole being able to grip a surface from multiple directions makes sense. This outsole is able to grip even tightly packed snow, giving you more stable footing in poor weather.
Omni-Heat Reflective Lining
A shoe designed for cold weather should, more than anything else, be able to keep your feet warm. The Minx boots are outfitted with an Omni-Heat reflective layer, which has become immensely popular. Similarly to an emergency blanket, this reflective lining traps your own body heat, keeping your feet warmer for longer.
Cost and Value
Columbia products tend to cost a bit more than others, and the Minx is no exception to this. However, this price tag features some of the most innovative technology in the industry with a stylish design in multiple color options.

Subscribe to our Newsletter