Best Snowboard & Ski Socks Reviewed For Warmth
In a Hurry? Editors choice: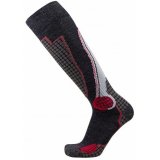 Test Winner: PureAthlete High Performance

While many put an emphasis on
ski boots
and
boards
, there is a lot to be said about the article of clothing which seems insignificant at first - the sock. Having the right pair can make or break your winter sports experience. If you find yourself on a mountain with a seam digging into your foot where it shouldn't, getting down to where you can change out of it will certainly pose a challenge.
In order to help you make the most out of your winter holiday, and to help you save time in picking out the perfect design for your next
snow adventure
, we have organized this list of top ten socks for skiing and snowboarding.
Standout Picks
Criteria Used for Evaluation
Materials
When it comes to socks for extreme winter sports, one of the key features is the material they are made of. Properties like thickness, breathability, and moisture-wicking become important when you're making a decision on which product to buy. They may sound alien to you, but we are here to break down the most common material types and list all of their pros and cons.
However, bear in mind that not all socks are 100% made out of only one type of material. In fact, more often than not, different blends are used, to utilize the best qualities of each material and try to minimize the undesirable properties. This is why, unfortunately, no matter how much you learn about all materials, in the end, you will have to find the one that works best for you through good ol' fashioned trial and error.
That being said, let's see what you should or should not be looking for on your next shopping trip.
Cotton: Right off the bat - cotton is what we don't want. Over the course of history, this material has been proven to be unreliable for many a sports endeavor. It retains moisture, which makes your feet sweaty and damp, and as a result, this brings down your body temperature. This effect is, you will agree, most inconvenient when one finds themselves on top of a freezing, snowy mountain. So, first lesson: cotton - bad.
Merino Wool: Second lesson: Merino wool - great! In fact, most - if not all - of the choices on our list contain at least some percentage of Merino wool in their construction. The reason for this is that Merino wool is essentially the industry standard when it comes to winter sports socks. This is a material which has the unique property of keeping your feet warm in the winter and keeping them nice and cool in the summer. It is soft, comfortable to wear, and above all, it is odor resistant. You don't have to worry about any unpleasant smells of your feet or boots when you are wearing Merino wool. Of course, as we have mentioned before, most products are not made out of 100% Merino wool. This is good, since adding other materials, such as spandex and nylon, improves the stretch and toughness aspects, making wool designs far more durable, and providing a better fit.
Synthetics: The downside of Merino wool is that it is an expensive material. Therefore, if you're not in the mood to cough up bucket loads of cash, you may turn to synthetic materials. The benefits of synthetics are that they offer a great fit, and have the best moisture wicking properties out of all. While you can't rely on much breathability inside a ski boot - due to its hard plastic construction - synthetic socks will definitely pull as much sweat away from your feet as possible, keeping them dry throughout the ride.
Nylon and Elastane: While Merino wool and synthetics are primary materials that can go into a product, nylon and elastane are there as secondary options, to improve the performance of the sock. Nylon is the one which brings toughness and durability. It also provides a consistent shape for the sock and supports your foot, ankle, and leg. Elastane, spandex or Lycra, is a material which gives stretch. Different percentages of these materials result in different products, which, as we mentioned before, you will have to test out to know if they work for you!
Fit
Because they are made with performance in mind, ski socks will often have a designated right and left sock so as to maximize fit precision, and to prevent discomfort during your time on the slopes. This means that you should probably stay away from one-size-fits-all models, and choose those that will match different foot sizes.
First and foremost, you should ensure that the sock is snug but not restrictive. A snug fit will ensure the required support throughout the foot, and will prevent material bunching that may lead to blistering once your feet have gotten hot from exercise. Another thing to consider is the height of the sock. You need to ensure the top line is actually higher than your boots, so that they completely protect you.
Models will most often be gender specific to ensure the best possible level of comfort, especially in the calf area where a sock that's too tight or too loose could cause serious comfort and even performance issues.
Another thing you may want to consider is the construction, especially in the toe area, where bulky seams could cause rubbing or chafing that could affect your overall experience. The best thing to do when buying a pair of socks is to put them on and wear them around the house for a bit before skiing in them.
Breathability
Most models are made with thinner fabrics over the top of the foot to ensure plenty of air flow, and the escaping of moisture from the sock. This is crucial in keeping you both comfortable and healthy, as moisture is one of the main causes of blisters in the first place.
You'll also find that spending an entire day in damp footwear can have bad health effects in terms of bacterial and fungal growth, and can even lead to athlete's foot or infections. Corns, ingrown toenails, etc., can all be prevented by wearing breathable socks.
You'll find that most professional athletes will go with the thinnest sock possible, as it will allow them to feel the boot and the snow underfoot better than heavily padded and insulated models that can often sacrifice responsiveness.
We've already discussed materials above, and you should know that Merino wool is the definite best option in terms of breathability, as well as moisture resistance. Before investing your money in a pair, make sure you've read the materials used so that there aren't any unpleasant surprises at the end of the day.
Insulation
Back in the day when athletic gear was still made with leather, cold temperatures could present a serious problem, and athletes would have to come up with ways to keep their feet warm enough to be able to perform. Today, ski and snowboarding boots are constructed completely differently, and have plenty of comfort features that are aimed at keeping you protected from a number of elements, including the cold.
Some people, however, still require warmer socks than others. Overall, ski socks come in three options:
Lightweight: Used by professional athletes, these put less material between you and the skis, which results in better control. They can also be used by enthusiasts and beginners in milder temperatures at the beginning and end of the season.
Midweight: Probably the best option for most people, these will keep you warm, but won't sacrifice responsiveness.
Heavyweight: These use more material, and often feature more padding than the ones mentioned above. Heavyweight socks will also be more comfortable than those with less material, and can be used by those who don't ski at a high level, and prefer to enjoy their time on the slopes.
Features
Nowadays, you'll find a number of additional features that are available in your ski socks. From tech additions to simple solutions to make your life easier, you can get a variety of models that may prove to be just what you need.
One of such features is definitely the electric heated sock. While most often made for casual use, these can also be purchased for sport-specific use. They will use a battery operated heat pack and connection, and are usually controlled through an app on your phone. All you have to do is charge them from time to time, and you'll have toasty warm feet, regardless of the temperature.
Other special features may include gender specific designs, added supportive features (especially in the arch), cushioning in the ball of the foot to take care of shock absorption, or shin protection.
Most often, these won't be necessary for the average user, but can definitely make training easier for athletes who are on the snow daily.
Top 10 Ski Socks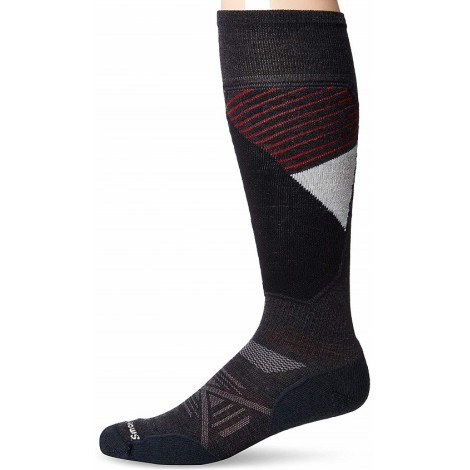 The Smartwool PhD Light design is one of the most popular choices for winter sports. It is constructed out of a blend of 57% Merino wool, 41% nylon and 2% elastane for stretch. It has a medium-cushioned foot and shin for that protection from the hard boot, as well as amazing fit and durability. The Smartwool PhD Light features a 4 Degree elite fit system and ReliaWool technology, which we will expand on in a bit. Additionally, it also has mesh zones strategically placed to improve air circulation, for the purpose of maintaining temperature and reducing moisture. What a badass design indeed!
4 Degree Elite Fit System
The Smartwool PhD Light is all about the stretch and that perfect fit. This design uses two elastics to keep it in place and to increase the amount of stretch and improve recovery at the same time.
ReliaWool Technology
As its very name suggests, the ReliaWool technology is definitely something you can rely on. It is a special impact absorbing system which ensures maximum protection to your feet and minimizes foot fatigue after a long day on the slopes.
Cost and Value
While not the most expensive choice in this guide, the Smartwool PhD Light still costs a pretty penny. However, it is truly an exquisite design, with support systems and technologies aimed at offering you only the best of the best, so we feel like its cost isn't an exaggeration at all.

2

. Icebreaker Ski + Light OTC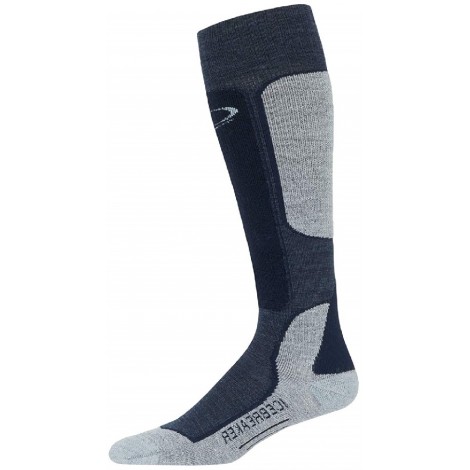 This anatomically sculpted design is just what you need for an entire day on the mountain. The Icebreaker Ski + Light OTC (isn't that a mouthful), is a mixture of 70% Merino wool, 26% nylon and 4% Lycra. It is lightly cushioned for better performance and features support zones to keep it in place. It also has special areas designed for superior breathability. The seamless toe in the front prevents bunching on the fabric and potential blisters. Overall, this is a solid choice and many an athlete's favorites.
Support Zones
While comfort, warmth and moisture wicking are definitely qualities which are important when taking part in winter sports, there is another benefit in the form of support that is often necessary. The Icebreaker design has support zones which keep your ankle, Achilles tendon and instep nice and secure to reduce the risk of injuries.
Breathable Zone
There is no doubt that you will start sweating at some point during your trail run. Sweat and buildup of moisture can contribute to lowering of your body temperature, which is not that favorable when you're knee deep in snow. This is why the forefoot of the Icebreaker comes with a ventilation area, to increase breathability and keep your feet dry.
Cost and Value
While the Icebreaker design isn't equipped with any special technologies or innovative features, it still a great choice for someone who wants to improve their performance on the slopes. It is comfortable, light and will keep your feet cozy and warm, all for a reasonable, middle-ranged price.

3

. Darn Tough Vermont Light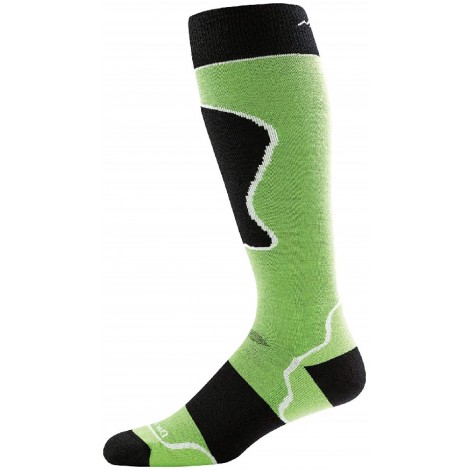 The Darn Tough Vermont Light has definitely been aptly named, as this is a design which is nothing short of legendary when it comes to its durability. So much in fact, that it comes with an unconditional lifetime guarantee. This model is made out of 60% Merino wool, 36% nylon, and 4% Lycra spandex. It delivers superior fit, a perfect combination of comfort, coziness, and breathability, and on top of it all, it is also antimicrobial in nature. With the Darn Tough Vermont Light, you won't have to worry about any bad odors or itchiness. It is truly an example of outstanding quality which will last you season after season!
Antimicrobial
The construction of the Darn Tough Vermont Light ensures that it naturally repels bacteria and bad odor. Not only will you not be embarrassed by taking off your boots after a long day on the slopes, but you will also be safe from bacterial infections, and all the itchiness and unpleasantness that come with them.
Legendary Durability
Seriously, it doesn't get any better than this. If you are looking to invest in a pair of socks which will last you a literal lifetime - then these are definitely the ones. With the Darn Tough Vermont Light, you will be able to enjoy winter adventures for years to come!
Cost and Value
There is no way around the fact that the Darn Tough Vermont Light is the most expensive product we've looked at. Still, for that money, you get not only one hell of a winter design, but you also get a lifetime guarantee on the product, meaning that it will definitely be money well spent!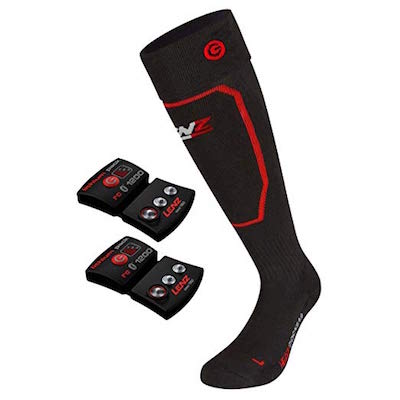 For those who want a bit more tech in their gear, this model by Lenz is a great choice. This is one of those heated models you can control with your smartphone, allowing you to keep your feet toasty warm, even when the temperature outside is low. This sock will warm your toes and the ball of your feet - often the parts that get the less blood circulation, and are easy to use, recharge, and keep clean.
How it Works
All you have to do to get your feet to a comfy temperature is to attach the two lightweight lithium packs to the top line of the sock, and to set the temperature you need. This is the same type of battery used in your cell phone, which means it can easily be recharged, and will last all day on a low setting.
Moisture Wicking Blend
These socks are made with a blend of materials that combine elasticity and durability with moisture resistance, allowing your feet to breathe, regardless of how rigorous your training regime is.
Cost and Value
These are quite expensive for a pair of socks - you'll find that they're a bigger investment than some entry level skis, snowboards and boots. However, if comfort is important to you, or you suffer from health issues that require you to keep your feet warm, then these may just be the perfect choice.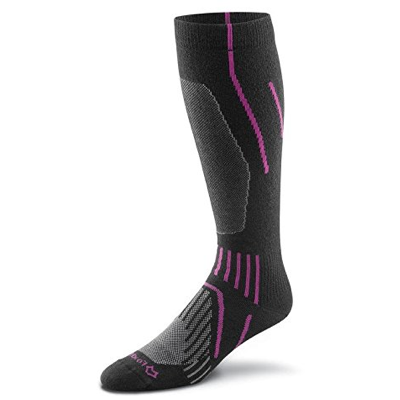 There is nothing that this product can't do. We are absolutely in awe of all the features that the FoxRiver Bristol comes with. Let's start with special thermolite fibers it is made from, then cushioning in the sole and shin, followed by a memory-knit construction which helps the Bristol preserve its form throughout use. There are spandex compression zones, and a contoured rib top and mesh panels for ventilation. Lastly, the reinforced toe and heel are there to make this design last longer. Add a bit of sing and dance, and we have found our new favorite winter sock!
No Slippage
It can be quite annoying when our tall designs keep slipping down, even more so when we want to focus on improving our performance and using the most out of our winter vacation. This is why the Bristol comes with a contoured top, to hold it in place, as well as special compression zones which are snug around your leg and prevent slippage.
Thermolite
The FoxRiver Bristol is made out of 61% Thermolite, which is a special type of a material, carefully crafted for its light weight and heavy-duty performance. These insulating fibers provide gentle compression and moisture wicking, enabling your feet to stay warm and dry all day long.
Cost and Value
If you're worried that the FoxRiver Bristol is too good to be true, and that its price must be sky high, then worry no more! In fact, this design is quite affordable, belonging in the lower range when it comes to cost, and we could not be more thrilled. It is a reliable all-around knee-high that you will thoroughly enjoy.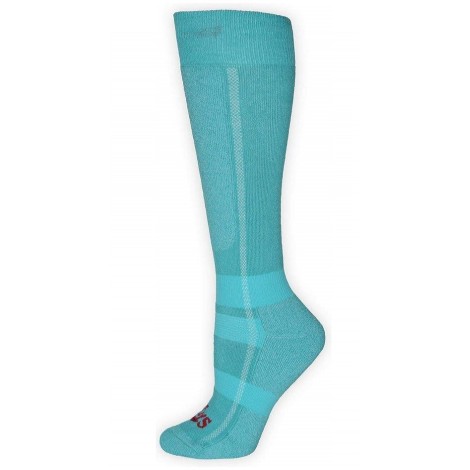 One more design which has a unique material is the Hot Chillys Premier. It is made out of 70% Bio-Silver acrylic, 15% nylon, and 15% Lycra. This model is meant to go over the calf and has a slightly bigger weight for more warmth and a better boot fit. It is constructed with a special MTF (Moisture Transfer Fibers) technology and anatomically sculpted for an improved performance. The Hot Chillys Premier also comes with compression in the toes, arch and heel areas for increased comfort and stability.
Bio-Silver
What makes the Hot Chillys Premier stand out is the fact that it has silver-based antimicrobials woven right into its fibers. These agents help prevent bacterial infections, which consequently reduces the chance of developing bad odors, itchiness or unpleasant diseases such as athlete's foot.
Moisture Transfer Fibers
It's not hard to guess from their name that these special fibers the Hot Chillys Premier is constructed of, keep moisture away from the skin. It is an excellent moisture transferring technology, which moves sweat beads away from your skin and keeps your feet dry and warm all day long.
Cost and Value
All things considered, the Hot Chillys Premier is a bit expensive, especially when we compare it to other designs in this guide. It is a great option, one which keeps your feet healthy, as well as dry, warm and comfortable. However, there are plenty of other designs here which do the same, but for less money.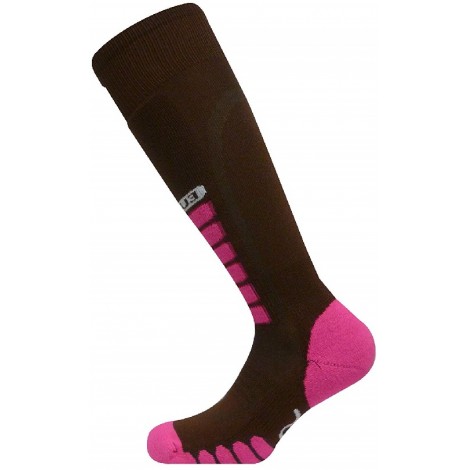 In the Eurosocks Ski Supreme, you can practically smell the fresh, ice cold air of the Alps. This design is 100% made in Italy and represents a great compromise between innovative technology and reasonable pricing. The Supreme is a lightweight option, with shin padding, an elasticized arch and ankle support. It is made out of 80% Micro-supreme material, trademarked by the company, 15% nylon, and %5 Lycra. There is a flat toe seam for a blister-free experience and ventilation zones for moisture management. With all of the advanced features the Supreme offers, you can rest assured that you will be well taken care of on the slopes!
Micro-supreme Technology
This technology is unique to all of the designs from this brand, as it is a special innovation from the brand. It includes a moisture wicking feature and self-drying properties which keep the feet warm and dry. And we all know that dry feet mean fewer blisters when you're speeding down the side of the mountain.
Cushioning and Support
The Supreme is outfitted with dynamic cushioning which improves performance, reduces foot fatigue and promotes circulation. Not only that, there is a special support system in the arch and ankle, minimizing the risk of injury.
Cost and Value
After everything that we have learned about the Supreme, we are shocked at its low price. The brand was serious when it declared that its goal was to provide high-performance products at affordable prices. With the Supreme, you will be comfortable, warm, dry and secure, and really, what more can one need?

8

. PureAthlete High Performance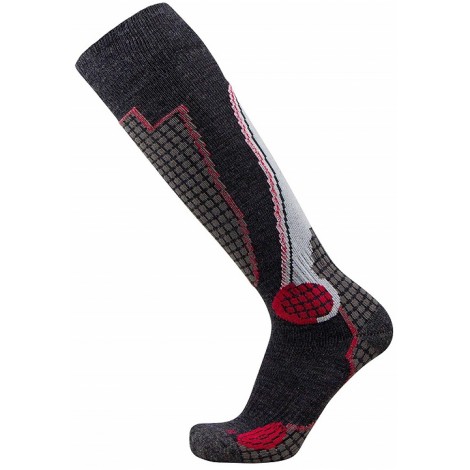 Whereas most of our choices here were constructed out of Merino wool as the main material, things are a little different with the PureAthlete High Performance. Namely, this design is made out of 54% nylon, 25% Merino wool, 16% polypropylene, and 5% spandex. Thanks to an advanced knitting technique, there is cushioning in the shin, the ankle and the foot for ultimate comfort, even when worn with boots. There is an elastic band at the top which prevents the PureAthlete High Performance from sliding down, and even an elastic arch support in the sole. Definitely a unique, but no less effective design!
Wool Propylene Blend
While cold feet are unpleasant, especially when you're on top of a mountain, the same could be said for feet which are too warm. Fortunately, the creative blend of merino wool and polypropylene in the High Performance maintains the foot's natural warmth and keeps it from getting both too cold and too hot.
Arch Support
In general, arch support is important for comfort and for preserving good foot health, as well as for reducing the risk of conditions such as flatfoot. The PureAthlete High Performance has arch support in its construction, which provides comfort and reduces the pain and discomfort of tired feet.
Cost and Value
The PureAthlete High Performance is not like the other designs on this list, but it is still reasonably priced. If you feel that for some reason the traditional merino wool blends are not working for you, switch things up! Try this warm, comfortable, nylon-based option and see if there are any improvements.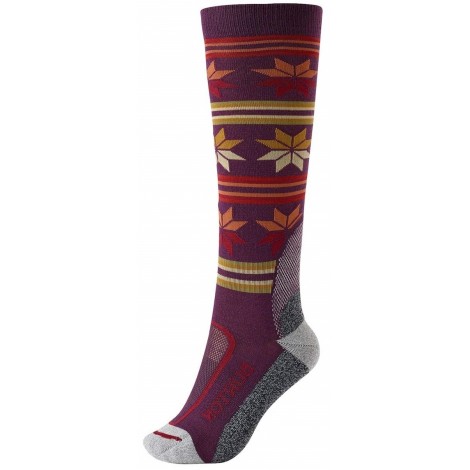 Whether you're snowboarding, or just braving a very long winter, the Burton Ultralight design is here to ensure that you are warm and comfortable. This is a lightweight model, made out of soft Merino wool, and with Dryride venting toe panels. It has strategically placed toe seams to prevent chafing and blisters, an odor-resistant footbed, and it also has a separate fit for the left and the right foot. On top of all of these features which make your stay on the mountain much easier, the Burton Ultralight is also effortlessly cute and stylish with its autumn leaves motif. Choose your color combination now and go out there and conquer the slopes!
Dryride Panels
No matter the season and no matter the occasion, everyone's feet like to breathe. Sweating is unpleasant and undesirable, and this is why the Burton Ultralight has special Dryride panels in the toe area. Their purpose is to increase airflow and keep your feet as dry as possible.
Motion Fit
While most socks are made the same for both feet, the Burton Ultralight is one step ahead of the game. With its Motion Fit design, this product has special ergonomic designs for the left foot and the right foot, which makes it perfect for snowboarding!
Cost and Value
Compared to other options in this guide, the Burton Ultralight is not expensive, though not too cheap either. It offers several different technologies and features which will improve your experience and performance on the slopes, with a fun, fashionable print to boot! Overall, it's a great deal.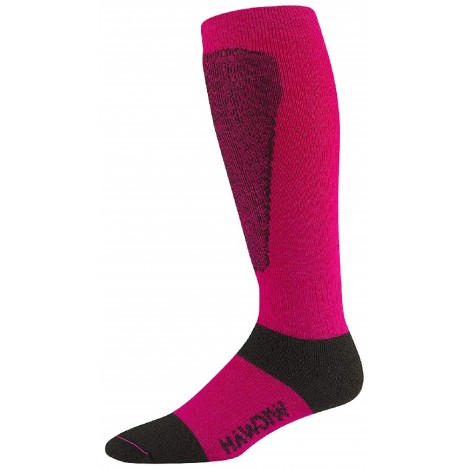 Wigwam Mills, Inc. is a company with over a century of experience in manufacturing socks for the most challenging of conditions. They take pride in their commitment to quality and the most comfortable experiences, and a great example of that is the Sirocco design. This midweight option was first introduced in the 1980s but is still popular among winter enthusiasts everywhere. It has padding all throughout, a reinforced shin, and a seamless toe. The material blend of the Sirocco is made from 42% wool, 24% nylon, 21% polypropylene, 7% polyester, 5% olefin and 1% spandex. It comes with a lifetime product guarantee.
Cushioning
If you are someone in dire need of padding, then the Wigwam Sirocco is a great choice for you. This design provides cushioning all over your foot and leg, keeping your feet protected and comfortable as you zoom down the mountainside.
Reinforced Shin
Boots can be bulky and hard, especially those made for skiing, and good shin protection can certainly come in hand. In the case of the Wigwam Sirocco, the shin is reinforced with durable synthetic fibers and even more cushioning to prevent your boot from digging into your skin.
Cost and Value
As far as the price goes, the Wigwam Sirocco is an inexpensive option. And it is a fine design, one which will keep you warm and comfortable if you are someone who only occasionally hits the slopes. However, there is the fact that over the course of the years, the Sirocco has become somewhat outdated. For a more serious athlete, there are definitely newer, more advanced choices out there.

Subscribe to our Newsletter