Best Ski Boots Reviewed & Rated
In a Hurry? Editors choice: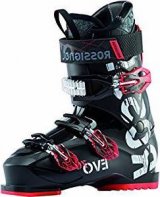 Test Winner: Rossignol Evo 70

If you're an avid skier, then you know how important your gear is in keeping you both safe and performing at the highest possible level. If, however, you are someone just looking at purchasing their first pair of ski boots, you are likely to be befuddled by the huge variety of choices and options available. With several different types of makes and options, you might have to choose between downhill,
alpine touring
, telemark or even cross-country without knowing what it is exactly what you need. This list gives you a detailed overview of the ten best boots to use when skiing, listing the pros and cons of each model.
Standout Picks
Criteria Used for Evaluation
Materials
One of the most important pieces of criteria when composing this list was the quality of the materials used to produce the items. Because the boots you will be using with your skis need to protect you and to enable you to navigate sometimes rough terrain, material resilience and durability are key factors.
You are most likely to find that your equipment is made out of thermoplastics such as Polyurethane. It's even likely that the same pair of boots will use different types of these materials to ensure a varying level of stiffness in different parts of the boot.
One of the best parts about technological advancement is the fact that many shells can now be molded to fit your feet perfectly. This is often done through heating the boots in special ovens, then putting them on, making them adjust to the wearer's foot shape.
Overall, you will find that different manufacturers will use different materials and compounds, especially over a variety of price points. While some materials are used for their performance features, others are chosen because of the fact that they are cheaper, or even because they look better. No matter what boot you choose, you need to ensure that it has the following properties:
Resistant at high impact and low temperatures
Optimized resound and flexibility
Not become stiff at low temperatures
Scratch resistant
Long-term stability
UV resistance
Must be able to return to their original position after flexing
All of these criteria mean that there is a limited number of materials you will see used in the making of your equipment. A good rule of thumb is to look for the following:
TPU: 230 C Melting Point – 1.18 Density (G/cm)
Polyolefin: 140 C Melting Point – 0.89 Density (G/cm)
Nylon 12: 178 C Melting Point – 1.01 Density (G/cm)
Pebax: 172 C Melting Point – 1.01 Density (G/cm)
Features
In order to accommodate a wide variety of skill groups, flex has to be taken into account as it more or less determines the way in which your boots will contribute to controlling your skis. A high flex generally means that the boot is going to be stiffer and therefore harder to control on the slopes. Boots with a lower flex index are going to be easier to control as the boot itself is more flexible, resulting in a higher level of comfort as well.
Different manufacturers will have different flex indexes, but they generally range somewhere on a scale from 50 to 140. The lower the number, the softer your boot is going to be, allowing for more movement and more comfort. This is ideal for beginner and intermediate skiers who want a pair of boots that are going to be both easy to ski in, as well as warm and padded. Professional skiers, on the other hand, need higher performance features, which means that they will usually go with a very high flex index.
If you are unsure as to which flex index to go for in your next pair of ski boots, here's a helpful chart:
50 – 90 Beginner-Intermediate
Perfect for well-maintained slopes, slow pace and providing adequate all-day comfort.
90 – 100 Intermediate-Advanced
Made for those with a bit more experience, who are not afraid to ski at a higher speed and who might go off-course from time to time. Provides an adequate combination of performance and comfort.
100 – 130 Advanced-Expert
Very stiff, made for professional athletes who ski at very high speeds, have an aggressive style and who prefer a tight, performance-driven fit to a comfortable one.
Size
Your equipment can come in various widths that are used to accommodate those with differing foot sizes and shapes. When buying boots for skiing, the 'last size' refers to the width of the boot at its widest point, which is generally at the forefoot and ball of the foot. Picking a width that fits your shoe is one of the most important decisions you'll be making when choosing the best product for your needs, and you need to carefully look over all the details when it comes to this aspect.
These boots are generally measured on a Mondopoint scale which is based upon the length of your foot in centimeters. You can find your mondopoint by putting your foot up against a wall and then measure from the wall to the end of your toes. Using a mondopoint scale, you will easily find the correct size of your boots.
Midsole
The way your boots fit will definitely be very much u to the type of liner and insole found in them. The liner is the inner part of the boot which will be in contact with your feet. If you are a beginner or intermediate enthusiast, then a thicker liner will be helpful in that it will provide more comfort, but will also keep you warm. If, however, you are a professional, you will find that the best boots for you won't be very soft, including a stiff liner that will enable you to achieve more power transfer.
Just like in the outer shell, the liner area of boots made for skiing has seen many technological advancements in the last few years. From neoprene toe boxes to slide areas along the back of the foot to provide an easier on and off, you'll definitely find that skiing equipment has come a long way. Nonetheless, if you're really after the best possible fit, then make sure to look for a pair of boots with moldable liners which are to be heated, and which will shape to your feet perfectly.
As for the insoles in your boots, your best bet would be to replace the ones that come with your boots with custom or highly supportive orthotics. It is important for your entire foot to be supported in order to get the best results, and a pair of good insoles can achieve this in addition to keeping you comfortable for as long as you want to be out on the slopes.
Use
A secure closure is crucial for any type of sport, including skiing. When shopping for your next pair of ski boots, you'll notice that they usually come with 2, 3 or 4 buckles and a strap that adds stability in the top of the boot. Those who ski on a professional level will require a tighter fit, which is 4 buckles are more common in boots aimed at advanced and expert skiers.
Nonetheless, if you're a beginner, you might find that two buckles work perfectly fine for you, allowing for a combination of comfort and security.
10 Best Ski Boots
1

. Scarpa Freedom SL Freeride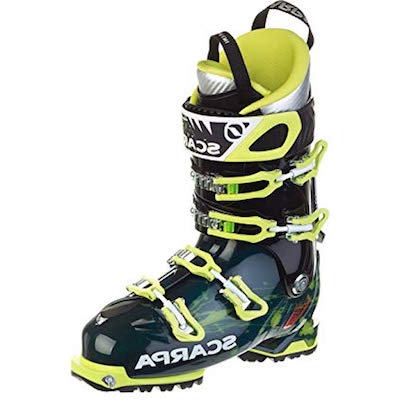 This is an alpine touring boot that's got some serious fans, and with good reason. The Freedom SL is perfect for all types of backcountry skiing and is surprisingly lightweight for all the tech it boasts. You'll find that these have a very snug fit, more suited to aggressive skiers, while still allowing for a considerable amount of flexibility that will make walking in these a bit easier.
The shell of the Scarpa Freedom SL was made with Carbon Core Technology which uses a carbon insert which is injected into the shell of the shoe in order to maximize power transfer and minimize torsion.
One of the biggest downsides of boots made for skiing is that the closures can leave a lot to be desired. Scarpa fights this with their specially developed technology that works to snugly wrap the forefoot without creating any pressure points, as well as to safely connect the upper part to your shin.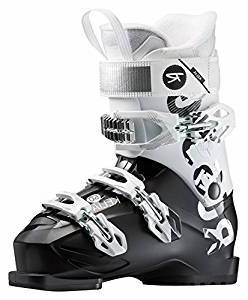 The Kelia 50 is a great introductory ski boot for someone just starting out. It is an affordable option and offers a generous 104mm wide-fit and a 50 flex for added softness for novices. Designed for the female skier, they offer a contoured forefoot, asymmetrical toe box and strong, reinforced heel for unparalleled comfort and support.
The Kelia 50 features Sensor Fit technology and ensures the wearer is warm, protected and not experiencing chafing or blistering. The instep is open and the ankle area was anatomically designed to hug and support. A 3-buckle closure system ensures a gentle compression.
One of the most important things to look for in ski boots is how the boot supports blood circulation. The Kelia does this in two ways: by keeping your feet warm and through its articulate design and attention to detail. The Polyolefine shell of the boot is durable, while in insole is cushioned and retains heat, without allowing a buildup of excess moisture. Finally, the 104mm wide-fit makes sure blood can flow from the foot to the leg and back without constriction.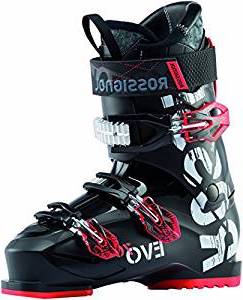 The Evo 70's by Rossignol is a fantastic hybrid that's great for downhill trekking as well as backcountry if need be. This alpine boot is suitable both for beginners and intermediate skiers with a wide forefoot and medium to wide shaft of the leg. Offering a flexibility rating of 70, the Evo 70 will allow you to build up your strength without slowing you down.
Each shoe includes custom sensor fit liners that that aid in general foot comfort allowing for all-day trekking as mentioned above. The liners themselves provide an accommodating instep and a more articulate ankle area for increased support, circulation, and warmth.
In addition to comfort, the Evo 70's are known for their wide fitting cuff as well as the shoe itself. The 3 buckle system included, aided by the XL Power Strap, allows for a strong and clamping closure in addition to being easy to slip on and off.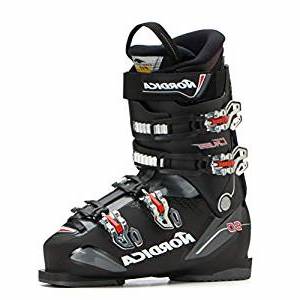 The Nordica Cruise 60's are a great beginner level shoe when taking into account their extremely low flex index of 60. With such a low flex, control is fantastic on them and the 104mm width allows for plenty of room for wider feet to spread out.
The Nordica Cruise 60's keep your feet abducted slightly outward in what's called a "natural foot stance" which is the way the skier would naturally stand. As a result, this increases the overall comfort of the footwear itself in addition to making them more efficient in power transfer.
Nordica's PFP Comfort Liner includes plenty of insulation as well as padding to keep you warm while out on the snow. The additional padding allows for a much more comfortable and supportive experience when out skiing.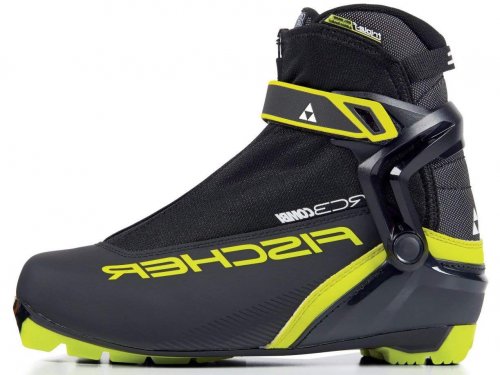 New for 2019 from Fischer, the RC3 Combi XC is a great-looking, high-performance option for an intermediate to advanced skier. Featuring a stiff toe with little flex, it offers a comfortable fit with added support and high level of responsiveness. An injected exterior heel cap protect the foot and the Triple-F membrane technology helps keep moisture, water and snow outside of the boot.
A lightweight, moisture-repelling technology, known as "Comfort Guard", is woven into the inside of the ski boot, adding thermal protection for the feet and boosting blood circulation. Combined with Fischer Fresh technology, you can say goodbye to both moisture and smelly odors. Finally, Fischer also developed a Sport Fit concept, meaning all of their boots are appropriate for men, women and youth feet.
In terms of performance, Fischer made it easy to get the boot on and off by integrating its Speed Lock technology in the RC3. A special tie and lock system means you will always get a snug fit and you won't fiddle around to get them off after a long day of skiing. A hinged polymer cuff offers excellent side hold and allows for freedom of movement and the easy transfer of power throughout the foot. EVA padding in the midsole make sure your feet stay comfortable and supported, so it's less likely you get injured during your ski.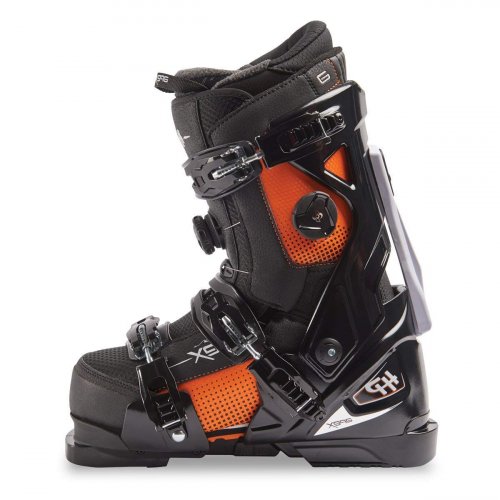 If you have the budget, these ski boots are truly revolutionary in terms of performance, comfort, fit and responsiveness. The Apex All-Mountain was designed for the intermediate- to advanced-level skier, offering features such as an open-chassis frame, a walkable boot design, an adjustable flex, increased stability and edge control. While these boots come in at a high price-point, those that value performance and ski often will find them to be a worthwhile investment.
The Apex Ski boot was created and developed by industry experts and former skiers, so it boosts energy transmission, while offering a superior level of control. The BOA lace system ensures your foot is snug and compressed, without feeling constrained. It also locks your heel and foot in place to prevent injuries that might keep you off the trail.
The upper is made of materials that trap heat without trapping moisture. You can easily ski all day long without worrying about blistering, chaffing or other foot conditions. The external frame and open chassis system allows a customized flex level, depending on your preference, and a full traction outsole helps you get to and from the mountain confidently and securely.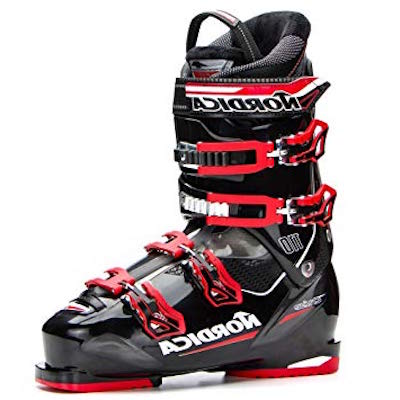 If you've been skiing for some time now, and have brought your skill level to the intermediate level, or even if you're an advanced skier who's looking for something more affordable, then the Nordica Cruise is a great choice for you. It is a comfortable boot that still boasts plenty of tech features which will help you improve even more.
Those who have wide feet and have trouble finding an adequate pair of footwear for their feet shape can breathe a sigh of relief, seeing that the Cruise 120 was made to fit wider feet with a medium to wide shaft of the leg.
Regardless of its average price, the Cruise 120 features some great technology, including the boot's liners. They are heat activated, and will perfectly mold to your feet to give you the best possible fit.

Here's yet another advanced piece of ski equipment but this time tailored specifically towards those with narrower feet. The Hawx is a great crossover option being both great for backcountry as well as downhill skiing due to its lightweight build. It's skiing foot apparel which excels in terms of its overall versatility, providing users with a stiff shell with plenty of control and power transfer.
The construction of the shell on the Hawx optimizes the boot for thickness in key zones for protection and slimness in others to make it 25% lighter as a result. Being one of the lightest on the market, it's also one of the most fun and versatile boots to use due to its ability to be utilized in a variety of scenarios.
Unlike many other products on the market, the Hawx Ultra 130 features a lock mechanism that's taken straight from the backhand line. The lock allows for frictionless pivots to provide smooth cuff movement off the skis themselves.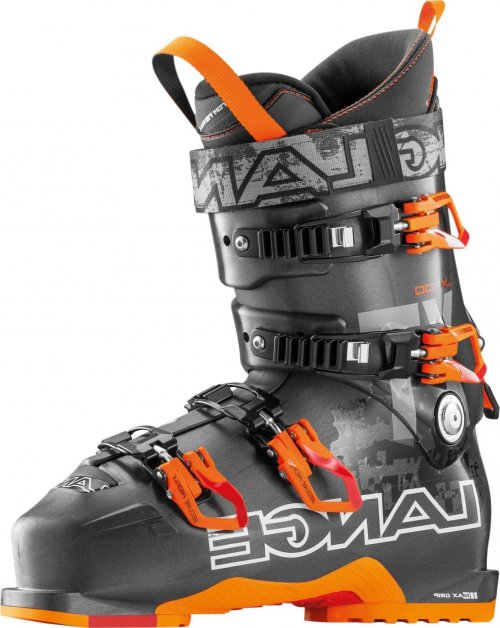 Definitely not for beginners or even intermediate skiers, the redesigned XT 100 is a freeride boot with a tight 100mm last, a 100 flex and an approximately 1-degree canting. A versatile boot, it doesn't sacrifice performance for precision, but rather combines technologies and materials to augment both. A patented Ski/Hike System 2.0 means you can go down the mountain or go across it, whichever you desire that day. Just switch the XT 100 into "hike mode" and you are all set.
The shell and boot board of the XT 100 are made of polyurethane, keeping the weight of the product down, while still offering a strong level of protection. The ultra-grip and walk-to-ride soles keep you supported and comfortable, whether going downhill or hiking. Finally, the upper is fitted with Thermofit technology to keep you warm and ensure the blood keeps flowing, in even most of the coldest of conditions.
The XT 100 isn't cheap, but for the advanced skiers to which these boots would appeal, the responsiveness, performance and comfort make it well worth the cost. Whereas a beginning skier might only go a few times per season, advanced and avid skiers will get much more use out of these boots, meaning the cost-per-wear between the two will average out over time. Regardless, advanced skiers need advanced ski boots—don't risk an injury or a less-thrilling experience just because of cost, unless its absolutely necessary!

10

. Full Tilt Descendant 4
Descendant having previously hit home with their award winning 3-piece DNA boots have to figure out a way to somehow top that with their Full Tilt line. Of course Descendant doesn't disappoint as the Full Tilt 3's are all that you could ask for; all-day performance, customized comfort, and a wide to normal fit.
The liner on the Full Tilt 4's is made from closed cell foam that is body heat activated to mold to your foot shape. As a result, the Full Tilt 4's are completely customizable, making them a great option for a wide variety of foot shapes.
This is something you don't see on ski equipment very often, but that sure is a welcome feature. A bootboard is a firm layer underneath the liner that makes the responsiveness of the shoe on soft snow much better, a fantastic all terrain feature.
Subscribe to our Newsletter