Best Mountaineering Boots Reviewed & Rated
In a
Hurry? Editors choice: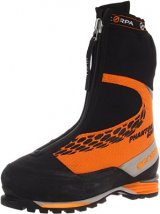 Test Winner: Scarpa Phantom 6000 Guide

In mountaineering, one of the original extreme sports, summiting sometimes seems like everything. But you know better. Maybe you're climbing a 'small' local mount over a day or two, maybe you've spent the last year planning your approach to K2, or maybe it's something in between – Rainier to Denali or Logan. You've spent months or years planning every detail. You are ready to go but you still need a pair of boots! What to do?

We have researched 10 of the best mountaineering boots available whether you're headed for the Coast Mountains or Sierra Nevadas or you're headed deep into the Himalayas, you will find a pair here that will suit your trek and help you reach the summit safely.


Standout Picks
Criteria Used for Evaluation
Comfort
We're going to spend a lot of time on comfort in our criteria for mountaineering boots. This is because comfort is absolutely vital to your climb, your safety, and the health of your feet, especially when participating in such an extreme sport. Imagine the following scenario and you will understand the importance of comfort.
You hit the trailhead in a new pair of boots that fit just okay, not well. They were a little snug when you tried them on but you figured they would loosen up a little as you walked in them. You also went overboard on the thermal for your needs and your feet are already a little warm. You've spent hours with your team hiking from the trailhead to the base of the mountain and now your feet are painful. Your arches are killing you and you have blisters developing on the sides of your toes and on the bottom of your feet.
You take the boots off, remove your socks and try some moleskin for relief but now your feet have swollen and they're even tighter and warmer when you put them back on. You can barely tolerate lacing them up. You're in agony and there are two options – try to summit to avoid disappointing your team or walk the five miles back out the trailhead.
Walking in bad boots has already caused your feet a lot of pain and their in bad condition now, walking back out or trying to climb on swollen, unstable, painful feet. Neither is an acceptable option. All of this could have been prevented with the right boots for the climb and the right boots for your feet.
Fit
Mountaineering boots come in all sorts of shapes and sizes – wider, narrower, lace-ups, zip-ups, straps, longer, shorter, high or low or moderate arch profiles. Each part of the boot needs to fit your foot comfortable, without causing any compression, pain, or spots that might rub or irritate. Have your feet measured accurately by a podiatrist if you are uncertain. Read reviews to tell you whether boots run large or small and where pressure points may be located. Most importantly, never start down the trailhead in boots that don't fit thinking that they'll 'break in' along the way.
Weight is important in mountaineering. We are constantly trying to make each piece of gear as light as possible so we can be efficient in the mountains. Mountaineering boots, whether they are for winter climbing, mixed climbing, ice climbing, are heavier than hiking boots or regular winter boots. You should check the specifications for each boot carefully, noting the weight and purchasing the safest that will suit your needs that are also lighter than other options. The lighter the boot the better but do not sacrifice safety and fit for weight.
The boot needs to be rated for the coldest weather you will encounter on your climb. This might be significantly colder at the summit than at base but cold feet are numb and dangerous feet so err on the side of warmth. While this can be impossible to pin down accurately, studying typical weather conditions for the mountain for the time of year you are climbing will help. Don't go too far overboard either. If you need a boot to deal with -10C conditions, you won't need the extra weight or warmth of a -40C boot.
Features
Mountaineering boots can come as single boots our double. Double boots have two layers – one is an insulating inner boot and the second is a water and windproofing outer layer. Double boots are available in plastic, leathers and other materials and are heavier than single boots. If you won't require a double, go for a single boot for weight and comfort.
Mountaineering boots are stiffer than typical boots for stability. The stiffness is important to the function of the boot. Do not sacrifice stability for flexibility in the high alpine.
Finally, a gaiter is designed to keep snow out of your boots, pants, and socks. Many modern mountaineering boots come with integrated gaiters which can be one less piece of equipment to worry about. Integrated or not, a gaiter is important to your comfort in snowy conditions. A double boot with an integrated gaiter is also known as a triple boot – great for Everest or Denali. Triple boots are great above 8000 m (the dead zone) or very cold conditions like Mt. Everest, Mt. Denali and Cho Oyu. Plastics with a good inner boot are great high-altitude materials that are usually good up to 8000 m but not above. These are good for mountains between Muztagh Ata (6000m) to Elbrus (near 8000m). Hybrids usually have a limit of 6000 – 7000 m and 4 season boots are suitable for mountains like the Moroccan Atlas range and Toubkal.
Terrain
You need boots that perform in the mountains. If they're comfortable and warm they still will not be much use to you if they don't do the job they are meant to do – deal with the terrain and conditions and get you to the top of the mountain.
The boots you choose should consider how they will perform based on what you intend to use them for. It is essential that you start there – with identifying your intended use. It may include hiking, ice climbing, mixed climbing, rock climbing and mountaineering in different weather conditions. Different boots will be designed for different types of mountaineering activity and weather. Finding one boot to meet all those demands will be difficult and you may need more than one pair for different parts of the trek or for different day trips into the mountains.
Recreationalists – if you are staying below the tree line and only climbing on warmer days, you can prioritize things other than warmth in your boots.
Technical climbing – Technical climbers will place more of an emphasis on the weight of the boot because that is essential when climbing sheer rock faces or ice faces. They will choose a stiffer boot for ice climbing and a more flexible boot for rock.
Mountaineers – Mountaineers are generally ready for technical climbing and trekking above the tree line so warmth and weight are both important.
Crampons – Too often overlooked is whether or not your trek will require crampons and more importantly, are your boots compatible with crampons. Like boots, there are a variety of crampon types available that suit different boot designs. Be sure they match up. Also choosing a boot with a rigid sole will make your crampons work correctly. A flexible sole and you risk the crampons popping off at a critical time.
Speak to other mountaineers and climbers who are familiar with the mountain you intend to be on for detailed advice on what performance you will need from your boot. This is one area where reading online reviews or even relying on staff in a mountaineering shop, could lead you straight into trouble. Talk to experts in the area and do thorough research to choose the correct boot for the purpose.
Value
You need to be prepared to spend good money on a good pair of mountaineering boots. Depending on the purpose, they can range from a little more than $100 for a good pair of hiking boots for well below the tree line to nearly $1000 for a good pair of double-boots with gaiters that will take you up K2 and back down. The cost of your equipment is typically higher the more technical it is and the more engineering that is put into the equipment. Every aspect of a good mountaineering boot is designed to withstand the conditions, take a serious beat down, and still protect you.
Your safety is no place to scrimp and save. Do not make the mistake believing that a good pair of winter boots with a nice tread will do. The wrong pair of cheap boots or boots unsuitable for the purpose could cost you your life.
Don't be tempted to think "I have $XXX left to spend on boots so I will get the best pair that I can afford." Instead, your thinking should be the pair(s) of boots that are best for me for this climb will cost, $XXX and I will wait until I have the money to purchase those." Don't rely solely on a shop owner either, who may not completely understand your needs and whose goal it is to sell you a pair of boots.
We do not recommend trading off other equipment to invest in your boots either. Stick to the adventures that you can afford to accomplish safely, with good equipment that you would literally trust with your life. If you need to wait a little longer to save up the funds, then waiting is better than the alternative – losing toes, feet, your mobility, your life.
Luckily many makers of mountaineering boots keep the costs to a minimum themselves because their boots are their flagships – their best advertisers – and they earn their profits off the sales of other boots and equipment. However, it is always worth checking on the reputation and experience of the manufacturer before you buy.
You could also check out the end of lines, sales and discounts, and older models of the boots you need to save some money but again, don't sacrifice your safety, your team's safety or anyone's life for by buying less boot than necessary.
Top 10 Mountaineering Boots
1

. Scarpa Phantom 6000 Guide
This a great lower altitude (below 6000m) mountaineering boot. (think Mt. Rainier, Mt. Logan, Mt. Kilimanjaro). It features a quick-lace system and a waterproof T-Zip integrated gaiter for one less piece of equipment to worry about. Bright, comfortable and high-performance for lower altitude alpine adventure.
The ErgoFit System in this Scarpa boot allows for omnidirectional flexing. You get the natural motion and great support at the same time, while the rear randing locks your heel in place for climbing performance.
All the rough rocky terrain in the lower alpine elevations will be no match for the Vibram rubber soles and advanced midsoles on the Phantom 6000. This is not a cheap boot by any means. It is near the top of the price list but for its mountain readiness, it is a good value. The boot can take a real beating and still protect your feet, making them well worth the price.
The Spantik is designed for mountains in the 6000m - 7000m range (~Mt. Denali) or any other environment with cold weather mountaineering conditions that demand high performance. It is a double boot with a carbon fiber sole that will last. The entire boot is anti-abrasion for the roughest terrain and warm for the coldest. It is lighter and smaller than it's higher altitude cousin, the Nuptse.
The dual-density midsole in the Spantik is made from TPU and micropore EVA for shock absorption and cushion. It is covered by a 5mm thermal carbon fiber and aluminum insulating insole.
You could not ask for more in an outer. The outer boot on this mountain beast is polyurethane coated, CeraCom ® PUR leatherette that will resist abrasion in the rocky alpine and icy high-altitudes. This is a very expensive boot but worth every penny given the technology to match the altitude engineering. A trek up Denali has been made easier and warmer with these boots. They will last long enough to make them a good value as well.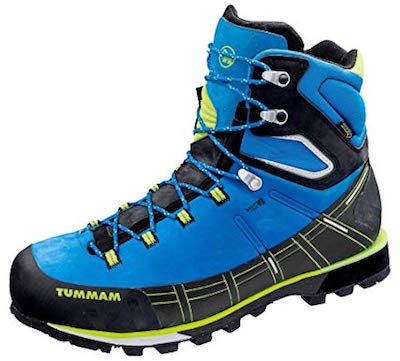 Designed in Switzerland, the Mammut Kento High GTX is a highly popular model amongst those who need a versatile pair of footwear that does well with a variety of activities including both light treks as well as more challenging mountain tours. It has a slightly lower shaft than most models on this list, but that can be a great thing for those looking for less weight and more mobility. It comes in three color options, brown, blue and orange, and has an affordable price which makes it a popular choice for beginners.
The upper of the Kento High is made with nubuck leather and a Gore-Tex membrane that work together to prevent moisture from getting inside the boot. The fact that the upper is made with a single piece of material makes these quite easy to maintain, and less likely to leak. The sole wraps up around the shoe for abrasion resistance, making this quite a durable pair of footwear. The 2-zone lacing allows you to adjust the fit to your personal preferences.
On the inside of the shoe, you will benefit from the 3D memory foam insole that perfectly adapts to your foot, supporting the arch and providing a good amount of cushioning. As for the outsole, it uses Michelin® Alpine Lite 3970 rubber for excellent traction on rock, ice and snow, and is also compatible with strap on crampons as well. As for price, this is one of the cheaper models listed, which makes it a great investment for those who only plan on using this type of footwear occasionally.

The Salewa Rapace GTX is a gortex waterproof mid boot that weighs in at 24 ounces, and is full of quality technology to get you to the top. Leather uppers are gore-tex lined, and comfort and traction technology are found in the Vibram sole and Bilight midsole. A full 360-degree rubber rand circles the boot, and crampons can easily be added to the midsole if needed. Perfect for alpine climbing trekking and mountaineering, it's a solid boot to keep you protected and ready for anything.
Vibram sole bases the Salewa Rapace GTX, so you know you'll keep grip and traction on any kind of surface with the durability and stickiness Vibram soles are known for. The Bilight midsole consists of TPU injected and ergonomically correct design, which acts to cradle the foot and mimic a spring, helping to reduce foot fatigue over long treks. Adjustable footbeds let you interchange MFF+ footbeds to best suit your foot shape and support your level of ideal comfort.
Nubuck uppers make the Salewa Rapace GTX durable and weatherproof, and the Gore-Tex liner helps maintain breathability for when conditions change. Ankle high lace up vamp helps provide stabilization and support for your trek, and the Rapace GTX is crampon compatible for when you need to dig in deep to hit the summit. And with a weight of only 24 ounces, you get rugged durable footwear that won't slow you down!
One of the more budget friendly options, the Salewa Rapace GTX is really best suited to alpine trekking where conditions are more mild that summiting Mount Everest. A great entry level boot, it's crampon compatible with a sticky Vibram sole, and Gore-Tex lining to keep you dry when pushing hard up the mountain. Great for beginner mountaineers and those on a budget.
The La Sportiva Nepal EVO GTX is a winter, mixed climbing mountaineering boot. This is a double boot that is a winner of Climbing Magazine's Editor's Choice award. It really needs no introduction because it is such a popular boot among mountaineers, especially those who have some ice in their way on the way to the summit. To create the best fit Nepal has an adjustable and removable tongue. It's really no wonder this boot is such a favorite.
The EZ-Roller hardware on this boot lets you lock down the laces. This lets you achieve different tensions on the forefoot of the boot and the cuff of the boot for superior, secure fit.
Ah, Gore-Tex, best friend in any winter conditions but especially at altitude in the mountains. Your boots will stay warm over long periods and the Gore-Tex also offers additional waterproofing. This is a mid-ranged price boot for our list but still a substantial investment. They will take care of your feet in the mountains though, the rest of the climb is entirely up to you. You'll appreciate the additional features like the 3.2 mm single piece silicone impregnated leather upper. These boots have great durability which increases the value by giving you longer wear.
Asolo is a brand of trekking footwear that has been in the market since 1975, and has a long history of family running the business. Best suited for classical mountaineering and harder trekking, The Asolo Elbrus GV uses a textile Schoeller soft shell and suede to create durable uppers. Vibram sole bases the Elbrus GV, and impact absorption technology can be found with a dual integrated system technology. Crampon compatible with semi-automatic crampons, it makes for a solid entry level boot for mountaineering.
Vibram soles give a sticky traction to the Asolo Elbrus GV, keeping your grip durable for the long haul, and suited for rougher terrains with lug pattern. This sole also incorporates a Dual Integrated System technology to help maximize impact absorbance. Midsole is a dual-density lasting board of nylon and fiberglass, giving you support and structure when you need it most. Lite 4 footbed provides a cushioned ride for the roundtrip trek to the summit and back.
The Asolo Elbrus GV utilizes suede leather and a Schoeller softshell, making the upper durable and lighter weight. Gore-Tex lining helps keep breathability for changing conditions so your feet can adjust as you do to effort and your environment. Traditional lace up keeps you snuggly inside the boot, and helps stabilize the ankle in this mid length mountaineering boot. A protective toe cap gives some extra protection, and the Elbrus is compatible with semi-automatic crampons should you need them.
Another of the more budget friendly options on our list, it's great for beginner mountaineers, or those who enjoy trekking hard or easier alpining tours in the snow. Crampon compatible and breathable, they will get you to the top feeling supported and stable, and Vibram sole will have you rock hopping like a pro. A great investment for those starting out!
The third lower altitude, heavy duty, mountaineering boot, on our list, this is a very water repellent boot that still breathes, leaving your foot cool and dry. These boots feature a very thick cushioning insole over a rigid shaft to provide stability over rough terrain. The boot is durable and will last well even after taking one solid beating after another. This is another great boot for hauling heavy loads or for the approach.
The boot features rollerball hardware in the eyelets along with locking D-rings that allow you to precisely and effortlessly tension your boot laces for a great fit on your feet.
The Idro-Perwanger leather upper is extremely durable, water-repellent and breathable. This leather can take many years of abuse making it great for its purpose. These boots are at the lower end of the price range but still costly. For the value, you are receiving an excellent heavy-duty mountaineering boot for that rough lower-altitude terrain. You'll have no troubles approaching in these boots.
The Grand Dru GTX is designed to bridge the gap between a full mountaineering boot and the hiking boot. It is meant for hauling heavy loads across rugged terrain that lacks permanent trails and secure footing. This is the perfect boot for hauling your equipment into a Himalayan base camp without using your high-altitude boots on the approach. A thoughtfully engineered boot for the roughest of terrains.
The Gore-Tex waterproofing in the upper and lining of this boot will help you deal with any water on the approach you can imagine from wet brush to mud to river crossings. No need to re-dry your shoes when camp is set up because the water won't get in.
These boots are compatible with hybrid crampons (C1 type) for when you need that extra bit of traction to get your load to camp. These booths are mid-range for prices on our list. For still a significant investment you are getting the best approach & carry boot on the market. When you're not hauling loads, this boot will also function as a superior backwoods exploration tool.
9

. La Sportiva Olympus Mons
Olympus Mons is the tallest mountain on Mars and Everest is a molehill in comparison. With a boot named after such a mountain, it has a lot to live up to. This is a triple-mountaineering boot with an incorporated gaiter. These are a heavy-duty mountaineering boot capable of taking on any mountain you put before it - from Rainier to K2, this boot is made for the high-altitude, big mountain challenge.
The inner boot on the Olympus Mons has a water repellant and breathable upper that features a polyamide external layer and a dual-density PE micro-perforated, thermally insulating foam that is well ventilated to keep your feet at temperature.
The insole on this boot has a thermo-reflective aluminum layer to keep your feet warm. It also has a perforated hydrophobic non-woven facing to keep your feet dry. This is the most expensive boot on our list but it is also the most engineered. La Sportiva has listened to generations of mountaineers in developing the huge number of comfort, safety and stabilizing features in this boot. It can tackle any earth-bound mountain, more than living up to its impressive name.
The Arc'teryx Acrux AR mountaineering boot is last on our list, but it packs a punch in terms of functional use. Made for mountaineering, ice climbing, and all sorts of rugged changing terrain encountered when mountaineering, this boot delivers everything to support the foot of an alpine adventurist. Waterproof, lightweight, and durable, it's one of the best double boots ever to hit the market. With comfort and support features as well as functional mechanics found throughout the boot, it's no wonder it makes our top ten list.
Combining lighter weight with protection and insulation, the Arc'teryx made this double boot capable for handling whatever athletic performance is needed by the alpinist adventurer wearing them. Both suited for climbing and mountaineering, it provides support through a custom 3D molded Ortholite footbed which supports the arch and delivers comfort when wearing. Heel brake ad mountaineering heel tread help with grippy traction, and quick braking action when you need it most. Semi-blocked toe with anti-slip groves make this protective and functional in one brilliant design
Gore-tex membrane helps control the ventilation and climate inside the boot, adapting to changing conditions of an alpine environment, and perforated foam has quick dry properties to help wick away moisture and provide comfort. Arc'teryx Adaptive Fit technology helps give the ultimate in support and cushion, while laminated construction keeps these waterproof.
For a double boot, boasting of technology that supports comfort, stabilization, traction, and climate control, the Arc'teryx Acrux AR is a brilliant option for the advance alpine adventure seeker. Made for all the conditions and challenges a mountaineering expedition would face, it's lightweight, low volume and waterproof construction will keep insulated comfort to the wearer. More expensive than most on our list, it's an investment worth the extra cost for serious mountaineering adventurists!
Subscribe to our Newsletter