Best Snowboard Boots Reviewed & Rated
In a Hurry? Editors choice: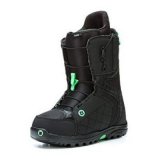 Test Winner: Burton Mint

There is more to choosing a snowboard boot than just size and style. Flexibility, fit, responsiveness, firmness, and lace tightening systems are just some of the variables that you need to consider. Where and how
you plan to ride
, for example, will dictate what amount of flex versus softness will serve you best. Below, we will discuss the top fifteen
snowboard
boots across a wide range of features. See if your favorite made the list. If it didn't, maybe you'll be inspired to try something new and take your riding to a whole new level.
Standout Picks
Criteria Used for Evaluation
Features
An important part of any snowboarding boot is the lacing system. It is crucial that the ankle and heel stay securely in place, with as little foot movement as possible. Ideally, the boot should fit tightly while still being comfortable and not cause any discomfort or blisters.
There are three lacing systems commonly offered for snowboard boots; quick-pull, Boa, and traditional. There are also boots that have a hybrid design that mixes two of these systems together into one. All three of these systems are designed for easy on and off wear, while no one system is conclusively better than the others, it really depends on the wearer's preference.
Quick-Pull: This lacing system is a one-pull corset-style lacing system that is fast and is good for individual zone tightening. This makes for a fine-tuned tightness of forefoot lacing separate from the ankle and lower leg.
Pros:
Fast tying
Tighten wearing gloves
Laces tuck away
Cons:
Difficulty pulling enough to tighten laces
Pressure points where eyelets attach to boots
When laces wear out the boot is unusable
Boa: The Boa lacing system is made of small-diameter cables (usually stainless steel) attached to a knurled wheel or dial which allows the wearer to adjust the comfort level of the fit. Boa lacing systems guarantee a secure and form-fitting fit around the lower leg and foot.
Pros:
Super quick & easy
Can tie one-handed
Can tie with gloves on
Cons:
Level of tightness is less customizable
Traditional: The traditional lacing system has been tried and tested over the years and always performs the way that it should. This type of lacing also offers the wearer more ability to customize their boots by picking specialty or designer laces over stock ones.
Pros:
Manually customize tightness by hand
Lower price
Easily replaceable
Cons:
Hard to tie with gloves on
May untie
Style
here are several different riding styles; Freeride, All-mountain, and Freestyle, depending on your style of ride you will require different features from a snowboard boot.
Freeride: Freeride refers to off-piste terrain and the occasional groomed run with a need for speed and a precise ride. Stiff snowboard boots are best for this type of rider because the rigidity of the boot helps to create edge power for scribing across the firm and tightly packed snow.
All-Mountain: Is any ride on terrain made for snowboarding, usually untracked powder, park-and-pipe, or groomers. All-mountain riding is the most common style and these riders tend to prefer a more flexible boot.
Freestyle: Freestyle is for the rider who prefers more fun-style terrains like, half-pipe, jumps, spins, tricks, and rails. Generally, soft and flexible boots are preferred when Freestyle riding.
Flexibility
Snowboard boots come with different flex ratings, anywhere from soft to stiff. Boot flex is really based on the wearers' preference but usually, a softer flex is chosen by newer riders. For more seasoned riders, like all mountain riders, a stiffer flexing boot is usually preferred. Boot flex ratings are not always the same with every manufacturer which is why flex can be different from brand to brand.
Most manufacturers assign a number rating ranging anywhere from one to 10, one is the softest and 10 is the stiffest. Usually, ratings will follow a similar structure, for example; 1 to 2 would be soft, 3 to 5 is medium, 6 to 8 as stiff, and 9 to 10 would be very stiff.
Adjustability
There are different varieties of liners that come with snowboard boots and the best kind for you will depend on your riding style. Below are the three most commonly used types of liners;
Stock Liners: Give minimal padding and stability, conform to the shape of your foot after several wears.
Heat-Moldable Liners: Top of the line liners that truly give the perfect wear.
Moldable Liners: Next level up from stock liners in materials used; they are designed to mold to the shape of your foot over time through body heat.
Value
There are many things to consider when discussing the value of a snowboard boot. You want to primarily consider comfort, durability, personal appeal, and of course, price. It's important to find the ideal balance between these aspects. For example, an expensive pair will not have much value if they are uncomfortable enough to not be willing to wear them. The issue with buying boots online is that you can't try them on before ordering, so it's important to look at user reviews to determine how other people feel about the actual fit of the shoe.
Also note that computer monitors and phone/tablet displays handle color differently, so the color in the picture may end up being slightly different than when they show up at your door. Be sure to look over user reviews before making your purchase, and don't be afraid to return or exchange them if you find they don't live up to your expectations. When it comes to snowboard boots you shouldn't have to make compromises on anything.
Snowboarding Boots Reviews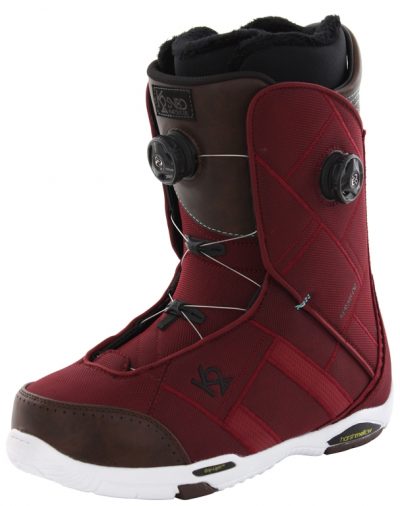 K2's Maysis snowboarding boots are extremely popular boots - and for good reason. The insole is made of heat-moldable Intuition Control Foam which, paired with the double Boa closure, makes the Maysis a go-to boot for comfort and control. The heel is held in place with the external closure as well as the Boa Conda system, which is an internal liner tightening process that hugs your heel and has an outside dial to adjust the liner fit on the go.
The Boa Coiler lacing system in these snowboarding boots is one of the easiest and most dependable closure systems on the mountain. Pull and tighten evenly and easily and adjust with a turn of the dial. The Boa Conda internal system adds an extra layer around the heel and has its own dial so you can adjust your liner laces without even taking your gloves off.
K2's Intuition Control Foam 3D fills the inside of the Maysis provides medium and firm foam cushioning. Coupled with a molded EVA insole, your feet aren't going anywhere, but they won't mind.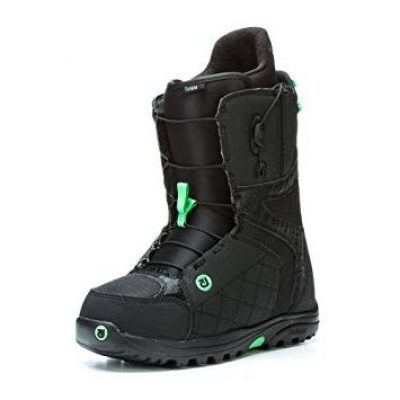 The Burton Mint snowboarding shoes are one of the top-selling options for snowboard boots, and with a speedy lacing system backed by a lifetime warranty, it's a smart choice for beginners or those upgrading old boots. It's a softer flex rated boot, so ideal for newer riders, or those who want flexibility for park riding and executing tricks. Packed full of Burton comfort technology, and basically ready to use with minimal break-in required, it's worth a look.
Burton truly considered comfort in this snowboarding boots design. They've made the tongue in each different sized boot to fit 1 to 1, which allows comfort and anatomical matches to everyone's foot. Every part of this boot was made to accommodate different curvatures and flex profiles, from the baseplate through to the liners.
Imprint liners inside the Burton Mint make it ready to ride without break-in, and a molded EVA footbed that's heat-moldable allows for a lightweight custom fit. Top it all off with their Speed Zone Lacing System, which is warrantied for life; you can lace up quickly with a custom fit in no time. New England Ropes laces are known for being impressively durable, so you're sure to stay strapped in.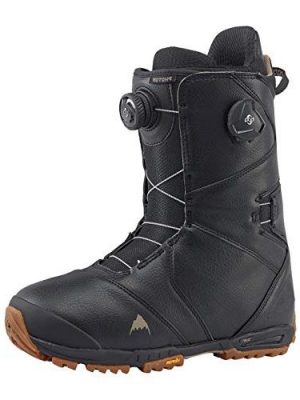 Burton is no stranger to our top ten list, and for 2018, they bring the best of the best. The Photon BOA is updated from previous models, but still keeps the comfort and quality you'd expect from Burton. This step in style boot has the tech to use your body's heat to keep you warm, and Vibram soles for trekking cross-country to backcountry slopes. Easy BOA system gives the feeling of being fused to your boot, so you can cut sharp turns and keep control of your board.
In addition to the Aegis lining, cushioning is found in the B3 Gel sole with reflective foil, which allows your own body heat to keep warmth inside the boot during extreme temps. Molded EVA footbed allows extra support, and a Firm Flex tongue with GripLITE backstay helps maintain flexibility and additional support when you need it for maneuvering.
With Vibram rubber outsoles at the base, you'll be able to step sure-footed across the snow on treks to untouched peaks for first ascents. The easy step-in design means no strapping into bindings, so you can just click and shred. Rubber ice spikes help maintain further cushioning and traction with each step.

4

. Thirtytwo Team Two Stevens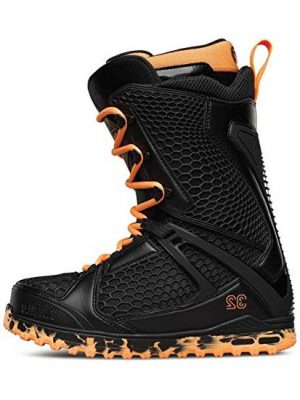 Named after Scott Stevens, Thirtytwo made this classic lace-up boot for a top of the line performance riding. Lacing up in this boot is a bit different than the traditional lace-up, but minimizes heel lift so you keep complete control through tricks in the park as well as backcountry riding. Stiffer than other snowboarding shoes, but still packed full of comfort and stability elements, it's a brilliant option for those upgrading their boots for more extreme riding.
Traditional lace-ups usually separate the tongue from the eyestays, but not in the Team Two Stevens. With the tongue locked in place, when you lace up, you'll lock in the tongue as well, which helps minimize heel lift. J bars are built into the liner to further hold the heel in place, so you stay in complete control of your board.
Heat moldable Level 3 liner allows you to shape it to your unique foot, so you can forget about break-in time before wearing these out on the slopes. The outsole keeps an Evolution Foam for lightweight cushioning, and G2 Gel inserts help to absorb impact on landings. Top it off with 3D molded tongue to maintain a flexible, comfortable feel, and the Articulated Cuff to help maintain shell integrity, and these snowboarding boots will have you going all day long!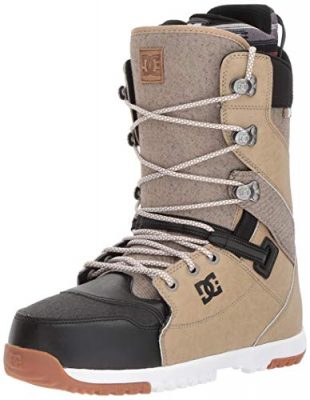 The next one in our snowboarding boots reviews is DC Mutiny Lace. DC Keeps the Mutiny Lace looking stylish, inspired by skate shoe experience, in a freestyle snowboard boot. While it's not exploding with some of the tech high priced boots have, it's got some substantial bonus points, and makes for a great beginner boot, or for those who enjoy spring boarding where warmth isn't always top of the concerns. A statement maker with its look, it has supportive elements to keep you going all day long.
As most on our list, DC utilizes an EVA memory foam to allow the snowboarding boot to hug your foot in comfort over time. J-bars help gives adequate ankle support, which can be extremely helpful for those just learning how to snowboard, or starting off in the park. The internal harness helps keep heel lift minimized, so you stay put and connected to your board for the best feel.
Although the Mutiny has a lace-up closure, it wraps up tightly and begins lower down in the boot, making sure you have a snug fit. The outsole boasts of Unilite lightweight construction, giving some flex when you need to maneuver, but also a great board feels when strapped in. Traction on the outsole provides amazing grip, further enhancing your ride experience.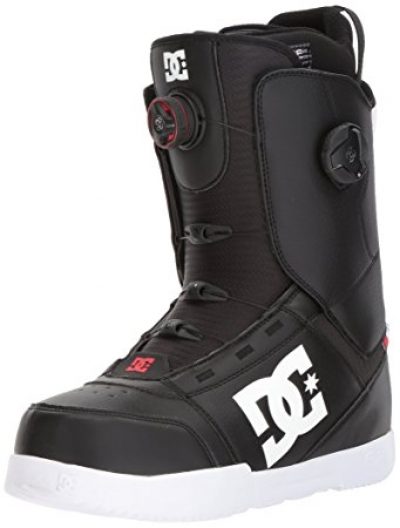 DC brings us the Boa H3 Coiler closure system with two reels and zoned closure in the Control Dual Boa boot. It has a medium (6 of 10) flexibility rating and a power strap plus J bars to provide stability so you can maneuver with confidence. The red liner inside has cushioning courtesy of EVA memory foam and temperature regulating fleece to keep you cozy and the heat moldable EVA insole will make them feel like they were made just for you.
You can't get a much more personalized fit than a Boa system with 2 dials and 3 control zones. Add the J bars and the 180 power strap and you have the ultimate in customized tightening. For those who like versatile snowboarding boots they can use in both the park and on the slopes, but still, keep a snug fit, it's well worth a try.
The Unilite outsole in these snowboard boots is durable without being bulky and provides great support and impact cushioning. If you've never experience DC's Unilite technology, the cushioning is perfect for testing out tricks without leaving your feet feeling rough at the end of the day. Traction is found at the patterned sole to help you maintain grip in the snow.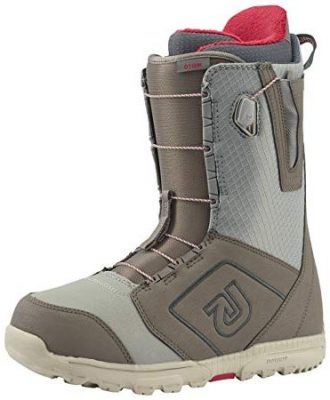 It's really no big surprise to see Burton snowboarding boots near the top of this list. The Moto is a reasonably priced soft boot that has been a top seller for over a decade. The Speed Zone lacing system is one of the quickest ways to get your boot on snugly. The Moto is considered a top-tier entry-level boot and its popularity shows no signs of slowing down.
One of the fastest ways to get laced up and going, the Speed Zone lacing system is great for beginners to ensure that their snowboard boots stay tight. The system features New England Ropes laces, which are known for their durability and toughness.
Inner material made of Sleeping Bag Reflective Foil will return body heat back to your feet to keep you nice and warm through a day of riding. Best of all, these snowboard boots are thin enough to provide efficient heat without adding too much bulky padding inside the boot.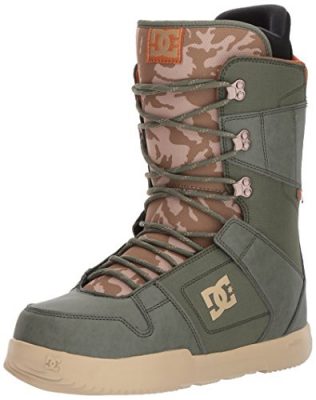 For beginners, most times investing a lot in a boot can sway you from trying to go the extra mile to make snowboarding a passion. It helps to start off with a budget-friendly, beginner snowboarding boot, so you can get a feel for what riding with your own gear is like, and eventually, what to change about it. The DC Phase is a solid option for those just getting into snowboarding, keeping cost down, but giving you a step up from rental boots so you can truly feel what riding can be.
Within the red liner lies a thermal-regulating fleece to keep you warm but adaptable to temperature ranges from the depth of winter snowboarding, to springtime days on the slopes. With EVA memory foam boosting the layered construction of the liner, you'll ride in comfort, all tied together with classic lace closures to keep you secure.
Like most of DC's snowboarding shoes, their Unilite tech makes the outsole of this shoe. It's extremely lightweight to help reduce any foot fatigue for all-day sessions, but provide superior shock absorption for landings, and cushioning in a durable sole. Patterning on the sole helps provide traction, especially for beginners who are learning how to navigate on and off the lifts.

9

. Vans Hi-Standard OG 2019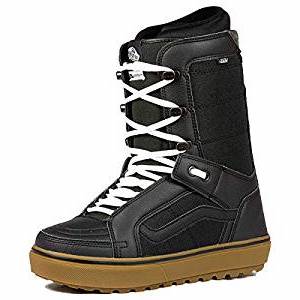 If you're an experienced boarder, you'll know that sometimes, the weather at the top will leave your toes numb after hours riding lifts and boots in the snow. The Vans Hi-Standard OG 2019 snowboarding boots are rated for below zero temps, waterproof, wind-resistant, and has a great lacing system to keep you snug, warm, and secure even when the weather isn't ideal.
Intuition Liner
Within the Avid Technical lies the Intuition Sport boot liner, created from ULTRALON EVA foam, making it incredibly durable, moldable, and with flexibility to allow for movements critical for chucking quick turns. If you're on the mountain or backcountry for full day after day wear, rest assured you'll step out of the Avid Technical with dry feet, and less cramping. The liner conforms to the foot on the interior, and in a three-dimensional manner, also to the boot shell on the exterior.
Lamination and coatings are the foundation of the Vans Hi-Standard OG 2019 weatherproofing found on the exterior of the snowboarding boots, assuring that you stay warm and dry in even the coldest temperatures. These line the boot shell fabric, creating breathability and durability during wear.
The Vans Hi-Standard OG 2019 is great for all levels of snowboarders. Its price point is slightly more expensive than some brands, but for a good reason. A grippy lug outsole provides traction, anti-microbial technology helps against bacterial growth, and the overall construction of the boot guarantees protection. A sure win for those looking to go long and hard on the slopes!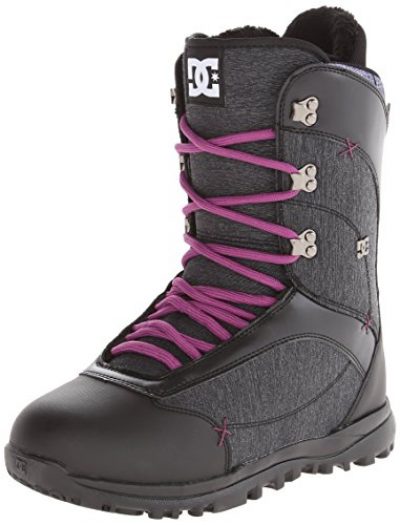 Red Liner internal construction with multi-level EVA memory foam allow for mega comfort in this beginner to intermediate women's boot. Designed to be fashionable and functional, the DC Karma snowboarding boots are sturdy on the outside for great control, and soft on the inside for superior comfort.
Red Liner fleece is a temperature regulating internal layer that can help keep you comfortable without excessive bulk. Great for springtime rides, or in the depths of winter storms, you won't' miss any fresh powder due to what the temperatures' like on the slopes.
It may be low-tech, but the traditional lacing system allows for a completely customizable fit and controlled support. For beginners, it's a great snowboard boot to start with when sorting out how you like your boots to fit, and where you may need more stability or more flex.

Subscribe to our Newsletter