Best Snowboards to Hit the Slopes With Reviewed & Rated
last updated:
Apr 25, 2019
Snowboarding is becoming an increasingly popular wintertime sport for all to enjoy. If you love hitting the slopes in your spare time and are looking to treat yourself to a new snowboard for the season, then look no further. Here we round up what we consider to be the top 10 snowboards currently available for both men and women.
As you know, snowboards can often be quite pricey as they need to be made with very high-quality materials. A lot of details go into their design, in order to optimize their performance on the slopes. It is therefore important for you to invest in a snowboard wisely and to thoroughly research your choices before making a final purchase.
Hopefully, this list will help to narrow down your choices and assist you in choosing the most suitable snowboard for this winter season.
This is the best product on our list that is currently in stock: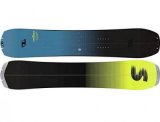 Salomon Speedway
Why is it better?
Backseat Camber
Tapered Directional
Stiff Flex
All-Mountain, Freeride, Powder
Super Light Paulownia Core
2 years Warranty
In a
Hurry? Editors choice: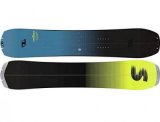 Test Winner: Salomon Speedway

5
Researched Sources
1145
Reviews Considered
7
Hours Researching
10
Products Evaluated
Versatility
Size
Durability
Value
Flexibility
By Default
Our Favorites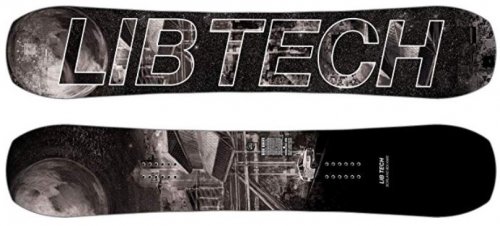 All-Mountain Park
For Jibs and All-Terrain
Serrated Edge
Fun, Playful and Stable
Environmentally Friendly
The Lib Tech Box Knife is a backcountry and an all-mountain park board. It is great for jibs with its precise pop, insane power and aggression, and camber with an all-terrain contour. The Box Knife is not a board for those unsure of their skills, as intermediate and advanced riders will get the most out of it, and it is light, strong and has a sintered base made from environmentally friendly materials.
The core of the Box Knife is 75% Aspen and 25% Paulownia and the glass is tri-ax/bi-ax fiber. The top of the board is eco sublimated poly, and the base is sintered, as we already mentioned. The edge of the Box Knife is serrated, with what is called a Steak Knife Technology. The deepest serrations are between the feet, then come the mild ones, then entry serrations at the top. These deliver unbelievable edge hold and control in all conditions.

Turn ice into powder in the Lib Tech Box Knife! This is a medium flex board that promises fun and stability, and a positively wild ride in the park! It has everything you need to tackle terrains of all types and it is built with zero hazardous waste. What more could we possibly want out of an amazing board like this?
2

. Burton Flight Attendant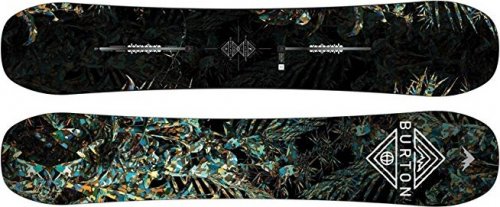 Directional Camber Profile
10mm Taper Tail
Rocker Nose
Cuts Edge Well
Floats Well
For those of you who are more advanced in riding skill, this board may be the one for you. It has a directional camber profile with a 10mm camber taper tail and a rocker nose. It cuts an edge well and floats just as easily. Great for backcountry running, this board has a decent mix of float, control, and precision.
The Directional Camber profile is ideal for combining the two styles of both freeride and freestyle. The tapered tail is 10-millimeter and the nose is rocker style. The geometry centers the sidecut for directional performance on your stance. Combined with the profile, this allows for great float and an overall control as you hit the backcountry in style.

This is a board for advanced users and the upper end in pricing reflects this. It has a plethora of technologies for directional downhill and is well worth the investment for serious riders of the sport.
3

. Bataleon Global Warmer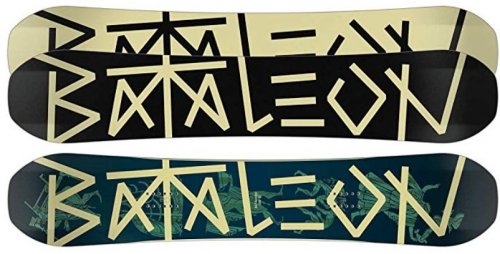 Twin Shape
Jib 3BT + SideKick Base
Reinforced Carbon Fibre Underfoot
For Park and Jibs
For Freestyle As Well
Topsheet not Durable
High Price
With a name that sounds like a threat to the environment, the Bataleon Global Warmer is one fierce, unforgiving jib board. It is meant for competent riders who enjoy their fair share of park tricks but would also like to hit the slopes without changing their gear. Its high flexibility, as well as the carbon fibers inserted underfoot, are perfect for jibbing, and the Global Warmer really hits it out of the park - pun intended - in all categories.
This option has a symmetrical nose and tail, as well as a sintered base and a wide center. All of this means that it is built for fast, straight-line riding, but thanks to reinforcement in the form of carbon fibers from edge to edge, the Global Warmer is also perfect for ollies. The Jib 3BT and SideKick base make it solid and durable, while there is a resilience to the board which will help you handle choppy terrain with ease.

The Bataleon Global Warmer is an incredibly versatile option, technically meant for the park, but which you can easily take out onto the piste without a problem. It is flexible and soft, not meant for beginners but for those who are more advanced in their riding skills, and it will absolutely leave all previous boards you've tried in the dust.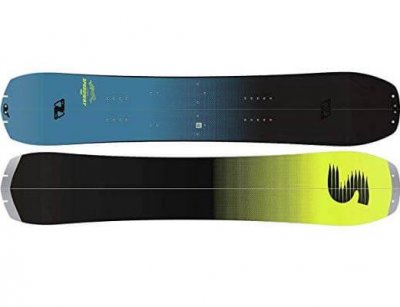 Backseat Camber
Tapered Directional
Stiff Flex
All-Mountain, Freeride, Powder
Super Light Paulownia Core
2 years Warranty
Whether you're one of those riders who are looking for the most versatile board out there, or just want something that will allow you to explore backcountry terrain even in deep powder, the Salomon Spedway is definitely a great choice. It's made for experts who know exactly what they're looking for, and comes in a stiffer flex, a longer length and an ultra lightweight construction that'll allow you to spend even more time on the slopes.
Made for directional use, the Salomon Speedway features a Backseat Camber that's quite different than anything else on this list. It has a camber underneath the back foot, a flat section at the nose and a rocker at both the nose and tail, so you get maximum control, even in rough conditions. Acrylonitrile butadiene styrene sidewalls have been specifically developed to allow top performance. It's a concrete-like bar with rubber particles inside that ensures a great amount of impact absorption without sacrificing toughness and energy transfer.

With a steep price, the Salomon Speedway is probably only going to be purchased by those who are serious about freeriding and want the best equipment money can buy. It's been specially developed to ensure great performance at a low weight, great response as well as high-tech solutions to make it one of the most enjoyable boards to ride on.


Budget-Friendly
Bap Core and Hybritech Sidewall
2x4 Inserts
Directional All-Mountain Option
For Intermediate and Above Riders
Ideal for those who are looking to invest in a new board but don't have a large budget, the K2 Broadcast is a sports favorite across all categories. This is an all-mountain option that is best suited for intermediate to advanced riders, on groomers or in pow, and with it, you shouldn't be afraid to go all out. It is a type of a board on which you can do absolutely anything, seeing as it is amazingly responsive and is perfect for fast, fearless rides.
The K2 Broadcast features a directional combination camber, with a precise feel. It has a bap core and hybritech sidewall, and its fiberglass part is made from Biax ICG10 Carbon Glass. The inserts on the Broadcast are 2x4 meaning that you will have no trouble finding compatible bindings. The base material is 4000-sintered, and the board itself comes in sizes 153, 156, 159 and 162.

As an experienced rider says, the Broadcast has 'plenty of pop', and the fact that it comes at one of the lowest prices on our list is definitely a bonus. If you're not sure about investing in a more high-end product and are looking for something fun and high-speed, then definitely consider the budget-friendly K2 Broadcast.
6

. GNU Forest Bailey Headspace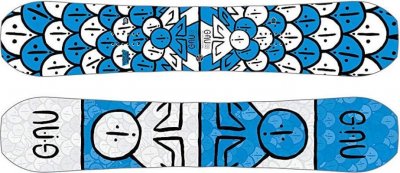 Asymmetrical Twin
Aspen / Paulownia Core
Medium Flex
C3 Camber
Eco Sublimated Poly Topsheet
Price
Poor Performance on Powder
An excellent choice for both advanced riders, as well as those who are just starting out, the GNU Headspace is the 2019 edition by the brand, with a completely new design by Forest Bailey. It's an asymmetrical twin that works well for those with a Duck stance and who like to ride switch, at which it absolutely excels. If you're looking for a board to use mainly for park rides, but that'll do well enough everywhere else, then this is definitely a great option for you!
Engineered to give you the best possible performance, the C3 Camber is aggressive with a mild rocker between your feet to allow for a higher level of effectiveness when you pivot. The camber gives maximum stability even at high speeds, and is, overall, a great choice for aggressive riders. The edges of the Headspace feature GNU's Magne-Traction® technology that aims to give you great performance in less than perfect conditions. Seven differing edge serrations have been strategically placed over the edge, making this a great choice for icy snow, though you should note that it won't perform as well on powder.

This type of board can only be considered a long-time investment, seeing that it's one of the most expensive models on this list. Not only does it feature artwork that will make you stand out at the park, but it's also made with great, eco-friendly materials, comes with a one year guarantee, is manufactured in the USA, and performs exceptionally well for freestyle and all-mountain.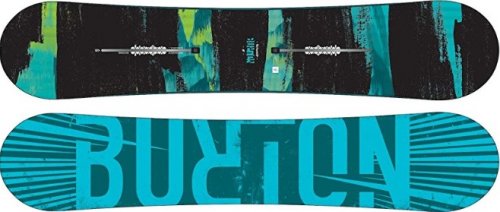 Great for Learning Beginner Tricks
Great on Uneven Terrain
Soft Flex
Excellent Powder Board
Decent Spring for Jumps
The Burton Ripcord is Burton's best offering for beginners, providing enough features to help you quickly advance your skills. Its directional shape means it works well with any terrain it encounters. It has a soft V-rocker profile, which helps to reduce edge catches and provide a loose and playful ride. It is also available in a range of different lengths.
Two different types of wood are used to manufacture the core. This provides a thicker tip and tail and a thinner midsection underfoot. This ensures a very responsive and lively board. An extruded base is the most suitable for a beginner, as it is very durable and requires a lot less maintenance than a sintered base.

The Burton Ripcord is one of the lower priced boards on the list and therefore provides good value for money for beginners.
8

. Salomon Gypsy Classicks by Desiree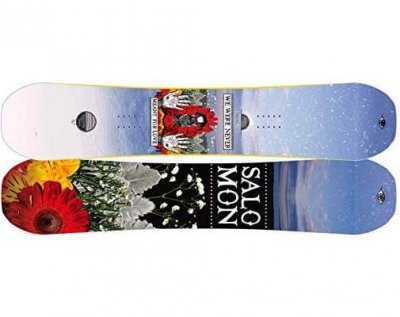 Rock Out Camber
True Twin
Medium Flex
Freestyle & All-Mountain
Versatile
High Price
Limited Availability
Made for freestyle and all-mountain snowboarding, the Salomon Classicks by Desiree is a responsive ride with a medium flex, perfect for those looking for an adaptable board that'll work well in varied conditions. The artwork by Desiree Melancon draws attention, while a true twin design and a high-quality build ensure maximum satisfaction and a board you'll be using for years to come. Although not intended for absolute beginners, this model will work great for those with some skills, as well as more advanced riders looking for great bang for their buck.
One of the best camber types for those who want it all, this hybrid board features several types of bend underfoot for a great performance in all situations. You'll find that the flat surface between the bindings increases stability, the camber ensures an excellent response, while the rocker eases landings and works well in powder. Salomon's sintered bases are made with specially engineered material with the function of allowing great glide in all types of snow - both powder as well as sticky. It's coated in a super special wax formula that increases durability, making this a great investment for almost anyone.

You'll find that you can't really go wrong with a Salomon board as their products are made with some of the best materials and tech you'll find. The price is way above average for this list, seeing that it's comparable to more high-end boards used by experienced riders. Nonetheless, if you're looking to save a few dollars, we'd suggest going with this same line, but perhaps opting for last year's design.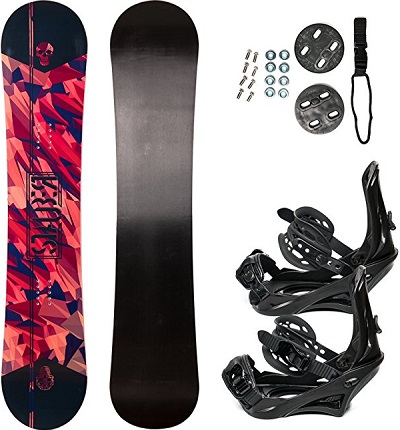 All-mountain Style
Twin-directional, Camber-rocker-camber Profile
Sandwich Construction
Scratch-resistant
ABS Sidewall
Unsuitable for Experienced Riders
An all-mountain styling you will find in this board kit. With twin-directional, camber-rocker-camber profile and scratch-resistant surfacing, you can be certain there are hours of fun ahead. The sandwich construction utilizes 100% real wood core with a rubber strip and ABS sidewall. The bindings feature a taught ankle strap, adjustable high back, and toe cap strap. Great for a beginner, this setup is ready for the slopes.
The profile of the Summit is made with a twin-directional, camber-rocker-camber setup. This is great for learning to do ollies and small jumps. Moreover, the style helps you to prevent edge catching in icy or snowy conditions. The buckling system is made of aluminum alloy. This means you will have the strength you need to remain secure, but the alloy keeps you and the board as lightweight as possible. So, if you are looking to learn techniques such as an ollie, then this is ideal.

This is a cost-efficient package that allows you to change the size of bindings by changing the size of the board. Furthermore, the styling is a great solution for those who would like to learn tricks, as well as enjoying a freestyle run down a slope.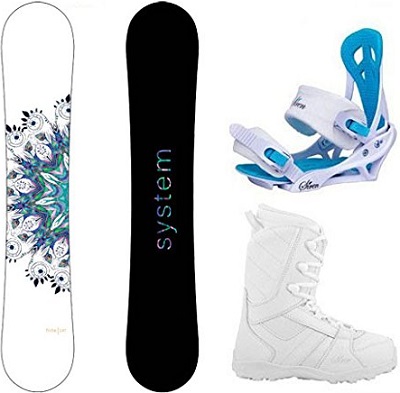 Flatrock Camber Style
System Flite; Female-specific Flex
Siren Lux Boots
Siren Mystic Bindings
3-year Warranty
A flat-rock camber style profiles this board. In essence, there is a flat base under your feet which aids in a more predictable, stabilizing ride. Additionally, the rocker ends help to prevent catching, thereby, giving you better float on powdery snow. Also, having a lightweight core and made with female-specific flex in mind, this is a great board for women. Furthermore, this kit comes with boots and bindings as well.
This board is actually made with comfort in mind, as it should be. They have an anatomically-correct footbed, a heat-moldable liner, and a gel patch at the rear to alleviate stress points from highbacks. This design is made with ease-of-use at the helm. Also, made to be lightweight and maximize control, this system is geared for female riders. These will help you to shred the powder and give you a better overall stability.

This entire kit is half the price of some of the other boards on this list. Made female-specific, this is an ideal situation for maximizing comfort while you ride. This is a great purchase and an even better choice for beginners, as you will not be breaking the bank, as it were.
Criteria Used for Evaluation

Versatility
As mentioned before, the type of snowboard that you choose will depend heavily on the type of terrain you will be frequenting the most. It will also depend on the style of snowboarding that you take part in and if you like to try out the odd trick or two on the slopes! Here is a summary of the different types of snowboard and what terrain and activities they are most suited for:
 All Mountain - As you can probably guess from the name, an all mountain board is suitable for any terrain type and any conditions. All mountain boards are used by the majority of riders and are most appropriate for beginners to start their snowboarding journey with.
Freestyle - Freestyle boards are designed for park riding and specifically allow you to brush up on your tricks. They provide a lively and playful ride as they are shorter and more flexible. However, they give less stability at high speeds, so if you are looking to speed fast down the slopes this board would not be your best option.
 Splitboard - These are boards which split in half so that they resemble skis. This enables you to climb up untracked slopes, you can then reconnect the two halves in order to ride back downhill. These are suitable for adventurous riders who have the appropriate knowledge and skills to ride the unmarked slopes.
Gender-specific snowboards
Most snowboards are specifically designed for either males or females. They incorporate certain characteristics which make them appropriate for their target gender.
As women tend to have smaller frames, their snowboards tend to be narrower and also more lightweight. They also tend to have a softer flex and less of a camber, because women project their energy onto the board in a different way than men. These different characteristics have been thoroughly researched over the years to ensure that gender-specific boards provide the best performance.
Women who are taller, or who have a larger than average shoe size, may find a board from the men's category to be more appropriate for their needs.
As a lot of the differences between the boards are due to weight and height, you may wish to base your choice of a board on your individual frame, rather than opting for a gender-specific board.

Size
Length of board
The length of board that you will require will be determined by both your body weight and also how you wish to ride. The length of the board can determine the speed at which you can travel, with longer boards traveling faster and providing greater stability. Shorter boards are usually preferred for tricks at the park.
While traditionally snowboards were sized so as to be long enough to reach up to your chin when standing next to them, nowadays, you need to consider more than just your height when looking to invest in a good board. Those who pack a bit more weight should go with a longer snowboard in order to be supported on the slopes, while those who are looking to do tricks and spins should go with something shorter that would reach up to shoulder height.
Shape of board
Snowboards are available in various different shapes, including:
Directional - These boards are designed for traveling very well in a single direction. They have a wider nose and a narrower tail. This shape of the board is best for speed.
True twin - These boards have a fairly symmetrical shape. These are good for terrain parks as you can ride equally well in both directions.
Directional twin - The tail and nose of these boards are symmetrical in shape. However, the tail is slightly more flexible. These are good for freestyle and all mountain terrains.
Rocker type - Flat rockers are most suitable for beginners, whilst a rocker or camber can improve the board's maneuverability and increase its performance for park tricks.

Durability
How long your board is going to last is proportionally related to how much you're willing to spend on the right equipment for you. As you can imagine, high quality sports equipment, especially that made for advanced and expert users is going to come at a high price, and is likely to be geared towards a certain type of snowboarding activity to ensure the best possible performance. So, to make sure you'll be riding your board for years to come, you should first research the available models, or define exactly what it is that you want to do.
First and foremost, you need to ensure that the core material is that of high quality. Typically made with wood, it can also include foam materials, as well as aluminum, composite honeycomb and resin that give different properties in terms of flex, and can be used as more lightweight alternatives to traditional wood. On the other hand, the base is typically a porous synthetic material that needs to be well-waxed for several reasons. First and foremost, a well-waxed base is what will give you a good glide on the snow, while taking good care of it will further help with its lifespan, preventing the board from becoming damaged through excessive use.
If you're someone who doesn't want to worry too much about maintenance, you may want to opt for an extruded instead of a sintered base, as this type will require less waxing, and won't lose performance due to lack of treatment. The downside, however, is the fact that it won't glide as fast as the more difficult to maintain sintered bases.
Another thing you should look at before purchasing a snowboard is what type of bindings it's compatible with. Certain manufacturers, such as Burton, have their own patterns, such as the 3D Insert Pattern and the Channel Insert Pattern. 2x4 and 4x4 Insert Patterns give you more options in terms of compatibility, so if you are still looking for the perfect board, boots and bindings, you'll probably do better with these.
If you're just starting out and want to invest in a board instead of renting one, then you'll definitely find that a large number of models will suit your needs. Once you've built up your skill, you'll have specific wishes in terms of length, width, type and camber, so you'll be able to choose something of a higher quality that'll perform better in certain types of situations, on more specific types of terrain. Nonetheless, if you're someone who likes to spend a lot of hours in the snow, or who is looking for more versatile use, you may even find it more effective to invest in two types of quality boards that you can use depending on the conditions.

Value
Snowboarding is an increasingly popular sport. It is fun, and in some fashion, can be easier to learn than actual skiing for certain individuals. This has a lot to do with the stance and center of gravity while heading downhill or into the first trick at the park. With this being stated, we thought it prudent to include the little ones into the mix, as they could be our next generation of Olympic hopefuls.

When kids are young, they see the world through the eyes of innocence. The world is bigger, more wondrous and beautiful, and the thought of learning something new is at an all-time high of favorite things to do. As we become older, however, we may sometimes forget how wonderful the snow can be with the years of shoveling and maneuvering, as we try to get to a job or to the store. Children, however, they do not have these worries and still maintain that joy we may have forgotten as adults. This is why we must never neglect a kid's growth, as they may very well turn into the next Shaun White or Hannah Teter, but because our lives can become so hectic and busy at times, we will never know because we neglected to find out if they love the snow this much.

When searching for the best board for kids, the biggest thing to look for is fun. Is the board fun or too difficult to have fun with? If it is too difficult to use, then a child will lose interest rather quickly and just start belly flopping down the small hill instead, with the board laid to rest and our money wasted.

A young, newcomer does not need locking boots because they will have a hard time staying upright. Balance is tough enough when you are young, and making things tougher will only frustrate a child's interest in the sport. A rope handle can be great for this, as it helps to teach balance and can, also, raise self-confidence. At the end of the day, this ensures they can easily learn, like having training wheels on a bicycle, as it were.

Loud, contrasting colors to the snow are great for helping to quickly identify your child at a park (e.g. red, orange, etc.). So, a board that is completely red may not be as beautiful to look at as a professional board with intricate tree designs, but it does provide parents and caretakers with a bit of ease of mind, per se.

Durability in a kid's board cannot be expected to match that of a professional board. Simply stated, the technologies and materials are just not present. Durability, however, must be present in some form. We recommend a board that will last no less than one season. If the board breaks after one use, there very well could be an upset child to contend with; not to mention, the pain on the bank account knowing your money is now gone and there is nothing to show for it.

All in all, snowboarding can be a lot of fun. It adds to the wonders of the snow, just as building a snowman can help bring snow to life, or an igloo can become the newest and coolest fort on the block. And always remember, it may not be your child having the most fun when they smile from ear-to-ear while heading down their first small hill, but instead, it may very well be you.

Flexibility
As with most sports equipment, all manufacturers have their own way of measuring and marking the flexibility of their products. You'll find that the boards featured here have all been rated by their manufacturers on a scale from 1 to 10, or as soft, medium or stiff. The type of flex you go with is going to depend on the type of boarding you want to do.
Softer flex boards will usually be those intended for either all-mountain or freestyle use where you'll want to easily turn, and suffer slightly less shock due to responsiveness. Beginners, children as well as those with a lower height and body weight should opt for softer boards as these will not be as hard on the body, and will be easier to maneuver.
If you're a freerider or a backcountry rider, if you're larger in size, or just want more speed and better cuts, then go with a stiffer board. It'll be a more stable alternative with better edge hold, but will likely be difficult to use by smaller individuals.
Expert Interviews & Opinions
Most Important Criteria
(According to our experts opinion)
Experts Opinion
Editors Opinion
Users Opinion
By Default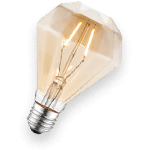 Demo Days
One great way to test out a variety of boards and brands, is to check into your local mountain resort for demo days. Many times, snowboard brands will let you demo different boards or gear for free! It's one of the easiest and least expensive ways to figure out what board style you like best.
Just Starting Out?
Start slow, take some lessons, and make sure you dress warm! Snowboarding can be an amazing sport, but it does require proper gear, such as warm clothing and jackets that have a waterproof element to them, as well as goggles and gloves. Helmets are a great option, but most places don't always require them.
Other Factors to Consider

Bottom Line
The key thing to really consider as you start your search for the ideal snowboard is; what is your current skill level? Snowboards are designed with your specific abilities in mind. So boards designed for beginners, provide technology and features which enable you to quickly develop your growing skills. Whilst boards designed for advanced riders allow fast speeds and high performance. Boards designed for advanced riders would not be suitable for beginners as the ride they provide is too aggressive. Similarly, beginners boards would not create enough of a challenge for advanced riders.

It is also important to really consider the type of terrain you will be encountering as, even though a lot of boards state that they are all mountain, they may perform well on some terrains and struggle on others.

Finally, when considering the cost, you may want to think of your snowboard as an investment. A high-quality board which is properly maintained and cared for may last you for many, many years and provide you with countless hours of enjoyment on the slopes.

You will also want to make sure you have a good pair of snowboard boots to accompany your new board! It is very important to protect your feet from the extreme levels of cold that they will be experiencing.
Frequently Asked Questions
q:

Should I buy or rent a snowboard?

a:

This is a very good question. If you are a beginner, we would recommend that you start out by renting a board. This allows you to give different styles, brands, and models a try to help you to decide which one you would prefer. Once you are comfortable with your style of riding and your preferences, then you will be in a position to invest wisely in your own board.
q:

Where can I buy a snowboard from?

a:

You can purchase a snowboard from a range of different vendors. There are a range of different independent snowboard shops on the high street if you prefer to physically see the board you are buying. However, it is becoming increasingly popular to purchase snowboards online, from websites, such as Amazon. You will often find that you can get a better deal when purchasing online too.
q:

Should I buy a board with an extruded or sintered base?

a:

This will usually depend on your riding style and your level of ability. Sintered bases are more durable, but are also more expensive. They also absorb wax easier and as such are faster when properly waxed. As extruded bases are slower, cheaper and easier to maintain, they are usually a better choice for beginners.
q:

Can I save money by buying last year's model of a particular board?

a:

Of course you can! This is a great way to get a good quality board at a fantastic price. Whilst some riders like to have the very latest in snowboarding gear, brands often change very little in their new releases of popular boards. Seller's often discount last year's models in an attempt to sell them quickly in order to make way for new stock.
q:

Do I need to do any maintenance on my board?

a:

In order to get the most out of your board, and to keep it in good condition for many years, you are recommended to carry out some regular maintenance on it.  You should wax your board after every couple of days riding. This is not only to help you glide down the slopes, it also provides protection to your board. You should regularly check for any gouges and have these repaired quickly. It is also important to have the edges of your board sharpened regularly. Following good maintenance for your board will help it to last you for a long time.
Subscribe to our Newsletter