Best Snowmachine & Snowmobile Boots Reviewed
In a
Hurry? Editors choice: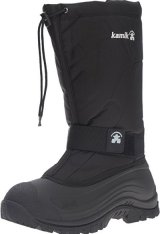 Test Winner: Kamik Greenbay 4

Snowmobile boots should have it all, in order to
protect you
from the harsh climates of winter. There are, also, features to think of such as cushioning, in order to keep your feet comfortable. You, also, need to think of laces. What kind of laces do you want on your snowmobile and snow machine boots? Are traditional laces fine with you or do you require something that is easy and quick to close off? These are all great things to consider when looking at snowmobile boots. Let's take a look at them now.
Standout Picks
Criteria Used for Evaluation
Durability
A quality product is one that will follow you through the years and work the same way it did on the first day you bought the product. In regard to boots, we assessed durability in a few key ways, analyzing the materials, details, construction methods and brands to deliver to you a simple opinion: will this set of boots do the job and do it again and again? Take a look at each area we evaluated:
The Materials
Which type of materials were the product made from? Are they synthetic or natural? How do they smell out of the box? All of these are critical questions we asked when evaluating the materials of the product. A pair of boots made from fabrics that don't retain heat? They didn't make our list!
The Details
Extra buckles, complimentary cases and reinforced fabrics are all good indicators of a manufacturer that is setting you up for long term success with their product. Attention to detail separates the high-quality producers from the cheap ones.
The Brand Name
A reputable brand is a signal of quality and trust. Often, high performers continue to perform and out-endure the competition. While there are always exceptions to the rule, we gave higher marks to manufacturers with solid reputations.
The Construction
You can tell a lot about a pair of boots or shoes by how the zippers behave. Do they pull swiftly and softly, like cutting butter? Or do they jam and snap? What about the sew? If there was threading after a few wears, we considered that a warning sign of a lack of proper construction and durability.
At the end of the day, a durable product gives you the confidence to go out and give it your best, knowing your boots can back you up. Whether you want to take it on-trail or off-trail, boots with a high score on this metric are sure to survive just as long as you.
Features
There are plenty of technological upgrades that boots have undergone throughout the years. From better waterproofing, to faux fur insulation and heat-regulating fabrics, a great boot will keep you and your feet smiling.
A lot of the snowmobile boots have insulated linings to keep your feet extra warm in the frigid temperatures. Some of these insulated liners are removable. This is, particularly, useful if the liner gets wet so that you can easily dry it out. The removable liner may create a slightly loose fit, so it's not for longer hikes where it could cause blistering. However, if you're using it to ride your snowmobile or snow machine, it's perfect for keeping you extra warm. The Baffin Selkirk has a removable lining, for instance. That's one of its top features and major pros.
In this criterion, we evaluated the top features each of the products on our list possess and ranked them accordingly to ensure you can pick out the best pair of boots for you. A higher score on this metric means the product has cool and functional features that add value to your choice.
Support
Arch support is important because it may help your foot from developing problems or aggravating existing ones. Arch support keeps your feet from falling flat while walking. This is especially important if you're a pronator and have issues with your feet rolling while walking. Arch support should be sturdy but not uncomfortable. The Baffin Wolf is one that has good arch support.
Also, it might be a good idea to see if the insole is removable. If it is, then you can switch it out with your own orthotic replacement. There is no support quite as good as customized; and in this, a customized orthotic is great for pronators.
No matter whether you use a boot with a removable insole or one with a great non-removable insole, the support your feet get will keep you happy, healthy and comfortable all day long. In addition to preventing acute, unexpected injuries from things like slipping and falling, a supportive pair of boots will also prevent long-term, chronic conditions, ranging from over- or under-pronation to athlete's foot.
Traction
When using your snowmobile or snow machine, you will, eventually, have to walk through snow and/or over ice. Therefore, you want a boot with good tread on it. Good tread will keep you on your feet even in the slipperiest conditions. It's especially important when you're walking with your snowmobile. You don't want to slip while walking your machine. The Baffin Selkirk has a good grip on the snow and the Baffin Wolf has a good grip on ice. The Sorel 1964 Premium T, also, has a good grip on ice.
The amount of grip and traction you get from your boot will depend on the materials the outsole is made of and the pattern or design the manufacturer crafted. Often, outsoles made from rubber or some synthetic compounds tend to have the greatest grip, especially in wet conditions.
As for the pattern of the thread, there are two main options:
Triangles/Squares
These are great options for preventing slips and falls; however, you may experience issues with melting ice. The triangle and square patterns tend to hold in water and can reduce traction in the wrong conditions.
Circular
Circular threads are a better option for those in wet or melting ice conditions, as it allows the drainage of excess water between the grooves. Though not as grippy as squares, it's much better for draining liquid.
Weather Resistance
You want to keep your feet dry in cold weather, so water resistance or waterproofing is vital. The boot may have the leather made upper that is treated to be water resistant. It may, also, have a rubber shell to protect the bottom from seeping water in. Lastly, it may have a waterproof lining which can, also, be quite breathable. This type of lining will help keep your feet dry and still allow for heat, moisture, and sweat to escape. The Sorel 1964 Premium T has a waterproof vulcanized rubber shell and sole which helps to protect the wearer from the water.
Frostbite occurs at low temperatures. In addition to this, exposure and dry levels, also, influence this horrendous situation. We already know the temperature is going to be low. This means that some type of insulation must be present in our footwear.
Additionally, we now need waterproofing more than ever before, as we do not want our feet and toes to become wet while, potentially, miles away from somewhere warm. In this, water resistance takes on a whole other level.
Subscribe to our Newsletter