Best Snowmachine & Snowmobile Boots Reviewed
last updated
Mar 27, 2019
Snowmobile boots should have it all, in order to protect you from the harsh climates of winter. There are, also, features to think of such as cushioning, in order to keep your feet comfortable. You, also, need to think of laces. What kind of laces do you want on your snowmobile and snow machine boots? Are traditional laces fine with you or do you require something that is easy and quick to close off? These are all great things to consider when looking at snowmobile boots. Let's take a look at them now.
In a Hurry? The test winner after 6 hrs of research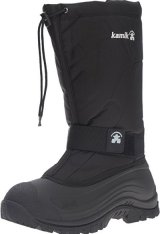 Kamik Greenbay 4
Why is it better?
600 denier Nylon
13-inch Shaft Height
20-inch Opening
Removable Lining
8-mm Thermal-Guard Liner
In a
Hurry? Editors choice: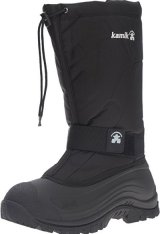 Test Winner: Kamik Greenbay 4

5
Researched Sources
13,450
Reviews Considered
6
Hours Researching
10
Products Evaluated
Durability
Features
Support
Traction
Weather Resistance
By Default
Our Favorites
600 denier Nylon
13-inch Shaft Height
20-inch Opening
Removable Lining
8-mm Thermal-Guard Liner
Kamik starts off our list with the Kamik Greenbay 4. This comes with a bunch of features, such as waterproof nylon uppers to keep your feet nice and dry. It, also, has rubber outsoles and a removable liner which keeps your feet warm, yet dry. There's, also, a lace lock snow collar.
The Rubber(He) outsole keeps the Greenbay 4 light but sturdy. It's lighter than natural rubber but still strong. This makes for lighter footwear that is great for trekking through the snow which, at times, is already too heavy. In this design, there is an 8-mm Thermal-Guard liner. It keeps your feet warm down to -40 degrees F. Cold feet are no fun, so this is great for riding as well as any other snow activities.

The Kamik Greenbay 4 has some great features to justify its higher price range, including an adjustable strap for comfort and the Thermal-Guard liner. There is a reason it is at the top of not only our list, but many others you will find online, and you would do well to test it out.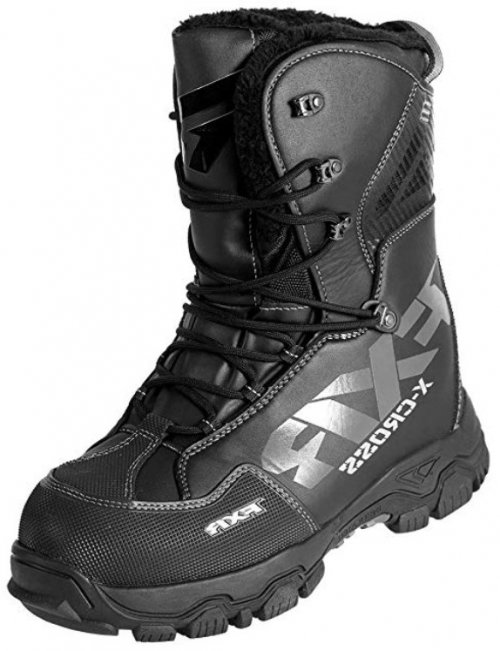 600g of Insulation
Fixed Fur Lining
High Traction Outsole
Rubber Reinforcements
Heavy Duty Design
Behold, the well-known design from FXR, a heavy duty boot that doesn't compromise and doesn't hold anything back, a true champion in the world of snow machines - the X Cross. There is nothing about this option that allows even a smidgen of cold to seep through to your skin, and it is outfitted with only the best, most hardcore technologies to keep you safe, warm, and to ease your way through piles of snow.
The X Cross comes with 600 grams of insulation, meaning that it can withstand temperatures that go as low as -40 F. It has a fixed fur lining on the inside for heat retention and fluffy comfort, as well as a BTO Thermostatic Midsole. The outsole on the X Cross has incredibly high traction, and there is a toe kick to help you clean snow and ice without any problems. The areas which come in contact with sleds have minimal seams, and there are genuine rubber reinforcements where you need them.

Complete with a lace-up closure for maximum security, there is nothing we don't like about the X Cross. It is a design that doesn't take any chances, and that makes sure that your feet will be cozy, dry and toasty, no matter how much time you spend outside. What more could we possibly want?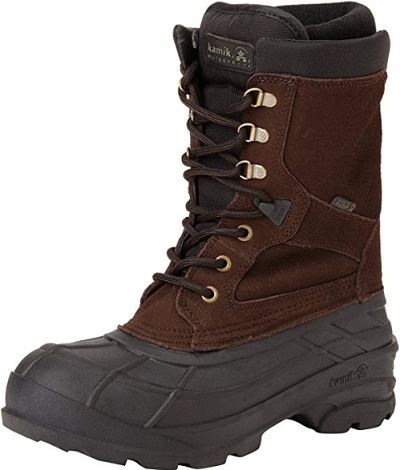 Good Traction
Inexpensive
0.75-inch Platform Height
10-inch Shaft Height
200B Thinsulate
Kamik is a brand that has been around for over a century. It's no wonder they fall on a list of bests with not only one, but two designs. This particular one is rated for -40 F degree weather. The uppers are made of thick suede, and the outsole is made of a single, molded rubber piece. It has a bold lug pattern for better traction, as well.
The Thinsulate insulation in the Kamik Nationplus is a foam lining meant to keep your feet warm; that is, the insulation in a snowmobile boot keeps your feet from freezing in cold temperatures. The moisture-wicking lining is meant to keep your feet dry. This is important on a snowmobile ride when snow is blowing up at you.

The Kamik Nationplus is budget-friendly and with some great features to boot. It has the moisture-wicking lining and the Thinsulate insulation, which make for a great deal on this product.
Easy On and Off
Lightweight
Good Grip
11-inch Shaft Height
EVA Midsole
A verified hit from Baffin is the Wolf design. This has two straps to hold you in, and an upper which repels water. A 7-layer removable synthetic liner helps to keep your feet nice and toasty. There's a -40-degree insulation rating as well, and a fully wrapped plate for toe protection.
The outsole of the Wolf is made up of an integrated, premium-rubber compound, made for better arch support. Arch support is important because you want to be as comfortable in your winter gear as you are warm in it. The dual buckle straps and drawstring collar on this option make for an easy on and off. Additionally, they turn adjusting your boot into a simple feat, which is important when you're speeding down snowy mountain slopes.

The Baffin Wolf boasts dual buckle straps and arch support, which not many other options on this list have. It's, also, lighter than some other choices, so the price range is worth it for the extra features.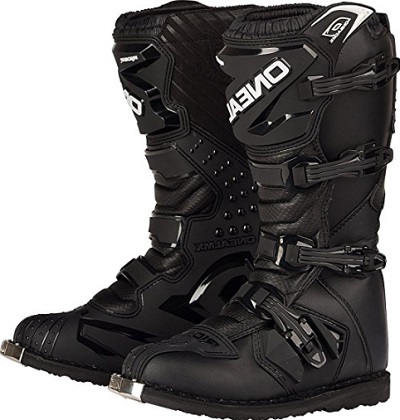 Easy On and Off
Ankle Protection
Inexpensive
Snap-Lock, 4 Buckle Closure
Metal Toe Guard
The O'Neal Rider is a product that has been on the market for nearly 40 years. The design is meant to be a first-class rider and it features a metal toe to protect you from any hazards. The soles are rubber and made by the Goodyear Company, so they're bound to be durable. They also have an air mesh interior, a cushioned insole, and some heel support.
The O'Neal Rider has an easy-to-operate closure system with four adjustable buckles and a snap lock. You want this on the go, especially with gloves on. The O'Neal Rider has injection-molded, plastic plates which protect against impacts. This is particularly useful when riding through flying ice and small stones.

The O'Neal Rider is in the low- to- mid-range price area. It has an easy closure system and injection-molded plates, which make for a great deal.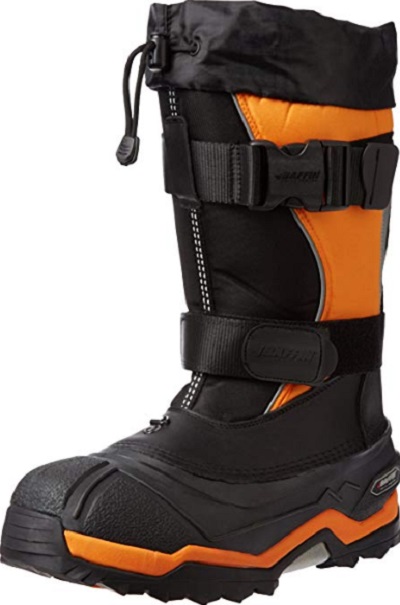 Good Grip
Removable Liners
-70C/-94F
13-inch Shaft Height
1.25-inch Heel Height
May run small
Not entirely waterproof
Baffin has been around for a quarter of a century. The Selkirk is a perfect example of their top-quality products. It has a 7-layer inner boot to keep your feet warm, and they're rated to be warmth-preserving down to -70C/-94F. In one continuous process, the sole and midsole are molded to the base. It also has a rather modern look to it.
The Baffin Selkirk has a removable lining made of Polymech foam. This is important for your foot's comfort and cushioning. It also accounts for the little spring-back that you get when walking. The sole itself is made up of advanced thermos-set polymers. Together, they work to ensure that the correct balance of grip, warmth, low weight and protection are achieved.

The Baffin Selkirk has a great grip and a lot of extra features that you will find useful when sledding, so it is well worth the purchase.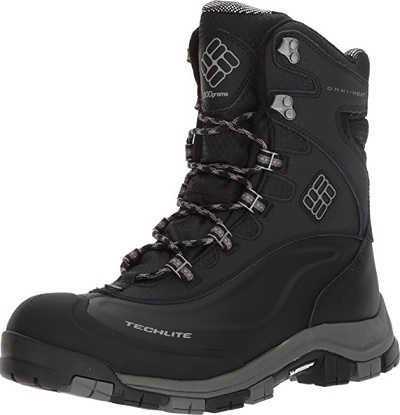 Leather Upper
Waterproof
Seam-sealed Construction
400g Insulation
-40F/-40C
Ready for the outdoors in the cold of winter, the Columbia Bugaboot has 400 grams of insulation and is rated down to -40F/-40C. In addition to keeping you warm, its traction is nice and able to hold to the machine as you ride your way through the snow. Practical, this is gear for your feet which provides stability, comfort, and great, overall performance. As such, you will be glad you stepped into this pair of machine-riding delights.
With the waterproof seam-sealed construction of this pair, you can enjoy the comforts of dry feet while in snowy conditions. Dry feet also mean a better chance for warmer feet. The leather upper provides longevity as well as giving you an ample amount of support. Furthermore, the leather is utilized well to help work in conjunction with the insulation, thereby, allowing for a warm environment.

These are built well, especially when considering their toughness and warmth factor. Moreover, this is footwear which allows you to enjoy hours at a time in those not-so-friendly, colder temperatures.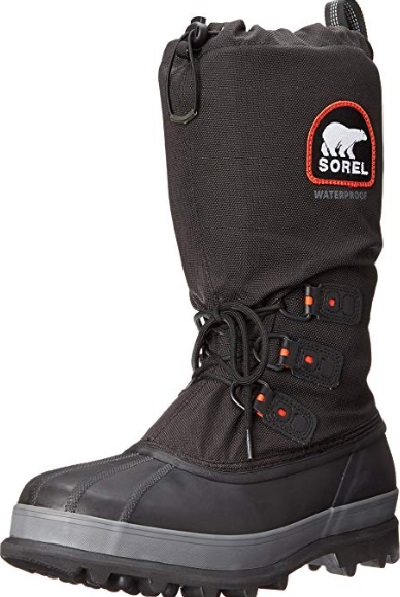 Great Tread
Lightweight
Good Padding
13.5-inch Shaft Height
1.25-inch Heel Height
Another Sorel makes the cut, the Sorel Bear Extreme. This one is made to keep water out with polyurethane coated uppers and fully molded rubber bottoms. It has a removable liner, made of 9-mm felt, and it should keep you warm down to -40 degrees. The lacing is simple, with three laces about the ankle and a drawstring closure at the top.
The Sorel Bear Extreme has a vulcanized rubber shell. Protecting the wearer from water, this shell is great for riding when slush splashes up at you. The Omni-heat reflective liner is meant to keep the foot warm. It's important to keep your feet toasty in the snow, especially when riding. You want to be able to feel your feet at the end of the day.

The Sorel Bear Extreme boasts several good features, such as the vulcanized rubber shell and the Omni-heat reflective liner, and it is overall a solid, reliable choice that won't let you down in cold, icy weather.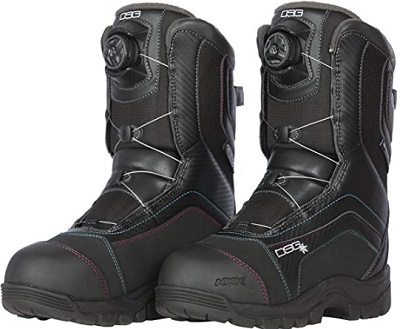 Waterproof
Windproof
Breathable
-40C
Reinforced, Toe Cap
An excellent choice, the Divas SnowGear Avid technical boot is impervious to wind and water; however, it's still breathable. It is warmth rated down to -40 degrees. The Intuition Liner molds to your feet, keeping your feet nice and warm. It also comes with a Boa Closure System. In addition, it has great traction due to its aggressive lug outsole.
The easy-lace Boa Closure System makes lacing the Divas SnowGear Avid Technical a cinch, literally. Just pull the laces and cinch the closure system closed. This is great for riding because it makes tightening the laces easy and quick. The Intuition Liner molds to your feet, making sure they stay toasty warm. It doesn't interfere with the great ankle support but does keep the inside warm and squishy; perfect for walking when you need to.

The Divas SnowGear Avid is a pricey option; however, considering its top rating and great features, it is well worth the extra cost. As such, this is worth having in your footwear collection.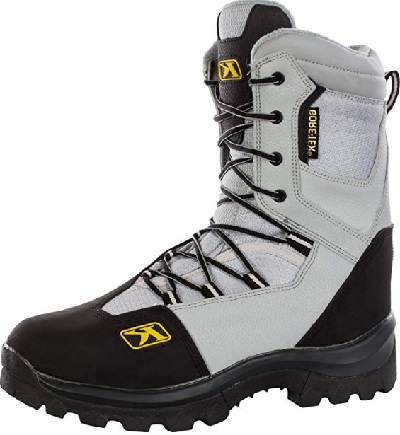 Half sizes available
600-g 3M Thinsulate
EVA Foam Cushioning
Gore-Tex
Offset Lacing System
The Klim Adrenaline GTX is constructed with the same technology as the Klim jackets. It's made to be warm, waterproof, light, and thin. The sole is thick, meant to give you traction on the harshest terrain. It has adequate ankle support and also features shock protection, which is great for bumpy rides as well as walking on uneven ground.
The Klim Adrenaline GTX features Gore-Tex technology to ensure that your feet stay dry. No one wants wet feet after a day of riding and walking in the snow, so this is a great addition. There is EVA foam inside of the Klim Adrenaline GTX. This provides cushioning for the foot. In this, there is comfort at the helm.

The Klim Adrenaline GTX has plenty of technology, such as the Gore-Tex technology and the EVA foam interior. It is every bit as reliable as Klim jackets, and it will make your ride easier, smoother, and warmer.
Criteria Used for Evaluation


Durability
A quality product is one that will follow you through the years and work the same way it did on the first day you bought the product. In regard to boots, we assessed durability in a few key ways, analyzing the materials, details, construction methods and brands to deliver to you a simple opinion: will this set of boots do the job and do it again and again? Take a look at each area we evaluated:
The Materials
Which type of materials were the product made from? Are they synthetic or natural? How do they smell out of the box? All of these are critical questions we asked when evaluating the materials of the product. A pair of boots made from fabrics that don't retain heat? They didn't make our list!
The Details
Extra buckles, complimentary cases and reinforced fabrics are all good indicators of a manufacturer that is setting you up for long term success with their product. Attention to detail separates the high-quality producers from the cheap ones.
The Brand Name
A reputable brand is a signal of quality and trust. Often, high performers continue to perform and out-endure the competition. While there are always exceptions to the rule, we gave higher marks to manufacturers with solid reputations.
The Construction
You can tell a lot about a pair of boots or shoes by how the zippers behave. Do they pull swiftly and softly, like cutting butter? Or do they jam and snap? What about the sew? If there was threading after a few wears, we considered that a warning sign of a lack of proper construction and durability.
At the end of the day, a durable product gives you the confidence to go out and give it your best, knowing your boots can back you up. Whether you want to take it on-trail or off-trail, boots with a high score on this metric are sure to survive just as long as you.


Features
There are plenty of technological upgrades that boots have undergone throughout the years. From better waterproofing, to faux fur insulation and heat-regulating fabrics, a great boot will keep you and your feet smiling.
A lot of the snowmobile boots have insulated linings to keep your feet extra warm in the frigid temperatures. Some of these insulated liners are removable. This is, particularly, useful if the liner gets wet so that you can easily dry it out. The removable liner may create a slightly loose fit, so it's not for longer hikes where it could cause blistering. However, if you're using it to ride your snowmobile or snow machine, it's perfect for keeping you extra warm. The Baffin Selkirk has a removable lining, for instance. That's one of its top features and major pros.
In this criterion, we evaluated the top features each of the products on our list possess and ranked them accordingly to ensure you can pick out the best pair of boots for you. A higher score on this metric means the product has cool and functional features that add value to your choice.


Support
Arch support is important because it may help your foot from developing problems or aggravating existing ones. Arch support keeps your feet from falling flat while walking. This is especially important if you're a pronator and have issues with your feet rolling while walking. Arch support should be sturdy but not uncomfortable. The Baffin Wolf is one that has good arch support.
Also, it might be a good idea to see if the insole is removable. If it is, then you can switch it out with your own orthotic replacement. There is no support quite as good as customized; and in this, a customized orthotic is great for pronators.
No matter whether you use a boot with a removable insole or one with a great non-removable insole, the support your feet get will keep you happy, healthy and comfortable all day long. In addition to preventing acute, unexpected injuries from things like slipping and falling, a supportive pair of boots will also prevent long-term, chronic conditions, ranging from over- or under-pronation to athlete's foot.


Traction
When using your snowmobile or snow machine, you will, eventually, have to walk through snow and/or over ice. Therefore, you want a boot with good tread on it. Good tread will keep you on your feet even in the slipperiest conditions. It's especially important when you're walking with your snowmobile. You don't want to slip while walking your machine. The Baffin Selkirk has a good grip on the snow and the Baffin Wolf has a good grip on ice. The Sorel 1964 Premium T, also, has a good grip on ice.
The amount of grip and traction you get from your boot will depend on the materials the outsole is made of and the pattern or design the manufacturer crafted. Often, outsoles made from rubber or some synthetic compounds tend to have the greatest grip, especially in wet conditions.
As for the pattern of the thread, there are two main options:
Triangles/Squares
These are great options for preventing slips and falls; however, you may experience issues with melting ice. The triangle and square patterns tend to hold in water and can reduce traction in the wrong conditions.
Circular
Circular threads are a better option for those in wet or melting ice conditions, as it allows the drainage of excess water between the grooves. Though not as grippy as squares, it's much better for draining liquid.


Weather Resistance
You want to keep your feet dry in cold weather, so water resistance or waterproofing is vital. The boot may have the leather made upper that is treated to be water resistant. It may, also, have a rubber shell to protect the bottom from seeping water in. Lastly, it may have a waterproof lining which can, also, be quite breathable. This type of lining will help keep your feet dry and still allow for heat, moisture, and sweat to escape. The Sorel 1964 Premium T has a waterproof vulcanized rubber shell and sole which helps to protect the wearer from the water.
Frostbite occurs at low temperatures. In addition to this, exposure and dry levels, also, influence this horrendous situation. We already know the temperature is going to be low. This means that some type of insulation must be present in our footwear.
Additionally, we now need waterproofing more than ever before, as we do not want our feet and toes to become wet while, potentially, miles away from somewhere warm. In this, water resistance takes on a whole other level.
Expert Interviews & Opinions
Most Important Criteria
(According to our experts opinion)
Experts Opinion
Editors Opinion
Users Opinion
By Default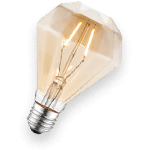 Beginner Snowsports
There's nothing quite like the feel of racing through the snow packed fields and over frozen lakes on a snowmobile! If you're newer to the sport, it's best to go in a group with friends while you're learning and getting accustomed to your new machine.
Most areas have trails or areas that will allow for plenty of riding and exploring. Always wear warm gear to prevent the wind from damaging more exposed areas like the skin on your hands and face. Gloves and face masks can help prevent wind chaffing, while goggles help keep you seeing clearly without sunglare.
Tips For All Day Rides
If you're headed out for the day in a group, it's best to prepare for being outside in the cold for an extended timeframe. Wearing layered clothing under snow pants and snow jackets will help keep you toasty warm. Take breaks throughout the journey, as many new beginners can get sore hands from operating the throttle. Plan for a stop along the way at a local restaurant to refuel and warm up from the outside cold.
Other Factors to Consider


Fit
We all know how hard it can be sometimes to find the perfect pair of shoes that we not only love, but that also fit snugly and comfortably. With so many styles, brands, colors and models, how can one compare hundreds of supposed "size 10s"?
To assess for trueness-to-size, we considered the opinions of thousands of wearers from across the globe to find out the answer to the ultimate question: do these 10s fit like a 10? While some things can give you a hint as to whether they will fit true, small or large; like brand name, shoe type and year of make; we believe that the opinion of buyers cannot be wrong. If they say the shoe doesn't fit the way it's supposed to, then you won't find it in our 10-best list.
You will find that a pair of shoes or boots or sandals that score high on this metric tend to experience a trueness-to-size that was verified by our large community of sampled buyers. Just don't forget to take into account the factors above to also make sure your favorite pair will fit you perfectly.


Ground Feel
The outsole, or more simply, the sole of the shoe, makes direct contact with the ground and therefore supports the entire foot and body when in motion. Needless to say, a poorly-constructed outsole will lead to discomfort, slipping and foot or other bodily injury. For this reason, many manufacturers use materials that are water-, weather-, heat-, and impact-resistant. Depending on the type of footwear, one will often see outsoles made from natural or synthetic materials, such as PVC, EVA, rubber and leather. Each of these has their advantages, depending on the shoe's purpose; however, as a general rule, they each are resistant to the aforementioned factors. They are also flexible enough to support a proper foot cycle when in motion, but they are not so flexible that they feel like a pair of socks.


Midsole
The midsole is designed to provide cushioning and shock absorption to the shoe, nestling the foot in comfort. Whereas running shoes tend to have thick midsoles, flats and thinner shoes not designed for high-impact activities often have thinner midsoles. The reason for this is simple: you need more shock absorption and vibration dampening during high-intensity movements or activities to maintain comfort and prevent foot injury than you otherwise would with a regular shoe, flat or sandal. Midsoles are often made from EVA (ethyl vinyl acetate), a synthetic plastic also used to make insertable orthotics. A firmer type of EVA for the midsole will make the shoe heavier, but more durable; whereas a softer type of EVA, like those found in running shoes, improve shock absorption, but wear much quickly. Podiatrists tend to prefer firmer midsoles for those suffering with orthopedic conditions, such as plantar fasciitis.


Bottom Line
Snowmobile and snow machine footwear needs certain features, in order to be of any use in the winter time. They need to be warm, to start with. Your feet should stay toasty in negative-degree temperatures. There's nothing worse than cold feet in the winter while out enjoying yourself on your machine; except, maybe, wet feet. So, you may want a pair that's either water resistant or waterproof to keep the spray from the machines from wetting your feet. In addition, it's useful for walking through the snow. They should, also, feel comfortable on your feet, so cushioning may come into play. In addition, arch support is important, in order to keep your feet from developing problems or aggravating existing ones. You, also, have to take into account how good their tread is on snow and ice. You will, after all, be walking at some point. You want to make sure that your boots are up to the task. There are other necessities to think about, such as odor control and quick draw laces. You may want a drawstring at the top to keep snow from entering. There are all sorts of questions to ask yourself, before buying the perfect snowmobile footwear.
Frequently Asked Questions
q:

Can I go hiking in my snowmobile boots?

a:

Snowmobile footwear tends to be stiff, due to the protection they offer; so, hiking in them may not be the best idea. They may be too uncomfortable for a day's hike.
q:

What is a temperature rating on boots?

a:

A temperature rating will tell you how low the temperatures can get while the boot continues to keep your feet warm. For instance, if a boot is rated at negative 40 degrees, then it should keep your feet warm down to negative 40-degree weather. Keep in mind, however, the rating is sometimes set to when you are at a moving pace, and not idle. Weather acclimation has a lot to do with it; as well as, body type, conditioning, and etc.
q:

Do I need a waterproof boot for snowmobiling?

a:

Waterproof or water resistance is nice for all that slush that gets sprayed while you are snowmobiling. In addition, if you're going to do any walking, it's good to have water resistant or waterproofing to keep any leak from happening.
q:

What do I do about laces?

a:

You can have regular laces on snowmobiles, just be careful they don't get caught in the track. For people who wish to get rid of this issue, some boots come with quick-lace options. You just pull the laces tight and cinch them shut with whatever kind of closure system they have. This will keep your laces out of your way.
q:

How do I keep my boots in good condition?

a:

Check with the manufacturer, as they often have care guides available online that can give you the best information for what to do and what not to do. Because of the varying types of boot, their construction and materials, it's always best to check with maker directly. There would be nothing worse than reading a generic care guide, only to ruin your new pair of boots!
q:

What are some of the main features I should look for?

a:

The main features to look for in a snowmobiling boot would be heat retention, moisture regulation, strong and patterned threads for traction, water-proofing and a durable construction.

Heat retention and moisture regulation go hand-in-hand. While you don't want your feet to get cold and frost-bitten when out in the snow, you also don't want water trapped inside your warm boot, feeding a nasty fungus that can cause athlete's foot. Make sure you stay warm and dry.

Further, a good thread pattern can keep you upright and prevents slipping in icy parts of the trail. More on that is discussed in our criteria section.