Best Motorcycle Riding Boots Reviewed & Rated
In a Hurry? Editors choice: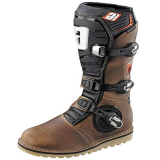 Test Winner: Gaerne Balance Oiled

In order to select the best boots on the market, we focused on high-quality brands that would hold up well over time. Anyone who rides knows how much of a beating your shoes can take, and you want to be spending your money on something that will last. Another main focus was on how comfortable each
pair of boots
is, as a rider needs to be fully comfortable so that they have no distractions. With these factors in mind, we have found 10 of the
best motorcycle boots
on the market that you can buy today!
Standout Picks
Criteria Used for Evaluation
Durability
When on the hunt for your new pair of motorcycle boots focus on how they are built and how durable they look. Look at the stitching and note whether or not it is reinforced by being double or triple stitched, and if it appears to be fraying. Although not something you want to think about, if you were to ever be in an accident, these boots need to be able to stay together and protect you.
Depending on what you ride, the type of boot you need will vary quite a bit but the one thing they will all have in common is how durable they should be. A cruiser boot will be similar to a work boot or combat boot at first glance, but it is what is inside the shoe that will differentiate them. If you just like taking your bike out on the weekends and do not want to spend the money on a heavy duty, expensive name brand pair of boots you will still need motorcycle specific boots, but the amount of padding is up to you.
With racing boots, although they are durable, every part of them should be replaceable just in case something were to damage them, or you begin to see wear. Unlike cruiser boots, these take much more of a beating on a day to day basis, and every few months you don't want to be repurchasing an entirely new pair of boots, so ensure that any part that could start to show wear quickly is replaceable.
The boot should be rather simplistic with strong well-constructed features like a sewn-on sole. No part of the boot should be glued on, as this not only looks cheap but will not last very long, and can begin peeling away from the boot with just everyday wear. When it comes to the type of sole you want there are a few things that come into play.
Flexibility
Your boots sole should be somewhat flexible while still being sturdy. Softer soles are great for certain bikes and gripping the pegs but these will wear much quicker than a harder sole that is much more durable. Regardless of which you think feels and works best for you, always ensure the outsole is water and oil resistant. The oil from the roads can cause your boots to become extremely slippery and dangerous so do not even consider a pair of motorcycle boots if they do not protect against that.
Material plays a big part in whether or not your boots are good quality and well made, and therefore should almost always be made of genuine leather. This is one of the reasons they are a pricier item and is the telltale sign of if they are actual motorcycle boots or not. Any type of synthetic material is simply not safe and is not meant to be worn on a motorbike.
Your boots should have a thicker area around where the shifter will hit, as it will rub against your boot constantly during your ride and if it is not durable enough it will wear through. The entire boot should also be made up of other materials that create a safe space for your feet such as metal, plastics, and waterproof fabrics.
--Focus on the construction of the boots to determine their durability. Stitching can let you know if you have a durable pair or not. Check for any fraying and what kind of stitching such as double or triple. The kind of motorcycle boot you choose varies in durability too.
--A lightweight, cruiser boot will have less padding and can be a great option for easy going and occasional riding. For heavier riding and racing, you need heavy duty boots with plenty of padding. More active boots need more frequent replacement compared to cruiser types.
--There should be no gluing, only sewn or stitched. The look should be simple too. Motorcycle boots are all about function and construction so aesthetics will take a backseat. Outsole needs to be flexible but sturdy and a soft sole is okay but will degrade quickly. Make sure the construction is oil and water resistant.
--The pricier the boot, the better the durability usually. All motorcycle boots should be genuine leather as synthetic materials are not safe and will do more harm than good. Also, make sure your feet from the toes to the ankle and even the calf is protected by the boot and a durable boot will do just that.
Protection
The boots you choose to wear, along with the rest of your outfit must be chosen carefully because it is what may potentially save your life in the event of a crash. As the saying goes "dress for the slide, not the ride" meaning you can still look stylish, but at the end of the day your focus should be on boots that will truly protect you.
First and foremost your boot should come to at least over your ankle, anything less than that is not going to offer any support or protection. A shorter boot may be more comfortable for long rides or having to walk around in when you get to your destination but it will not offer the same protection as one that covers your calves as well. Regardless of the style you prefer, always ensure your ankles are fully covered and protected. In the event of a crash, your feet are likely to be the first thing to hit the ground and your boots should be able to withstand the force of the crash and protect you.
The lowest style you should get is that similar to a hiking boot, and many motorcycle boots actually look quite similar, however, they are very different. The boot with the most protection will be ones meant for racing, but if you are riding a cruiser bike they will not always be what you reach for appearance wise.
Racing or motocross boots the most protective boots and feature lots of protective pieces, guards and padding throughout. These features help with overall protection as these riders not only go fast but are exposed to muddy, dirty and often times rough slippery terrains. These boots will look much different than your everyday casual cruiser bike boot, however, they can be used on any bike, whereas cruiser boots are not as versatile and should not be worn on a racing bike.
Materials
It is relatively easy to tell boots apart but what makes a proper racing boot?
Full grain leather
You want the most high quality, and durable materials encasing and protecting your feet at all times.
Steel shanks
Used to add support to your feet throughout a long ride.
Velcro and buckles as closures
You never want the boot to be a slip on as these do not fit tight enough, and any closure like laces are an accident waiting to happen. They can untie while on the bike, get caught in something and cause a crash. Always steer clear of racing boots that are not sleek with flat, secure closures.
Waterproof & anti-slip
All parts of the boot should protect your feet from the elements and help you stay stable and comfortable.
Cruiser boots are slightly more simplistic as you will not be going as fast and furious on different types of terrains in them.
Full grain leather
Because these boots will be lacking in padding and protective parts, the most important feature is thick, durable materials.
Oil resistant soles
Throughout your entire ride your feet are constantly touching the ground and picking up oils off the road which can cause the soles of your boots to become slippery on the pegs. This can be extremely dangerous, and therefore always ensure your boots have the correct soles.
Minimal closures
The most common closures are zippers and buckles. These boots should be snug and fitted but less heavy duty and padded than racing boots.
Steel toe
Your feet will be touching the ground every time you stop, and potentially dragging, so ensure your boots are reinforced throughout to protect every inch of your foot and leg.
They feature a lot of molded protective pieces that cover the exterior of the boot, such as ankle padding and shin padding. These will aid in impact protection and will also keep your boots from snagging on anything, which will increase the probability of injury. Toe-sliders also tend to be standard, as do shifter pads. The latter will keep the tops of your boots from wearing out due to constant gear changes. Some models are a lot more sophisticated than others. Lower end boots may not feature any explicit protection at all and will mimic a pair of street shoes, but it pays to opt for the extra protection. Plus, it looks a lot cooler, too!
Although motorcycles are best in dry, warm weather, they can be used in all climates and if that is your only mode of transportation you will find yourself stuck in some pretty bad, wet weather. Many boots are built to protect against everything, including weather, however, ensure your leather is treated, and if not apply a protective spray before wearing them in the rain. If it is not treated it will absorb, rather than repel the water and not only is this unsafe, it is extremely uncomfortable to have soaking wet feet.
Comfort
Motorcycle boots will not necessarily be the comfiest shoes right off the bat, and although they do not always require a break-in period per se they should be rather tough to get on and off. This may make you think your boots are not the right fit, however once on, they should fit like a glove and be extremely comfortable. Any boot you can slip right on and off will not stay on in the event of a crash.
If your boots don't feel good, they won't be something you reach for very often, so it is important to find a happy medium between comfort and practicality. Regardless of how protective and safe a pair of boots are if they cause discomfort in any way that can potentially distract you while riding and that is very unsafe. When you try them on, look for pressure or discomfort throughout the boot, see if your toes feel pinched, and how stiff the material is.
Depending on the amount of protection on your boot, they may be stiffer and less comfortable for long rides or walking around. Before deciding on a new pair of boots it is crucial to know the type of bike you will be riding because boots meant for dirt bikes or motocross are a very different style and would not be comfortable to walk in once you reach your destination.
Cruiser bikes are the most versatile when it comes to the apparel you can wear with them, and although your boots should still be durable they will look like a more basic leather boot, than those meant for sports bikes. If you plan on riding your motorbike to work, or daily to get to where you're going, you're going to want to make sure that they are comfortable for all-day wear.
Many brands are much more versatile than others when it comes to their styles and wearability, and these boots can be worn on days when you are not even planning on using your motorbike; which is great for those who don't ride very often and still want to get use out of their expensive boots. There is, however, a large difference between the biker style trend, and actual biker boots so be sure to assess whether or not the boots are made to look like they can be worn on a bike and if they actually can and should be.
The fit is very important, and all boots will fit your feet differently so finding the perfect pair for you is crucial. No motorcycle boot will have laces on the outside, so you need to rely on buckles and zippers to make the boot snug and fitted to your foot and leg. Some have an internal lacing system to really make the boot hug your leg but in most cases depending on the boot, your only closures will be velcro, zippers, and buckles.
The lining you want inside the boot is completely dependant on the time of year you wish to ride, and overall what feels best for you. In colder months a nice fur lining will not only keep your feet warm and cozy, it will always act as a cushion and make the boots feel nicer. On a hot summer day though these will not be what you reach for, so having a lighter yet still durable pair of leather lined boots will ensure your feet can breathe and feel cool, yet are still protected.
Top 10 Motorcycle Boots
1

. SIDI Adventure 2 Gore-Tex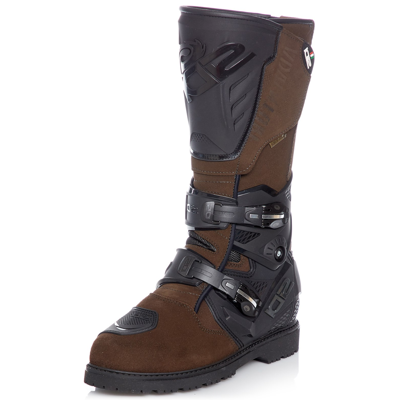 Now, if you want professional riding gear, you can very well turn to SIDI who are well known to those who value quality and protection above else. This is a 14" boot that features Gore-Tex lining in its entire height for ultimate water protection, while the back end features elastic inserts for the perfect fit that will work for all calf sizes. These come in two color options - black and brown, so you can choose the one that works best for you.
The upper uses full-grain microfibre which acts similarly to leather, but is more lightweight, durable and less likely to be impacted by weather conditions. It is also naturally water repellent, which is a definite plus. The Gore-Tex membrane doesn't let moisture inside the boot, but will allow for your feet to breathe, so you won't have to worry about overheating.
A Crossfire system is used for adjustability - it features four buckles that are memory regulated, so you only have to adjust them once, and you'll get the same fit with every ride. They're also independent, which makes them easily replaceable. These motorcycle riding boots feature plenty of protection that has been slimmed down to avoid bulk, which means you will easily wear these off the bike as well. The insole is made with nylon and has a removable arch support pad for maximum comfort. Plus, you'll benefit from the reflective detailing that will make night rides safer. As for price, this is the most expensive model on our list, and that doesn't really come as a surprise when we consider it's made by a company such as SIDI. If you're after the best of the best, the Adventure 2 is a definite winner.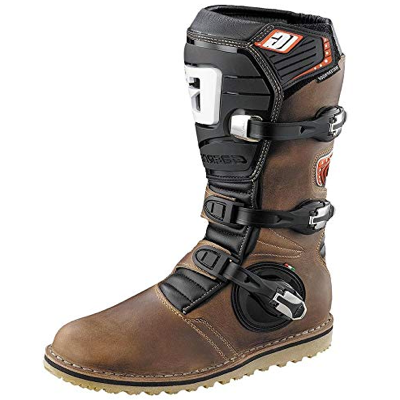 These ar motorcycle riding boots that have an almost cult-like following, which is quite understandable considering the comfort they provide both on and off the bike. Unlike most models used by motocross riders, this one doesn't use synthetic in the upper, instead opting for full-grain leather that will perfectly mold to your feet with wear. It will also look better, and with proper care, should last you for years. In terms of protection, while it does have a waterproof membrane, this wasn't made with as may impact protection features as some other models listed, so keep in mind that if you're in need of something hardcore, this will probably not be the model for you.
The outsole of the Gaerne Balance is made with gum rubber that's grippy both on and off the bike, but more importantly, it has great shock absorbing properties so your feet won't have to suffer even during long tours. The insole features plenty of memory foam for the ultimate fit, and the entire construction is made so as to accommodate even wide feet and high insteps.
When it comes to protection, these won't provide as much as most MX boots, and that's quite important to keep in mind. Nonetheless, this means that without the plastic or metal inserts, these actually weigh quite less, and for some that's crucial. Though these will take a few weeks to break in properly, they're likely to become your favorite pair of footwear. As for the price, you may need to save up, but in the end, it'll definitely be worth it.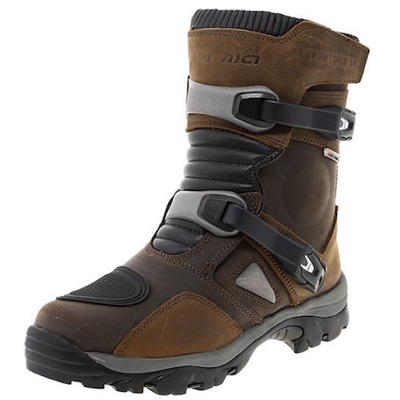 This pair of motorcycle boots is a great choice for all those looking for functionality and comfort. Whether you prefer to wear low boots because of wider calves, or just like the extra flexibility provided by this type of product, you can rest assured that the Forma Adventure Low will ensure your safety on the road. Made in two color options, black and brown, it's one of the most durable items on this list, so you can easily choose these for all your motorcycling needs.
The upper of the Adventure is made with full-grain oiled leather that has a waterproof membrane in order to keep you dry, even in less than ideal weather. The lining uses mesh to ensure breathability, and the GH plastic buckles are unbreakable, so you won't have to worry about them giving out before their time. In terms of impact and fall protection, this model uses integrated TPU inserts and reinforcements.
As for the outsole, it provides the same amount of grip and security on your bike, as well as off it. It's lightweight, and the insole features memory foam for the best type of cushioning you can get. The footbed is removable, and has been treated with an antibacterial coating to prevent odors, but if you require custom levels of support, you can even swap it for your own orthotics. Now, when it comes to price, this pair of boots doesn't exactly come cheap, but it's definitely worth the investment.

4

. Harley Davidson Abercorn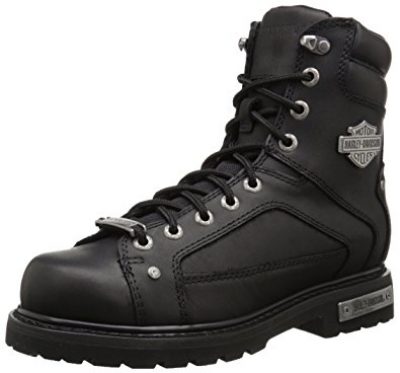 Coming in first on our list is the Harley Davidson Abercorn Motorcycle Riding Boot. It should be no surprise that Harley Davidson would appear on this list, given that they are one of the absolute biggest names in motorcycles and gear worldwide. This is a company that knows bikes and knows riders, and they have put their knowledge to good use by crafting an amazing pair of motorcycle boots that will be loved among most riders. This boot combines all of the features you're going to want in a boot, and it's thick leather makes it extremely durable and long-lasting. There is a cushioned sockliner, real silver hardware, and Goodyear Welt stitching to ensure this boot doesn't come apart any time soon. Harley Davidson has a massive line of different motorcycle boots, but this one in particular really stands above the rest. Not only is the Abercorn heavy duty, but they have made sure that comfort was a top priority when designing this. With many wearers claiming it as the most comfortable motorcycle boots they've ever owned, it's pretty safe to say you will love riding in these.
One of the most important features your boot should have is a sole that is grippy, oil and slip resistant, and will allow you to balance and shift with ease. These Abercorn boots have gone above and beyond in making a sole that will keep you secure, safe, and comfortable for your entire ride. The toughness of the rubber is abrasion resistant, meaning these boots will hold up even if they happen to hit the ground while you're on the move. They have also made the boot itself more durable by using a Goodyear Welt stitching system to ensure that these will accompany you on far more than just a couple rides. These boots are very dependable, and you will feel that added sense of security each time you put them on.
The full length sockliner has added cushioning to prevent your foot and ankle from chaffing or blistering while wearing these boots. The padding is comfortable and soft, allowing you to focus on the road and not on your boots. To give you a more personalized fit, this boot features a locking zipper on the inside which will help keep the boot snuggly fitted to your calves as you ride. While there has obviously been a lot of thought put in to how these boots perform, Harley Davidson hasn't compromised on appearance in the process. These are boots you are going to love to wear, as they look just as great as they feel. With logo hardware added on, everyone will know you're serious about bikes as you rock these Harley Davidson Abercorns.
Motorcycle boots in general are not cheap, and when you'r purchasing a major brand name you can expect the cost to rise a bit. With that said, these boots are fairly inexpensive given how well made and durable they truly are. This is another factor that put these at the top of our list, as the value on these is exceptional. Cheaper than other models on our list, you really can't go wrong with these boots if you're a road rider and cruiser. These will last you a long time and keep your feet very comfortable, making for a well priced and well made purchase.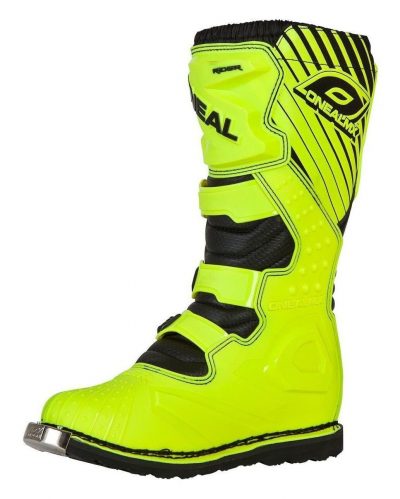 Bringing up third place on our list is another pair of sport bike boots that are great for anyone who loves hitting up trails and parks with their dirt bike. These are certainly an entry level boot, which is a big part of why they are included on this list. Long time riders generally have a brand or model they prefer, but for those who are newer to motorcycles and sport bikes may need a but more help in locating the right boots for them. For this reason we have tried to focus more on beginner boots which are less expensive and don't have any unnecessary features that newer riders don't need. These are one of the absolute best entry level boots you can buy, and they comfort and stability will amaze you as it's the type of construction you would expect to see in a much pricier boot.
For those who may not be familiar with all the terms of shoe and boot construction, the shank refers to the piece that is located between the midsole and the outsole. Although this seems like a pretty unimportant part of the boot, the shank is actually incredibly necessary when you want to make and own a pair of boots that are sturdy and durable. In order to make the boot supportive, O'Neal has used a metal shank to offer superior support and stability with these Rider Boots. The reinforcement offered will give you better balance and support on your pegs, making it easier to ride and compete. This will also help maintain the shape of the boot over time, so you get more use for your money.
The front of these boots features injected molded plastic plates which are meant to protect your legs and shins from any falls or accidents. Just like a helmet, these plates will absorb any impact and reduce the likelihood of any broken bones or damaged skin. The metal toe guards will also help protect you and your boot, preventing the layers of the boot from coming apart over time. Similar to other boots on our list, these feature a Goodyear Welt stitching to give you more balance and stability, as well as a decent gripped sole. With an air mesh interior your feet will stay cool and properly padded on the inside, and the outside is protected from heat damage via a synthetic leather shield.
These boots are nicely priced as entry level boots, while still including a lot of the features and high construction standards of far more expensive boots. You should find that you are beyond happy with the price tag on these, as these clock in as one of the cheapest pairs we have listed. For such a low price you would expect that they were manufactured to be less durable, but instead you are getting a pair of boots that will hold up over time and offer you sturdy protection and a balanced feel. As long as you are using these for light sport riding or cruising they will hold up well, but for heavy competing and moto sport use, these aren't going to last as long as other pairs.

6

. Bates Ultra-Lites Tactical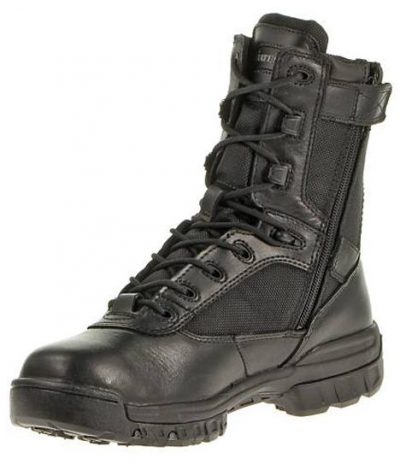 Although this boot isn't specifically classified as a motorcycle boot, it has many of the features that a rider would need while hitting the open road. These are some heavy-duty boots that have been worn by military personal, police officers, and other uniformed men and women over the years. If you want a boot that will be durable, rugged, and keep your feet protected then you should look no further than these tactile sport boots. Featuring a high top cut, these offer great ankle support which allows you to shift and balance while remaining comfortable. In order to keep the weight of these boots down, a cement construction has been used which allows for a lighter overall feel while also adding to the flexibility. The sole on these are slip-resistant, keeping your feet on the pegs where they should be.
There are a couple of components that go into this specific type of material, so we will break it down piece by piece. The upper of these tactile boots is crafted from leather and nylon to give them a flexible yet durable fit. The nylon used is ballistic nylon, which is what bulletproof vests are made out of. As a motorcycle rider, this translates into a boot that will keep you safe and protected in any sort of accident or mishap. Not only is it ballistic nylon, but the specialty denier type offers up a much more lightweight weave so that your boot remains flexible and lighter than if it were made of full leather.
Having your foot comfortable and cushioned is an important, but often overlooked feature. These boots come with their own cushioned insole to give your foot that additional padding it needs. No matter how long your trip, your foot should feel no discomfort, and there is a bit of added arch support to help with any foot fatigue. For those who need additional or customized support, the insole is easily removed so that you can quickly replace it with any insole you desire. These are also fall into our list of most comfortable motorcycle boots on the market.
For such a heavy-duty boot the price on these is unbelievable, and it's hard to pass up such a great offer. Not only will these last you for years to come, but they are versatile enough that you can use them for hiking, winter activities, and general boots. As one of the cheaper pairs on our list, a lot of the cost-cutting comes from the fact that they aren't full leather, but you don't need to worry as the nylon is durable and strong enough that you shouldn't notice any lack of support.

7

. Harley Davidson Annadale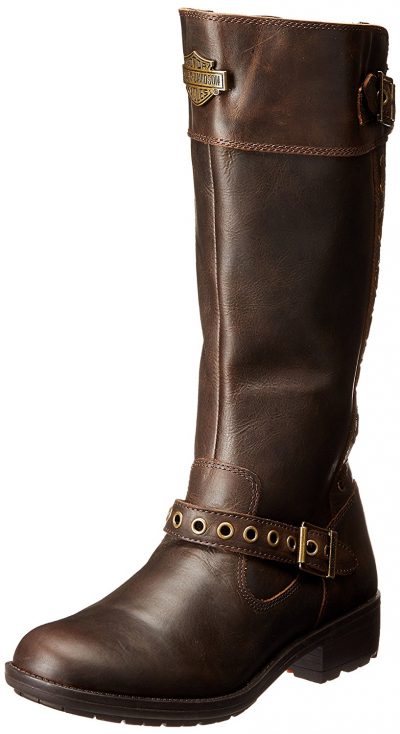 This 13 inch boot is made for both riding and casual wear, so you are getting a lot more versatility than in some of the other boots we have looked at. Easy to dress up or down, these boots will be a hit with anyone who likes to ride to a location, and then look great when they get there. These boots are Harley Davidson, however, so the appearance isn't the only point that put these so high up on our list. As comfortable and well performing as they are attractive, the Harley Davidson Annadale Boots are crafted with a full grain leather upper, and contain many of the same features we saw on the Harley Davidson Abercorn's. The sole is very durable and performs well on any terrain, and is slip resistant in both wet and dry conditions. Feel good and look good with these boots, knowing you have the same protection and durability as other, clunkier boots.
Given that these are designed more as a women's boot, there has been more focus on overall appearance than some of the other boots from Harley Davidson. While it doesn't make these any less durable or well-performing, they are lighter and more flexible so that they can be worn on or off the bike. There are no front laces, and instead, these boots feature a more decorative lace-up design along the back of the boot. To help with snugness and a good fit, these boots have a locking inside zipper and adjustable straps to allow you more control over the tightness. The Harley Davidson Shield emblem is prominently displayed on the top front of the boot, so there is no mistaking that these are genuine motorcycle boots.
While most of the boots we have looked at feature the Goodyear Welt stitching method, these boots take a bit of a different approach by using cement construction. Contrary to the name, this doesn't mean the boot is made out of cement, but rather that the upper part of the boot is attached to the outsole via and adhesive. The benefit to the cement construction method is that it tends to produce a more lightweight and flexible boot. As these are women's boots, it would make sense that they have tried to reduce the weight so that foot fatigue and pain doesn't occur over time. The wearer should also notice more give and flexibility, making these much more suited to walking around and casual wear.
Harley Davidson is always going to rank a bit higher in price, and a lot of that comes down to the fact that you are buying for a very well known and highly reputable brand name and one of the best biker boots. With that said, if you want to be sure that you're getting boots specifically designed for motorcycle riders, and are made with premium, high-quality materials, then these boots are certainly worth the price. One of the main benefits of these boots is how versatile they are, allowing you to wear them on more occasions than just riding. For that you are getting a more useful boot, making the price tag worth it.

8

. Durango 11 Inch Harness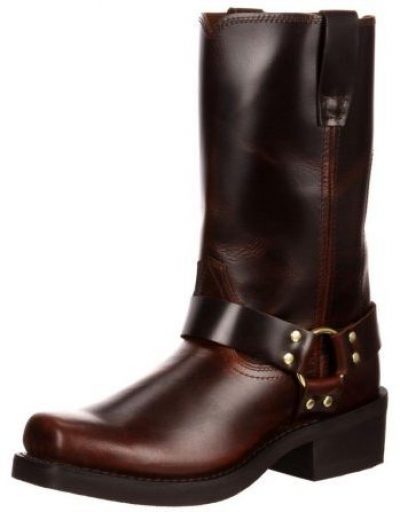 Coming in five different color options, these are great looking boots that can easily suit any occasion. Dress these up or down for a versatile and comfortable look that will pair perfectly with jeans or other tight pants. Not only do these look great, but they are a fantastic pair of motorcycle boots that are sure to impress. Eleven inches in height, these harness boots are sleek and comfortable, offering foot, ankle, and calf protection while your ride. The steel shank in these boots will give you firmness and support, while ensuring you have great balance on your foot pegs. As these are motorcycle specific, there should be little to no hindrance when you shift gears, and the toe should see no discoloration.
When you spend your time around bikes and on the road, you're bound to come in contact with spilled oil and slick spots. The sole of these boots has been specially designed to keep you from slipping, even on liquids such as oil. With a unique and sturdy tread, you will be able to lean in to turn while ensuring your foot doesn't slide from its peg. Regardless of the surface, you're on, you should find these boots really do offer superior traction, and that makes them versatile enough to use as a walking boot on trails and other terrains. The two-inch strider heel helps you stay on the pegs, and also gives that added cushioning while walking so you feel comfortable in these all day long.
To ensure these boots are comfortable on Durango has added in a couple of features to give you a better and longer-lasting fit. To start, there is a cushioned insole that gives you a bit of extra padding and support with every step you take. The insole also features a flex forepart, letting your foot move more naturally and allowing for a relaxed and comfortable stride. The side seams are tapered for a sleek look, as well as for a more snug fit so you don't feel like your foot is going to slip out at any moment. Lastly, these have two pull tabs on the sides which allow for a fairly easy on and off process.
Pretty mid-range when it comes to this list, you won't find these best mens motorcycle boots to be too expensive to buy, but you also won't find them too cheap to be questionable in quality. Fairly and reasonably priced, these are just an all-around great boot that will work on and off your bike. Well made, the quality is noticeably good and these should hold up for quite some time. They are highly rated, and widely available, making them a great addition to any biker's closet.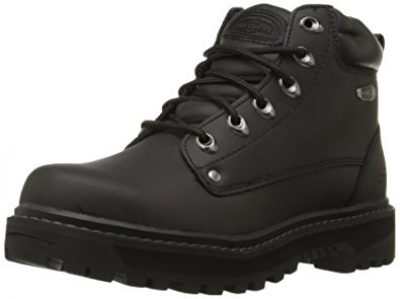 Skechers isn't known for making motorcycle boots, but they are known for being relatively inexpensive and very comfortable when it comes to their footwear. While these technically are not motorcycle boots, they are a great choice for people who are new to biking and want a boot they can cruise in. Not only will these serve well as cruising boots, but the versatility of them will allow you to enjoy them off the bike, as either a hiking or walking boot. Dress these up or down, and enjoy a comfortable fit that has light padding in the footbed and a padded collar. The bottom of these boots has a thick lug pattern which gives you great traction on and off your bike. The added ankle support will add to your balance and let you maneuver and ride with confidence.
Generally designed to be a lightweight work boot, this is a pair you are going to get extensive use out of. While most motorcycle boots tend to be clunkier and heavier, these are designed for people that spend all day on their feet, so they are made with long term comfort in mind. The lightness of these boots will save your feet from any aches and pains and will reduce the likelihood of you experiencing any foot fatigue. The padded collar is going to give you a softer, more plush feeling while ensuring you have full ankle support and stability. On a motorcycle your foot is responsible for so much, and you want to ensure it has the proper support to do so.
Made of full leather, the upper part of this boot is sturdy and durable regardless of what you're wearing them for. Instead of a full length design, these mid ankle boots will give you more flexibility and freedom so you don't feel trapped or restricted in your movement. This also allows these boots to be more comfortable in the long term, so you can take your bike to the mountains, hike the trails, and ride home all without feeling any discomfort. While these are more flexible, they are still good quality leather that will keep you protected in any accidents or falls. You won't have the leg protection, but your feet will be safely encased in this sturdy leather.
These are the cheapest boots on our list, and that has a lot to do with the fact that they technically aren't motorcycle-specific boots. If you purchase this pair you will get a good pair of boots for cruising, that can also be used as work, trail, and hiking shoes. What they lack is any special features that make them motorcycle specific, such as shin padding, shifting enhancements, and more stiffness and bulk. New riders who don't want to spend a fortune on boots will find that the incredibly low price makes these a worthwhile purchase even if they end up switching to a more motorcycle specific boot down the line.

10

. Harley Davidson Scout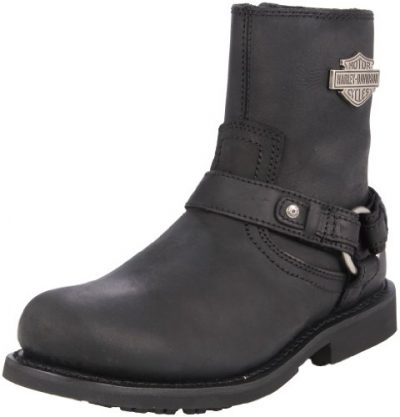 Another model from Harley Davidson, the Scout boots are a popular and durable pair that will last you for many rides. Made of full grain leather, these boots are crafted with toughness in mind, and the Goodyear Welt stitching ensures that these won't fall apart any time soon. The classic harness styled design makes these noticeable, and they fit securely enough that you will be both comfortable and safe.
While these may not offer full leg protection, for the average cruiser and road warrior, these are boots that will give you the exact protection you need. The heat of the bike shouldn't penetrate the leather, and you will find you are comfortable and covered for the entire ride. This length is also great for wearing these boots off the bike, as they pair great with jeans and can be worn for more casual occasions.
Like you've seen with most of the boots on our list, these Scout's from Harley Davidson have a very durable and rugged sole that gives you the ultimate traction regardless of the surface or terrain. Abrasion, slip, and oil resistant, you will be fully glued to the floor or your bike pegs regardless of the conditions.
These are pretty average priced, which is one reason why they are such a favorite among bikers. For what you're getting, these are low priced and you should find that it is money well spent at the end of the day. These boots are not water-resistant, and they don't offer a lot of arch support, so you will want to spray them and add an insole to make them as perfect as possible. With that said, at this price point these best moto boots are worth picking up and will be well used and loved.

Subscribe to our Newsletter