Best Engineering Boots for Men Reviewed & Rated
last updated:
Jul 05, 2019
Many engineer boot wearers might not know where the evolution of the boots came from.  The boots were first designed in the 1930's to help protect firemen that worked on steam engines, a.k.a. "engineers"!  This particular boot style is made to be lace-free and slide on and off quickly and effortlessly.  Another caveat to being designed without laces is lessening the chance that the moving parts of machinery in factories could grab a lace and seriously injure the worker; hence their popularity in the industrial age.
Since then, the boots have become immensely popular with everyone from motorcycle riders to fashion conscious ladies.  The main purpose of the engineer boot through the many decades was to protect the legs while providing a comfortable and stylish boot, whether it was riding horses or shoveling coal into a steam furnace.
This is the best product on our list that is currently in stock: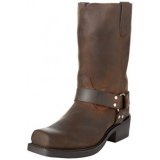 Durango Harness
Why is it better?
Already Broken-In
Good Arch Support
Stable & Secure
Leather Does Not Fade
Slip & Oil Resistant
In a
Hurry? Editors choice: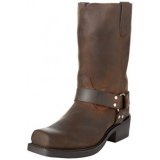 Test Winner: Durango Harness

14
Researched Sources
1100
Reviews Considered
18
Hours Researching
14
Products Evaluated
Materials
Midsole
Water Resistance
Traction
Value
Water Capacity
By Default
10 Top-Rated Men's Engineer Boots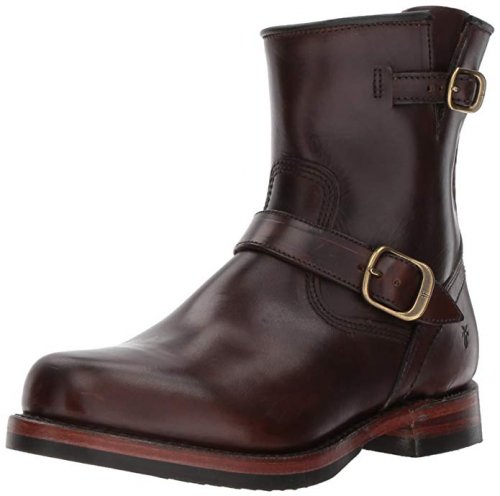 Leather
Synthetic sole
Side zip
Stylish
With so much versatility these men's engineer boots can be worn from anyone such as bikers to cowgirls. Unlike other engineering boots in the category, the FRYE John Addison has a side zipper that makes putting it on and taking it off even easier. FRYE is a true brand that has been around for decades and makes very high-quality products. This FRYE boot is a perfect mix of fun and fashion.
Adding to the durability of the sole and overall boot is a single stitch welt. This also allows a boot sole to be resewn without having to purchase entirely new boots. A welt like this reinforces the sole and makes the overall boot sturdier.
By placing a hidden side zipper in the boot, many wearers find this boot to be the best. People needing thick socks, to tuck their jeans in the boots, or those with larger legs will find the added room a wonderful bonus. It also makes removing the boots easier.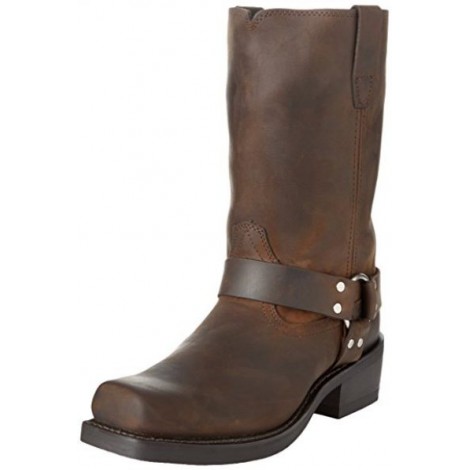 Already Broken-In
Good Arch Support
Stable & Secure
Leather Does Not Fade
Slip & Oil Resistant
Narrow boot
Could possibly show water droplet stains
The Harness engineer boots make a bold statement by being simple. Made from distressed leather to give a rugged and strong look while being unadorned. The only exception is the metal hardware at the ankle. These engineer boots appeal to a huge audience of buyers. A thickly cushioned insole boasts all-day comfort. Finally, the Harness is a highly reviewed boot and helps buyers to feel confident in their new engineering boots.
The engineer boot sole provides reliable traction that helps avoid slips on various surfaces. Feel confident in wearing the engineer boots in the rain or other adverse conditions. The design of the boot to be flexible means one can bend with ease without the foot feeling constricted or in a bind. All done while keeping the outside looking rugged and masculine.
The Durango Harness engineer boots come in a great mid-level price range for the quality and type of engineers boots that it is. A highly acclaimed boot that will last a long time far outweighs the doubts about the durability. Backed by a company that has been in business for many decades with many happy customers.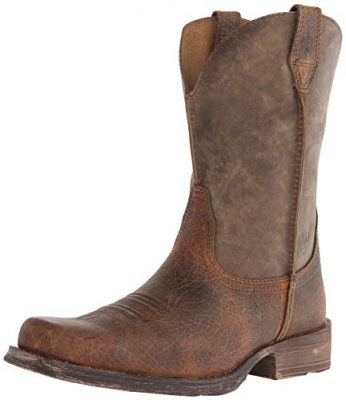 Gel Footbed
Little To No Upkeep
Moisture-Wicking
High-Quality Construction
Durable Thick Soles
Seams Fray Easily On Calf Portion
Stiff
The Ariat Rambler Square Toe boot is an all-around top pick. It has high ratings and has been reviewed by many. With their "cowboy" boot style, these engineer boots have a rugged look all while being very stylish. Lastly, this boot has been designed for the utmost comfort and durability to withstand years of daily wear.
The engineer boot is made with a gel footbed and stabilizers under the heel portion making it ideal for all-day wear. Cushion under the foot makes standing for long periods easier on the legs and feet as well as helping with posture.
The Rambler engineer boot is designed with moisture-wicking material on the footbed so it will keep feet dry and comfortable all day. Dry feet prevent harmful bacteria and fungus from growing on the feet and inside the engineering boots.
4

. Blundstone Original 500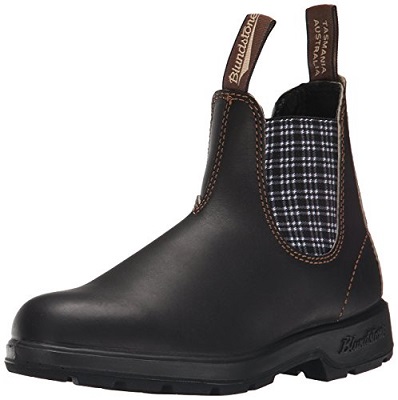 Waterproof
Slip Resistant Outsole
Lightweight Construction
Breathable Materials
Thick Cushioned Midsole
Elastic Side
Sole Cement Separates From Upper
Stitching Comes Apart Easily
The Blundstone Original 500 series engineer boot has a legendary reputation of comfort, versatility, and durability. Stout Brown premium leather paired with weatherproof oiled 2.5 mm leather allows owners to wear these engineer boots in the most widespread of weather conditions. Grounded by a slip resistant outsole for the most confidence when wearing. This engineer boot has a removable footbed to tailor the padding level inside.
SPS Max Comfort system is used to provide maximum shock absorption. Also, this design provides highest comfort level while preventing fatigue in the legs and feet. Removable footbed for adjusting specific comfort level.
Designed to help prevent slips with utmost durability on the outsole. Weatherproof leather allows boot wearers to confidently wear these engineering boots in all types of weather conditions like rain, snow, dirt, and sand.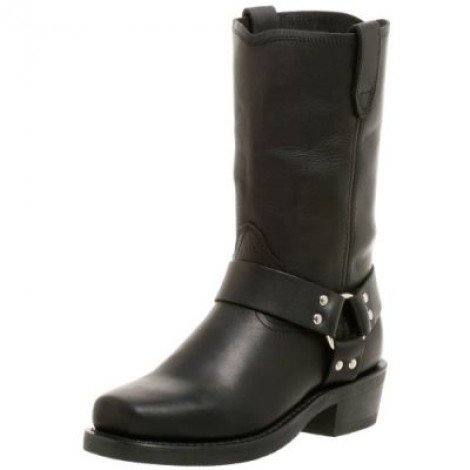 Casual & Dress Wear
Everyday Wear
Solid Sole & Heel
Short Break-In Time
Easy Care & Upkeep
Outsole Stitching May Fray
Lower Quality Leather
The Dingo Dean boots are eye-catching. Simple hardware adorns the boot around the ankle while draped around a durable upper leather. The interior of the boot is leather lined for a smooth look. The insole of the boot is cushioned very nicely and made for comfort. Polished off with exterior stitching gives the classic look known to engineer boots.
Engineer boots with a welt are known to stand up to more conditions and last longer. The single stitch welt on these engineer boots gives it a polished look while adding to the durability of the boot.
Having the inside of a boot lined with leather adds another level of durability as it reinforces the entire upper leather part of the engineering boot; sometimes when leather is worn in it can sag; double leather uppers add strength. Leather has stood the test of time for comfort as well.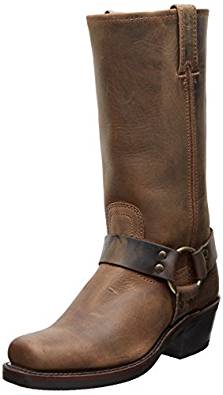 Can Be Worn Casually
Strong Arch Support
Short Break-In Period
2-Year Warranty
Goodyear Welt Construction
Having been around since 1863, FRYE boots have the most well-known name in the industry. The Harness boots definitely live up to its company's reputation by being attractive, strongly made, and durable. Available in different calf heights and colors makes finding the right pair a joyful shopping experience. The boot is made from the finest Italian leather with a Goodyear welt construction so it lets buyers confidently know the ruggedness of these boots.
Since they began in 1863, FRYE has used the finest domestic and imported materials; the Harness boot is no exception. FRYE stands behind their commitment to quality.
This style of welting makes the engineering boots much more resistant to water as well as allowing the foot to breathe inside. The welting also assists in the durability of the boot and it lasting longer.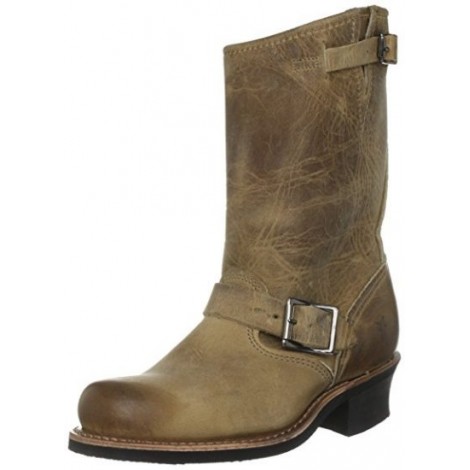 Quality Materials
Rubber Outsole
Stacked Leather Heel
Well-Known Manufacturer
Adjustable Buckle
Highly Cushioned Insole
Leather Could Bleed Onto Clothing
Longer Break In Time
The FRYE Engineer boot sets the bar in the category of engineer boots. Classic styling made in the U.S.A. from the finest materials. FRYE has over 100 years of experience in boot production. The unlined boot is very comfortable and delivers on the FRYE company reputation. Featuring an adjustable buckle on the shaft and at the ankle, this boot is very versatile for different sizes and feet/leg shapes.
Using a leather that is already conditioned adds to the durability and longevity of this boot. It also makes upkeep a breeze since the leather was finely tuned before selling to the buyer.
The Goodyear welt method was the original and still highest standard of welt in the assembly method of engineer boots. Adding to the water resistance and durability of the boot, FRYE engineering boots consider this welt the standard of their boots.
8

. Wolverine Wellington 4727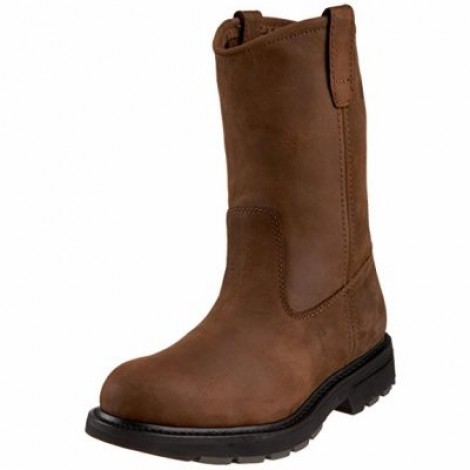 Can Be Worn Daily
Removable Cushion
Suitable For All Weather
Runs Very True To Size
Twin Pull On Loops
Seams Come Apart Easy
Not Totally Waterproof
The Wolverine Wellington boot is made from high-quality leather while being designed for durability. The slip-resistant sole is constructed from rubber and polyurethane in a one-of-a-kind chevron pattern to provide great traction in many different elements. The boot is unlined for less bulk and cooler comfort. The boot also has a removable footbed to let buyers customize their cushion level.
Either side of the calf opening has loop pulls to help with ease of sliding this engineer boot on. Reinforced stitching on the loops assures long life of the loop pull. The outsole base of the engineer boot is made with thick lug tread to be slip and oil resistant. The sole is made from very durable rubber.
Here are engineer boots that are at the lower end of the price range even while being highly reviewed. This will make the boot a perfect purchase for those looking to give engineer boots a try or not wanting to make a huge monetary investment into a pair of engineer boots.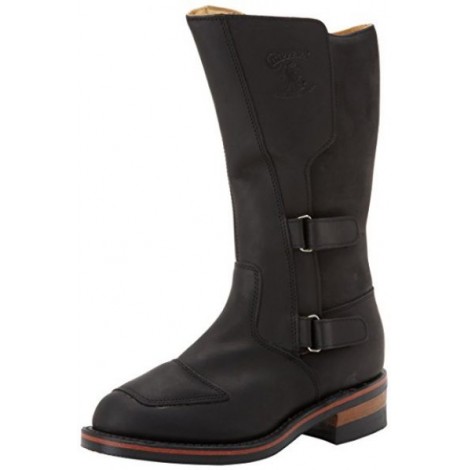 Velcro Side Closures
Hand Crafted
Goodyear Welt Construction
Triple Ribbed Steel Shank
Hardware Does Not Tarnish
Leather Is Slightly Stiff
Heel Is Too Rigid
The Chippewa Rally engineer boot is made with Odessa leather and then lined with maple calf leather for extra durability and comfort. Designed with a texon insole and nitrile outsole, it's a perfect composure for comfort and support of the feet. Chippewa engineer boots proudly stand as a "handcrafted in the U.S.A." company and stamp it on all of their engineer boots.
By adding Velcro side closure to the engineer boot, Chippewa is able to reach a broader audience by having adjustable. It also allows for a bit of breathability compared to other engineering boots that are solid leather uppers.
Leading high-performance rubber sole manufacturer, Vibram, brings their top standards to the sole of these engineer boots. For over 70 years their brand has built a reputation of quality and design; the sole on the Chippewa Rally boot falls directly into place with that standard.
10

. Red Wing Heritage Engineer



Oil-Resistant Cork Outsole
Short Break-In Period
High-Quality Materials
Great Arch Support
Hand Crafted
Very Stable Heel
Red Wing engineer boots are synonymous with craftsmanship and quality. Produced with a leather nubuck upper and a split shaft with adjustable buckle closures means comfort and adjustability to a wide range of sizes. This particular boot also has a cork outsole. Made to withstand the harshest of conditions on the job and off, the Heritage boots appeal to customers searching for function or fashion.
Red Wing Heritage engineer boots are handmade. Handmade boots result in much higher standards and quality control as well as less room for error. With human supervision of the production and a very generous warranty, the purchase of these Red Wing Heritage engineer boots will not be a mistake.
The outsole is made with a thick and high-quality rubber that can withstand tough conditions. Because of the durable rubber, the sole is shock absorbing which lessens fatigue of feet and legs.
Criteria Used for Evaluation


Materials
When examining the different types of materials used to make engineer boots, leather and rubber seemed to be paramount. The main reason that we used the material as a guideline is that the material is going to affect the entire performance and durability of the engineer boot.
In terms of leather being used, it is the most durable of materials. It is the most widely known having been used for thousands of years in the goods we consume. Leather can come from many types of animals prominently including cows, pigs, and deer. Other sources not widely known about could include kangaroo, elk, and ostrich. Depending on the good desired some leathers are preferred over others. Leather has a great reputation of lasting a long time so consumers feel more confident in purchases involving high-quality leather.
Leather, when used for engineer boots, adds a layer of protection that was originally needed in the design of these boots. Engineer boots were created to protect the legs and feet of workers in "engineer" jobs shoveling hot coals into furnaces. Leather is a very rigid material and can withstand the conditions these workers faced.
The only downfall to leather in terms of buyers purchasing these boots for aesthetic reasons is the chance that the leather boot could stain with raindrops, splatters, etc. The color selection of the leather plays a part in this as darker leathers tend to not show stains as much as lighter leathers would.
Secondly, we found rubber to be used widely in the designs of the boots that we reviewed even if they did not make the top ten list. While rubber has a few advantages over leather, the longstanding durability was not so high as leather. Rubber boots having the advantage of being easier to manufacture thus generally keeping costs down in production of these boots.
Rubber, while not as guaranteed for the long haul, can withstand just about any element it is worn in. Snow, rain, dirt, sand, and concrete are just some examples of the conditions these boots would superbly perform. A simple wash down at the end of the day is all the upkeep these boots need. Due to the material not being porous, the chance of it staining are slim to none. Rubber can also be made in any color or pattern designed since it is a manufactured product.


Midsole
The sole of the boot could very well be labeled the "soul" as it is probably the most important part of the boot. There are many materials and styles that are used in the construction of engineer boots. A sole needs to be strong, stitched tightly or cemented heavily, and have a thick tread pattern to prevent slips. Also, having a large impact on the sole is the comfort level it provides.
A rubberized sole might have more spring and give than a sole made of steel. A thick-tread rubberized bottom will give wearers the best protection against slips. It will essentially provide a barrier again oils and other materials reaching the bottom of the sole bed, thus prolonging the life of a boot and providing the slip protection.
Having a sole that is reinforced with a steel shank is ideal for buyers that need even more protection from an engineer boot. This would be great for people working in fields such as construction or ones that walk on uneven terrain. It helps to keep the boot more sturdy and prevent injury to the foot and leg.
One huge difference in the make of these boots is whether the soul is cemented or stitched. Cemented boots mean the sole is attached to the main part of the boot with cement. This type of construction is mostly valued amongst workers that require "no frills" such as construction or hard labor where the stitching on other boots might someone fray or come apart more easily.
In converse of the cement, we found the other type of assembly is welt stitching. There is the premier type of welt construction and that is the Goodyear method. The name is in fact from the same Goodyear that developed the tires, although this method was developed from the son of the famed Charles Goodyear of the tires. This process enables the boots to be resoled separately if need be as opposed to buying an entirely new boot. The Goodyear welt method universally is approved as the highest standard and thereby raises the cost of boots that are made this way. However, higher cost pays off for this because it can greatly extend the life of the boots.


Water Resistance
Buyers that are searching for boots are looking at the ability of the boot to repel water. To a high degree that the boots stand up to wet conditions is the main characteristic a reliable engineer boot needs to have. Are the boots rendered useless if caught out in the rain? That would be a negative factor of a bad engineer boot as they were originally designed to soar through tough conditions.
Is the boot made of a material that is totally waterproof such as rubber or is it a pretreated leather that can do the same, or close to the same job as rubber? Most leathers will be water resistant. However, it is important to see if the leather will tarnish or change colors under wet conditions, never to return to its original sheen and hue. Should buyers decide to go with a leather boot, many spray treatment options are available to up the water resistance factor and add life to the boots.


Traction
If caught in a rainstorm, wearers need to feel confident in the boots on their feet in terms of lasting through the rain and providing traction to walk on surfaces covered in water. Many shoes in other categories are not made to provide slip resistance; whereas the engineer boot is. Providing a safe and sturdy walk surface for people to resist slipping is a huge selling point of great boots. Engineer boots we evaluated all have the essential requirements to provide this, such as a thick tread on the sole, but buyers should closely examine the tread patterns on these boots to evaluate which sole will meet their needs the best.
Some of the boots in this category did not have a tread as high as others but are still the engineer boot style. These boots did claim to be slip resistant; however, will not perform as well as boots that have a one-inch tread section.


Value
The price of a boot can sometimes be a deal breaker. That's part of the reason why footwear manufacturers invest time and energy into creating cost-effective technologies to incorporate into their shoes to make them durable, long-lived, versatile, and inexpensive. And Engineer boots are no exception. When looking at the value of these boots, we took many pieces of criteria into consideration. We wanted to make sure they weren't only inexpensive, but that they would last you a decent amount of time, especially for the price you pay. The criteria we looked at was:
Durability & Longevity
Footwear, usually, lasts more than a few months, because shoes that are going to fall apart after a few months of use aren't worth the investment of more than a few dollars. Leather and synthetic overlays can be used to make the shoes more durable without sacrificing flexibility. Firm leather or synthetic uppers provide durability and support.
Versatility
Great footwear can be used for more than one activity. Walking and running shoes, for example, can be used in some casual sports. Stylish athletic footwear could be used in informal work environments. Sandals can be used in casual and semi-formal settings. The more situations you can use the shoe in, the more value it offers for the price.
Maintenance
Good footwear is easy to maintain and clean. They don't require a lot of expensive shoe treatments or time-consuming upkeep. Shoes that need a lot of effort, time and money to maintain, don't sell as well as shoes which are easier and cost less to keep.
Removable inserts
As mentioned earlier, removable inserts in footwear make it customizable, but that's not the only bonus to removable inserts. Removable inserts increase the longevity of the shoe, which is why some come with removable inserts.
Cost
A hefty price tag can be a deal-breaker for people on a budget. That's why many can be found in the low-to-middle price range. They're affordable, and if they are priced a little higher than others, then they offer many features to make the footwear worth the extra investment.
Expert Interviews & Opinions
Most Important Criteria
(According to our experts opinion)
Experts Opinion
Editors Opinion
Users Opinion
By Default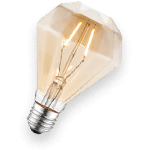 Caring For Leather
To keep your new engineer boots looking good, and keeping them protected, regular cleaning with a damp towel to remove dirt and grime is recommended, as well as applying leather conditioner every 3-6 months. Depending on how you use your boots, leather polishes which have tints can help remove scuff marks and give your boots with that new shine luster.
Did You Know?
Popular in the early 1930's, engineer boots were used by firefighters and railway workers before becoming popular with fashion in the 1950's. Prior to this era, they were used in the US calvary. These boots have been involved in several eras of fashion, uses, and are still popular with enthusiasts for a variety of use, including motorcycling.
Other Factors to Consider


Bottom Line
Engineer boots are easy to distinguish from other boots and not just because of the missing laces. These boots have a "stovepipe" calf section and a buckle around the ankle when staying truest to form. Further, some will also have a buckle around the top of the "stovepipe" to recreate when this was a "must" to protect legs from hot embers popping out and landing inside the boot. They are available in varying heights to appease the widest audiences of boot enthusiasts but some companies have styles reaching higher than the knees!
Frequently Asked Questions
q:

Are engineer boots good for standing all day?

a:

Engineer boots are designed to be extremely comfortable and made for all-day wear. Their function was for steam engine workers that stood all day shoveling coal into the steam engine. The boots have thick insoles and high arch supports to prevent leg and foot fatigue.
q:

Who wears engineer boots?

a:

Engineer boots can be worn by anyone young or old. They are a true stylish boot that have been around for decades. Their classic look can be worn with jeans for a dressed down look, leggings by women for a more polished look, or by people just looking to have comfortable boots that withstand lots of variables.
q:

What are engineering boots?

a:

Engineer boots are boots that are very simply designed. They do not have laces for on and off ease. They are typically made with leather or rubber. The soles on the boots generally have a very nice tread pattern to prevent slips. Lastly, they are very water resistant or waterproof and made to withstand many variables of weather.
q:

Why do engineer boots have buckles?

a:

Engineer boots have at least one buckle and that is almost always the one around the ankle. Some brands have replaced the buckle with decorative circle hardware or the like for aesthetic reasons. However, the true style called for buckles at the ankle so one was able to adjust the tightness and support. Some brands have shifted the buckle to the top and others added that buckle on top in addition to the one at the ankle. This buckle serves to make the shaft of the boot adjustable for thicker clothing or to tighten for those with smaller legs.
q:

How should these boots fit?

a:

Engineer boots were originally created to provide protection for the legs, ankles, and feet. With that said, the boots should fit snug but not so tight they constrict movement. Engineer boots will be tight after first being bought as they do require a break in period to stretch the leather or rubber to the foot of the owner. The boots should allow for an adequate range of movement and bending to make working in the boots comfortable.
q:

How to stretch engineer boots?

a:

One method to stretch the boot after purchase is to take them to a shoe shop and have it done professionally. This is the method most recommended as the shoe shops have much experience in doing this task. A second option is to slather boots with a lot of mink oil or neatsfoot oil (warning: this may change the color, test first), let boots sit for about 24 hours, rub in/off excess oil, while wearing one or two pairs of thick socks, wear the boots for as long as you can stand, preferably while active and moving about, repeat 3-4 times.
q:

What calf height should I look for in the boots?

a:

The best calf height in engineer boots is really dependent upon what look or function you are hoping to achieve. If you are looking for fashion purposes only, the higher the better is a great look for leggings or skinny jeans. The same height is true for leg protection if you are working in a field with dangerous elements. The more of the leg that is protected, the better. Motorcycle riders usually opt for a shorter calf height because it could prohibit the range of motion and quick response that is needed when using the feet and legs on a motorcycle.
Subscribe to our Newsletter