Best Firefighter Boots Reviewed & Rated
In a Hurry? Editors choice: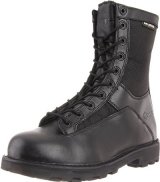 Test Winner: Bates DuraShocks

For a firefighter, every day on the job presents a myriad of hazards. To be adequately protected from the constant dangers associated with this challenging profession, a highly-rated and well-manufactured pair of boots is required.
Firefighters need protection from high-temperatures and heat, rough terrain, slippery and wet conditions, punctures, falling debris, and more. It's also essential that these boots allow for ease of movement and proper agility, so they don't slow you down. A fireman needs to be able to move without hesitation as one split-second delay can mean the difference between a life or death situation.
Standout Picks
Criteria Used for Evaluation
Upper
While it's true that firefighter boots need to stand up to high temperatures, it helps if they have a certain level of breathability built into their construction. Firefighters and first responders are depending on boots that are made from materials that can withstand high heat but also not retain it. This means that along with leather and other fabric choices that comprise their design, they might even have some mesh weave or insole technology that makes sure heat doesn't get trapped inside the boot. Some of the best fabrics and materials to withstand high-temperatures are:
Leather
Rubber
Steel
Composites
Aluminum
While some of these materials will resist fire naturally, most will be chemically treated to improve their heat resistance. Both the upper and the outsole should perform well in extremely hot conditions, but should also be able to perform at the same level should the temperature outside be cold.
Professionals should always look to get NFPA-certified boots as these have been proven to provide adequate temperature protection and regulation to be worn on the job.
According to performance standards, the inside surface of your insoles should never exceed 111F. This means that you should look for breathable linings in your boots. This way you'll get both an added level of breathability and moisture control, as well as a shoe that won't become odorous after a few weeks.
Protection
Fighting fires brings first responders in contact with hazardous conditions. Protection against flames is just one aspect of combating them when extreme high heat can melt metal pipes, make trees crack and explode, and warp concrete. Therefore, firefighters often favor a tall boot versus a short boot for extra protection along their calves, made from materials like the Smith & Wesson Breach 2.0's ballistic nylon, and midsoles that are puncture and penetration resistant.
Any metal components to their construction, like steel midsoles or steel toes, need to be resistant to corrosion at high temperatures so that they can remain functional. Wildlife firefighters may even want a gusseted tongue to keep falling debris out of the interior of their boots, and reliable traction if their environment is uneven, rocky, or precarious.
In extreme conditions with the presence of different types of fluid, slip-resistant outsoles protect against oil, grease, pathogens, and other unusual substances that might impair a firefighter's footing. Some boots provides exceptional penetration protection from the liquids and any harmful chemicals. They're designed for maneuverability and safety with Cross Tech fabric that was engineered to withstand hazardous waste.
Protective toe caps are also an essential aspect of a firefighters boot and are essential for protecting the delicate area surrounding the toes. There are several materials used to produce a toe cap including:
Steel: Steel toe caps offer excellent protection but can be heavier than other materials used, weighing in at between 80 to 90 grams. These type of toe caps are best suited for use in standard work footwear as they can be too heavy for use in sport styled footwear or for individuals who need to be quick on their feet while working.
Aluminum: These are similar in protection, but lighter in weight than steel toe protection, and weigh in around 30 to 50 percent lighter. Aluminum toe caps are thin and do not add any extra bulk to a workboot. The only downside to this type of safety toe cap is that it lacks in thermal insulating.
Plastic: Plastic toe caps are a chunky composite style of toe cap that is not the best suggestion for use in heat-resistant boots as there is a chance of the plastic melting under high-heat conditions.
Composite: Composite toe caps are made without the use of metal materials and are made from either carbon fiber or fiberglass. Composites are suitable for firefighters boots because they offer superior thermal insulation and are highly effective against extreme hot or cold temperatures. The only downfall of these types of toe cap is that they are more costly than other materials.
Outsole
From descending sides of mountains to scurrying up ladders leaned against skyscrapers and apartment units, a firefighter never knows what hazards their terrain will bring. All firefighters will want sturdy boots with great traction, durable traction that is skid and slip resistant, as well as a component in the midsole like a steel or nylon shank that stabilizes the footbed. They should also be waterproof and made from treated leather and nylon, like Under Armour's Stellar Tactical boots. When the waterproof layer covers the entire boot and not just the fabric portion, it ensures a tight seal against moisture (though some brands have built-in moisture wicking lining). This sort of footwear protection is ideal for when a firefighter is surrounded by the several tons of water needed to put out a fire, encounters muddy conditions, or is simply hosing off their boots after their shift.
Common features to expect on wildfire firefighter boots
Water resistant/waterproof materials
Flex cracking resistance - created so that no punctures can be made from flexing or cracking in the boot.
Toe impact resistant materials
Electricity resistance design
Soles, heels, and uppers designed to be puncture resistant
Common features to expect on station firefighter boots
It has built-in climbing lugs which make it extremely good for scaling buildings
Ladder shanks for ascending and descending ladders
Materials, especially along the seams and uppers, designed to be resistant to pathogens
Materials that prevent liquids from penetrating the fabric
Materials designed to be flame resistant
Traction and grip on the soles to be slip and skid resistant
A thread that is resistant to heat and won't char or fray
Materials that are resistant to oils, animal fats, and other oleaginous substances
Traction
Because firefighters can face a high number of unknown variables when it comes to their environments, having the reliability of superior traction and grip means that they can spring into action without worrying about their footing being jeopardized.
Boots that have rubber outsoles prevent loss of traction on a wide variety of surfaces, such as:
Concrete
Metal
Wood
Dirt
Mud
Rock
This means that whatever their environment is comprised of, the only focus the responder needs is on containing the situation and not on keeping your footing sure. Excellent traction and grip also mean that if a firefighter has to quickly ascend a ladder or run through a building interior, they won't lose their bearing even if smoke may be obscuring their vision.
Weight
Not all firefighter boots weigh the same, despite many of them having similar properties. Firefighters who combat wildfires usually want heavier, thicker boots because of debris and contact with the elements, whereas those in urban environments or around the station want boots that are lighter and slightly more maneuverable.
Boots made by 5.11, Inc, Bates, or Rocky weigh in the vicinity of 5 pounds, usually attributed to the addition of steel instead of nylon shanks in the midsole, more rubber along the outsole and sole, and more practical hardware. Original S.W.A.T. and brands that make boots that fit and feel more like athletic shoes tend to be a lot lighter, somewhere in the vicinity of 2-3 pounds, which allows for efficiency of movement when you have to change direction at a moment's notice. Heavier boots also mean more work for the firefighter, who is already laden down with heavy gear, oxygen tanks, and has to still concern themselves with moving debris in extreme heat. Some of the lightest materials used in the construction of a firefighter boot are:
Leather
Rubber
Kevlar
Teflon
Carbon Composites
Nitrile
Comfort
Comfort plays a critical role in the selection of a firefighter boot because most firefighters will be working long hours while standing on their feet, ducking, and crawling. Features like a hypertext lasting board and cushioned insoles provide enduring comfort, and when they wear out, they can be replaced.
Generous open cell foam cushioning that run the entire length of the footbed and collar ensure that no matter how long you have to be on the job, you won't feel tired. Padded collars and tongues provide a glove-like fit around your foot, as well as prevent ankle chafing over time. A lightweight Pro-Tec toe cap that resists the conduction of heat and cold means a firefighter can enjoy a regulated temperature inside their boot. A lightweight boot with less hardware can also mean less foot fatigue and less wear and tear on a firefighter's joints and muscles.
Shock Absorption
Shock absorption is an aspect of the firefighter boot that wasn't always a prominent feature, especially when firefighter boots were simple rubber slip-on boots that looked more like rain gear. Adequate shock-absorption is a crucial part of maintaining the health of our feet, legs, knees, hips, and back, if these areas are repeatedly exposed to high-intensity shock waves, they begin to deteriorate and will cause all sorts of aches and pains.
It has now become a significant part of the overall design and construction because of its protection of a firefighter's joints. Shock Mitigation systems of shock absorbent padding mean long-lasting joint health, while brands like Original S.W.A.T have put "air cells" in the heel of their boots that absorbs impact. Almost all modern firefighter boots have EVA footbeds that can be removed, similar to many athletic shoes.
Top 10 Firefighter Boots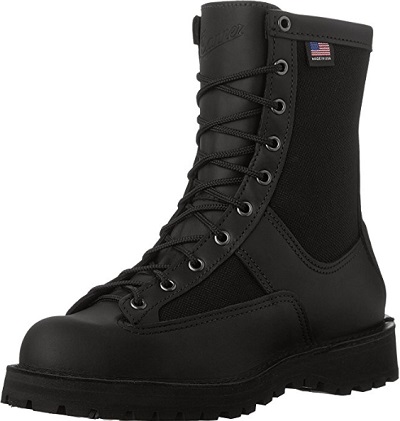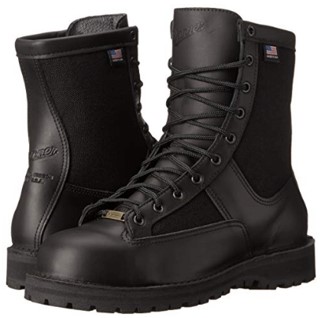 Waterproof GORE-TEX® linings work to keep your feet dry during those precious moments when you need to concentrate on the job at hand. In addition, the upper is durable with the 1000 denier nylon and full-grain leather combination. The Vibram® Kletterlift outsole handles well on both wet and dry surface types. Furthermore, with the stitch-down construction, you can be certain these will last for years to come.
With 1000 denier nylon and full-grain leather, you cannot go wrong with this tough-as-nails pair of boots, so to speak. The upper is durable and should last for years.
This is a rather important attribute to have in firefighter footwear. In addition to giving you stable traction on both wet and dry surfaces, the Vibram® Kletterlift outsole is thick and sturdy, as well.

The heel and forefoot area have shock-absorbing pads which help to transfer energy. This, in turn, aids in giving you a day in comfort. In addition, the upper is made with leather and ballistic nylon; perfect for situations requiring heavy-duty action. A nylon side zipper makes for easy on and off and the rubber outsole is slip-resistant. These are, also, metallic-free and are undetectable in electronic environments.
This pair is one tough set of footwear. Made with leather and ballistic nylon in the upper, these are sure to last, even in the toughest of environments.
Comfort is important, as we all know. With this technology, the forefoot and heel areas have shock-absorbing pads to help transfer energy and, thus, lower load-rate.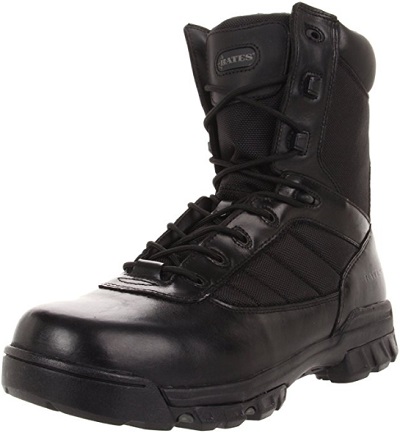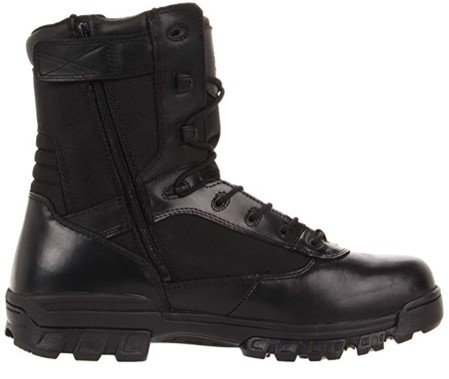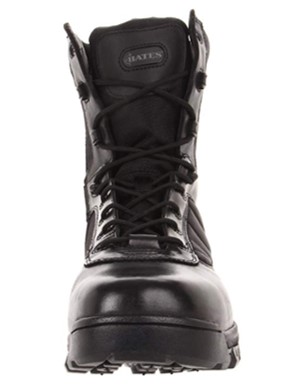 When the alarm sounds and the station becomes a teeming swirl of action, firefighters need a firefighter boot that is easily removable so that they can get into their protective wear as quickly as possible. The Bates Ultra-Lites 8 Inches Tactical Sports Side-Zip allow for the most efficient way of managing this, all while being a sturdy, rugged tactical boot made out of high-quality materials and featuring slip-resistant outsoles.
High top work boots have the benefit of providing security and stability to the wearer's ankle. A lace-up vamp and breathable lining make the Bates Ultra-Lites a high top work boot that is as stabilizing as it is comfortable. Its rubber sole and durable, slip resistant outsole make it perfect for the times when duty calls and every second count. They are also constructed of ballistic nylon so that they can take a beating.
The Bates Ultra-Lites have a cushioned insert that is removable, making them uniquely modifiable depending on the surrounding temperature. For those that need it, the removable EVA footbed has shock absorbing pads and helps alleviate joint pressure. The rubber outsole is also 30% lighter than previous incarnations of tactical boots in the series, allowing for efficient movement in an environment that often demands a change of direction at a moment's notice.

4

. Smith & Wesson Breach 2.0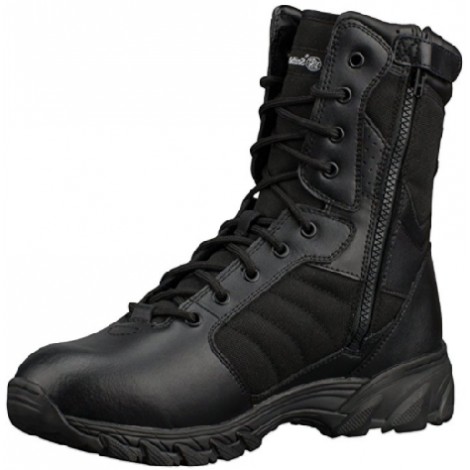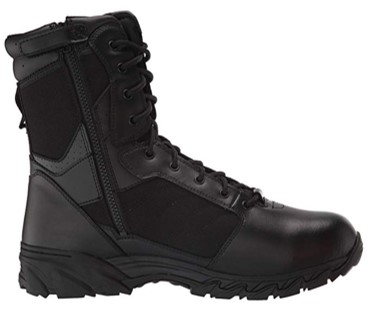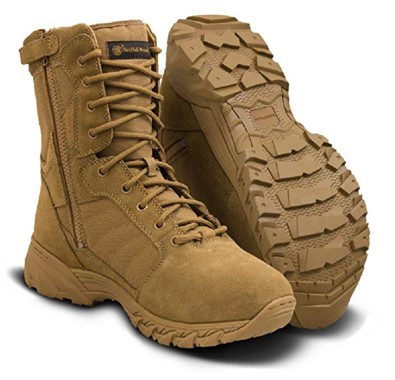 Like Under Armour, the Smith & Wesson brand is associated with excellence and quality. Branching out beyond the firearm industry, they have created a tactical boot that sets the standard for quality, durability, and affordability. Like the previous tactical boots mentioned, they are constructed of fine leather and nylon, as well as having a removable EVA insole. Where they differ is the addition of a steel shank in the midsole for support, and a gusseted tongue to keep debris out of the interior.
The rubber outsole is a unique design that prevents loss of traction on a wide variety of surfaces such as concrete, metal, wood, wax, and brick. This makes it perfect for the firefighter that has to quickly ascend a ladder or run through a building interior where smoke may be obscuring their vision. Not having to worry about whether or not your boots will be able to keep your feet firmly planted in a life or death situation means a firefighter can keep their focus on subduing any calamity.
The Breach 2.0's consist of high-quality leather and nylon on the outside, with board-lasted designed interior, which fights against foot fatigue as well as improves the boots integrity. Unlike the Bates' brand of firefighter boot, they have YKK side zippers, which last much longer.

5

. Original S.W.A.T Classic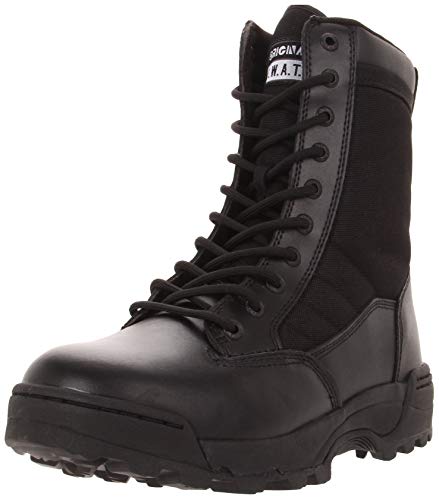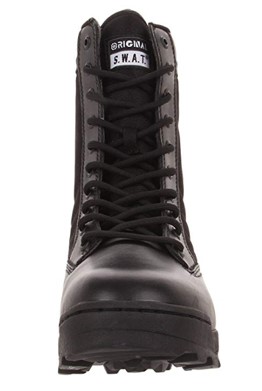 The full leather make of the S.W.A.T. Classic is an all-around favorite. With a moisture-wicking lining, a custom-molded thermoplastic heel counter, and phylon EVA midsole, your feet will stay comfortable. That way, you can focus on your tasks, knowing that you've got the support of one of the best pairs of firefighter boots available.
Made to be extremely slip-resistant in any conditions, the outsole on the S.W.A.T Classic features a leather sole to keep your footing safe. Additionally, you will benefit from the 1000 denier nylon upper that is extremely durable and comfortable.
The custom-molded thermoplastic heel counter and toe box gives you instant comfort and lateral support for those times that you might be unsure of your footing. Along with the phylon EVA midsole that is lightweight and supportive, and the AEGIS antimicrobial moisture-wicking lining, you'll love how your feet feel in these boots.

Under Armour is a name synonymous with high impact interval training and high powered workouts; a titan in the fitness clothing industry. The Under Armour Stellar Tactical boot upholds the standard of excellence associated with the Under Armour brand by providing a boot that is lightweight, durable, and comfortable. They are a boot that feels more like an athletic shoe, giving them an added level of versatility beyond a typical high top tactical boot.
Waterproof and made from DWR treated leather and 900D nylon, the Under Armour Stellar Tactical boots have toes that can be polished so that after the beating they take hour after hour, day after day, any scuffs can be easily removed. The hardy material of their construction combined with durable rubber soles make them fit for a wide variety of terrain and environments.
If you're on concrete floors for 10 hours a day, these boots will save your feet. The dense station floor will no longer leave you needing a long soak after a long shift. They're lightweight and well padded, the tongue having the cushion of a basketball shoe. The feel of an athletic shoe makes you forget you're wearing tactical boots at all.
7

. Thorogood Knockdown Elite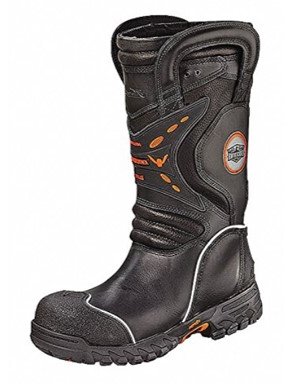 From a brand known not just for its stylish line of boots, but also for work boots that can handle extreme conditions, Thorogood brings to the forefront of it's firefighting boots the Knockdown Elite. Qualified for all the safety standards needed to do the job, it's waterproof, flame resistant and cut resistant. Add to all the safety technology additional comfort features and a Vibram sole designed for specific grip, this is one pair of firefighting boots that's worth every single penny for years on the job to come.
Uppers on the Knockdown Elite are a flame resistant and waterproof leather, with added rubber toe protection and heel protection. StedAir PRFE creates a waterproof barrier against you and any chemicals or water, while the Poron SRD padding protects the heel area. Once inside the boot, Thorogood's ankle lock helps to keep you inside, but just until you're ready to take them off. Using the heel kick plate, you can easily remove this pull-on boot. It's certified compliant with NFPA 1992 and 1971 standards, as well as ASTM F2413-11.
Inside, you'll find a dual density PU insole that is removable should you so choose, and a steel ladder shank for support and stability when on the job. Patented Lenzi L-Protection insole makes it flexible for movement, but it's also puncture resistant as well as non-metallic. A composite toe helps against falling debris, and at the base of it all lies Vibram's ATS sole, which was constructed to protect against both icey or fire scenarios. Although it's a pricier option, the Knockdown Elite was built for survival, and can get the job done.

8

. Danner Wildland Tactical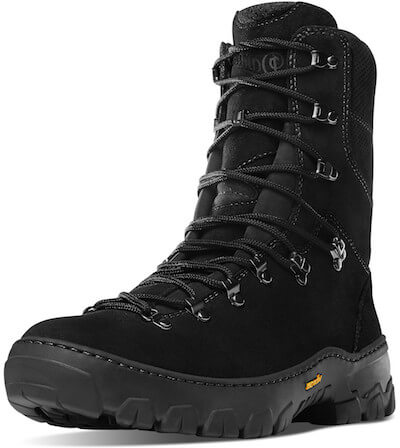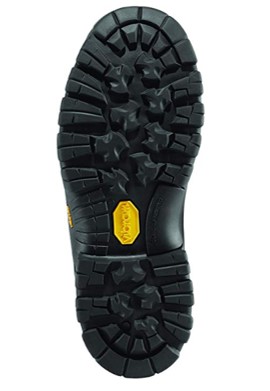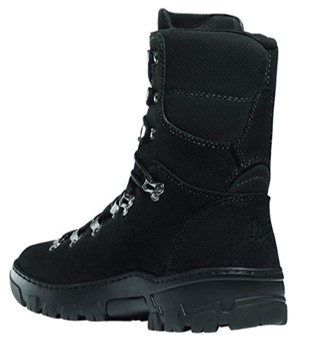 The Danner Wildland Tactical provides the perfect balance between a hiking model that provides cushioning and support, and an NFPA-certified boot developed to protect the wearer from any complication that comes with a job. It comes in a large number of sizes, as well as three widths, meaning that almost anyone can purchase this model and reap its benefits. Handcrafted in Portland, Oregon, this is definitely a great investment for any professional, but also those who are looking for NFPA-certified protective footwear.
The leather upper of the Wildland Tactical has been chemically treated to deter flames, while still giving you a comfortable and durable pair of shoes. The outsole is made by Vibram, and was made for rugged and high-angle terrain. It'll provide you with great traction both in extreme cold and hot conditions, making this a versatile boot.
Made to mimic the fit of hiking boots, the Wildland Tactical will provide you with the arch support and cushioning you need when you're out on a job and can't afford to be distracted by uncomfortable shoes. The footbed is made by Ortholite, featuring their popular cushioning, and a steel shank creates support and stability, and an extra layer of protection underfoot.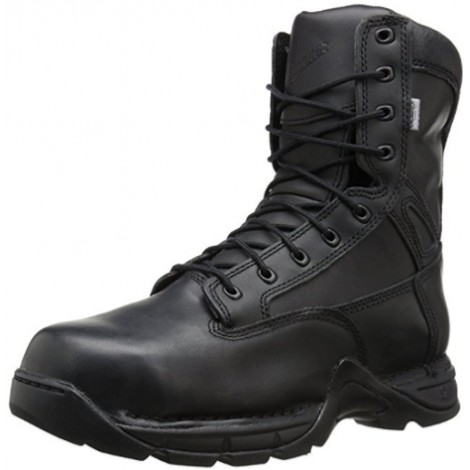 The Danner Strike II EMS is designed with first responders in mind, providing them superior penetration protection from the fluids in their environment and any harmful chemicals. They are made from full grain leather and designed for maneuverability, safety, and durability. It has all the best benefits of a high top boot of its class, with durable traction that spans heel to toe, a sturdy side zipper, an outsole that is spill and slip resistant, a removable footbed, and a nylon shank to provide support and stability on long shifts.
Water, organic oils, bodily fluids, and blood are no match for the Cross Tech fabric of these boots, engineered to withstand all manner of hazardous waste. Their Gore-Tex leather is not only tough and durable, but it can also be polished to a high shine, which is preferable when you want your boots cleaned quickly. A Terra Force X Lite provides great traction and transfer of energy, and the nylon shank in the toe cap is non-metallic and thus easily maneuvered through metal based security systems.
Not all high top tactical boots have a padded tongue and collar, but the presence of these features on the Danner Striker II EMS boot certainly makes them more comfortable as a result. Cross Tech fabric designed to provide penetration resistance also provides maximum breathability. The X Lite platform provides lightweight and durable traction, while the TFX Lite outsole gives you protection from foot fatigue. The lightweight non-metallic Pro-Tec toe cap resists the conduction of heat and cold.

To some firefighters and first responders, being able to get out of their footwear and into their fire protective gear quickly is almost more important than any of the footwears' other features. Never is this more easily done than with a slip on boot like the 5.11 Company 2.0. It features top of the line full grain leather, a synthetic sole, and a number of features that make it incredibly easy to pull on and slip off. It's even oil and slick resistant, which is a feature previously only seen in high top boots
Though a small boot, it can still play with the big boots and hold its own. It's leather, and synthetic construction is lightweight yet sturdy, and a "Quick Call" collar and kick plate make it easy to pull on or slip off. Its outsole is oil resistant, and its multi-directional tread provides excellent traction on slick surfaces. It has built-in climbing lugs which make it extremely good for scaling buildings and climbing ladders.
Like the Smith and Wesson Breach 2.0, it has an injection molded Phylon EVA midsole, making it padded for comfort and providing extra cushion. It also has a moisture wicking liner which is antimicrobial treated, to add to dry, cool, and itch-free feet, as well as an OrthoLite sockliner.
Subscribe to our Newsletter