Best Waterproof Boots Reviewed For Quality
In a Hurry? Editors choice: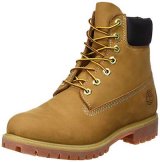 Test Winner: Timberland Classic

When it comes to waterproof boots, what's best for you will solely depend on your conditions. If all you're looking for is something that'll keep you dry from the car to the grocery store, a good-looking pair of ankle-high boots would be ideal for you. These would keep you nice and comfortable without sacrificing style.

On the other hand, if you're the adventurous type, there are other priorities. Trekking through the mountains or walking through streams would require something much sturdier that provides good traction, shock absorption, and excellent heat retention. Read on to discover just what designs are the best when it comes to waterproof boots, and which ones will work for you!
Standout Picks
Criteria Used for Evaluation
Materials
When evaluating a pair of waterproof boots, the quality of the materials is very important as it determines the durability, comfort, and practicality of the shoes. For example, even if a pair fits perfectly on your feet, they may not be of value if they don't last long enough to see the next season. Likewise, a pair of durable shoes is useless if their materials render them uncomfortable. A balance of all these features is what you want to look for.
Leather: Leather a highly durable and flexible material made from animal skin and rawhide (mostly cattle). It is suitable for both indoor and outdoor use. However, the material itself does not do well when mixed with water. Too much water would alter the leather, and leave it stiff and hard after drying. The good news is, however, that leather can be treated with specific techniques to improve its resistance against water. Not only would this keep your feet dry, but it would also maintain some of the leather's suppleness which offers more comfort. In addition, leather waterproof boots are incredibly durable.
Synthetic Fabrics: Another type of materials often used in the making of waterproof boots are synthetic fabrics. These are textiles made from man-made materials instead of natural materials, which means they are more easily altered to suit different needs. Some common examples are nylon, polyester, spandex, and latex. When used in shoes, these provide ventilation and light in weight. Certain chemicals can also be added to them to make them waterproof, as well as to increase their durability. However, what makes these second to leather is that they don't offer as much protection from the cold. So although synthetic fabrics are great for everyday waterproof boots, if you're going to be trekking in freezing weather, it may be better to opt for the leather.
Rubber:Rubber is the superstar in the well-known Wellington boots. This material is incredibly waterproof and is guaranteed to provide serious protection against rain and mud. When used in footwear, it is highly durable and can last for years regardless of how frequently you wear it. However, one con is that it can sometimes crack out of the blue. You could prevent this to a degree if you avoid leaving your waterproof boots on the heater to dry.
Water Resistance
High-top waterproof boots may seem uncomfortable at first, but they offer many features that can help you in the long run, like better ankle support than low-top boots when it comes to hiking.  If they have a snug fit, they can also provide you with more stability that is needed when walking on unstable terrain.
Aside from that, they'll also cover more of your feet and ankles, which provides more protection against water. For example, if you're stepping into a puddle or a shallow stream, (whether by accident or on purpose), a high-top boot would allow you to step in deeper. When wearing a low-top boot, on the other hand, you risk getting water in through the top of the boot.
But despite this, low-top waterproof boots tend to be more stylish. If you're mostly just going to be out in the streets on rainy days and don't plan to step into puddles any time soon, a pair of ankle-high chukkas may be more suitable for you.
There are three levels of water protection available on the market, and knowing what each label means can make your life considerably easier:
Water Repellent: This type of footwear is made with materials that won't absorb moisture, but won't protect you from getting your feet wet either. Almost any material can become water repellent by applying a protective spray that will cause moisture to bead on the shoe, slowing down the rate at which it is absorbed.
Water Resistant: This type of footwear won't let moisture get inside if you happen to be walking in rain or snow. This is the type of waterproofing most often found in waterproof boots and will work well in most conditions. It won't require you to walk around in synthetic footwear, but will still keep you protected. Do note that water may enter these shoes through the tongue and eyelets.
Waterproof: The highest level of protection, this is the type of footwear that will allow you to stand in water and still remain completely dry. This level is mostly achieved through a rubber construction, such as in Wellington boots.
Insulation
Depending on where and when you're planning on wearing waterproof boots, you may want to take heat retention into consideration. It's important to ensure that your feet stay warm when out on long hikes or in freezing winter weather. Who likes to have freezing toes, after all?
But aside from the discomfort, not being equipped with the proper heat-retaining footwear could seriously affect your performance. You'll be distracted and prevented from enjoying your hike. In addition, cold can actually harm you if you're not prepared or it. It can numb your feet and seriously damage the skin if you're exposed to it for too long. Not only that, but it's harder to feel what you're stepping on when your feet are numb. This could lead to slipping when walking on unstable terrain and may lead to serious injuries.
The key to serious heat retention would be a lack of ventilation. The icy wind should be sealed out and your body heat sealed in. Cutting off this airflow ensures that your feet can stay nice and warm regardless of the conditions outside.
However, if you're not going out hiking any time soon, your needs would be slightly different. In spring or autumn weather, a lining of soft fleece would most likely suffice in providing warmth. Wearing waterproof boots designed for serious winter cold would cook your feet alive, so in this case, airflow should be a priority.
Breathability
Some of these waterproof boots have a hard time allowing air to flow through them. Leather and rubber don't provide much ventilation, which may cause sweat or smell to accumulate in the boot. You may be kept dry from the rain, but you'll be soaked in perspiration!
When picking out a pair of boots, it's a good idea to check the lining. A lining made of a lighter, breathable material like synthetic fabrics would help to dissipate sweat and odor. Likewise, a shoe lined with a material like fleece would not provide good ventilation. They may provide excellent heat retention, which would be ideal in freezing cold weather, but would lock moisture in during warmer weather and prevent the perspiration from leaving the boot.
For those wondering how a fabric can be both breathable and be waterproof, it's a matter of quality of the material. For more information on this feature, take a look at our FAQ section below.
Generally speaking, if you need waterproof boots for milder weather, breathability might be a priority, as you would want to avoid having sweaty, uncomfortable feet.
Comfort
Comfort is key for any kind of footwear, whether they be sneakers, dress shoes, or waterproof boots. We've rated our list above based on comfort and cushion features or technology that will help you feel supported during wear. A few key things to look for when you consider comfort in your next pair of boots are:
Cushioning: Many times, manufacturers will cushion or pad the footbed so that you have a softer foot feel when wearing your waterproof boots. In addition to that, any kind of padded collar or tongue can greatly add to your experience, as well as any kind of cushioning technology that the brand has.
Support: Support in a boot comes from the midsole and shank; sometimes added features, such as a heel cup, will help to properly align the foot, helping you feel further supported. EVA midsoles and TPU shanks all create stability to make you feel supported.
Flexibility: Many work boots may be waterproof, but some are less flexible than others due to reinforced toes designed to protect in a work environment. Think about how you plan to use your next pair of waterproof boots and consider the flexibility aspects before purchasing. For example, if you plan to be hiking instead of dealing with electrical or chemical hazards, you may want something suited for walking instead of protective toe features that can make the boot a bit stiffer.
Our Favorites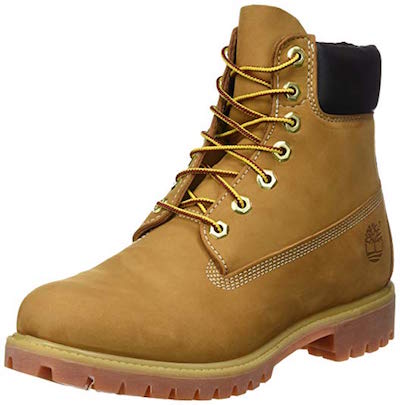 The 6-Inch Classic boot by Timberland has become an icon among those looking for footwear that's not only great looking but also practical, durable, protective and comfortable enough for all-day wear. While it was originally developed for professionals, it's become one of those ubiquitous pairs of waterproof boots everyone seems to love. It comes in a variety of colors, mainly nubuck - but with full-grain versions available as well - so you can choose whether you want to go with minimalistic black, or if you prefer to show off in a brightly colored pair.
These boots are made with a waterproofing process that makes the leather resistant to moisture right from the tanning process. Then, during the construction process, they are either seam-sealed or made with an internal membrane to ensure your feet remain dry in all conditions. The 400g of insulation will keep you warm in most conditions, and the padded leather collar makes them comfortable for wear even during long hours.
You'll also appreciate Timberland's fatigue-fighting technology which utilizes geometric cone support to absorb shock that is generated while walking. This means your muscles and joints will be protected, and you'll benefit from an energy-returning outsole that also happens to be made from recycled materials. Considering the care that goes into the making of these waterproof boots, it comes as no surprise that they're one of the more expensive models on our list. But, if you want something you will be able to wear for years, then the higher price is definitely worth it.

2

. Bogs Classic Ultra Mid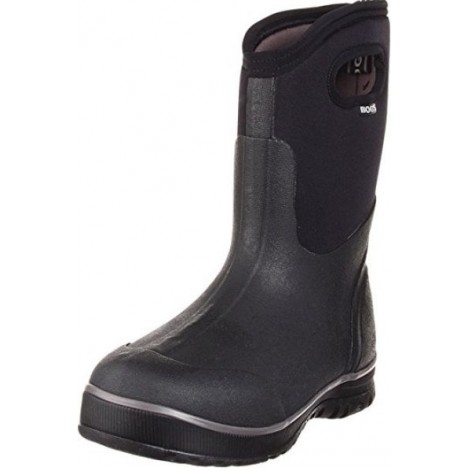 Originally designed for dairy farmers, the Bogs Classic Ultra Mid originates from the pastures and barnyards where there are lots of slippery terrains. These waterproof boots are therefore designed for serious protection against wet and slippery weather. The handles render them easy to slip on, and a simple design means that you can wear these for any occasion. Combined with a rubber sponge midsole and a non-slip non-marking outsole, these are guaranteed to meet your every need.
With rubber sponge on its internal midsole, these waterproof boots offer excellent cushioning and warmth. They can be worn in temperatures as low as -40 degrees Fahrenheit. A clean, simple design and a variety of practical features allows these boots to be worn around the yard, in the snow, or even just in the streets.
 
It's not often that you find boots of high-quality at such a reasonable price. With over four hundred five-star ratings, it seems as though they're definitely worth the money.

3

. Columbia Bugaboot Plus III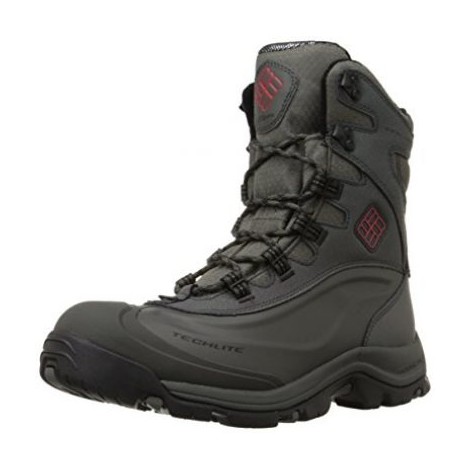 For those of you out there who have to deal with freezing icy winters, the Columbia Bugaboot Plus III will be your savior. This design ensures that you can step into puddles as deep as eight inches without ever getting your feet damp. A reflective liner also traps warmth without adding too much weight. Though they might not rank too high with fashion, these waterproof boots are sturdy, affordable, and ideal for long hikes in winter weather.
Though the ankle shaft has a snug fit, the material is flexible and provides the support needed for unstable terrain. The midsole and upper of these waterproof boots are flexible enough to keep you comfortable, yet rigid enough to ensure stability on slippery surfaces. With regards to their excellent quality, these shoes are surprisingly affordable and are definitely worth your consideration for this upcoming winter.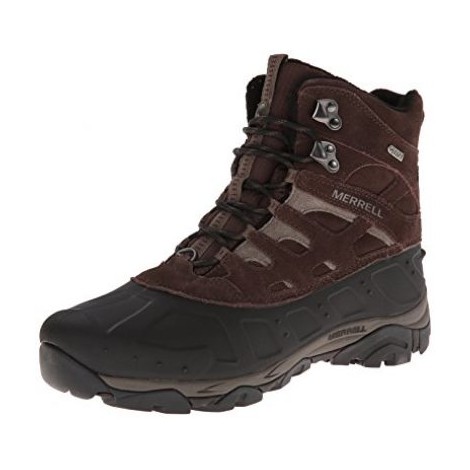 This boot by Merrell is another amazing choice for hikers. With a TPU and on its base, it will keep you nice and dry even when splashing through slushy snow or shallow streams. Additionally, the tongue is reinforced with a gusset to prevent water from leaking in through the base of the laces. However, keep in mind that these waterproof boots are not suitable for temperatures above 10 degrees Celsius. With serious heat retention, they might just cook your feet.
 
These waterproof boots feature a lightweight midsole that provides excellent shock absorption, rendering them suitable for long hikes while carrying heavy packs. The interior lining is made of soft fleece and is designed to preserve heat. A breathable suede upper helps to circulate air through the boot. These boots sit on the low end of our price range but don't mistake that for lower quality. They are of great value for all the features they offer.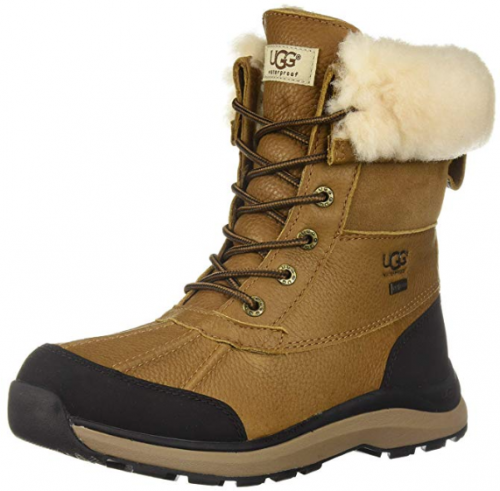 From the brand with the coziest, most sought-after winter boots in the world comes another bestseller, the Adirondack III. These waterproof boots have been updated to include even more high-tech features, such as a super flexible sole, added insulation, optimal cushioning and resistance to temperatures as low as -25 F.
The upper of this design is made from waterproof leather and suede. It also sports a DryTech waterproof construction, meant to protect your feet from even the wettest of conditions. The lining is made from wool for comfort and moisture-wicking, and there is 200g of insulation to keep you toasty in freezing temps. Finally, the Adirondack III comes with a Spider Rubber outsole that is molded to fit the contours of your foot.
The comfort levels, the heat retention and the weatherproofing of this design have to be experienced to be believed. The Adirondack III is a pair of waterproof boots that you can take with you on a city walk as well as a mountain climb and be equally protected and supported throughout.

6

. Danner Pronghorn 8" GTX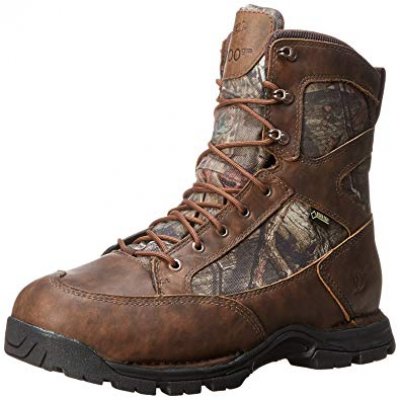 Danner is well known for its quality line of boots, ranging from heavy-duty construction ones to tactical or hunting boots, and many in their line are waterproof. The Danner Pronghorn 8" GTX provides a longer shaft for ankle support and protection, as well as full-grain leather uppers with a 1000 denier nylon and CamoHide. Great for hunting, these waterproof boots also have insulation to keep you warm in cold rain or snow when you're out and about.
 
The Pronghorn 8" GTX boasts of full grain CamoHide leather uppers that are struck through with marbling. This helps the boot maintain durability and the CamoHide pattern. Uppers also have 1000 Denier Nylon, which is resistant to mildew or rot when it gets wet, as well as to abrasions. And, with Gore-Tex linings inside, any water or moisture that does come through won't hit your feet, while keeping the environment inside breathable.
 
Made with the hunter in mind, Danner packed these waterproof boots with 800-gram Thinsulate for incredible heat retention so you stay warmer when the temperature plummets. TPU shank and PU Ortholite footbeds provide amazing support, stability, and cushioning, while the Danner Pronghorn outsoles provide a grippy traction that can keep up with wet rocks or leaves while you're trekking outside.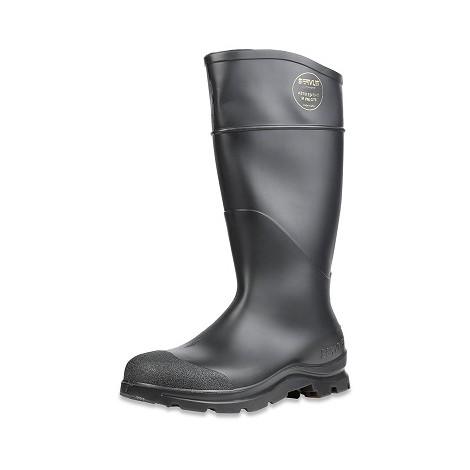 A steel-toed rubber boot with great traction - that describes the Servus PVC waterproof boots featured here. The entire boot is seamless to reduce areas where it might fail. It's tough, durable, and ready for whatever water, chemicals, fertilizers or waste you throw at it for an extraordinarily reasonable price.
The Honeywell Servus PVC has an adjustable shaft, due to a formed guide built into it. The top can be folded in or out to change the height of your boot. In one boot, you can have a mid-calf height or a full calf height in just a few seconds. It's very hard to find a rubber boot that is steel-toed. But, the Servus PVC is steel-toed and has arch and heel support for protection, shock absorption, and comfort.
 
For the almost pocket-change price, you get great waterproof boots with a steel toe for work, a cushioned insole, an adjustable shaft, flexibility, and chemical resistance. It also boasts of a cleated outsole, a contoured heel cup, reinforcement at stress points and rating for electrical hazards.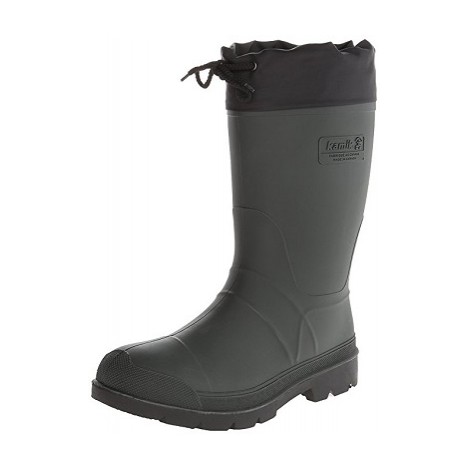 Another pair of waterproof boots, this one from Kamik, is designed for hunting in cold, wet temperatures. However, it is also suitable as a rain boot, mud boot and work boot that can be worn in the winter. The liner is removable for use in warmer conditions as well.
If there's one thing that Kamik knows, it's how to build a cold-weather boot. The company was born in the extremes more than 100 years ago and has never forgotten their heritage. The removable insulating liner in the boot will keep your feet warm and comfortable down to -40F and the top gaitor closure will keep the snow and slush from seeping over the top of the boot.
 
A winter boot is rather useless if it fails to provide traction on snow and ice and in slushy, slick conditions. The synthetic outsole on these waterproof boots is meant to provide solid traction in these conditions and more.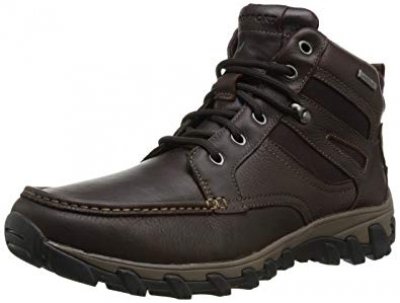 Looking for hiking style waterproof boots that will keep you dry no matter what? The Hydro-Shield constructed Rockport Cold Springs is full of technology that protects the uppers, and your feet, from wet weather or muddy conditions. Packed with loads of cushion technology to keep you going strong, you'll tackle the next hiking endeavor in comfort and protection. Great for an all-around waterproof boot, it may become one of your go-to pairs when the weather gets nasty outside.
Rockport's Cold Spring boasts of Hydro-Shield construction, so the leather uppers are protected against rain and any resulting damage from moisture. As well as having a waterproof insole to prevent wetness from creeping into the boot, it's been seam-sealed to keep the most vulnerable parts of the boot protected from water. A gusseted tongue also protects from water creeping in near the collar and lace-up, so you can pull these together snug for even more protection.
 
No waterproof boots will do much for your feet if they're not comfortable for wear! The Cold Spring Plus has comfort tech such as truTech Sport, to provide shock absorbance and keep your impact light. EVA midsole and footbed help cushion you further, preventing foot fatigue, while a padded collar protects and cushions the ankle. Great for hiking and off the trail as well, it's a comfortable boot for any kind of use!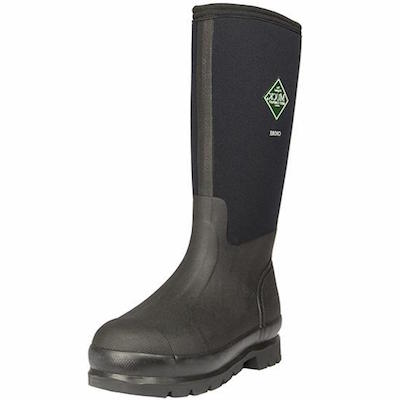 The Chore by Muck Boots is a line of top-performing Wellington boots made for farmers, workers, and those who are looking for quality, durable waterproof boots that can stand up to the test of rough environments, including ranches, farms and industrial settings. It's available in a variety of versions, from mid-height ones to those made for wide calves, steel toe, with cooling linings, and others.
The topline of the Chore is made with stretchy neoprene that allows you to tuck your trousers in, and still get a comfortable but secure fit. The 5mm thick material is not only a comfortable one, but it also helps with insulation, keeping you warm in cold conditions. The lining of this boot is made with breathable AirMesh that allows moisture to be drawn away from the foot, keeping you dry and cool even when you're doing difficult work that results in sweating.
This is an averagely priced product, but if you're after waterproof boots that will do a good job at protecting you while still being comfortable, it's a great choice. You'll love the fact that the outsole is reinforced with a steel shank for stability, while high wear areas are made with multiple layers of rubber to prevent deterioration.

Subscribe to our Newsletter