Best Fitness Tracker For Swimming
In a Hurry? Editors choice: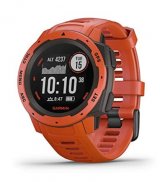 Test Winner: Garmin Instinct

With most fitness trackers, movement monitoring often ends the moment you jump into the pool. Swimming is such a great way to burn calories and build muscle that those strokes should be counted!

Finding the best fitness tracker for swimming is often a tricky feat. There are few brands out there that make trackers that are only made for swimming. Plus, even though some of the higher-end designs are listed as waterproof, the fine print often claims they are not to be worn in the pool.

The good news is that we have sifted through all of the fine print to find the best fitness tracker that you can actually wear in the pool! If this guide, we found the best waterproof fitness tracker that logs every stroke in your quest for physical fitness!
Standout Picks
Criteria Used for Evaluation
Battery Life
The biggest pain about wearable tech is that it's just another thing you need to charge.
The great thing about fitness trackers for swimming is that they almost all have a battery life that is much, much better than your phone. What this means for you is that it is something you won't need to take off very often.
From what we found during our research, most of the brands out there on the market offer a battery life that lasts up to 5 days. Some of the higher-end models from brands such as FitBit or Garmin offer a battery life that lasts anywhere from 5-7 days, and others last from 2-3 days.
More often than not, battery life all depends upon how you use your fitness tracker. If you simply use it for activity tracking features, the battery life will last a lot longer, and could even last up to a week. If you find you use your tracker for everything- the battery may only last you a few days. In some cases, frequent use of Bluetooth features means that the battery will only last you about a day or two.
One thing that was standard across the board is the method in which each fitness tracker for swimmers is charged. All fitness trackers use USB ports to charge up the battery. There are some that require the use of a charging cable (that is likely included with purchase). Other designs have a watch face that pops out and can be plugged directly into a USB port for a charge.
Due to the fact that these units are very small and use very little power when not in active use, it won't take all that long to give them a quick charge. The good news here is that almost all of the designs out there on the market can be charged in an hour or two. This means you will not have to wait all night long for it to fully charge!
Features
The best part to wearable tech comes in all of the extra features that are included!
Tracking you laps times is important, but there is a myriad of other features you may find to be beneficial to help you perform at your best. Below, we listed some of our favorite additional features we loved for each waterproof fitness tracker.
Heart rate monitor: If you want to burn calories efficiently, you need to know when you hit your target heart rate. The harder that your heart pumps, the more calories you are burning. However, you don't want it to become too high. Your heart is your most important muscle, and it's important that you don't over-train.
A heart rate monitor on a fitness tracker for swimmers is one of the easiest ways to ensure you are training right in that sweet spot. These products calculate your heart rate through something called photoplethysmography. A small little light on the underside detects your pulse through light. Many of these devices calculate your heart rate while you are training, and some even calculate your heart rate while you are resting.
Bluetooth connectivity: The most important feature in these devices is the capability to talk to your phone. Many users simply rely on the screen display to gain details about their lap time and calories burned, but they aren't getting the full picture!
By connecting to your phone with the use of a health app, a fitness tracker for swimming can break down the time, distance, and heart rate for each and every time you hit the water. This allows you to clearly see your progress from day to day, and make adjustments accordingly.
Sleep tracker: To ensure that you are working out at your peak, you need to eat healthy meals, and get enough sleep! The sleep tracker addition is a great way to see what your body is doing- even when you aren't awake. These sleep trackers detect movement in the middle of the night that could indicate you aren't getting a deep enough sleep.
When you wake up in the morning, you can check your phone to see if you were able to achieve a night of very deep sleep. Many also work in conjunction with the heart rate monitor to gauge your sleeping heart rate as well.
Style
We wanted to make sure that we selected a fitness tracker for swimming that was functional, but also looked great as well!
A lot of the styles out there on the market have features that make them stand out from the rest in terms of color and design. However, some styles also had a functional aspect to them, as well.
You may feel inclined to rule out styles that do not have a watch face to them, but it is important to note that these styles are without their benefits. While you may not be able to track your progress in real-time via a back-lit face, these styles are often a lot more durable.
Faceless options are virtually indestructible and have a battery life that lasts much longer than styles that need to supply power to a back-lit watch face. Plus, they fit on your wrist almost like a second skin. This means that even when you are engaging in the backstroke, you won't feel the water pulling at your fitness tracker for swimming the same way you would feel it with bulkier designs.
Another thing that we looked at were bands that were detachable. Due to the fact that you wear these devices while working out means that they are going to wear out fairly quickly. We wanted to make sure that we selected designs that had bands that could be removed and replaced. Plus, it is a great way to change up your style with fun, brightly colored bands!
Effectiveness
If it's not functional, it's just a strange-looking bracelet!
To determine whether or not a design would accurately detect each stroke or step, there were a few things that we took into consideration. Below, we went into a little bit of detail on how we determined the effectiveness of each fitness tracker that we selected.
User reviews: We combed through hundreds of user reviews to see how these devices behave once they hit the pool. Previous users are the very first to indicate how well a product functions. If we found that there were a large number of users that felt that their stroke count wasn't accurate, we would move on to the next product.
To be effective, it needs to be able to detect each and every stroke and then relay that information to your phone. Keep in mind, however, that these devices aren't an exact science, so there may be a little bit of discrepancy here and there. Problems only arise when the count is so off-base that it doesn't provide a realistic picture of your workouts.
Brand: There are some brands out there that have been in the business of fitness tracker for many years. FitBit, for instance, is one of the most trusted brands out there on the market. Users have come to depend on Fitbit for accurate readings of all of their fitness goals.
Fitbit was founded in 2007 with their production of the very first activity tracker to hit the market. The main focus in their line of activity trackers is to use the current technology to paint an accurate picture of your daily workouts, as well as inspire you do push yourself to the next level.
In our quest to find the best fitness tracker for swimming, the brand was a very important detail.
Ease of Use
We wanted to select a fitness tracker for swimming that you could slap on your wrist and hit the pool!
There were some options out there on the market that had complex features that were a little overly complicated. We want to keep things as simple as possible.
One way to keep things simple is to select a waterproof fitness tracker for swimming that came with a booklet of detailed instructions. The best user manuals are the ones that break down all of the functions of your device and indicate how to use those features.
Everyone has their own personal Bluetooth horror story of a device that just won't pair. Sometimes, those magical Bluetooth fairies that exist between your phone and your device just aren't very cooperative. That's why a detailed instruction manual for your fitness tracker for swimmers that takes you through setup was an important thing that we considered.
We also made sure to comb through user reviews to make sure that the device paired easily, and stayed paired. One of the biggest complaints when it comes to a fitness tracker is that is drops connection frequently. We made sure to skip brands that wouldn't stay connected to save you the headache!
If you don't want a fitness tracker that has a complicated setup or confusing features, we suggest selecting one of the more simple models on our list such as the Fitbit Flex 2 or the Moov. These products do not have a screen and are able to be controlled primarily through an app on your phone (which makes things a lot easier!).
Top 10 Picks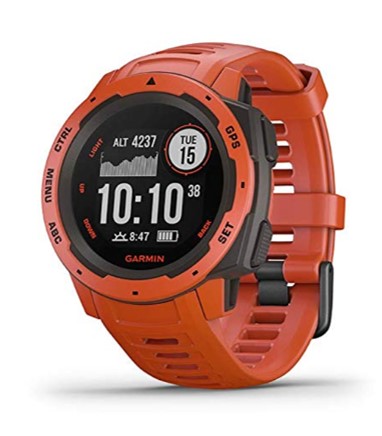 Another amazing product by Garmin, the Instinct is a mid-level fitness tracker that will help keep you on the go and reaching your goals. It has a more rugged look than some on our list, but packed full of specs and technology for those who go hard or need extra durability for outdoor adventures. It's a great option for the adventurer or backpacking enthusiast for several reasons we'll highlight below. And, like many on our list, it has basic abilities to monitor heart rate, and keep you connected even when your out trailblazing.
This fitness tracker is rated for up to 100 meters of water resistance, allowing you the option to swim, wade, or dive a bit deeper. It's durability has been constructed to meet US Military standard 810G, meaning that it meets the criteria for specific water, shock, and thermal ratings. Navigation is built in to connect to more than one satellite system including GPS, Galileo, and GLONASS, so even when the outdoors start to hinder other signals, you can be confident the Garmin Instinct won't fail.
Another incredible highlight is the tracback feature, which let's you trace steps back to your starting point should you find yourself a bit lost in the woods. And as with many fitness trackers, it can monitor your heart rate, and when paired with a smartphone it can receive texts and other social media notifications to keep you connected to the world. Battery life varies based on what mode you're using, but a battery saver mode can help save you when you find yourself out in the wild. It's a great fitness tracker option for those who need a durable, rugged product!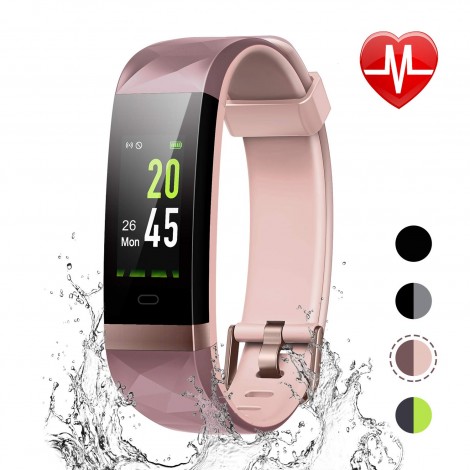 This fitness tracker for swimming from LETSCOM is a great option for those that want something with a more detailed face. The face of this slim design provides you with important information on how your workout is going, and just how much longer you need to work to hit your fitness goals.
One of the great features about this option is that the bands are able to be removed and replaced, so you can change up your look from time to time. It also means that you don't have to throw away the entire device when the bands wear out on you! It has a detailed color screen that shows you your heart rate, how long you are working out, distance traveled, and calories burned.
You can also sync this waterproof fitness tracker to your smartphone. It is able to tell you when you get a call or text message, and you can opt to hang up or dismiss right from your tracker. Plus, it sends all of the information from your workout to your favorite fitness tracker apps such as MapMyFitness or iHealth.
If you are in the market for a great fitness tracker for swimmers, this option from LETSCOM is a great option. We love that you can swap out watch bands simply and easily, and it sends all of the information straight to your phone!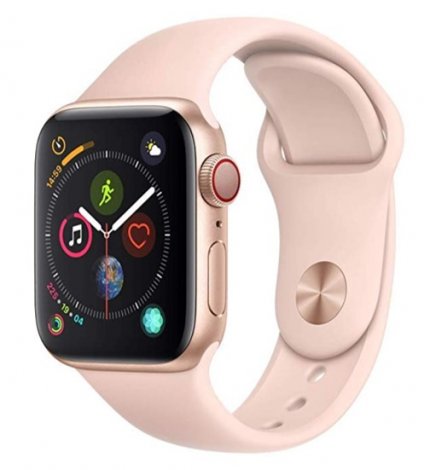 This waterproof fitness tracker is the latest version from Apple, and has some pretty impressive features to it that separate it from run-of-the-mill fitness trackers. And while reviews are mixed on the waterproof rating, Apple calls it 'swim-proof', so we wouldn't take this one diving to any depth over 10 meters. With GPS and cellular capability, you can stay connected on the go, and even see your heartbeat with a new ECG monitor!
One of the great features with this fitness tracker, is the new ECG monitor. It detects fast or irregular heart beats, and has capability to detect falls with a new gyroscope and accelerometer. If something did happen during your training, Apple Watch Series 4 also has an Emergency SOS feature to get help to you when in crisis. For those individuals training alone, or going long solo, this could be one of the smartest watches to take with you for training or races!
A larger face updates the Apple Watch Series 4, so you can see your workout stats better. It can track running cadence and pace, distance, and will let you see up to 5 different metrics at once during training. It also allows for head to head competitions when you're training with a partner, so you can see their stats as well as yours. Coaching and monthly challenges help keep you motivated as well with this fitness tracker, so you can reach your goals and surpass them!

4

. SkyGrand Fitness Tracker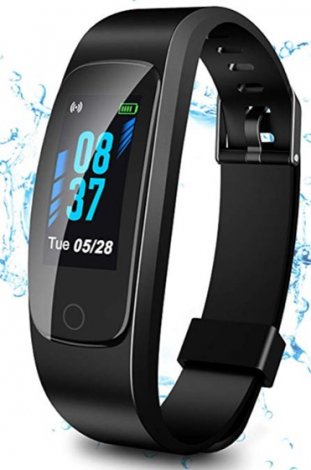 More and more, newer brands of fitness trackers are appearing, and many have great quality and functions about them! This waterproof fitness tracker has loads of features, with a simplistic design similar to the popular Fitbit style bands. With capability for tracking heart rate, multi-sport, and a short charge time, the SkyGrand Fitness Tracker may win your heart over, especially with it's budget friendly price point.
This waterproof fitness tracker let's you swim, walk, run, and cycle with a multi-sport mode GPS. It allows 14 different exercises and when linked to your phone, can show all the stats like mileage and distance, as well as a map of recorded exercise. You'll be able to see calories burned, and it also sends you a gentle reminder if you've been sedentary for too long. From swimming to climbing, running and even yoga, this tracker will monitor your heart rate for any sport you try out.
It also has smart connectivity, so you can see any calls or messages you may receive right on the LCD screen. You can access your calendar, receive calls and text notifications. It will also link up to social media like Facebook, Instagram, WhatsApp, and Twitter, so you can stay connected even when on the go. We wouldn't go deep diving with this fitness tracker, but it's waterproof rated for swimming so you can hit the pool and track laps. For the budget friendly price point, it's absolutely worth a shot!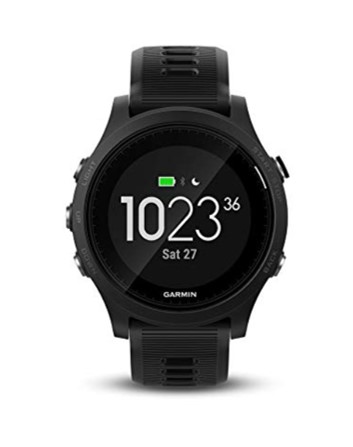 We know that Garmin has been in the heart rate and fitness tracker industry since it started nearly over a decade ago, and they bring quality gadgets to the market to do so. The Forerunner 935 is one of the latest Garmin fitness trackers, waterproof rated for swimming, and packed full of different tracking options, heart rate monitoring, and smart connectivity. For those athletes looking to raise their training game, this one is worth a look.
Like many fitness trackers out there, the Forerunner 935 is able to track several different sports, including running, cycling, swimming, and hiking. It has a bright LCD screen that makes it easy to see your stats on the go, and is super light weight at only 49g. While it doesn't have a touch screen, the buttons are easy to use, and you'll be able to see smartphone notifications when linked up.
This waterproof fitness tracker lets you see aerobic and anaerobic training effects, so you can track over time the efficiency of your training, and improvements to threshold. GPS allows for mapping out your workout, and you can link live to LiveTrack so others can see your workouts as they happen; Great for those involved in endurance racing who want others to know where they are during long sessions. We'd recommend getting the Swim band for heart rate monitoring in the pool though, as the wrist monitor won't work as well when swimming.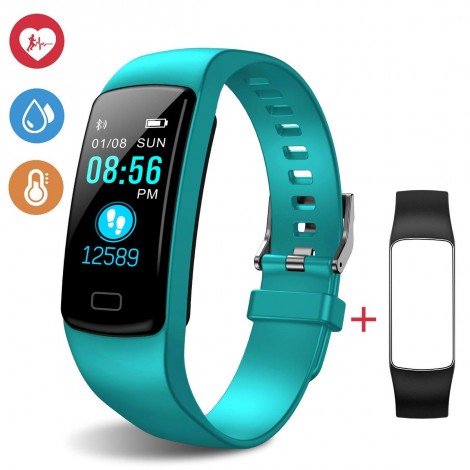 What we liked most about this fitness tracker for swimming from EpochAir is that is has a larger face that most which make reading your progress at a glance just a little bit easier. Users love the very detailed color screen provides a wealth of information on how well you are doing not only in the middle of your workout but also throughout the course of your day!
You can feel good about taking this tracker into the pool with you! It is able to use GPS to indicate the distance that you travel, your heart rates, time in the pool, and even how many calories you burned. It also has a few indicators that vibrate to tell you when you need to get up and move, and it can also be used as an alarm.
We also love that this waterproof fitness tracker comes in a lot of different color options for the band. Colors include basic black, pink, purple, and blue. These bands are able to be removed and replaced when needed, or just when you want to switch up your color! Users also like that the screen is just slightly larger than other options, making it easier to read your progress at a glance.
For those that are in the market for something that works great in the pool and sends all of the important information straight to your phone, this fitness tracker from EpochAir is a great choice. It comes in a lot of fun color options, holds a charge for days, and is easy to use.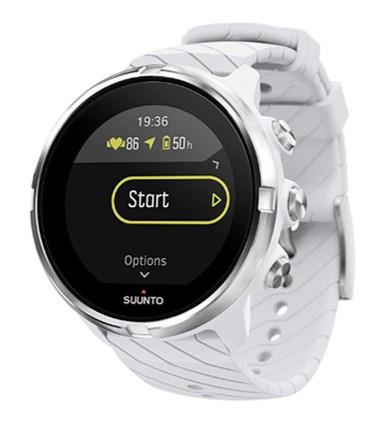 Suunto we know as a brand that has been manufacturing watches for quite some time now. They also bring forward the new Suunto 9 GPS Watch, allowing you to now track activities and monitor your heart rate. This waterproof fitness tracker is rated for a depth of 100 meters, so it's suitable for deeper water sports or diving too! And, with over 80 different sport modes, you can take this one to the gym for different weightlifting exercises as well as running, cycling, and swimming.
What we love best about this waterproof fitness tracker is the depth you can go in the water as it's rated up to 100 meters. It's perfect for those who love diving! But with over 80 sports you can track on this watch, you're likely to find yourself trying out new things for exercise and fitness. A wrist monitor tracks your heart rate, and you can also link up your workouts to Strava and other fitness apps. Touchscreen makes it easy to use and keeps the lines on this watch clean.
Another brilliant feature of the Suunto 9, is seen with it's GPS and battery life. Changing battery mode is done with a quick touch of a button, so if you workout longer, or plan on going for that ultra distance race, you can rest assured this fitness tracker won't die out 6 hours in. It has Suunto branded Fused Track movement sensors, which when paired up with the GPS system, gives better accuracy, but also saves battery used by GPS alone. They advertise testing it to record full details for 30 hours, with mapping capability! It's well worth the investment for those who go long or dive deep!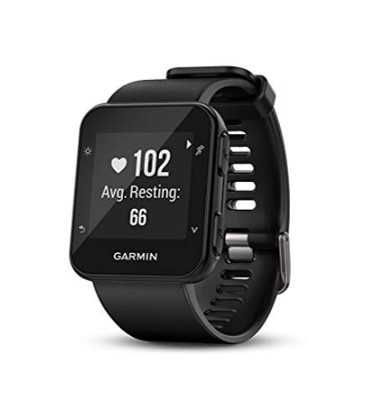 This is one of the baseline models from Garmin in their fitness tracker line of products that is perfect for those who don't need all the more advanced features that some more expensive items have. the Garmin 35 has built in GPS to track your runs, swims, or rides, and is waterproof rated up to 10 meters. Similar to other fitness trackers, it also has a heart rate monitor on the wrist, so you won't need a chest strap. Read on for a few key specifications why we appreciate this fitness tracker!
The Garmin 35 is a slimmer tracker, and lightweight, which makes it great for runs or swims without weighing you down. It has the ability to analyze your workouts with key specs, and display them with a simple push of a button. Built in GPS helps you track and map your runs, hikes, rows, or swims, and works well even under cloudy conditions or heavy tree cover. It also has the ability to connect with compatible smartphones, so you won't miss a text or notification when out training.
We also love that it's rated at 5 ATM, which means you can take this waterproof fitness tracker swimming or for other water sports up to a depth of 10 meters. Connect features also enables access to Garmin Connect, letting you automatically load your workouts and progress. Garmin Connect is a free service where you can connect with others for help, motivation, or challenges to help you reach your goals. The Garmin 35 simple put, is perfect for those who want a fitness tracker on a budget, with all the basic features you'd need for tracking your workouts and staying connected.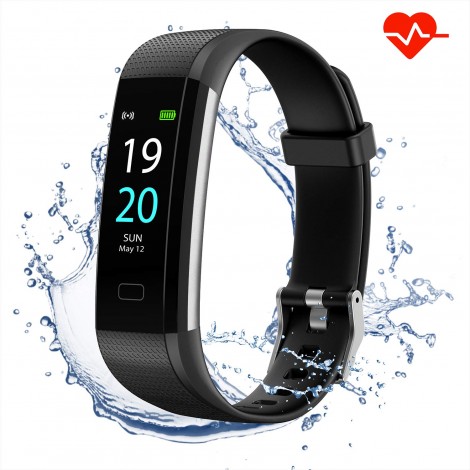 What we liked most about this fitness tracker from Akasma is that it is durable, easy to use, and a perfect companion for all of your trips to the pool. It has an easy to read face that indicates how close you are to reaching your daily fitness goals. It also comes with quite a few extra features as well.
This unit is completely waterproof, so you can wear it during your workouts in the pool, or even in the shower. What we really liked about this design is that it has a super-thin frame that makes it easier to wear in the pool without snagging water that can slow you down.
It also has a lot of other features that help you perform at your very best. The heart rate monitor gives you live reading right on the face to let you know when you have hit that sweet spot for optimal calorie burning. It also indicates how far you have traveled, as well as how many calories you have burned for the day.
If you are in the market for something that is simple, easy to use, and perfect for all water sports, this fitness tracker for swimming from Akasma is an excellent choice. It comes in a few basic colors that include blue, black and purple. Plus, it is a great tool for not only swimming but other workouts as well.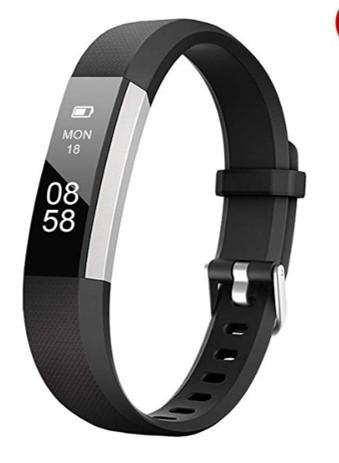 In search of something super budget friendly? The Lintelek ID115U HR is a fitness tracker ideal for tracking your health, keeping connected, and won't break the bank! It's 'IP67 Waterproof', which means it's sweatproof, and you can train in the rain with it, but isn't suitable for swimming. This is backed by the manufacturer for life, so should something happen to it due to water damage when training, you can simply contact them for replacement options. It has some amazing features that makes it worth a good look!
While many trackers require recharging, this one makes it easy and simple. The Lintelek ID115 HU detaches from the band, and can easily be plugged into a USB port for a quick 90 minute recharge. Battery life will last up to 5 days before you have to charge it again. It can be paired up with several smartphone types, and will vibrate with call alerts even when you're out on the road. With it's sleek and slim design, it's something you can wear all day and night without even noticing!
A bright OLED screen enables you to view your stats and health, and this fitness tracker also has a sleep mode to analyze your quality of sleep. Built in alarm clock gets you on the move in the mornings, and when you wake, a simple movement of the wrist or arm will turn on the screen. Built in step counter improves accuracy by counting steps after you've been walking a bit, so it won't mistake movements other than walking on your count. It even has a remote camera shooting function so you can take that selfie after the race with friends! For those looking for something light, budget friendly, and stylish, this could be an option for you!

Subscribe to our Newsletter