Best Fitbit Watches Reviewed
In a Hurry? Editors choice: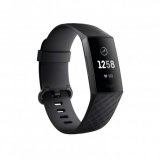 Test Winner: Fitbit Charge 3

There are many Fitbit watches to choose from and they range in style, size, and price. If you are trying to find the right fitness tracker and be a part of the Fitbit community but unsure about how each of these models differs as far as their benefits and differences, take a look at our list. We looked at 10 of the models and assessed them using major features of these products such as style, battery life, watch face, features, and those fun advanced features.
Standout Picks
Criteria Used for Evaluation
Style
One would think that something like a Fitbit would pretty much be limited in style. For the most part, that is true but there are two main differences in these trackers that allow you to decide for yourself which you prefer. The differences come in how they are worn which can be via a clip that can attach to clothing or belts, or you could choose to wear the traditional wristband.
If you choose the clip style it's size will be a bit smaller so it can accommodate being clipped to most any surface of clothing. or strap. People who regularly have a watch on or bracelets, anything that is on the writs already taking up space may choose this option. The other side is that those who simply don't enjoy wearing wrist gear would also appreciate the ability to use this product in another way makes it versatile and open to a wider market. The smaller size has also a bit less bulk, and if that is appealing you should also know that the only real downside to these is there is only a narrow amount of color options.
The traditional wristband can be adjusted to the size of your wrist and they are a bit larger. While they do have some extra bulk to them they aren't overly big or heavy. However, the good thing is that if the base style does seem too large for your tastes, you can also find it in a slimmer version that is a bit more petite and this size comes in most models. The nice thing about the wristband option is that all the colors that this line offers are available for this style and you even have specialty options that you can purchase if you like a little something special. As far as the look, not only are the variety of colors an option but you can also dress up and customize your look with the band by adding accents like jewelry or maybe matching your nail color to your band there are tons of options.
Battery Life
Fitbits run on battery power and the batteries have the ability to be recharged when they are low on juice. A cable comes with each product for this specific purpose. There are differences in the length of battery life that each model offers and the range can be from as little as 5 days and all the way up to 6 months.
A good rule of thumb to understand which models have longer battery life is to take into account the versatility of the functionality of each model. Those more advanced models that run a ton of programs and offer a lot of features are going to need more juice to run all those functions and therefore they will take more power each time they are used which will result in them have a shorter battery life span. So the opposite is true for the models with less functionality. The less a model has to put into running and working, the longer the battery life will be.
Watch Face
The watch faces or screen displays that are used in most of these trackers have a range of sizes. Larger screens are obviously more easy to see and read, so for older adults or for anyone who has poorer vision, these can be a suitable option. If your ou doesn't need to see all your stats immediately you can opt for the models which don't have screens at all. These will give light and sound alerts to keep you up-to-date on your activities. They also do have the ability to connect the information to your smart devices so that if you want to check on these numbers, you can see them through the use of the Fitbit app.
Those that have the screens can either use touchscreen technology or push-button capability.
Features
The older models had limited functionality and just a few tracking options they could provide but the models of today have evolved along with technology and offer quite a bit more. They have their basic functions like a pedometer for steps, and the distance, they also can give fairly good estimates of caloric expenditure. Some will be able to distinguish the difference between walking and climbing stairs so that they can give you numbers on flights you've climbed as well as total active minutes per day.
Other options that can be offered can be providing feedback for a particular workout more than just offering basic step counts. The pace functionality, distance, or routes information you can gather comes from the models with smart abilities.
Many of the models will work as a watch by providing you time. Other models can help you manage and listen to your favorite tunes from your own playlists. The adjustments you need such as volume or skipping a track can be done straight through your tracker. No need to have to carry extra devices to manage basic functions.
A couple of the models have accountability options like reminders that keep you on your toes. They will be set up to ping you each hour to get moving. If you haven't been active they sense it and they will ping you then too and let you know that you are slacking and you are not meeting your goals. A bit of shame and guilt with a side of bugging an individual can go a long way to keeping your focused and honest.
On the flip side, when you are supposed to be resting and not moving about is when you are sleeping. Proper sleep is also a part of overall health. It is said that keeping a regular sleep schedule where you go to bed at the same time and wake up at the same time as well as get a full amount of hours of quality sleep is essential your body's ability to recover from the day's activities. Some models can track your snooze sessions each night and provide valuable feedback regarding the quality and the consistency of your sleep patterns. They can also provide basic alarm functioning to help wake you in a more subtle way with vibration instead of a loud, obnoxious alert.
Additional features you can be on the lookout for would be heart rate monitors to help you maximize the performance while you are actively engaging in a set workout. The last thing that all models have is a given, and that is the ability to have some amount of water-resistance. It makes sense. You are wearing these devices close to the skin or directly on the skin and specifically for your exercise bouts so the likelihood that there is going to be moisture and sweat are high. If the product is sensitive to moisture, that isn't going to fly. Therefore the ability for these products to be able to tolerate some sort of moisture is particularly necessary.
Even though these models do have the ability to function with moisture that doesn't mean they are able to tolerate being fully submerged in water. Most won't stand up to it and so it isn't the best idea to take these into the water to track your laps. Therefore if that is your specialty, or you know you incorporate swimming into your fitness routine, and you want to track your workouts while in the water, you have to pick the model which is swim-proof to accommodate that amount of wetness.
Advanced Features
In addition to all the features, you may see in these models the options don't end there. These can be even more advanced with the options that they offer.
If you want the tracking abilities in a smart way so that you can have a much better ability to incorporate your Fitbit functionality into your phone, this company has it covered. All the apps you like and the ability to share with friends and family make smart features useful and fun.
GPS is another added feature that allows you to use your tracker when you are out and about in the city or in the woods and it will help you keep track of the route you covered. Not only does this help you figure out exactly where you are at or where you went, but it also helps you more accurately determine how far you ran, walked, or biked. The other great aspect of GPS is the ability to give spot-on feedback regarding your pace, which, for anyone who is training to meet specific goals will appreciate. It is also a great motivator on days where you are feeling a bit sluggish, watching that pace to see keep yourself on track helps a bunch.
Many people like to disconnect when they are working out, but for others, the ability to still have access to notifications from work or the family, for instance via calling or text messages is important. There are models within this product line that can offer you this ability as well as the ability to help keep you on schedule by providing you calendar management capabilities. By this, we mean that when you have something set up or scheduled you will get the notifications needed so you won't miss anything important.
The other really advanced options that are offered include the ability to have specific workouts with step-by-step guidance if you like that more customized attention and instruction. If you aren't a professional fitness trainer or have the means to employ one, your Fitbit can really come in handy making filling in the gaps. This is especially true if you don't belong to a gym or have a bunch of equipment at your home to utilize. These workouts can be used in conjunction with your equipment or in lieu of it making your exercise sessions match up nicely with your situation and lifestyle. Just make sure you have Wi-Fi to use this fun and dynamic function.
Best Fitbit Watches and Trackers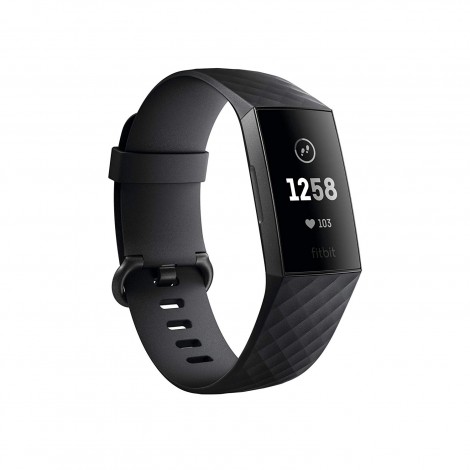 The Fitbit Charge 3 is the upgraded version of the previous models which is why it had to be number one on our list. If you have been keeping up with each model you will notice differences like a wider design but don't stress, that doesn't mean that it has added bulk. There isn't too much additional mass because of this change. The clock face is very easy to read and some other tracking features like heart rate and your step count are more easily visible without having to change up the screens you are looking at to access them.
This is a Fitbit watch that looks great comes in nice color options and offers nice touchscreen functionality. It's feedback as far as heart rate is fairly accurate just as the sleep tracking is accurate and interesting in the information you are given. The battery is exceptional, it can absolutely last and that convenience is more than impressive.
Overall, the upgrades made for this model are on point. There could still be some more bugs tweaked which we are sure will be seen in the next version, but they aren't significant enough to warn against trying this one out. The price is spot-on for a fitness watch with nice features. The firmware is easy enough to install and use, and the overall navigability makes this simple to use for just about anyone.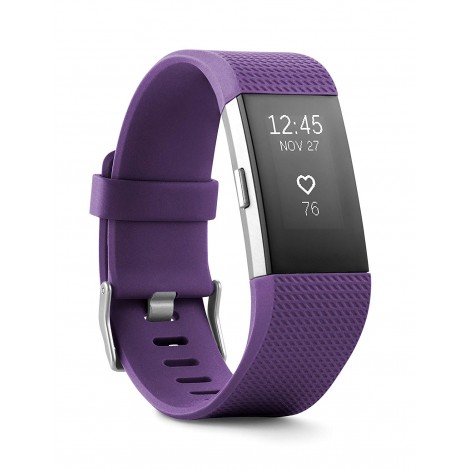 If you are looking for a fitness tracker and have never used a Fitbit before, this middle tier model is a good place to start. It has all the basics anyone interested in fitness could want including heart rate monitoring even the ability to count flights of stairs.
It can give you some information regarding calories you have burned and it does have GPS capability. The notifications keep you engaged with your other devices like your smartphone so that you won't miss important texts or emails when you are getting your workout in. For newbies, the Fitbit Charge 2 is a great introduction and even those that are not new to this technology or these gadgets it is still a nice piece of equipment with nice performance and functionality.
The build of this Fitbit watch is really an upgrade from the original, with sturdiness and the materials are much thicker lending this to feel more durable and not cheap by any means.
Adjustability is terrific so that you can ensure you have the most comfortable fit. If you need to change your bands, it isn't a difficult task, simply press on each side and it will come undone quickly. The build is decent and the quality is all there, what you would expect from these products. The band fits securely and won't fall off easily, it is also much longer than the original. So it may be advantageous to size down if you are unsure of which one to choose because of this added length.
With a sharp look and a clearly visible display, this is a competitive model to look at. The price isn't bad either for this very usable highly functional tracker.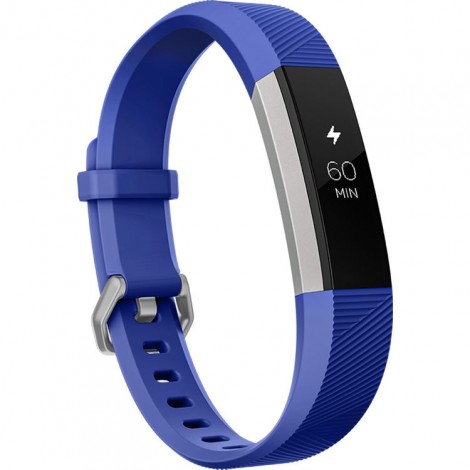 Kids need exercise too, and with all the potential screen time our kids can be exposed to, helping them get back to the basics and get outside is important to their health welfare. The Fitbit Ace comes at a reasonable price tag for children's gear and is almost exactly the same as what you have for the adult version with some adjustments to make them work for little ones.
This Fitbit watch model is pretty much the child version of the Alta. It has a band that is small enough for little wrists. It also uses its own app, which is nice because it gives parents some control over what data and settings are utilized. It is a good source for the promotion of physical activity through achieving goals, just like in a game but this one helps with real-life.
While it may not have every function that the Alta offers, it has just enough for kids to get motivated to go outside and get moving. It does also come with an alarm because kids have places to be too! Your kids will like wearing bright, vibrant colors. The ruggedness of the design is spot-on for how hard youngsters can be with their "toys."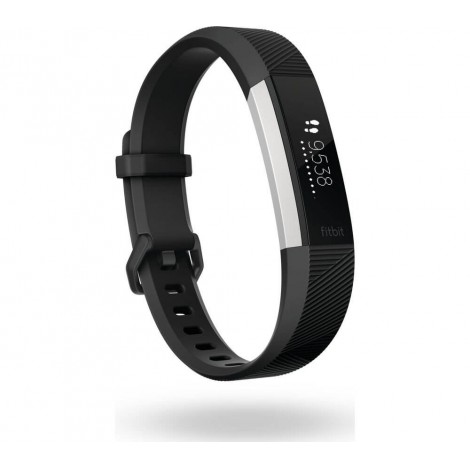 The Fitbit Alta gives you very accurate recordings, the trick is tightening it up on your wrist so it can get the most precise measurements. This is all explained in the manual, so it does pay to spend a minute or two reading through it. It is comfortable to wear at night while you sleep, it won't irritate or distract you at all and this way you can get some recordings of your nighttime patterns. This durable model can hold up to banging around without too much wear showing through.
While some fitness watches and trackers can have a more bulky appearance and sporty vibe that may not work for everyday use, this slim tracker looks good and can work well aesthetically for many situations. You can set the display to wear throughout the day and function like a watch showing you the time and then you can even set other daily features like showing your heart rate at the same time. As per most Fitbit models, the readings are close to accurate.
There are a variety of color options including an on-trend coral. The price of this Fitbit model makes more of a value option. It is a very light option that is super simple to set up and get working. If you like trim and more petite wrist wear or if your bone structure is such that it is much smaller, this is a nice option to consider. The app continually is updated and revised so don't worry if you run into initial bugs, this company works hard to get them ironed out fast.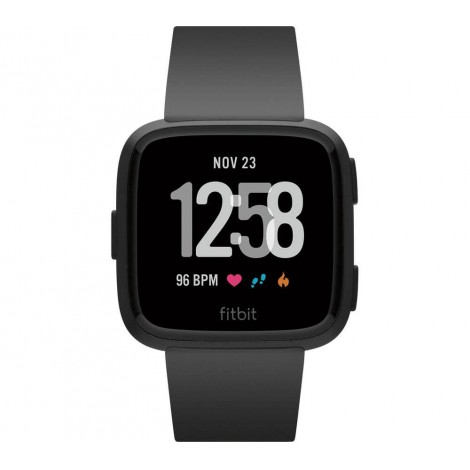 If you like more of a traditional watch look, the Fitbit Versa looks like a modern watch with many band color options. The screen is large and clear for easy reading. This is a Fitbit but it also has many smartwatch features so you get a bit of the best of both.
The waterproof Fitbit tracker has amazing battery life. And by waterproof, we don't mean just getting it moist with sweat, it can function submerged and even reads clear underwater. The clear water of course! Most of the functionality is fairly straight forward so for anyone who isn't uber techie, this one is not too difficult to figure out. The control buttons aren't difficult to use, and set up goes quickly.
If you need support for pre-designed workouts, this product can offer support. It saves you space while you are out exercising because you can access your music without having to carry your phone with you. Anything to reduce carrying extra gear is always a plus.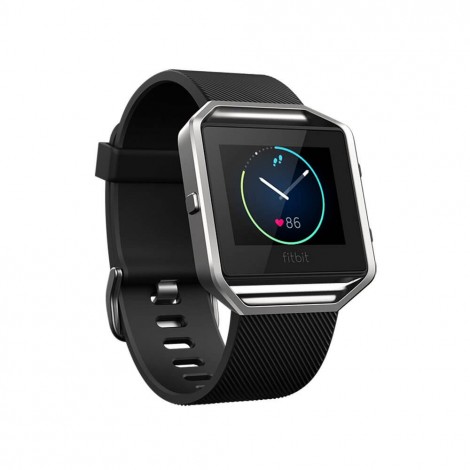 The Fitbit Blaze will be a product you are really going to love. Easy to use, and stylish, it is also very easy to read with a very clear screen. Navigation is a breeze and if you carry an iPhone the syncing is uncomplicated.
New software updates make this Fitbit tracker a very well-rounded product. The notifications make are useful so you don't miss calls or anything on your schedule that is important. If you tend to get caught up with your busy days, reminders to experience may be your best friend. Sometimes we need time outs in life to get us to refocus on ourselves, and this tracker offers you those reminders.
The battery will keep up with your schedule and won't hold you back. You can expect to go a good couple of days without having to stop for a charge which makes a big difference if you enjoy the sleep tracking abilities. The built-in alarm helps won't let you oversleep. Make sure to register in case you have any issues, and should you have any problems the customer service will make it right.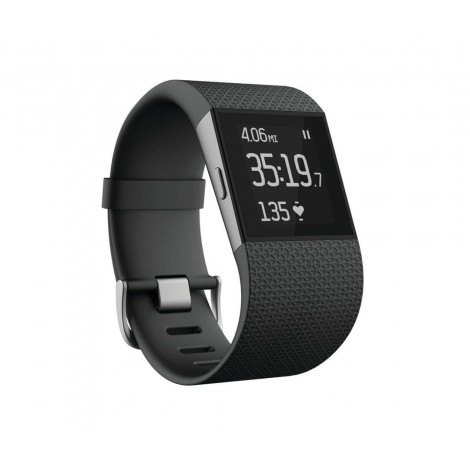 One of the more expensive Fitbit trackers, the Fitbit Surge is going to do exactly what you'd expect of it. It can sync with almost any phone and will update with your computer automatically. This wider model has a handsome appearance and larger screen. While it still looks like a tracker, it offers significant substance.
You don't necessarily have to set it up to track your steps, once you set out and start putting in the pace it will get to work.
It keeps a good tab on your heart rate. When you put it in various exercise settings the GPS can provide you with maps and collect a bunch of information including your pace that you can see all the highs and lows to get an idea of your peaks.
The battery life is decent and you can have this product send you a notification when it is time for a charge. There is no excuse to lose the juice because this one will keep you up informed. It is a pricier option but it has a lot of functionality including that GPS which many other models do not provide.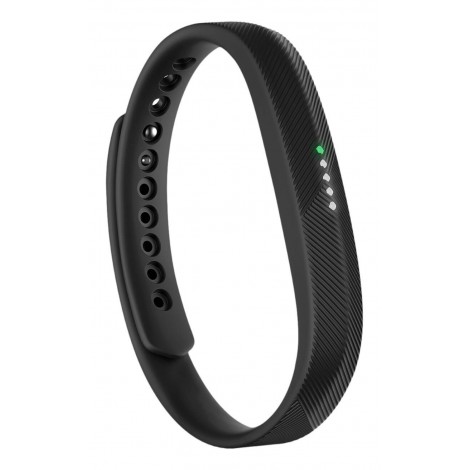 For swimmers or kayakers, any type of water sport, the Fitbit Flex 2 is a great choice. It will work well with all the water-wear you can throw or splash at it. When you prefer the water for your exercise or need to use the water to take the pressure off your body and joints in order to get exercise but don't want to be left out of the fun of tracking your output, this product pairs well for these activities.
Not only can this monitor your exercise in water but it won't cost you an arm and a leg to purchase. It is a terrific Fitbit watch for swimmers that monitors very well. It can track and help you meet your goals, provide the same feedback and motivation as you'd get with other models for other dry land exercises.
It is super comfortable with the ease of use for loosening and tightening to a secure fit. It fits and feels like a piece of jewelry. Just like wearing a bracelet, this one won't add any weight. This is a basic and very simple option that offers practical solutions to your fitness tracking needs.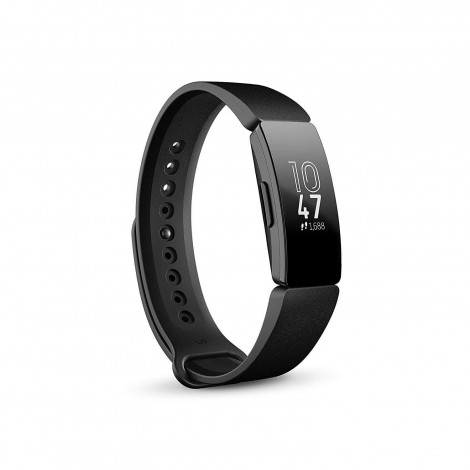 The Fitbit Inspire uses a bit different materials for the band. None-the-less it is attractive and the silicone material is a smooth, svelte, and nice feeling wrist gear. It is also very light, which is important.
The interface is easy to use and understand and the animated icons are very fun to see. This Fitbit watch is a bit smaller than the Charge 3 with pretty much the same features. So if you like a bit less bulk, but want the functionality you get with the Charge 3, try this one out. This is definitely a budget-friendly option that allows most anyone to enjoy the fitness tracking Fitbit offers without having to be faced with a hefty price tag.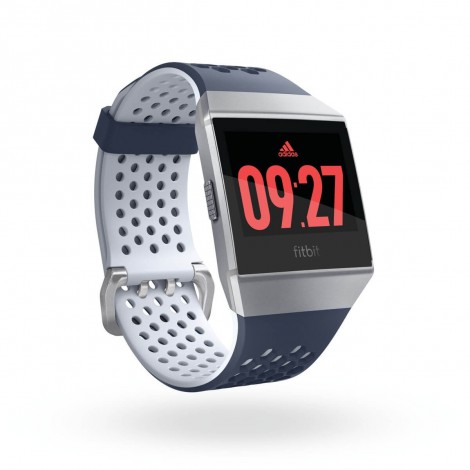 For healthy activities, fitness tracking, and streamlined guidance the Fitbit Ionic is a good bet. This isn't going to be another type of smartwatch by any means, but the robust tracking features and exercise performance abilities make this a truly exceptional partner to athletes, fitness enthusiasts, and those that need support to lead an active lifestyle.
This is amazingly lightweight and feels like one of the lightest models the brand offers. Even though it is feather light it doesn't have that cheap feeling. It is solid and durable, a really sturdy build as is normal for this brand. The touchscreen is very sensitive and it is highly reactive with consistency over the interface.
Another strong point is the clarity the screen offers. The detail is crisp and the colors are attractive. It is very easy to read which makes it a strong contender for those with visibility problems. If you like to track your fitness activities really close you are going to fall in love with the capabilities of the Ionic.

Subscribe to our Newsletter