Best Gardening Shoes Reviewed
In a Hurry? Editors choice: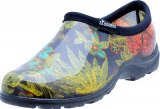 Test Winner: Sloggers Low-cut

A vast majority of us garden in our free time so think of the equipment needed, like garden shoes. Whether it is to provide fresh vegetables and herbs for our families or a well-manicured flower bed to provide curb appeal and brighten our days, this is a great hobby that requires
proper equipment
. Whether it is a boot, shoe, or clog, waterproof or quick-draining, lightweight or heavy and durable, there are almost as many garden shoes as there are perennials. Allow this top 10 list to help guide you through some of the top brands in garden shoes.
Standout Picks
Criteria Used for Evaluation
Weather Resistance
Gardening requires year-round perseverance and can be near impossible without a pair of shoes to protect your feet from the elements. Working outside exposes you to both cold and hot temperatures, along with constant contact with water and dirt which leaves your feet vulnerable to discomfort.
Knowing what to look for to weatherproof your tootsies, can be difficult, which is why we've highlighted the key points to consider when purchasing a shoe for your hobby; depending on the weather.
Lining: The lining of your shoes is an important factor in determining your overall comfort. For example, in cold conditions fur, wool, or fluffy lining will protect and insulate your feet, preventing discomfort and possibly even frostbite. In the summer, it is best to look for shoes with lightweight and breathable linings. Materials like cotton or mesh are airy and will, also, wick moisture away from the foot, preventing odors.
Waterproofing: When you're going to be working in the flower beds, your feet are going to be exposed to a lot of water and mud. There's just no way around it, which is why the rubber is a gardener's best friend, thanks to its excellent water-repelling properties. Shoes with rubber outsoles are going to offer great waterproofing, as well as, flexible movability. In addition to rubber, reinforced nylon is another waterproof material which will keep your feet dry and comfortable while you toil away.
Hot Weather: The best time of the year for this is in the warm spring and summer months which, also, add to the concern of keeping your feet cool while you garden and while remaining protected from insects, sticks, and other debris. Mesh is one of the most breathable and airy materials to consider for warm weather use and will, also, wick moisture away from your foot to prevent odor.
Durability
Gardening shoes need to be able to withstand long hours of wear under wet, warm, and muddy conditions. In order for a shoe to have any longevity, its construction must be solid and quality materials need to have been used.
Rubber is a long-lasting material which, also, offers excellent water-resistance and a strong grip. Rubber, also, tends to be snug fitting while still offering airflow to the foot. Nylon can be a suitable material for shoes in part because of its airy breathability; yet, it retains sturdy properties. Mesh, on the other hand, is not as sturdy and offers less protection from sticks, stems, rocks, and other sharp objects one may encounter in a garden setting. Mesh, also, lacks in water resistance, though it does provide cool airflow for warmer weather, making it a good material to consider for the shoe's lining.
Comfort
Fit: When it comes to gardening shoes, a snug fit is always best. Ideally, a shoe will fit nice and close around both your foot and ankle which will prevent water, mud, and debris from entering your shoe. Another feature to keep an eye out for is handles or tabs to make it easy to pull your shoes on or off. This will save you time in the long run and can make it much easier when you have slippery gloves on, or have dirt on your hands.
Sole: The sole of a shoe is important for many reasons; like support, comfort, stability, and balance. Working outside requires a fair amount of time and can take its toll on your body. Strenuous bending and lifting can cause all sorts of aches and pains; including painful feet, legs, shoulders, hips, and back. These sorts of discomforts can all be alleviated by wearing the right pair of shoes; ones that offer the kind of support your body needs.
The following list breaks down the three key points of a shoe sole and explains the benefits to each:
Midsole: A shoe midsole is made to absorb shock and provide an extra layer of cushioning. Generally speaking, a softer midsole will be more lightweight and flexible, while a hard insole will be heavy and more rigid. Softer midsoles absorb shock better but do tend to wear out faster, so you will have to weigh which is more important: shock absorption or longevity.
Outsole: The outsole of a shoe is the outermost part of the sole and is the part of the shoe which makes contact with the ground. Natural rubber and PVC compounds are the best choice of material for an outsole, due to their water-resistant properties and long lifespan.
Footbed: Also, known as the insole, the footbed is the foundation on which the shoe rests. Softer insoles provide less stability and wear out much faster than harder insoles. They do, however, provide more cushion.
Protection
Full-Cover: Full-cover shoes offer full-foot protection but can get a little warm in the summer months. This type of shoe is ideal for the colder months, as they tend to offer weather-resistant lining and stronger grip.
Closed-Toe: Closed-toe shoes such as, Crocs and other clogs are great for warmer weather because they offer more protection at the forefoot while still allowing for an open heel which helps to ventilate.
Open-Toe: Open-toed shoes are to be used cautiously while working in the garden because they leave a large part of your foot, including the delicate forefoot, exposed. Open-toed shoes are best used for light watering or weeding.
Use
For some people, a trip to the garden in the morning is part of a long day of chores (i.e., water, pull weeds, feed animals, etc.). Then again, in the evening, these chores may repeat. If you find yourself in this type of situation, then boot styles might be the best option, regarding practicality. Low-Cut design is not practical when considering you may be in for a round of deep mud when heading to the trough to place feed in.
In addition to this, there is the fact of size. While a cheaper-made material might work for a small garden through an entire season, you might find yourself purchasing another pair if yours happens to be large enough to keep you in it for more than four hours at a time each day. Opt for something made of thick and sturdy material. In this, you will ensure your shoes will last the season you need them to last in.
Also, the type can play an important role, as well. Is yours full of watermelons where there is a lot of water irrigation? If so, you will need waterproof gardening shoes. If, however, you have a small flower garden, as it were; then, you might not need something so drastic. In some cases, a small flower garden could mean you will have minimal water exposure. As such, a lightweight clog might suffice.
10 Best Gardening Shoes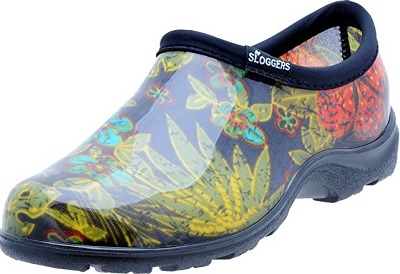 Is a boot a little too much for your needs? Not to worry, as Sloggers has a low-cut design, just for you! These shoes are so easy to clean up. You only need to wipe them and hose them off. Furthermore, there is heavy-duty lug tread to help increase traction and Sloggers' All-Day-Comfort insole works to give you the best in comfort. Also, these best shoes are non-latex, vegan-friendly, and have many colors to choose from.
Cleaning is a cinch in the shoes. Simply, hose or wipe them off. Moreover, this might allow you to spend more time in the garden and less time in the inevitable phase of tool cleanup.
These shoes are made for the environment pertaining to a flower bed. After all, these can be wet a sloshy at times. But with these Sloggers, you have the correct amount of tread for nearly any situation.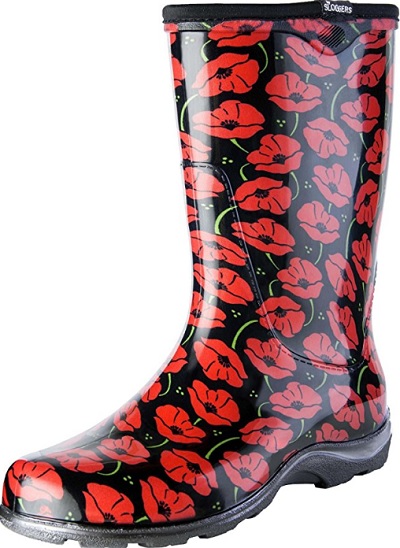 Sloggers is one of the top brands in shoes for this hobby, pacing the industry since 1948. There is no doubt they would be at the top of this list. The waterproof rain and boot serves as a multi-purpose functional shoe and can easily be used for other tasks besides gardening. The boots are easy to slip on and even easier to clean, as they can just be hosed off. The boots can, also, be customized with many different patterns, allowing the wearer to make the shoes one of a kind.
The Sloggers brand is one of the most versatile shoes on the market. The waterproof material makes it perfect because the damp soil can, otherwise, ruin a day outside. The multiple pattern options make it an ideal boot on a rainy day, regardless of the activity.
One of the traits that consistently rank Sloggers at the top of most ranking lists is the fact that their shoes are so comfortable. Similar to most Sloggers models, these come with their unique All-Day-Comfort insole, including stitched-in fabric that keeps the heel comfortable and in place. The material makes the boots easy to slip on and off; but with how comfortable they are, you won't want to slip out of them for a long while.

3

. MuckBoots Edgewater Hi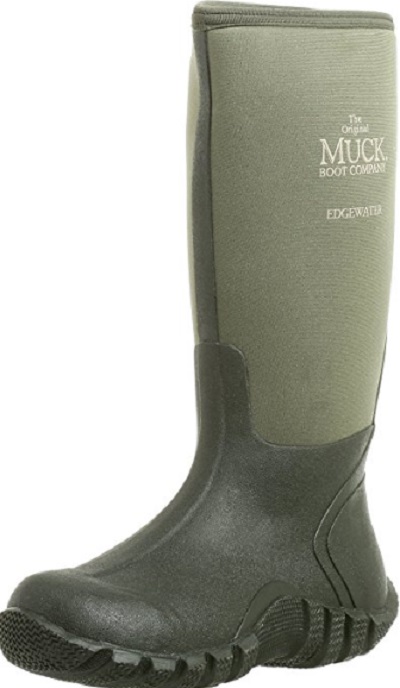 MuckBoots has produced one of the top gardening boots on the market with the Edgewater Hi Boots. This MuckBoots line is, easily, the most durable boot available and will be the only boot you need. It can be used for flower beds; as well as, hiking, landscaping, fishing, and other outdoor activities that require a durable, waterproof fit.
The Edgewater Hi Boot is the most durable boot on the market. It has a protective, waterproof shell that is still soft and flexible. The outsole is made of strong rubber and is slip-resistant when outside. Added reinforcements at the Achilles and toes not only help ensure the security of the weather but, also, increase the durability of the boot.
This boot is, truly, waterproof which adds to the comfort factor. A stretch-fit topline binding snugs the calf of the wearer, ensuring that moisture cannot get into the boot. It, also, regulates temperature, keeping out heat and cold. The breathable, air-mesh linings are, also, a great idea for boots, keeping feet dry and cool while working in the yard.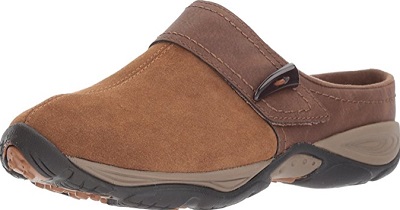 Extraordinarily comfortable and built with a sturdy design, the Easy Spirit Eliana is a great mule for this hobby. They're slip-resistant and lightweight, with a leather upper and removable insole. The Eliana Mules feature a sculpted EVA midsole and padded footbed with added arch support, along with a rubber, waterproof sole. They offer a cushioned walking experience and rebound with every step.
Perfect for this hobby, the Easy Spirit Eliana Mules' sole is made of rubber which is both waterproof, as well as, anti-slip for better grip in slippery conditions. The leather is both breathable and long-lasting which makes it an excellent material for any muck shoe. It is resistant to abrasions and will stay true-to-shape longer, making these a long-wearing and stylish choice.
These mules are, definitely, not going to break your bank. They're a reasonably-priced option that offers a lot of value for the cost. Their leather upper and solid rubber sole make these shoes long-lasting and weather-resistant, perfect for the many hours spent outdoors.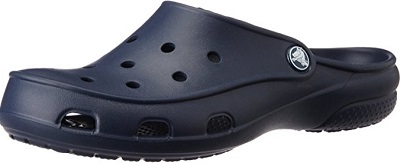 Crocs' Freesail line boasts a slimmed-down silhouette without losing the practical comfort you have come to expect from Crocs. These waterproof mules are perfect for gardening with their Coslite™ foam for added cushion and comfort. They have no heel strap, so it's easy to just slip in and go. A Freesail Mule is a versatile option that is great for the house or outside.
Only available from Crocs, Croslite™ foam is a closed-cell foam-resin with an unbelievable mix of rebound, cushion, and softness. It's lightweight and airy feel will have you wanting to wear these mules all day long. Designed without a heel strap for an easy slip-on/slip-off wear that saves valuable time and effort, these Crocs help you to concentrate on that lovely bed.
These are a budget-friendly option which will keep your feet happy, all day long. Waterproof and lightweight, the Freesail Mule is a great option for anyone who enjoys long hours spent in the garden.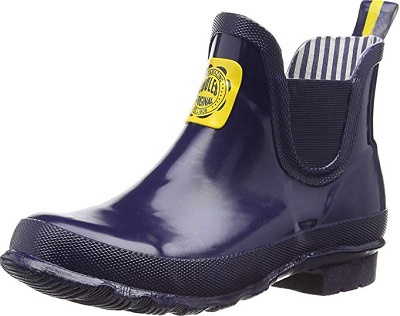 The Joules Rain Boot is an interesting selection among shoes because the interior has a fleece lining that most do not feature. The Joules brand prides itself on its unique designs. If you are looking to make a fashion statement in the garden, Joules is a good brand for you.
Joules produces a good product in its rain boot when it comes to design patterns. Anyone will be able to find a favorite design, making it a boot that can easily be worn in the garden, outdoors, or with blue jeans on a rainy day.
The Joules Rain Boot is made of a highly- durable rubber. What makes them stand out though is the fact that they are coated in a wax film that will peel under extreme temperatures. This keeps the boots from weathering and makes them last longer than some of their rivals.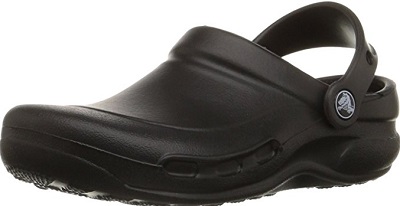 There is a reason that Crocs are a top-selling brand. They produce a clean design that is very comfortable, due to its massaging footbed and enhanced arch support. Whether you will be on your feet a long period of time, in the flowerbed, or doing any other activity that requires a lot of standing, you cannot go wrong with Crocs.
The Crocs are, arguably, the most comfortable of the garden shoes on this list. The massaging footbed is something that can only be found in Crocs and provides an incredibly soft feel, whether in socks or barefoot. The enhanced arch support provides protection, as well as comfort, ensuring that the wearer's feet will not tire out under extended wear.
The Crocs Specialist Clog is one of the more stylish clogs available. The Specialist Clog does not feature vent holes and is solid synthetic construction. The clog can, easily, be worn in the garden, washed off, and then worn out shopping or to a restaurant. The Specialist Clog can be purchased in black, white, or navy to fit any preference.

8

. BZees Lollipop Sneaker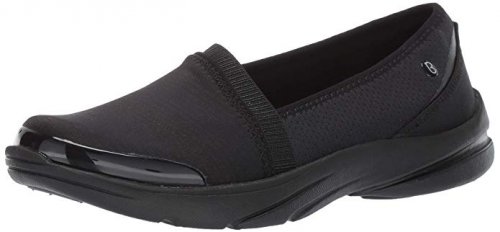 The BZees Lollipop sneaker is perfect for those who get dirty in soil or mud when doing their outside chores. Made completely of machine-washable materials, you can pop these sneakers in the wash when you are done with your outdoor activities. Featuring BZees Cloud Technology, these shoes are lightweight and comfortable for all-day wear.
The synthetic sole of the Lollipop provides an excellent amount of traction and grip, which is especially important when walking over different terrains or uneven surfaces. The shoe features a gel insert in the midsole, ensuring your feet are wrapped in cushion and comfort. The Comfort Cone in the Lollipop prevents shock to the muscles and is beneficial for those with sensitive joints.
You can work up a sweat when outside all day, so BZees has added anti-odor and anti-microbial treatments to prevent smelly feet. It also prevents annoying and unsightly foot injuries, such as athlete's foot or bunions and corns. An overall great option, you can't go wrong with the Lollipop.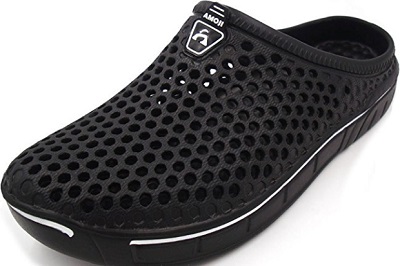 These stylish clogs are multipurpose and can be used for lounging in the house or work outside. They are ultra-lightweight, weighing only 120 grams; making them light enough to carry in your bag. An EVA midsole and massaging footbed design make these shoes as comfortable as they are versatile. These Amoji's are comfortable and supportive while delivering durable toughness.
Their waterproof craftsmanship and easy care make these an ideal garden shoe. Simply hose them off and leave in the sun to dry, it's that easy. Their footbed is designed with tiny bumps that massage your foot while you work, making these clogs a must-have!
These are a totally low-cost option that offers versatility and comfort. A massaging footbed and EVA midsole, topped with their lightweight and waterproof design, make these an ideal clog.



Like the MuckBoots Edgewater, this is another shoe from the MuckBoot line that offers durability and waterproofing as standard features. With multiple different uses, from chores to fishing, any activity that needs a waterproof, breathable shoe will be conquered by the Original.
The outsole of the Original is a synthetic rubber construction, offering slip-resistance and unparalleled traction. The slip-on design makes them easy to get on and off and the added protection at the toe-cap and heel keep your feet safe when in the flower beds. No matter what the weather, the Original will help you keep it together.
Buyers of the Original testify to its trueness-to-size. Nothing is worse than buying a great pair of shoes online, only for them not to fit. This won't be a problem with the MuckBoot. Further, buyers also enjoyed the breathability of the shoe, claiming it easily allowed the feet to breathe while wicking away excess moisture.

Subscribe to our Newsletter