Best Huaraches Reviewed & Rated
last updated
Jan 31, 2019
Huaraches are traditional sandals worn by indigenous North Americans, mainly Mexicans, during the Pre-Columbian era. Prior to this term, they used to go by their earlier names; Warachi and Kwarachi (roughly meaning "sandals" in their original Pure'pecha language). They are only considered true and authentic if they're "home-made." Usually flat-heeled, made with leather and open toed, they can have either rubber or leather soles.
Often handmade, it takes a while to get a pair to work around your foot, but it's well worth the effort. Comfortable, breathable and lightweight, these are a great option for those looking for a great pair of casual sandals to wear in hot weather.
In a Hurry? The test winner after 10 hrs of research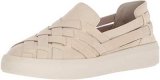 Frye Brea
Why is it better?
Sheepskin Leather Upper
Leather Lining
Breathable
Rubber Outsole
Slip On
In a
Hurry? Editors choice: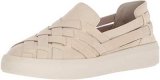 Test Winner: Frye Brea

11
Researched Sources
1294
Reviews Considered
10
Hours Researching
14
Products Evaluated
Style
Materials
Durability
By Default
In Depth Review Top 10
Frye Brea
Plaka Palm Leaf
Deer Stags Bamboo 2
Crocs Huarache
SoftSpots Tatianna
Brand X Pachuco
Naturalizer Wendy
SoftSpots Tela
Earth Origins Nellie
Volcom Kali
Table of contents
Criteria Used for Evaluation
Frequently Asked Questions
Sources
Top 10 Huaraches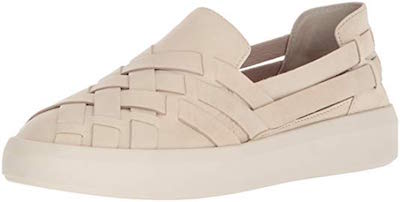 Sheepskin Leather Upper
Leather Lining
Breathable
Rubber Outsole
Slip On
Expensive
Limited Availability
Combining the upper of a traditional huarache with the comfort features of an athletic sneaker, the Brea by Frye is a great choice who prefer high quality leather in their footwear, as well as a stylish design that works well on most occasions, including some offices as well. It comes in tan, black and white, all great options for matching with most of your outfits. Being made with natural leather, it will need some extra care, but it'll be well worth it - not just because of the comfort it offers, but also its durability.
Read more
Sheepskin Leather
The leather used in the Brea is vegetable tanned sheepskin leather that's one of the softest types of leather used in garments and footwear. It's highly comfortable, extremely breathable, and suitable even for barefoot wear despite hot weather conditions. The leather lining prevents rubbing and blistering, making these comfy out of the box.
Rubber Outsole
The outsole on the Brea is made with rubber, with a treat pattern on the bottom that resembles crepe soles. This means these won't let you slip, even on highly polished or wet surfaces, and will provide some protection if you happen to find yourself in the middle of a summer shower. Do note, however, that if you plan on wearing these near water, the upper needs to be adequately protected and conditioned to ensure its health and durability.
Cost and Value
With a price that's higher than most other models on this list, the Brea by Frye will need some saving up for, but it'll provide you with a comfy pair of breathable leather sneakers you're likely to reach for whenever you want something that will both feel and look good on your feet.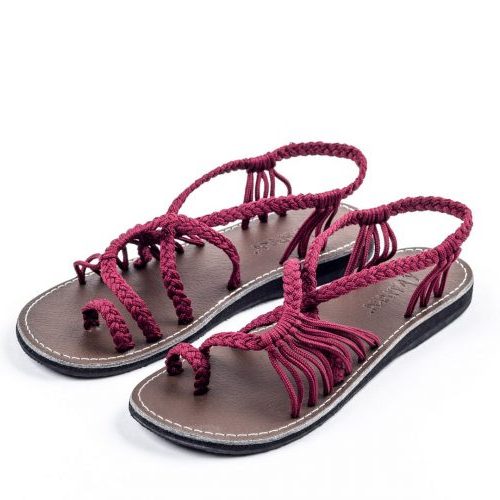 Rope Straps
Rubber Sole
Affordable
Leather
Water Resistant
Eco Friendly
Can Cause Sweat
Durability
One of the most stylish and colorful huarache sandals, the Plaka Palm Leaf boasts of handmade braided rope crafted carefully for comfort and a stylish appeal. Toe loop and heel strap help to hold you firmly to the sandal, and a braided criss cross design flatters the shape of the foot. A rubber sole helps to add grip and traction, and the materials used to craft the sandal make it waterproof, so it's ideal for beaches or water activities!
Read more
Rope Straps
The charm of the Plaka Palm Leaf sandal lies with the beautifully crafted and interwoven rope straps. Criss crossing patterns of braids help keep you in the sandal, and accentuate the natural beauty of the foot. Ropes have some stretch to them for a bit of adjustability. The Palm Leaf is available in so many amazing colors and color combinations that you are certain to find one you can fall in love with!
Waterproof
Along with its open air feel and design, these sandals are made of materials that help make it waterproof, making it a great option for beaches, pools, vacation spots, or water activities in general. A grippy rubber sole adds to the traction at the base of the flat, and some comfort is found in the cushy footbed.
Cost and Value
By no means expensive compared to other models of shoes, the Plaka Palm Leaf huarache is a beautifully constructed, high quality sandal that is sure to win compliments. Braided rope strap adorn the foot in a decorative fashion, while grip is found in the rubber sole for slippery surfaces. Perfect for sandal lovers, or those looking for something with a bohemian flair in their footwear.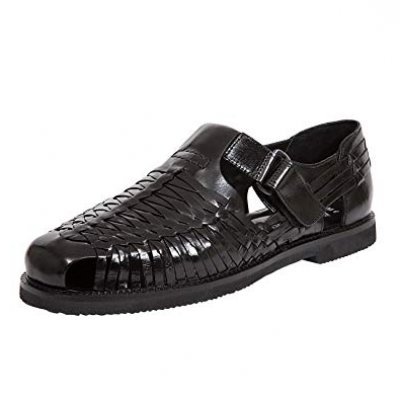 Classy
Business and Casual Appropriate
Adjustable Fit
Toe Protection
Leather
The Deer Stags Bamboo 2 is a closed heel and toe loafer slip on, with interwoven leather to grace the uppers and heel cup, giving it that huarache feel and look. In the business since the 1930's Deer Stags values quality in their products, and it shows in the Bamboo 2. Adjustable fit can be found with a hook and loop closure, and it's classy style make it versatile for wearing to the office, at summer casual events, or vacation.
Read more
Woven Class
The Deer Stags Bamboo 2 is available in black and brown hues, or a mix of the two, interwoven and keeps a rich shiny look. Buffalo leather uppers are woven in and out to make a full coverage upper and include a protective toe cap to help against stubs and debris. Heel cup consists of a solid leather along with woven detail, demonstrating the quality construction of this shoe.
Comfort
As a versatile shoe, it's also quite comfortable, and can be worn at the office for business events or on the go customer meetings, as well as weekend casual stroll along the avenue. A textured rubber sole allows for grip and traction, so you can walk confidently without worrying about slippage. Adjustable fit is found with the side hook and loop closure that wraps across the top of the foot, letting you get the perfect strap in feel you need. Breathable with its woven design, it's a great all-around shoe for summertime.
Cost and Value
Slightly more expensive than some on our list, it's worth the investment to consider if you're in search of a huarache shoe that resembles a shoe rather than a sandal. Its beautifully woven design creates the uppers and wraps the heel in rich buffalo leather, and can be suitable for work or casual events. A great slip on that will surely get compliments.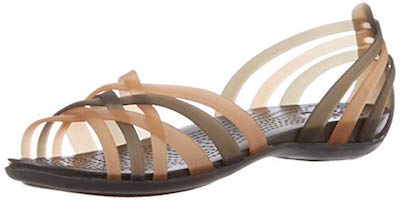 Synthetic Upper
Easy to Clean
Water Resistant
Massaging Footbed
Variety of Color Options
Non-Slip Sole
Straps May Stretch
Runs Large
If you're looking for something that'll give you the look of a traditional sandal, but that'll work in less than perfect conditions such as at the beach or in rain, this version by Crocs is an excellent choice. Featuring a beautiful intricate design, and available in numerous colors ranging from subtle pastels to colorful fluorescents, it'll be the perfect addition to any clothing combination. Even more, it can be dressed up or down as needed, thanks to the flattering silhouette that'll look just as good with shorts as it will with a skirt or dress.
Read more
Synthetic Upper
While synthetic uppers are not always the best choice for foot health, in this case they work well thanks to being completely water resistant, easy to dry, and even easier to keep clean. The material used in these Crocs is soft enough to prevent rubbing or blistering, but not flimsy enough to cause durability or support issues.
Crocs Comfort
If you've ever worn a pair of Crocs, you'll know that their footwear is some of the comfiest you'll ever find. The Huarache features the same massaging footbed you'll have gotten used to in their Original Clogs, while the outsole ensures that all your steps are safe, keeping you from slipping and sliding even on wet surfaces.
Cost and Value
More expensive than you'd expect from a pair of rubber footwear, this model by Crocs may cost too much for you to consider it. However, if you need something that won't be ruined at the beach or the pool, or even if you're shopping for your children, then this style is definitely highly recommended.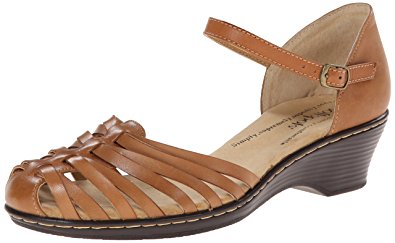 Made With Leather
Choice Of Colors
Polyurethane Outsole
Suede-lined Footbed
Steel Shank
Lightweight
The people who run SoftSpots and created the Tatianna Ankle Strap Huaraches know that a balance of comfort, function, and style can be achieved. They also know that there's nothing wrong with adding a little zest, and simple elegance, to any outfit. The Tatianna is meant to have that elegant balance.
Read more
PillowTop
SoftSpots' patented insole technology allows for comfortable walking from the moment you put on your shoes to the end of the day when you take them off. The distribution of cushioning allows for comfort where and when it is needed.
Leather Straps
The elaborate weaving and design of the leather straps are reminiscent of ancient huaraches. The Tatianna also features a closed-toe design for that is appropriate for work.
Cost And Value
These stylish, heeled sandals are in the low-range of prices relative to this list. They are a value for a stylish and comfortable heeled shoe that you can wear every day, all summer, while you work. These are also fairly closely loyal to the design of handmade, Mexican huaraches.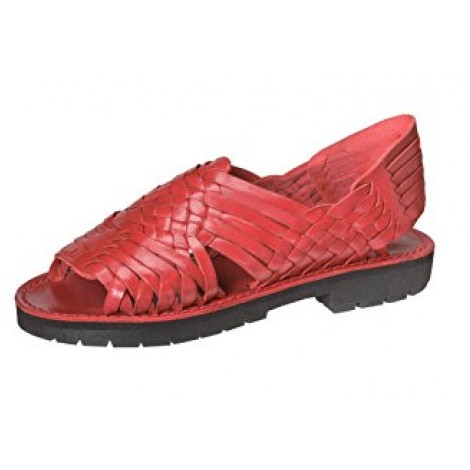 Leather
Synthetic Sole
Lightweight
Soft
Hand-Woven
Heel Straps May Not Stay In Place
Sizing May Run Small
Ronn Simpson took his degree in Spanish, his inspiration from the "huaracheros" (huarache crafters) in Mexico, and started off as a street vendor in 1972's Oakland. These are arguably the closest thing you will find to a traditional model on the market. Brand X boasts authenticity in spades; ensuring that your day will be brightened by a nice pair of handcrafted sandals.
Read more
Vegetable Tanning
Done in Mexico, this process is a natural and non-chemical process that gives the leather vibrant colors and keeps the moisture off. It also helps the leather to comfortably mold to the shape of your feet.
Dual Density Cushion Midsoles
Being able to walk comfortably in these shoes is also important. The color of these midsoles match beautifully with the leather straps and the rest of the footwear.
Cost And Value
Since they're hand-crafted and sold in a small shop (instead of being mass-produced and sold at a big-box store), you would expect a high price tag. However, these huaraches are at the low end of the price range. You won't regret the purchase at such a reasonable price.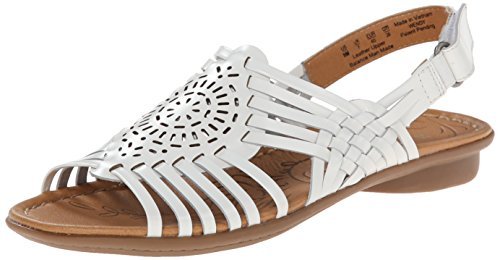 Synthetic Rubber Soles
Elaborately Woven
Medallion-Style
Adjustable Backstrap
Upper Durability
Sole Ma Peel
Caleres, Inc. is based in St. Louis, Missouri. They started out in 1927 during the decade of "cultural shifts and progressive thinking." With Naturalizer as their headline product, Caleres continues to make women's shoes that are unpretentious, "beautifully fit," backed by research by the company's "Style And Trend" experts, and comfortable to wear throughout the day. Their "Wendy Huarache Sandals" can be considered true to their origins.
Read more
Made Of Leather
Any pair of shoes with the word "huarache" in it should be made of leather. That's one of the main criteria for the shoes to be considered true huaraches. The leather straps are on the Wendys are elaborately woven throughout the sandals and have a nice decorative front on them.
Several Luxurious Colors
The leather also comes in several decorative colors; giving you a choice of what to match your "clothing style of the day" with. There are even several different shades of brown; one of them with blue, yellow, and red straps if you want to be more Earthy or "natural."
Cost And Value
They are not as pricey as other shoes in the list, falling in the low-range. These sandals will be worth every penny if what you want are closest to the original sandals worn many many years ago. They are elaborately woven and stylish and will become a favorite sandal.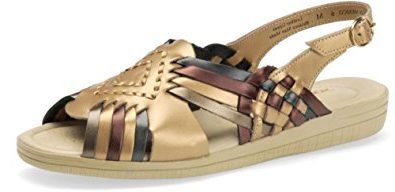 Flexible Sole
Choice Of Colors
Open Toe
All Day Comfort
Long-Lasting
The SoftSpots' Tela is an open-toed version of the Tatianna huarache sandals, above. The Tela is built for long walks on hot summer days with the same care you'd expect from SoftSpots. Though it may not be appropriate for work, it certainly is welcome on the beach, running errands or doing whatever your busy life demands.
Read more
Leather Upper
Leather's durability and ease in use like weaving is the reason that most of these sandals use this material. The Tela shows off its intriguing design with the weaving of leather straps and the pattern at the center.
Ultra-Cushioned Insoles
Being able to walk comfortably in today's open-air huaraches is, without doubt, the most important trait. SoftSpots continues to emphasize comfort on the Tela.
Cost And Value
These cute sandals are in the mid-range price-wise. For the price, you will be getting a comfortable, fashionable little sandal that will go well with many outfits in your closet and will suit many different occasions.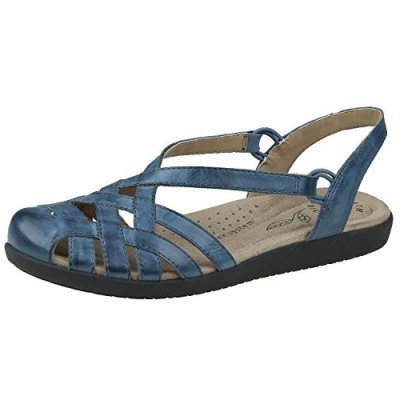 Color
Burnished Leather
Adjustable Fit
Toe Protection
Comfort and Cushion
If you're in search of something slightly simpler than our colorful number one option, the Earth Origins Nellie is a wonderful option to consider. Soft leather strappy toe box and heel straps help hold you into the sandal, while leaving a great foot feel from a plush insole and footbed. With additional support in the sandal's structure, this slip-on sandal will have you walking miles in comfort and style.
Read more
Comfort
This easy slip on style sandal has a plush footbed with perforations, which will help to not only keep your feet cool, but help pad them in plush cushion with every step. Cushioned arch support also provides some structural stability, great for those with flat arches, or prefer added support. Airy and lightweight, this breathable sandal will have you walking the extra mile out on the town!
Strappy Construction
Interwoven straps that make the Earth Origins Nellie, and mad from burnished calf leather, but also keep and adjustable and firm fit with the elastic goring found along the sides. A small toe cap provides some protection against debris getting into the shoe, or from the occasional toe stubs. Rubber outsole is texture for proper traction, even on slippery surfaces.
Cost and Value
Similar to other brands and models on out top ten list, the Earth Origins Nellie is relatively budget friendly for a quality pair of comfortable sandals. Cushioned footbed and arch support help add structure and comfort to the sandal, while strappy leather interweaves to form stylish uppers. A great option for those who like a bit of a simpler design in their huarache style sandals, and some added footbed cushion.



Strappy Design
Thong Sandal
Price
Adjustable Fit
Traction
If you're in the market for a super budget-friendly option, the Volcom Kali is perfect for a quick look to suit your needs. Synthetic leather uppers help make it easy to care for, and thong style sandal with strappy upper coverage make it indicative of huarache styling. Adjustability can be found in the buckle strap closure to help keep it firmly in place, while support and traction help keep you walking in comfort.
Read more
Strappy Styling
Most of these sandals you encounter have some sort of strappy leather styling to it, and the Volcom Kali maintains that in the form of a slip on thong sandal. Five straps interweave the uppers with one in braided detail for some flair and texture. A buckle closure on one of these helps strap you down to the sandal for the best fit, and allows some adjustability should you prefer.
Comfort
The Volcom Kali also keeps comfort in their sandal with support, cushion, and traction. A rubber textured sole allows for grip on slippery surfaces and in the rain, while a supportive arch can be found within the footbed to give structure and padding. Spongey footsteps await you when wearing the Vocom Kali, and with options for basic black or brown, you can find one to pair with many kinds of outfits.
Cost and Value
One of the best bangs for your dollar, the Volcom Kali is extremely budget friendly. It's strappy faux leather thong style makes it comfortable and easy to wear, while braided embellishment adds a pop of texture. Great for those keeping tight tabs on their wallet, but still in search of a huarache sandal.
Criteria Used for Evaluation

Style
When we looked to create a list of the best huaraches, we felt it was important that each of the shoes we picked for the list met the following criteria in terms of their style:
Loyal - Are the shoes loyal to the original huarache designs, material, and manufacture? How closely do they resemble traditional Mexican patterns? Are they leather strapped and rubber-soled? Are they handmade?
Modern update - If they are not loyal to the original design, are they a modern update? For example, is the rubber hardened? Is the sole a better material than vulcanized rubber? Are the straps synthetic leather or other material? Has the pattern been updated while still resembling the original design?  Are they sewn rather than cemented?
Creative interpretation - Some of the shoes we chose are creative interpretations of the original, like the Nike Huarache, and the Keen H2 sandal varieties. They no longer look at all like the original but they retain some elements in a nod to the original craftsmen and their innovative shoe.
Shoes that went too far from the original or could not be said to be a creative interpretation of the original, were nixed as there were no elements which could rightfully be attributed to the building of the original shoe.

Materials
Setting aside the aesthetic design of the shoe for a moment, our next criteria deals with the quality of the material used. The original huaraches used leather soles and leather strapping that were later updated to vulcanized rubber soles and leather strapping, we'll start therefore with leather and rubber:
Leather - leather is a very strong and soft material that does not usually cause irritation to or biting of the skin. Cheaper, thinner leather straps can break and leather that is hardened too much can rub and irritate skin. Where a shoe has leather we looked to determine whether it would suffer these faults.
Rubber - rubber is a very durable material for soles and offers a great deal of traction and shock absorption. Where a shote had a rubber sole or a synthesized rubber sole, we looked to ensure it would provide familiar traction and whether it was sufficiently thick to be shock absorbing.
EVA or Memory foam - EVA makes for a very comfortable insole or midsole so when it's used in a relatively flat shoe like a huarache, we consider it a bonus. EVA will mold over time to your foot or can come molded to the natural lines of a foot, either way, you can expect comfort from EVA. Memory foam is also very cushioning and rare to find in most flats, so bonus points for this as well.
Plastics - Some of the shoes have plastic straps, which can dig in, rub, stick and generally irritate. We read a lot of reviews to be sure these would not be a problem for the shoes you choose.
When choosing a huarache, or any shoes, you should look for the very best quality materials that you can afford - for comfort and for durability. Remember that the longer you can use them, the more value you achieve for your hard-earned money.

Durability
Traditional huaraches are a hard-working, long-lasting shoe. There's no reason yours should not last as long as they can either.  The longer your shoe lasts, the more value you achieve for your money as well. A number of factors determine how long a huarache will last, including how you care for them, the material quality, and build quality of the shoe. Here are some tips on what to look for and how to care for your huaraches:
Good quality material - see our criteria above for material tips.
Good quality builds - look for shoes that are sewn together with solid stitching preferably as these shoes tend to last longer and can be repaired more easily. Many will be cemented (glued) together so look for faults in the cementing. Read reviews to help you determine where the shoes wear most frequently and whether or not the straps come apart. People are great about telling you when and where shoes they've purchased are faulty.
Forming leather straps - forming leather straps to your feet, like traditional huaraches, will help them fit better and last longer. Real leather straps can be formed by either wetting the shoe and then wearing them as they dry or massaging leather cream into the straps and then wearing them until they dry. These options work well for shoes that are slightly tight on your foot.
Weatherproofing - leathers, canvas and other natural materials can be treated for water and stain resistance to help them live longer. Ensure you use a product that is recommended for your shoe and your type of leather and repeat the coating as appropriate with wear.
Repair - if you've invested in a good pair and the straps have finally begun to give way after years of use, it may be worth repairing leather strapping that has worn through. Check with a cobbler in your local area to determine whether and how strapping can be replaced. Plastic straps normally cannot be replaced or repaired.
Avoid direct sunlight - your shoes can handle quite a bit of sun but leaving them exposed to UV radiation for long periods of time will dry out the leather straps too much, making them brittle and breakable. When you're not wearing them, be sure to store them away from direct sunlight.
Expert Interviews & Opinions
Most Important Criteria
(According to our experts opinion)
Experts Opinion
Editors Opinion
Users Opinion
By Default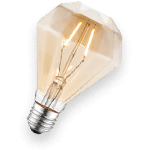 Leather Care
Most huaraches are made from leather materials, so they do need a little extra care than simply cleaning with soap and water.
Shoe protectant sprays help against water or liquid stains from setting into the leather, and if possible, leather conditioner can be applied every 3-6 months to help keep the leather supple and prevent cracking.
Huarache Style
These fun styled sandals are made for summer and heat! Pair them with your favorite shorts or skirts for a casual setting, or date night at the latest summer hot spot. Adding in boho inspired pieces to go with huaraches will give your ensemble a relaxed, but elegant flowy feel!
Frequently Asked Questions
q:
What does "huarache" mean?
a:
"Huarache" comes from the Purépecha language term kwarachi, which means "sandals." (Purépecha, also known as Tarascan, is a small language family spoken by a quarter million indigenous people in the Mexican state highlands of Michoacán.)
q:
How is "huarache" pronounced?
a:
The correct pronunciation of the word is "Wa-Ra-Jei." Not everybody is skilled in or familiar with the original South and Central American languages. So it's also pronounced "Ha-Ra-Chei," "Her-A-Gi," or a mixture of the two quoted phrases.
q:
How and where did huaraches start?
a:
Farmers and indigenous people wore this in the Pre-Columbian era of Mexico. Specifically the agricultural areas in Yucatan, Michoacan, Jalisco, and Guanajuato.
q:
Are they minimalist shoes or sandals?
a:
There is a certain type created by the Tarahumara Indian tribe in the Mexican Copper Canyons, where straps made by leather or some other material were used to tie to the ankles; as opposed to using leather uppers. However; not all huaraches are made for running.
q:
What's up with Nikes and their "huaraches?"
a:
It seems like the people over at Nike had done some research on the name. Their Air Huarache running shoes are "known for their stability, and shape with tread for strenuous terrain." Very much like the foot-hugging huaraches originally used in the outlying areas of Mexico.
q:
Are ones made from synthetic materials still huaraches?
a:
Being hand-made, using leather (strapped) uppers, and using rubber outsoles; that's the general rules behind what makes a pair authentic. However; the second general rule is to make sure that anything based on the original design is not poorly made.