Best Kids Sandals Reviewed & Rated
In a Hurry? Editors choice: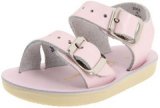 Test Winner: Salt Water Sea Wees

To judge which shoes made our list, the focus was made on whether it was comfortable if it would stay on while kids play if it had enough
padding to protect the bottom
of the feet and if they were easy to clean.
Kids are messy and rambunctious,
and a sandal needs to be able to keep up with the strain a
child puts on it
. If their shoe is always falling off, or uncomfortable, your child is not going to want to put them on. Save yourself a headache and stress, and take a look at our list below to find great kids sandals at an affordable price.
Standout Picks
Criteria Used for Evaluation
Fit
Children are constantly on the go. They see something that interests them, and they'll just take off full speed. As a parent, the last thing you want to worry about is your child's sandals causing them to get injured. Loose shoes or even shoes that are too tight can cause discomfort, blisters and sprained ankles. Being a parent can be hard and stressful when you have to constantly think about every small detail of your child's life and health, but that's why we're here to help provide you with knowledge and ease the pressure so you can feel confident that you've made the right decision.
Since children's feet are always growing, it's very important to find them sandals that provide a form fit that allows for comfort and security at the same time. Most commonly in any kids sandal, you'll find some form of securing straps, whether they're adjustable or made to stay in its place. The most resourceful and beneficial securing feature is the adjustable Velcro hook and loop closures. This is a fully functional strap that can be adjusted to the shape of your child's feet, even as their feet are constantly growing. The simple and secure system also allows your little one to gain a sense of confidence and independence by making the shoes easy for them to put on by themselves.
Finding a secure fit in your child's sandals also has to do with the shape of the shoes and the shape of their feet. The sandals you choose should match the shape of your child's feet so that the fit can be accurate and not too loose or too tight. Most kids sandals are going to be created with an average width, but if your child has wide or narrow feet, you'll want to find them shoes that are created to fit properly.
Along with the width of your child's feet, you'll want to keep an eye on the length as well. Children go through growth spurts quite often, and since the shape and size of their feet are always changing, you'll need to provide them with a consistent, supportive fit. Shoes that do not fit properly can disrupt the natural growth process and may cause concerns in the later future. As long as you're constantly checking your kid's sandals to make sure they fit securely and comfortably, there should never be any risk of growth concerns.
Finding a secure fitting sandal isn't too difficult these days with all the wide variety of styles and selections available. Just make sure that while you're finding really cute styles, you also need to make sure the shoe forms correctly around the foot. Always avoid loose areas in the sandal that causes the foot to move inside the shoe and can potentially create blisters. As long as the shoe fits supportively around the foot and is created with comfortable materials, your child's feet should always stay securely in their sandals.
Comfort
There are many important aspects to consider when choosing the best sandals for your child, but comfortable cushioning is one that works together with all other aspects to provide ultimate comfort and protection. Children's feet are always growing, so shoes that may fit perfectly today may not fit the same way in does in a few weeks and this can cause irritation or potential health concerns like blisters. Cushioning provided throughout the shoe can create a protective and plush feel that is truly needed for the child's comfort.
One feature we mentioned previously is the adjustable Velcro straps that can constantly be changed to form to the ever-changing shape of their foot. This strap, however, would be completely uncomfortable without padding underneath. It's comfortable cushioning like this that creates a barrier between the foot and any friction or harsh contact from the sandal. In this case, the cushioning lays gently on the foot so the strap itself doesn't lie on the skin and cause irritation.
Cushioning is also extremely important to have around the ankles because this is the area of the sandal that constantly rubs against the backs of the heel during movements. To protect your little one's heels, you'll want to avoid sandals with hard, flat materials in the backs of the shoe. Instead provide them with sandals that either has a rounded, curved fit, thick padding or cushioned straps.
Aside from the main contact points, having lightweight cushioning is a great feature to have in any kids sandal. Even in leather sandals, cushioning can be provided underneath the upper material or featured in the footbed of the shoe. Sandals that come equipped with cushioning in the footbeds are more likely to provide stability and eliminate the ability for the foot to slide around in the shoe. This is a perfect feature for giving your child's active feet the comfort they need to keep playing while being safe at the same time.
No one wants their kids to feel uncomfortable in the sandals they bought for them, so when searching through a large variety of sandal choices, narrow down on the key areas that need comfort and support. When you find a sandal that provides these features, you're giving your kids a guarantee for long-lasting, secure comfort and less chance of potential injuries.
Durability
We all know how rambunctious and messy kids can be at times, but that's just another reason why we admire their childlike simplicity and their ability to find entertainment in any situation. We all have to let children be themselves, but as parents, you also want to make sure that the sandals your child is wearing can withstand all of the rough use. Durable materials are just one way that the sandals can help protect your child's feet while also extending their overall lifespan.
All kids love the fun designs and patterns featured in today's sandals but its very common that these sandals are created with poor quality and irritating materials. Poorly made sandals can cause a variety of health concerns from hot spots, blisters, calluses and sweaty, odorous feet. They can also make a fun day at the park turn into tears and discomfort; nobody wants that! Instead of sacrificing your children's sense of shoe style, you just need to make sure that the sandals you choose are created with durable materials and quality construction. These aspects are truly important to keep your kids happy in their sandals but since being a parent doesn't leave much time for in-depth sandal research, we've made sure to only include quality created sandals in our best list and easily accessible information through this criteria section.
We understand, constantly buying new pairs of shoes for your child can be expensive over time, so it's important to purchase quality shoes that last a long time and help you get your money's worth. Giving your kids durable sandals will not only give the shoes the necessary value of your purchase, but they will also help protect your child's feet, toes and ankles, give them a sturdy support system and provide them with long-lasting comfort.
The best and most common materials you'll often see created in kids sandals are leather and synthetic materials. These materials are built to be strong, protective and long-lasting. While you'll see synthetic materials much more often, they are both a great choice for durable sandals. Synthetic materials, however, are much more resilient and can take a significant amount of more roughness and dirt. Certain types are also created to feature special qualities like being flexible, breathable, quick drying and even machine washable. It's important to consider the types of use your child is going to be getting out of the sandals so you can properly select materials and features to quit their needs.
Overall, it's important for children to be active and safe while doing so. Sandals created with durable materials will give kids a comfortable, happy feel while as parents, you can know that your shoe choice is not only protective and reliable, but it's also long-lasting and worth the hard earned money you spent on them.
Style
Children don't yet understand the concept of quality features and good value shoes; all they see is the attraction of the outside appearance. This is why as a parent, it's important for you to make sure the sandals they choose aren't going to be a style that is going to cause them pain or discomfort. While safety is important, the choices your child makes in footwear is also a beginning representation of their fashion sense, and it's necessary to let them begin making their own choices. It may seem difficult to find a happy balance, but as you can see from our best list, you'll find a wide variety of styles that can be enjoyed by boys and girls while also providing all the quality they need for a supportive sandal. To go more in depth, we're going to explain the relevance of each style and the quality features that correlate with them.
One of the first things you'll notice is that kids sandals are either open or close-toed. Open toed sandals allow for ultimate air circulation, the ability for their toes to move freely and is an easy transition from barefoot to beginning to wear shoes. Open toed sandals are better for warm weather near sand or water. Close-toed sandals are more commonly for the outdoors in grass, dirt, and rocky areas as they keep the toes more protected. For those who like to take an extra safety precaution for their children, close-toed shoes are also good for protecting their little toes from getting smashed by other objects.
Another extremely common design in kids sandals is the strappy look which creates an airy, lightweight style and also allows the ability for the sandals to be adjusted. If you want to create a long-lasting form fit in your child's sandals, this is a great style option. The design is highly versatile due to the easy to use closure system which allows kids to independently take their shoes on and off while adjusting to the ever-changing shape of their feet. The Velcro enclosures are durable and create a simple style that can be worn by both boys and girls.
With kids sandals, you'll also notice a large amount of cut out material provided throughout the entire designs. The perfectly shaped cutouts allow the sandal to form completely around the foot like a regular shoe but with the added amount of air flow and breathability with the extra benefit of less materials. Children's feet can be sweaty during this time period of growth in their lives so the more air circulation allowed in the sandals will create a more dry and cool feel during use, also great for maintaining their health.
Now that you can understand the benefits of the most common sandal designs, when your child finds a sandal they like, you can feel at ease knowing the fashionable appearance is also functional as well. Colors and patterns are just an added benefit for the enjoyment of your child. As long as the sandals provide a supportive structure and comfortable materials, your child can start to create their unique sense of style.
Traction
I think it's safe to say we've all seen kids slip and fall from running around too fast or playing too recklessly. While we all want kids to be themselves and have fun, no one wants to see their child cry from falling. Luckily though, a lot of this can be avoided with proper sandals that provide gripping outsoles or tight traction. There are sandals nowadays that are not only fashionable but functional as well for providing your children with the safety they need for their adventurous little feet.
From running to walking to jumping and climbing, kids are just curious beings that want to do it all! Versatility and lightweight materials are important aspects of functional outsole. While the sole of the sandal should be strong enough to support the child's feet, it should also be light enough to allow them to move with ease and comfort. The versatility of the outsole should also allow the child to move flexibility in a variety of activities.
When looking for any child's sandal, you'll want to look for rubber outsoles. Rubber is such a simple, durable and lightweight way to create grip underneath the shoes. Rubber makes a great sole for any type of surface from the inside to outside, concrete and tile. While sandals don't usually need a thick sole, even the smallest rubber sole can add grip and prevent your child from slipping in their sandals.
If your little one loves the outdoors and spending time in nature, you'll probably want to consider some form of traction along with their rubber soles. Children's feet don't take as much pressure as adult's feet because of their significant weight difference, so finding traction in your kid's sandals should be easy, as you only need a small amount of it. This traction can be anything from cutout patterns, raised material or slits or cuts in the bottom soles. No matter what type you choose, you're making the right decision in protecting your child's feet and safety.
Overall, if you purchase a sandal that comes with some form of grip or traction in the soles, you're giving your child and yourself an extra sense of protection and ease. The gripping soles will help prevent your child from slipping and still allow them to run around with all their energy while giving you a sense of relief knowing your children are safe from easily avoided injuries. You'll find a good variety of gripping outsoles from all our sandals in our best list, from indoor to outdoor use. If you consider the ultimate use your child will be getting out of the shoe, again, you will be setting your child and yourself up for success.
10 Best Kids Sandals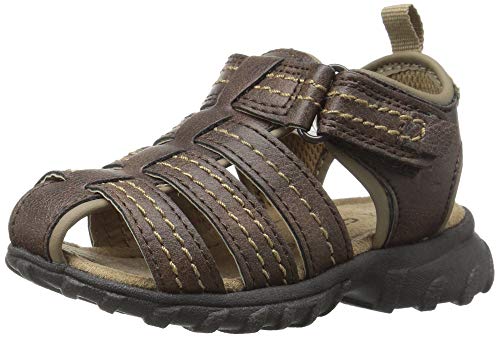 Carters is a headliner in children's clothing. With inexpensive prices and stylish options, many parents love to shop at Carters. So it's no wonder the Jupiter has made our list. With a synthetic sole made for durability and a hook and loop closure to make getting them on and off a breeze, they are a great option for your toddler.
These shoes are made with a pu Suede upper that is easy to clean and can be sprayed with a protective coat in order to enhance how long they last. The leather makes for a more sturdy and durable shoe, that will be able to keep up with your child's high activity level. The inside of the shoe has a synthetic sole to add to the durability, while the simple hook and loop closure gives you control over the tightness.
As a closed-toe sandal your child has the breathability benefits of a sandal with the protection of a shoe. We all know how clumsy kids can be so to keep their little toes protected is definitely a plus. The thick sole will also keep their feet safe from anything they might step on or walk through.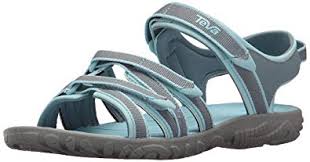 Teva has been around for just over 30 years, and their goal is to create sandals that are versatile, comfortable, and practical. These are three of the important qualities you want when it comes to your kid's sandals, so it should be no surprise that we have included them on our list. While Teva makes a wide variety of models, the Tirra is hands down our favorite for both kids and adults. Not only are the style choices great, but this shoe is very lightweight, and is great in or out of the water. With its easy velcro strap system, this sandal can be thrown on and enjoyed all summer long.
The Tirras are made from contoured EVA which is designed to be extremely comfortable and cushioning. Your child can run over the rocks in a playground, or play in the ocean, without feeling anything sharp or rough under their feet. The EVA outsole is enhanced for extra traction and has rubber pods built on to it so that your child will have more grip in slippery conditions.
With water-ready polyester webbing, you know that your child's shoes will stand up to whatever your child throws at it, whether it's dirt, sand, water, mud, whatever. The material dries quickly when your kid runs into the water so their feet aren't soaking wet the rest of the day. Plus, with an easy hook-and-loop closure you won't have to fight when you put their shoes on and off.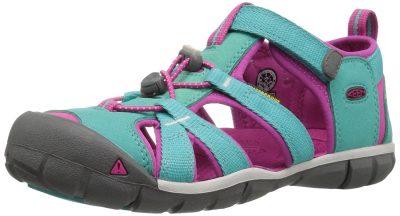 It's nearly impossible to have a list of shoes that doesn't include the KEEN brand featured somewhere near the top. As one of the most prolific makers of outdoor and activity based shoes, KEEN has dominated most lists with their high quality and extremely durable shoes. Just like their adult models, their kid's sandals have not wavered in standards or materials, and the Seacamp II CNX model is a testament to how good a kids sandal can be. Made for more rugged and hard going children, this sandal will keep up with your kid all summer long. As this is a hybrid sandal, it's perfect for going in the pool or to the waterpark, and the quick-drying nature allows for all day fun without soggy feet.
The cut and shape of this sandal is very low profile, which reduces how much it will rub or irritate your child's ankles and the back of their heels. No one likes to spend the summer with blisters on their feet, and this is a pair of shoes; this is one of the least likely to result in any type of blister or injury. Your child should find these shoes very flexible, and they will have full freedom of moment while still fully encased in a protective shoe.
KEEN uses their own secure lacing capture system, which is kind of similar to a bungee cord in style. Pulling on the cord will tighten the laces quickly and easily, and when you release the tension, the shoe simply slips on and off. This system is a massive time saver as there are no loops or zippers or buckles that you need to fiddle with. This system is so easy to use that even your child will be able to master it, allowing them to adjust their shoes to their personal preference of tightness.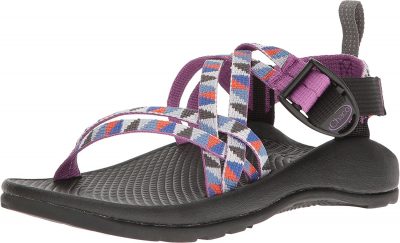 Chaco is a shoe company that you may or may not be familiar with, and they are certainly a bit more unknown than some of the other brands we have looked at so far. There was no way we couldn't have them on our list; however, as their sandals are amazing and unique. They don't offer a variety of models, but they do have a huge range of color options when it comes to their ZX1 Ecotread sandals. You and your child will love the unique look, as well as how comfortable, supportive, and secure these sandals feel. With a vegan-friendly build, these shoes will be a hit in any household, and their grippy tread mean these will be useful for any activity.
The reason these sandals stand out in appearance is thanks to their patented system which uses basket weave styled straps to secure the shoe to your child's foot. The polyester straps then are securely bucked together to give your kid a more secure and customized feeling fit. With this system, the sandal can fit properly on a variety of foot shapes, making these good for all children. Once on, your child will not have any accidental slip-offs, so there will be no tripping hazards or lost shoes after a fun day of playing.
Another patented feature from Chaco is the thick and plush Luvseat Platform that is featured on the bottom of the shoe. Your child will love the extra cushioning and padding that is provided, giving them the ability to walk comfortably and easily across rocks, dirt, and anything sharper and uncomfortable. This padded bottom supports every step and gives fantastic arch support and overall alignment to your child's foot.

5

. Timberland Adventure Seeker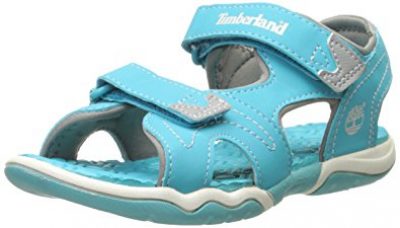 Unlike some of the brands on this list that you may not be as familiar with, Timberland is a household name that is recognized as being a major producer for high-quality boots and shoes. Their focus has always been on making durable and long lasting outdoor footwear that can stand up to a variety of conditions and terrains. Out of their large selection of kids sandals, the Adventure Seeker Two Strap is one of our must-have choices. With a simple hook and loop system, these go on easily and stay secured to your child's foot. This is a shoe that is convenient, comfortable, and great for all-day summer fun.
The footbed is the part of the shoe that your child's foot will be in contact with the most, so make sure that it is well made is vital. With these sandals from Timberland, the footbed had been thoroughly taken into consideration, and they have designed an EVA footbed that is thickly cushioned and comfortable. It also has been sanitized with an antimicrobial layer, which will help prevent any bacterial growth and keep your child's feet and shoes odor free.
The materials used to craft the upper portion of the shoe are extraordinarily lightweight, making this great for kids who can be fussy about wearing sandals in the first place. These are the kind of shoes you forget you even have on, and your child will be able to run and play without being weight down at all. The material is also very durable and water friendly so that they can be worn in and out of the water, and no damage should occur to the sandal itself.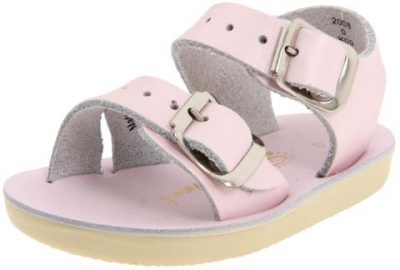 Ranking at the top of our list is the Sea Wees sandal from Salt Water. There is a good reason that Salt Water is our number one favorite kid's sandal brand, and the Sea Wee is one of their most popular models. Started 70 years ago, Salt Water has been making high quality, leather sandals that are both fashionable and extremely durable. These are the exact type of sandals a parent dreams of, as they will stay on your child's feet, are very comfortable, and can get both wet and dirty without damaging the shoe. No matter the occasion, there is sure to be a pair of Salt Water sandals that suit the event as well as your kid's personality.
Keeping shoes on a young child's feet is a near impossible task, but with the Sea Wees that will no longer be a problem. They are designed with two adjustable straps, giving you full control over the tightness and security of the shoe. Even the youngest of children won't be able to kick or pull these off, and that means you don't have to worry about losing a sandal while playing at the park. Older children can run and play, and these shoes will stay secure, so no tripping hazards during activity.
These shoes are crafted out of genuine leather, which gives them a huge advantage over the foam and other less durable shoes. The leather design is incredibly sturdy, keeping its shape regardless of how much your child wears them. The leather is also fully friendly, allowing your child to play at the park, the beach, the pool, and in puddles all without causing any damage. Sea Wees are very easy to clean and are machine washable, so just throw them in with the laundry and watch them come out looking like new again.

7

. Crocs Kids Crocband II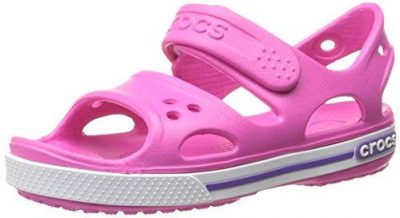 When making a list that involves sandals, or even comfortable shoes in general, it's impossible to leave the Crocs brand off. Crocs are known for being one of the most comfortable footwear companies, and when it comes to children's shoes, this is such an important factor. You want your child to enjoy their shoes and do not constantly take them off, so purchasing them a pair of crocs is one way you can guarantee your child will be happy and comfy. With so many varieties of crocs, it was hard to narrow down just one kid's sandal, but we settled on the Kids Crocband II, a fun and cute looking sandal that has ultimate comfort and security built in.
Crocs are widely known for being a slip-on style clog shoe, so what makes the Kids Crocband II's stand out is their hook and loop closure. Instead of having just a floppy, slip-on shoe, you can now adjust the strap to give a much tighter and secure fit. Children who run and play don't need to worry about their shoes flying off, as these will stay on all day long. The hook and loop strap is made from the same croslite material so it won't rub or irritate your kid's skin.
Another great feature of Crocs is that the toe box is incredibly roomy, offering up a sandal that is comfortable for any foot width. This can also be beneficial for parents who want a shoe that may last longer, as the roomy nature of the Croc allows for you to size up and have a shoe that your child will continue to grow in to. The extra space and freedom lead to a far more comfortable fit than more restrictive sandals, and the waterproof material means they can be worn nearly anywhere.

8

. Orgrimmar Solid Flower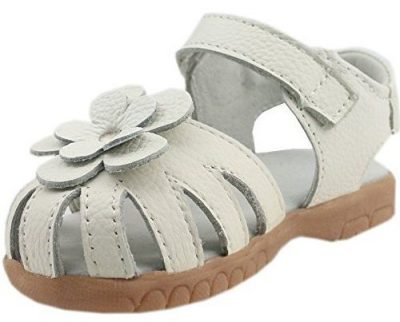 Orgimmar is a far lesser known company, and the majority of their shoes are generally only found online. Their designs are similar in a sense to other brands, but it's their inexpensive pricing that got them on our list. Their shoes are cute, and functional while remaining low priced and affordable. The shoe we picked to showcase is the Leather Solid Flower, which comes in four different color options. Crafted from a leather upper and rubber bottom, these are shoes your child can have fun in and then turn around and attend a birthday party. They are very versatile, and the embellished flower on the top makes for an eye-catching sandal.
Having little feet slip and slide inside their shoes is a problem; not only is it awkward but it can cause blisters and other issues. With a simple closed toe design, these shoes remain breathable while also reducing the movement of your child's foot while they are wearing them. There is also the added benefit of toe protection, so your little one won't accidentally stub a toe while running and playing. The strips between the leather allow for a constant flow of air, keeping feet cool and sweat free in the summer heat.
The high-quality rubber used to craft the soles of these shoes is a huge benefit for kids who love to run and play. Soles are one of the quickest things to wear away as they constantly are in contact with the pavement below. These soles are extremely durable while remaining flexible enough that your child's movement isn't restricted to any degree. Comfortable enough to run around in, these sandals are sure to be a favorite among parents and children.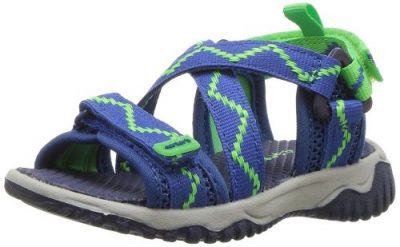 Carters is another wonderful brand that specializes in only baby-kids clothing and footwear. Since 1865, Carters has strived to create all their products with high quality, value and innovative designs which is the brand is so high in their reputation and has earned the trust of millions of parents. With Carter's large selection of kids shoes, it was truly hard to narrow down to choosing one style but we think the Splash is a perfect representation of Carter's quality and versatility. These sandals are designed with double layered straps and two Velcro hook and loop closures for a form fit and comfortable feel. The padded embroidered straps and mesh material combine to create a stylish and breathable fit that will keep your kids happy while moving around in their shoes. The secure, open fit and gripping outsoles are an added plus for protection and avoiding potential injuries.
These sandals feature fashionable layers of straps that help properly secure the shoe around the foot while providing a unique sense of style. Kids love the criss-cross design, bright color options, and simple designs but as a parent, you can know while these shoes are very trendy, they're also supportive and safe as well. The thick padded straps on the toe and back ankle combine with the velcro ankle straps for an adjustable fit that completely avoids irritation.
Not only do the form-fitting straps provide support, but the textured footbed and light-traction outsoles also provide a structure that helps keep kids feet at ease and comfortable during their movements. The synthetic footbed has small raised circles on the top to help grip the bottom of the foot to the shoe and help prevent slipping or loose shoes. This feature works the same way with their outsoles; more grip means less chance of your kids falling or getting injured.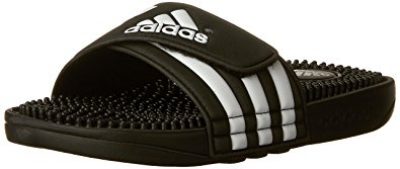 If we had to pick a sandal that was most iconic, the Adidas Adissage would easily be the first thing that comes to mind. This staple of a sandal has been around for ages, in toddler, kid, and adult sizes. Adidas is recognized worldwide as one of the leading manufacturers of sport and athletic related footwear and clothing. This renowned status makes it pretty obvious why they are on our list, and out of all of their kid's models, this sandal is basic and beloved. Perfect for around the house, at the beach or pool, or just for throwing on before running out the door; this is a sandal that is quick, simplified, and perfect for lazy summers.
What's more frustrating than trying to go out and run errands and instead you're stuck struggling to get your child's shoes on? Pretty much nothing. This is your most basic of slip-on sandals, and with nothing but a single strap across the upper part of the foot these are fast to put on and easy to kick off. While you won't have a secure fit with these as you would with other types of sandals, the single strap is adjustable to some degree. These aren't the sandals you want for intense activity, but for fast and simple on and off, this is a dream.
TPR is made up of a combination of rubber and PU materials. It's known for being extremely durable, while also remaining comfortable and cushioning. Adidas has taken this material and crafted a footbed that is made with massage nubs which will help relieve some of the pressure from your child's foot. Banish foot fatigue and random aches and pains with this footbed, and your child will enjoy the feeling of a light massage with every step.
Cheaper than a lot of the other sandals on our list, these are a very affordable option for the parent that just needs something quick and easy. You are going to be paying a bit more for the name brand of this shoes, but the durability and comfort provided are well worth the few extra dollars. This shoe is not going to be great for hiking, or rough activities, but as a casual summer slip on these is perfect.

Subscribe to our Newsletter