Best Running Shoes for Kids Reviewed & Rated
In a Hurry? Editors choice: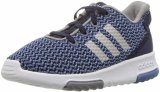 Test Winner: Adidas CF Racer

It's no question that, for children under 12, there is a limited range of quality running shoe options. Parents' best bet is to find a shoe that is of the highest quality without compromising the family budget; and is a pair that affords both comfort and stability. Unfortunately, low-budget retail stores may not offer the best quality shoe. These stores may seem more favorable wallet-wise, but the cheaper alternatives will not ensure the overall health of a child's feet. Read on to find out our top 10 running shoes for your child!
Standout Picks
Criteria Used for Evaluation
Fit
You would not just throw on any pair of shoes if you spent your days running around and playing, so neither should your children. Picking the right pair of running shoes for your kids is very important because of how much those shoes will go through. Your children's day consists of constantly being on their feet, whether they are at school, gym class, playing outside for recess, or out and about with their friends. You want their feet to be comfortable and supported all day, so the first thing you should think about is fit.
The way your kids running shoe fits is extremely important, they need to fit properly. There should be approximately a finger width between the longest toe and the front of the shoe. If you do not leave enough space their feet will feel squished and uncomfortable throughout the day, but too much space and there is a cause for injury. If your child's shoes have laces, ensure that they are properly tied up; even double knotted if need be, but not too tight.
The importance of wearing the proper socks with running shoes is huge. First and foremost they must stay up throughout the day, otherwise, blisters and irritation will occur. Ankle socks are great if you do not want your socks to show with perhaps shorts, or cropped pants but they must be high enough that the ankles are protected from the shoe, so no rubbing occurs. The thickness of the sock is up to you and your child and depends on things like how they will affect the fit of the shoe such as making them too tight.
It is recommended to look at more neutral shoes rather than ones with corrective support unless your child has a foot condition where they are in need of extra support. Wearing running shoes that are neutral allow for kids' feet to grow and develop however they naturally should, without something that could potentially change how their foot lays. If your child is in need of extra support like potential medical orthotics, ensure that the shoe's sockliner is removable and can properly accommodate it, without changing the fit of the shoe.
Not buying the proper fitting shoe can lead to many serious issues:
Blisters
Ankle injuries
Bunions
Pinched nerves
Ingrown nails
Your child should experience immediate comfort when putting on their new pair of best junior running shoes. Unlike other types of shoes, runners should have little to absolutely no break-in period and should feel comfortable and ready to run in straight out of the box. If your child is complaining of something not feeling right, or the shoe being too stiff, it is not the correct fit and should be exchanged for either a different size or a new shoe altogether. They will not feel better with time, and even if they were too, why be uncomfortable for any period of time if it's not necessary.
Durability
Running outdoors, indoors and anywhere they can, children have so much energy that they need to get out throughout the day and giving them the proper shoe to do that is essential. Really access how your child runs, where they are running and the number of other activities they will be doing while wearing their running shoes. There is a big difference between regular tennis shoes and sneakers and running shoes, and taking the time to ensure you are getting the right shoe to fit your child's needs is very important.
The first thing to decide on is what material you are looking for, and which one will hold up the best over time, considering how they will be worn. The most popular, durable yet breathable materials are leather, suede, and canvas and they all provide your child with something different.
Leather -  One of the most durable materials but does not allow for the most airflow
Canvas - Easy to clean, affordable and vegan
Suede - Not as durable as leather yet softer to the touch
Your child may like the sleek look of a leather upper, however, because of the way our feet move when we run, that part of the shoe tends to crease, especially with a material like leather. Whereas mesh is much more flexible and can easily bend with your feet without showing any signs of wear.
As the warmer, summer months approach it is especially important to buy shoes that wick away moisture because, in the long run, it will preserve the longevity of their shoes. The more feet tend to sweat in shoes, the more moisture that seeps into the insole, cause bacteria to grow and odor to increase. Avoid that at all costs necessary but buying the material that fits your kid's lifestyle.
If you find your children's shoes are always getting dirty and muddy, prevent that by spraying them with a protectant, this can in turn act as a barrier against water making them last even longer. If they are already dirty, materials like leather are convenient because you should be able to wipe away the dirt with a damp cloth, whereas canvas can be a little bit trickier at removing the stain rather than rubbing it around.
The option to machine wash the shoes is a big bonus and can make everyone's life a lot easier, as well as maintain the look of the shoes. Your child's running shoes will probably be going through a lot throughout the day, from potential scuffs to just the weight of your child stomping down on them, so take the time to go through a few pairs of shoes until you find the pair that can really hold up against your child's busy life.
Breathability
When you start your search for children's running shoes you may not realize how many important factors go into picking the perfect pair, from fit to support and everything in between, these will more than likely be your child's go-to shoes throughout the week and therefore should be the most comfortable. Breathability is key where comfort is concerned because it can mean the difference between hot sweaty and potentially smelly feet, and nicely dry and cool feet.
Kids are always on the go and have more energy than adults can dream of, so it is important to differentiate what it is we need in shoes, and what our children need. You do not want your child coming home after a busy day, and taking off their shoes only to find their feet stink. Taking the time to find the proper running shoe material for their needs will change that, and will make them feel confident and comfortable.
Finding breathable running shoes should be pretty easy because most brands realize the significance it has on children's feet, however less expensive brands may use cheaper materials resulting in a shoe that offers zero airflow and that is the last thing your child needs. So what materials are the most breathable?
Leather
Suede
Canvas
Materials that are synthetic (which is common) do not allow feet to properly breathe and can cause serious issues down the line, aside from just very smelly feet. When it comes to running shoes, your child is most likely running and sweating in them, so a pair that does not wick away moisture is a big no-no. Aside from not allowing air to flow, synthetic materials can also restrict the foot's movement and not allow them to splay out the way they naturally should.
Running shoes should almost always have a mesh upper as well, this will allow for air to flow throughout the shoe and keep your child's feet feeling nice and cool, especially during warmer months. Although there are leather uppers as well, these tend to be quite a bit stiffer, they will stretch after time if you're patient, but with children, whose feet are continuing to grow, you may not have the time to wait, so the mesh is the best option. Not only will mesh allow for breathability but it also is softer and will allow your kid's feet to easily move around.
Support
Kids running shoes should be comparable to adults in the sense that they offer the right amount of support and fit just right. This is the prime stage in their life where their feet are growing and developing so you want to make sure they are wearing the correct footwear that will ensure everything develops as it should. Sending your child off to school in slip-on shoes or rain boots is fine, but depending on what their day will be consisting of, a pair of shoes that are made to support your child's feet during physical activities are important to have on hand, to change into.
The amount of support and type of runner they need will vary throughout their childhood, depending on the activities they take part in. If they are for everyday running around, basic cushioning, shock absorbency and ankle support are fine, however, if they are getting involved in sports or track and field you need to look into more of a quality shoe. This shoe should really perform when it comes to shock absorption and good heel stability which will keep the ankle in place, and prevent injuries.
Proper cushioning goes hand in hand with support and is very important, so the midsole should be of good quality. A cupsole is common with kids shoes, but they are cheap and do not offer a comfortable platform for your feet to rest on, especially while you run. Foam midsoles will offer the most amount of comfort and will best help to absorb shock.
Although you may think the more supportive the shoe the better that is not always the case with children. When it comes to shopping for yourself, and other adults extreme support can be a must-have because of your age and the possible injuries you will be prone to. Children are still growing, and having running shoes that do not allow their feet to properly splay out can damage them long term.
Buying shoes for your children can be fun, there are so many brands creating different stylish and fun shoes every day, however when it comes to running shoes, try to not keep style at the forefront of your mind, and more important qualities there instead. The second you start browsing for shoes your child is going to be drawn to certain ones, based on color, design, and style and although running shoes can be both cute and supportive, that isn't always the case, and the priority should always be fit and support.
There should be a good amount of traction on the bottom of the shoe, such as flex grooves to ensure stability. If the soles of the shoe are slippery they are almost utterly useless to be worn as running shoes because your child will be slipping and falling all over the place. The amount of grip and traction will vary depending on the type of running shoe you buy; for instance trail shoes, but the smallest bit will make a large difference in how confident your child feels running around on different surfaces.
Shock Absorption
When shopping for running footwear, whether it's for yourself or your child, you need to consider the amount and type of cushioning that you will need. Everyday wear certainly won't require as much as professional training, but some protection from the force that's generated with every landing may still be a good option.
Most models on this list feature at least an adequate amount of shock absorption, always found in the midsole of the sneaker. Some models go with the traditional EVA foam system, while others introduce tech that's more advanced, lightweight and does a better job at protecting the joints and muscles from the force of impact. Any shoe that will be used to run in should meet the bare minimum of criteria, with at least a heel cushion. It can be gel, silicone, an air pouch or even a wave plate such as that found in Mizuno running shoes, but without this, footwear simply won't be suitable for athletic wear.
If your child has a training regime that includes pavement running or cross-training, you might want to go a step further and look for something that protects the forefoot as well. Not only will this lower the damage done to their bodies, but it will also give them a much-needed push forward with a better amount of energy return they'll surely appreciate.
One thing to consider, however, is that you should never go overboard with shock absorption and cushioning in children's footwear. Maximalist shoes will often do all the work in terms of accommodating landings, which may result in weak arches and ankles. Instead, choose an option that is both responsive and protective, while still allowing for the proper development of your child's podiatric health.
Top 10 Running Shoes for Kids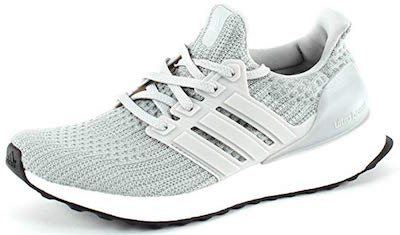 One of the best models ever made, the adidas Ultraboost is a winner shoe you'll want to check out. Not only does it feature some of the industry's best cushioning, it's also made with a flexible Stretchweb outsole that works both on road and light trail, meaning you'll be getting a versatile pair of high performance equipment that's not just functional, but looks amazing as well.
Made with tiny TPU pellets, the BOOST is a responsive and cushioning form of shock absorption that'll do amazing in terms of protecting the joints and muscles from hard landings. 20% more shock absorbing than the brand's previous models, the Ultraboost will also bounce back more efficiently, allowing for amazing energy return that allows for faster and longer runs, even in less than ideal conditions.
The adidas response to the trend of knit uppers in athletic footwear, Primeknit is a great material that offers just the right amount of stretch and flexibility for children's growing feet. The midfoot is supported with an external cage, while the heel clutching system offers some of the best lock in you can get in sneakers.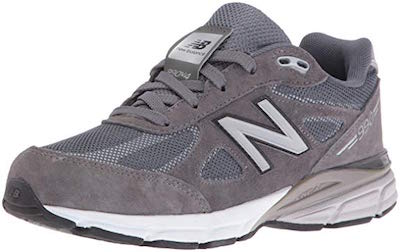 Another stability road runner for those who tend to overpronate, the New Balance 990v4 is a high-quality product that's made with some of the best materials you will find in footwear made for running. The premium pig suede upper with mesh overlays ensures a durable style that'll hold up to playground and park use, and will offer plenty of protection in the sole in terms of support and shock absorption. Not just functional, but stylish as well, this is definitely a pair of footwear you should consider when picking the best running shoes for boys.
With activity comes sweating, and with sweat, it's inevitable that odor-causing bacteria will appear. The mesh overlays on the 990v4 ensure a good amount of breathability, preventing your little one from having to suffer in wet socks. Furthermore, both the collar and the tongue are padded for additional comfort.
Using soft cushioning EVA foam for the midsole, the 990v4 offers support through the tougher polyurethane rim that's located on the inside of the shoe, preventing overpronation and helping achieve better alignment for the prevention of foot and joint problems that may appear later in life.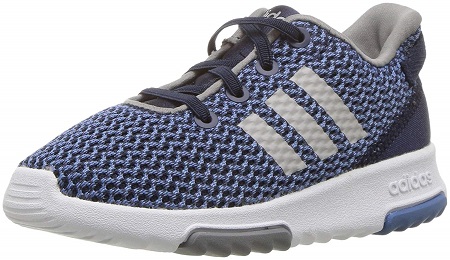 From humble beginnings in Germany to become a household name known around the world, you simply can't talk about athletic shoes without talking about Adidas. The CF Racer Adidas running shoes features support and lightweight construction at the forefront, with an injected rubber outsole and injected EVA midsole to provide both support and durability.
What do we mean when we talk about "injected EVA?" The midsole on any running shoe is going to be molded specifically for that model, but the mechanics in which they are made are different. Compression molding is similar to shaping Play-Doh, where a block of EVA foam is compressed down in a metal mold. Heat and pressure are then applied, allowing the foam to completely form to the mold. Injection molding is similar to pouring the batter into a waffle iron or cake pan, where the EVA foam is heated until it becomes a liquid, which is then injected into the mold. Injected EVA soles are made out of a solid piece of EVA foam, making them more uniform in design and ensuring that any wear and tear on the midsole is spread evenly, increasing long-term durability.
The upper features both ballistic nylon and mesh. Ballistic nylon was originally designed by DuPont for use in military jackets. The term "ballistic" refers to this original purpose as it was designed to protect the wearer from shrapnel and other fragmented debris. While military uniforms now use Kevlar for this purpose, ballistic nylon is still widely used in footwear for its strong durability. Mesh panels are also used in the CF Racer to promote breathability.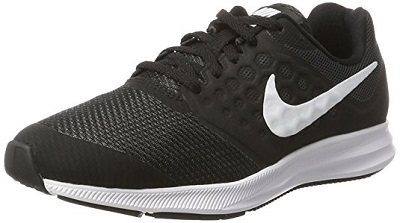 Named after the winged Greek goddess of victory, Nike has become an athletic and style icon around the world. The latest version of the Downshifter sneaker features elastic laces and a child-friendly hook and loop closure. The Phylon midsole is a signature Nike technology, which we'll talk about in more detail after the jump. The Downshifter 8 is also a lightweight and flexible shoe, sporting a mesh upper with synthetic overlays.
Nike shoes often feature a wide range of technologies that work to improve the shoe in various ways, and the Phylon midsole used in the Downshifter 8 is one such technology. The Phylon midsole is made of EVA foam pellets (EVA being the most common type of foam used in midsoles) that are heated, pressurized, and set in a mold. This allows the foam to be formed into a wide range of midsole types, and Phylon provides a more responsive type of support than typical compressed EVA foam.
While the act of tying one's shoes is simple on the surface, it involves a great deal of fine motor control that children are often still in the process of developing. Without this sort of motor control, children can easily become frustrated with traditional laces. This is why there is a wide range of closure types available for children's shoes. The Downshifter 8 uses a hook and loop closure that is Velcro-based to make it easier, as well as elastic lacing that provides a secure and customized fit.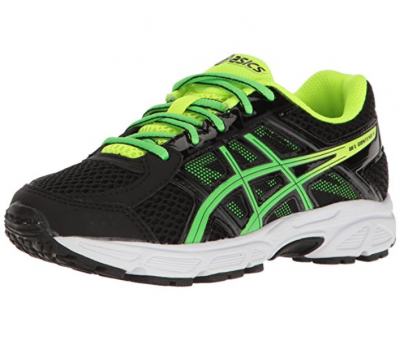 This shoe upholds the ASICS brand through the company's understanding of the needs of the just-starting-out runner. Children whose feet are still growing will experience well-designed arch support and extreme comfort wearing these shoes.
For the wearer who requires custom orthotics within their shoes, it's a comfort to know that the sockliner is completely removable. Even with an orthotic appliance in place, there is still enough wiggle-room within the toe box. With this much room in the shoe interior, this shoe works well with feet of varying widths.
As this shoe's name implies, there must be a GEL component somewhere in its makeup. It is in fact employed in the shoe's midsole, where the heel benefits from this silicone-based gel cushion for the purpose of creating even more shock absorption.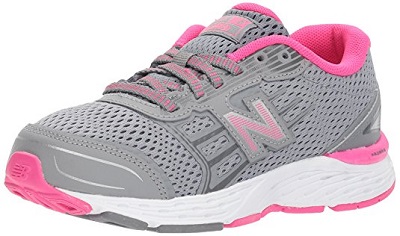 A traditional looking running shoe that has one goal and that is to help your child run as fast as they can. New Balance helps your child feel great all day with a well-cushioned midsole and Abzorb technology that helps them outrun anyone else.
The foam-based cushioning allows for tremendous shock absorption by dispersing the force throughout the shoe to avoid injury or impact on specific parts of your foot and lower body. It is an important feature that is put into almost all New Balance shoes and makes them especially great for distance running.
If there is one brand of shoes that always beats out the others when it comes to the proper health and protection of your feet it's New Balance. They mean business when it comes to quality and creating shoes that will stand the test of time when it comes to supporting and comfort. Although not always the most stylish on the market they continue to perform almost like no other.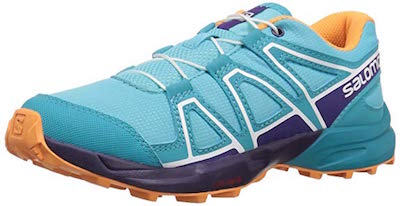 A trail runner for those who prefer something a bit more sturdy and versatile, the Speedcross J was made by Salomon, a brand which specializes in outdoor gear with high performance features. This particular model was made for all types of terrain, and is suitable for use in both dry and wet conditions (although, do note it's not waterproof). An EVA midsole takes care of cushioning, while grip is provided by a Contagrip outsole with deep lugs.
We all know children aren't exactly patient when it comes to getting dressed, so a pair of athletic footwear that's easy to slip on and off can be a lifesaver in situations where you need to get ready fast. The quick lace system found in the Speedcross J is effective in providing a secure fit but is a breeze to adjust, even by small hands.
Though the appearance of a running sneaker may not be your first concern, it's quite possible that your child will have something to say about how their new shoe looks. The Salomon Speedcross J comes in fun, colorful options that will catch anyone's attention, bringing a playful air to an otherwise professional piece of running equipment.

8

. Under Armor X Level Scramjet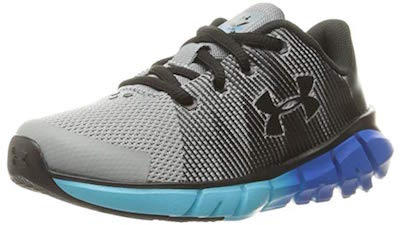 Made for serious speed and performance, the X Level Scramjet by Under Armour is one of the most comfortable pairs of sneakers you can get for your kid. Not only do they look and feel futuristic (which should satisfy the more picky dressers out there), it's also equipped with some of the best energy return and shock absorption you can get in a kids shoe. A soft 3D printed mesh upper ensures a good fit, while also providing plenty of airflow for a breathable feel.
Active kids who are always running around jumping, and getting into fun adventures are inevitably going to sweat during the day. Bacteria and fungi that naturally grow in moist environments are going to love this, which is why a good moisture wicking lining is crucial. The Scramjet has an inner treated with anti-odor technology, so you'll be happy to know you won't have to suffer stinky feet and shoes after a day of playing.
The shock absorbing system of this sneaker is made with a full length EVA foam midsole, with the addition of Charged Cushioning under the heel that'll absorb the shock generated on impact, and prevent any damage or fatigue traveling up the legs. Not only will this mean a healthier physique, but also longer playing and running sessions.

9

. Adidas Hyperfast 2.0 K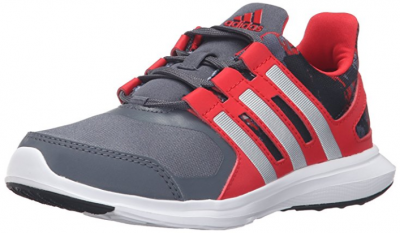 As the name implies, this shoe's lightweight design will encourage your budding runner to fly on the pavement. Adidas scores highly in the cushioning department with this shoe and continues to deliver support during a child's stride where it's needed most.
The shoe is made mostly of synthetic textiles for the purpose of remaining light, and its durable outsole can withstand any sport in which your child chooses to play. The brand carries out its commitment to quality in constructing this shoe to withstand any rigorous activity.
The midsoles cushioning prevents feet from tiring during activity through even load distribution and allows every step to feel easy and comfortable. Ankles are supported further by way of a padded tongue and collar, forming a relaxed, secure fit. While being slightly more in price than the average model, Adidas has always been known for its long-standing reputation for athletic footwear. When choosing appropriate quality footwear for your child's sport of choice, you need to look no further than the Hyperfast 2.0 Ks.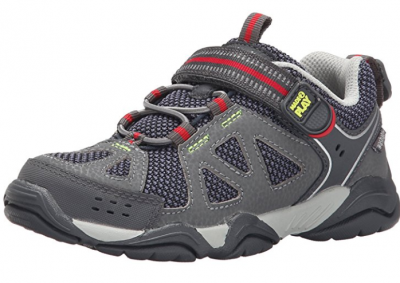 This shoe makes the list for the toddlers and preschool-aged children due to its durability and the ease with which parents can slip them onto little feet. Made with high-quality materials, these sneakers are perfect for those kids who like to spend all their time moving and playing, and need footwear that's going to allow it.
Stride-Rite caters to the parents who struggle with keeping tiny feet housed within a sturdy shoe and anticipates the time it takes to slip on shoes on an unwilling wearer. These shoes are designed with a velcro hook and loop closure that's easy enough for an independent toddler to operate themselves. Parents can be assured of their little one's comfort in these shoes, thanks to the memory foam insoles placed in the footbeds. Not to mention, these leather-mesh shoes are built tough for the rough-and-tumble sort of child who will literally put these pair through its paces.
Again, Stride-Rite anticipates another compulsion children will undoubtedly indulge: the need to jump through puddles and mud. Luckily, parents can rest easy in the knowledge that these shoes are 100% machine-washable. It also doesn't hurt that these shoes are also constructed with an anti-microbial lining to stave off odors. Parents will love that this shoe completely delivers on quality and value for the price! These shoes were designed with the active toddler/preschooler in mind, and yet, are able to satisfy the parents' need for comfortable quality shoes for their children.

Subscribe to our Newsletter