Best Shoes for Smelly Feet Reviewed & Rated
In a Hurry? Editors choice: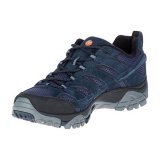 Test Winner: Merrell Moab 2 Vent

Smelly feet can be embarrassing. It works against our self-confidence every time we have to take off our shoes or
socks
. Take solace in the fact many people experience
foot odor
at one time or another.
Medical conditions
, age, and stress levels are just a few of the factors that can cause smelly feet. Even just working long hours in the same shoes can cause foot odor. We understand your pain. It is our hope that we can assist those suffering from this condition, and give you the information and options available that may help you
reduce any foot odor.
Standout Picks
Criteria Used for Evaluation
Materials
When you take into consideration that bad odors in footwear are mainly caused by bacteria that thrive in hot and moist environments, it becomes quite clear that the right type of materials are crucial in the prevention of smelly feet. Today's market may be saturated with synthetic sneakers and sandals that don't breathe and have the tendency to become overly hot, but there are actually a lot of options out there for proper air flow and moisture management.
Leather: The traditional choice when it comes to footwear, leather has been around for centuries, and with good reason. This natural material is easy to shape into designs that are comfortable, it is supple enough to be broken in with a few wears, it is durable, and, most importantly, it allows the foot to breathe. With the right insole, a pair of leather boots can actually be breathable enough to prevent moisture accumulation, thus helping eliminate moisture. It is, however, important to take good care of your leather goods, making sure they are properly dried between wears.
Canvas: Another traditional option, canvas is most often found in athletic and casual footwear that is meant for hot and dry weather use. It is soft and flexible, making it a comfortable choice, and it helps with air circulation, especially when the design allows for perforations. It is also relatively easy to maintain, and can usually be washed to get rid of bacteria.
Mesh: Probably the best choice for you if you have smelly feet. While a pair of mesh shoes may not work well for all occasions, this material can actually be used in all parts of your footwear. In running models, it will often make up the entire design, but it can be found in boots, hiking, and even formal footwear in the form of a moisture wicking, breathable lining.
Rubber: Not something we would recommend if you tend to have smelly feet, rubber gets a bad reputation due to the fact that it doesn't allow for moisture management. Nonetheless, if you find a pair that has plenty of perforations, you could go with this type of shoe. It is very easy to keep clean, and can be washed on a regular basis. Plus, some manufacturers, such as Crocs, treat their rubber products to be odor-repellent, which means that they won't get smelly with use.
Wool: Wool, especially Merino wool, is a great choice if you're after a breathable yet insulated pair of footwear. It has antibacterial properties and wicks moisture away from the feet, making it a great choice. Alternatively, you can also invest in a pair of wool hiking boots, or wool insoles, which could help minimize odors in your boots and sneakers.
Another thing to note before making purchase is that some manufacturers have come up with ways of treating regular materials so as to prevent bacteria and fungus from clinging to them. Merrell, Crocs, Clarks, and a number of athletic footwear companies have their own technology made to eliminate bad smells, so it is relatively easy to go with shoes that have been treated to be antibacterial, antimicrobial or odor-resistant.
Use
Not all footwear was created equal, and this goes for more than just the quality you get. You will find that the list above covers a wide variety of designs, all of which were made to serve different uses. Even though it may not seem like an important thing to consider, the purpose for which a pair of footwear was made can highly determine how it will perform for you.
So, for example, you wouldn't want to wear a pair of insulated boots to the beach. Not only would this make you uncomfortable, due to the heat retention, but it would also make it hard for you to walk on sand, and may cause problems during water contact. Similarly, sandals won't have a place in snowy conditions.
When shopping for footwear, you should consider the type of use you want to get out of it. If you want something you can run and work out in, go with more lightweight athletic models, ideally one with a knit or mesh upper that will allow for proper temperature control. For cold conditions, go with a boot with the right amount of insulation. In hot weather, try to wear sandals that are open and breathable, and dry quickly. If you work in an office and have to wear formal footwear, you can find models that are lined with mesh, that are made with quality leathers, or that have been treated with chemicals that repel odors.
It is also a good idea to have more than a single pair of footwear, as this can allow you to properly dry and air them out between uses. After each wear, it is advisable to put your shoes in a well ventilated place, away from direct sources of heat, removing the insoles to speed up the process. Not only will this allow you to enjoy fresh footwear with each wear, but it will also prevent odor-causing bacteria from making your favorite sneakers their breeding ground.
Fit
Though it doesn't have much to do with how your shoes smell, fit is a very important feature to keep in mind when shopping for footwear. Not only will it determine how good you feel wearing your new pair, it will also influence how often you actually put it on.
If you've managed to choose a model that features the right materials and technologies to stop odor, you can go ahead and start assessment for a proper fit. In addition to length, also consider the width that your foot will require. While most people get away with regular/medium width shoes, there are those who will need some extra space. This is particularly important for those who tend to sweat, as moisture and cramped space often lead to blisters, corns, and a variety of foot conditions that can make your life complicated.
Instead, try to look for shoes with sufficient toe space (allowing them to naturally splay), a supportive but comfortable upper, a secure heel cup that doesn't allow you to slide inside the shoe, and an efficient closure system that combines comfort with security.
Comfort
There are a lot of features that you can get in a pair of shoes that will make them more enjoyable to wear. In addition to the right type of lining (covered in the materials section), you should also look out for parts in the design of the shoe that can help it become the best choice for you.
A good piece of advice is to go with footwear that has perforations to increase breathability. The right combination of materials can really make a difference, but so can sections that are meant to increase airflow. Furthermore, try to invest in footwear that doesn't have too many layers, as these tend to cause heat accumulation and lead to sweating.
For the overall health of your feet, you should also try to invest in models that feature the right amount of shock absorption, that are supportive in the arch and heel area, and that provide the necessary padding on the top of the foot and around the ankle area. Furthermore, removable insoles are a great feature, not only because they can be easily washed, but also because they can be replaced every three to six months to help keep the optimal level of hygiene in your sneakers.
Effectiveness
Finding the best shoes for smelly feet is all about understanding the central underlying cause of smelly feet. Age, medical conditions, bacteria, wearing the wrong shoes for the job-at-hand, and shoes not designed to breathe are some of the more common reasons foot odor begins to result. Also, wearing footwear, which is not comfortable, leads to feet being stressed. After feet become stressed, they tend to sweat; another underlying cause of smelly feet. Finally, although self-diagnosis prevents medical bills, it is highly recommended to consult a doctor when foot odor persists. There could be other medical reasons causing the foot odor; whereas, the smelly feet are the byproduct of something else medically-related.
*Please understand this is solely for informational purposes only and is in no way an alternative to seeking out a health care professional in matters involving medical-related items. Always seek out a health care professional when medical-related issues arise.
Age
Age can be a contributor to smelly feet. Children, in particular, do not prioritize telling an adult about their damp feet. When they progress through the day playing, running, jumping, and enjoying life in general, damp feet becomes a distant element. In conclusion, out-of-sight-out-of-mind could be the motto which best describes the importance of damp feet with children. It is, therefore, up to the adult to guide a child to better health in foot care.
Recommendations for Children
After school/pre-school or after a hard day of play, take the shoes off of the child.
Check his/her socks for dampness.
Also, check inside of the pair of footwear.
Explain what it is you are doing and help him/her to get into the habit of doing this on a daily basis.
Wash feet regularly and allow the footwear time to air dry.
Finally, weekly washing of shoes and daily rotation with another pair is highly recommended; keeping the child's feet dry and clean as possible.
Teenagers face hormonal changes. As children enter adolescence, they begin producing a new chemical with increased sweating. As noted previously, the breakdown of sweat is the underlying cause of odor and not the sweat itself. As such, with teenagers there is a lot of sweat to break down; thus, the odor is stronger. In conclusion, teenagers need to pay specific attention to their hygiene.
Recommendations for Teenagers
Wash feet every day. Dry thoroughly between toes.
Secondly, rotate footwear every day.
Thirdly, always change socks and wear natural fibers (i.e. moisture-wicking socks made of cotton or another natural, breathable material).
Choose shoes that are natural fiber (i.e. canvas, cotton, hemp, leather, silk, and wool) and breathable; preferable with an upper mesh design.
Finally, teenagers need to choose shoes which are not too tight and are the correct shoes for the job-at-hand.
Bacteria (Bromodosis)
The smell associated with feet is caused by odor-causing bacteria. Bromodosis (smelly feet) is the result of bacteria breaking down sweat. As the sweat decomposes, 'cheese' is sometimes described as the smell, and the range of odor output can vary from mild to extreme. Also, there is a bacterium which lives between toes and feeds off of dead skin cells; the same bacterium (brevibacterium) used in the process of making cheeses over at Muenster, Entrammes, and Limburger. Ultimately, removing odor-causing bacteria is the key to the elimination of smelly feet.
Recommendations:
Firstly, removing old and dead skin cells may not be as easy as using a scrub brush. Check for hard dead-skin areas on the bottom of toes and feet, and use a file or pumice stone to remove any troublesome spots.
Secondly, always check the length of the toenails. Keep them well-trimmed and, also, clean from dirt and debris underneath the nails.
Finally, wash feet regularly and practice good hygiene. Simply allowing water to freefall over feet while in the shower is not good enough. Because of this, scrubbing feet with a soapy scrub brush in between toes and all over each foot is the way to go. Definitely, wash your feet at least once per day and never forget to dry them well when you are done; especially, between the toe areas.
Bacteria (Micrococcus Sedentarius)
Micrococcus Sedentarius afflicts nearly ten-to-fifteen percent of people. 'Rotten eggs' is sometimes described as the smell, and the odor output can be extreme. Micrococcus Sedentarius is a bacterium finding its home inside of shoes, due to the attractiveness of dead skin cells and a damp environment. Decisively, removing these bacteria from shoes is the goal here.
Recommendations:
Firstly, check the inside of shoes every day for dampness. Do not go to sleep with your shoes on and always give time for them to dry out.
Secondly, if at all possible, rotate your shoes every day.
Thirdly, wash your shoes at least once a week. Most non-leather types are machine washable, but always be sure to check the manufacturer's recommendations.
Finally, practice good feet hygiene. *Refer to section: Bacteria (Bromodosis).
Fungal growth is a major contributor of smelly feet. Athlete's foot (tinea pedis) is a fungus that causes rash and scale-like skin conditions. Symptoms can include dry, itchy, scaly, and irritated skin. This skin ailment is passed from person to person in damp areas like swimming pool decks, locker rooms, and showers. Luckily, however, it is completely treatable.
Facts to consider about tinea pedis – Although tinea pedis is easy to get rid of (in most cases), this affliction can be even easier to spread to other parts of your body; as well as, other people. Understanding how it behaves can best help you to treat it. Because we truly believe people matter, we have taken the liberty to help educate concerning tinea pedis.
Recommendations to prevent and get rid of tinea pedis:
First, wash feet regularly and dry thoroughly; especially, between toes
Secondly, do not walk barefoot in public areas that harbor dampness; such as, swimming pool decks/changing rooms, locker rooms, and/or showers.
Thirdly, do not wear shoes that are too tight and/or cannot breathe. Also, be sure to change socks.
Next, do not share shoes with those you might suspect has this fungus.
Additionally, do not share clothes, bed linens, exercise mats, or any place that can transfer this fungus.
Also, although OTC's (over the counter medicine) can sometimes treat tinea pedis, successfully, you should always consult a physician to make sure you are selecting the right treatment for the ailment. When using antifungal powder, follow the manufacturer's and/or your doctor's recommendations.
Tinea pedis is highly contagious. It can spread by scratching one area and using the same hand to scratch another part of the body. In fact, jock itch is caused by the same type of fungi as athlete's foot; and at the very least, it has the potential to spread to the hands, nails, and groin area. In addition, this troublesome fungus can even travel on a towel.
A resilient place from treatment will be under the toenails. Give extra attention to this area.
Finally, wear light and well-ventilated shoes.
Hyperhidrosis – Hyperhidrosis is a condition where the sweat glands release more sweat than usual. More sweat in the foot area means more of a chance for smelly feet and/or tinea pedis. Having this affliction can cause us to feel embarrassed and/or ashamed; thus, leading to more serious psychological disorders, such as social anxiety. We learn to live with hyperhidrosis, but sometimes we fail to realize there are treatments that can aid us in this life-long journey.
First, consult a physician. There are prescription strength antiperspirants which can help. There are other treatments and remedies available if a prescription strength antiperspirant does not work for you. Working closely with your doctor, however, can make finding the right treatment a more pleasant experience.
There are times when hyperhidrosis is the result of some other related condition. In cases such as these, hyperhidrosis may be completely treatable. At the end of the day, you will need a health care professional to help assist you.
Secondly, if there are headaches, chest pain, and/or nausea in conjunction with heavy sweating, you are advised to seek immediate health care attention.
Seek professional help if you experience heavy night sweats for no obvious reason, withdrawal from social situations, emotional distress, or if your sweating interrupts daily routines.
Next, air your feet regularly and ensure you are rotating your shoes every day.
Finally, choose breathable shoes with natural fibers (i.e. canvas, cotton, hemp, leather, silk, and wool).
Pregnancy and smelly feet, believe it or not, is a real occurrence and happens frequently; sometimes, as early as the first trimester. In addition to expected hormone changes, other factors can play a role in the cause of smelly feet in those who are pregnant. Some of these symptoms can include edema, hormonal changes, elevated body temperature, and/or heightened sense of smell.
Recommendations for Edema
Edema is the collection of excessive fluids in the body. In this case, fluid retention would be in the feet. Conclusively, treatments surrounding edema will vary; dependent on the severity of the condition. At the end of the day, pregnant women should always consult their doctor when changes in the body occur, and the suspect of edema is no different.
Mild edema in feet, usually, will vacate on its own; especially, when elevating the feet above the heart.
More severe edema can be treated with drugs designed to expel excess fluids in the form of urine, or diuretics. Always be sure to alert any doctor treating you that you are pregnant, as this may have a direct impact on what drugs and/or treatments are safe for both you and your unborn child.
Finally, be aware that certain medications can cause edema. You should always practice asking questions concerning medications prescribed to you, but even more so when you are pregnant. After all, there are two people that need protection now; both you and your baby.
Recommendations for Elevated Body Temperature
Pregnant women can experience higher than normal body temperatures than what they are used to. There are a few resourceful actions you can do to help fight off smelly feet caused by high body temperature.
First, make certain the shoes you are going to wear are both roomy and breathe well. Choose shoes made of leather, hemp, and/or canvas. Synthetics are fine, as long as they do not use plastic, faux leather, rubber, and/or vinyl.
Secondly, you can use antiperspirants or talcum powders on the bottom of your feet to help reduce moisture but always ask your doctor, beforehand. Aluminum Chloride Hexahydrate exists in some of these products and is part of the list in the FDA Category C (which states there may be a link of harm to unborn babies). As such, always consult your physician, first.
Thirdly, moisture-wicking socks are ideal to help reduce sweat induced by elevated body temperature.
Finally, wash your feet regularly. Use a scrub brush to clean between toes and dry thoroughly.
Recommendations for Hormonal Changes
Hormonal changes are a big factor in feet sweating that might not otherwise do so. Vitamin deficiency can add to this problem. In conclusion, the baby is hungry and your body must now adjust to this.
From the beginning, you should seek out a doctor, as soon as you become aware of your pregnancy. Under your physician's guidance, the right vitamin supplements can be prescribed. Eliminating vitamin deficiency can help alleviate some foot sweating aspects gained from hormonal imbalance. Zinc is something to consider in the battle against smelly feet, but as previously stated, however, consult your doctor, first.
Recommendations for Heightened Sense of Smell
Pregnant women gain stronger senses than they are, normally, accustomed to. Part of these is a heightened sense of smell. In cases such as this, the feet are not suddenly in stink-mode, but rather, the woman is now able to smell a pre-existing condition.
Taking to your doctor (about what you smell) will help you on the road to a better, more healthy life and pregnancy.
10 Best Shoes for Smelly Feet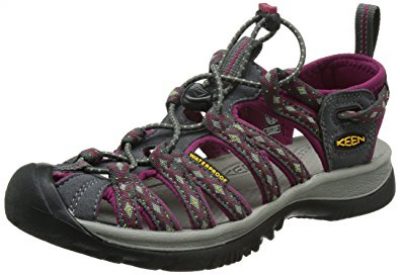 If you've ever owned a pair of hiking boots and note after time they do become a bit hard on the nose, consider the KEEN Whisper sandal as an alternative to boots for hiking. Open slots maximize ventilation, but with KEEN's superb rugged sole and toe cap protection, they are a solid option for hiking as well. Plus, you'll be able to wade in creeks or at the beach to help keep your feet cool without damaging the shoe.
KEEN is well known for their technical hiking boots, and their sandals embody the same solid technology in an airy format. Bungee elastic closure helps keep your foot firmly in place, and the webbing is a soft polyester blend. Closed toe cap gives added protection for hiking, but its sandal design makes sure air caresses your feet during wear to cool you.
The KEEN Whisper is also a washable shoe, should they start to pick up any unpleasant foot odor. Simply hand wash with a small amount of soap and water, or use the gentle cycle in the washing machine, then let them air dry. They also have a hydrophobic mesh lining to ward of moisture from clinging to the inside of the sandal. Compared to some on our list, it may seem slightly more expensive, but compared to other hiking sandals and boots, it's quite reasonably priced. For the more active individual who enjoys the great outdoors, it's a great consideration, and even for those looking to purchase an open sandal to wear around town.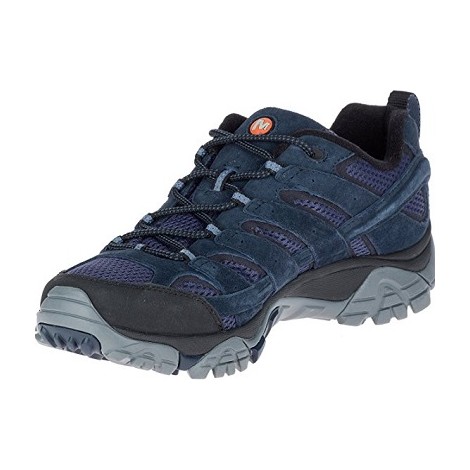 These shoes come equipped with mesh outer-upper and inner lining. Providing a breathable environment for your feet, these shoes are designed to help prevent sweat. The Bellows foam tongue is created to keep both moisture and debris out. In addition, the suede leather design provides nice visual aesthetics. Finally, the rubber content only involves a toecap to prevent scarring and tearing of the suede leather.
Another great shoe we have come to expect from Merrell, these pair of shoes are made of breathable mesh lining. The outer area of these shoes, also, is made of mesh; as well as, a beautifully crafted stitching in suede leather.
The Bellows tongue design is to help keep moisture out. Additionally, random debris is prevented from entering inside of these shoes, making them great for hiking and trail walking. Finally, the Bellows' tongue is kept securely in place with shoelaces. As with most shoes, the cost is directly associated with the size. With the arch support system, breathable lining, and shoelaces to help keep your feet secure, however, these shoes have the qualities desired to fight against smelly feet. As such, these shoes seem reasonably priced.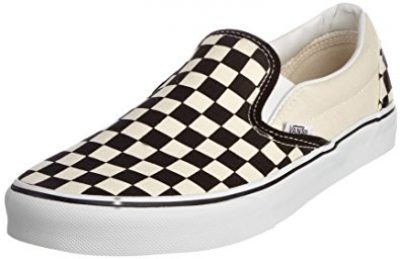 Next up is a classic canvas shoe, Vans Core Classic. Made popular in the late 70's, this easy-going slip-on was famous with BMX riders and skateboarders for its style, comfort, and sticky sole. Its comfortable elastic side design helps to keep you firmly planted in the shoe, but breathable canvas can help ward away odor build up. With canvas construction, these can easily be tossed into the washer in a pillow case, and run on gentle to remove any unpleasant odors.
The flexible design of this shoe is made for easy going strolls or a quick grind session at the local park. Canvas construction of the uppers allows for more breathability than a leather shoe would, and elastics help to keep it feel less restrictive than many lace-up shoes. With a variety of patterns and color options, you can select one suited to your personality as well!
Similar to some we've already mentioned on our top ten, having a shoe that's washable is a huge factor when purchasing shoes if you're concerned with foot odor. Vans Core Classic canvas can easily be cleaned in the gentle cycle of your washing machine, or with handwashing with soap and water. Don't toss them in the dryer, however, but instead, let the air to the work to keep the durability of the shoe's construction intact! Vans are reasonably priced. Easily maintained and washable, their canvas iconic style will suit street attire and when paired correctly, even some business casual events. Lightweight and comfortable, they're a great option to purchase.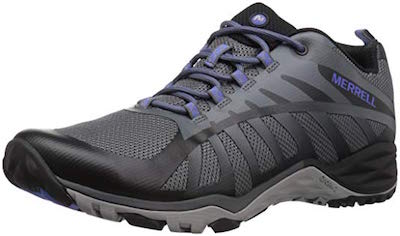 The Siren Edge Q2 is the newer version of the popular Merrell model developed for hiking in varied conditions. It's available both in a regular and a waterproof version (featuring the brand's M Select Dry technology), and is an excellent choice for anyone leading an active lifestyle, in need of a stellar pair of footwear that won't allow for odors to develop, even after strenuous physical activity.
The updated version of the Siren Edge uses a newly developed mesh and synthetic upper which is considerably more lightweight than its predecessor. Developed primarily for women, it is a pair of hikers that cushion and stabilize in a gender specific way, bringing together a plethora of features that make wearing this shoe a great experience.
Highly breathable, with a synthetic cage for support, and a heel centering design, this pair also includes a gender specific dual density foam midsole for shock absorption. An M Select Fresh treatment has been applied to the inside of the model to prevent odors, and a Merrell grip outsole ensures traction on challenging terrain. Overall, it's an affordable pair of footwear, and the best part about it is that it isn't limited to warm and dry weather use.

5

. Birkenstock Arizona Soft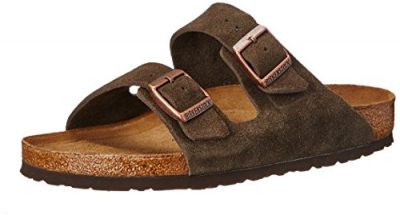 Birkenstock's claim to fame was their anatomically designed sandal with a footbed that supports and cradles the shape of the foot. But, did you know that suede sandals can actually ward off odor to an extent? The Arizona Soft is made from an untreated soft suede, with dual strap closures atop the foot, and a plush suede footbed to cushion your steps. Open air sandal design gives maximal ventilation when you need it most!
Birkenstocks Arizona Soft comes in a number of hues, each with unique suede leather accents unique to the cut of the leather. The heel cup of the footbed cradles your heel for proper stability and alignment, while arch support and cushioning are embedded in the insole construction. Toe pad grip encourages the foot's natural tendencies to grip surfaces, and all with a plush soft feel against your feet.
Sandals are the most beneficial for helping prevent odor with their open design, so your feet can breathe easy in these Birkenstocks as well. Light on your feet and less constrictive than lace-up sneakers or boots, you'll be able to pair these with several different types of attire in the summer months. Birkenstocks are a quality made brand, known for their laid back, cushiony feel and look, so they do come at a premium price. Eco-friendly in their makeup, soft suede and an open sandal will help keep your feet from excessively sweating, helping to keep odor down.

6

. Orthofeet Monterey Bay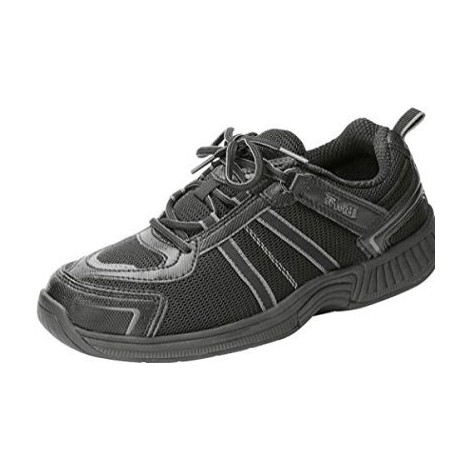 Comfort and a spring in your step are brought to your aching and tired feet with these orthotic sneakers from Orthofeet. Extra depth and a wide toe box design ensure the relief of pressure when feet are afflicted with bunions and hammertoes. This pair of shoes is excellent in the realm of comfort creation; an element in warding off smelly feet.
Orthotic insoles prepare your feet for a custom journey, as they contour to you personally. Next, the anatomical arch support system combines with a cushion heel pad to bring your feet one of the finest sneakers in pain relief.
These shoes are engineered to relieve pain associated with bunions and hammer toes. With extra room and a soft environment, this pair of sneakers is ideal for anyone suffering from these types of ailments. Less stress means there are fewer chances of your feet sweating. The cost associated with these wonderful comfort sneakers is low when considering the relief in pain you will gain. Pain causes stress, which in turn, can result in feet sweating. Alleviating pain is a great leap forward in the battle against smelly feet.

7

. Skechers Performance Go Walk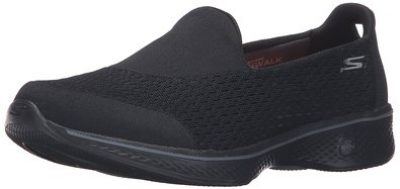 The Skechers Performance Go Walk line of footwear has become quite popular over the last few years, and with increased demand, the line has expanded into a number of styles and options, all with ventilation, cushioning, and lightweight material build. For those concerned about foot odor in their shoes, it's well worth considering checking out all the styles the Go Walk line has!
Each Performance Go Walk style from Skechers has ventilation in some form. The slip-on style featured here has perforations along the toe box, to keep air flowing into the shoe to moderate foot temperature, and prevent excessive sweating. Lightweight material design helps to minimize movement energy. This slip-on is designed from nylon, so it may be a bit warmer than many of the mesh style Go Walk options available. Mesh design maximizes airflow throughout the shoe, keeping you cool.
Another way Skechers keep you cool is by their non-restrictive construction. Made from flexible uppers with cushioned support in the sole and insoles, your feet will be less confined, again, helping to minimize stress, swelling, and sweating. You can also wash your Go Walks by placing them in a pillowcase or laundry bag before placing into the washing machine to help protect them, but also clean them if they do pick up any odor. One of the more budget-friendly options on our list, the Skechers Performance Go Walk shoes are well worth the consideration for active individuals concerned with foot odor. They maximize ventilation in their perforation or mesh construction, and help keep your feet stress free from confinement or minimal cushioning. With the number of styles available in the line, be sure to check out which suit your athletic needs for the perfect shoe!

8

. Sperry Billfish Ultralite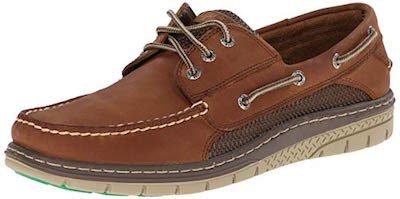 Summer footwear that is not just stylish and comfortable but also functional near water can be hard to find. The Sperry Billfish Ultralite builds on the brand's tradition, and updates a favorite model with materials that are effective in preventing the overgrowth of fungus and bacteria that lead to smelly feet.
The upper of the Billfish is made with genuine leather that is breathable and flexible, but even more importantly, highly durable. This model will last you years, with the right care, and the look and fit will only get better with time. A mesh section on both sides of the arch allow for fresh air to enter, preventing moisture build up and overheating.
Comfort features include a 360 degree lace design, a padded tongue, an EVA heel cup, as well as a shock absorbing midsole for all-day wear. The outsole uses non-marking rubber with Wave-Siping that is highly efficient on wet surfaces, so you won't have to worry about slipping, and the cost is around average, making this an overall excellent investment.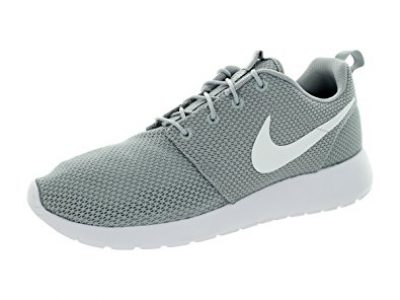 In search of a comfortable sneaker that can handle athletics and fitness? The Nike Roshe Run can help keep your feet dry and odor free. Its low-top design has a cushioned collar to prevent any irritation around the ankle from rubbing, and open mesh uppers allow for ventilation during sweaty high-intensity workouts. Combine all this with a lightweight sole and Solarsoft sockliner, and we have a winner for workouts!
The best sorts of sneakers you can consider when trying to minimize shoe odor are those made from lightweight breathable fabrics or mesh. Mesh won't help much in the rain, but for breathability and air circulation, they are by far the best! The entirety of NIKE Roshe Run's uppers are made with just that, so you can keep cool even under heated conditions and trying workouts.
A synthetic sole pads the bottom of this shoe, lightweight in its design to minimize energy expenditure. A patterned outsole gives additional traction on a variety of surface types, from the treadmill or pavement to courts and mats. Soft Solarsoft sockliner help keep your feet comfortable and add some additional moisture-wicking properties to keep your feet dry. For a moderate price similar to Skechers Go Walk, the Nike Roshe Run provides lace-up sneaker design with a full mesh upper to help minimize odor through ventilation. You can select from several color options, but note the price may vary slightly based on your choice. For an athletic sneaker, it's well worth the investment to cut down on unpleasant foot odors during and after your workouts!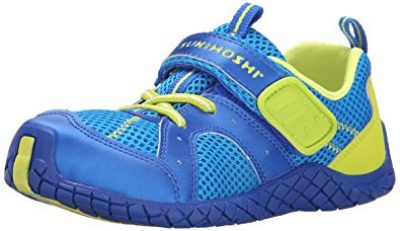 The Tsukihoshi brand shoe has become quite popular in options for children's footwear, ranging from cute saddle-style shoes to sneakers and sandals. The Marina is a sneaker style shoe with Velcro closure to help ease of getting on and off a child's foot. A sturdy sole wraps to the front of the foot for toe protection, and uppers are made of breathable mesh to help make this shoe breathable for little feet that may cause some unwanted scents after long periods of wear.
With any sneaker style of shoe, mesh is by far the most breathable material it can be constructed with to help keep airflow maximal. With activities where little ones are running, playing, and generating heat, the design is perfect to help keep their feet cooler. This helps eliminate damp sweaty feet and unpleasant sneaker odors from dominating you children's closet.
Most children's shoes come in an easy on, easy off kind of closure, whether it's a clog sandal or Velcro sneaker. The Marina has a Velcro closure and plush tongue to securely fasten the shoe, but not irritate soft skin. The sole is rubber and has protective toe caps for accidental trips, and a structured heel to stabilize new walkers. For a toddler shoe, this may seem slightly pricier than some other brands, but certainly not expensive when compared to those on our list. This upcoming brand is gaining popularity for its simplistic designs, colorful details, comfort, and breathable materials. And to help further with eliminating bacterial growth and odor arising from that, it has an antimicrobial lining. Well worth a try if you've not purchased them previously!

Subscribe to our Newsletter