Best Maternity Shoes Reviewed
In a Hurry? Editors choice:

Test Winner: Clarks Breeze Sea

Several issues can arise in a woman's feet, while pregnant, which is why maternity shoes are vital. One of the most important things a woman expecting a baby needs to be able to have at all times is the luxury of being comfortable. Women's feet can grow quite significantly during pregnancy because of the weight gain that occurs when carrying a child. The feet flatten and widen, making the arch less pronounced, thus lowering the natural shock absorption and flexibility of the foot.

Pregnancy shoes provide the necessary room for foot growth, ample support and cushioning and are easy to put on and off. The list below looks at the 10 best pregnancy shoes currently available for purchase.

Standout Picks
Criteria Used for Evaluation
Comfort
For maximum comfort look for a cushioned footbed, soft materials, arch support, and adjustable closures.
A pair of pregnancy shoes need to offer her as much comfort as possible, enabling an easy, pain-free pregnancy.
The first feature one should look for when purchasing a pair is a cushioned footbed. One of the best types of cushioning, that made out of foam, will provide a soft base that reduces the stress of walking and softens the blows on critical areas such as the heel and the forefoot. In addition, the foam will conform to the foot shape, giving an individual fit.
When making your choice of footwear, pay attention if there's an EVA midsole highlighted, which can absorb more shock, lowering the stress on the ankles, knees, hips, and back.
The upper can also be a source of softness, provided that it features soft materials such as suede, leather or canvas that stretch and mold to the feet.
A good lining is also of great value, and it is best to look for soft, natural materials such as leather or suede, while more advanced options include memory foam and breathable mesh.
Finding a pair of pregnancy shoes with good insoles is crucial for maximizing comfort. Look for shoes that are made with the anatomically correct support, including arch support to prevent the ligaments at the bottom of the foot from having to carry too much weight. A deep heel cup can help stabilize and align your body in the correct way.
Adjustable straps may also prove to be a crucial cog in finding the most comfortable pair of shoes. The fact that your feet will be growing and changing along with the baby makes it necessary that your footwear is able to adjust to these ever-shifting needs.
In addition to growing, you may find that your feet will swell during the day, requiring a larger pair of shoes, or something with a bit more elasticity and adjustability. With an adjustable strap, you can tighten and loosen the fit of your shoes however you like.
The type of strap your footwear has is just as important as whether it's adjustable, seeing that you do not want something hard and rigid cutting into the tops of your sensitive feet. A strap with a soft foam lined fabric could be a great choice, and you will find that a lot of the options on this list feature such straps.
Support
Arch support is essential in reducing pain and fatigue in your feet at the end of the day.
Arch support is just as important in a pair of pregnancy shoes as comfort. Look for footwear that cradles your feet and doesn't leave you with any pain after a long day.
A deep heel cup can greatly contribute to this type of support, as it helps realign the feet into the natural position. This means that the best footwear will stop you from over or under pronating, will align your ankles, knees, and hips, and take the stress off your forefoot area. Thus, your feet will be less likely to swell and ache.
A number of models featured on this list feature ample support, but if you're looking for something different, you shouldn't have too much trouble finding a suitable pair. If you can't find the support that works best for you, just go with a removable insole and replace it with a custom one. This way, you'll be able to enjoy a stylish model, but will also have happy and healthy feet throughout the day.
Furthermore, you want your pregnancy shoes to be stable, and to enable you to take as many steps as possible without the risk of misplaced footing or a sprained ankle.
The wider the toe area in a pair of shoes, the more grip you will have on the surface underfoot, allowing you to walk with ease and confidence. You also might want to look into footwear that provides a secure fit in order to avoid them slipping off, which could lead to unwanted injuries.
Outsole
A good outsole is a stable outsole, and a stable outsole is one made from rubber.
A change in posture in pregnancy can result in a worsened sense of stability, which is a direct consequence of a changed center of gravity. A good pair of pregnancy shoes will provide you with a secure grip of the surface underfoot, no matter what it is. This is especially important for those whose daily tasks include a lot of walking, particularly on highly polished or wet surfaces.
When shopping, you should look at the material from which the outsole is made.
Rubber is best, as it is both cushioned and grippy, and can usually be found in non-marking versions. The higher the level of natural rubber, the better grip you will have on the floor. Athletic, as well as walking styles, will usually include this type of outsole; if stability is imperative, you should go with a pair of athletic sneakers or a hiking sandal that'll work well both indoors and outdoors.
Something to stay away from is hard plastic and leather outsoles as these won't give you the necessary stability you need. They are most often found on formal pairs of shoes, so if you need a more presentable pair to wear to work or to a special occasion, make sure that it has a suitable outsole that won't put you in harm's way.
Breathability
To make sure your feet don't sweat, go for perforated designs and thin, lightweight materials.
More weight can often mean more heat, and you will find that as your pregnancy progresses, the hotter your feet will get in regular footwear. That's why it's important to look for a pair that will breathe and allow for good airflow and moisture management.
Pregnancy shoes that have perforations are an excellent choice, as are those with a more open design.
If possible, look for footwear made out of natural, breathable materials such as textile, leather, and suede, as these will do better at allowing hot air to escape. You might also want to look into footwear that has good moisture-wicking properties in order to prevent the buildup of sweat. Some items on our top 10 list have been specially treated with antimicrobial processes that prevent such things, while others have a replaceable or washable footbed so that you can keep them clean and fresh.
The material used for the lining of your selected footwear will be a good indicator of how said pair will work in terms of airflow and moisture management. Mesh is always an excellent material, but it won't be found in styles such as flats and boots. If you're after something other than sneakers or sandals, then make sure your shoes have a leather lining.
Another thing to consider in terms of breathability is the time of year your shoes were made for. Sure, you can go with sandals and textile in summer, but if you happen to be after a pair of winter boots that'll allow your changing feet to feel comfortable, try to invest in a pair with natural insulation, such as wool. This is a material that'll keep you toasty warm even in extreme cold, but won't trap moisture, allowing your feet to breathe and remain at a comfortable temperature throughout the day.
Upper
The uppers of your pregnancy shoes should be made of comfortable, flexible materials and outfitted with elastic elements.
The upper is important in the realm of material makeup. Although you might not find much of an upper in a pair of thong sandals, slip-on footwear may very well have a lot of surface area in the upper. This means the material make-up will make or break your feet, so to speak; especially when considering possible swelling factors.
Leather can be durable and long-lasting. Soft, suede leather is both flexible and comfortable. Leather has the great ability to conform to the shape of your feet, providing you with a personalized type of comfort.
Rope sandals can be quite comfortable. They are, more than likely, handmade and can help you look and feel better during your pregnancy. They can be matched to nearly anything in your wardrobe and are utterly cute. Just be mindful, with swelling feet, they may cause rubbing and irritation across the instep.
Canvas uppers are wonderful at providing flexibility while retaining shape. They are feel-good, casual footwear and go with almost anything in terms of wardrobe choices. Many slip-on shoes will have a canvas upper as a choice. They may not, however, be great at warding away stains.
Elastic goring is another important aspect of uppers. The elastic goring helps to provide a snug fit but will, also, allow the room needed for swelling. The elastic will stretch as your feet increase in size and will return back to normal when the swelling goes down. In other words, this is a perfect setup for pregnancy-related foot and ankle swells.
Ankle room is paramount in providing you with the comfort you will need during pregnancy. If you're choosing boots, you will want a pair that is not restrictive in the ankle area, which allows for swelling, is flexible and lightweight. Fur boots are great in this area, albeit they may not be waterproof.

As for summer gear, a low-profile slip-on is perfect. It has ankle clearance and will not impede swelling which can, in turn, cause unwanted discomfort and pain.
Straps should be evaluated when considering sandals. They need to have an ease-of-use quality about them. If you opt for a hook-and-loop closure, make certain the horizontal edge line of the strap is not too stiff. If it is, you will find yourself constantly readjusting the strap to handle your swelling feet in order to reduce pain and discomfort.
10 Best Maternity Shoes





Any pregnant woman looking for simplicity should consider the Clarks Breeze Sea. This is a design that will take mere seconds to put on with its simple slip in flip-flop style. The lightness and openness of this sandal make it one of the easiest shoes to move around in without having to worry about developing any discomfort as your feet start to swell during the day.
These flip-flops have an adjustable strap that allows for loosening or tightening to each person's needs, which comes in especially handy when you are going through changes that occur even on a daily level. This means that the Clarks Breeze Sea is the perfect choice for when the feet continue to grow larger or for immediate comfort for when the feet start to swell. The fact that they are adjusted with a hook and loop closure is just an added bonus which makes them so much easier to use.
What makes these so comfortable is the EVA midsole and footbed. This foam material is one of the top choices for athletic shoes, seeing that it provides excellent shock absorption, as well as a soft cushioning effect that doesn't flatten or wear out too easily. These flip-flops are designed to give you a lightweight, easy to use a pair of shoes at an affordable price.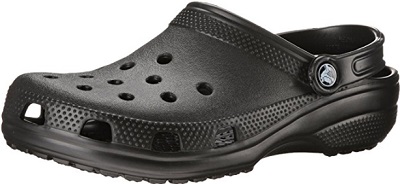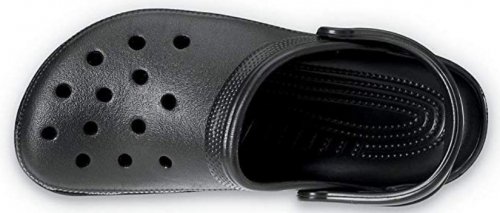 A cushioned, lightweight, breathable, and no fuss style will give you everything you need, especially for casual wear when comfort should be a priority. The Crocs Classic clog is an excellent choice as it provides you both with the necessary comfort, but also with a stable, slip-resistant fit that will work well even on wet and oily surfaces. It also provides plenty of ventilation thanks to the holes in the forefoot of the shoe.
One of the great things about the Crocs Classic is the heel strap you can wear either over the top of the shoe or that you can use as an additional strap that will provide you with a more secure fit, ensuring these don't slide off your feet.
What makes Crocs a great shoe, especially if you find that your feet have a tendency to swell throughout the day is the space it offers. The roomy fit is made so as to give you an upper that is not supposed to touch your foot, meaning that you will remain comfortable even after a considerable amount of swelling. Additionally, the fully molded Crocs Croslite material offers a perfect combination of support and cushioning, and is even odor resistant.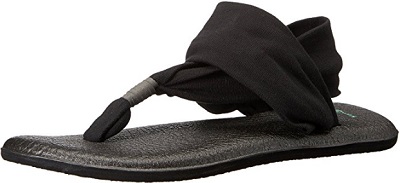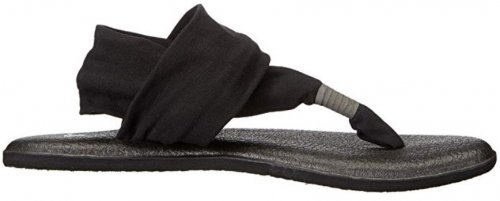 This uniquely designed option provides extra comfort to the feet and a cool fashionable style that will get attention from all of your friends and family. The feet can slip into the Yoga Sling 2 from Sanuk easily without the difficulty of having to bend over. It also features a stretch thong fabric as opposed to a regular thong style which comes in particularly handy to prevent rubbing and developing painful spots. The rubber sponge outsole is an excellent feature, seeing that it will keep you protected, as well as comfortable and sure-footed.
What makes the Yoga Sling 2 really unique is the fabric thong strap which stretches in two ways in order to cradle your feet. This means that you get a customized fit that can change throughout the day, while you aren't required to do anything; no need to adjust straps, tie laces or buckle any buckles, these sandals will do all the work.
In fitting with its name, the Yoga Sling 2 features a yoga mat footbed which gives the comfort of walking on a regular yoga mat. It will give a soothing feeling to any woman's feet as she walks throughout the day. Furthermore, you will be happy to hear that these are vegan and vegetarian-friendly, meaning that no leather or animal products were used in their making.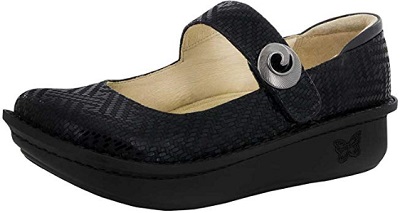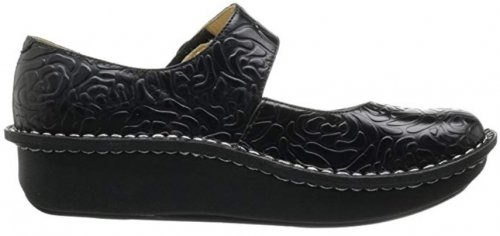 These Mary Janes by Alegria are an excellent choice not only if you are expecting, but even if you just appreciate footwear that is made to offer the best possible comfort level. All Alegria shoes are built on a mild rocker sole which has the function of easing your steps and giving you plenty of energy return so that you aren't left feeling fatigued. In addition, Alegria soles promote correct posture, aligning your ankles, knees, and hips, thus preventing back pain, as well as the development of bunions and other foot problems.
Alegria footwear is famous for its removable and replaceable footbeds constructed of a combination of cork, memory foam, and latex, which are built to completely follow the contours of your foot, providing you with the perfect combination of cushioning and support. This will prevent arch pain, but if you require specially made orthotics, you can even substitute the original footbed with your own.
The Paloma is made using the highest quality materials, which includes the upper. With leather covering your foot, you will reap the benefits of its protective properties, while not having to sacrifice breathability and comfort. In addition, these are made with an Extra Depth fit, which allows for more space in the toe area, preventing any pinching or irritation.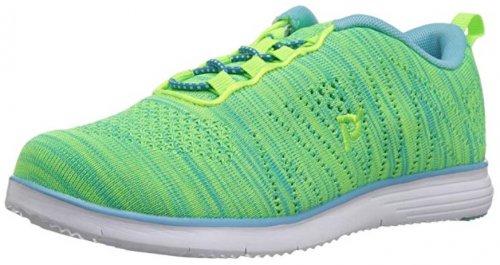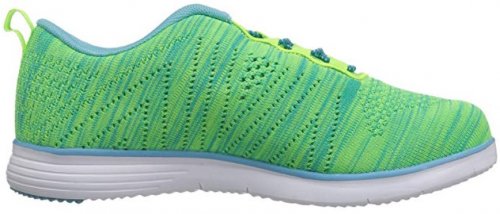 A design that is easy to use and even easier to fall in love with - the Travelfit is here to make your life simpler. It comes with a minimalistic, mesh upper that has all the hallmarks of a great walking shoe - an uncomplicated way in and out, unparalleled comfort, and being incredibly low-maintenance.
Another champion in the category of walking footwear, the Travelfit effectively combines the casual, sporty style of an everyday sneaker with all the performance of a good walking companion. Now you don't have to compromise between being fashionable and comfortable as you embark on your long walks in the concrete jungle. The Travelfit has a stretchy neoprene collar and a pull tab in the back which allows you to slip into the design without any problems. Due to the resilience of neoprene, this collar won't stretch out or lose shape no matter how long you wear the sneaker.
The Travelfit is exceptionally breathable with its mesh upper, and yet it is also protective, with a rubber toe cap at the front. We honestly can't think of a design which will make your life more easier. This Travelfit is amazing in all aspects, from comfort to traction, to how quick and effortless it is to take care of. If you're looking for that perfect everyday shoe, you found it!

6

. Cole Haan Zerogrand Wingtip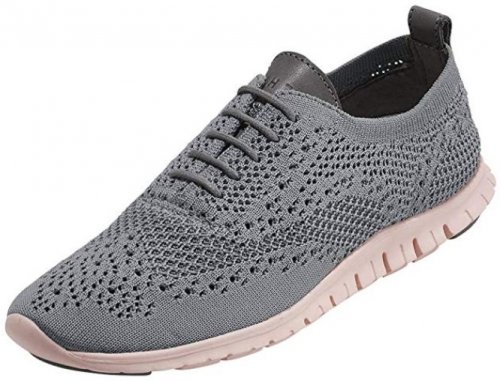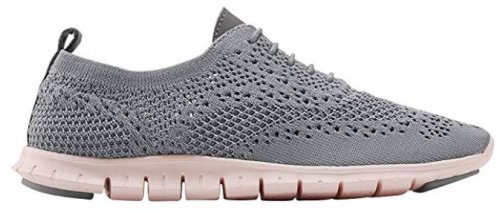 If you're tired of the matronly, clunky designs that have undoubtedly found their way to our list because of their high comfort, prepare to be amazed - the Zerogrand Wingtip from Cole Haan has it all; the style, the casual yet elegant flair, and a comfort level that you wouldn't believe. It comes with the brand's signature Grand.OS comfort technology, and a knit upper which accommodates feet of all shapes.
The stretch knit of the Zerogrand Wingtip is what we love the most about it. It fits like a sock, is lightweight and amazingly breathable. If your feet start to swell, this oxford will have no problem accommodating them. The Grand.OS comfort system consists of a flexible outsole that moves along with your foot, a responsive type of cushioning and a stunningly lightweight experience. The tight forefoot knit also ensures lateral stability.
The beauty of the Cole Haan Zerogrand Wingtip is that it can go with everything, style-wise - a more business casual get-up for work, or an easy, laid-back weekend outfit. It is comfortable and supportive, and it will make you feel light on your feet as you take on the challenges of your day.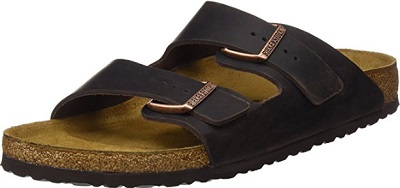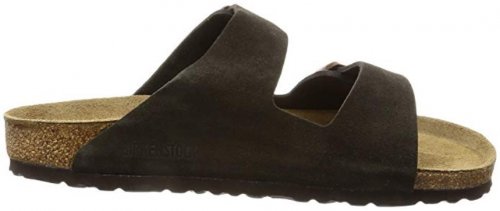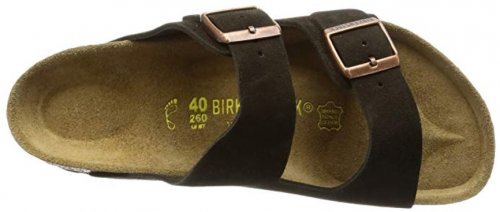 If you are in the market for a pair of shoes that are not just comfy but also secure, durable and anatomically supportive, then any pair of sandals by Birkenstock will prove to be a good choice. Simple to use and quality-oriented, these sandals feature two leather straps that you can adjust to fit your foot shape, and you'll have an easy time putting them on as all you need to do is slide your foot in. Arizona also features a cushioned footbed as well as a textured outsole that will give you an excellent grip on all surfaces.
The footbed of the Birkenstock Arizona is anatomically correct and is made out of cork - an excellent material when it comes to shock absorption. Lined with soft suede, this ensures you get a cushioned and breathable surface touching your feet. The more you wear a pair of Birkenstock sandals, the more customized the fit will get, seeing that they will, over time, take the shape of your feet.
This sandal features two straps that are made out of natural leather, making them soft and flexible enough so as to mold to your feet perfectly. In addition, the straps are lined with a layer of suede to keep them from irritating your feet, while the two adjustable buckles allow for adjustment so you can have the perfect fit, without having to worry about your feet slipping out.

8

. Vionic Tide II Toe Post





The Vionic Tide II is made for anyone with foot problems, especially those who need good arch support and a cushioned feel. These flip-flops provide the wearer with a soothing and healing experience, perfect if you need some help coping with the increased weight and swelling. This sandal features a podiatrist-designed deep heel cup footbed for better stabilization, as well as a rubber outsole which makes it slip-resistant.
The footbed of these slippers is made with a deep heel cup, a feature designed for maximum support. It will cradle your heel, preventing it from rolling outwards or inwards, thus realigning your body in a correct way, taking the stress off your joints and back. Furthermore, a correct foot position will prevent too much stress being put on certain areas of the foot, including the metatarsal area in the front.
The Vionic Tide II is made with an EVA foam midsole, there for cushioning and support, and a TPR outsole which is hard wearing and durable, ensuring that you have a secure footing. An added bonus is the fact that these will even work well with water, should you want to take them to the beach, or wash them off with a hose (note that they will need to dry overnight).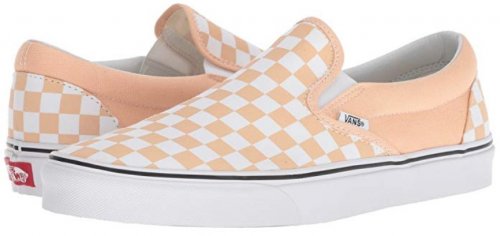 These Vans Classics are great for usability, as the slip-on feature with elastic side goring makes them suitable for those days in which your feet may be swelling. Furthermore, these will look good heading to the store or even to a doctor's visit for a checkup. They are comfortable and can help reduce the fatigue associated with tiring and aching feet. The canvas upper is flexible and will not restrain your feet with too much pressure.
The low-profile design of the Classic Slip-On is great for swelling ankles and feet, as you will have the room you need to move around freely. Additionally, the design is sleek enough to go with many wardrobe choices. Pair these up with some comfortable jeans or a loose sundress and you'll instantly be chic!
The Vans outsole has the ideal traction for shopping at the mall or walking down the sidewalk for some low-level exercise. It is originally designed for skateboarders, to provide them with enough grip on the board, but that only means this traction will work perfectly for you, too. They make a wonderful pair for daily, casual excursions.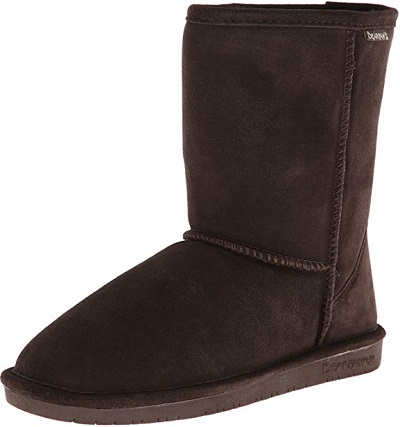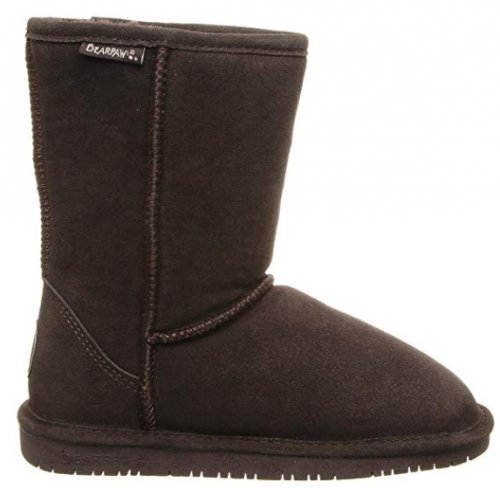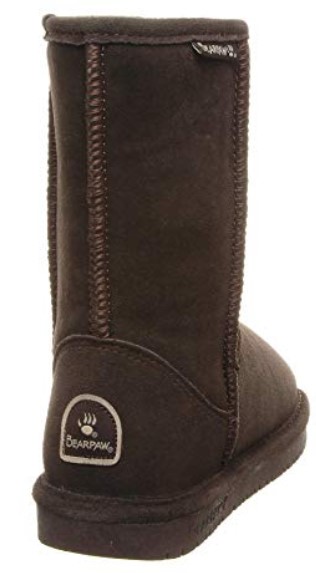 These boots might possibly be the perfect pair for anyone who is expecting (or just wants a really comfortable pair of boots). The Bearpaw Emma Short provides ease of use - seeing that it is a breeze to slip on - security when walking around, and all-around comfort. The boot features sheepskin fur originating from China, a synthetic outsole that is flexible and non-marking, making this style great for both outdoor and indoor use. You will find that these are comfortable enough for all-day wear, without sacrificing warmth that you will need during the colder months.
These boots are lined with natural sheepskin, originating from China that has been dyed and treated in order to provide you with a comfortable but good looking boot. The upper is made out of soft suede that will follow the contours of your foot perfectly, so you don't have to worry about these causing any sore spots on your feet, making them perfect for walking around all day in.
Some options on this list have required sacrificing either security or simplicity, in favor of comfort or style. The Bearpaw Emma Short offers the best of both worlds, seeing that it's a pull-on design, which gives you the benefit of being able to just pull it on, making you ready to go in a matter of seconds.

Subscribe to our Newsletter