Best Wool Sneakers & Shoes Reviewed
In a Hurry? Editors choice: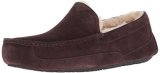 Test Winner: UGG Ascot

Wool has many benefits and has been used for clothing for millennia. Not only is it a naturally sourced material, but it also possesses a number of qualities that simply aren't there in synthetic, textile or leather items. When it comes to footwear, wool sneakers are hard to find, but when you do get your hands on a pair, you'll want to wear them all the time.
From athletic and running shoes to boots, to
house slippers
, you'll find a number of styles available in this material option, which means that all you have to do is decide on which design matches your style the best. The list below looks at the highest-rated wool shoes currently available for purchase, with a variety of styles ranging from dressy to casual.
Standout Picks
Criteria Used for Evaluation
Materials
If you're reading this article, you already have a clear idea of what materials you want in your footwear. Wool is an excellent choice, not just for winter, because it's a renewable material that can be used on its own or combined with synthetics for a high-performance pair of shoes that'll have plenty of features you're sure to appreciate.
Most often, wool is used in winter footwear, but it's important to note that it can also be used in warmer weather. As some desert tribes use wool clothing to protect themselves from the sun, you can do the same thing with your sneakers. Because this is a natural material that's highly breathable (more so than canvas), your wool shoes will make you sweat less than your trusted Chuck Taylors. Additionally, wool has natural anti-microbial properties that prevent the development of odors, as well as bacterial overgrowth that could lead to health issues.
Other properties of natural wool include being water repellent, less likely to catch fire, as well as being completely biodegradable.
When investing in a pair of sneakers like these, you probably won't be able to go with 100% wool, so it's important to note the other materials used as well. Great options include leather and suede which work together for a comfortable fit, while some manufacturers even combine it with mesh in an attempt to give you the most breathable footwear there is. When it comes to the sole, you should try to find the most comfortable option, as mostly how a shoe feels underfoot depends on how it's built-in this portion.
Comfort
Being naturally flexible, you can expect wool shoes to break in extremely easily, seeing that it will mold to your foot after just a few wears. Whether it's pure or a blend, it'll feel great, regardless of whether you like to wear your shoes with socks or not.
However, a part of footwear that will take care of most of your comfort is the one that's underneath your foot. To get the highest level of comfortability, it is best to invest in a pair of wool shoes that are built well with cushioning materials that allow the foot to flex naturally while supporting it in key places such as the arch and heel.
Several items on this list feature comfort features such as a shock-absorbing midsole, which is usually made with EVA foam, sometimes PU, or even simple blown rubber. Some models even go a step further by including an Ortholite or a memory foam footbed that creates an additional barrier between you and the ground.
If you suffer from any podiatric issues such as flat feet, plantar fasciitis or bunion pain, you may want to look for footwear with a removable insole that can be replaced with custom orthotics. This is also an important aspect if you sweat more than naturally, as for the sake of your health, you should get new insoles every three months or so, or at least clean the existing ones thoroughly to remove the bacteria and fungus that have gathered in this part of the shoe.
Additional features you may want from your wool shoes include padding in the upper, such as in the collar or tongue. This will make the shoe fit better while avoiding creating any pressure points where blisters may appear. There are even models on this list that feature elastic laces, a great choice for those whose feet tend to swell throughout the day.
Insulation
A lot of people will want to go with wool sneakers because they expect them to be a warm option for winter months. This can be correct, depending on the shoe itself, and there are several options on this list that are great choices both for indoor and outdoor use.
Because it has a high density, wool is a material that does a great job at protecting you from harsh conditions, in that it takes the body heat you naturally emit and keeps it inside the shoe. While doing this, it's important to note that it doesn't trap moisture like synthetic options, allowing it to escape, and preventing both overheating and swamped feet.
Most manufacturers who make wool footwear state that the material is good not just for insulation, but also for temperature regulation, which makes this type of shoes a good choice year-round. If you're interested in using your footwear in such a way, we would recommend going with a style with a larger percentage of natural wool, to prevent overheating that may be caused by some synthetics.
On this list, you will find both shoes made with a wool upper, as well as those which are just lined with the material. For greater amounts of warmth provided by your footwear, you may want to consider a leather or suede style that has a plentiful wool lining - this way, you will get both the protective benefits of a stronger upper, while still enjoying the warmth and fluffiness on the inside.
Breathability
There are all types of knit sneakers available today. From Nike to Adidas, to New Balance and a number of other leading athletic brands, everyone is using uppers made from fibers put together in a way that resembles a sock-like material that's not just lightweight and comfortable, but also extremely breathable.
Wool sneakers can have the same effect, even though it's a much rarer sight to see. As we've mentioned earlier, wool does a great job at regulating temperature, as well as allowing ample airflow inside your footwear. Merino wool, for example, is used in the best hiking and running socks because it allows fresh air to reach the wearer's feet, without allowing for body heat to dissipate.
Nonetheless, there are a few key things you will want to make sure of before purchasing a pair of wool shoes, as the materials that are used in the footbed and outsole can greatly contribute to a lower level of breathability provided by the shoe.
First and foremost, you will want there to be as little nylon in the upper of your footwear as possible. As it's a synthetic material, it will act as a barrier for airflow, resulting in a shoe that's not just warm, but that will even get damp with physical exercise.
Second, you will want the lining and footbed of your shoe to be made out of quality material. Look for either leather or breathable textile linings that won't block off the wool, and that won't pick up too much moisture. Ortholite footbeds are a great option, as they are usually very breathable. The same goes for leather and suede insoles.
All models on this list have been rated based on breathability, so if this is your main concern and reason for purchasing footwear made with wool, make sure to check those ratings out to ensure a shopping experience that'll leave you with a style you will happily wear in all weather conditions.
Value
Finally, before making a purchase, you will want to invest your hard-earned money in a product that not only looks good but is also a durable and quality option that's going to provide you with something better than the numerous similar models out there.
All wool sneakers on this list have been chosen because they are made with great quality. Whether you're looking for winter, every day, athletic or house style, you're sure to find something you'll be satisfied with. In addition to going through numerous customer reviews to determine whether any of the styles listed here had any drawbacks that would influence your satisfaction, we also considered factors such as brand and price.
Ideally, you will be opting for a shoe that's made with the highest quality materials, but that's cheap. However, that's not how things work in real life, so it's crucial to find a balance between the two. This is where brands come in. Generally, respectable brands will do their best to use materials that are of high quality (and some will even try to use ethically sourced materials) and offer them at prices that make their product affordable to a larger number of people. Options by Sperry and Sorel are great examples of this trend.
If, however, you're looking for an investment piece, we would suggest going with a designer shoe such as the Zerogrand made by Cole Haan that combines both style and functionality. Or you can go with something by Baabuk or Le Mouton, companies that specialize in wool footwear.
Top 10 Wool Sneakers in 2020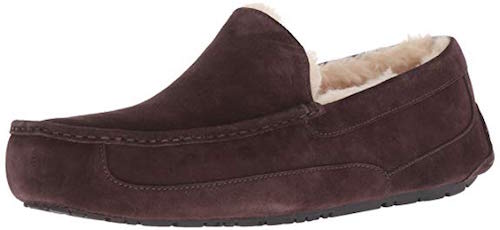 This pair of footwear by UGG was designed to be worn when you want to prioritize comfort. Now, it's not your traditional pair of wool sneakers, seeing that the upper is actually made with suede, but it features UGG's wool lining which is one of the best materials of this kind. The Ascot features a rubber outsole, and you can wear it both indoors and outdoors, and depending on the color you pick, you may even be able to wear it to the office on casual days. Other than that, it's the ideal choice for travel due to being lightweight, comfy, and made with high-quality, natural materials.
As already mentioned, the upper of the UGG Ascot is made with suede. This pair of wool shoes have a loafer silhouette but is as comfy as your favorite house slippers (if not more). You'll definitely appreciate the durable construction, as well as the fact that these slip-ons won't take too much time to perfectly mold to your foot. The suede used for the upper is water-resistant, so you won't have to worry about extra protection and maintenance.
The lining of the UGG Ascot is made with the brand's UGGpure wool, as is the footbed. What this ensures is excellent breathability, as well as moisture management for a warm and dry wearing experience. You can replace the insole with custom orthotics if you need them, or just use the insole that comes with the Ascot, and enjoy its cushiness. The outsole on these loafers is made with natural gum rubber for maximum traction, and it adds to the overall experience by being adequately protective yet still lightweight.
The UGG Ascot is one of the more expensive items on our list, and if you're on a budget, you may not find it affordable. Nonetheless, if what you're looking for is a high-quality, comfortable item, then it's definitely recommended that you try this model out, especially if you're more into the laidback style of the UGG brand.

2

. Cole Haan ZERØGRAND Wingtip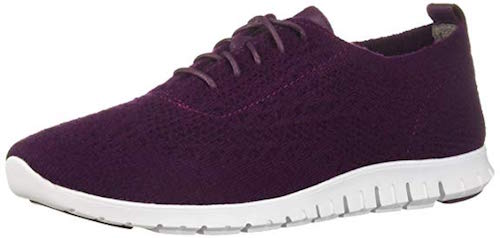 A model that has become a classic, this pair of shoes is what you should go with if you're after something dressy you can wear to the office. The polished look combined with the wool upper make for a unique look that's finished off by the recognizable running shoe sole attached to the traditional Oxford. This pair of wingtip shoes can be purchased in several color options, all of which are easy to pair, and offer the same great benefits.
The upper of the Cole Haan Zerogrand is made with a material called Stitchlite wool which has multiple benefits. First and foremost, thanks to its nature as well as the perforations in the design, it helps feet breathe, regulating temperature and preventing excessive sweating. It consists of 43% merino wool, 23% nylon, 14% alpaca, 20% monofilament nylon and the collar and tongue are made with the same non-padded material for a minimalistic sock-like feel.
The insole is fully padded and is aided by an EVA foam midsole that makes these shoes cushioned and lightweight. The Grand.ØS technology allows for plenty of flexibility, which means that your walking motions will feel completely natural. On the bottom, you get a grippy rubber that'll work well on all types of indoor and outdoor surfaces, making for an overall great choice. These dressy sneakers are one of the most expensive models on our list, which means that they won't fit into everyone's budget. If, however, you are looking for an investment, then these wool running shoes are definitely the pair for you.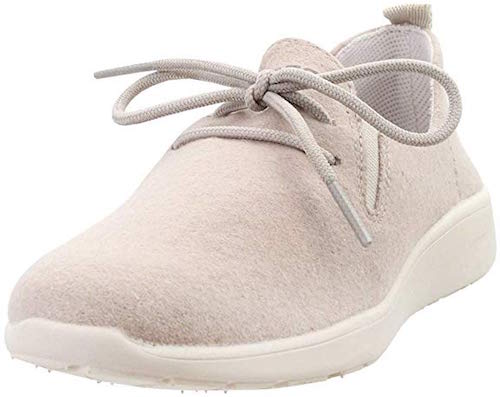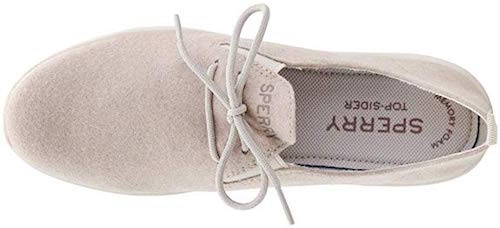 These low cut casual women's wool sneakers by Sperry are another excellent option if this is the type of product you're after. Not only is the Rio Aqua highly comfortable, but it's also a great choice for when you have to be out the door quickly, thanks to the double gores which make on and off easy, and allow for automatic micro-adjustments as your feet swell throughout the day. Of course, the adjustable laces help attain the perfect fit over the instep, so on the whole, you can count on these becoming a new favorite.
The looks of these shoes will go great with casual outfits such as jeans or shorts. They can be purchased in three color options - black, gray and oat, each of which is easy to pair with a multitude of looks. Additional benefits include a soft textile lining, as well as a pull tab at the heel.
The sole, however, is where these casual shoes excel. Made with non-marking EVA foam outsoles, these will provide a good amount of grip on both dry and wet surfaces, without packing too much weight. Additionally, the memory foam insole ensures maximum cushioning, as well as support in key areas such as the arch. In terms of price, these sneakers rank about average, so if you want to purchase something comfortable, of high quality, they should definitely be one of your top choices when it comes to best wool shoes.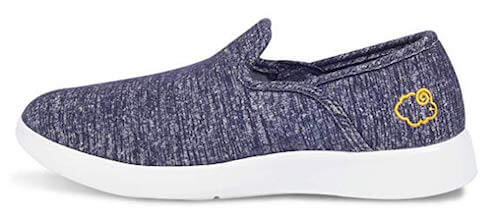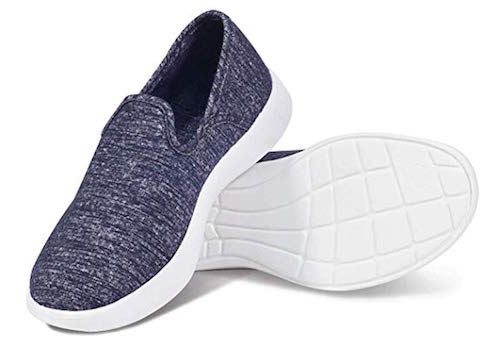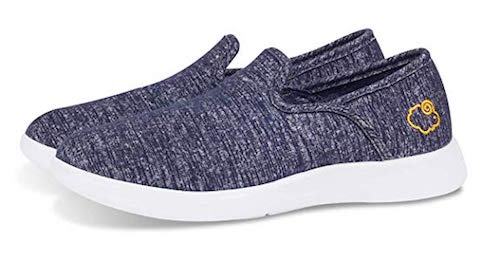 This is another pair of footwear made by Le Mouton, a company that specializes in wool footwear. Unlike their original model, the slip-on doesn't have laces and offers a more casual version of their most famous shoe. Le Mouton shoes can be purchased in a few simple color options, mainly based on black, grey and blue, and it's an excellent option to wear on hotter days, especially with dresses or shorts.
In addition to being made with merino wool which is one of the most breathable and moisture wicking materials out there, this pair of slip ons is also machine washable. All you have to do is put it in on a gentle (wool cycle) in cold water, and it will come out smelling and looking like new.
As for comfort, there are plenty of benefits to this pair of sneakers. First and foremost, the sole is made out of lightweight EVA foam which is a great shock absorber, and which offers flexibility, as well as some support in key areas. Although it won't provide the traction you'd get from a pair of rubber soled sneakers, it will do just well on most surfaces. As for cost association, this pair of shoes will set you back more than average, but that's understandable considering the merino wool used in construction.

5

. Margaritaville Lorient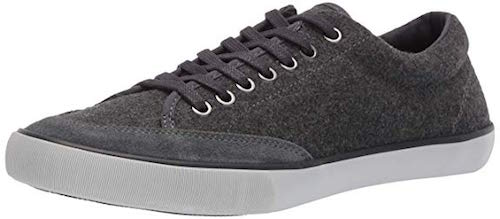 This is a pair of casual sneakers made by Margaritaville. It's the ideal choice for anyone who wants to combine the benefits of wool footwear with a simple, no-fuss look that won't draw too much attention. The Lorient can be paired with jeans and shorts alike, and it'll work great for running errands, weekend outings or travel. It can be purchased in a single color option - gray (though additional colors are available if you want a suede upper), but it's a neutral option that will match well with anything else in your closet.
You'll appreciate the simple silhouette of the Lorient. The wool material is highly breathable and soft to the touch, encouraging a dry environment for your feet. It will break in easily, and you can rest assured you won't experience any irritation, thanks to the textile lining on the inside. The collar is lightly padded to prevent ankle rubbing.
The outsole of the Margaritaville Lorient is made with vulcanized rubber, and works just as well on wet surfaces, as it does on dry pavement. The herringbone traction pattern offers grip even in slippery conditions, and the manufacturer even recommends this sneaker for sailing and beach outings. You'll find that the cushioned insole comforts your feet while walking, while the round toe allows for a good amount of space in the forefoot so you won't feel any pressure in this sensitive area.
The price association of the Margaritaville Lorient is around average for this type of footwear, and it's a great choice for those who want to invest in a simple pair of sneakers they'll be able to wear anywhere.

6

. Cole Haan GrandPrø Tennis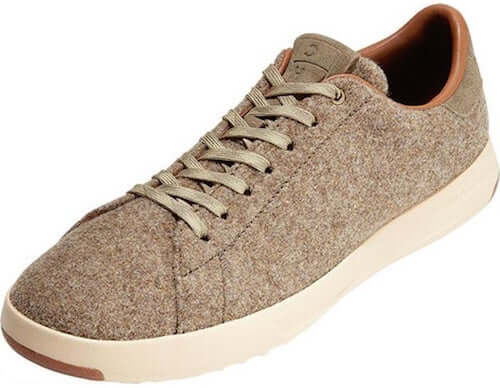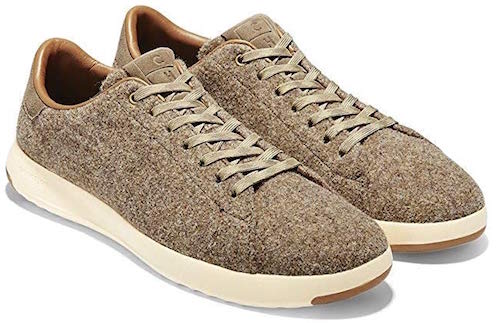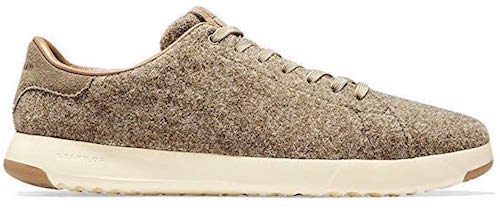 No other brand does dressed up casual as well as Cole Haan, which is why the GrandPrø Tennis is one of our top choices when it comes to wool casual footwear. This model combines a sporty Oxford cut with the brand's advanced comfort technology, resulting in comfortable pair of footwear you can wear all day, without having to worry about foot pain or moisture buildup. If you wish to purchase the wool upper version, you'll be able to choose between two color options, but there are leather and Stitchlite models available as well.
The upper of these wool tennis shoes combines the natural material with genuine leather for a look and feel that truly are premium. Not only do these material choices look great, but they are also a great choice when it comes to breathability and insulation. As wool is a naturally moisture-wicking material, it works great in tandem with the textile-lined footbed, making these the ideal shoes for spring and fall.
As for the outsole, the GrandPrø Tennis sneakers use an injected EVA foam outsole for lightweight shock absorption, as well as rubber pods in the toe and heel areas that maximize traction and durability. In terms of cost, these wool sneakers cost more than average, but you may be able to find them on sale, which will make them an investment definitely worth making.

7

. Skechers Bobs Phresh-Lil Flash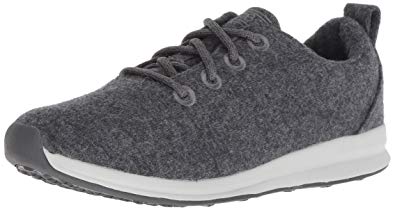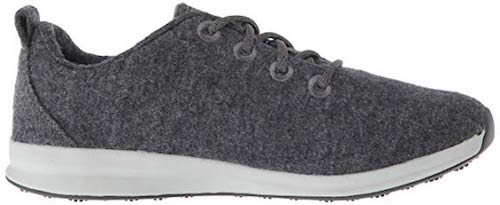 Premium memory foam sneakers, as you'd expect from Skechers, the Phresh-Lil Flash is an excellent choice both for summer, as well as spring and fall when you need a bit more insulation. Perfectly casual, this is a pair of everyday sneakers that'll look great with jeans, slacks and even shorts, while allowing you to enjoy that well-loved Skechers comfort and quality.
This brand only makes footwear from the best materials, and this includes the Phresh-Lil Flash as well. With an upper made of wool, you can rest assured that these shoes will last for plenty of time. The outsole, on the other hand, has great traction even on wet surfaces.
There are two features that make the Flash such a comfortable pair of sneakers. One is the memory foam footbed that gives just the right amount of support and cushioning. The other is a flexible sole that allows you to fully customize the fit of these wool trainers, giving you a secure fit.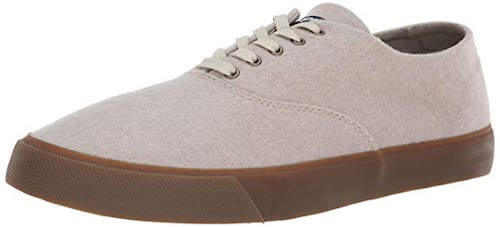 These sneakers are the ideal choice for transitional weather. Their simple design and lightweight nature make them perfect for daily wear, and the easy to pair color options (cement and navy) make them the ideal addition to anyone's closet. Using all of Sperry's comfort and functionality oriented technology, the Captain's CVO is a pair you'll easily wear to the beach, on a boat, while running errands or even at school.
On the whole, Sperry footwear is made to last, and the same goes for these sneakers. They feature a classic design with rust proof eyelets, and an abrasion resistant textile lining that is soft to the touch, but won't deteriorate as fast as regular canvas. The wool upper dries easily, so you won't have to worry if you happen to get these shoes wet.
In terms of comfort, the Captain's CVO definitely delivers. First and foremost, it features a removable footbed that allows you not only to clean these wool shoes more efficiently, but that can also be replaced with custom orthotics. Additionally, it is contoured to follow the shape of the foot, providing support and cushioning where needed. As for the outsole, it's razor-cut wave-siped which ensures excellent grip even on wet surfaces. When it comes to price, these sneakers rank average, and considering that they can often be found on sale, make for an excellent investment.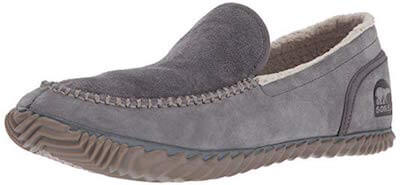 Combining wool and suede for a slipper that's extremely comfy for at-home wear, the Sorel Dude Moc gives you a shoe you'll want to wear as often as possible. Made by a respectable company that specializes in winter footwear, you can count on the Dude Moc to keep you warm, whether you prefer to wear it inside lounging by the fire, or outside, running errands, walking to your mailbox or fetching the paper.
While the upper of this slipper is not made of wool, it does feature the material in the lining, where it serves the purpose of providing insulation and comfortability. Being breathable, this is the perfect solution for cold days where you want to stay warm, but don't want to develop stinky feet from synthetic shoes.
The foam footbed in the Dude Moc is made with EVA foam which is cushioning and supportive, and in this case, covered in wool. However, if you want to have a customized level of support, or prefer a cooler feeling, you can easily take it out or swap it with your custom orthotics.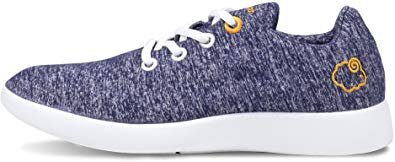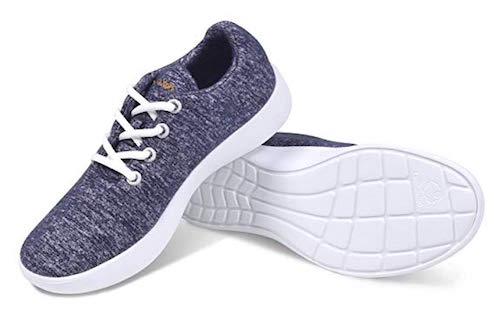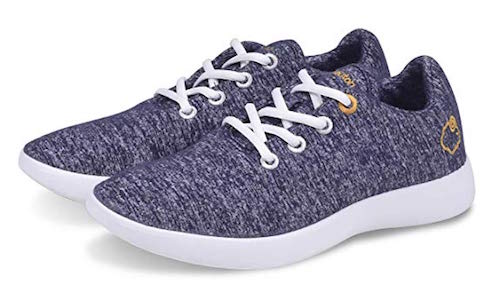 This athletic pair of wool shoes uses a blend of Australian Merino wool and polyester (84% wool) in the upper, and 100% Merino wool lining for a pair of footwear that's not just comfy and beautiful, but also extremely breathable and suitable for a wider range of weather conditions. Set on an athletic rubber outsole, these are a great choice for long days of walking, working, standing, and can even be a super travel companion.
Part of the construction material of this item is that it comes with a breathable fiber composition that makes it ideal for everyday temperatures. The material is designed to regulate foot temperature so an individual can stay warm in the cold and feel a breathable cool in the summer months.
Nothing determines the comfort levels of your footwear as much as the insole. With that said, the insole of these particular sneakers is removable so individuals can enjoy the benefit of placing their own insoles for better comfort. This is also a great feature for those who need higher levels of arch support. Other than that, the inside is lined with an antibacterial layer that provides better odor control than most shoes. We hope this merino shoes review help you determine if this is the shoe for you.

Subscribe to our Newsletter