Best House Shoes for Comfort in 2022
In a Hurry? Editors choice: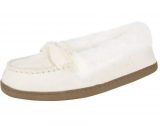 Test Winner: Jessica Simpson

You probably already have quite a few pairs of outdoor shoes, but have you ever considered paying as much consideration to what you wear on your feet in your home? Indoor shoes offer all the support and comfort of outdoor shoes and are the perfect way to complete your chill-out wardrobe.

After a long day at work, there is nothing better than putting your feet up and keeping them warm in a comfy pair of indoor shoes, even better you will look great too! 

Below we have selected and reviewed sine of the best house shoes and house slippers to wear in your home, all catering for various styles, sizes, and budgets.
Standout Picks
Criteria Used for Evaluation
Comfort
At the top of our criteria list is comfort.
Most importantly, your house shoes should be something comfortable you look forward to putting on your feet.
The purpose of having a pair of house shoes is to allow your feet to relax, feel relief, especially when they're fatigued, so the last thing you want to do to them at the end of a long day is put them in a pair of rigid or uncomfortable shoes.
Thankfully, most house shoes are designed to be comfortable, but that doesn't mean they always provide the comfort they promise. Look for shoes that are made from soft materials like fleece or cotton and that have ample cushion in the insole.
Memory foam is your best bet for a comfortable fit, but other high-density materials like a sponge will also provide cushion.
Many manufacturers list the thickness of the insole, and a thicker insole generally means more cushion (although you don't want to have an insole so thick it compromises your stability).
Make sure your house shoe has a sufficient outsole as well. Don't settle for a sole like the one you'll find on a pair of throwaway slippers from the spa; you'll want to look for a shoe with a sturdy rubber sole.
There are times when we may need to sacrifice comfort for function, but buying a pair of house shoes isn't one of them. Find a pair that will reward your feet and your feet will thank you.
Support
We may not always think of support-level when buying house shoes, but just like with any other shoe, if you're going to be spending an extended amount of time in them, you'll want to find a pair that will support your feet.
Again, memory foam is the way to go here. Several of the shoes on our list sport high-density memory foam insoles that cushion your feet and mold to the shape of your feet for the best and most comfortable fit. Having an insole that's molded to your foot shape will give you greater support, and will help you prevent aches or pains in your back, hips, or feet.
Because of the nature and uses of house shoes, the majority will not be constructed with the same level of support you would expect from, say, a running shoe or a weightlifting shoe, but you definitely shouldn't settle for a shoe with no support.
Find a pair (like the ones on our list) that will help soothe your feet and give them the support and comfort they need to be rested for the next day.
Outsole
You'll also want to look for a house shoe with a sole that will provide you with good traction.
With tile or wood floors inside, if your house shoe doesn't provide sufficient grip, it's possible you could slip and fall, the exact opposite of what you want during your downtime. Look for shoes with a sufficient rubber sole, preferably one that has some sort of raised pattern or tread on it.
Most house shoes won't have huge treads because they're not designed to perform like shoes meant for hiking or walking on ice, but you should avoid shoes with slick or completely flat bottoms.
You may also want to decide between an open back and a back that covers your heel. The open back will increase the breathability of the shoe and will also make them easier to put on, but your foot is more likely to slip out of them as well, which could increase your likelihood of tripping or falling.
Obviously, we aren't going to be doing a lot of physically-demanding activity in house shoes; we usually wear them when we're resting, and we know they're not made for that purpose. But you may want to consider a house shoe that completely encloses your foot over an open-back shoe if you're concerned about them coming off.
Durability
You'll want to invest in a house shoe that will last.
Admittedly, the majority of the shoes on our list aren't very expensive and wouldn't be hard to replace if we had to, but thankfully they've been designed to hold up to extended wear.
Look for shoes that are made from durable materials like nylon, microfiber, elastic, and rubber. Several of the shoes we listed have side-seam sewing to connect the sole to the rest of the shoe, a process that is meant to extend the life of the shoe and keep it from coming apart at the seams.
You'll want to look for shoes that have rubber soles that won't wear out. You don't need a thick hiking boot sole, but you also don't want a sole that is so thin you wear through it walking on carpet.
The indoor/outdoor shoes on our list are designed to handle moderate outdoor wear, and the rest are perfectly suitable for walking down the driveway to get the mail in the morning.
Your next pair of house shoes probably won't last forever, but you should look for a pair that is durable and that won't fall apart from regular indoor use.
Value
Nobody wants to spend a fortune on a pair of shoes they will only wear around the house.
For some, this is the most important pair of footwear they own. A large number of people spend a great amount of time at home - whether because of work, health issues or other personal circumstances and need quality footwear that was designed with the purpose of at-home use.
If you're after something of high quality, that you will also want to wear often, you've come to the right place. No matter which of the models listed above you go with, you will benefit from the features, not just by having a cushioned, flexible and stable pair of footwear, but also one that will protect you from slips, spills and the cold.
But, to ensure that a pair is worth the investment for you personally (and this will be different for each reading this article), make sure you consider the following aspects of each shoe:
Use: Are you after something that will be used exclusively indoors, or do you want a shoe you can wear to the store and in your yard as well?
Flexibility: Do you prefer something that'll feel like a sock, or do you need more stability and protection?
Insulation: Some people only wear house slippers in winter when they want to keep their feet warm. Others do so during the summer as well. You may not manage to find a model that will work all year round, so carefully consider this aspect before spending a $100 on a pair of slippers.
Durability: Sure, you want to pay as little as possible, but is saving a few bucks initially worth having to replace your shoes in the next two to three months? Some people may be ok with this, but there are those who definitely want to get something that'll last.
Cleanability: Furry slippers are great, but make sure you can actually keep them clean. Otherwise, you risk bacterial and fungal overgrowth that can lead to bad odors and even infections. That's something you definitely want to avoid
Best Home Slippers & Home Shoes - 2021 List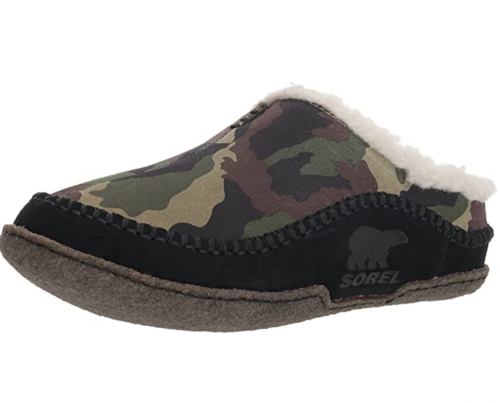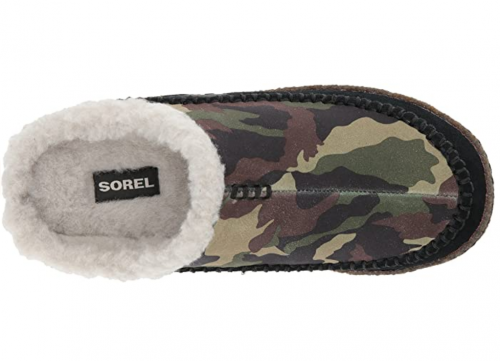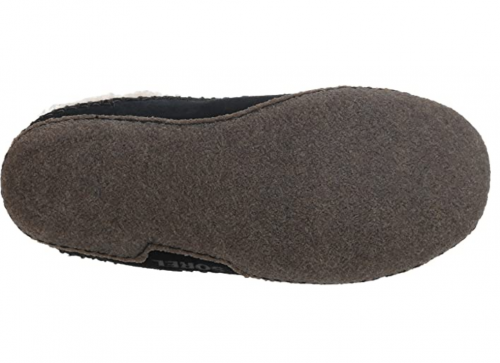 A leather slipper made for ultimate at-home comfort, the Falcon Ridge is the perfect shoe to have, either when you're lounging in your pajamas on the weekend, or when you're traveling, but prefer your own comfortable house shoes. Made with genuine cowhide suede, with durable stitching and a quality sole, it's perfect for indoor use, and will even serve you while you go out to get your morning paper.
The outsole on the Falcon Ridge cushioned slippers is made with natural rubber that's not only better for the environment, but actually provides a high level of sticky grip, preventing any slips, especially on hardwood floors.
The footbed in these best house slippers is made with molded EVA foam that's both cushioning and supportive and is covered with a combination of wool and acrylic to provide you with warmth in the winter months. But, if you need custom orthotics, or prefer less insulation, you can easily replace it with your own insole.
Slightly more expensive than the rest of the items on this list of best shoes to wear around the house, this is still a great winter choice for those who need a durable slipper that will last at least a couple of years. The removable insole is definitely our favorite feature, both for comfort and hygiene reasons, so if that's something that is important to you, definitely go with the Falcon Ridge house shoes.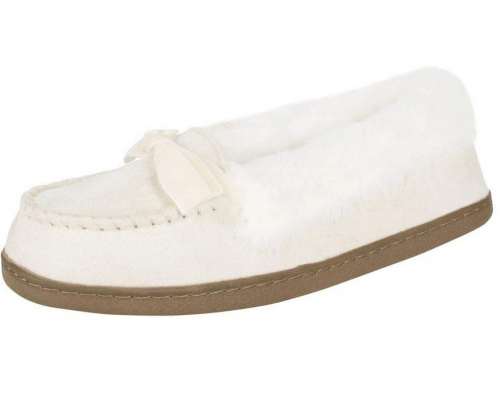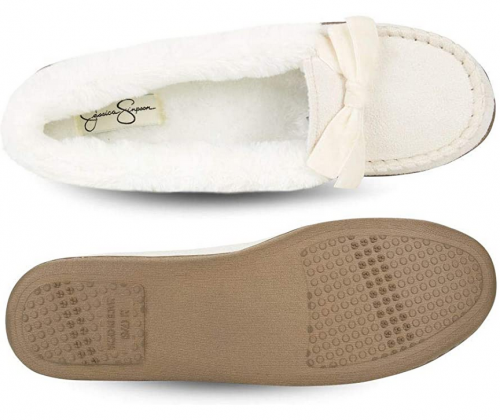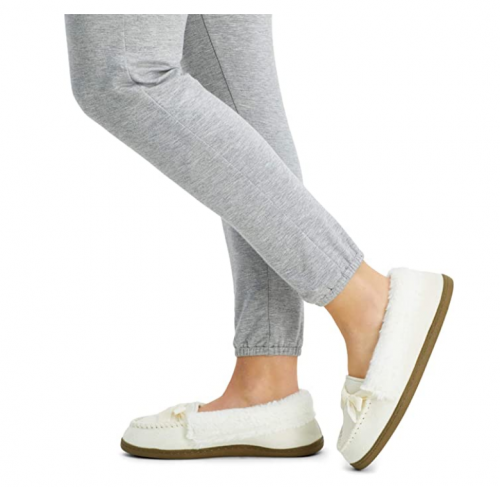 Warm and fluffy, these moccasin style Jessica Simpson house slippers are so comfy you will not want to take them off! Featuring thick memory foam, these offer the right level of cushioning making your feet feel relaxed and rejuvenated in seconds.
The soft fluffy house shoes have a soft inner lining that feels warm and soft against your feet. The outer suede fabric also feels smooth and soft to touch, giving the slippers a timeless look. They have a textured outsole that works by gripping along the floor and preventing you from slipping when moving around.
 
The Jessica Simpson slippers are best hand washed in cold water then air-dried. They come in 7 different colors including Cinnamon, Dusty Pink, and Grey. The sizes range from Small, Medium, Large and X-Large, giving you lots of size options.
Sold for a mid-price, these are a timeless pair of slippers that will never go out of fashion.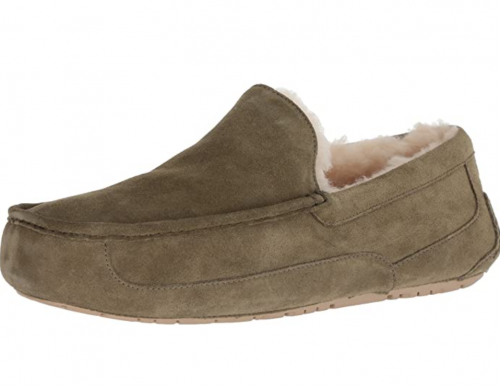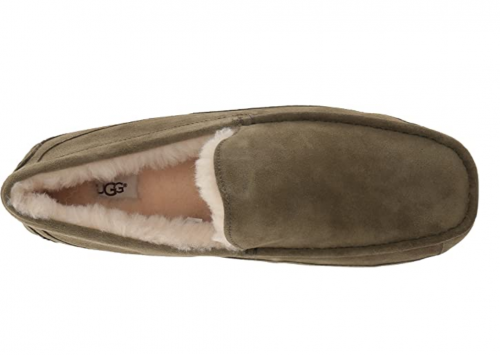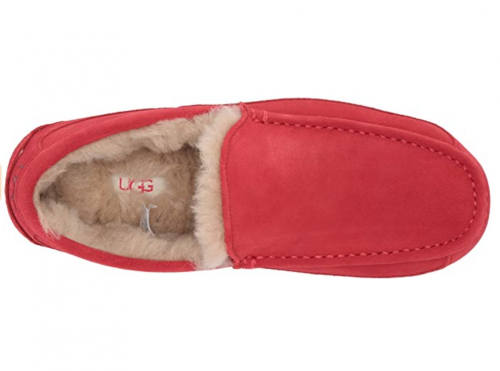 UGG is a global lifestyle brand known for its unapologetic individuality that has refused to be defined by convention. The UGG Ascot house shoes are the latest piece to be added to their collection which you will simply want to wear everywhere!
These best-selling men's house slippers have been carefully rendered in soft water-resistant suede, giving them their iconic style. The slippers have been lined with natural wool that is extremely soft and warm against your toes.
The men's shoe has a wool insole that provides additional comfort and support. The UGG slippers also have a molded rubber outsole that is extremely durable. They have also been given a water-repellent treatment, protecting the shoes from water damage. 
These come in 11 different colors and come in a variety of sizes including wide and X-Wide options. Sold for a high price, these slippers are a timeless investment piece that will last for many years to come. 

4

. Slippers International Sheepskin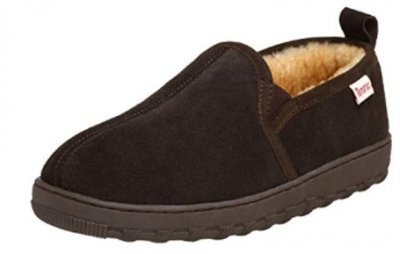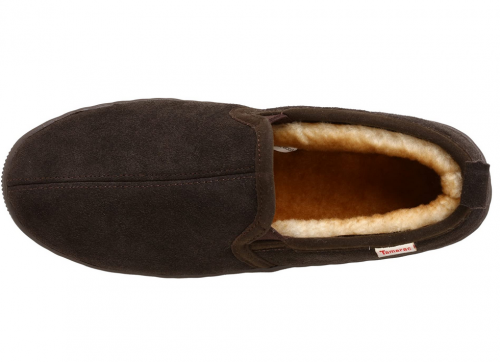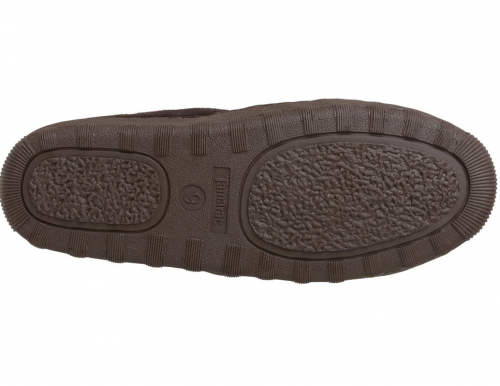 A well-known brand, synonymous with cozy, soft slippers and kicking back after a long day, the Tamarac by Slippers International Sheepskin is just what your feet need. Soft suede uppers are lined with lamb wool, while pillow soft memory foam footbed gives each step you take a luxe cushion. A rubber sole allows for outside wear if you need to grab the Sunday paper or your files from the car after a day at the office.
This house shoe has a soft suede upper, lined with plush lambs wool for a great foot feel and insulation. Wrapping your foot in softness, it also has a memory foam footbed, great for cushioning your steps around the house. Elastic side gores help give it an adjustable, yet firm fit.
The rubber sole on the Sheepskin lets this pair be worn inside, or outside should you need to run to the car, or pick up the paper. Thick, with patterned sole for traction, it makes them durable for everyday wear and tear. Split toe seams won't irritate the foot and have been stitched to perfection. Suede uppers give it durability during wear and will hold up to the test of time.
Slightly more expensive than some, the Tamarac by Slippers International Sheepskin is worth the investment for its plush lamb's wool lining, soft suede uppers, and durable construction for longevity.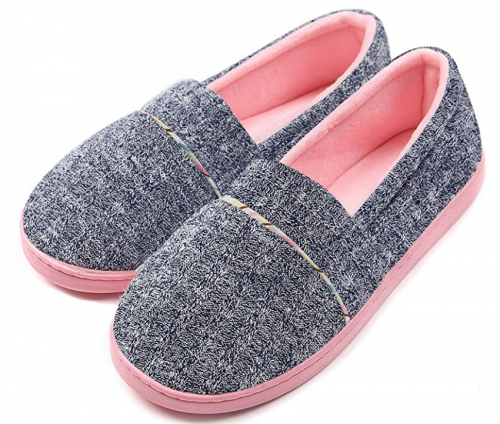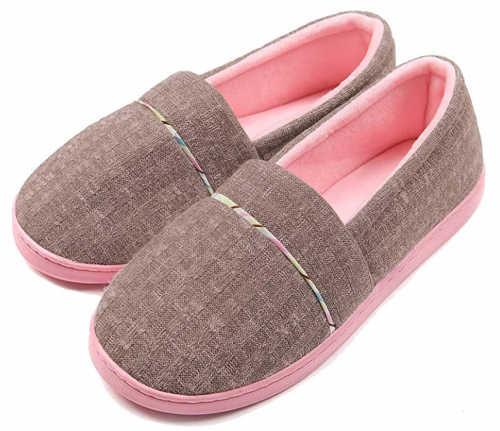 This entry from ChicNChic is a great slip-on house shoe that looks nice and is made from high-quality, high-comfort materials. It's been designed to give your foot plenty of cushion when you walk, and, unlike other home shoes and house slippers on our list, it has a cover-heel design instead of an open back, so you won't have to worry about it slipping off your foot.
ChicNChic designed these house shoes to be the last word in comfort. The organic velvet lining and cover-heel design ensure these slippers will provide you with a plush, comfortable fit.
The soles on the cotton house shoes have been engineered to give you grip even on slick surfaces, and you won't have to worry about marking up the floor thanks to the anti-scuff rubber.
These shoes land in the low-mid price range and are a great bargain considering their impressive features. Available in pink or grey, these are great home shoes for any budget.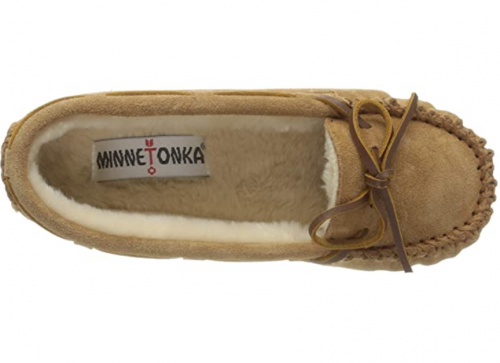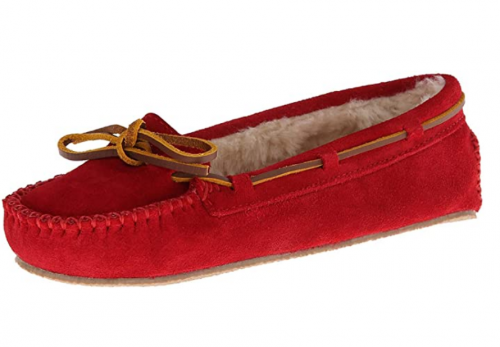 If you're a fan of moccasins and the sock-like comfort they provide, then the Minnetonka Cally may be the perfect choice for you. Great for those after a lightweight but warm option that will work on multiple surfaces (and won't deteriorate on concrete and overall outdoor use either), this model is an update of a style that's been a favorite for years.
Uncommon on most house slippers, the Cally features a lace closure that goes around the entire foot and ensures a comfortable and secure fit. This is particularly important for those with narrow feet who find several house shoes too wide, as well as for those who walk a lot and want to spend less time adjusting their footwear.
The soft suede upper of the Cally is just the right combination of flexibility and protection, while a pile lining keeps you warm. The thin rubber outsole is lightweight, but still more durable than what you'd get from traditional moccasins.
This is a model that's averagely priced, but can often be found on sale, which is when it's the best bargain you can get.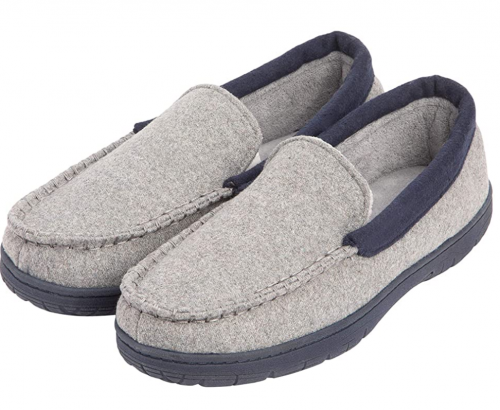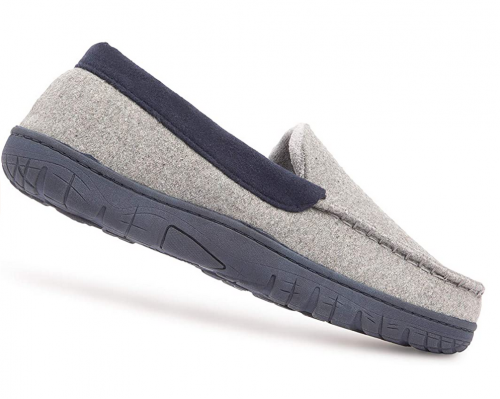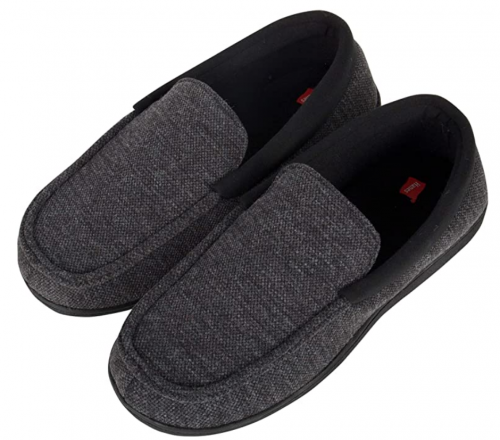 Hanes slippers are known for their durability and luxurious style as well as keeping your feet comfy and warm all day long! The Hanes indoor slippers have been designed to deliver ultimate comfort. Built with ComfortSoft memory foam cushioning, this slipper cleverly molds perfectly to the shape of your foot, creating a custom fit like no other!
The slippers have been made using Hanes Fresh IQ advance odor protection technology that keeps your slippers and feet smelling fresh. The cotton fabric used to create these slippers makes them extremely breathable.
The men's slippers feature a durable textured outsole that provides plenty of grip, reducing the risk of any trips or slips. The durable outsole also provides a hard-wearing base for you to step on, giving you a good level of stability and support. 
This option is machine washable allowing you to simply throw them in the washing machine if they become dirty. When it comes to style, these slippers come in 11 different colors, giving you lots of shades to choose from. Sold for a mid-price, these slippers are a fantastic buy, providing endless style, support, flexibility, and comfort.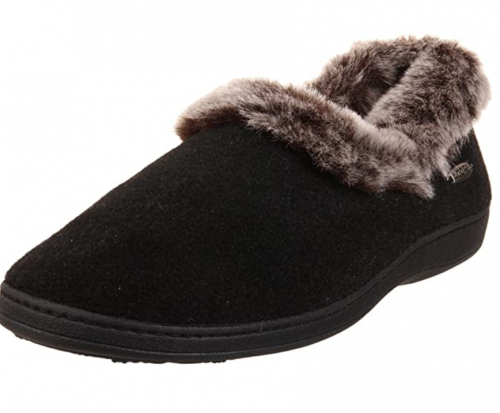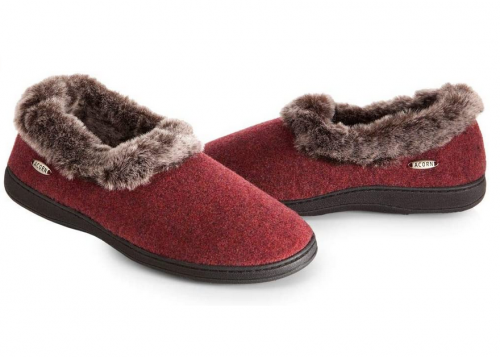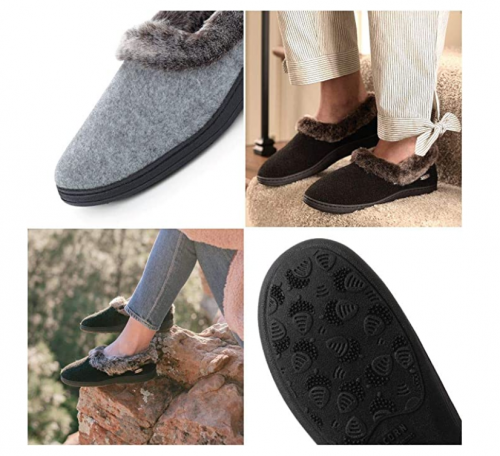 Are you a fan of plush linings in your slipper, but perhaps want an alternative to wool? The Acorn Faux Chinchilla is a moccasin slipper design lined with faux chinchilla fur for a rich softness to soothe tired feet. Full of comfort technology for further cushioning and support, a rubber sole makes these versatile for travel or light outdoor use as well. Soft fleece-like uppers will wrap your feet in cozy warmth as you curl up with your favorite novel at the end of a long day.
Perhaps you love the warmth of wool but hate the feel of it against your skin. The Acorn Faux Chinchilla house moccasin is constructed from soft, fleece-like uppers that wrap your feet in warmth, while the collar is a faux chinchilla lining that gives a plush, rich feel.
Inside, a Cloud Contour technology provides not just comfort but support as well. Memory foam will pad your footfalls throughout wear, while heel and arch support help prevent foot fatigue when walking about. Easy slip-on design makes this moccasin simple for wear, and full coverage of the foot helps add to the cozy experience of pampering yourself.
Quite averagely priced, it falls in the midpoint of the price range on our list, and they are great home shoes for those who love a plush lining or collar but don't prefer wool.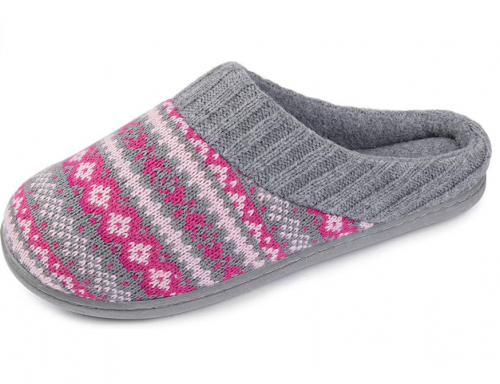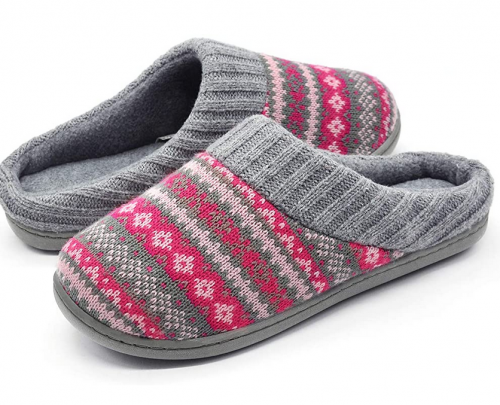 The RockDove memory foam house slippers are built with comfort in mind and have a stylish, knitted design that gives you a classic house slipper look and feel. The sweater-like and fleece materials used to make this slipper will keep your feet warm, and the comfort insole will give you support and cushion that you won't find in your average house shoe.
When you're looking for best house shoes for women and men with a comfortable fit, memory foam is king. The high-density foam footbed included in these warm slippers provides a superior level of comfort and shock-reducing cushion.
Because house shoes tend to be less expensive than other home shoes, we often don't expect features like arch support, but RockDove designed the footbed in these shoes to provide that support and help alleviate minor foot pain.
These RockDove slippers come with luxury features but don't have a luxury price tag. They fall right in the middle of our price range, making them the perfect, low-budget home slippers.

Subscribe to our Newsletter