Best UGG Slippers & Indoor Shoes Reviewed
In a Hurry? Editors choice: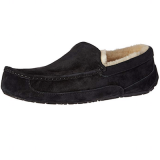 Test Winner: Ascot

First founded in Southern California in 1978, UGG is a brand best known for its comfortable and stylish sheepskin boots. However, the brand offers so many more great designs that are of great quality and will do wonders at keeping you warm on cold winter days. Also, they have come to be a symbol of the casual lifestyle and a staple in fall fashion.

When it comes to indoor shoes, UGG manufactures some of the best slippers and moccasins. They are made of genuine sheepskin, leather or suede that renders them durable, as well as soft and comfortable. With soft linings and thick insoles, they're also sure to beat the cold. If you want a comfortable pair of shoes for casual at-home wear, there's no better option than a pair of UGG slippers. Our experts rated the best UGG slippers on the market in 2020 so read on.
Standout Picks
Criteria Used for Evaluation
Materials
Materials most commonly used in UGG slippers are sheepskin, leather, and suede.
Sheepskin
There are many benefits to sheepskin. First of all, sheepskin will naturally provide cushioning thanks to its crimped fibers, which act like miniature springs. They absorb pressure and distribute weight evenly, which lessens the pressure on certain areas of the foot and alleviates aches. When used on the outside of design, it will keep the shoe clean from dirt and bacteria. As it is naturally resistant to mold and dust mites and can prevent the spread of bacteria, it will promote foot health and keep you feeling fresh.
In most of UGG slippers, the type of sheepskin used is called twin-face sheepskin. This means the sheepskin has been treated on the fleece side as well as the skin side, which renders it more soft and supple. In addition, UGG uses only the highest-quality sheepskin. It is very dense and soft, making it much more durable and comfortable than other types of sheepskin, and is also naturally breathable.
The thermostatic quality of sheepskin will regulate and preserve your body's temperature against the cold outside. Similarly, it can protect against temperature that is too warm by balancing out your own body heat, which makes it suitable for year-round wear.
Leather
Leather is another great material often used in UGG slippers and indoor shoes. The most remarkable thing about leather slippers is the comfort they offer. Soft and supple, they are flexible and soft to the touch. Leather also keeps the slippers nice and lightweight, ensuring that you're not weighed down when walking around the house.
Leather is well-known for its durability. It is resistant to wear and will not rip, wear down, or lose its great qualities over time, regardless of how often it is worn. When used in slippers, you may even feel as though they become more comfortable through time because they may become softer and more supple.
The only downside of leather slippers is their cost. Because leather is a high-quality material, footwear made from leather will be more expensive than that made of synthetic fabrics. However, as we mentioned, leather is extremely durable. One pair is sure to last you for a long time, so although they are not cheap, they will serve you well and will save you the time, effort, and money you would otherwise spend on buying new slippers every year.
Suede
This fuzzy material is essentially the inside of an animal's hide (the underside of leather). However, it is not simply leather turned inside out. Most of the time, the upper grain of the leather is removed to reveal the suede, which is then soft and pliable.
The most noticeable advantage is the comfort suede provides. With the upper grain stripped away, suede is even more soft and pliable than leather. When used in footwear uppers, it creates minimum friction with the feet and ensures that you stay comfortable. However, being stripped of the upper grain also renders suede less durable and resilient than leather.
The disadvantage of suede is that it is difficult to take care of. Suede is susceptible to stains and dirt and requires a lot of effort to clean properly. However, overall, having suede uppers in slippers is a huge advantage because you get their full benefit and only part of their detriments.
Insulation
The key material in keeping you warm and cozy is wool.
In many shoes by the brand UGG, UGGpure wool is listed in the product descriptions. You'll see it mentioned often in the descriptions of the slippers and indoor shoes listed above, too. But what exactly is it?
In short, UGGpure wool is genuine shorn wool, woven into a durable backing. It is used in the linings and insoles of certain models and has many benefits. To begin, hair or wool is the only material naturally grown for the purpose of regulating body temperature according to the conditions outside. It is used by sheep to stay warm during the winter as well as to keep cool during warmer weather. When used in footwear, it has a similar effect on the feet.
Wool is naturally breathable. It has moisture-wicking properties, meaning it can remove moisture from the skin, and is insulating at the same time, meaning it can trap in warmth. Unlike synthetic materials, it can provide instant warmth during the winter. During the summer, it will allow air to flow through and remove any excess heat or moisture from the skin.
In addition, wool is water-resistant, which protects it from mold, rot, and mildew. This way, your feet will be kept clean, fresh, and healthy at all times.
When it comes to the environment, wool also has many pros. Unlike sheepskin, the production of wool does not harm the animal because it simply requires the animal to be shorn. It is also very sustainable and renewable because it grows naturally on all sheep, and is bio-degradable. In fact, it even releases a lot of important nutrients back into the earth, which helps plants and ecosystems thrive. Overall, they are both eco-friendly and cruelty-free.
With all these great qualities, wool seems as though its price would be sky-high. However, footwear made using wool isn't at all overpriced. In addition, wool is renewable and will grow back quickly, meaning a larger quantity can be acquired and used to produce footwear, lowering its costs.
Size
Consider either ordering your true size or a size up for the best fit.
Finding the right size can be difficult when it comes to footwear. Although you may know your shoe size, each manufacturer tends to have their own sizing charts, and their shoes might be sized up or sized down, meaning they are slightly larger or smaller (respectively) than the size they are stated to be. As a result, a pair of shoes labeled as your size might not fit you comfortably.
When it comes to UGG slippers, the sizing will depend on the materials from which they are made. Slippers and indoor shoes tend to run a size or so small because they have very thick wool linings and footbeds that give them a more narrow fit. Therefore, if you were to order your regular shoe size, you might feel as though they are snug and give you no additional room for the toes.
It is recommended that you order true to size regardless of this issue because many slippers, moccasins, and loafers are made of stretchable materials. Through time, the design will have a larger fit and will become more comfortable.
However, many customers order a size larger so that they have a comfortable fit to begin with, which is also a good idea. This reduces the time it takes to break in the footwear. If you're not used to wearing slippers or shoes around the house and are looking for something you can easily adjust to, you might also want to order a size larger so that your feet don't feel constricted.
Unfortunately, UGG slippers and indoor shoes are not offered in half sizes. If your foot size falls between that of two sizes, it is recommended to order the larger pair. This is the best decision for nearly all shoes because the issue of having an extra room in the shoes can be solved by simply using insoles or wearing thick socks. The feet also tend to swell in the afternoon, especially after a long day of standing and walking, so the extra space would give your toes a bit of space to accommodate that swelling.
For slippers, ordering a size larger would also ensure comfort, as it prevents the feet from feeling too constricted. It can also make the shoes more convenient by making them easier to slip on and off.
Outsole
You can choose between a sock-like design, a soft sole or a rubber sole.
When they think of house slippers, most people will have different things in mind based on their personal preferences. Some prefer a cozy, sock-like style that is flexible and lightweight and allows all types of movement. Others prefer a bit of an outsole, but not too much - just enough to protect from slipping and the cold.
There are those, however, who need a more substantial outsole either because they want to avoid slipping or require a custom level of arch support or protection due to foot health issues.
UGG slippers come in all of these variations, so it shouldn't be too difficult to find the best option for you. Here is an overview of the available options:
Sock-like Slippers: The most difficult version to find, these will resemble a fluffy sock more than a slipper. They're perfect for home use, especially if it's very cold. Their downsides, however, include being slippery (not recommended on hardwood or tile floors), and that they won't offer much protection from spills or injury.
Soft Sole: Usually made with leather or suede, a soft sole will provide a slightly higher level of protection than a sock, and may perform better on highly polished surfaces. It still retains the benefits of being very flexible, but with the added advantage of durability.
Rubber Sole: The best choice for those who don't want to change their shoes if they need to pop out into the back yard, or want something that'll offer maximum protection. Rubber-soled slippers can even be worn as everyday shoes for running errands, and are, overall a great investment. With this type of design, you'll benefit from a high level of comfort, while still being able to use it for more than just around the house.
Value
UGG footwear may be more expensive than most, but it is absolutely worth the investment.
As you probably have noticed, UGG products are often two to three times more expensive than similar models available for purchase. Overall, this is one of the main reasons why there are so many knock-offs - everyone wants a piece of that recognizable comfort, but not everyone is ready to pay for it.
That's quite understandable. A high price does not always mean that a product is of high quality, and there are plenty of affordable options that will serve you just as well, for just as long. Nonetheless, there's a reason why UGGs slippers and boots boast such high prices, and this has mainly to do with the materials they use.
As you probably already know, most UGG designs are made with genuine sheepskin, wool and leather, and use materials sourced in countries such as Australia, the USA, UK, Spain or Ireland. Furthermore, these are then dyed using environmentally conscious methods, and go through a rigorous process of quality control to ensure the product you get is of the highest possible value.
10 Best UGG Slippers for Women and Men in 2020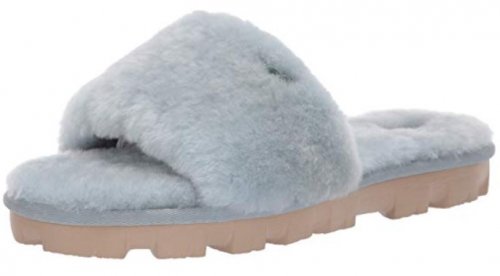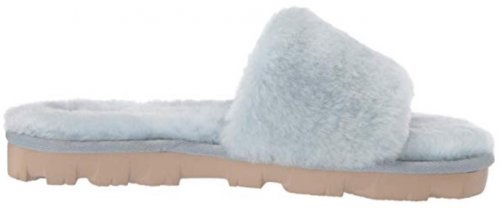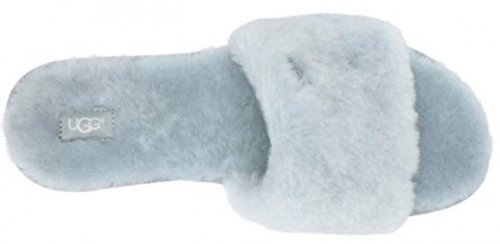 First is the Cozette slipper. Though their design is more like that of slides rather than slippers, they are still super convenient to slip on and off. The short-length lamb fur means they are perfect for any kind of weather and will not cause your feet to freeze during the winter nor overheat in the summer. Their materials also include suede and leather. To top it all off, they are offered in many different colors such as chestnut, seashell pink, and soft ochre.
With 10mm of sheepskin in the insole, you just know you'll have maximum cushioning. The sheepskin will act as a spring to evenly distribute the weight across the footbed, relieving the feet from any pain or stress. Not only is the outsole made from durable rubber, but it also features pods that provide excellent grip on both hardwood floors and concrete or cement. This way, the Cozette can be worn both indoors and outdoors with no problem.
Though not cheap, the price of the Cozette is easily justifiable by the materials used in its construction as well as the cleverness and practicality of its design. After all, high quality naturally comes at a high price.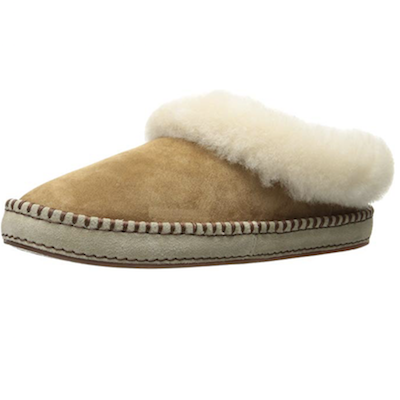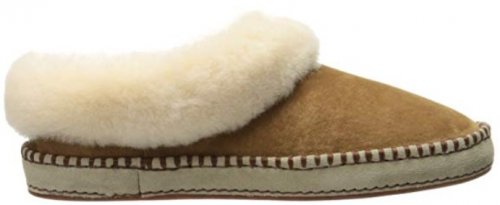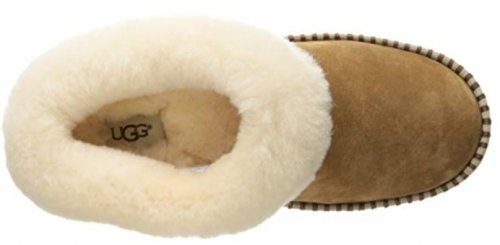 If you're into bolder looks, consider the Wrin slippers. Their design draws inspiration from the relaxed Californian lifestyle. Crafted with bold stitching and a moccasin look, they'll make you look stylish in a way no other slipper will when you're simply walking around the house. Or if you've had enough of them as indoor slippers, wear them outdoors paired with jeans and a casual top for a relaxed yet fashionable time. The only downside is that they lack arch support, so they may not be best for people with flat feet and who need a lot of support in the arches.
The foxing stitch is decorative and runs across the side of the slipper. Sheep fur lines the collar of the slipper for extra coziness as well as style. Like many other pairs, the Wrin is lined with UGGpure wool lining. Because wool was made to regulate the body temperature of sheep, it has a similar effect on the feet when used in footwear and will keep you warm in the winter and cool in the summer.
Sitting at a moderate price, you won't have to spend as much on these as you might for some other slippers of the same quality. Because their lining allows them to be worn year-round, we believe they're a worthy investment.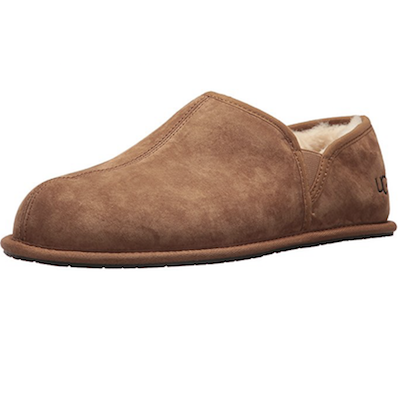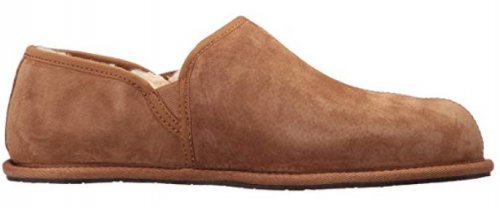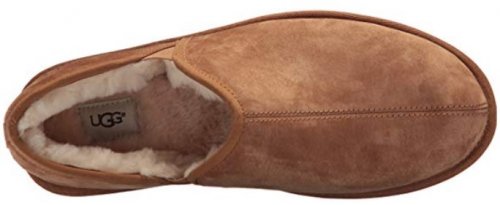 Simple and convenient, the Scuff Romeo II is another great choice. Like most UGG slippers and indoor shoes, they feature a blend of high-quality materials to ensure maximum comfort and durability. The insole is made of sheepskin that cushions the feet and helps relieve pain. It is also naturally moisture-wicking and will keep the feet fresh and free from odor and perspiration. The silky suede upper is water-resistant, and the UGGpure wool lining provides warmth. Wear them around the house on a Sunday morning, or bring them with you when traveling.
Featuring an elastic gore, the collar is nice and flexible. This will allow you to slip the Scuff Romeo on and off easily despite its heel. Like some of our other pairs, these are suitable both for indoor and outdoor wear. The outsole is made of gum rubber than provides cushioning and ensures durability.
Not only are these practical and good-looking, but they're also affordable, too. Thanks to their durability, one pair can serve you well for a long time.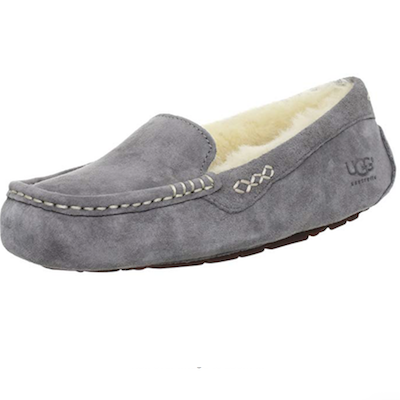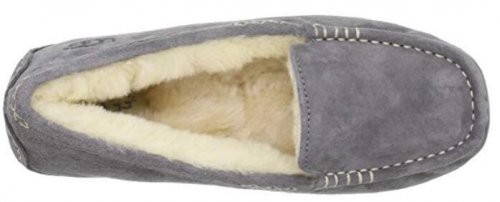 Here we've got an amazing pair of moccasins that are sure to make you feel as though you're walking on clouds. The super-soft lining and insole provide cushioning for your every step and ensures that you stay comfortable. The dyed sheep fur they feature is from Australia, New Zealand, or the US. In addition, they are nice and sturdy thanks to their pig leather construction and won't wear down easily, and have decorative stitching that adds to their look. The suede upper is water-resistant as well as silky and comfortable. Overall, they are a great pick for everyday wear.
Fully lined with UGGpure wool, these are sure to provide maximum warmth. The lining is also made of the same high-quality wool. All in all, they are ideal for those who tend to have cold feet at home. Although the convenience of their slip-on design and the amazing comfort they provide makes them ideal for indoor use, they can also be worn outside thanks to their hardy rubber outsole. Pair them with a vintage outfit on a casual day out to look cute while also staying comfortable.
Though they sit on the higher end of our price range compared to the other products on our list of ugg slipper reviews, Ansley's price is justified. Because they can also be worn outdoors if you wish, you can make the best out of your pair and get the ultimate bang for your buck.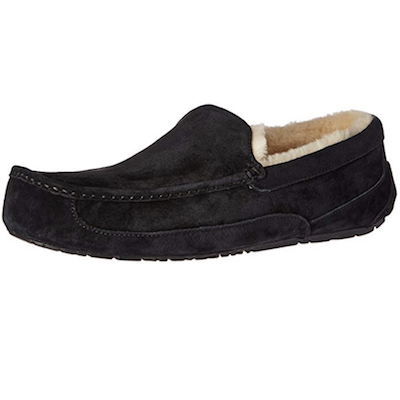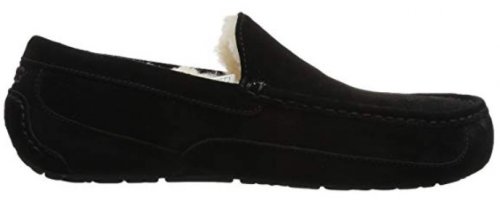 The Ascot slipper is an excellent choice. Not only do you stay cozy, but you can also look fashionable at the same time thanks to the sleek look of the Ascot UGG mens slippers. It's no wonder they're a #1 bestseller! The leather is high-quality, full-grain, and combined with their moc-toe design, it gives them an attractive look. It also keeps the slipper durable and suitable for long-term wear so that one pair can last you a long time. Their gum rubber outsole means they can be worn outside as well as at home. Color selection also includes a large variety of neutral tones such as black, navy, and charcoal.
The design ensures you don't have to sacrifice looks for convenience and comfort. In addition, it means they can not only be worn around the house but also at the office on a casual day. Worried that the thick lining and insole will overheat your feet? The UGGpure wool will naturally wick away any perspiration so that odor can't accumulate, keeping you fresh throughout the day.
The only aspect of these slippers that we're not too thrilled about is their high cost. As the most expensive pair on our list, you might be hesitant to purchase them. But because they've received over a thousand positive reviews, we're sure that if you do purchase them, you won't regret it.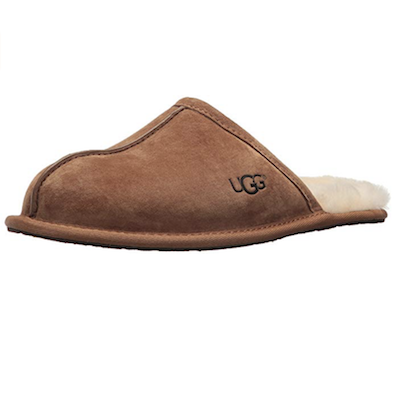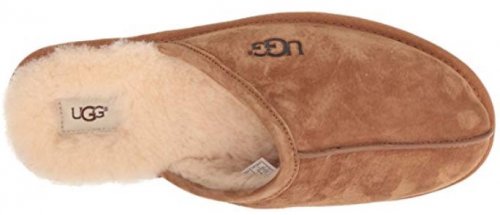 The Scuff has a more rugged look, as there is no sheep fur bordering the slipper. High-quality sheep fur is used to provide comfort to the feet with its softness, along with the vamp lined with UGG pure wool. The lack of heel means these are super easy to slip on and off, rendering them the ideal slipper for every day at-home wear.
This model was manufactured using a balance of different materials to provide comfort and high quality. The suede upper and midsole are water-resistant while the sheepskin insole relieves foot pain and increases cushioning. The leather sole renders the slippers durable. This model is offered in a variety of different neutral tones. Some options include black, plaid, chestnut, and espresso.
For their practicality and amazing qualities, these UGG house slippers are extremely affordable. Just one pair is sure to keep you satisfied for a long time thanks to their durability.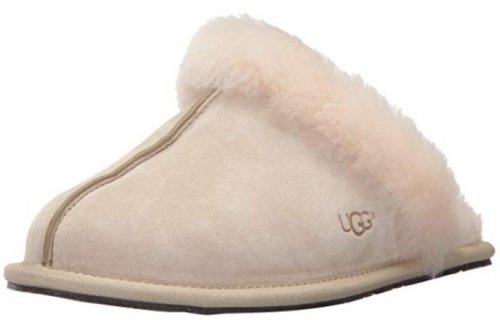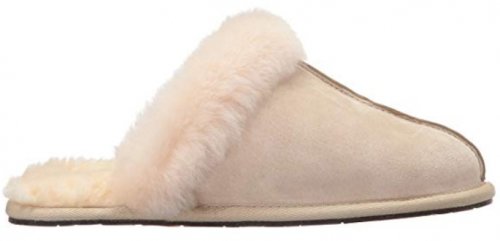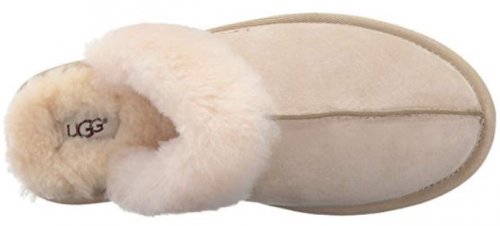 The Scuffette II is made like a true slipper. They are super easy to slip on and off and are perfect for casual days at home. The collar is lined with wool, giving them a cute look while also keeping you cozy. They are also offered in different colors, including grey violet, espresso, and chestnut. However, they do have a flaw. Some have claimed that they have insufficient padding and are uncomfortable to stand in.
The lack of heel renders them super convenient and practical for everyday wear at home. No need to even use your hands - just slip them on and you're good to go. Sheepskin is incredibly soft and dense. It is also naturally breathable, smooth, and moisture-wicking. In these slippers, the sheepskin is used in the lining for maximum comfort.
As one of the least expensive shoes on the list, these are an incredible bargain. With their high-quality materials and super-convenient design, their great price just adds another point to their list of pros.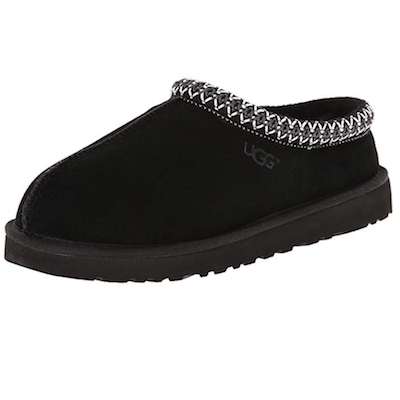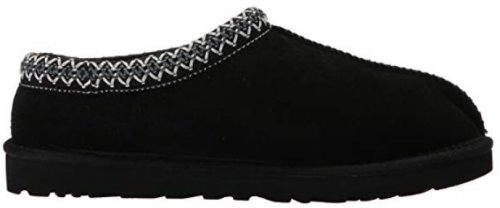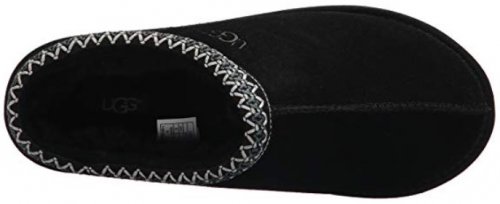 The Tasman slipper is yet another versatile pair. Made of cow suede and textile, it provides maximum warmth and comfort, making it ideal for cold winter days at home. As with the other slippers, dyed sheep fur is used on the inside of the slipper for a soft feel. The material of their outsole, as well as their fashionable look, allows them to be worn outside as well as indoors. Just keep in mind that some reviewers claim they will "flop" a bit on the back when walking, so be prepared for that if you plan on purchasing a pair.
Who said style and comfort couldn't go hand in hand? The Tasman braid embroidery lines the slipper's collar to give it a cute boho look. The outsole is made of EVA. Commonly used in athletic shoes, EVA is a material that is flexible and shock-absorbing, providing cushioning for your every step.
These UGG slippers fall towards the middle of our price range compared to the other options on the list. They've also received hundreds of positive reviews from satisfied customers.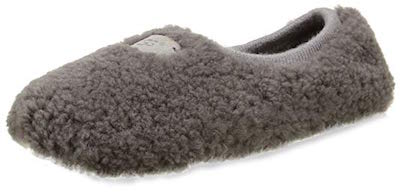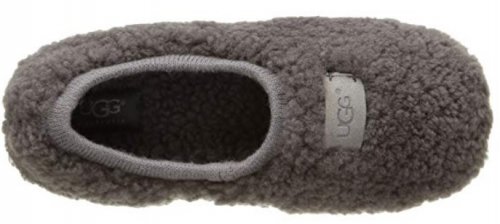 If you want ultimate coziness in your house shoes, then your best bet is the Birche, which will feel like the fluffiest pair of socks. It'll keep you warm even in low temperatures, provide just the right amount of padding for walking on hard surfaces, all while maintaining a comfortable temperature and just the right amount of breathability. Though limited in color options, it's definitely a great choice if you're after comfort, not looks.
The upper of the Birche features 10mm of curly sheepskin that's the perfect type of insulation on cold winter days. Naturally able to trap in the heat without causing a buildup of moisture, sheepskin is the perfect choice for those living in cold climates. Because wooly lining may be too scratchy for some (especially if you prefer to go without socks), the Birche is lined with a jersey textile that's both soft, breathable and flexible for everyday wear.
With a cost that's slightly below average, the Birche is a great choice for those who don't need something too sturdy to use around the house but prefer a warm and cozy slipper. Made with 100% natural materials, including wool, sheepskin, and cowhide, it's a durable yet lightweight style that's perfect for when you just want to lounge in your pajamas all day.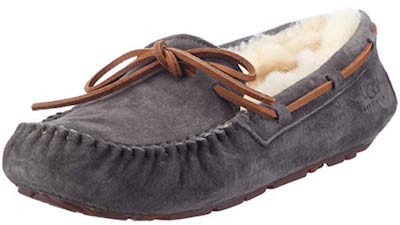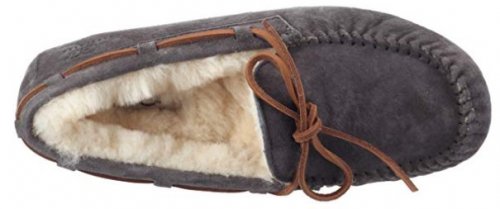 One of the brand's most popular slipper styles, the Dakota is a great investment for those looking for a shoe that'll work just as well outdoors as it will indoors. It's made with the same quality of materials you've gotten used to when shopping with UGG, and it's a highly comfortable moccasin style slipper that's perfect for spring, autumn and winter wear. Available in numerous colors, it's versatile enough to be combined with almost any outfit.
The suede upper of the Dakota UGG house shoes is treated so that it provides water resistance, making it a great choice for those who don't want to stain their precious house shoes, or who are planning on wearing these indoor UGGS outside while running errands. Combined with the wool lining, they're warm and cozy, and perfect for chilly days. The molded rubber outsole featured on the Dakota has several benefits. First and foremost, it's protective enough to allow for outdoor use. Second, it protects from slipping, as it will help grip most surfaces (even slick ones like hardwood and tile). Last but not least, it adds a certain level of shock absorption, making this moccasin a great style to wear for long walks.
Averagely priced, the Dakota is a great option for anyone who's a fan of the moccasin style, or for those who can't be bothered to change shoes every time they have to go out in the yard. It's a versatile option with plenty of color choices, making it one of our top choices.

Subscribe to our Newsletter