Best Fuzzy Socks for Warmth & Comfort Reviewed
In a Hurry? Editors choice: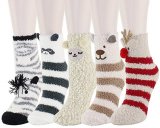 Test Winner: Zmart 3D Animals

While
fuzzy socks
can be quite popular due to their looks, thermal features as mentioned above are a huge plus for many when purchasing fuzzy socks. Whether it be out in the
snow
or just in the comfort of your own home, we've compiled a list of the best fuzzy socks reviewed for comfort as well as warmth. Whether you are looking for fun socks to wear at the snowbank, or for something you can wear in a more professional setting, there is something on our list for everyone. We've also explained the criteria that we used for judging our top 10; check it out, you might learn something that leads you to the perfect pair made just for you!
Standout Picks
Criteria Used for Evaluation
Comfort
What goes best with a comfortable shoe? A comfortable sock, of course. The entire wearing experience of a shoe can be ruined by socks that are uncomfortable, too hot or cold, too wet, or simply just fall down when you are in motion.
In our comfort criterion, we ranked products on our list according to those factors named above. If it didn't regulate temperature correctly, or if it had quality issues, like a poor elastic, it didn't make our list. Given that these are socks designed for warmth, we understand their job is to keep heat in; however, they should also be able to breath and keep you dry while also keeping you warm.
A high score on our comfort criterion means the sock is more likely to provide you with a positive wearing experience, and will keep your feet warm and dry, without issues like poor elastics or slippage while in motion.
Ease of Use
Comfortable fuzzy socks should include soft materials and a lightweight build that's great for use around the house. On the other hand, the socks should be easy to slip on when waking up and should include features such as elastic bands in order to prevent the sock from slipping down.
Look for fuzzy socks that are a little larger than your regular sock size, so that they are not too tight with the lining. If you are going to wear them outside in your winter boots, keep in mind that your boots may seem tight while wearing such thick socks.
Socks that are made of non-slip materials (silks, for example, are very slippery, as are many synthetic materials), or that have non-slip grips added to increase your safety while walking in the cozy socks.
Most of these socks are machine washable for convenience and ease but read the descriptions carefully – some need to be hand washed for the best results.
Features
From features like moisture-wicking materials to fabrics that stretch and go back to normal, even after going through the washing machine, this entire criterion was dedicated to evaluating the best and coolest features socks have to offer.
There is nothing worse than having a cool pair of socks that stretch or fray when they come out of the wash. Or how about a heel that wears quickly, leaving your foot sticking out the back of your sock? When we evaluate for features, we are considering whether or not the product has features that will combat and prevent these annoying incidences from occurring.
A higher score on this metric, the better features woven into the sock. From dry technology to easy-to-clean fabrics, there is something on this list that made us take a second look (and add it to our top 10 list!).
Insulation
Warmth is one of the most important features of a pair of fuzzy socks. Insulation ability is better described as the socks ability to retain heat in a cold environment. Every sock included on our list are great insulators and fantastic for keeping your feet warm as a whole.
Sherpa Lining
Included in some of the socks on our list, is a great example of a thermal insulator that insulates very well, keeping your feet very warm.
Microfiber
This is a more common insulator used in fuzzy socks. Look for a microfiber that is thick and comfortable. Thin microfibers tend to develop weak spots and holes quickly, whereas thicker linings last longer.
Fleece
Another popular warming option which is why the material is a very popular choice among shoe linings in hunting and hiking boots. Fleece is one of the best options for keeping your feet warm as heat is trapped in the air pockets between its fibers.
Style
While style is often a matter of personal taste, we've checked thousands of online reviews to see what people are saying about each of the socks on our list. Some things, such as warmth, seamless construction and overall ability to keep shape over time, were common likes or dislikes among buyers of each product.
To evaluate style, we considered everything from the design, color, shape, weight, lines and overall construction of the sock in question. While no one wants to wear an uncomfortable sock, they also don't want a comfortable sock to be ugly on the eyes. We've selected all of those on our top 10 to be not only stylish, but also comfortable, true-to-size, supportive and durable.
The higher the score on the "style" metric, the more fashionable we and the community of buyers we surveyed deemed the product to be.
Our Favorites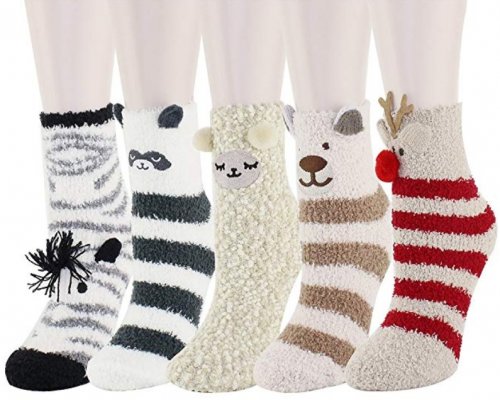 Who could resist such cuteness? Who could take one look at these 3D animal printed socks and not get a smile on their face? The Zmart 3D Animals are super comfy, super soft, and they will brighten up your chilly, grey days with their little ears, noses, and antlers. Choose any of the five animal options for the day, and your mood will instantly be lifted!
The Zmart 3D Animals are made from 80% polyester for longevity and colorfastness, and 15% nylon for even more durability. Seriously, they will withstand an inordinate number of washings, as there is very little that can make them fade or fall apart. They also contain 5% spandex for elasticity and a stretchy fit. These fit any type of shoe, so you don't have to resort to wearing them only around the house!

The Zmart 3D Animals are simply radiating happiness. They are thick, fluffy, warm and comfortable, and they will be a delight for the whole family. Get them for yourself or as a gift - or both! - as everyone needs a little whimsy in their life!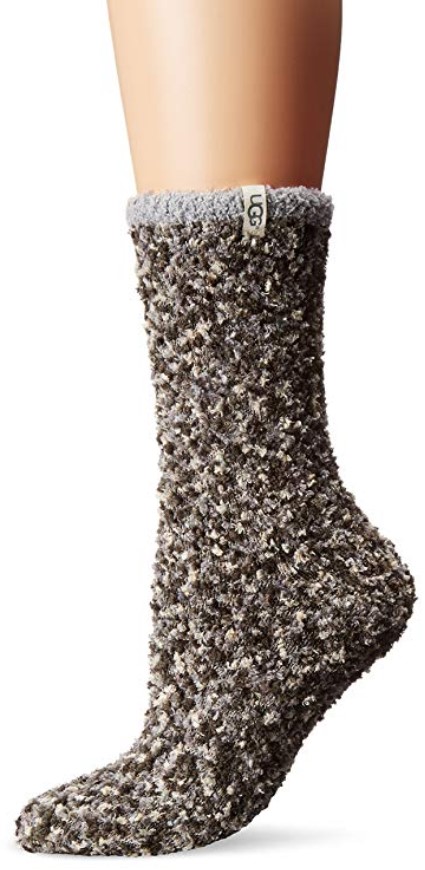 We're not surprised that a brand which is famous for its cozy, warmth-preserving footwear produces equally cozy and warmth-preserving socks. The Ugg Cozy Chenille has a confetti-like pattern and comes in a variety of cute and soothing colors. It is fuzzy, perfect for wearing around the house, and it will keep your feet nice and toasty in the coldest months of the year.
The Cozy Chenille is made from 98% polyester, which is a synthetic material. It is not as breathable as cotton, though it is incredibly durable and colorfast. You can be sure that this design won't go threadbare or that its color won't fade no matter how many times you wash it. The other 2% of materials go to spandex, which adds stretch and elasticity for that perfectly snug fit.

The Ugg Cozy Chenille is a simple, straightforward option that you can just throw on, sit back and enjoy your favorite TV show or book. Being from a well-known brand such as Ugg, it does come at a higher price point, but it is amazingly durable and well-worth the cost, in our opinion.

3

. BambooMN Animal Non-Slip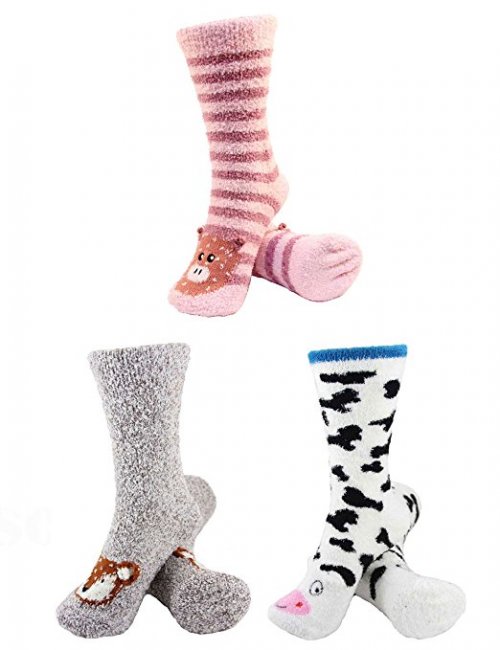 Here's a great fluffy choice for all you animal lovers out there. Featuring a cute-looking design with over 20 different color options and patterns to choose from, the BambooMN is a fantastic and comfortable choice for those looking for a more fashion-oriented item.
Yet another option with non-slip grips allows for a top of the line lounging experience. The rubber grips on the bottom allow for an improved user experience as well as preventing any slippage on hardwood floors. BambooMN took a one-size-fits-most approach to their sizes which some of you may love or hate. In our opinion, it cuts out any guesswork needed when purchasing a pair online as they generally fit a Women's size shoe 4-10.

A middle of the road price tag makes these not a bad option if you have a thing for cute animals. Not only is the price low and the design good, but these don't lack in the warmth or comfort department either.

4

. Dosoni Christmas Knee Highs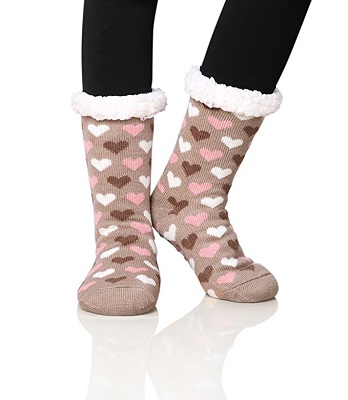 These slipper socks are oh-so-warm and cozy, made with a super-thick fleece lining and non-skid bottoms. You can walk around doing house chores all day long or stay on the sofa with your book and hot chocolate - it's really your choice! One thing is for sure, you won't have cold feet in this pair of knee-high socks.
The fleece lining in these is really thick. From your toes all the way up to your knee, you'll be wrapped in soft, warm comfort. They are thick but you can still treat them like thermal socks and wear them in your winter boots for fun outdoors. Just be sure your boot is big enough to accommodate this luxuriously thick material. These come in a variety of color choices, so you can easily choose one that suits you. They are also one size for women's sizes 5 through 10. Great for gift giving as well!

Warm and cozy all the way up to the knee, these will be comfortable and warm for any winter day. They can be taken outdoors as well, in any accommodating boot and treated as thermal socks. What a lovely bonus!

5

. EBMORE Christmas Snowflake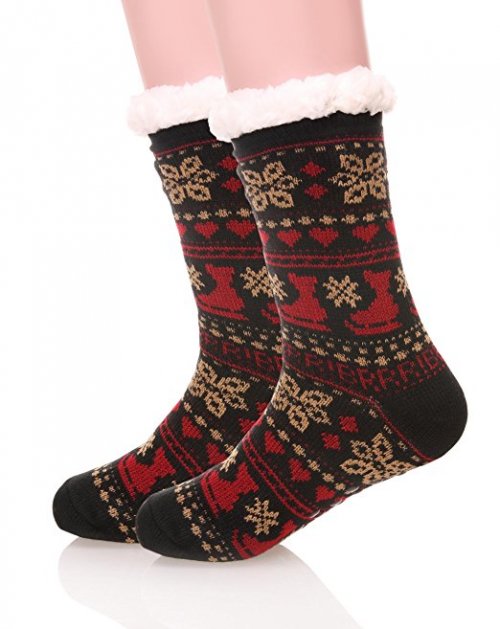 These are tailored more towards Christmas festivities rather than all-around use. Either way, they are great for keeping your feet warm due to their super heavy and breathable interior making for overall fantastic user experience.
The EBMORE Snowflake features a heavy and thick fleece interior for maximum warmth and comfort. Fleece is fantastic for keeping in warmth so these should have no problem keeping your feet nice and toasty. The materials featured in this item are made of 100% polyester while also being breathable to prevent excessive sweating whether it be outside or in the house.

If you personally like this design, there are plenty of colors to choose from, and the material quality of the sock itself does its job keeping you warm and comfortable.

6

. Angelina Sherpa Thermal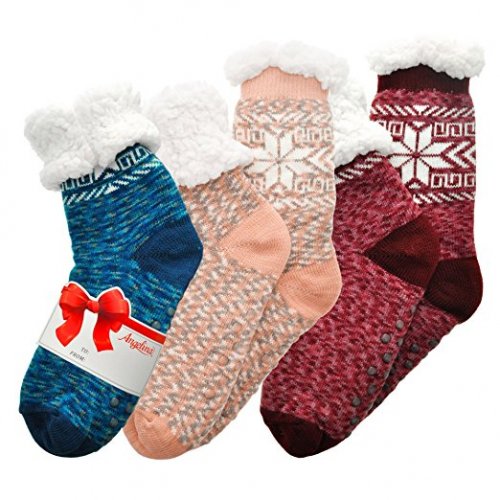 The Sherpa Thermal made by none other than Angelina is considered one of the most comfortable fluffy designs on the market. These thermal socks come in 12 different 3 pack themes and are fantastic for around the house lounging.
In addition to the fantastic comfort as mentioned above, Angelina is one of the few brands on the market that features sherpa-lined materials. As a result, these are fantastic thermal insulators, making sure to keep your feet warm on those cold winter months. Not only is the comfort fantastic on this pair, but the rubber grips featured on the bottom prevent you from slipping when around the house.

With the high-quality materials in their construction, it's no question that these are worth the money when preparing for winter. The sherpa-lining is great as it keeps your feet warm as well as comfortable, making these some of the coziest designs on the market.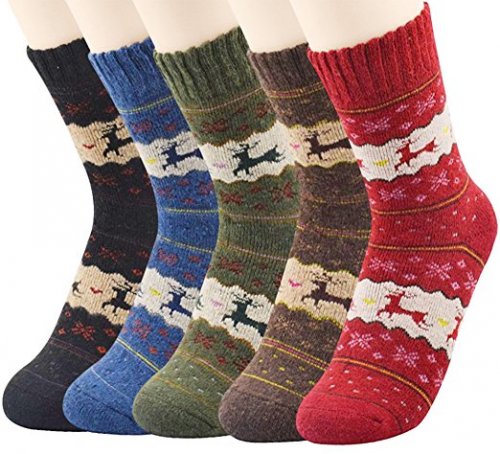 Loritta designs are known for their vintage and trendy creations that are absolutely stunning. With eight different themes to choose from and coming with 5 pairs each, these wool socks make for a perfect cheap, around the house lounging option.
The sizing on the Loritta Thick Knit is great as they are elastic, and are suitable for almost all shoe sizes. As a rule of thumb though, Loritta does suggest that the size 5-9 in US women's provides the best fit, however. Being primarily made of wool, these are great for keeping your feet warm during the wintertime or just cold days in general. In addition, the wool also doubles as a moisture wicking material and is quite breathable, making sure your feet don't get too hot and sweat when lounging around at the house.

Considering the pack of 5 these socks come in, they provide a great "bang for your buck". With fantastic wool materials and a fashionable design, Loritta is sure to keep your feet warm while making you look great while doing it!

8

. HASLRA Warm Microfiber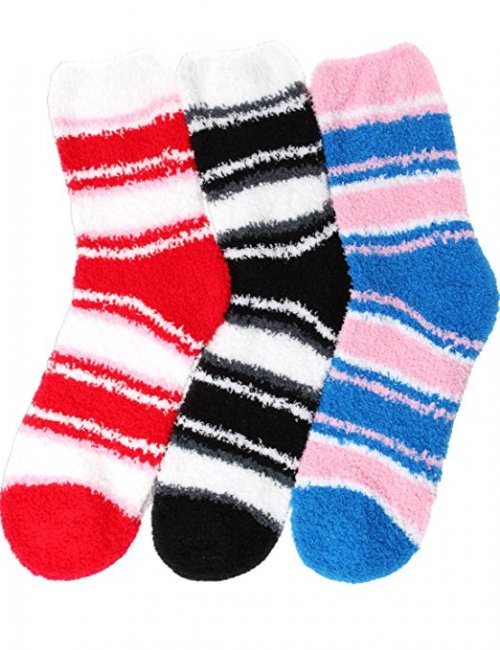 HASLRA's Premium Quality series of socks comes in over 10 color patterns and is known for its extremely high-quality thread as well as unmatched warmth and softness. HASLRA products make for a great extra layer in boots or shoes for added warmth.
Being made from microfiber, these are known for their extremely soft and comfortable build, as mentioned above. The added microfiber also protects against cold climates, making for a great outdoor or indoor wintertime option. While microfiber insulators used in many other products are known to cause sweating in the foot region, HASLRA designs are quite the opposite. The mix of microfiber materials used prevents sweating and ultimately keeps you comfortable and without the worry of having smelly feet.

If you're looking for a great around the house or outdoor design that's certainly one of the most comfortable and warm choices on the market, then these are a great solution.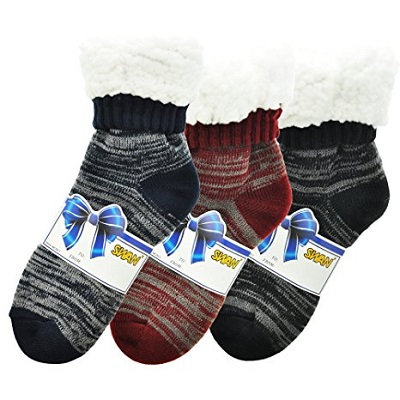 These cute winter designed thermal socks are great in men's sizes up to 13. They are completely synthetic and lined with sherpa fleece for luxurious warmth. Gripper dots, and sizes for women and kids, make these that much more versatile and handy. They are also machine washable on the gentle cycle for those who prefer not to hand wash. Great for a cozy evening watching Christmas movies on the sofa. Popcorn, anyone?
Fleeces are finicky; some are machine washable and some are not. The good news is that the Swan Thermal designs are machine washable on the gentle cycle, so you have one less chore to worry about, which is great because winters are for alternating between outdoor fun and indoor hibernation. Sherpa fleeces are synthetic and very thick. The name comes from the Sherpa people of Nepal and Tibet who are famous for living high in the cold Himalayas. This fleece will keep your feet nice and toasty during the coldest winter days.

These are among the warmest options on our list and hey, their designs are downright fun and seasonally appropriate. They make a great gift and you can get a pair for yourself as well – for a great, cozy afternoon catching up on your reading or enjoying a crackling fireplace.

10

. Different Touch Fuzzy Slipper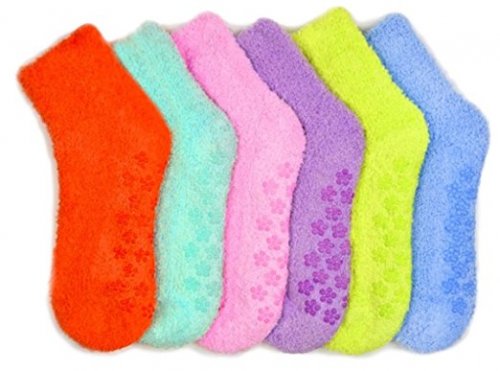 Coming in 7 different themes and sizes ranging from 4 all the way to 11, this pair of slipper socks is a fantastic choice solely for relaxation due to its super soft material build.
One of the main buying points is the fact that these are one of the softest items on the market. Being made from 98% polyester and the other 2% being spandex, these pair of slipper socks are fantastic for cold indoor days. A great fuzzy design wouldn't be reaching its full potential without including a set of rubber grips. The set Different Touch included provides optimal traction and works great on rather slippery surfaces.

This is yet another pair of great budget socks, as they come in a pack of 6, providing great value. Not to mention the fantastic quality of the design as a whole.

Subscribe to our Newsletter