Best Thermal Socks Reviewed & Rated
In a Hurry? Editors choice: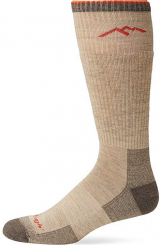 Test Winner: Darn Tough Vermont Wool

Have you ever wanted to go hiking,
skiing
, or just trekking in the thick, cold snow, but you worry about freezing your toes off? Well, this is where thermal socks come in! They are made out of super-insulating materials, all meant to keep you warm and dry, and safe from frostbite. Their makers diligently work to make them thinner but more effective, so you can squeeze them into
any kind of boot
you need to. They usually stretch to the middle of your calves, or higher, so not only will your feet stay warm, but your legs will too! And handy compression bands and elastic collars keep them in place, so they don't slip down and cause any issues. All in all, they are your best option for staying toasty!
Standout Picks
Criteria Used for Evaluation
Comfort
We really don't think that much about the comfort of our socks, mainly because plenty of us consider them to be just extra pieces of material that make it easier to wear shoes. Well, if you are someone who goes hiking, fishing, hunting or anything in between when the temperature reaches its teens, you do know how important proper padding is. Not only do proper pads allow you to walk easily, without feeling the terrain underneath, they also make it easier for warmth to stay trapped inside your socks, so you don't experience the cold embrace of winter.
Some socks have thick cushions, some have dense cushions, and some have only a light amount of padding. All of these pads have their benefits and their drawbacks, and the number of cushions you need will depend on your individual desires. Thick cushions definitely provide us with the best amount of padding. You won't even feel the ground underneath, and maybe even the shoes you are wearing, and the fat layer of pads won't allow the air to escape, trapping it inside and heating it up. But, as the name suggests, they are thick, and the extra layers of pads can make your shoes feel uncomfortably tight and small, so you might even need to go a size bigger if you prefer all that padding. Dense pads, on the other hand, provide you with the same amount of cushioning, but instead of having layers upon layers piled up, they have super dense stitching and materials, ensuring you feel the same without the added bulk. Dense cushioning also warms you up, but it might not wick away moisture so well, because the extra density will not let the moisture escape so easily out there. Lightly padded socks work the best if you already have heavily padded footwear. These socks do not have pads throughout the whole length of the sock, but instead only have them around your heels and the balls of your feet, two areas that suffer the most while we walk. This will make sure you don't feel any burning while you walk, but since the cushioning is light, you might feel the rough terrain underneath you prodding and poking your skin.
Comfort is also affected by the socks construction. Many socks have elastic collars, that are meant to keep the sock in place. These elastic collars stretch beyond belief, and tightly hug your legs. This hug can sometimes be too tight, and make your feet swell up! Besides keeping your sock in place, they also keep dirt away from your feet, so you don't get infections or blisters. Support bands can be found around the instep and ankles. These bands provide a moderate amount of arch support and help your ankles stay in place. They also make the sock stay put, so it doesn't bulge up inside your shoes, making blisters, irritation, and pain a reality.
Materials
The materials are what makes a sock thermal or not. Thermal socks are made out of wool, usually Merino wool, since it has the best properties. Cotton will never insulate you, no matter how many layers of it you add up! So choosing a sock made out of proper materials will make all the difference, and will ultimately save you from the cold.
Merino wool is simply made for skiing, hiking, or anything done in the cold! It's super soft, naturally breathable and warm even it gets damp. Merino wool helps your body regulate temperature, has a great warmth-to-weight ratio, doesn't let your feet get stinky and it stretches as you move (adding spandex only improves this). Merino comes from a sheep, renowned for their capability of making huge amounts of exceptional wool. Standard wool fibers are rough and feel bad on our skin. Merino fibers are much finer and softer and can be worn all day. As a next-to-skin layer, merino wool has no competition. Merino wool has tiny lofts in its threads, and those lofts trap tiny amounts of air. When those tiny amounts of air add up, you get a huge pocket of air that heats up pretty nicely. Arguably, it can be used in the summer and in the winter as well, because it traps some moisture too, which gets released when it heats up, cooling your skin down. Merino wool is a material of choice for hiking, running, skiing, hunting and many more, and all for good reason. When the sun starts to shine, it'll keep you reasonably insulated, but once you start to bust a move, you will remain dry, cool and well insulated. One more benefit is merino wools capability to insulate when wet. If you step in a puddle and get your hiking socks moist, it won't affect their ability to keep you dry!
Polyester can also be incorporated in some parts. This petroleum-based fiber is not natural, instead, it is man-made. This means that if you look at a polyester sock under a microscope, you will notice thin fabric strands tightly woven together. These plastic threads hug so closely and so tightly, increasing their life. Also, they really like it when they get colored, and won't let go of it very easily, so you will have super colorful socks for a long time! Polyester also does a pretty good job at wicking moisture away!
Spandex, lycra or elastane all talk about the same type of material, which is made out of PU, or polyurethane. Elastane resists stretching very well, and it will change its form to make it easy for anything that comes inside of it. In fact, it can stretch up to 500% of its original length! This stretchiness is what helps them go back to their original form, so you always have the same fit. Spandex is also super light and removes all the weight that can beat you down when you trek outdoors.
Breathability
You might be of the belief that thermal socks do not breathe well. You start to think about those uncomfortably warm polyester socks you wore one day, and how your feet didn't appreciate being boiled. Well, the good part about thermal socks is that they are made out of wool. Wool has a natural breathing property. Again, you might think that wool does not breathe, yet think about this - wool protects animals from the harsh outdoors, and surely their skin needs to breathe, but how can it do that if wool doesn't breathe? Wool, in fact, does breathe very well. This means your feet will stay dry, so you don't need to fret about frostbites. No sweat means no bacteria or fungus, which will help you smell so much better!
Some socks have helpful mesh panels scattered around their upper. Mesh is a material well-known for its breathable properties since it has many small perforations allowing air to escape. This material will do the same thing in socks, and will allow air to cool you down if it needs to, but will not allow it to escape that easily, heating it up and keeping you warm. Breathability is an important property of thermal socks because enough air will dry at least some of the moisture, preventing sticky wet feet, which are perfect for ice burns!
Durability
Our hiking socks really do need to be durable. Imagine tearing a hole in your sock in the middle of a trek - that could spell disaster for your poor toes, frost and blister wise! The durability of socks can be improved in many ways. Many manufacturers mentioned on this list have worked their socks off to create durable pairs, and they all know the secret of long sock life. One way we can improve the life of socks is if we change the way they are knit. Dense, small knots create a tougher, ribbed construction. This construction holds well against tears and doesn't let anything rip them apart. It also bonds all the other parts of the socks like super glue, preventing holes from showing their smug little faces.
Reinforce areas that usually get worn down fast also play a role here. These areas are our toes and heels. Toes get worn down fast because our little buddies like to wiggle and dance while we walk, creating friction between the nails and the socks. This friction weakens the threads, and in due time the threads give up and let go, and voila! Holes! Not cutting your nails prior to a journey does not help - our extra sharp claws will tear the poor socks to pieces in no time! Reinforced toes try to prevent this, effectively increasing the life of the toe area. Heels get worn down too, but only because our heels give us the most support while we walk, and we depend on them to push us forward. Constant pressure and stretching make the fibers become weaker, and the rubbing of the upper against our shoes does not help either! So, reinforced heels make all that a long-forgotten past, and shoo away pesky holes and tears.
Insulation
Obviously, this is the criteria most important for our socks. Insulating socks trap heat inside and don't let it go. This trapped heat doesn't let out feet go cold and numb and keeps them warm and toasty. This is a very important quality when you dare to go out in the freezing temperatures, since losing your toes is not a welcome alternative. Socks can be insulated in many ways, but usually the upper does most of the job. Materials play a big role here, and wool does the best job at keeping the cold away. Wool is naturally fluffy and has tiny pockets where air can be trapped. This trapped air is in close contact with your skin, which naturally exhales heat. This released heat will warm up the little air pockets, and when all of that adds up, you will have a proper warm sock in no time. Nylon also does a pretty good job here, but it does not breathe at all, and we all know how bad we fare in warm areas that lack air!
One more important factor here is humidity. Air does not conduct warmth that well, but it moves very well. So, that means we need to look at two things before we even start to think about insulation. Those things are preventing the wind from finding its way inside our clothes and replacing the warm layer of air and creating an extra layer of air which does the insulating job. This is where moisture comes in. Water conducts heat much better, and so, if our clothes are damp, be it from sweat, rain, or surrounding water bodies, it will replace the air inside our socks and steal away all of our precious heat. And not only that, it will cool us down and make us cold and susceptible to frostbites, and no one wants that!
Top 10 Picks
1

. Darn Tough Vermont Wool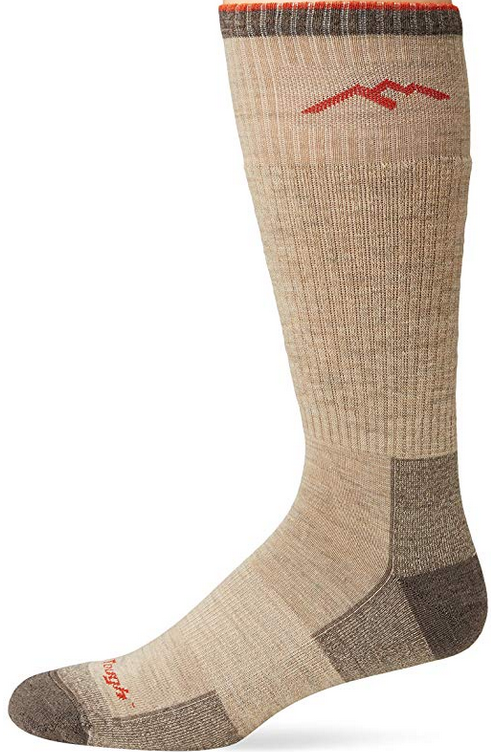 Darn Tough is a lovely family-owned company, which provide some of the most durable socks out there, as the name suggests. In fact, they're so certain that you can't wear them out, they offer a free pack for anyone who manages to make a hole in them! Everything gets created under one roof, so these socks have the ultimate quality control. They've lasted for 40 years, and their quality ensures they will create socks for a long time. These wooly socks bring that sublime quality to your doorstep and invite you to explore the wild.
They have a high density knit - this means there are more stitches per inch, creating an invincible sock without the extra bulk. They reinforced all the zones known to wear out first, like the heels and the toes, but they promise you won't feel those extra stitches. The underfoot has mid-level density cushioning. Dense cushions, compared to thick cushions, offer a lot of comfort but without the extra weight and surface. Those cushions will rebound their hearts out, and you will never feel the strain of a tough trek on your feet. These ultra-light socks also have one feature that is so well done you might not even notice it. Their true seamless toes ensure you will never feel anything but euphoria while you venture out in the wilderness. They are form fitting and have ribbed support. This prevents blisters, bunching and slipping!

2

. Bridgedale WoolFusion Summit


These thick, warm socks from Bridgedale combine various materials to achieve the best possible blend to keep you warm and dry. They have blended enduro wool, nylon, and lycra. Wool will keep you extra warm, dry and smelling good. The nylon breathes very well and is durable, so no need to worry about seats or holes appearing prematurely. Lycra is just a different way to say elastane, and we all know how much this material can stretch! It will keep the socks in place and will accommodate any kind of shape and size. It also prevents dirt and snow from falling into them, so nothing will be inside them to rub you wrong and cause infection.
They were designed with high peaks and winter expeditions in mind you can have the adventure of your lifetime. The nylon, combined with enduro wool, also serves one more purpose - it wicks away moisture. This means that they absorb sweat that your feet naturally create, and transport it to the outermost surfaces, where you won't feel it. They can absorb up to 30% of moisture in their weight without you feeling it! Terry-loops were used to construct them, which suggests the name enduro wool. They are very durable and will hold on as long as you need them to. Dense cushioning protects your feet from rough terrain, and it absorbs shock, you can have a cozy journey!

3

. Andorra Merino Ultra Light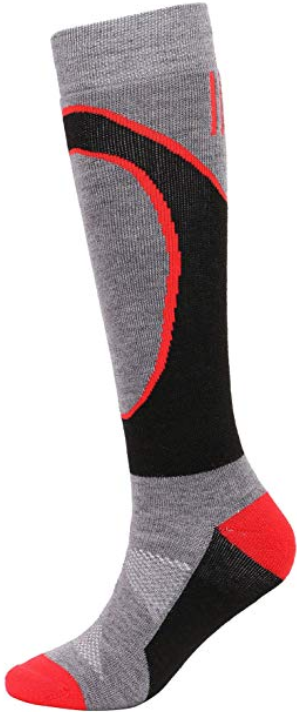 These striking long socks will make sure you never feel the cold touch of winter caressing your skin. They have been engineered with skill and care, to meet the strict demands of athletes keen onto winter sports. Their Merino upper keeps you super hot (but not uncomfortably hot), and you never have to worry about frostbites again! They can absorb up to a third of their weight in moisture, and you won't even know they did that!
The support grip cuff will make sure they don't sneak down into your boots and cause troubles, so you can rest easy knowing you won't sprout blisters and irritation. The anti-bunching bands promote this even more, and they also give some arch support and enhance circulation. The pillow-soft cushioned sole doesn't let you feel the rocks and bumps of the terrain you will walk on and eases the pressure your ankles and muscles feel when you walk or climb. Their high-tech insulating core and upper work together and form a pocket of air that gets warm thanks to your own body, and keeps you warm until you take the socks off. Their bright, bold colors let you show off your individual style!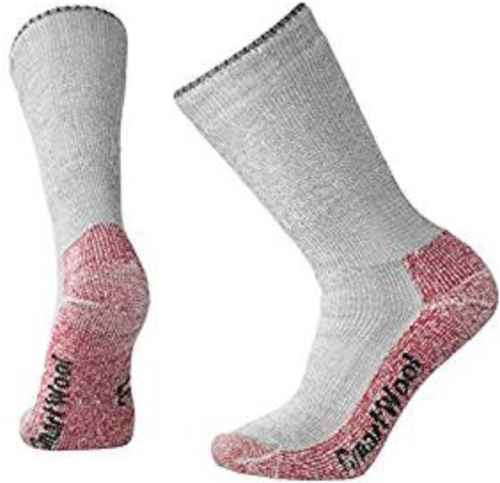 SmartWool knows all about the struggles mountain climbers experience because their story began on a harsh Colorado slope. Their socks show the difference, and it's not just the Merino wool! They push the boundaries of this miracle material, making it even more tough and effective. Merino wool was always known as the best quality wool, and there's plenty of reasons why. This wool breathes better than the rest, resists odors, and doesn't itch and irritate.
The break in the gray color suggests something special happens on the bottom. And it sure does! The red border marks the beginning of the extra heavy cushions. These cushions absorb shock like champs and help relieve the pressure your joints and feet will inevitably feel as you climb or walk for a long time. They also provide extra warmth! The SmartWool Fit System provides braces around the arches and ankles. These braces compress your feet, help with blood flow, and make sure the socks stay where they're supposed to be. The toe seams have a flat knit, so they won't cause any discomfort. You can clearly see the sizes on their sides, so there's no way you can confuse them for something else!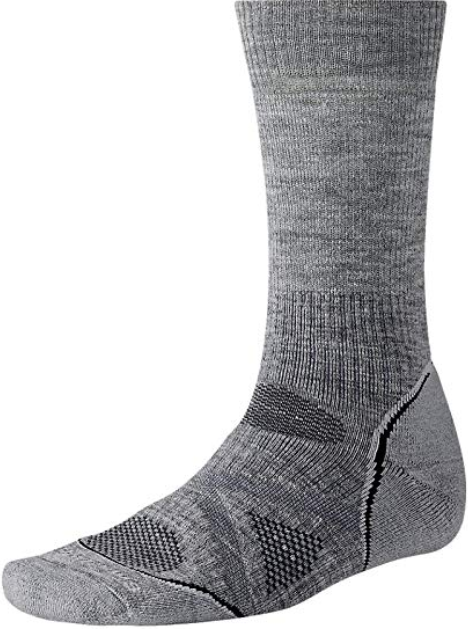 The Nordic regions are the coldest corners of our world, and the name of these socks suggest they will make those corners feel like summer holidays. They are made out of Merino wool, a high-quality material that boasts many great qualities, including pliable forms and supreme insulation. The nylon improves their durability and moisture-wicking properties, while the elastane allows them to stretch. All of these materials work together to allow you to enjoy your trips to their max!
They are lightly cushioned, and these light cushions dry much quicker than other pads and provide the same amount of comfort and warmth you need. The toes virtually have zero seams, so nothing will itch you or grind your toes and cause blisters. The shins are cushioned as well, providing additional protection. The material in their name stands for performance in the highest degree - they use two elastics to increase the amount of stretch, and to help the sock stay in place; Patented ReliaWool sits on high impact areas and makes sure they don't tear easily. Strategically placed mesh zones ventilate your skin and manage moisture. boast will keep you dry, frostbite-free and smelling like a lavender field!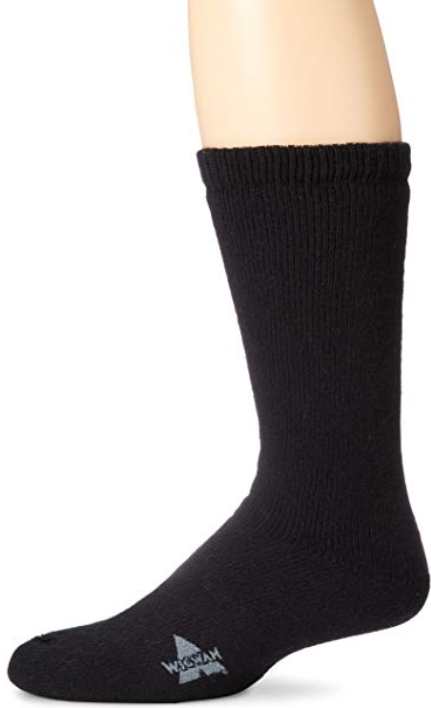 Wigwam is a sock company known to create quality pairs, that do their job very well. The below 40 is determined to keep you warm and toasty, and that's just what it will do! They are a blend of wool, nylon, and spandex. The wool will keep you toasty and will cushion you, increasing the comfort you will feel. The nylon will wick away any moisture you may produce, and the spandex will stretch out and keep the socks in place. The heavyweight wool will also last a long time, so you will be getting quite a durable pair.
Wigwam offers a lifetime guarantee, so if anything ever goes wrong, you can always replace them with a new pair and enjoy them again. As we mentioned, the collar is elastic, keeping the sock in place. This means they won't bulge up in your shoes, rub you the wrong way and end up causing blisters, causing you to stop your trip. They are fully cushioned throughout their whole length, so you won't feel the strain of rough surfaces, and your feet will feel happy and rested. The sock will keep its shape after washing, and you will always have the same fit. The toe seams are low profile, so no seams will pinch the skin around your toes!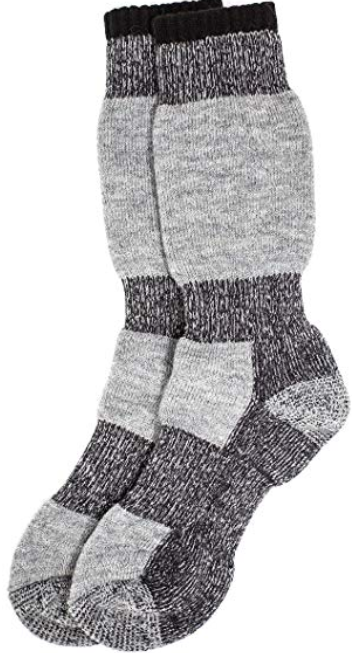 These superb socks originate from Canada, a region known for its unforgiving winters and cool summers. Their origins promise quality - if Canadians can't make a proper warm sock, then who can? They are almost completely made out of Merino wool, but a part of them is made out of nylon (and spandex). The Merino wool is obviously there to provide you with heat and comfort, but what exactly does the nylon do? Nylon might not breathe that well (we have the wool part for that), but it does wick away moisture like a champ, and improves durability! Nylon can absorb a lot of moisture without you feeling the wetness at all. The spandex is present around the collars, but also around two more places.
These two places are the cuffs, present around the arches and the ankles. But what exactly do they do? Won't they just cut off your circulation and squeeze you tightly? Well, the elastic helps them stretch enough for you to be comfortable, but not enough for them to slip down! This elastic grip improves the fit, provides a little bit of arch support, and makes sure the socks don't bulge up inside your boots and cause blisters. They are fully cushioned, making it feel like you have proper pillows around your soles. Impact support zones reinforce the stitches and extend the lifespan of these socks by a margin!

8

. J.B Icelandic -50 Below


One more addition from J.B promises you won't even feel the extreme cold that Iceland provides. What makes these very interesting is the pre-shrunk wool upper that makes them what they are. This means that you can safely wash them in a machine, and there would be no need to worry about them shrinking and making the fit different! A small part of them, fifteen percent, is nylon. The nylon helps them stretch a bit more, and it also strengthens the construction and wicks away moisture, keeping you dry and toasty.
The wool also traps air, and that trapped air creates air pockets in the socks. These air pockets heat up thanks to your body temperature, and they do not cool down since they are, you guessed it, trapped. This means that you will have a constant supply of heat and dryness! They reach up to your knees and keep your calves cushy and warm as well. X-Hi Terry Cushion helps keep you even warmer and protects you from impact forces and the pressure of walking or climbing. You can turn the gumboot cuff down, making them just a tad bit stylish!

9

. Heat Holders Deep Fuschia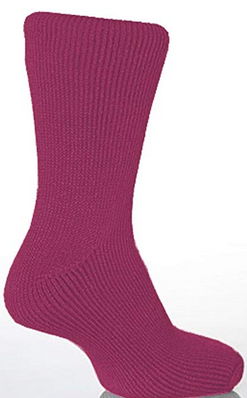 These lovely deep pink socks will make a fashion statement and will keep you super warm! Specially developed fibers provide supreme warmth and keep a pocket of air inside, that warms up to your body temperature and keeps you warm. Their long looped thermal pile makes extra long looped cushions, increasing their thermal rating. Their heavy bulk yarn upper makes sure they last a long time, so there's no need to worry about them sprouting holes in the middle of your trip.
Their inside has been brushed intensely, so they don't itch you or cause any kind of irritation. This soft surface also works well enough to trap air, keeping you warm even longer. Their polyester fabrics wick away moisture, so you'll always be dry as a dessert and warm. No sticky feet and frostbite risks! ·They are available in a lot of sizes, making sure every type of foot can fit in them.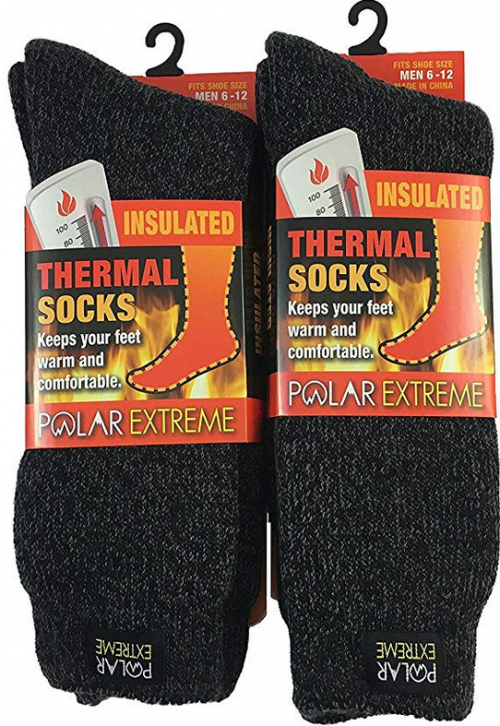 Their name suggests that you can easily storm through a polar expedition, and they will prove that right. They even come in a two pack, so even if something happens to your first pair, you can always bring the second one as a backup! They used special manufacturing techniques, looping the threads in a specific way meant to hold the heat better. The yarns are super tough and insulate very well, so they will last a long time, and your feet will be warm for a long time too!
Their upper may seem rough and uninviting, but if you dare to feel the inside surface, you will know they are prepared to give you plenty of comfort. They are linen socks that were heavily brushed nothing will scratch you or cause irritation. This tough linen also does a pretty good job of keeping you dry - their moisture wicking properties work to keep you safe from frostbites and ice burns. Besides that, you also won't feel the sweat, and so you won't cook in your own moisture, which will, in turn, keep you smelling fresh and clean!

Subscribe to our Newsletter