Best Toe & Foot Warmers for Extreme Cold Reviewed
In a Hurry? Editors choice: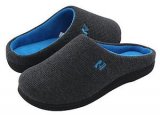 Test Winner: RockDove Memory Foam Slipper

Some choose to spend this season in the mountains or on ice – skiing, snowboarding, hiking or skating. Others prefer to spend it in the yard – bobsledding, building snowmen or having snowball fights with the kids, ignoring the slowly-climbing electricity fee they'll have to deal with at the end of the month. But regardless of if it's just shoveling the driveway or if you spend days in a cabin
on the mountains
, there's one thing everybody needs, and that is a high-quality
foot and toe warmers
that will
keep you protected
from the nipping cold.
Check out the top 10 list of
foot warmers
below!
Standout Picks
Criteria Used for Evaluation
Style
If you've looked over our list of the best ways to keep your feet and toes from getting too cold during winter time, then you've noticed that there is a very wide variety of products that we've chosen as possible options. While all of them will do the job, it is important to consider whether either of these items will be the best choice for you. Do you want to use these toe warming products indoors or outdoors? How long do you need it to last? Do you prefer a single use or a multiple use item? For those with sensitivity issues, the way in which these inserts fit inside their shoes can also be an important factor to consider.
Generally, we've broken our list of warming aids into a few categories:
Heat Packs – chemical heat packs are a great source of heat for when you're on the go. And the best thing about them is that there are different kinds dedicated to keeping your entire body warm, not just your feet and toes. These products will come in pairs, one for each of your feet. While there's a distinction between those intended for warming your toes and those for your feet, the way they work is pretty similar. Containing a compound of ingredients including iron, water, salt and activated carbon, these packs will need to be shaken which will mix all of these ingredients, producing heat. From there, you can stick them to the bottom of your socks, put on your shoes, and you're ready to go. The best use for heat packs is when you're outdoors doing activities such as skiing, camping, tailgating, hiking or hunting. During these activities, you are likely to stay outdoors for long periods of time, which means that an added source of heat that will protect your extremities can make quite a difference, and heat packs can keep you warm for upwards of 5 hours. Nonetheless, if you suffer from cold feet, you could probably use these indoors as well.The downside of this type of product, however, is the fact that these packs are single use. That means if you're after some consistent heating during the cold months, you will go through these particularly fast. Furthermore, there is a possibility that the ingredients in the pack fail to activate, which will leave you just as cold as you were initially.
Heating Pads – if your main goal is to keep comfortable indoors, whether in bed, on the couch or while sitting at your computer, then the best way to go is definitely to get a heated footrest. These come in different variations, from those that are like blankets and are intended to be used in bed, to those which even have slight massaging properties and that will need to be plugged into a USB source. Heating pads use electricity to generate heat, either from rechargeable batteries or from being directly plugged into a power source (such as an outlet or your computer). They will allow you to keep comfortable while you're inside your home – especially if you prefer to not wear shoes inside. One of the biggest advantages that these products offer is the fact that, despite requiring electricity to work, they can still save you a lot of money. Some people will find that turning the heating in their entire house is the best way to keep comfy, but if you're worried about the bill that's going to arrive in your mailbox after a month of doing that, you might want to invest in a heater that uses power, but does not waste it on areas of your home where the added heat is not necessary.
Battery Powered Insoles, Socks, and Shoes – last but not least, it's possible that the items on this list that caught your eye were the ones which work in multiple environments. Shoes, socks, and insoles which allow you to use them as a source of heat in more than just one environment are a great option if you can afford the initial price tag. You will be able to use most of these both outside and inside, as all you'll have to do is charge them, and you'll be ready to go. Whether you go with the electrically heated socks, insoles or house slippers, you'll definitely appreciate the constant warmth they provide.
Safety Hazards
As mentioned above, the heat source you choose to provide warmth to your extremities can be a single-use item, or it can be a product which was made to serve you for several years. If you're someone who is interested in protecting nature, then you may be worried about whether the product you've chosen is completely safe for your environment.
When it comes to single-use heat packs, they contain fully natural materials which generate heat when mixed. Nonetheless, they still may use synthetics and non-biodegradable materials in their packaging and outer shell, which means that if you're going to be burning through more than a few of these per week, then they do make a significant impact. Some people suggest re-using these heat packs by putting them in a sealed bag that contains no air, which means that you can use the same pack on more than just one occasion, minimizing the amount of trash that is going to end up polluting your environment.
If your preferred heating device uses batteries or an electric source, make sure you always dispose of batteries in a safe way, and that you unplug your device when you aren't using it. Not only will this help protect nature, but it can also save you a considerable amount of money by lowering the amount of power you use.
Use
Last but not least, an important aspect of choosing a heat source that you'll be using in contact with any of your body parts is the safety it provides. Whether you opt for an air-activated or battery operated source of warmth, there are a few general rules which you need to follow in order to prevent any unwanted side effects.
First and foremost, unless stated otherwise on the manufacturer's instructions, no heat source should be in direct contact with your skin (or your valuables such as your phone). As these are products which generate heat, they may cause burns if put directly on your feet. If at any point you feel like you are experiencing more heat than is comfortable, it's crucial that you immediately remove the pack from your shoes or to take your feet off the heated surface.
Another thing to consider is that very hot feet do not go well with certain medical problems. First and foremost, if you suffer from venous disease, it would be best to consult with your doctor whether using a heating device is safe for you. Otherwise, it's also possible that you have sweaty feet or bacterial and fungal infections which can get worse when exposed to too much heat. Again, if this is the case, it is best that you have checked with your doctor whether foot and toe warmers are safe for you to use.
Brand
While branding isn't everything, it can be an important aspect to consider. Certain brands are notorious for crafting high-quality products that are long-lasting and stylish by design.
There are many other brands that are equal in design and offer comforting features. It's always advisable to research a brand before purchasing one of their products to get a feel for how satisfied wearers have been in the past. The best way to do so is by reading user reviews from verified consumers, that way you have a better shot at reading real reviews.
Value
The last criteria that we would like to share are regarding the price tag. Here's the deal, no consumer wants to spend above their budget on a good. So, when we were evaluating items, we really took into consideration a few different things when it comes to price. Primarily, we really wanted to focus on sharing brands and products that offered a blend of a good price tag with great value.
To do this, we actually started off the buying guide by scanning through a couple dozen different types of footwear. We looked at the price range and came up with an average or an estimated market value. This number was then used in choosing the best products. For example, we would look at a product and ask ourselves:
How is this priced in comparison to the estimated market price?
Does this product offer value equal to or greater than its price tag?
How does this compare to the other products we have selected?
Does the consumer receive more or less value from this than another brand?
No matter the type of good you are planning on purchasing, by asking questions like above, it can really help to ensure you are receiving your money's worth for a purchase.
10 Best Foot Warmers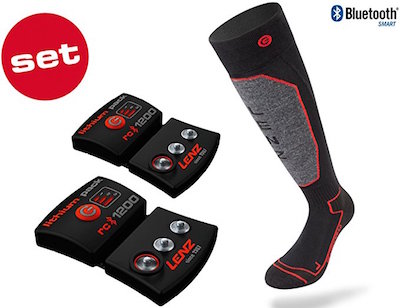 If you are an avid skier, then you know that the most frustrating thing that can happen is to have to get off the slopes because your feet and toes are freezing. These feet warmers were made specifically to eliminate this problem, seeing that they are designed as a regular pair of socks that has a heating element in the foot area. All you have to do is attach the battery through a stud clip on the leg part of the sock and you're ready to go.
Perhaps the best part about these socks is the fact that you can control the heat they produce through your smartphone. No need to manually adjust the temperature, since all the options you need are available in just a few taps of your fingers.
These foot warmer socks will last you longest on this list. Keeping you warm for periods up to 14 hours, you can use these socks even on the longest days. Whether you're out in nature or at home doesn't matter, what counts is that your toes are toasty and warm.

2

. RockDove Memory Foam Slipper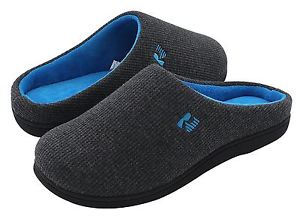 If none of the other foot and toe warming products suit your preferences, these adorable comfortable slippers might do the trick. These feet warmers can be worn outside, but you might not want to leave your house as they're perfect for working (or surfing the net) at your computer on a frigid winter's day.
These adorable slippers have a memory foam cushioned insole that molds to your feet and gives you the feeling of walking on a pillow. The way the material surrounds your feet will warm them up in no time.
If you have to get up to grab a coffee or a snack, you can simply get up. Other foot warmers and toe warmers on our list might mean you have to leave the comfort of your warming station but not with these.

3

. Arealer Heater and Massager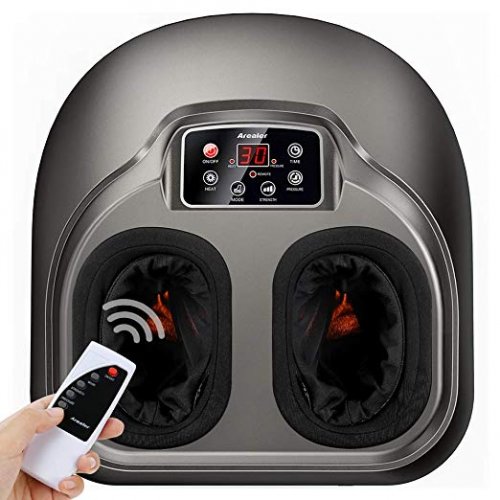 The Arealer Heater and Massager's main mission is to help the user "relax their tired feet and release themselves," and with features such as air compression heating and shiatsu massage, you'll find yourself screaming "mission accomplished!" The design of the product allows it to easily be used at home or in the office and it offers five different intensity levels for a customized experience. You can even use the included remote to control the unit, a great feature if your back hurts as much as your feet.
The warming function of the Arealer foot warmers was one of the most-positively received features by customers around the world, keeping your feet warm without becoming too hot. The timer function prevents overexposure to heat and keeps your feet safe when enjoying a massage or a simple soak.
The massage feature in the Arealer mimics the Shiatsu style of massage, while also offering kneading, rolling and scraping programs. With multiple modes of massage, you can find the one you like best and personalize your experience to fit your level of pain or discomfort. Finally, the Arealer comes with a detachable breathable inner cover, making it easy to wash and prevent buildup of bacteria, fungi, dirt and hard water stains.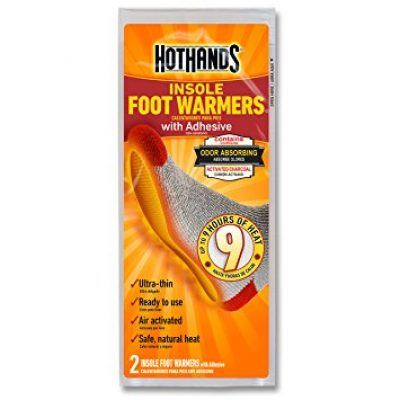 These insole foot warmers may sound suspiciously similar to another pick. But although they are from the same brand, these warming insoles are specially made to cover the bottom of your entire foot. They are perfect for people who spend a lot of time outdoors, doing sports or just shoveling the driveway. They can stay warm for up to nine hours and are adhesive. With these, you'll never have to dread stepping outdoors into ice and snow again.
These full-length foot warming insoles are designed for use in shoes and boots. This renders them ideal for long hikes and makes sure you won't have to deal with any lumpy discomfort.
One of the best things about these insoles is the fact that you can wear them even when traveling by airplane. Being TSA approved, you'll be able to carry them with you wherever you go.

5

. Hotronic FootWarmer S4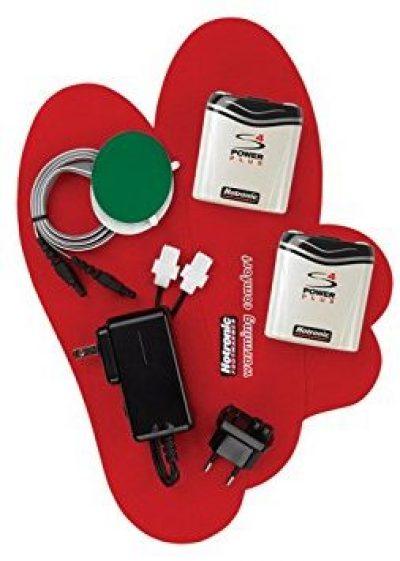 This is an item which uses a power source in order to keep your feet and toes warm in cold conditions. These shoe inserts may not be as convenient as their air-activated, grab-and-go counterparts, but they offer amazing features as well. They can be installed comfortably in all types of footwear ranging from typical winter boots to ski boots. They can be taken out at any time, and are great at conserving electricity. If you're not good with your hands, you may not be a big fan of this one as it is a custom kit. However, the kit comes with everything, including battery packs, chargers, self-adhesive strips and Hotronic's Heat Ready Insoles.
For a single full charge, these foot warmers can stay warm for long periods of time while also offering up to a 30% increase in average temperature.
As they claim to maintain up to 55% of a full charge, you won't have to keep slipping them in and out of your shoe to charge or waste your time waiting for them to be ready before you leave the house.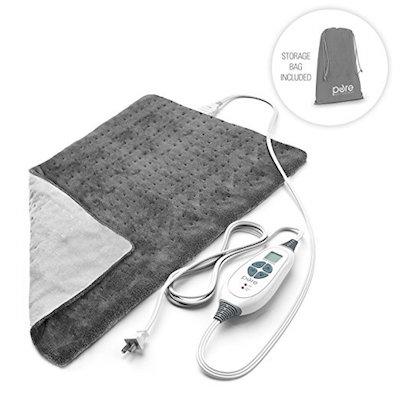 Designed in California to be used for therapeutic purposes, the PureRelief XL is a heated blanket which is to be used on targeted areas of your body, including your back, neck, arms, and legs. But what you will find to be even better about it is the fact that it will let you cozy up in front of the TV or your computer, enjoying the warmth it provides to your cold feet.
Getting the perfect temperature is never easy, where the digital LCD controller on these feet warmers comes in really handy. It has six different heating levels, which gives you plenty of options to choose from, ensuring that you feel absolutely comfortable no matter what.
One of the downsides of bulky warming products intended for your feet is that you are unlikely to be using them all year long. The PureRelief XL comes with a storage bag so that you can properly put it away, ensuring that it remains clean and functional no matter how long it has been sitting in the back of your closet.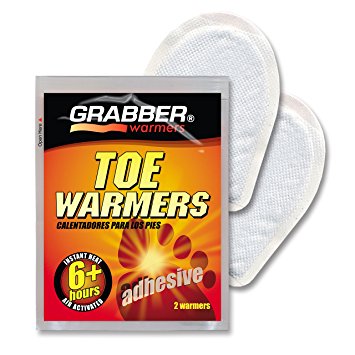 These toe warmers are by one of the most popular brands. They are air-activated, which renders them convenient and great for going out skiing or snowboarding. They are also odorless and non-toxic and are made with all-natural ingredients. Each feet warmer can last for up to six hours and can reach a temperature up to 42 degrees Celsius, or 107 degrees Fahrenheit. They can be comfortably worn in shoes and boots and will keep your toes warm no matter the weather.
Grabber uses only natural ingredients in their toe warming inserts. It is a safe and non-toxic heat source, which you can confidently wear without having to be afraid of harmful chemicals being in contact with your skin.
Adhesive backing allows these to be stuck to the outside of socks and worn inside shoes and boots, rendering them easy and convenient for all types of occasions.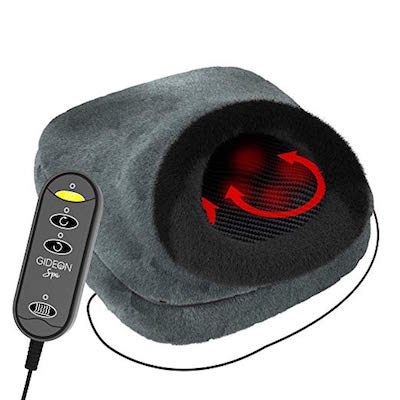 If you're looking at gadgets to warm your feet and toes because you're looking for comfort more than practicality, then the Gideon Foot Spa might just be the best choice for you. This massager is made to give your feet relief after a hard day of work, while the built-in heating mechanism comes in quite handy during the cold winter months.
Mimicking the motions a professional masseuse would make during a spa session, the Gideon Spa feet warmer uses deep relief nodes to help relieve the symptoms of various foot problems, including heel spurs, plantar fasciitis, arthritis, foot swelling as well as poor circulation. Additionally, it can also be used on your back.
The fleece upper on the Gideon Spa is removable, which means that you can even use this product if your feet are warm enough. Additionally, it's completely washable, ensuring proper hygiene.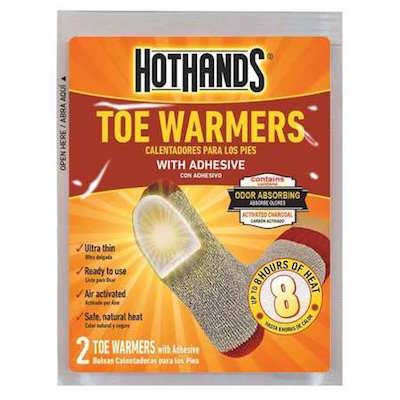 HotHands is well known for their hand and foot warming products. This particular pack of products contains single use and air-activated heating aids, rendering them extremely convenient for all types of circumstances. Their thinness makes them ideal for being outdoors for long periods of time, as they can sit comfortably in your shoes. Their adhesive backing also ensures they don't slip and slide around. Providing up to nine hours of warmth, these are sure to keep your feet cozy for an entire day outdoors.
You won't have to plug in the microwave or boil any water to warm these up. Because they are air-activated, they're super convenient for skiing, going on hikes, or even just commuting to work.
These aren't bulky, so you can easily slip them into your shoes to keep your toes comfy and toasty warm. You'll find them especially convenient if you have wide feet that are already pressed for space inside your bulky winter boots.

10

. RENPHO Warming Foot Massager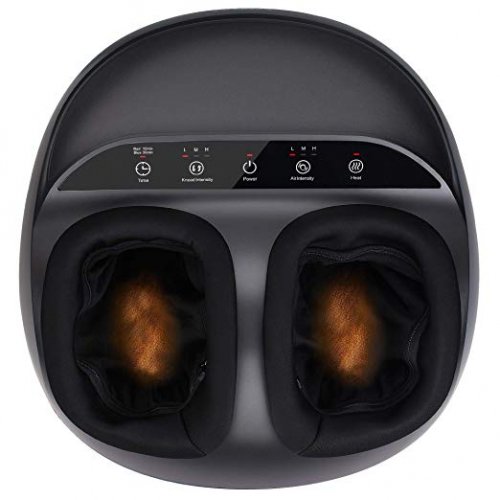 The RENPHO is an ergonomically designed foot warmer and massager, supporting those with even a size 12 foot. Suitable for the home and the office, it features shiatsu massage, air compression, foot warming and an easy-to-use set of touch controls. There is a remote-control system; however, it requires the buyer to upgrade to the next level RENPHO, at a small, additional cost. The RENPHO claims to be able to help with headaches, toxin removal, foot pain and improving blood circulation.
The warming function in the RENPHO is great for relaxing after a stressful day at the office or the job site. Combined with either the air pressure or shiatsu style massage treatment, it can relieve chronic foot pain and even help with debilitating neuropathic foot numbness and orthopedic conditions, like plantar fasciitis. RENPHO also recognizes that people are different and their reasons for using the product are different as well; so, they made sure to include different levels of heating and massage intensity and a safety timer function, to prevent burns or injury.
A bit on the larger side, the unit can be used in the office; however, we think it is more suitable for home use. Offering a one-year customer service guarantee, the RENPHO is a great choice for those that have never used a foot heat and massage system before. You always have the option to reach out to RENPHO's US-based customer service for assistance within the first year, and if you don't like the product, RENPHO will make it right for you!

Subscribe to our Newsletter