Best Mountain Biking Shoes Reviewed
In a Hurry? Editors choice: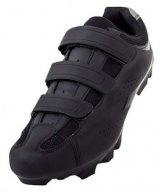 Test Winner: Tommaso Montagna 100

Finding the best mountain bike shoe is quite difficult and time-consuming, but there are great options out there. There are two types of cycling shoes - clipless and flat pedal shoes. Clipless shoes are attached to the pedal using a cleat and ratchet. The flat pedal shoes have adequate grip and flat outsoles.  We've conducted the in-depth research regarding the best type of mountain biking shoes, saving you time and effort so you can get the shoes you need and get out there. All mountain bike shoes on this list have been tested for endurance, overall performance on the trail and are ranked according to thousand of wear-tester feedback.
Standout Picks
Criteria Used for Evaluation
Outsole
Although the most optimal choice for most mountain bikers is clipped pedals, we know that some users stick to flat pedals. Because of this, we kept in consideration that in some cases you'll need more than just the clip to obtain a firm grip on the pedal.
There's a lot of ways in which the grip of your mountain bike shoe can affect your performance. The first one and most important, as you can guess, is pretty simple: not slipping. This inconvenient can not only be bad for your performance, but it's also crossing the thin gap between impractical and hazardous.
Because of this, a mountain bike shoe can be directly judged by the quality of its grip on the pedal. This factor will mostly rely on the outsole, as it's the part of the shoe that deals with the pedal.  Thus, every single aspect of the outsole has an impact on the quality of the traction between the shoe and the pedal.
For instance, the outsole material is one of the key points when it comes to traction. In this case, a plastic outsole will not provide you any sort of acceptable grip. Some materials, such as fiberglass, may look very similar to plastic – except they're far better. Generally, the sole on mountain bike shoes are made of either fiberglass variants or rubber.
Though, there's more to it than the base material. Some models include lugs that drop from the outsole; these lugs provide a much better grip and increase the pedal control. However, the lugs usually make the shoe specific for a mountain bike or other cycling variants, as the odd platform is of little use outside the sport. Additionally, this doesn't mean that flat outsoles are not a good choice for mountain biking.
Having a solid hold of both pedals is a critical point to achieve the maximum performance. But we're not just referring to potential slippage between the outsole and the pedal (which indeed is an affecting factor too). A good positioning and hold of the pedals also translate into a much better pedaling-intensity. By having total control over the pedals, you have total control over your balance and your speed. Additionally, a better grip from your mountain bike shoe allows you to pedal faster if competing.
Flat outsoles may not have long lugs, but they should still feature a smart outsole design that eases the grip on the pedal. Usually, the rubber compounds that cover the outsole are stickier than an average rubber sole. If it's not obvious, this means greater contact with the pedal. These designs are also meant to maintain stability while standing on the pedals rather than using the seat. By standing on the pedals, you apply more pressure on these sticky compounds, making it easier to stay on the pedals.
Comfort
Athletes of every kind of disciplines often underestimate the impact that comfort can have on their performance. One of the biggest mistakes an athlete can make is performing in mountain bike shoes that disturb or discomfort your feet. Some people just deal with it, not knowing that they would perform much better in adequate footwear. However, there are cases in which "dealing with it" comes at a huge price.
Mountain bike shoes fall into one of those cases. This sport is arguably one of the most stressful for your feet; although they're not in direct contact with the ground, tension and impact stress still gets to them. The lack of comfort combined with the amount of strain adds up to be one huge tax on your performance.
When cycling, there are only 3 parts of your body that are in contact with the bicycle: the glutes, hands, and feet. Most of the time, like most mountain cyclers will know, glutes aren't on the seat because you stand up. This only leaves your hands and feet in charge of the bicycle, thus you want to make these two are properly equipped.
Comfortability is determined by multiple factors. The most important ones consist of breathability, cushioning, and fit.
Mountain cycling is very pedal-intensive; unquestionably more intense than regular cycling. In this sport, the uneven mountain surface and obstacles require a considerable amount of effort to surpass. Although the effort is performed by multiple muscle groups, it's lastly transmitted by the feet. If your mountain bike shoes are completely closed, this will cause large amounts of heat to accumulate within the footwear.
If you know a thing or two about closed mountain bike shoes, you know how big of an obstacle heat accumulation is. For starters, it's simply uncomfortable and annoying – it becomes a distraction. But, it additionally speeds up the muscular fatigue process and makes you sweat notably more. This opens your feet to humidity, bad odors, and eventually slippage within the inner build.
Cushioning and padding can be the difference between a smooth performance and a painful one. It may look like the mountain bike shoe's outsole is enough to protect your feet from the pedal impact, but it's nowhere close. The only difference the outsole makes is that it'll be the outsole's plastic damaging your feet rather than the pedal. Cushioning, on the other hand, prevents your heels and arch from suffering every bump. It also protects your feet from being extremely sore the day posterior to performance.
Last, but not least, it's important to have an adequate fit. This ultimately comes down to your own preference, as well as the anatomy of your feet. If you have wide feet, it's of paramount importance that your shoes feature the right amount of space. Mountain cycling is already stressful enough on your feet, don't make it harder on yourself by using tight shoes.
Protection
Like we previously explained, mountain biking is a particularly rough sport. The uneven terrain and obstacles are much harder on our muscles, as well as on our equipment. Hence, not any kind of mountain bike shoe build is suitable for this activity. Think of it as regular running shoes and trail running shoes. Although you could get away with trail running in regular sneakers, it's not the right thing to do in terms of optimal performance.
Moreover, a regular running sneaker isn't properly designed to face the trail. This is the exact same case with mountain bike shoes. The best mountain bike shoes are carefully engineered to overcome performance on the mountains. Just like in our previous example, you can successfully get away with doing mountain bike with regular shoes. This is of course, at the cost of the performance quality (not to mention that average sneakers are very likely to break or degrade in such activities).
Like we explained previously, your feet suffer just like your equipment degrades. Therefore, it's important for a mountain bike shoe to provide sufficient protection from external elements.
Keep in mind that protective measures don't only target direct hazards, like a branch breaking into the shoe. Some features, such as the collar seal, prevent debris, dust, and small elements from going into the mountain bike shoe and potentially under your feet. Debris may not seem like a big threat, however, a very small object can become dangerous once you stand on the pedals and all you press all of your weight against this small object.
Weight
Lightweight builds have quickly become a standard in performance shoes of all types of sports. This is due to a simple reason; a lighter mountain bike shoe requires less effort to move around.
You may be thinking that the weight of a mountain bike shoe may not have that much of an impact on your performance. However, we can guarantee that it does. The weight of a shoe becomes more important as your performance lasts longer. Sure, you may not feel that much of a difference when you're first putting them on. You may not even notice the weight difference between a lightweight shoe and a normal one when trying them.
The difference becomes more and more notable as you start to actually perform in them. Think of it as the shoes reducing a tiny bit of effort every time you complete a pedaling cycle. When looking at one single spinning cycle, the difference sure is hard to notice. But, after multiple hours of cycling and performing, all those tiny bits of reduced effort add up. In the long run, a lightweight shoe can considerably extend your muscular endurance.
Furthermore, a lightweight mountain bike shoe is much easier to control. As they require less effort to move, they allow you to perform faster. This translates into faster pedaling, given that you are after speed.
There's a constant race between manufacturers as to who makes the lightest shoes, continually removing more weight every time. When it comes to elite or professional performance, cyclers will go for the most optimal piece of equipment. In the world of professional-level competition, having shoes that are a few grams lighter than other competitors is considered an advantage. Thus, athletes look after the lightest shoes available.
Although the difference may be very small, it's still an advantage in the eyes of world-class athletes, and they want to get as much of it as they can. If you're not a competitive athlete, however, you might not mind about a few ounces more or a few ounces less. As long as the mountain bike shoes are within the lightweight standards, you'll enjoy the benefits of replacing heavy shoes.
It's very important to keep in mind that a lightweight build doesn't just consist of lightweight materials. The materials used for a lightweight shoe must be adequate for the sport they're being used for. These fabrics must not fail to provide a solid structure for the shoe. The main issue with lightweight materials is that they're thinner and less protective than bulky materials. Because of this, lightweight mountain bike shoes tend to be less durable. This often means that they're also more susceptible to external damage.
The perfect design lies within a healthy combination of both lightweight and quality performance materials. For instance, traditional rubber is no longer a part of professional performance shoes (in most cases). Instead, a vulcanized variation of synthetic rubber provides very similar qualities and effects at a much lesser weight.
Durability
So, what is it that makes a mountain bike shoe more durable than an average sneaker for this sport? The first point is fairly simple: the materials. When thinking of a regular shoe, the first thing that comes to mind is a rubber sole and a suede or mesh upper build (or something similar). There's no need to be an expert to know these materials aren't adequate for mountain sports.
On the other hand, mountain bike shoes (or extreme mountain sports shoes for that matter) generally feature a strong leather, such as synthetic ones. Some shoes incorporate mesh-like fabrics to improve breathability. While these fabrics may seem very similar to mesh, they often aren't. This is due to the simple reason that mesh is very easy to perforate, and it would ruin the build. In cases where nylon and a similar mesh is used, there's generally an inner pad to reinforce it.
The outsole materials in a mountain bike shoe must count with special qualities for extreme mountain performance too. This involves special materials that are usually very different from the ones you find in an average sneaker (or even performance shoes related to other sports). This is what ensures that your shoes don't fall apart after just a few rides, and that you can get your money's worth out of your investment.
Top 10 Best MTB Shoes Reviewed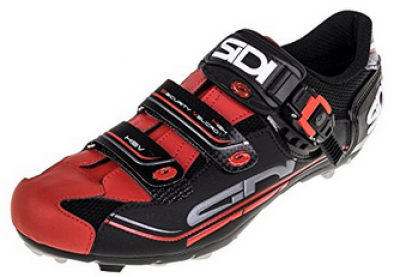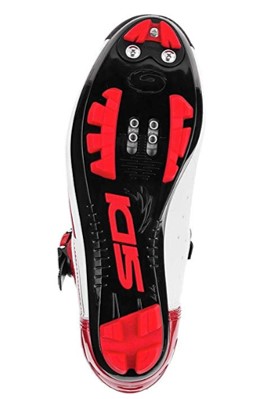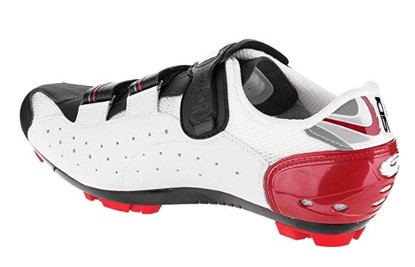 The Dominator series stands up to its name, dominating almost any environment your bicycle can potentially encounter. In short words, the SIDI Dominator 7, in particular, is just powerful, allowing non-competition athletes to unlock their true potential. Customization is not an issue with this mountain biking shoe and neither is a comfort, as it provides you the ability to adjust it to your very own riding preferences. Since having been released, the Dominator 7 has proven to be one of the most popular mountain biking shoes available.
Bulky and heavy technology is a thing of the past; SIDI knows this, which is why the Dominator 7 focuses on micro-technology. The microfibra is a material that, aside from being eco-friendly and water-repellent, delivers unique feats of resistance, stability, lightness, and transpirability. The Water-Tech treatment given during the manufacturing process protects your feet from any liquid. The low environmental impact and less toxic emissions into the ecosystem are beneficial to both the user and the environment.
A closure that resembles the anatomic shape of the foot is exactly what you need to achieve the most support and responsiveness. This design follows the anatomic curvature of the upper foot combined with an utterly comfortable thermo-formed EVA pad. This pad helps distribute pressure much more evenly around the instep zone to prevent points of acute stress in your feet. This mountain biking shoe's closure system can be adjusted from both sides to lower, raise, or center the EVA pad.
The Dominator series has never been the cheapest pair of mountain bike shoes out there, but it hasn't been the most expensive one either. Reaching above the average value of the list, however, you should expect to pay a bit more. The SIDI Dominator 7 delivers a satisfactory level of optimal performance and has a level of functionality which is certainly worth every cent.

2

. Pearl Izumi Tri Fly Elite v6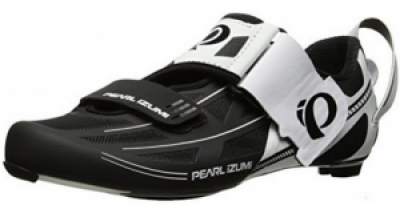 High-performance mountain bike shoes don't get any more comfortable than the Pearl Izumi Tri Fly Elite v6. The continuation of this series has proven to be one of the most successful releases by Pearl Izumi. The Tri Fly Elite v6 covers every single aspect of performance while on the pedals, taking care of your comfort, breathability, support, and security. When wearing this mountain biking shoe, all you have to worry about is pedaling and the rest will fall into place on its own.
A 1:1 anatomic tri-closure system is not only highly efficient and supportive for the upper foot, but it also eliminates hot spots where heat concentrates more commonly. The intuitive closure resembles the anatomic shape of the foot, providing a much more accurate, comfortable, and supportive closure. Furthermore, the closure design on this mountain biking shoe was carefully made to avoid placing additional pressure on your forefoot, securing it and holding it in place with no stress.
An advanced triple-layer seamless composite upper build enhances the breathability of the top segment of the shoe. Its anatomical design contours the upper half of your foot, optimizing the flow of air and making the fit considerably more comfortable. The anatomic contouring also contributes to eliminating the concentration of heat on the upper build. Lastly, the highly resistant and durable materials are guaranteed to endure the harsh environment mountain bike shoes encounter.
Ranking quite high on this list when it comes to price, this mountain bike shoe may appear costly to someone who's getting started in MTB. However, Pearl Izumi shoes offer excellent value due to their high quality make and the fact that they are one of the leading shoe designers/manufacturers in the mountain bike industry.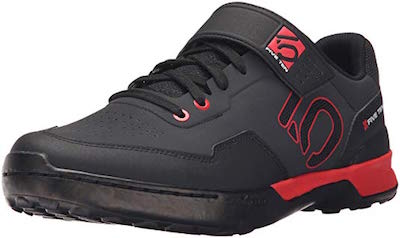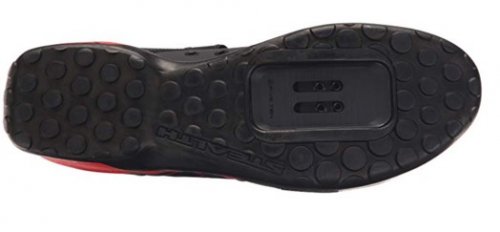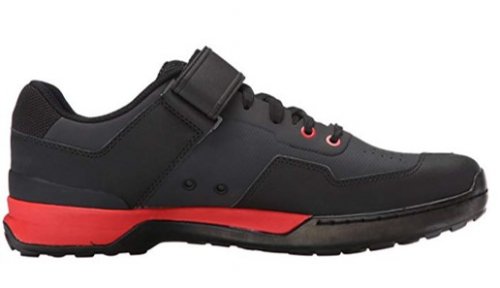 For those who need a mountain bike shoe that's not too stiff, and not too flexible, and like a traditional lace closure, the Kestrel is a great choice from a company that's known for their top of the line MTB footwear. It combines the comfort of everyday shoes with the grippy outsole you'd want for flat pedals, as well as the benefits that come from a clipless style. The perfect option for all mountain riders, as well as those who prefer longer sessions, it's going to give you a good amount of versatility, with plenty of comfort benefits.
The C4 Stealth outsole is made with grippy rubber that's going to work with a variety of pedals, and will give you excellent traction in almost any conditions. It's an outsole that'll allow you to walk without feeling too awkward.
Thanks to a nylon shank located in the sole, the Kestrel Lace is going to give you great power transfer without weighing you down too much. It won't flex under pressure, which is a sign of a mountain bike shoe great for long rides, and the pressure was evenly distributed under the midfoot, ensuring a good amount of comfort.
More expensive than a number of mountain bike shoes on this list, the Kestrel Lace may not be everyone's first choice, but is a great option for those looking for a number of features. It may not be best for racing, due to packing a bit more weight, but it's a definite contender for long rides and versatile use.

4

. Five-Ten Freerider Pro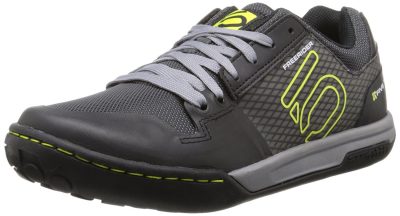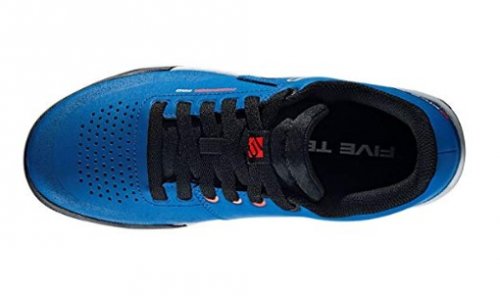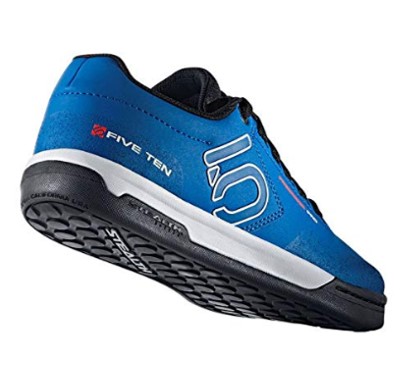 The legendary Freerider makes it back into the market with a totally revamped version, delivering the power, stability, and speed you're seeking. Just when you thought you couldn't go any lighter, the Freerider Pro brings with it an even lighter build in a mountain bike shoe, without removing its signature toe cap protector. Fast and violent downhills continue to be no obstacle to this brands top-notch mountain bike engineering.
You can't any more grip than the one delivered by a carefully designed S1 rubber sole. The fully-dotted sole makes sure your feet stay on the pedals at all times, preventing sliding and slippage no matter how forceful the landings are. Furthermore, the highly resistant rubber-like material is guaranteed to last you a considerable amount of downhills. This outsole will help you blend into one with your mountain bike.
The totally synthetic upper build counts with its traditional breathing features, ensuring your feet get the ventilation they need from these mountain bike shoes. Downhill can turn into a mess real quick, which is why these synthetic compounds are extremely easy to wash and clean. Furthermore, the quick-drying material makes liquids a much smaller obstacle when performing MTB. At the same time, the durable and abrasion-resistant material continues to provide upper foot protection.
The Freerider Pro has a very similar value to the Impact XVi. This individual mountain bike shoe is exactly on the average value of the list, which means it's a great deal considering we're talking about the best equipment available. Although it's not something new MTB riders may be willing to pay for, experienced riders will know you can only get this much quality for such price.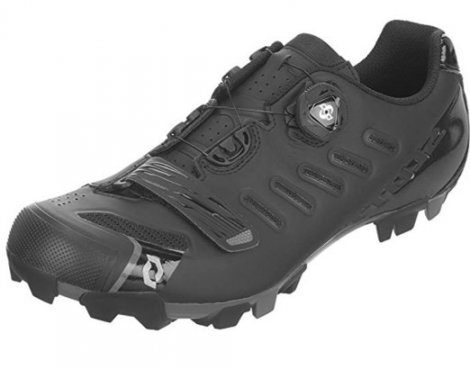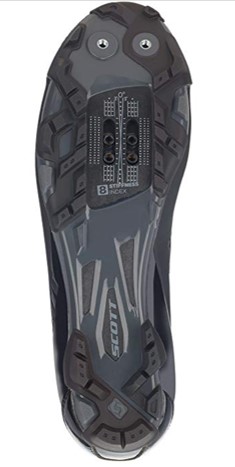 Scott brand cycling gear has been on the market for decades, providing the cycling community with performance gear and bikes that go long and ride hard. This mountain biking shoe from Scott features incredible durability, and adjustability, sure to keep you going while the sun sets in comfort. With several technological features applied to the MTB Team Boa, you'll find yourself surprisingly impressed with their performance once you try them out.
The outsole of this mountain biking shoe is two component PU, along with nylon fiberglass, giving it a rigidity and stiffness that promotes power transfer from the pedals, into energy to propel you forward. This also gives incredible durability to the mountain biking shoe, improving the longevity of your investment. Uppers consist of 3D Nylon Airmesh, lighter in weight, and sturdy enough to protect your feet when things heat up.
The MTB Team Boa has a removable insole inside, and an adjustable, easy Boa IP-1 closure making it a cinch to get the proper fit. The insole is ErgoLogic, which has an arch support that is adjustable, as well as metatarsal support. With the Boa closure, a simple twist, and you can tighten or loosen the mountain biking shoe. Combine this with the anatomic fit strap, and this mountain biking shoe will conform to your specific foot shape for the perfect fit.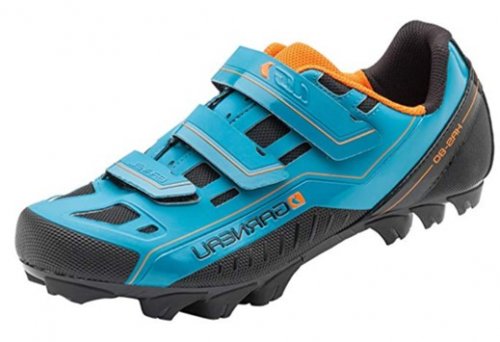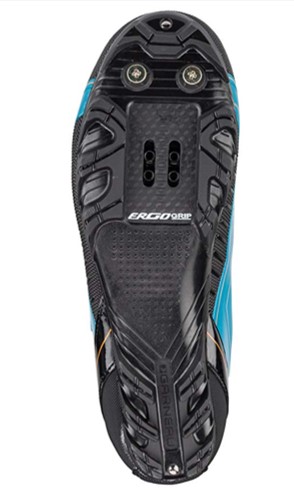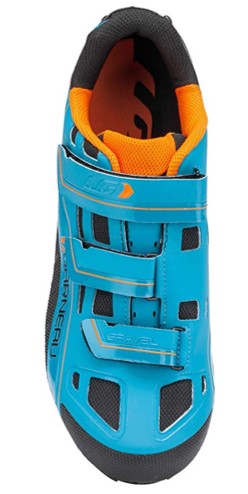 One of the leading brands for cycling, Louis Garneau brings the Gravel to its mountain bike shoe collection. A thermobonded upper allows for a no-seam, and no irritation upper, keeping hot spot pressure points alleviated. Just like all MTB, this is another SPD compatible shoe, and quite light in weight at only 365g. With removable studs on the outsole, you can adjust the amount of grip and traction you prefer when you have to haul your ride around obstacles. This is one solid option for consideration if you're in the market for newer shoes.
Ergo Grip 2 sole is made from a sturdy material blend of nylon and fiberglass, creating efficient power transfer during the pedal stroke. In addition, there is minimal in-shoe slippage due to the HRS-80 system, holding your heel firmly in place for those grueling ascents. With a single density 'Hot Stuff' EVA insole to help make your ride more comfortable, it also helps cut down on heat build up in the shoe.
The Gravel also has a great fit, a little bit wider and roomier in the toes to accommodate any foot swell from longer bouts on the trail. Its uppers are crafted from mesh and a synthetic leather, making it durable but also amazingly airy and breathable. Triple Velcro closures will let you cinch into the mountain bike shoe and adjust as you see fit. And, there's even a reflective heel for when you find yourself out early mornings or late into the evening to help keep you safe. Well worth the investment as a new set for your collection of sport gear!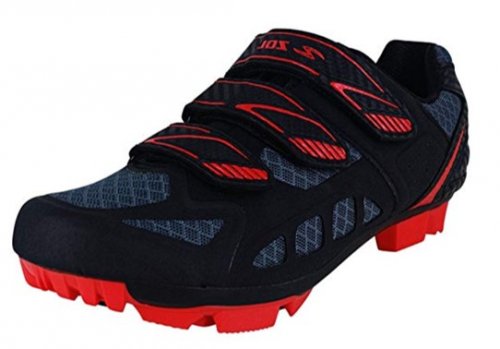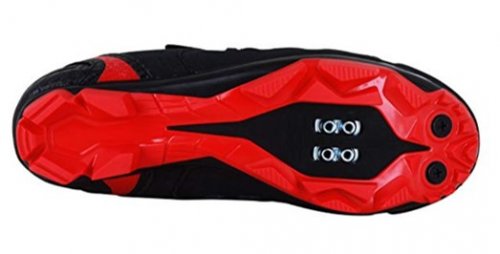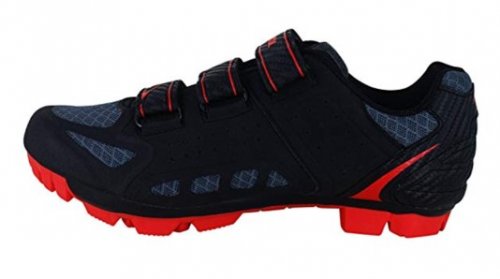 There's no doubt that this mountain biking shoe not only looks aggressive in its styling and color, but that it will have you riding hard in comfort as well. The Zol Predator allows for maximal breathability across the foot with its open mesh material and design. And like any good MTB shoe, they're SPD compatible, allowing you not only to ride inside for spin class, but also tear up the tracks and trails. With lugged traction at the base for walking when you need it, you're less likely to slip too. This may just become one of your favorites after your first wear!
Zol created the Predator with fiberglass-injected nylon as the sole, giving it a stiffness and lightweight characteristic that let's you push all your power into the pedals. One great feature we love is the perforated insole, so any kind of moisture build up simply drains from the shoe. Whether it's sweat, or pond water, your feet will be dry throughout the ride.
Another great feature of this mountain bike shoe is its construction of the uppers. They're made from both breathable mesh and leather, but no stitch lines to bother or rub against your forefoot. Not only will you have air flow across your foot and throughout the shoe, you'll have a durable structure holding it all together with durable leather. A triple Velcro strap locks you in the shoe, but allows adjustability as well. A solid option for those looking for something new!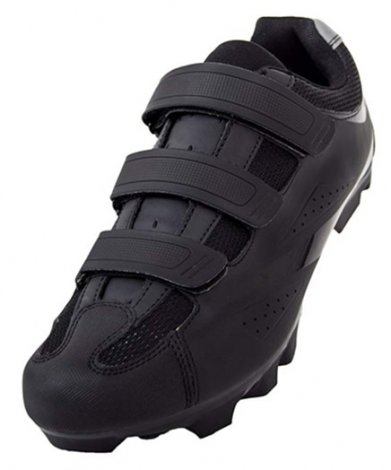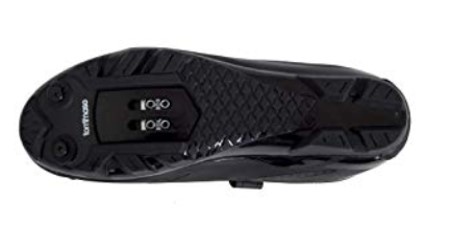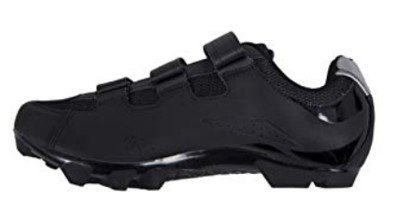 If you're unfamiliar with this brand, they've been making quality footwear and boots for some time now, building a following as they go. These mountain biking shoes are SPD cleat compatible, and plenty of technology inside to help you perform better, longer. Durable and light, it's a mountain biking shoe made for spinning, riding to work, or hitting the trails. And, it's quite breathable for summer months, as well as cushioned around the collar for comfort.
The Montagna 100 has synthetic leather uppers which help make these mountain biking shoes durable against the occasional tree branch or foot drag. Uppers also have sections of mesh to help provide ventilation, allowing heat to escape from inside the shoe and provide you with a more comfortable ride, and optimize air flow across the foot to cool you down. A triple Velcro strap closure provides an adjustable, yet secure fit inside this mountain biking shoe.
Padded collar helps ward away rubbing or irritations when you're riding, and to help with performance, this mountain biking shoe has a reinforced sole comprised of fiberglass. This allows for a strong power transfer of energy during the pedal stroke, propelling you up hills or across gravel trails. There's also removable toe spikes to help when you need to hop off and walk, and a reinforced nylon at the base to help against abrasions. It's a solid mountain biking shoe from Tommaso!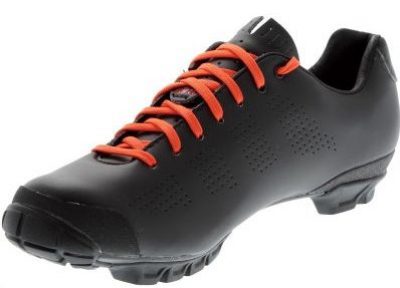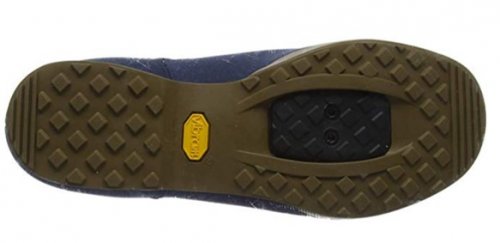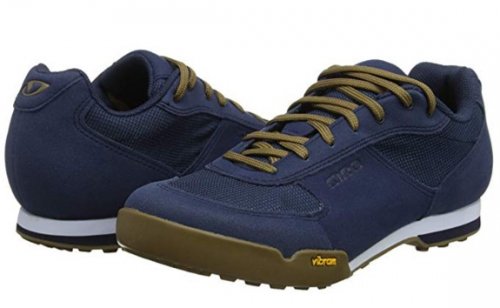 The Giro Rumble VR is designed to provide excellent and comfortable on and off bike performance. The upper part of the mountain bike shoe is designed with a flexible, yet strong microfiber fabric that is integrated with a nylon mesh to offer durability and breathability simultaneously. It is also designed with a simple yet efficient lace up technique that offers an enhanced and snug fit.
The outer sole is designed with Vibram rubber that provides enhanced traction and grip. It is also designed with a Molded SPD compatible shank that offers the right amount of rigidity while complementing the flexible rubber.
The midsole is made with a Molded EVA footbed with medium arch support that offers enhanced comfort. What is also incorporated in these mountain bike shoes is Giro's patented Precision Fit technology which provides a warmer and snugger fit.
The Giro Rumble VR ranks average on this list of mountain bike shoes and offers great value. It will perform well for mountain biking, but will also provide the needed grip and support you need when off your bike.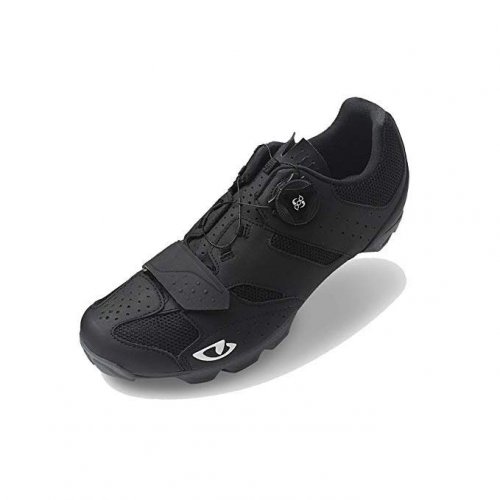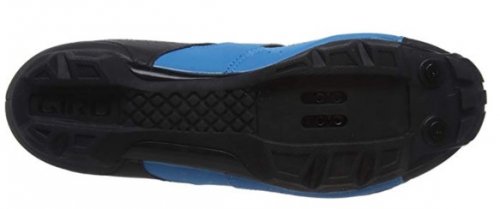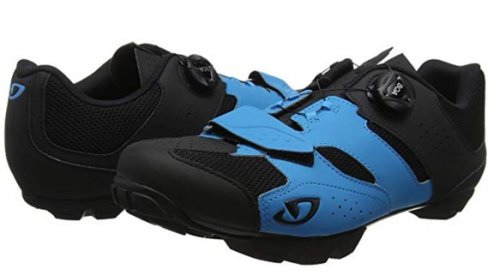 If you are a serious mountain biker, you'll appreciate the latest offering by Giro, the Cylinder mountain bike shoe. By ensuring comfort, security and support, the Cylinder made our 10-best list and continues to live up to the Giro brand. With a synthetic upper paired with a co-molded nylon and rubber outsole, capable of accommodating steel toe spikes, this is the ultimate mountain bike shoe for the ultimate mountain-biker.
The synthetic upper features toe and heel microfiber reinforcements and contains a proprietary Boa L6 dial strap, allowing you to easily adjust the compression offered by the Cylinder. The footbed has die-cut insoles, ensuring a perfect and comfortable fit every time you put them on. This mountain bike shoe is also a moderate weight, coming in at 315 grams, so it won't hold you back, while still offering enough support to pedal.

Subscribe to our Newsletter