Best Performance Cycling Shoes Reviewed & Rated
In a
Hurry? Editors choice: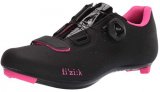 Test Winner: Fizik R5 Tempo

From marathon racers to casual riders, making every pedal count is crucial in attaining the best possible results. Different terrains require different equipment, and personal preferences often mean that what works for everyone else, may not be the right choice for you.

The best pair of performance cycling shoes may take some time to find, but once you get the perfect pair, you'll reap the benefits of a good fit, great power transfer and the required level of traction for the surface underfoot. The factors you need to consider include clip styles, closures, aerodynamic properties, and more, all of which is covered in this guide.

So scroll down and check out the list of top ten performance cycling shoes we've prepared for you!
Standout Picks
Criteria Used for Evaluation
Outsole
The features of an outsole are crucial in making the most out of your stroke as well as protecting your feet from getting hurt.
You may have noticed that performance cycling shoes usually come with a carbon outsole that has a certain stiffness rating. While in any other type of shoe you would want as much flexibility as possible, for cycling gear it's quite the opposite.
This is because of a simple reason; in order to make the most of your stroke, you need a hard surface to push on (that also won't allow your feet to get hurt from the pedals).
Energy transfer (or power transfer) is one of the most critical components of a cycling design because it determines how effective your pedaling will be. This manifests in certain ways, like how much pressure is dispersed across the forefoot area, whether due to shoe construction or how the sole is clipped onto the pedal.
A heel cup that makes sure the foot is positioned to make the most powerful upstroke it can means that you will get greater energy transfer and maximum energy return with every pedal.
Compatibility
Consider which pedal system - if any at all - would work best for you.
Not all performance cycling shoes come with the same pedal compatibility, and you will find that footwear made for this purpose comes in three varieties; those that clip to the pedals of your bike, those that have cleats that snap into the pedals, and those that have no connecting system.
Most models are designed to specifically work with pedals that are clipless. They have holes drilled into their soles for attaching the cleats needed to snap into the pedals and make a secure connection. Cleats come with pedals as a system, not already attached to the shoes. Therefore, the footwear you purchase has to be matched with appropriate cleats and their corresponding pedals.
There are two types of hole systems on the bottoms of cycling footwear where cleats are placed:
The 2-hole system, or SPD system (Shimano Pedaling Dynamics) as it is often referred to, is typically used for all types of cycling, from road cycling to mountain cycling, as well as marathons and simple cruising. The recessed cleat design, when matched up with the corresponding footwear, makes for a less awkward, hobbled gait when you dismount from your bike, not to mention minimizes the clip-clop sound as you walk.
The 3-hole system is almost always a road style system because it's more durable and offers performance-enhancing efficiency and high energy return for the rider. Since the cleat is larger, it's able to disperse the force the rider applies to the pedal over a much wider area than the 2-hole system. This allows for the pressure to be reduced on the connection systems themselves and make them more secure when the rider is pedaling for long periods or at fast speeds.
Cycling footwear without pedal systems like cleats or clips means that the rider is not bound to the connection of their bike, which can sometimes make a novice rider feel more comfortable. Being connected to your bike at the sole can lead to more serious injuries if you fall and can't extract yourself from it. It's important to work your way up to pedal systems.
Weight
Depending on the type of cycling you're doing, choose a more or less weighted design.
One of the things that will greatly influence your performance is the weight of the design. While a lot of tech is great, the fact is that the heavier the shoe, the more difficult it will be for you to keep up with your pace after you've been on your bike for a few hours.
Footwear intended for different types of use will weigh more or less, depending on the type of construction required by the activity.
Road shoes are generally more lightweight, allowing for greater bursts of speed since the rider isn't working against the weight of the shoe itself.
Mountain biking footwear will generally be heavier and bulkier to allow for thicker rubber soles, more tread, and materials that combat against certain environmental elements.
Marathon and racing shoes may shed some weight in the uppers but keep weight in the soles, especially where they clip or snap into pedals.
Cleats will also always add weight to a shoe as soon as they're snapped on.
Comfort
To achieve maximum comfort, look for cushioning in the insole, a proper fit, and an adjustable closure. Don't forget about breathability, either.
To get the most out of your ride, you need footwear that is comfortable so you can concern yourself with getting where you're going, not when you can stop and rest to give your feet a break.
Many models featured on this list have built-in ergonomic designs with extra foam cushioning and arch support so that all pedaling is painless. Even certain closure systems along the uppers are designed to distribute pressure evenly along the foot, reducing swelling and hotspots.
Performance cycling shoes are often rigid along the midsole, making them stiff and much less comfortable. Luckily, most insoles can be modified for any rider that experiences pain at the forefoot, such as with the addition of a gel insert or having a custom orthotic insole made. Since most energy is expelled at the forefoot with each pedal push through, this is where most pain will be experienced, so taking the extra time and care to find the most comfortable fit in that area is paramount.
Footwear made specifically for cycling should never fit badly, seeing that ill-fitting cycling shoes can lead to injury of the foot during consistent wear, or allow a greater probability of slipping off a pedal and losing control of your bike, resulting in an accident.
The upper portion of your model of choice is where fit is most important and can be customized. Shoes for cruising or casual rides often have lace or velcro closures, whereas racing, touring, and marathon shoes often have ratchet-style buckles.
Though one would think the tighter the shoe, the greater the energy transfer and return, in actuality, it can limit blood circulation and restrict blood flow, so a happy balance must be achieved. This type of footwear often comes in wider sizes for those that can't fit into their ordinarily tapered design.
Anatomically correct closure systems, whether ratchet, buckle, or lace-up eliminate hotspots, swelling, and injury.
Features most common to road shoes:
Fabric made from mesh for proper blood circulation and breathability
Materials to make it lightweight
Gel air intake along the forefoot
Lace/buckle/ratchet closure systems

 
Features that are common to mountain shoes:
Heavy tread/lugs on the outsoles for grip
Thick soles
Waterproof construction
Insulation
Supportive midsole for arches

 
Breathability
Whether you're cycling a long distance or a short distance, on the road or up a mountain, it's important that your footwear has a high level of breathability. This keeps the temperature inside your shoe at a constant state and keeps your feet dry and cool.
Look for mesh fabric or webbing that allows for good airflow, or integrated air intakes that will keep your feet dry and fresh-feeling. Some models even have holes in the sole area that increase air circulation and keep you comfortable in warmer weather.
Some cycling overshoes will have a certain amount of insulation for colder months, but an appropriate amount of mesh will still be present to keep your feet properly ventilated. Although the amount of mesh will depend on the type of shoe you need and the climate you're cycling in, the need for breathability will always be there.
Shock Absorption
Shock absorption is important if you want to keep your joints safe from damage and pedal for as long as you want to.
A good shock-absorbing system is becoming more and more important in performance cycling shoes due to the presence of foot fatigue and joint pain, especially for marathon riders and those that pedal long distances.
Whether you race hard for several hours at a time, cruise the open road touring for the day, or spend it battling the incline of a mountain trail, you need a shoe that can stand lots of impacts. Several brands design their footwear with footbeds which are removable and have pads to absorb the shock of impact, just like other athletic shoes.
There are also areas in the shoe, under the forefoot and back towards the heel, where gel packs are built into the footbed construction to give extra shock absorption.
Each instance your foot pushes forward on the pedal, from the outsole to the forefoot and all the way back, the shock absorption systems in place absorb this force of contact, leaving your joints pain free. This way you can pedal longer and harder without sacrificing your endurance or performance level.
Our Favorites
The thing about the Sidi Shot is that it's a model designed by a company that makes some of the best cycling gear available for purchase. The Shot uses a lot of advanced technology to bring users a high level of power transfer, as well as a customized fit. What separates it from other models listed is that this is a shoe that uses eco-friendly materials, even in the photoluminescent upper that allows you to ride in low visibility conditions.
Though slightly difficult to get on and off, the Shot is actually a design that will provide you with one of the most secure fits you can find. Despite the closure system being similar to the popular BOA, Sidi's dials were actually invented way before, and they allow users to make micro-adjustments in terms of tightening the shoe. The laces don't stretch with time and do a good job at keeping the foot in place (of course, aided by the adjustable heel closure).
The shoe provides excellent power transfer, unfortunately, at a higher weight and stack height. Nonetheless, the functionality you get is quite worth it. The vented carbon sole is stiff and durable, yet it allows for adjustments in the form of a replaceable heel pad and a front vent cover you can use in winter conditions. This ensures the right amount of breathability in summer and added temperature protection in winter.
2

. Pearl iZUMi P.R.O Leader v4
While the PRO Leader III by Pearl iZUMi was one of the top-rated performance cycling shoes last year, there were still a lot of improvements to be made. When creating the fourth version, the designers of this shoe took user feedback into consideration, working to provide them with an improved piece of gear that was even more lightweight, comfortable and breathable, and that boasted a plethora of tech updates as well. The biggest change, however, is that the sizing chart has been updated to coincide with that by Shimano (the company who owns Pearl iZUMi), which means that users won't have to size up anymore in order to get a correct fit.
In the upper section, the biggest update is the asymmetrical opening which takes the pressure off the top of the foot. The material is highly breathable and has a seamless construction to eliminate any possible pressure points and hot spots. It is also highly adaptive, providing a customized fit, while the double BOA closure helps you fine-tune the fit on the go. The Leader v4 comes in two color options, all black or black/lime, and both versions feature a newly electroplated bottom for a recognizable look.
The stiffness rating of this shoe is 13, and it's provided by the Integrated Carbon Power Plate which only adds a 5mm stack height, and is incredibly lightweight. The insole allows users to independently adjust arch support and the varus angle at the front, while the heel pad is replaceable for an increase in durability. As for the price point, this is a design that goes for slightly less than your average flagship, so if you're after great performance at a more affordable price, then this is definitely worth checking out.
Running gear has been using knit materials for several years now, with the aim of improving comfort, breathability and fit. With the latest shoe by Fizik, you can get the same benefits in a cycling design as well. The Infinito R1 is an excellent road shoe you can comfortably wear for prolonged periods of time, and the power transfer you can expect is really performance-ready. Unfortunately, it only comes in one color option - black, but if you're after an improved fit and comfort, then it's definitely worth checking out.
The closure on the Infinito R1 is a double BOA that is placed to the outer side of the foot. The top dial ensures lock-in, while the bottom one allows users to find a fit that is comfortable, eliminating pinching or pressure in key areas such as the top of the foot or the metatarsal area. Because the shoe is made with a knit material, you can count on plenty of airflow, and it will even accommodate swelling that happens with heavy exercise. It's also been treated to repel water, so you can choose to wear it in less than ideal weather conditions.
As for the sole, you get a stiff carbon outsole that allows for excellent power transfer and is vented for comfort. The Dynamic Arch Support doesn't allow for adjustments but still does a great deal to provide a snug fit. As for price, this is one of the more expensive models you can find, which is greatly due to the unique upper. Nonetheless, if you're after a great fit and a good amount of breathability, it's a great design to invest in.
Some shoes keep getting better with every incarnation, and with the 5th version of the Fizik model, top performance, and durability have never been more apparent. The nylon and carbon fiber outsole that we've seen on other footwear made with cyclists in mind allows for the most power to be transferred with each stroke, while the BOA IP1 closure offers maximum versatility of fit.
The BOA IP1 closure system allows for on-the-go adjusting, crucial when time and speed are of the essence. The Fizik R5 Tempo also has an additional, micro-adjustment strap on the inside that makes for the snuggest fit possible. The main material used in its construction is Microtex, allowing for maximum flexibility of movement.
Though carbon fiber outsoles are not exclusive to this model, they allow for the maximum power transfer with every stroke and make it as durable as any other pair of cycling footwear. What sets this shoe apart from the others is its aircraft-grade stainless steel construction, ensuring that the Fizik R5 Tempo is one of the most durable shoes on the market.
It offers a combination of some of the best features on the market. Carbon fiber outsoles, BOA IP1 closures and inner micro-adjustment strap, and an aircraft-grade stainless steel construction make it an attractive package for its price point. It is also available in a wide variety of colors.
This pair of shoes by Five Ten is not only a great choice if you're in the market for footwear that will serve you well for all-mountain riding, but also for when you're off your bike and need something for casual use. It is available both in men's and women's versions and is a perfect fit for the wider foot that needs more space in the metatarsal area. If you choose this pair, you will find that they provide all-day comfort for medium rides and use around town.
The best feature of the Five Ten Freerider is the fact that these will give you some of the best grip on non-clip pedals, providing you with plenty of control, solid climbing, and excellent downhill performance. The upside of the soles is that they will do well on all types of surfaces, dirt or pavement, and in all weather conditions, including rain and snow.
Even if you intend on spending all day on your bike and working up a sweat, these will provide you with great breathability due to the suede and mesh upper that will allow moisture to escape more easily. While this means that you will need waterproof socks or overshoes when it's wet outside, the construction is made so that there are fewer pieces and parts, extending the lifespan of these mountain biking shoes.
The Freerider will provide you with excellent grip on non-clip pedals, will be comfortable for all-day use, and will do equally well off the bike as well as for when you are riding. The durable sole will last you a long time, regardless of the conditions you decide to use these in.
6

. Pearl iZumi X-ALP Seek VII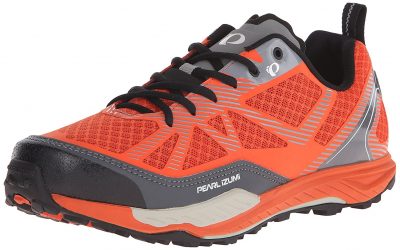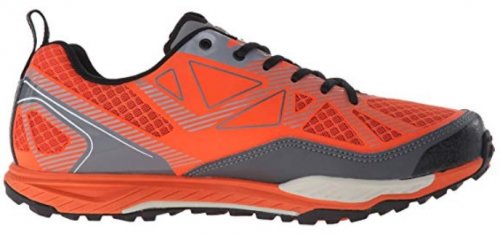 This pair of shoes is a versatile option for those looking for a good pair of commute footwear, and do just as well off the bike as when riding. They are also an excellent choice for an MTB shoe and are compatible with SPD cleats, which is the most common pedal standard. The lacing system enables a secure, adjustable fit, while the breathable upper is great for summer use when you need a design that won't have you feeling too hot and sweaty.
These have an outsole that is made out of carbon rubber, while the shank is fiberglass injected, giving you excellent power transfer and rigidity. Although for some users this will prove to be too hard an outsole for strolling, you will appreciate these if you need footwear that will perform well when riding, and do well-enough for when you have to get off your bike.
Even though they run almost a full size small, you will find that these shoes will be comfortable enough, even for all-day wear. The EVA Alp-X midsole provides just the right amount of cushioning so that your feet don't take too much of a beating. They give adequate arch support, but can also fit custom insoles for a winner combination focused on performance and comfort.
The Pearl Izumi X-ALP Seek VII is versatile, SPD compatible, breathable and comfortable enough to wear all day long. Although you will need to study the sizing chart before ordering, they will prove to be a great choice if you need something that will provide you all the benefits of performance cycling shoes but will look more like regular everyday tennis designs.

Meet the creme de la creme of all performance cycling shoes. When it comes to sleek design, outstanding technologies and a support like no other, there are very few designs that can hold up to the Giro Empire ACC. This is an option with an Evofiber upper, specially engineered Easton outsole plates, and a closure system with no less than seven points of adjustment. If you're looking for top-of-the-line, you've got it in the Empire ACC.
The Evofiber we mentioned is a single fabric which combines the benefits of both mesh and microfiber. This means that Evofiber is at the same time incredibly breathable and water-friendly. It dries quickly and never loses its shape, no matter the circumstances.
The outsole of the Empire ACC provides stiffness in the toe, the arch and the heel areas, but is exceptionally lightweight regardless. The SuperNatural Fit footbed is what keeps you comfortable throughout the ride and what allows you to adjust the arch support to a level that suits you the best.
The Giro Empire ACC is not a design for beginners, by any means. It is meant for more experienced cyclists, who already know what they're looking for, and who are not afraid of going for the boldest, most innovative choices to improve their performance.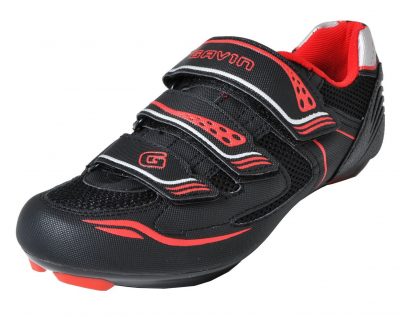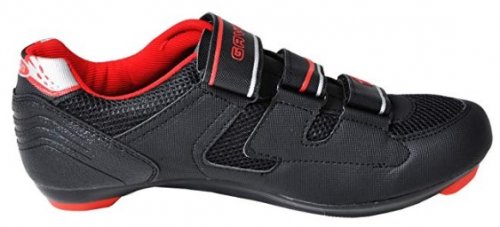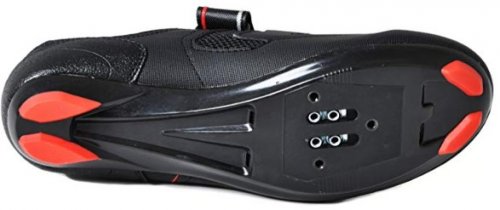 The Gavin VELO are shoes oriented towards both professional and recreational users but come with a price tag that is the lowest on this list. These are compatible with Look, SPD, SPD-R, and SPD-SL cleat systems, and give you the benefits of a comfy, adjustable fit with plenty of mesh and ventilation to keep your feet cool and dry even during the toughest rides when you're bound to work up a sweat. Users with wide feet will particularly like these, as cycling footwear often tends to be too narrow.
The sole of the Velo is made out of nylon fiberglass, which gives these the rigidity you need for better power transfer so that you can develop maximum speed with less effort. The better foot-to-pedal connection will give you the opportunity to exercise more control over how your ride goes.
These are made out of a synthetic leather material with plenty of vents that will give you a good level of breathability when you most need it. They are lightweight, which help your ride in the sense that it won't slow you down, while the durability is a feature that you will love, as they will serve you well for plenty of time.
The Velo by Gavin is the most affordable model on this list, which means that they are the perfect pair if you are just getting into cycling, and are looking to find out whether certain clipping systems will work for you. They are also a good choice for indoor cycling. Note that clips are not included.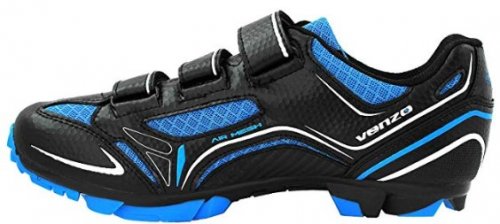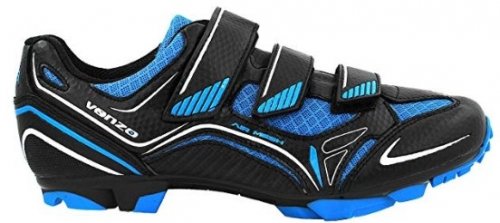 Sometimes, your cycling adventure may take you off the beaten path to roads less traveled. When that happens, you have to be able to depend on a capable design that can go the distance like a pair of Venzo MTBs. With their award-winning performance technology, quick-drying mesh, and low-cut construction for a comfortable, fast-fitting feel, no mountain stands a chance.
Their sleek construction is comprised of a quick-drying mesh that is highly breathable, a textile lining with a removable sockliner, and low-cut fit that allows them to be easily slipped on or off. A light feel, flexible forefoot, and a running shoe beveled heel assure speed, performance, and durability don't have to come at the expense of comfort. Rule the road and feel good doing it.
Ranking average in price when compared to other models on this list, these boast a level of performance technology and comfort well beyond their price point, and they even come with pedals and cleats!

If you're looking for high performance but you don't have a large budget - don't fret! We've got just the choice for you - the Scott Road Comp Boa. This is a pair of performance cycling shoes that offers a perfect fit and a handful of technologies that seek to improve your riding experience as well as your comfort levels. With an Ergologic insole, a Boa L6 System and a stiffness index of 6, you can enjoy these both for demanding and those more casual all-day rides.
The upper of the Comp Boa is made from a type of synthetic leather carefully engineered to become like a second skin to your feet. There's a strap in the lower region, anatomically placed to enhance the fit. In terms of support, the Ergologic insole provides support both in the arch and the metatarsal region.
The Boa L6 System, after which the Comp Boa got its name, is a closure technology consisting of a micro-adjustable dial, laces and lace guides. It is perfect for customizing to your liking even if you're in the middle of the ride and have to use only one hand to adjust the closure.
The Scott Road Comp Boa is the perfect example that you don't have to sacrifice design, performance or construction in order to get an affordable option. If you're not looking for anything too serious, but would still like a kick out of your shoes, reach for the Comp Boa and you won't regret it.
Subscribe to our Newsletter