Best Cycling Overshoes Reviewed & Rated
In a Hurry? Editors choice: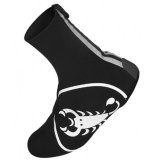 Test Winner: Castelli Diluvio 16

When shopping for the right overshoes, it's important to find one that is both water-resistant and wind-resistant. These will keep feet warm and dry. It's, also, important to find one that
can work with your cleats
. Some overshoes are designed with cutouts on the bottoms for cleats and heels; so, cyclists can have them on while riding or walking, should they stop to admire the scenery or buy a cup of coffee. It's not always clear which overshoes will best suit your needs. There are so many varieties out there, each with unique features and different materials of construction and styles. That's why we've compiled a list of the top 10 overshoes available today.
Standout Picks
Criteria Used for Evaluation
Water Resistance
Dedicated cyclists don't let opportunities to ride pass them by, even when the clouds are rolling in or rain soaks their favorite route. When the weather looks dismal, they suit up, anyway, and get ready for a good workout. The right pair of overshoes can make these rainy, snowy, or muddy rides more comfortable by keeping feet dry.
Waterproofing is an important criterion to consider for cyclists. Some claim to prevent water infiltration but when put to the test, act more like sponges than safeguards. As such, it's important to carefully consider the materials of construction to determine if the overshoes are ones to keep your feet dry or welcome in moisture.
Many overshoes are made from neoprene or neoprene blends, which are a type of synthetic rubber and have waterproof qualities. Other overshoes may be made from unique fabric blends designed to wick water away.
Overall, there are a few options in terms of water protection, and the best thing to do is consider your personal preferences in terms of protection needed.
Some may get away with a simple water repellent coating that will cause small amounts of water to bead on the surface of the protective shoe, prolonging the time which you can spend in rain without getting soaked.
Water resistant models will work much better in terms of protection, as they won't let water in, even if it's present in larger quantities. Do note that it won't protect you from puddles if you happen to step in them, and you will need your clothing to be waterproof as well to prevent moisture from getting in from the top portion.
Weather Resistance
The typical cyclist might reach speeds upwards of 20 miles per hour on a bike. Some may go slower, allowing them to go longer distances or as a warm up or cool down, while others go much faster; the world record for motor-paced cycling on a flat surface was set in 1990, by Fred Rompelberg, when he achieved 167 miles per hour.
In the end, it doesn't matter whether you're aiming to beat your personal best or are taking your ride slow and steady for some long-distance gains, you'll still need to contend with the wind. Even at speeds of 8 miles per hour, you'll still feel a breeze coming through your shoes if they're not properly protected. On a cold day, even a small amount of wind on your feet will feel chilling.
A high-quality pair of overshoes provides a shield against the wind, helping you to stay warm throughout your ride. Some shoes have been wind tunnel tested, proving their ability to prevent wind from chilling your toes.
Some of the higher end models listed in this article feature targeted wind protection, and some are even insulated, helping you generate and retain more heat in cold conditions. A good thing to check before making a purchase is the comfort rating of the product you're considering. This should give you a very good idea of the temperatures in which a certain pair may be sufficient.
Another thing to consider when pairing cycling footwear with overshoes is the nature of your shoes - some are more padded, with less perforations, thus being more comfortable for cold conditions, but others feature a lot of ventilation panels that do allow moisture and hot air to get out, but can also allow cold air to get in, lowering your comfort levels in winter. If this is the case with your favorite pair of shoes, you may want to consider getting a more insulated oversho.
Advanced Features
Aerodynamics –
Most cyclists have goals, and many of those goals relate to speed. Whether they want to reach a top speed they've never experienced on a bike before, or they want to travel more distance on their rides, cyclists aim to achieve fast speeds on their bikes. To do this, they aim to make themselves as aerodynamic as possible, outfitting themselves with slim-fitted shorts, leggings, and jerseys that contribute little drag. The more loose-fitted clothing, the more drag they'll experience on their ride and, therefore, the more challenging it will be to get up to those faster speeds.
Aerodynamics doesn't just matter on riders' arms and legs but they, also, aim to have aerodynamic shoes. The right overshoe will fit snugly over the cyclist's bike shoes. This contributes to an overall sleek shape that helps when climbing hills and soaring back down them.
Reflective –
There should be some sort of reflective nature to the overshoes you purchase, as this keeps you safer while riding. Weather conditions can change at a moments notice and to have reflective gear on ensures that you can be recognized by others a bit easier. The brain recognizes objects in various methods of understanding (i.e. sound recognition versus movement recognition). The ability to increase another's awareness of your presence provides safety to not only yourself but others, as well. As such, reflective lettering, logos, and/or pattern designs is an ideal choice when evaluating the best cycling overshoes.
Durability
The level of care that was placed into the design of a shoe is one of the main factors that affect its ability to outlast other models of shoe. Seriously, it takes thought to consider all (or most of) the various different possible things that can damage the design of a shoe. It's up to the designer to prepare for and protect against all of these possible things and the possibility that they occur.
Stitching: Many don't know this but a shoe stitching can make or break the entire design. The depth that was placed into the stitching and the utter lack of stitching can make or break the design of the shoe. Some shoes come fit with a tighter version of the stitching and don't have a very hard time providing wearers with what they'd need in terms of quality. On the other hand, some shoes come with very little stitching (no-sew) overlays.
Overlays: Overlays are things that take great care in order to not "mess up". The introduction or lack thereof of these materials into the design of a shoe can be the difference between a sturdy shoe and a completely flimsy model. With that being said, while not all shoes without overlays are completely flimsy, many shoes with overlays are very well built.
Value
The price of a shoe can sometimes be a deal breaker. That's part of the reason why footwear manufacturers invest time and energy into creating cost-effective technologies to incorporate into their shoes to make them durable, long-lived, versatile, and inexpensive.
Durability & Longevity
Footwear, usually, lasts more than a few months, because shoes that are going to fall apart after a few months of use aren't worth the investment of more than a few dollars. Leather and synthetic overlays can be used to make the shoes more durable without sacrificing flexibility. Firm leather or synthetic uppers provide durability and support.
Versatility
Great footwear can be used for more than one activity. Walking and running shoes, for example, can be used in some casual sports. Stylish athletic footwear could be used in informal work environments. Sandals can be used in casual and semi-formal settings. The more situations you can use the shoe in, the more value it offers for the price.
Maintenance
Good footwear is easy to maintain and clean. They don't require a lot of expensive shoe treatments or time-consuming upkeep. Shoes that need a lot of effort, time and money to maintain, don't sell as well as shoes which are easier and cost less to keep.
Removable inserts
As mentioned earlier, removable inserts in footwear make it customizable, but that's not the only bonus to removable inserts. Removable inserts increase the longevity of the shoe, which is why some come with removable inserts.
Cost
A hefty price tag can be a deal-breaker for people on a budget. That's why many can be found in the low-to-middle price range. They're affordable, and if they are priced a little higher than others, then they offer many features to make the footwear worth the extra investment.
10 Best Cycling Overshoes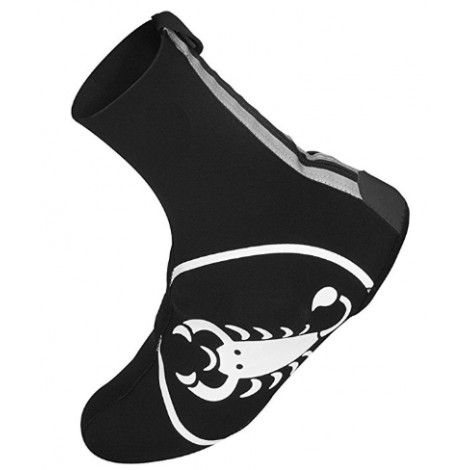 The Castelli Diluvio 16 is a water-resistant, warm neoprene overshoe that offers insulation with its thermo-sealed seams and a tall cuff that further protects against wind, rain, snow, and sleet. The cutouts for the cleats and heels make them easier for a cyclist's needs to walk, and the hook-and-loop closure makes it easy to put on and take off.
The tall 16-millimeter cuff works to further protect riders against the elements. Wearers can tuck their tights into the cuffs for insulation and protection to keep the whole leg warm.
All seams are thermo-sealed for greater comfort. This adds greater resistance to wind and water; plus, provides insulation to keep the feet warm and dry for a more enjoyable ride. The neoprene fabric and thermo-sealed seams provide water resistance, protection from the wind and insulation. The tall, 16-millimeter cuffs enhance protection from the elements. Cutouts make walking in these easier.

2

. Louis Garneau Pro Lite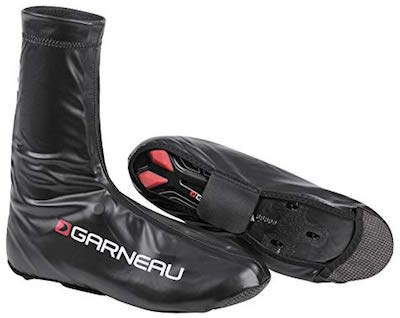 If what you are looking for is a product that's as lightweight as possible, that still works well in terms of water and temperature protection, then you may want to check out the Pro Lite by Louis Garneau. One of the rare overshoes that comes in two color options (white and black), it's a stellar option for anyone who feels that aerodynamics is key in their performance.
The construction features a polyurethane barrier that's been coated in a highly elastic spandex upper material, allowing you to get one of the best fits possible. A high ankle collar with a silicone elastic cuff prevents water infiltration and heat loss, keeping you warm in most conditions.
The seams on this product are wind-sealsed, but what gets it on our top 10 list is the extremely user-friendly on and off system that features a hook and loop closure on the bottom, allowing easy adjustments. In terms of cost, this is one of the more affordable products listed, allowing you to get top quality for little.

3

. Rockbros Abrasion Resistant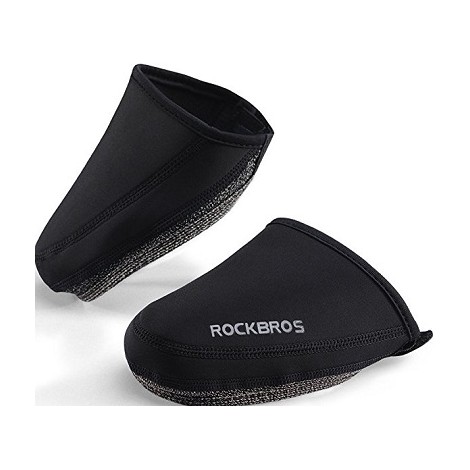 Having a design found within diving clothing, this pair of best cycling overshoes has SBR Lycra cloth material. This means they are windproof and are abrasion-resistant. With reflective logos to help identify you in lower visibility, your safety matters. Furthermore, these are great for mid-season runs when the weather is cool; yet, not in full-blown winter-mode.
The surface layer is made of SBR Lycra cloth, an ideal choice for windproofing. Furthermore, this material adds to the longevity of the product. For those who ride in low visibility, these reflective logos will help to identify you as a human to drivers. This is a must-have for anyone who might find themselves facing darker moments of the day (i.e. dusk/sunrise).
Budget-friendly, this is a pair of best cycling overshoes worthy of your purchase. Made with high-quality SBR Lycra cloth and having reflective logos for a rider's safety, these are a must-have when considering your cycling gear.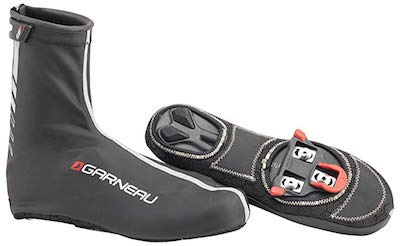 A great piece of equipment to have in your arsenal, the Louis Garneau H2O II is a product that was designed to protect you from both rain and wind, all while ensuring maximum coverage without sacrificing durability or cleat compatibility. They offer a great fit, especially when combined with Louis Garneau cycling shoes, and come in small, medium, large and extra large sizes.
These overshoes feature a back zipper that allows easy entry, and the product is covered in reflective detailing that provides a 360 degrees of visibility, even in bad conditions. The upper is made with neoprene that serves for a great fit in the ankle area (preventing rain from getting in), as well as reinforced neoprene on the bottom that's durable and won't lose its structure with wear.
You'll enjoy the fleece lining which will keep you warm in temperate conditions, and the overall practicality with which this product was designed. In terms of cost, the H2O II ranks slightly above average, but is a good investment for those looking for a reliable fall and spring option.

5

. Pearl iZUMi Elite Softshell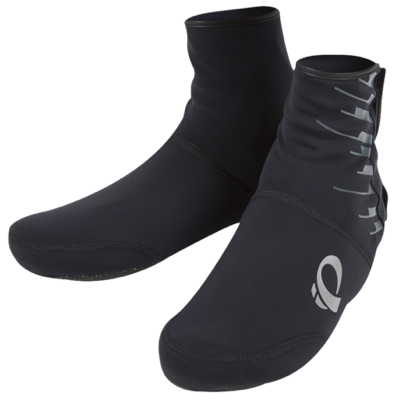 Designed by one of the leading manufacturers of cycling gear, the Elite Softshell by Pearl iZUMi is meant to keep you toasty warm even in bad conditions, with a comfort rating of 30° to 45° F. It's a design compatible with external cleats, but what makes it stand out from other products is the type of materials used in construction, ensuring you get the absolute best value for your money.
While the upper of the Elite Softshell is made with a combination of polyester, nylon, elastane and polyurethane which work together to keep you warm and protected from wind, the sole features Kevlar which is one of the most durable options, while still maintaining easy stretch for on and off.
In terms of ease of use, this is an overshoe that you slide in, with a hook and loop closure at the back which allows fit adjustment both at the heel and ankle. The anatomic paneling provides good aerodynamics, and reflective elements help with low-light visibility. The price of this overshoe is higher than most other products listed, but with a number of satisfied users, you can count on it serving you well.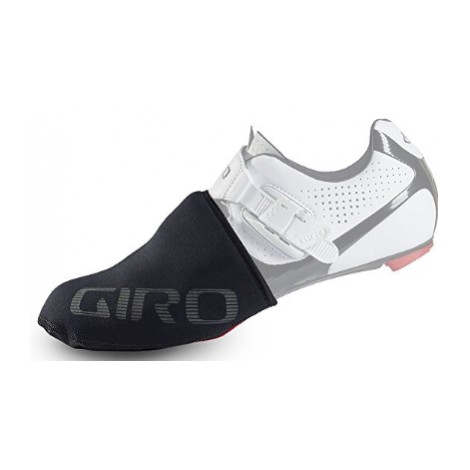 The Giro Ambient Toe protectors offer localized protection for your toes while riding. They're made with neoprene to keep water and wind out of your shoes, and reflective details on the side increases rider visibility. The toe guards on these are highly durable, allowing them to stand up to frequent use.
The neoprene is backed by X-Static Grid fabric, an anti-microbial thermal fleece that's designed to keep your toes warm and dry throughout your ride. These further protect against wind and cold.
The black color is accentuated by the reflective Giro logo spelled across the side of these, making them much more visible to others on the road. These are also resistant to water and wind, plus are reinforced by X-Static Grid fleece fabric that further adds protection and warmth. They're small and easy to bring with you.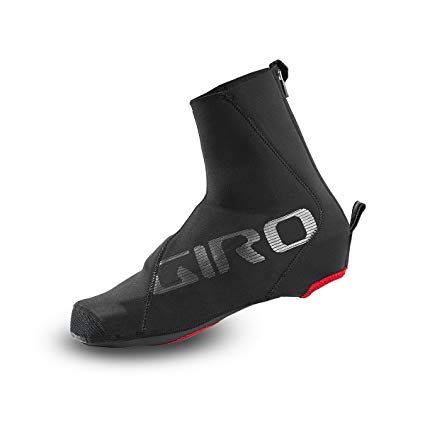 Made with Goretex, this pair of best cycling overshoes has the option to purchase a neon style for improved visibility, if you are a rider which leads into the darker hours of the day. Made with reflective logos at the front and rear, these have your safety in mind.
When visibility becomes low, riders need a way to alert drivers to their presence. As such, reflective logos are located at the front and rear of this pair of best cycling overshoes.
For a day when the rain would, otherwise, frustrate and deter you away from a good ride, these cycling overshoes are ready to place you back into the action. Waterproof, they make easy work of the rain. Priced in the upper range of cost association when compared to other overshoes on this list, this is a pair which is still worthy of the purchase price. They are full-length, made with high-quality materials, are waterproof, and are durable enough to last more than one season.

8

. Aero Tech Designs Neoprene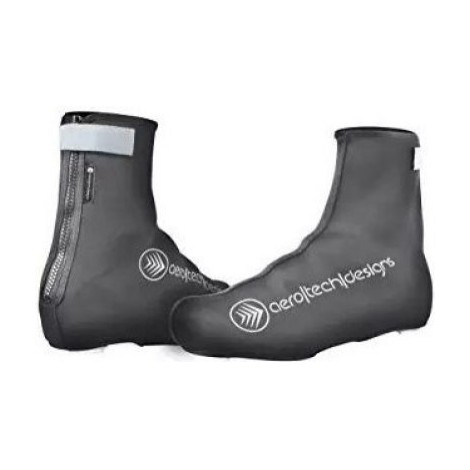 The Aero Tech Designs Neoprene comes in multiple size options to fit various men's and women's shoe sizes. It's made of neoprene material to keep shoes dry while providing a better fit. A high cuff allows wearers to tuck their tights into the overshoes, in order to further protect against rain and mud. Taped seams, also, offers a moisture barrier and added insulation.
The high cuffs reach past wearer's ankles to ensure a thorough, snug fit that doesn't allow moisture to enter the shoes. This, also, provides greater wind- and- rain-resistant properties.
The full-length zipper on the back makes it easy to slip these overshoes on and off, and a Velcro closure at the ankle ensures it stays closed throughout your ride. These neoprene overshoes provide insulation and protection from wind, rain, and mud. They're built to keep both the feet and ankles protected and have reinforced soles for walking on when the wearer steps off the bike. In other words, they are a great purchase choice.



The Endura E0015 is made of neoprene and Kevlar to ensure both resistance to water and wear. They're designed to keep moisture out, with a center seam and a set zipper. The snap-down zipper and Velcro closure keeps these overshoes fitted snug while riding. The Kevlar material and stitching ensures high quality and durability.
The snap-down pull on the rear zipper ensures a snug fit that won't come loose during the ride. The neoprene fabric that protects the bottom of the zipper improves water resistance.
The base is constructed with Kevlar to ensure it lasts, even when the cyclists walk on the ground or miss the pedal clips. The Kevlar stitching further reinforces the base. These have high-quality stitching and construction that'll stand up to wear and tear. These overshoes are, also, water-tight; having a welded center seam which will keep the cyclist's feet warm and dry.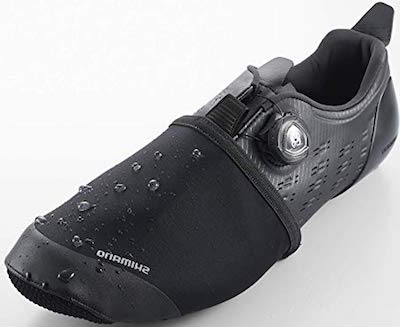 One of the brand's newest pieces of equipment, the T110R by Shimano is made for autumn and winter conditions. As you would expect, it works best with Shimano shoes, and is the perfect option for those who don't want to be riding with soggy feet, but still require wind and water protection.
The T110R is made with a softshell fabric that's completely windproof, and has been coated with a water repellent coating. While this won't keep you completely dry in heavy downpours, it won't let the water enter the fronts of your shoes in light drizzles.
Otherwise, this is a product you can expect to last for quite a while, especially thanks to the reinforced toe area that takes into consideration the wear and tear that comes with professional cycling training. In terms of cost, it ranks low on this list, meaning that you can get your hands on a pair of these for around $20, but do keep in mind that these only protect the forefoot, keeping the rest of your lower leg exposed.

Subscribe to our Newsletter