Best Rain Boots Reviewed & Rated for Quality
In a Hurry? Editors choice: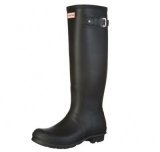 Test Winner: Hunter Original Tall

If there is anything that we must be prepared for on the daily – it's the weather. When it comes to picking out the perfect outfit, if you don't know the weather, you can be in for quite a shocker. I mean, have you ever picked out an outfit and, the moment you walked outside, it started to snow,
rain
, or thunderstorm? It can be frustrating and even embarrassing, should you be
heading to work
or a friendly gathering.
With that being said, it's really important to ensure that not only you check the weather, but that you have the proper footwear for whatever Mother Nature has in store for that day. Now, given that
rain is always a potential
in the forecast, though it would be appropriate to share with you today, the best in the rain boot market.
Standout Picks
Criteria Used for Evaluation
Materials
When it comes to choosing any boot or shoe, it's incredibly important to think about the type of materials that a brand uses to make it. The truth of the matter is, there are so many different materials in the world – and brands have access to just about every single material you can imagine. For example, companies can use:
Polyester
Leather
Suede
Rubber
Plastic
PVC
Textile
Canvas
Those are just the most common ones – there are many, many more! With that being said, since we focused only on products that were designed for the rain, we carefully looked at the material to ensure that it was good for rainy weather. For example, leather and suede are not great materials in the rain – and can actually ruin quicker.
Water Resistance
One of the biggest misperceptions when it comes to rainboots is that they are all "waterproof". However, this is not the case at all! Many brands have designed their boots from water-resistant materials, which is why so many products still get water on the inside, ruining the insole, midsole, and materials. If you have ever had this happen, you can attest that it is not fun.
Now, before we continue, do you know what the difference is between waterproof and water resistant?
Waterproof: Shoes that are considered waterproof create a complete barrier between the water and your foot. There is no way that water can get in, or out, of a product that is made from waterproof materials.
Water-resistance: Shoes that are water-resistance are considered a mild barrier between the water and your foot. In other words, should there be a rainstorm, you can anticipate that water will get inside the footwear.
In order to make our list, we ensured that every single product was made from 100% waterproof materials, which is typically natural rubber. In addition to this, we always took the extra step to consult with previous consumers reviews to see what their thoughts were on their personal experiences.
Durability
Another incredibly important aspect of picking out the best rain boot is the concept of durability. In other words, how long will the footwear last? Now, the best way to determine this is by studying both the quality of the materials and also the way it was constructed. This means, understanding the way the outsole was designed, how the upper looks, and what the interior part of the boot is made with.
Typically, for the outsole, we wanted to ensure that the bottom of the boot was made from high-resistant rubber with some traction-focused properties, as these are typically more heavy-duty and can withstand rain, snow, and rough terrains. In addition to this, we wanted to ensure that the outsole and the upper were well infused together, not glued. This is a common problem in cheaper products, which is why they often break quicker.
Comfort
Have you ever purchased a pair of boots before that, while it looked stylish and fashionable, it was incredibly uncomfortable? This illusion is quite common when it comes to the rain gear market. With that being said, we carefully assessed each product to ensure that every single product would be comfortable, stable, and enjoyable to wear. Now, you might be wondering, how can we guarantee that a product is comfortable?
Well, it all comes down to understand the midsole and insole. The way this area is constructed speaks volumes about the quality and comfort of a product. Typically, the brands that spend quality time, investing cushioning, padding, or even EVA foam – are often the most comfortable, from what we concluded. In addition to this, we always took the time to read consumer reviews for each product to ensure that it was comfortable.
Style
While style is often a matter of personal taste, we've checked thousands of online reviews to see what people are saying about each of the products on our list. Some things, such as sleek design, seamless construction and overall weight and shape of the shoe, were common likes or dislikes among buyers of each product.
To evaluate style, we considered everything from the design, color, shape, weight, lines and overall construction of the shoe in question. While no one wants to wear an uncomfortable shoe, they also don't want a comfortable shoe to be ugly on the eyes. We've selected all of those on our top 10 to be not only stylish, but also comfortable, true-to-size, supportive and durable.
The higher the score on the "style" metric, the more fashionable we and the community of buyers we surveyed deemed the product to be.
Top 10 Picks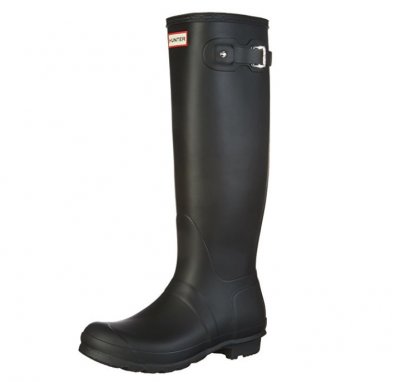 If you are wanting to protect your feet from the rain, the best product in the industry today comes from the reigning champion, Hunter. The Original Tall rain boots from this brand reached significant heights over the past 10 years, making it the go-to choice for thousands of consumers around the world. Thanks to it's unique and fashionable design. Impressive features, and ability to fend off the water, this might just be your next piece of footwear!
Waterproof
So, what might make this product the best on the market today? Well, in truth, it really comes down to the way it was designed. In one case, the brand made this specific footwear to be the best at fending off any water. In fact, the majority of consumers tout how great this product is during rainstorms.
Quality Outsole
In addition to the product's ability to be fully waterproof, the company also designed this boot with the best possible outsole an individual could need in the rain. The entire boot is constructed with vulcanized rubber, which is known for its high-traction and durability properties. So, whether you plan to walk on smooth terrains or rough terrains in the rain, this footwear can join the journey.
Cost and Value
You might be wondering, how much does the best product go for? Well, given the immense value and top-notch innovations, this footwear is most certainly the most expensive on our list today. This item is perfect for the consumer that works outside or finds themselves in a wetter environment. If you like to hike or live in an environment when the rainy season lasts for a few months, these might be perfect for you!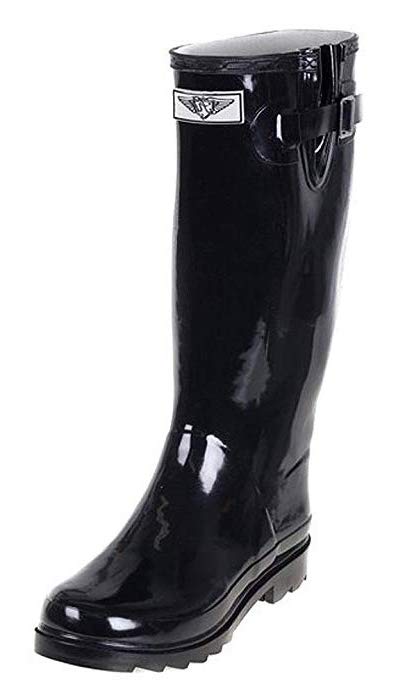 Sometimes, the best items don't always need to be from elite brands or cost the most money. The Forever Young Wellie boot is the exception – and deserves the second spot on today's list. Made from sturdy materials and boasting durability, this item is great for the consumer seeking protection without spending too much money. Let's take a look!
33 Choices
Talk about standing aside from the competition – this brand created over 33 different and unique versions of their product. Whether you are looking for traditional colors or a pattern, this manufacturer has your best interests in mind. With this item, consumers can stand out, stay dry, and be happy all at the same time.
Study and Durable
Can you imagine being in the middle of a rainstorm and your boots break down? That would be awful! This brand designed their product to withstand the storm and ensure your feet are protected at all times. Designed from sturdy, rubber materials, consumers can walk with confidence and comfort all day.
Cost and Value
As far as cost is considered this item is considered one of the most cost-friendly choices that we are going to share today. While the manufacturer did not infuse such shoe innovation as the number one product on our list – it's packed with value, unique options, and can last for numerous rain storms. So, if you need an affordable choice this rainy season, this is the product for you!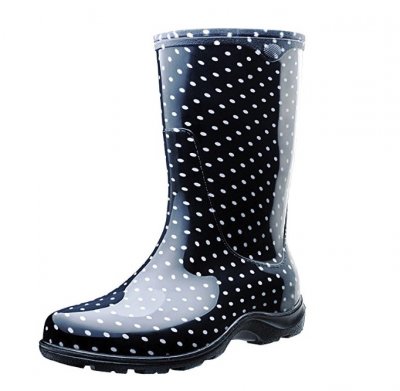 In the third spot, we are very excited to share with you the Sloggers Waterproof Boot. This item presents consumers with the traditional rain boot design – and featured in 10 different designs. If you are looking for the ability to customize your comfort and a product that is vegan-friendly, check out this product!
Easy to Clean
After being out in the rain for a couple of minutes, dirt, mud, and even blades of grass can splash around and cover your boots or shoes. In some cases, the footwear is often designed from challenging materials to clean. This brand sought to make consumers' lives easier by making it easy to clean. In fact, all you need is a simple towel – or even just a hose!
Removable Insole
When it comes to the actual shoe design, the manufacturer designed their product with a removable insole in efforts to provide consumers with the added benefit of customizing their comfortability. Simply, if the original footbed is uncomfortable, an individual can replace the footbed with something more comfortable and soothing to the shape of their foot or arches.
Cost and Value
When it comes to comparing this product to others on our list, it's considered quite competitively priced. In fact, it's nowhere near expensive – and can be argued as affordable. It's priced along the same range as numerous other items on our list today – yet offers some unique design features and appeal that further its case for consideration. Built with a lug tread outsole, easy to clean design, and a removable insole, this item has everything a consumer might need in a traditional rain boot.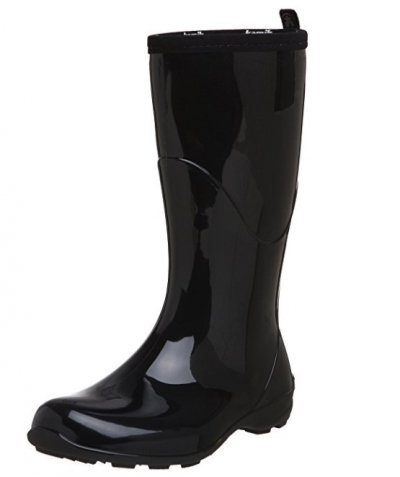 In the market for rain boots, there is one brand in particular that stands aside from the rest of the competition: Kamik. With the introduction of the Heidi model, this company captured the attention of consumers from around the world. There is something so special and unique about these shiny boots that have previous consumers proclaiming this item as the future champion of the industry. Let's explore two product highlights.
Waterproof
When it comes to purchasing a rain boot, it's imperative that the product is made of waterproof materials. This brand took the time to carefully construct each model and boot from the best waterproof materials and properties to ensure that you are always protected. So, whether on a walk or run, this item will prevent any water from getting in, or out.
Removable Footbed
Have you ever purchased a boot or shoe that, after trying it on, your foot doesn't fit properly? Its as if the footbed or insole was designed for a different shaped foot? Well, if so – this product is great for you. Since it was designed with a removable insole, an individual can simply swap out the insole with something more comfortable and soothing for their foot type, making this a great choice for many consumers.
Cost and Value
What helps this product be one of the best in the game is because this specific footwear is not expensive by any means. It's an affordable option built with quality features so that it can compete with the giants. With over 12 different colors, the ability to remove the footbed, and durable materials – this is a great choice for just about any consumer.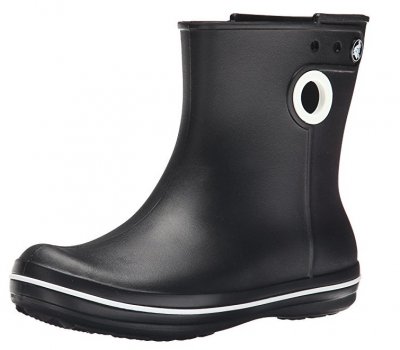 As we reach the midway point of our buying guide today that is easily one of the toughest competitors on our list today. The Crocs Jaunt Shorty is one of the absolute best products in the game today, boasting the famous comfort of the brand, impressive designs, and a high-quality outsole. Well, without further wait, let's take a deeper look at this product.
Comfort Infused
Let's take a minute to talk about comfortability. This specific item may take the medal as far as comfort is concerned. This brand infused their infamous Croslite technology into the shoe, which is a lightweight cushioning to improve comfort for the owner.
Waterproof Properties
The most notable feature that is worth mentioning is that the manufacturer spent a wealth of time infusing waterproof properties into the entire shoe. So, when you are outside, and it happens to rain, this footwear will help create a natural barrier around your feet.
Cost and Value
When it comes to measuring the cost and value and comparing this to other products on today's buying guide, this item is priced slightly higher than much of the competition. Now, the reason behind this is not only the maker of the item but also the quality invested in the item. This product speaks for and represents true shoe quality and value.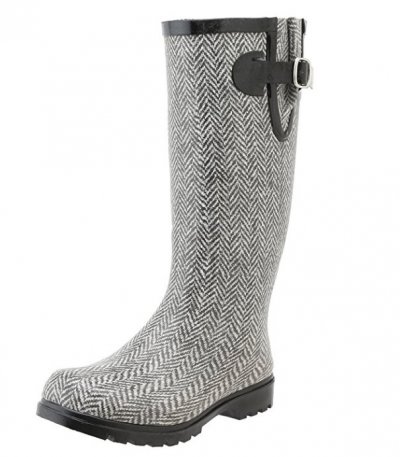 If there is one brand and boot that consumers are talking about, it's the Nomad Puddles. Not only is their slogan incredibly catch, their products are too. This specific footwear offers consumers everything that they could ask for in a quality pair of rain boots and more. With an assortment of different designs, a good quality construction, and interior lining for warmth, what more can you ask for?
24 Different Designs
When it comes to the shoe industry, it's arguably one of the most saturated consumer markets. In other words, there are so many different brands and boots, making it challenging for specific products to stand out. This brand sought to make a difference by creating over 24 different designs for the same model. In all honesty, it's overwhelmingly exciting to see all the choices!
Rubber Design
What really helps to sell this product is the fact that the entire boot is constructed from pure rubber materials. By using all rubber, this brand can assure consumers that their product is best for handling all different weather environments, while also fending off rain during the wet weather season.
Cost and Value
When it comes to the cost for this item, consumers can anticipate paying a relatively higher price tag than many other items on today's list. In this, before you are quick to judge, it's important to ponder and consider the value that the actual footwear presents. In truth, this is one of the best options for consumers, given it's all rubber design and arguably award-winning designs.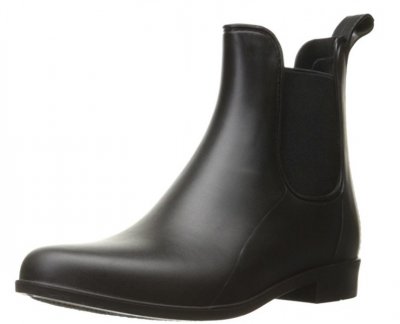 If there is one product on our list today that we are excited to share with you, it's the Sam Edelman Tinsley. Not only does this product have a unique and classy design, it's from one of the most reputable and notable brands in the footwear industry today. Additionally, this is one of the only rain boots that comes with extra padding and cushioning alongside a comfort-infused closure system. Check this out!
Padded and Cushioning
If you are looking for comfort, this product has it. The footbed comes with extra padding and cushioning to ensure that, when walking in the rain, you are both dry and comfortable. The best part, this padding is durable so that it will stay firm and comfortable for many walking miles.
Elastic Closure
What we really found fascinating with this brand was the way they designed the product's closure. The upper is made with elastic materials, which makes putting on the boot easier and more fitting than any other product on our list today. As many consumers have claimed, the elastic closure creates a "glove-like" fit, enhancing the entire walking experience.
Cost and Value
Given the name and maker of this boot, the consumer can anticipate paying a higher price for this product. Investing in this specific footwear is investing in a company that understands how to construct quality shoe wear. With over 8 different designs, this is a deal and choice that is worthy of anyone's consideration.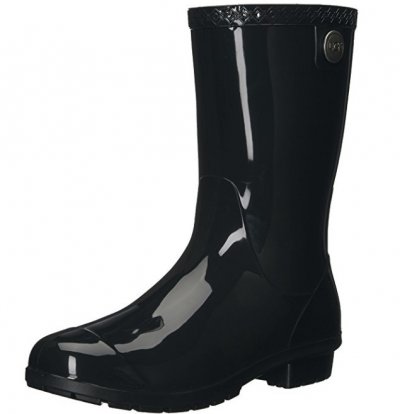 As we begin to near the end of today's buying guide, there is one brand that we can't forget to mention: UGG. In the past 10-15 years, this specific manufacturer has risen to the top of the market as one of the most notable and preferred brands among consumers when it comes to warmth and comfort. The company has designed some of the best winter gear and products – and with the introduction of rain gear, they were destined to make our list today.
Sheepskin Lining
When purchasing a product from this brand, consumers should anticipate receiving the quality that the brand offers in all their products. Rather than the typical lining, this company infused sheepskin material for the lining on the interior part of the boot. In doing this, it helps to keep the owner warm during colder days – and also dry from the rain.
Craftsmanship
The biggest selling factor of this item really comes down to the craftsmanship of the brand. If you do not know, the manufacturer is one of the largest and notable clothing and footwear companies in the world. The brand is known for their intense attention to detail, which can be seen throughout this entire product. If you are looking for quality, here it is!
Cost and Value
So, how much is a boot of this caliber going for on the market today? In truth, it's really not as expensive as you might imagine. In fact, it's quite competitive with a few other items on our list today, making it a valuable choice for consumers who are looking for high-quality while also willing to spend a bit more than an average boot or shoe. Did we forget to mention there are five different fashionable designs to pick from?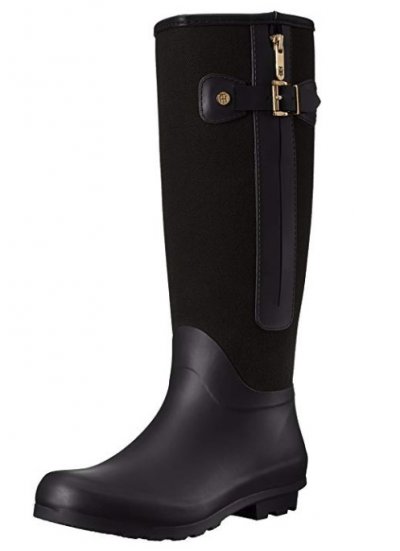 If there is one brand who always designs quality goods, it's Tommy Hilfiger. This company has been around for many years now and developed a reputation among its consumers for quality, durability, and comfortability. This is precisely what you can expect from the Mela Rain Boots. Here are two of the most notable features of this product.
Comfortable
For one, this item is most certainly comfortable. As most previous consumers have attested, the manufacturer infused some great comfortability features in the footbed and midsole of their boot. Additionally, rather than sticking with rubber materials, this brand sought to infuse leather for the soles, which can contribute to a more comfortable experience.
Classy Design
If there one part about this boot that is the driving force of many sales, it's the way that the product is designed. In truth, out of all the products on our list today, this is arguably the best-looking one. With four different unique and luxurious pattern designs, the manufacturer infused a gold buckle on the upper portion of the boot, alongside a zipper, significantly adding appeal and value to the product.
Cost and Value
Let's take a minute and chat about cost and value. This item is price quite relative to the last couple of products that we have shared with you. What sets this product aside from the rest is really the way the product is designed and the comfort and classy appeal it offers. This is one of the only items on our list today that resemble a more luxury appeal, without having the luxury price tag.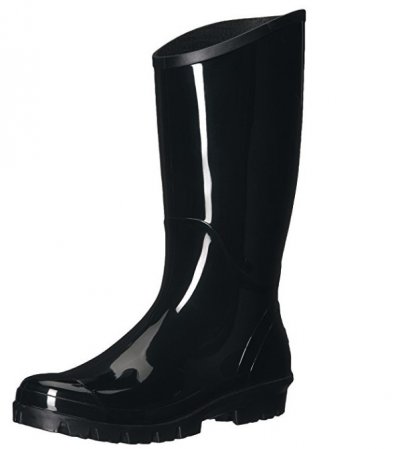 For the last product on our buying guide today, we are going to share with you the Columbia Rainey Tall. This item is a quite a traditional rain gear item; however, it features some unique shoe innovations that have otherwise been left out by other brands on our buying guide on our list today. So, before you make your decision, be sure to check out this one!
EVA Sock Liner
In efforts to provide consumers with a more comfortable experience, this brand infused an EVA padding and foam into the sock liner. For those who don't know EVA is a great, durable foam padding that can significantly improve and provide great comfort to the owner.
Great Grip and Traction
The most impressive aspect of this product is the way the outsole is designed. It has aggressive treads on the bottom part of the shoe, which are known to help provide the individual with the best grip and traction. In addition to this, the entire outsole is made from rubber materials, promoting durability and longevity.
Cost and Value
As the last item on our list, consumers can anticipate paying quite a fair price for this boot, once you consider the value it offers. The brand itself is one of the most notable outdoor brands – and each boot and design is incredibly fashionable. Our favorite part about this product is the attention to detail on the outsole. With a high-quality and aggressive tread, consumers can be assured that this footwear will keep them anchored when on rough or smooth terrains.

Subscribe to our Newsletter