Best Running Rain Gear Reviewed
In a Hurry? Editors choice: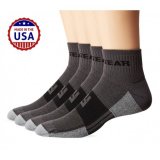 Test Winner: MudGear Trail Running Socks

If you're a runner you know that a little bit of rain isn't going to stop you from logging your miles and running in the rain. You'll drive your car to the gym and get on the treadmill for your planned 10-miler if you have to. But, if you're a
serious runner
who ain't afraid of Mother Nature, you know that even the heaviest downpour won't keep you from lacing up your Nike's and heading out the door. We've created the buying guide below for you, the hardcore runner who will face heavy winds and incessant downpours over the comfort of an hour on the "dreadmill."
Below you will find ten of the best running rain gear to take along with you during your rainy day runs. Read on to find the best accompaniments you should consider investing in before your next run in the rain.
Standout Picks
Criteria Used for Evaluation
Water Resistance
This seems fairly obvious, doesn't it? The number one criterion we used when reviewing each of the ten products on our list was the amount of water resistance that the item can provide. It would be sort of pointless to include something on our list of Best Rain Gear that isn't actually going to be able to protect you from the rain.
In order to gauge the water resistance of each of the ten products, we took a number of things into consideration.
For clothing, we made sure to include only options that are designed with typical waterproof fabrics. For example, the shell from Columbia in the #10 spot on our list is made from 100% ripstop fabric. This material is incredibly hardy and versatile being waterproof, water-resistant and even fire-resistance (though we doubt you'll need to check its ability to resist flames while you're running in the rain).
When it came to shoes, the inclusion of Gore-Tex fabric was key. Gore-Tex is a waterproof and breathable fabric that is able to repel liquids while still allowing water vapors to pass through. This ends up providing wearers with a lightweight and waterproof fabric that is great in a number of different weather situations.
Breathability
Breathability is incredibly important when it comes to your rainwear. Breathable clothing perform two main functions – keeping moisture from entering the garment and allowing any moisture (sweat) inside to escape. Breathable garments do have limits, however. If you're running and working hard, though, you're going to be generating a lot of heat and sweat. It's important to have garments with features that allow you to adjust the temperature without having to take any clothing off. When it comes to running rain jackets, for example, having zippers and vents in the armpit region is really helpful because the sweat that is accumulated there will have a place to escape. The key really is to make sure you stop to let out the steam before you get too damp and sweaty.
Without an air of breathability to your rain gear, there really is no point in wearing any in the first place as you'll wind up wet regardless. If your gear isn't breathable, any moisture from your body will be able to build up between what you're wearing and your body, causing you to get wet, uncomfortable, overheated and probably pretty grumpy.
Comfort
Running is uncomfortable. That's what makes it so rewarding and such a great exercise choice in the first place. You shouldn't further its uncomfortableness with the clothing and gear you choose to wear. This is why we took the overall comfort of all of the products that made our list into account as we performed the research necessary to provide you with this buying guide.
The jackets, socks, hats and footwear you'll find on our list have all been tested and reviewed by hundreds (sometimes, thousands) of people. We were sure to include only garments that passed the comfort test for the majority of users. We didn't want to include any jackets or pants on our list that were made from scratchy materials or shoes with uncomfortable midsoles.
When it comes to products like the anti-chafing balm, you're going to not only be looking at an increase in comfort but a decrease in irritability as well.
Versatility
Versatility was another factor we took into account as we created our list of the best running gear on the market. Sure, you can use all of these products for your runs in the rain, but you can also use them on days when it's not rainy, too. This helps to increase the value you receive in return for your investment and really helps to make your purchase worth it.
The jackets and shoes in our buying guide can all be worn during other types of weather, too. Both pairs of shoes can easily be taken to dry trails and still be able to provide you with a plethora of benefits. The jackets can be worn when it's not raining, but you might want to save them for a rainy day, anyway.
The JBL headphones can be worn during your regular workouts, walks, while you're running errands or, well, pretty much anywhere for any activity at all. They're waterproof, sure, but they're still going to be able to provide you with a lot of value even when you're not racking up miles in the rain.
A great thing about the anti-chafing balm is that you can use it for more than just your rainy day runs. It comes in handy on hot summer days, too. Bonus!
Value
If you plan on taking your runs to the streets regardless of weather, it is going to benefit you in the long run to invest some money into your rain gear. Ready for the good news? None of the options on our list are very expensive at all.
You are going to receive a ton of value from the rain gear above for a very affordable price tag, but we do understand why cost and value would be considerations you take seriously. We get it. You don't want to spend your hard earned money on a product that winds up not even being waterproof in the first place. You can rest assured that we've thoroughly tested all of the products in our buying guide and can attest to their waterproof capabilities. You'll be happy with the value you receive in return on your investment if you choose to buy any (or, heck, all) of the products on our top ten list.
Top 10 Picks for Best Running Gear for Rain
1

. MudGear Trail Running Socks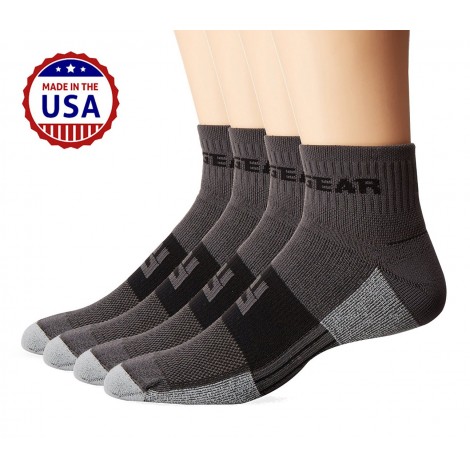 Taking the number one spot in our running rain gear buying guide are these socks from MudGear. They're designed for use for competitive athletes who spend a lot of time training outdoors. They work well in the gym, on hiking trails, during endurance races or even that Spartan race you've been eyeing up, and, of course, running in the rain.
These running socks feature a quarter ankle design that is meant to keep dirt and debris out of your socks while you're running outdoors. They boast a superior amount of drainage so if you're running in a Tough Mudder this summer, you'll not need to worry about being weighed down by sopping wet socks the entire race. The socks have a vented mesh panel that will help to keep your feet dry and comfortable no matter how far you're running.
While these are made specifically for runners, they can be worn during your workday, too, especially if you spend a lot of time on your feet. We're looking at you law enforcement, doctors, nurses and cooks!

2

. Body Glide Anti-Chafe Balm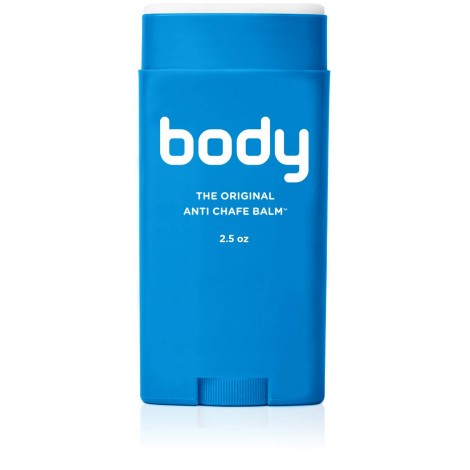 If you've ever run in the rain you know that it can be a literal pain if you're not properly equipped with the right rain gear. This is where Body Glide Anti-Chafe balm comes in. While this might not be something you immediately consider when you think of 'rain gear', chafing is a very serious (and painful) issue that you should try to avoid.
Use this balm on any part of your body that is likely to be rubbed during your run. The balm is designed to reduce the amount of friction that is happening between your skin and the clothing you're wearing. You definitely will want to purchase this balm if you haven't yet invested in waterproof running rain gear as it will help protect your skin from the wet clothes that'll be sitting on it. Simply apply the balm to areas that are most likely to be irritated by friction – your feet, nipples, thighs, for example, are all areas that are susceptible to painful chafing.
The balm is made with allergen-free and plant-based ingredients so it's something you can feel good about using since there are no animals harmed in the manufacturing process.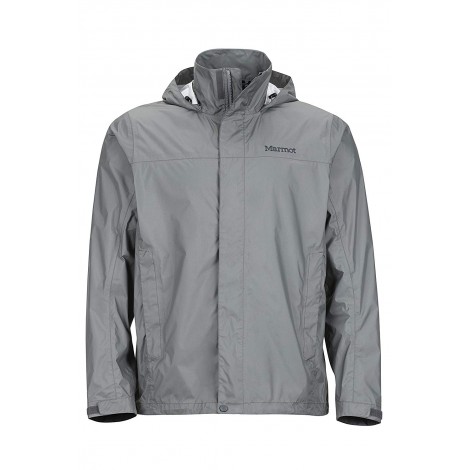 If you're in the market for a running jacket that is going to keep you cool and dry during your rainy runs, the Marmot Precip is going to be something you want to take a bit of a closer look at. A waterproof jacket is an essential part of any running rain gear.
This jacket is designed with NanoPro technology which helps to provide wearers with a cool, dry and extremely comfortable garment that performs very well in wet conditions, no matter what kind of activity you're doing making it perfect for running in the rain. It boasts tapered seams that further help to prevent any leaks, as well as an attached hood that you can roll up and put away when you don't need to use it.
The Precip is available in nearly 30 different color options, making it a perfect choice for someone who likes to express themselves through their clothing choices. In colors like bomber green, dark rust, blue ocean, dark purple and sienna red, there is certainly an option that will appeal to you.

4

. Columbia Watertight Cap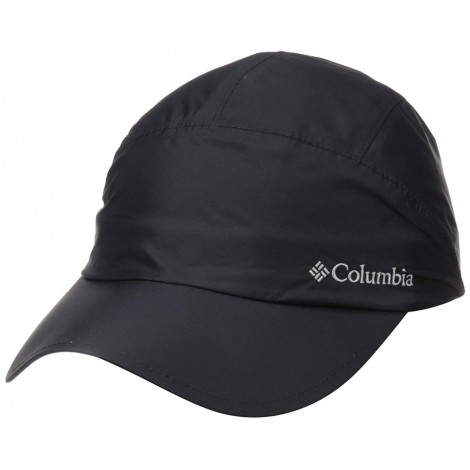 If you're searching for a waterproof hat to wear during your runs in unpredictable weather, this option from Columbia may be just what you need. It comes in four different color options – black, grey, graphite or pine green and will be a great companion for your rainy runs.
This features Columbia's Omni-Tech nylon material in order to provide wearers with a hat that is both waterproof and breathable with seams that are fully sealed to help prevent any leakage. It has a hook and loop closure on the back of the hat to provide you with a custom fit that won't fall off no matter how hard you're running or how fast the rain is coming down.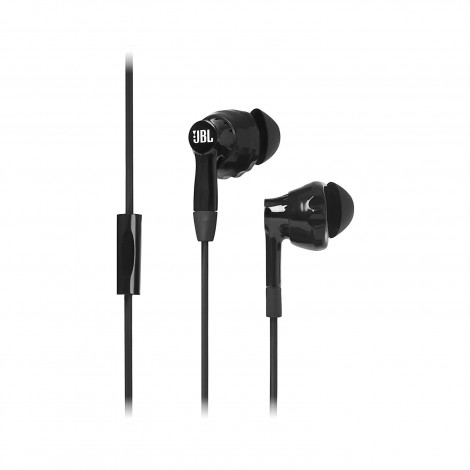 What running in the rain is complete without having access to your podcasts or music to help get you through it? The problem with some headphones on the market today is that they're simply not designed to be used in rainy weather. It does make sense by all accounts, we have been taught that water + electronics = bad all of our lives, haven't we? Thankfully there are companies who make it their purpose to provide consumers with headphones that can be safely used in inclement weather and running in the rain. The Inspire 300 from JBL is one of these.
JBL designed these headphones to be used in any type of condition. They're manufactured to withstand rain, sweat, and water. We have to give JBL bonus points also for making a waterproof headphone option that won't slip out. We've tested our fair share of headphones and earbuds that claim to be waterproof but will not stay in the ears once the sweat starts to accumulate. The Inspire 300 bucks that trend.
These are made with a very soft and flexible silicone material that will stay comfortable no matter how long your run will be. They have JBL's Twistlock technology built in that ensures a secure and comfortable fit even if you're running your absolute hardest.
When it comes to the sound quality, you're not going to get anything that makes audiophiles purr with delight, unfortunately. But what can you expect from an incredibly affordable price point? The Inspire 300 allows ambient sound in so you're able to hear whatever it is you need to hear happening on the street during your run in order to keep yourself safe.

6

. Adidas Terrex Swift R GTX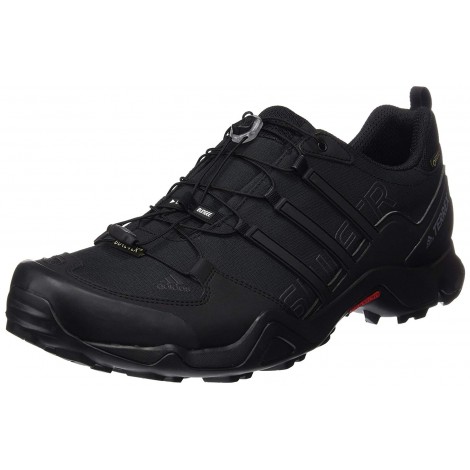 What running in the rain ensemble would be complete without a pair of running shoes designed for use in wet conditions? This is where this product from Adidas comes in. The Terrex Swift R GTX will be your best companion on runs where the weather might be inclement or unpredictable.
The upper of this product is made from synthetic leather and high-abrasion mesh material to provide runners with durability and unprecedented breathability. Thanks to the Gore-Tex lining, your feet are going to stay dry, no matter how hard it's raining.
The midsole is made from an EVA cushioning system that will provide an ample amount of comfort, while the protection plates in this running shoe will help to provide protection for your feet if you find yourself running on treacherous, rocky trails.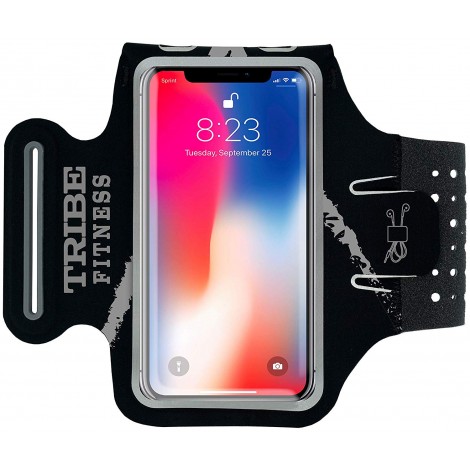 Do you take your smartphone with you on your runs to calculate your distance and pace? You may want to invest in the TRIBE armband to protect your device, especially if you're doing your runs in any inclement weather.
This armband is made from 100% premium lycra materials that will not only feel soft on your skin and not cause any painful irritation, but will also be water and sweat resistant so you're not going to be ruining your device or chafing under your armband.
Something we love about this product is that it allows you complete access to your phone while it's in the band. The touchscreen is completely waterproof and sensitive enough that you'll still be able to have access to all of your phone's functions. The armband also features a reflective strip so you can easily be seen in low-light conditions and a pocket to store your credit card or house key.
Not sure this armband will be the right size for you and your phone? Don't worry, TRIBE has you covered. This product is designed to be just the right size for every smartphone and its adjustable elastic band will make sure it can expand or shrink to fit larger or smaller arms.

8

. Frogg Toggs Pro Action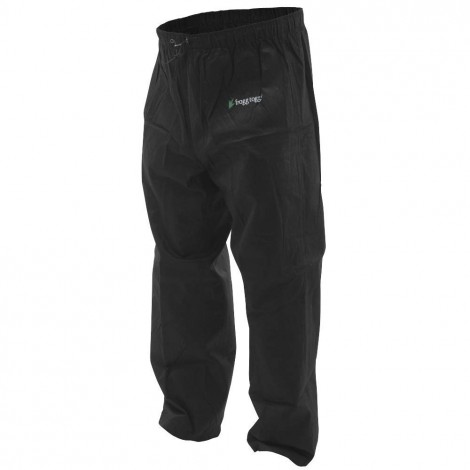 If you live somewhere like the Pacific Northwest, you know how rainy it can get during the winter months. This is when a garment like the Frogg Toggs pants will come in handy. No matter how wet it is, you won't be resigned to treadmill running so long as you have these in your closet.
The waistband of these pants is made with elastic so it is adjustable and will allow you to select the level of fit you want on any given day. The leg openings are adjustable as well so are able to get a closer fit around over the top of your shoes.
If you spend a lot of time outdoors, not necessarily running but hiking, camping or even cycling, you're going to get a lot of use out of these pants. They're a great companion for any outdoor activity you may be participating in during rainy weather.
The downside of these pants is that they may not be very breathable. Sadly this means that they may not be the best choice for, particularly long or difficult runs. They will work just fine for shorter distances or runs where you know you won't be exerting yourself to the fullest extent.

9

. Salomon Sense Ride GTX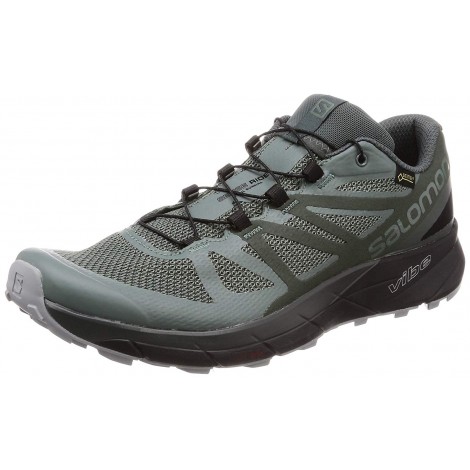 Do you do a lot of trail running? If so, you know you need to be prepared with footwear that can handle anything the trails throw your way. The Sense Ride GTX trail shoe from Salomon will be able to accomplish that and more.
This shoe is designed with a protective Gore-Tex construction which will allow you to take on terrain that would otherwise soak your feet (and your spirits) if you were to attempt it in any other kind of shoe. The Gore-Tex membrane is attached to the upper mesh fabric of the shoe, providing you with unprecedented dryness regardless of how many puddles or how much mud you are running through.
Another important feature you will want in a trail running shoe is traction. Without the grip on the outsole necessary to keep you upright, you are putting yourself in danger taking on wet and difficult trails. Thankfully, Salomon realizes this and outfitted the Sense Ride GTX with their Premium Wet Traction Contragrip technology that will give you the right amount of grip, whether you're running on wet or dry surfaces. The flexible grooves in the forefoot and heel of the outsole will let your foot move naturally throughout your stride.

10

. Columbia Outdry Ex Caldorado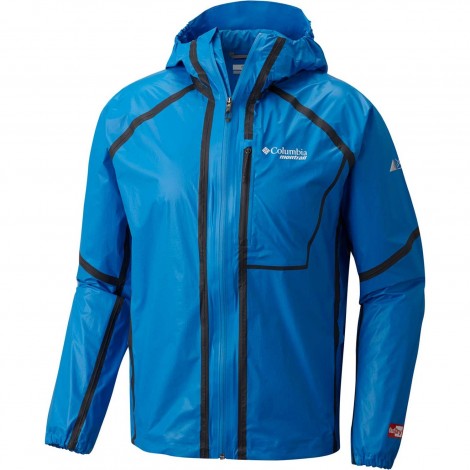 Taking the final spot in our top ten list is this jacket from Columbia. The Outdry Ex Caldorado will be a perfect companion for your cold and wet runs with its seam-sealed technology that is guaranteed to be both waterproof and breathable – a truly winning combination.
The Caldorado features an adjustable hood so you can make sure you're protecting your head from the rain as well as underarm venting to help boost breathability. It has a zippered pocket on the chest to hold some personal effects and elastic cuffs to ensure you're able to keep water from entering your sleeves.
This jacket is designed for use on running trails, though you could easily use it on the street and during other outdoor adventures as well. It's going to protect you from the rain as well as your own sweat, but it is important to not that this is not a traditional raincoat.

Subscribe to our Newsletter