Best Sam Edelman Boots & Shoes Reviewed for Style
In a Hurry? Editors choice: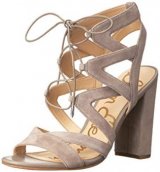 Test Winner: Yardley

While they are one of the most popular shoe brands around in current times, this was not always the case. Sam Edelman, founder of his self-named shoe brand had many hits and misses along the way. Little do most consumers know, he was originally involved with other brands before he blazed his own trail. For example, he sold his
equestrian-inspired
footwear designs to Ralph Lauren, worked with
Kenneth Cole
, launch Esprit shoe division all before starting his own popular brand, Sam & Libby.
Standout Picks
Criteria Used for Evaluation
Materials
When looking at a broad range of shoes such as for this category, you will see many materials used for footwear. The main ones that comprised our list of materials are fabric, leather, suede, and rubber.
Fabric
The fabric is a lightweight material that is a textile blend. You see this is an option that is designed to be lightweight and airy; much like canvas. These shoes have good airflow and will not trap heat inside the shoe. However, if you get caught in a rainstorm while wearing them your feet are going to stay wet pretty much the rest of the day unless you stand in the sun to dry them.
Leather
Using leather in footwear has been in practice for centuries. Leather is very durable and can withstand many elements. It is a more dense material than fabric or canvas. Leather is known for keeping the feet warm during cold months and cooler in the summer. It has that odd characteristic. Leather is not advisable to wear during rain or snow, however. If you take proper care of leather and treat it with the proper stain repellents and waterproofers, you will get many years usage from these shoes. Truthfully, leather is easy to clean when compared to some other materials.
A lot of designers, this one included, use leather in their shoes because it can be dyed or printed relatively easy. It is a very versatile fabric that also offers great protection to the feet. It is a tough material.
Suede
Suede is a derivative of leather, to some extent. Suede comes from the skin but is the underside of the hide. It is soft and fuzzy. Suede is a highly desired material to be used in shoes. It keeps the feet warm and protects the feet from the elements. It is not a material that can be worn in the elements though, so that is a downside if you live where there is adverse weather frequently. However, you can treat your footwear with waterproof sprays and other waxes to keep stains and water from seeping into the material
Rubber
This material is typically used in products that need to have high protection from the elements, namely boots. More importantly, we are talking about rain boots. Some people purchase rain boots but don't wear them for the rain exclusively. Some consumers like to purchase these style of shoes to wear doing garden work, going to the beach, hiking, etc. where it would otherwise expose their shoes to dirt and elements that can ruin most other shoes. Rubber shoes are super easy to clean, just hose them off after wearing. They also do not stain or absorb odors. Finally, the rubber is antimicrobial, so you don't have to worry about things forming on the outer portion of the shoe.
Breathability
Not only does the design affect the breathability, so does the material. Some materials used in shoe production are not breathable at all; while others promote great airflow and dryness. One such comparison is rubber and fabric. While rubber shoes are incredibly durable, they do not breathe. This is for the simple reason of keeping water, along with air, unfortunately, from penetrating the shoe. It also prevents the heat from escaping from inside the shoe. Whereas, canvas or fabric is ultra-breathable but not quite as durable or heavy as rubber.
One reason to consider the breathability of your footwear is the prevention of fungus and germs. These germs are also the same culprits that can cause athlete's foot. When shoes get wet from either water/rain or sweat and they do not get properly dried, they can breed germs.
The only caveat is rubber boots. The rubber can be completely doused but dry within minutes. In terms of other shoes, if you are getting them wet on purpose or accident it is imperative to get the shoes completely dry again before wearing. It not only protects your shoes from a shorter lifespan but it protects you from germs and bacteria.
Ease of Use
Some shoes are definitely easier to care for than others. In this case, it has to do with the materials and design of the shoe. For example, leather is going to be not as easy to care for as canvas. However, is more resilient than suede. The rubber might be considered the easiest just don't leave them in the hot direct sunlight as it might have the tendency to crack and dry out.
With all things, it is never a good idea to wash in the washing machine unless possibly on gentle cycle or handwash settings. Washing machines can do much damage to shoes.
For best results consult with the manufacturing guidelines on cleaning. Some materials cannot be exposed to heavy doses of water and others might need to be air dried or spot cleaned only.
Style
Heel vs. no heel
Depending on what sort of style you are searching for you will be considering a heel or no heel. Maybe you are going to a fancy event and you will need a lifted shoe. Perhaps you are searching for a more everyday shoe that you can walk lots of miles in. At that point, you will probably want no heel as some people have foot pain when wearing heels every day or on an all-day occurrence.
Plain colors vs. prints
For this matter, you will want to consider what suits your everyday lifestyle the most. Are you comfortable wearing a bright pattern or color over a more natural and muted color? This brand is known for fun fabrics and prints. As long as you can wear them and incorporate a vibrant style into your life, then go for it. Otherwise, maybe you work where you have to follow a dress code. You will be more suited to a neutral color or no prints.
Lace-up vs. slip-in
To deal with shoelaces, some people find that a chore. Some of the shoes have laces but more of the styles focused on a slip-on or mule style. Besides, most of the styles on the list were dressier. In this case, you would be hard-pressed to find a dress shoe that has laces.
Upper
The insole is the proverbial foundation of the entire shoe. The sock liner lays on top of the insole, which is then fused to the midsole, and finally the outsole. A firm insole will give good structure to a shoe and increase its stability and durability, but it will also increase the weight of the overall product and be less comfortable.
A softer insole might be more comfortable, but that comes at the expense of stability and durability. We tried to balance these weights when evaluating our products, but each reader and wearer is different, so be aware of this trade-off.
The final word on insoles is that the higher the score the product receives, the firmer it will be; however, it might also mean the insole experiences one of the trade-offs discussed earlier.
The insole is the proverbial foundation of the entire shoe. The sock liner lays on top of the insole, which is then fused to the midsole, and finally the outsole. A firm insole will give good structure to a shoe and increase its stability and durability, but it will also increase the weight of the overall product and be less comfortable.
A softer insole might be more comfortable, but that comes at the expense of stability and durability. We tried to balance these weights when evaluating our products, but each reader and wearer is different, so be aware of this trade-off.
The final word on insoles is that the higher the score the product receives, the firmer it will be; however, it might also mean the insole experiences one of the trade-offs discussed earlier.
10 Best Sam Edelman Shoes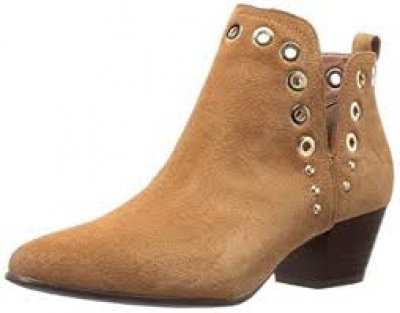 Just in time for fall fashion is the Rubin ankle boot. Soft suede leather creates the uppers of this cute boot, with a slight stacked heel, deep gusseted sides, and rivet embellished collar lining. It gives a western feel a makeover with softer materials and urban appeal. Great to pair with anything in your wardrobe from jeans and leggings to dresses and skirts!
The Rubin demonstrates how quality construction paired with great styling can be kept simple and clean, and still deliver inspiration and nostalgia. It's soft suede texture, and easy pull-on design brings a feeling of comfort and ease. From blacks and greys to greens and browns, you'll find one you can wear with many pieces in your wardrobe in stylish comfort.
Deep gusseted sides give this a nearly split look and make an appealing visual to the Rubin. Riveted laced collar accentuates the gussets, and provides and western, urban flair and appeal to the boot. Stacked heel allows for a confident lift in height, and rounded toe makes them comfortable and roomy. Quite reasonable, and similarly priced as many other pairs by the same brand, the Rubin is a great option for fall or cooler weather but can be worn year round if desired. Ankle boot design with deep gussets and embellished collar create a versatile urban flair to this pair, and the Rubin can be worn with nearly any piece of clothing style-wise. A great option for your first pair by this designer!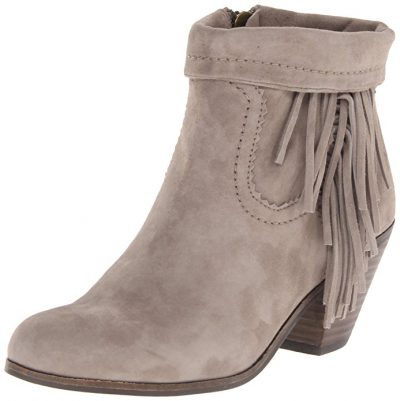 You may have thought fringe went out of style decades ago or that only country western people wore fringe on their clothes but think again. These very stylish ankle booties have fringe accents on top of a generous 12-inch opening. The collar is folded down which gives it a pop of styling not typically seen on booties.
The sole of this boot has a nice texture to it which will help with your grip when you walk. While not totally slip resistant, the sole has enough to keep you sturdy on even wet floors. If you need a bit of extra room as you slide your foot in or out, the side zipper is a great feature of this bootie. It makes putting it on and taking it off so much easier than boots without it.
These boots are in the lower portion of our price range. They make a cute bootie to wear all year. Furthermore, you will look completely stylish wearing these boots with everything. They are a great all-purpose boot for dresses, leggings, shorts and more.



In need of a dressy sandal for more formal weddings or gatherings, but want something different than the usual hot trends? The Yardley is a perfect strappy sandal option for consideration. Open and airy, this strappy ankle sandal will turn heads with unique look and colors. Soft suede uppers zig zag across your feet creating a flattering and pleasing aesthetic, while chunky block heel lets you walk confidently with stability.
The Yardley keeps a unique look about it with angles and open strappy sandal design. Made from soft suede, the uppers connect with the interwoven lacing system, creating an adjustable fit while still pulling the look together by mimicking the criss-cross pattern of the upper. Peep toe straps won't have your toes falling out the side, and there are plenty of beautiful color options available for your style taste.
A chunky block heel supports the Yardley, giving it comfortable stability for walking or standing in for short periods. A modest heel helps keep your feet feeling happy and still gives ample height for a sexy look. Light cushioning in the footbed helps provide comfort throughout wear, and adjustable lace-up helps you to find the perfect fit for your liking. One of the more budget-friendly items on our list, for a sandal by this brand that pulls together unique style and coloring in a strappy pair of footwear, it's well worth the purchase. Soft suede will wrap your feet in luxury while flattering the foot shape with its criss-cross design pattern. For heel lovers out there, this is one sandal you won't want to pass up!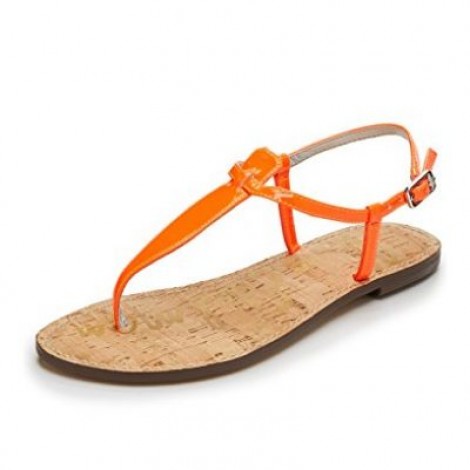 Gladiator sandals made a huge burst onto the fashion scene just a few years ago. People love them for their cute style, flexibility, as well as the breathability of them. They are completely open and secured to your foot with a simple toe thong and ankle strap. If you are searching for a fabulous warm-weather shoe, this one is perfect.
Some people have thicker ankles and therefore need a shoe that is adjustable. This one will be great to accommodate skinny ankles all the way to thicker ones thanks to an adjustable ankle strap. The footbed of this sandal is soft and cushiony. It absorbs much impact from each step. Finally, it is a faux leather material that feels heavenly against the skin.
These shoes are in the middle of our price range. They are a good buy if you live in a warm climate. Gladiator sandals make a great option for the beach or other outdoor activities as they allow high breathability. Also, since they are an entirely open shoe, wiping your feet from sand or other things in a breeze.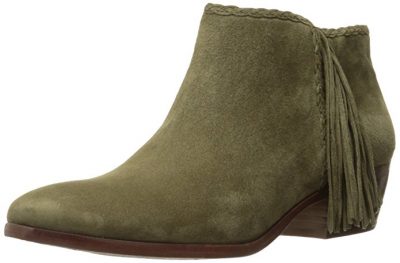 The braided accent paired with the fringe makes the boots stand out for its style factor and attention to small detail. The ankle bootie here is a great shoe. It is very versatile and can be worn every day, to fancy events, to work, or simply out for casual date night. The bootie has a synthetic sole and a softly padded footbed.
The upper of this bootie is a soft suede material. Not only is suede supportive of your feet, but it is also more breathable than most people assume to know. The only downside is suede tends to stain when wet. Incorporating a zipper into the side of this shoe means you will have extra room to wiggle your foot in and out with more ease. Some boots are so stiff they don't go on easily — not this one from suede paired with a side zipper.
This boot is one of the lower priced in the category, which makes it an excellent buy just for cost considerations. Furthermore, the boot is sturdy and stylish. You can wear this boot for so many different reasons that you will more than get your usage from them.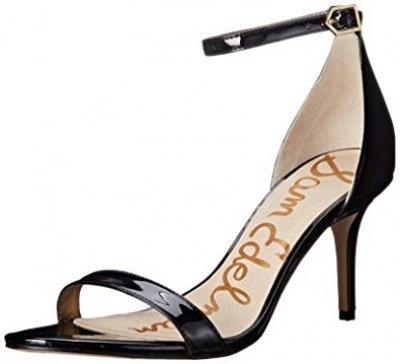 The Patti is one of the brand's most colorful, sophisticatedly simplistic, and classic looking sandal. With narrow toe and ankle straps, and a closed heel cup, its elegant appeal comes from the simplicity of the design. Pair with any piece in your wardrobe for instant classic feel with a bit of sexiness. The Patti comes in a plethora of rainbow colors, patterns, and both soft suede or patent leather textures.
Sometimes the best footwear is those you can pair with just about anything in your closet, and make you feel and look confident and classy. The Patti is a must have as a staple in your closet for its design. With narrow toe and ankle straps, it's elegant without covering the natural shape of your foot. A stiletto heel will give swagger to your step, and closed heel will help keep you from slipping out of the sandal.
The Patti adds flair and fun to your ensemble through its colorful options, as well as different textures available. Choose soft suede for a luxe look, or patent leather for some attention-grabbing shine. Hot pink and bright reds, to metallic silver, and even more subdued neutral color options will pair with whatever your need may be. A great staple to have in your footwear arsenal! Moderately priced for the brand, the Patti is one of the go-to pieces to add to your collection, due to is sophisticated simplicity in design, and various color and texture options. Delicate ankle and toe straps accentuate the natural foot shape, while bold colors can dress up any outfit. A great investment to consider if you're in the market for a sandal.




Ever the popular style is the ballet flat. It took the fashion world no time at all to fall in love with this shoe. You can look sleek and modern pairing this with skinny jeans and a blazer. Or for a more relaxed atmosphere pair them with a cute sundress. Either way, the Felicia is soft on your foot and is comfortable enough to wear all day.
Using leather in this type of she is a great move because there isn't a lot of shoe. The leather gives this style its shape and feels good on your foot. It also helps keep your feet warm. Some shoes you have to worry about the collar cutting into your skin; that is not the case here. The soft binding will keep the edge of the shoe from rubbing your skin or chaffing it.
These gorgeous ballet flats are in the lower to middle price range. Therefore, they are a good buy just on cost. Furthermore, these versatile shoes can be worn from anything like a wedding to a day running errands. You will get plenty of use from them.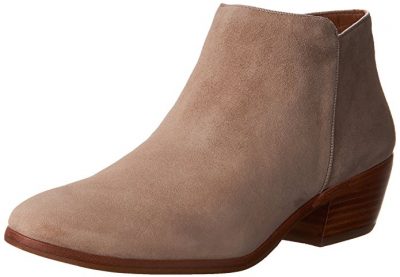 These super cute ankle booties are a staple for every wardrobe. They are stylish all year round. They can be worn with just about anything. Gracing the fashion catwalk with dresses, skirts, shorts, jeans and more, they are never out of style. They have a low heel so they are comfortable to walk around in all day.
If you ever need more room when you putting a boot on, then a side zipper is exactly what you need. It gives more space when you put the boot on and then when you take it off, removal is easy. The heel on this bootie is not very high. Furthermore, it is offset by an integrated toe platform. This reduces the strain put on your arch from your heel to toe.
These boots are in the middle of the price range for where we evaluated all of the shoes and boots. These are an excellent value because they are an all year and all season bootie. They are the perfect ankle height to give even a casual outfit a bit of a fancy pop. Moreover, they are rated highly for comfort so you can wear them all day with ease.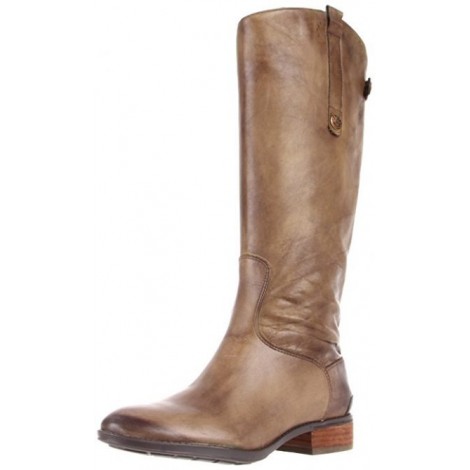 Don't think you need a horse to wear these boots. Riding boots have blazed a trail for many years as being a fashion icon item. They go with everything in your closet. These boots are a weathered look which gives them character. They also have a nice raised heel and minimal toe platform which gives just a tad more height to your frame.
These have a full-length zipper that is at the back of the book. You can use it to give yourself more room when putting it on or taking it off after a long day of wear. These boots make a great choice for even a person that has larger calves. It also allows for more room should you have jeans on or some other bulky clothing item and need the space.
While these boots are eye-catching, so is the price. They are most definitely at the upper end of our price range. They are a gorgeous boot that could be worn all year. They will go with dressy clothing or more casual attire. You most definitely get your usage from them.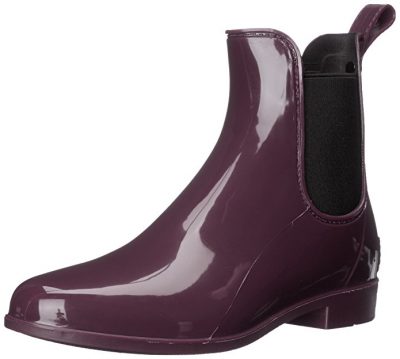 These are adorable and versatile rain boots. Don't let the categorization fool you, these boots can be worn for other activities and hobbies or just because. The glossy rubber boot pops off your foot with style. Finished with stretchy elastic sides and a pull tab at the ankle you will have no trouble getting the boots on and off with ease.
The soles of this shoe are rubber. Therefore, they will give you the ultimate grip in the rain. They are nicely traction and can help prevent unwanted slips and falls. If you need more room in your boot when you are putting it on or taking it off, these boots are perfect thanks to the stretchy elastic goring on the sides. It also helps make more room inside the boot if you have on bulky clothes.
These boots are in the lower to middle price of our range. Even though they are labeled rain boots, they can be worn in the snow, the garden, at the beach and more. They are versatile and easy to clean and care for. They make a perfect addition to your closet.

Subscribe to our Newsletter