Best Snow Moon Boots Reviewed & Rated
In a Hurry? Editors choice: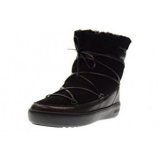 Test Winner: Pulse Mid

If you grew up or lived in a climate with warm temperatures in the 1970s and 1980s, you are probably not familiar with Moon Boots. Those are the decades in which this far out looking shoe first hit the market and took it by storm. Created in Italy by a man named Giancarlo Zanatta after he developed a fascination with the boots the astronauts had worn to space during the Apollo 11 mission a few years prior. The mission of the boots was to keep the feet incredibly warm and totally dry in snow, rain, etc. Check out our Moon Boots reviews below to find the right one for you!
Standout Picks
Criteria Used for Evaluation
Traction
If you live in a specific environment and you watch your weather daily, you might assume you can trust the weather report. If the meteorologist is not saying rain or snow, most people trust what they are told. However, you are getting dressed, and they are calling for a good chance of snow or rain. You grab your moon boots to put on your feet. You want to know and trust that you will be able to safely and securely walk in these shoes.
Now is not the time to worry about the traction and grip that the boots will afford you when wearing them on ominous terrains and in hazardous weather conditions. That is why we have evaluated the shoes on this list before they were ranked. If the boots did not perform well on the traction rating, they were eliminated. This is not to say that any pair of shoes will give you 100% stability on ice, snow, etc. However, we think the grip these ten snow Moon Boots provide will assuage any fears you might have of walking on a slick surface.
The boots on our list are all excellent choice for a range of terrains. You can face snow, concrete, sand, gravel, dirt, carpet, and more while safely stepping around. This is good to know for events such as hiking or simply walking around a sandy area.
So what exactly makes a shoe considered to have good grip and traction? For starters, the type of sole is the main characteristic. Typically, categories of shoes would have rubber lugs on one type and a thick tread on the other, etc. For this category, since we are only ranking Moon Boots, we will talk about the sole of the boot. A Moon Boot has a sole that is made from rubber. The bottom of the sole on close inspection consists of different heights. The actual sole has round rubberized "pegs" that help elevate the foot above whatever terrain you are on, such as dirt. The pegs dig down into the surface and help your foot to grip as you are stepping.
Aside from the round rubber pegs, you can see the next elevation of the boot has a layer that holds the rubber pegs. It is a cutout pattern that adds more depth off of the actual solid boot-sized sole. Again, that will help to push debris or dirt out more flat so you can grip easily when walking. Finally, the portion of the sole that is the whole boot bottom. It is a durable rubber that will withstand many steps. The sole is strong and will support your foot and balance out your weight with each step.
Weight
You may not think about the weight of a shoe as you are used to wearing sneakers or flip-flops, etc. However, when you examine a Moon Boot, you will see that there is some added weight involved in manufacturing a heavy boot such as this one. While technological advances in recent years have allowed designers to build much more efficient shoes at a lighter weight, there is only so much weight you can shave off without interfering with the integrity of these snow Moon Boots. Most consumers are willing to adjust to a few ounces when it comes to heavy-duty protection but no one wants to feel as if they are dragging cinder blocks around on their foot at the end of the wearing time of shoes; whether that is one hour or nine hours. There comes a tipping point where buyers will not purchase a shoe, regardless of the protection and advantages it offers if it is too heavy. That bulk can create other problems such as leg and foot fatigue. This will overall lower the happiness quotient that consumers search for.
One area that has allowed for a weight reduction is the sole. Previous shoes only had the option of using a dense and heavy rubber. New advancements, however, incorporate a blown rubber which is not as dense. Another alternative designers have turned to in recent years is EVA composure of the sole. EVA stands for Ethylene-vinyl acetate. This adds to the overall quality of the shoe in two ways. It is lighter weight and more durable material which adds to the life of the shoe.
Since snow Moon Boots have the same design as their predecessors, there is not much deviation in the material for this particular category. When we discuss other shoe categories, there are other ways in which manufacturers can cut the weight, but this particular style of boots have to have this material for the warmth they supply. If you spread the material thinner, you sacrifice the heat retention, which again in other shoes you do not want; however, this type of shoe is made for it. Also, if you change the material, you risk the heat retention capability also.
Protection
When consumers begin to research Moon Boots, they are typically looking to buy a boot that can be worn for fashion. However, more often than not, they are looking for a boot that offers a specific type of protection. Protecting their feet from the elements is the number one reason buyers look towards these boots. Usually, they are residing in a climate that has a lot of snow, ice, rain, and/or cold. These boots built a reputation for keeping feet warm in even the harshest of conditions.
In this manner, snow Moon Boots are built with layers and materials that are conducive to protection. For example, the sole of the boot it fairly thick when compared to other types of boots. Not only does this help with traction and grip, but a thick sole cushions the foot. The sole is the last layer that prevents negative energy transfer from the ground to your joints in the legs and foot. By making the boot with a thick sole, it prevents a good amount of shock from being absorbed by your body. That also allows a comfortable step when you strike the ground. Finally, the think sole also protects against sharp objects stabbing through the sole and injuring your foot. For instance, walking on a snow covered trail you might not see the twigs and sticks you are stepping around. The sole can divert a stick from jabbing through the bottom and maiming the skin.
Next, Moon Boots offer reinforcements around the sides of the foot, the toe and the heel. This particular reinforcement design helps to strengthen the foot because it prevents the foot from splaying too much. Splaying is another way to describe the way in which the foot spreads out when standing. Oversplaying can cause injury to the foot. Reinforced sides also encourage the foot to land properly; thereby preventing injuries such as ankle rolls or twisted knees. As for the toe reinforcement, this keeps you from stubbing your toe and possibly breaking your toe. The toe of these boots is made in the same manner that the toes of work boots are made in, just not to the degree of work boots.
Finally, the shaft of the boot can be described as the portion of the boot above your ankle. This can be of varying heights depending on the boot. The shaft protects the shin and strengthens the boot protection overall. The shaft of a Moon Boot is comparable to bubble wrap. This boot surrounds your leg like bubble wrap surrounds your valuables when packing or mailing important items. Additionally, it adds a comfort level to the boot; it is not too rigid whereby you cannot easily move and bend. However, it does provide adequate support and warmth.
Water Resistance
Seekers of the Moon Boot are looking for a boot that can be worn in all weather elements. This would absolutely have to include protection from water, rain, and snow. Nothing is more miserable than getting all of your items on to journey out into the rain or snow, only to discover after a few minutes your shoes are not waterproof. If you happen to be in the snow, not only are your feet wet, they are now freezing. The boot is trapping the cold and wet against your skin. This can cause a plethora of skin problems from a rash to frostbite. It is paramount to find a pair of boots that offer complete waterproof capabilities if you are going to be wearing the boots in the elements.
Completely waterproofing boots comes down to an outer layer of protection and an inner layer of protection. Let's start with the outer layer and its role in keeping your feet dry. The outer portion of the shoe is the first defense of water blocking. Some designers prefer one piece of material to be used as this lessens the chance for water to get in. Most materials that are used will be leather, synthetic, nylon, etc. It would be rare to find a boot upper that is made from mesh. Mesh is made to be breathable, hence openness. Using a more durable material such as leather is ideal for a lot of shoe companies because leather has been used for hundreds of years for warmth and protection. Advances in production allow leather to be completely waterproof. However, Moon Boots generally use nylon. Nylon is a great defense against water and wetness. It is one of the highest rated on the scale of waterproof capabilities.
From here, you have the inner layer of protection. This is the second line of defense in keeping your feet and legs dry while wearing boots. In other shoes and boots, there is a chance that the water will make it past the first layer and infiltrate the boot. This is where the second layer of protection comes in handy. Most shoes when you put them on your foot you don't realize they even have a second layer as it is built into the lining of the boot. The Moon Boot has an added layer that is sewn into the shoe lining that acts as a lining also. The lining not only prevents water from entering the boot, but it also serves as a soft material against the leg.
Insulation
When you are looking for a boot that will keep you warm in the elements, you want a shoe or boot that is rated high for heat retention. That is the exact opposite that most people look for in a shoe. Most consumers search for shoes that are highly-breathable or promote good airflow. However, when searching for a boot that you will be wearing in harsh conditions such as the cold, wind, rain, and snow, you will want a boot that will keep your foot warm.
What exactly should you look for in a boot rated for high heat retention? To begin with, you should examine the closure system of the boot. In other words, what closes the boot off from the cold and rain after you slide your foot into it? Do you have velcro, snaps, buckles, or laces? None are superior to the others just so long as you can fully seal the opening of the boot. Any gap in the closure or the sealing will allow water to penetrate and wet the feet.
Another caveat to the sealing system is not only preventing what gets in but restricting what escapes from inside the shoe. In terms of heat retention, you want a boot that seals properly to hold the heat inside the boot. If the heat is escaping, you risk having cold feet which can, in turn, make your whole body cold. It is a widely known fact that most body heat is lost through the feet and head. In extreme weather conditions, it is vitally important to keep your body heat as you lower your chance of frostbite, hypothermia, numbness in the extremities, appendage loss, etc. Moon Boots are highly respected for their ability to keep body heat exactly where it should be, inside the body.
Best Moon Boots Reviews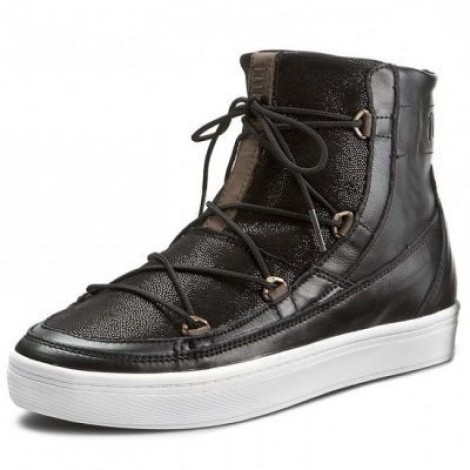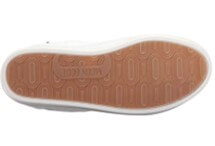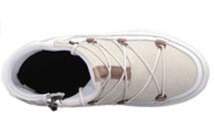 Not your typical style of Moon Boot, the Vega Lux still has a strong look that will make heads turn when you wear them. They can be described as a mix between a boot and a hi-top sneaker. Whether you are walking down the street with jeans or trekking through the snow, you will be sure to have comfort and warmth on your feet. The upper is made from neoprene and synthetic to give you a bit more flexibility than the nylon that is traditionally used in Moon Boots.
The lightly padded footbed of this boot will give you a bit more cradling effect than a shoe without it. If you are looking for a soft step this boot will provide that. The footbed is the last layer of protection your foot has against shock when stepping. The lining of this boot is made from a lightweight polyester blend material. It will still keep your foot warm but it is more breathable than some of the other boots in the category that have a heavier lining inside them.
The price of this stylish boot is a great price point. It falls at the lower end of our price range when compared to other boots in the category. This boot is a great value because you still get all of the great benefits of a Moon Boot but a more versatile look comes with these Moon Boots. That means you could possibly get more use from this boot than some of the others in the category.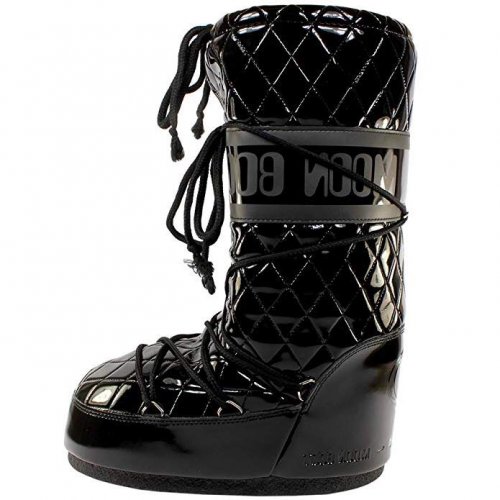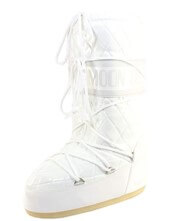 Perhaps a shiny synthetic boot isn't quite your style, and you prefer something with a polished, warm, but softer look and feel. The Queen Snow Moon Boots are a perfect option to consider, with its soft suede uppers and puffy soft lining. With amazing comfort features found in the footbed and midsole, you'll have a cozy in-boot feel, and TecniTherm Insulation to help keep you warm during wear.
As the name suggests, the soft suede uppers of the Queen Snow Moon Boots give them a luxe feel, and dark look and appeal. D-ring lace-up vamp keeps you firmly in place with adjustable fit to your liking. Collar tie closure also lets you close the top of the boot should you choose, to keep any unwanted snow or wetness from creeping inside. Beautifully designed, you can wear this out with just about any outfit to brave the weather in warm, fashionable style.
Inside the butter, your feet will be pampered with a drop-in footbed, created to be anatomically correct and provide a superb in boot feel. TecniTherm Insulation provides cozy warmth to battle to cold outside. Rubber lugged sole provides ample traction on wet surfaces. Combine these aspects, and the Queen Snow Moon Boots will have you strolling through snow or cold throughout the day without getting cold feet. Similar to other models, the Queen Snow Moon Boot is a great option for those who want a luxe look and softer feel to their boot. Wrapping your feet in soft suede uppers, and superior insulation, the Butter will keep you warm all day long and into the evening hours, perfect for that après ski you've been dreaming of. Beautifully designed and well constructed, it makes a great winter Moon Boot with a classy, sophisticated feel.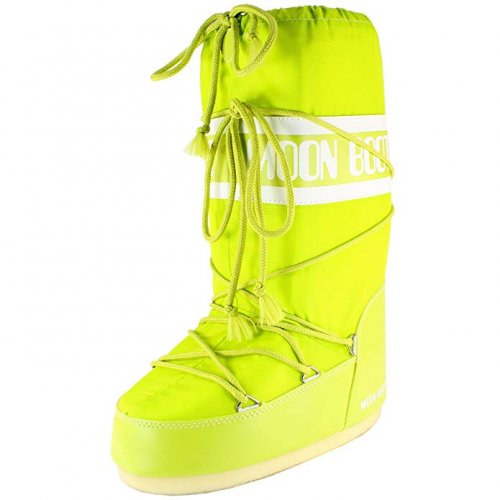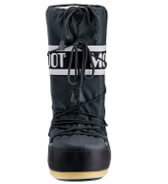 Perhaps you love Moon Boots for their warmth and comfortable fit for winter months but want a little boost in style appeal. The Original keeps all the great features Moon Boots have but is available in awesome neon colors to let your wild side out. Quite stylish with a golden shimmer at the base, lace-up vamp, and neon print, you'll attack the colder weather looking stylish and warm.
Uppers on the Original bring you to warmer climates searching for beach fun on the playa with its neon print. Made from synthetic material, it's weather resistant to help keep out moisture and wetness, and easy to care for. At the base of the Original is a lugged rubber sole, perfect for gaining traction on wet surfaces or icy sidewalks and snow. D-ring lace-up vamp allows for adjustable, perfect fit and helps maintain the durability of the closure. Polyurethane foam makes these incredibly warm and cushioned so that you can hit the snow without fear of cold feet.
Typical of the snow Moon Boots, it's similarly priced to other models and full of the same quality and warmth expected from exceptional snow boot technology to keep you warm and comfortable. The Original's unique neon print pattern sets this pair apart from the rest, however, and if you're in search of something with a bit more flair for your winter wardrobe and gear, these snow Moon Boots are a great option to consider!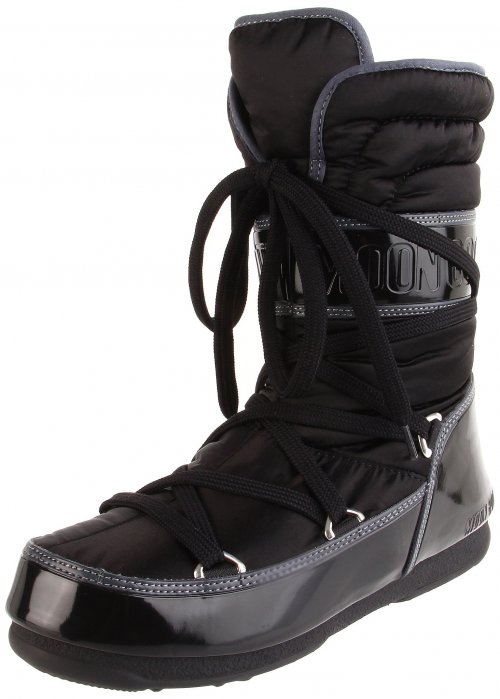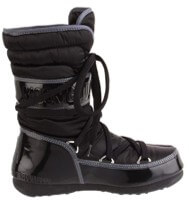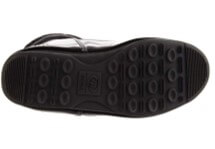 You will be getting the best of both worlds with these snow Moon Boots. They have a stylish collar but are only a mid-calf rise compared to the similar style that comes to the knee. These snow Moon Boots has a reinforced toe area and sides of the foot to support proper steps as it securely holds your foot in place. Finally, the traction of this boot will keep you feeling stable as you walk on many surfaces and terrains.
If you need to have your feet and legs warm at all times, this boot will make a perfect choice. It has foam insulation that helps trap the heat in your shoe so you can get out an enjoy being in the elements; instead of worrying about freezing if you have to venture out.
There is no better way to feel completely secure in your shoes other than to wrap your legs and ankle with a lacing system that encompasses the entire shaft. When you pull to adjust it won't just tighten the top, you will feel it all throughout. Same for when you loosen it for bulkier clothes. Get your W.E. Shorty snow Moon Boots by following the links below.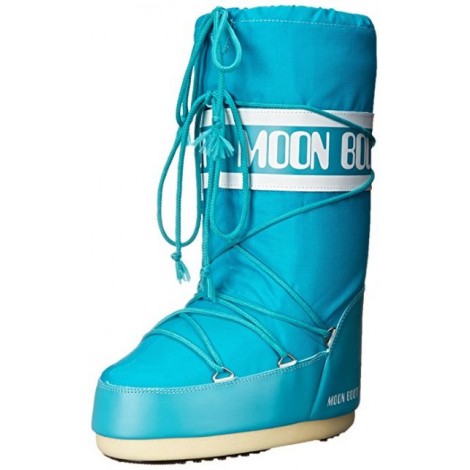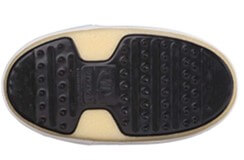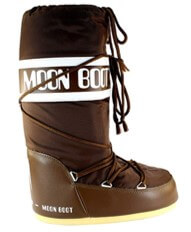 This is the original and most associated boot in the collection. Whenever you hear about Moon Boots, this is the classic style that pops into your head. From the rubber sole to the very tall shaft with drawstring and lace closure, you are sure to feel comfortable and supported in this style. The interior will keep your feet warm while the sole of the boot is designed for the best traction and grip with its rubber pegs to help you feel stable on any terrain.
A generous 13-inch boot opening is what you get with this moon boot style. That makes it easy to slide your foot down into the boot even with the bulkiest of clothes on. Securely close it against your leg with the drawstring for the perfect fit. Not only do you have one good closure on these boots, you get two. This will ensure that your foot is securely in place, protected against water entering, and preventing the heat from escaping the interior of the boot.
For classic snow Moon Boots styling and durability, these boots came in the middle of our price range when compared to the other boots in the category. You will be getting a highly-rated and quality boot for this price. It is a great purchase that will afford you much use, especially if you live in a climate that warrants high protection from the weather elements.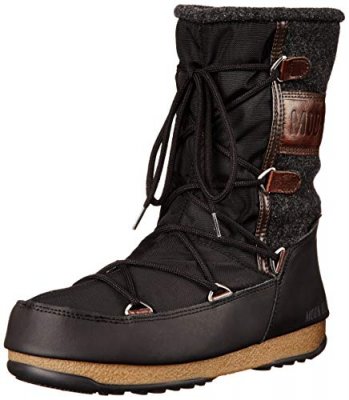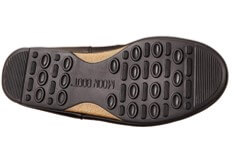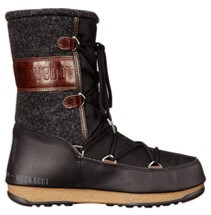 If you prefer some more texture to your snow Moon Boots that the original look, the Vienna Felt will deliver a luxe feel and appeal to your tastes, but keeps the classic looking design in the forefront. Uppers consist of both textile and synthetic materials to keep the boot weather-resistant, while a plush felt lining helps provide warming insulation, and a great foot feel.
The Vienna Felt uses a variety of materials in the design of the uppers of the boot, from waterproof nylon to synthetic felt, to create a modernized look. Nylon runs from the toe up to the tongue and around the sides to the heel, helping to protect you from water near the boot's base. Synthetic felt lines the shaft of the boot and collar, giving it a rich textured look, and soft feel.
Similar to other snow Moon Boots, the Vienna Felt has a cushioned footbed to pad your steps during wear and sturdy rubber outsole. A synthetic sole bases the boot and has a lugged pattern to help maintain traction and grip. D-ring lace-up lets you adjust the tightness and fit of the boot. Averagely priced compared to other models of Moon Boots, it's a great option for those that prefer something with a bit of texture. Combining felt with waterproof nylon makes the Vienna Felt great for braving snow or sleet so you can get to the next evening outing with friends while still looking stylish. Consider this an option for your next snow Moon Boots!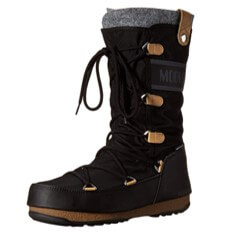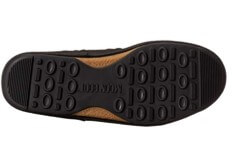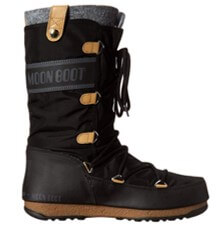 If you're in search of a more stylish Moon Boot for your winter needs, the Monaco Felt has you covered for both warmth, and something less bulky than regular winter boots. This pair has all the insulation technology the brand is renowned for, as well as a stylish appeal for those winter days in the snow. Crafted from several insulating materials and waterproof technology, it also has a soft, felt lining that gives a wonderful feel, but is less bulky than other materials. Metal hardware and leather Ghilie straps create the lace up vamp, making it durable over extended wear and tear.
Uppers on the Monaco Felt are the usual nylon that the brand uses in its boots for protection against the cold and weather elements. The shaft is about 10 inches in height, making it great for those days with slushy conditions or deeper snow to navigate through, without getting your feet wet. It's available in a few basic color options as well, so you can be subtle with darker tones, or blend into the snow with brighter whites. Codura upper will keep feet and legs dry, even in the wettest snow conditions.
Inside, is a soft, warm felt lining, that keeps the silhouette of the Monaco sleek without losing that insulating aspect of the boot. At the base of the boot is a rubber outsole, combined with a grippy lug pattern for traction on ice or slippery slush. Leather Ghilie straps provide durability to the lace up vamp, but also strap in the boot lining at the opening. This is one pair made for winter, but also for those who need something simple, classic, and sleek in design to brave the winter weather.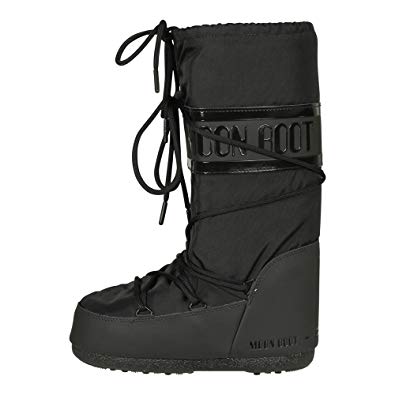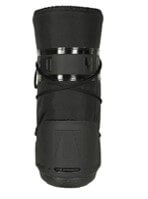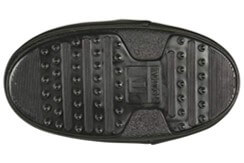 The Classic Plus Moon Boot has a very classic look, as the name implies, and it will appeal to many consumers. The style has a tractioned sole to keep you secure while walking. Also underfoot, is a soft foam lining. It gives support and structure. These snow Moon Boots stand apart from the rest in that have a removable thermal lining. That way if your feet get too toasty you can remove the liner for a bit more cooling effect.
This boot still has the typical drawstring closure that is synonymous with Moon Boots. However, this style only has one drawstring. It does run the entire length of the vamp and will still allow full adjustment whether tighter or looser.
Snow Moon Boots are known for keeping your feet extremely warm. That is exactly what you need in very cold climates. However, if you like just the style of the Moon Boots and don't necessarily need them for warmth, you have the option to remove the thermal lining of this pair of boots. You can cool your feet off by removing it and still looking stylish.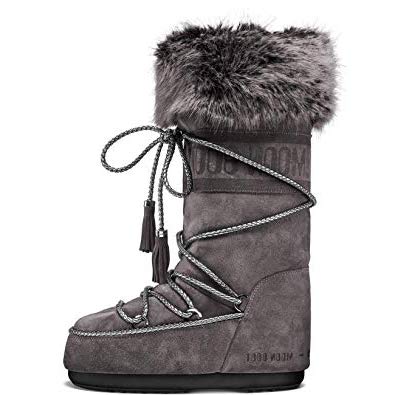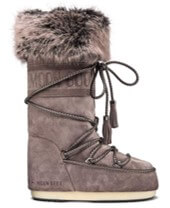 The Velvet and fur is one of the brands more colder-climate looking boots, made for function and simplistic design that delivers warmth and traction in the snow. Soft velvet uppers replace the brands usual shinier synthetic materials, and still keeps you dry and insulated. Durable for wear and tear in winter weather, heavy-duty rubber outsole will keep your feet warm and toasty while also giving you great traction on those slippery days.
Inside the Boot is a soft, Thermo insulated mid sole unit, sure to help keep you insulated when out in the cold winter wind and snow. The base of these snow Moon Boots boast a rubber lugged sole, and double-stitched welt to keep out wetness, and keep your traction on slippery surfaces. PE footbed provides soft foot feel, while midsole helps keep you comfortable and insulated all day long. The added fur lining around the opening gives it an added style that makes you look like a pro in the snow but also helps to keep your legs warm.
More expensive than some other snow Moon Boots, the Velvet Snow Boot was made to last with its rugged, durable uppers, and functional capabilities. Well worth the initial investment, this boot will long outlast the seasons of wear and tear outside, and will surely keep you warm throughout. A solid option for those who need a serious functional boot to consider!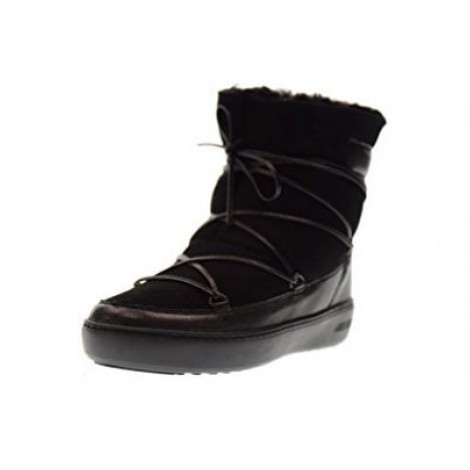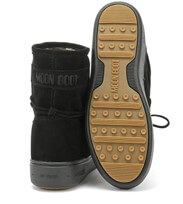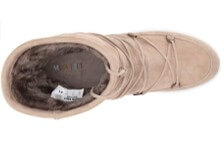 The mid-calf rise of the shaft on these boots sets them apart from traditional Moon Boots styling that most associate the boot for. These are a great choice if you are looking for a shorter and more spunky looking style all while keeping your feet warm. These are made from suede, which is also contrary to the traditional nylon used in snow Moon Boots. The shaft opening is fairly wide and accommodating on these which makes them slide on and off with ease. You will also see the typical drawstring closure on the vamp and collar of the boot.
Suede gives these snow Moon Boots a little more flexibility than some other Moon Boots. Suede also makes a good fabric to keep your feet and legs warm. The only downside to a suede upper is without preventative treatment; it is not as water durable as some of the other fabrics used in Moon Boots. If you are searching for a boot with a lower shaft height, this makes a great choice. It hits about mid-calf, which makes it more flexible than the taller boots. Also, it gives the boot a trendy new take on a classic style.
These boots come in our price range at the upper level. Don't let that alarm you, however. These snow Moon Boots are very versatile and will make a fashion statement. It also gives you more opportunity to wear them if you aren't looking for just the heat retention option in a boot. You will find plenty of reasons to get the use of these boots even if the price is a bit higher than the others in the category.

Subscribe to our Newsletter