Best Police Boots & Shoes Reviewed
In a Hurry? Editors choice: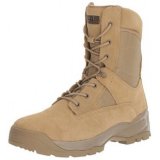 Test Winner: 11 A.T.A.C. 2.0

They storm the scene. Brave souls that show up in the face of danger. In addition, they are selflessly putting their lives on the line to defend and protect our safety, rights, and freedoms every day. That officer you see on the beat,
patrolling
to make sure nothing is amuck, is depending on not just his weapons and other officers; he or she is relying on their boots to not fail when they must spring into action. Furthermore, police boots must possess ruggedness while still being comfortable. Some officers wear boots for 24+ hour shifts so they must be comfortable as well.
Standout Picks
Criteria Used for Evaluation
Our Favorite Duty Boots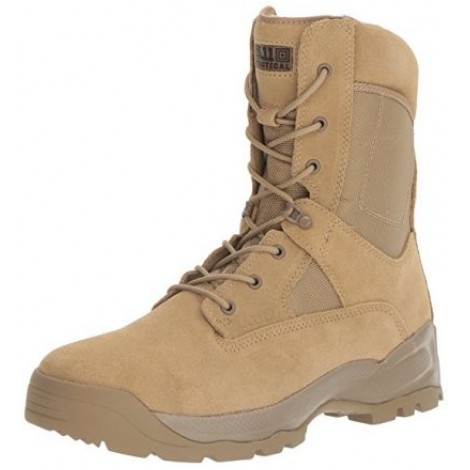 5.11 is a leader in the industry of duty footwear. Produced from the highest quality materials, their boots are engineered to last. Defined for law enforcement, tactical operators and military individuals and the strict demands their professions require, the 5.11 A.T.A.C. 2.0 is nothing short of solid. With so many features, it is no surprise it ranks so high in the category. Buyers can find a full-grain leather upper with an oil and slip-resistant sole and odor-control lining amongst its many other must-have features.
Built to withstand all of the force from running and tactical moves, the shock mitigation system on the A.T.A.C. 2.0 will absorb impact. That is important because it prevents negative kinetic energy from transferring into your body and harming your joints. Having a footbed made from Ortholite materials means the A.T.A.C. 2.0 is of the highest comfort. Your foot will feel completely cradled and supported by the insole, and it is also another assistant to the shock absorption.

The 5.11 brand is highly valued and well-known for the quality they have. You can be assured that your purchase will go the distance. These boots will carry you through many situations, both dangerous and not, and you can depend on them to not let you down.



The Bates company has been a top producer of footwear for more than 130 years. You can trust their products will uphold even in the toughest of environments. They have built a brand and reputation around being favored for quality and dependability. The brave men and women that sport their footwear trust the comfort and ease of wearing. These 8" Tactical has the perfect mix of a structured midsole and a supportive upper. The durability intended police boots itself makes these a favorite among many cops and deputies.
Finding a way to incorporate breathability is a must. A mesh lining, such as the one in the 8" Tactical, adds to the breathability of the design, and it gives a separate compartment for the air to be filtered away from the foot. The insert of the Tactical is not only cushioned, but it is also removable. You can take the liner out should you prefer a less cushioned feel or wish to add your own custom orthotic inserts instead. This is also a good way to only have to replace the insert, in case it wears thin with time.

The Bates 8" Tactical is a great purchase as it is highly rated for dependability and quality. It is very comfortable and considered very breathable, and it will be a good investment. Plan on plenty of wear and dependability.

3

. Smith & Wesson Breach 2.0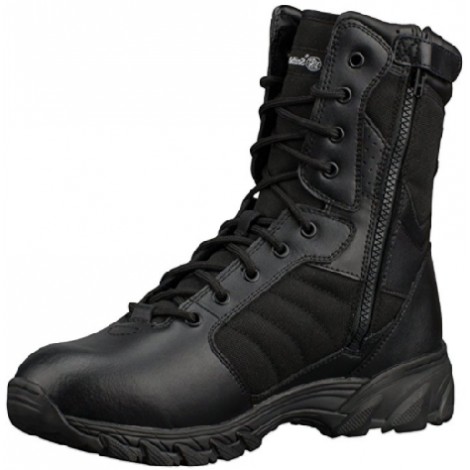 Smith & Wesson are typically associated with weaponry. However, they have diversified into the tactical footwear division as well. Interestingly, the Breach 2.0 is highly acclaimed. They are made from a nice blend of leather and nylon, which lends itself to a superb construction. These will carry you all day in comfort while supporting your legs and feet in the way that you need. The strong midsole moves with your feet and reinforces the strength of this option.
The Breach 2.0 will provide you with stability underfoot which is vitally important in this line of work. Falling while on the job can injure you or put you in an even worse situation. If you depend on a strong sole that resists slips, this is the design for you. The tongue on the Breach is of gusset style. Therefore, it is in an underlay position to keep dirt and debris out of your shoe. Not only does that protect the foot, but it also helps with comfort.

Smith & Wesson has set a goal to bring you a tactical design that is affordable and dependable. The Breach 2.0 is another model that you can depend on. Its value outweighs the cost. You will know every time you put these on that your foot is properly cared for.

4

. Magnum Elite Spider 8.0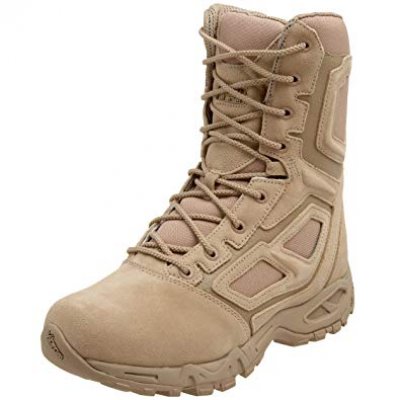 While not approved for US armed forces, the Magnum Elite Spider 8.0 can make for a formidable police option. Breathable and rugged, supportive and comfortable for all day wear, it's perfect for those on their feet all day where black isn't required. The Elite Spider 8.0 boasts of composite hardware, moisture controlled lining, and leather uppers with web-like overlays to maximize breathability. Add a Vibram sole for durability and non-slip traction, and this could be your new favorite pair!
Anyone involved with long hours on their feet needs comfort, but for police work, protection is crucial as well. The Elite Spider 8.0 has composite non-metallic hardware, which is great for getting through security checkpoints without removing your footwear, which also maximizes stability and protection. A composite shank provides support, while the Vibram sole maintains traction in the elements or slippery environments. Leather uppers mixed with web-like overlays give durability and breathability to the design, so you'll be comfortable if wearing this pair on a daily basis. The SpideMesh lining adds an extra element of moisture control for hotter scenarios, and a removable sockliner adds comfort.

For those in hotter climates, the Magnum Elite Spider 8.0 is a solid investment. Its breathable uppers and moisture wicking lining are perfect for hot days on the job, while Vibram soles add some cushioned traction. The lace-up style ensures a proper snug fit. Great for those on a budget or in warmer areas for a solid pair of duty footwear.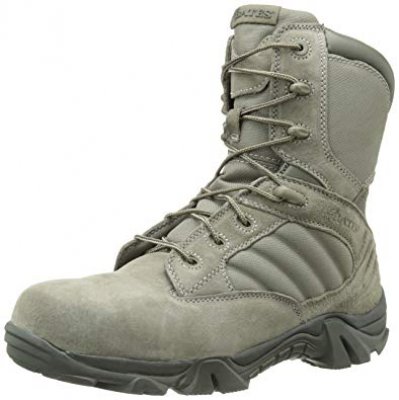 Bates makes some of the best tactical footwear around, and the GX-8 can be great for tactical related police work. Resilient and rugged, with all the quality construction Bates can deliver, along with composite toe protection make this a surefire win. The GX-8 is packed full of comfort tech and features, so you know you'll be able to go for extended timeframes wearing these without sore feet or irritations.
Behind the rugged exterior of the GX-8 is an interior construction of comfort. Insoles consist of shock-absorbing pads to help deal with impact, and these insoles are also removable; great for if you prefer or require a custom orthotic or insole. A moisture-wicking lining wicks away any perspiration, and an EVA midsole helps to cushion and support each step taken. The composite toe is ASTM F2413-11 approved, and being non-metallic, the GX-8 is great for getting through checks without having to remove your footwear. Uppers are made from performance nylon and leather, supple and flexible while maintaining durability. A high-traction and non-slip sole lies at the base and continues up the outsole for stabilizing and protection. The lace-up design will keep you snugly in place, while a medial-side zip allows for easy in and out once you find the perfect fit.

For tactical work, the GX-8 keeps all the protection needed with a composite toe, rugged sole, and durable leather/nylon uppers, while maintaining great cushioning for all-day wear. With a few different color options, there should be one that suits requirements for your work needs.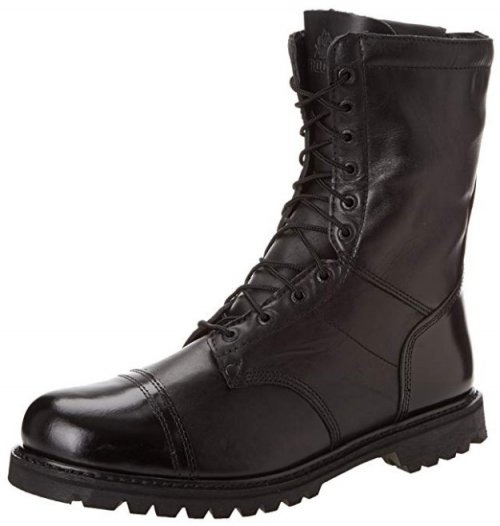 Now here is a design that can pass off as borderline elegant, while being every bit as hardcore as our other, more military-oriented options. The Rocky Paraboot is made from premium leather and it stands at 10 inches high, slightly above any other design on this list. It is amazingly durable thanks to its Goodyear welt construction, but it doesn't lack in the comfort department either, thanks to its contoured EVA Footbed. The Paraboot really has it all, wrapped up in one polished, cap-toe package.
The leather of this option is full-grain, and the upper has a zipper in the side which helps to take it off and put it on in the blink of an eye. The lace-up closure to the top allows for maximum adjustability. Thanks to its Goodyear welt construction, the Paraboot can easily be resoled and used time and again, lasting for up to a decade without any problems. Its cushioned footbed keeps you comfy, and there is a non-metallic stabilizer that delivers security while not holding you back around scanners and metal detectors.

Finally, the rubber outsole of the Paraboot has lugs in it, which provide outstanding traction even on uneven terrain.

This boot is definitely not here to play. It keeps you comfortable and stable, it makes sure that you can easily tread on any type of surface, and it is also abundant in rugged elegance. If you're looking for something that lasts for a long, long time, then the Rocky Paraboot is the obvious choice!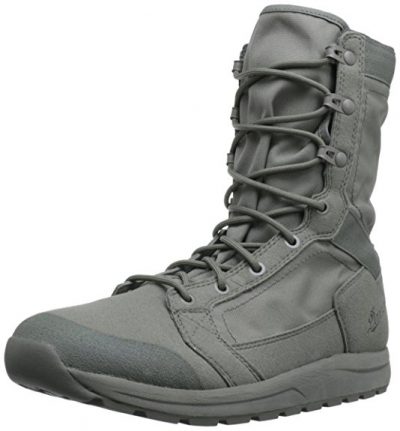 The first thing you might notice about this option is that the upper looks softer than in others in the category. Designed for a high-speed tactical role, these are mostly made from a synthetic material that is more lightweight and less bulky than other materials, making them ideal for police boots in roles where running and the need for superb mobility is a given. This material also attributes to a faster drying time as it is not waterproof. The toe box has an abrasion resistant coating to help the toe area last longer and not scuff as easily. Weighing in at only 26 oz. the design will be very light on your feet.
For superior traction and slip resistance, you can trust the tread pattern of the Tachyon 8. It gives the highest amount of surface contact. You won't need to worry about falling as this gives you stability and security underfoot. The only design on the list to have a completely synthetic upper is this one. The drying time is reduced. The weight is reduced. The stiffness is reduced. All of this without sacrificing the integrity of the construction.

The Danner Tachyon 8 is an excellent price and value for the quality you are getting. They are revolutionary with their features and have a long life expectancy. They are very comfortable and you will wear them for many uses.

8

. Under Armour Valsetz RTS 1.5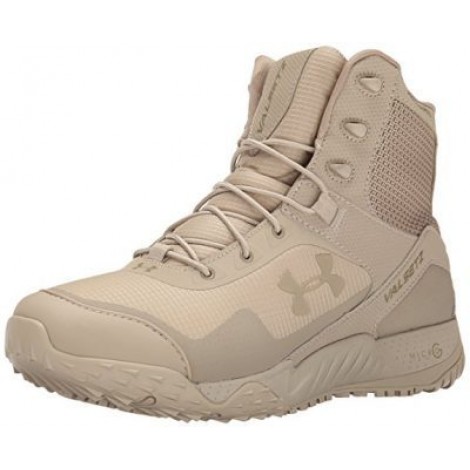 The Under Armour brand has been producing tactical footwear for many years. They have the finesse to the market. Also, people have known and trusted Under Armour for their sport performance designs for many decades. The Valsetz RTS that is used by civil servants can be summed up in four words: lightweight, breathable, and good support. It has ClutchFit technology which assures that the design wraps nicely around your ankle, providing support and comfort. There is also a fast spring back to the design so you can think on your feet.
When examining a shoe, the shank is the portion that connects the forefront to the heel. It provides all of the support and rigid capabilities the design has to offer. Conversely, it is the portion that allows sports sneakers to flex. The shank on the Valsetz is extremely lightweight and stabilizing. The Ortholite liner on this option has a memory foam top for extreme comfort and a PU base that adds a level of support on top of the shank. The sockliner itself is molded to fit proportionately within the design for high levels of satisfaction.

Under Armour builds quality footwear whether that is sneakers or tactical boots. You will get much usage out of the Valsetz RTS. You may even find yourself wearing it outside of the job just because you like it so much.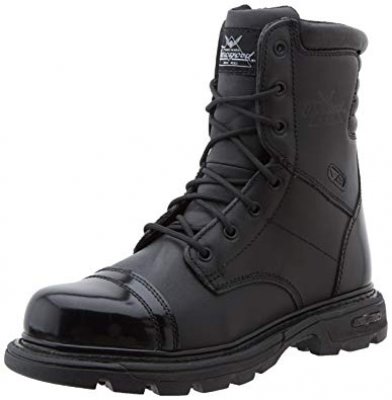 Talk about a design that looks aggressive, keeps you protected, performs, and can be comfortable! Thorogood's 8-inch Gen-Flex 2 brings all the great qualities of a well-designed tactical option into a sleek and aggressive looking style. Ankle-high lace-up supports and stabilizes while the Goodyear storm welt construction assures a leak-proof and durable make. With loads of comfort features, it's great for all-day wear, and perfect for police uniform with a high shine polished toe cap!
Any quality footwear should be made to be durable, and last daily wear and tear. Goodyear storm-welt construction does just that in the Gen-Flex 2, creating a weather resistant seal along the outsole, and helping maintain durability. Leather uppers give a professional look while keeping comfortable security and structure in the boot. And, with its high-shine polished toe cap, it makes a great uniform boot. The footbed of the Gen-Flex 2 consists of an EVA cushion, supporting each of your steps during wear, but is also removable should you require special orthotics or prefer other insoles for support. Breathability can be found in the spacer mesh lining, and a heel counter helps keep stabilization. The EVA midsole boasts of a 300g gel heel insert, so whether you're running, walking, or landing, this design will cushion whatever you throw at it.

Another premium priced model, the Gen-Flex 2 is one of the best investments on our list simply due to its ideal uniform styling, and the combination of comfort technology, support, and protection. Breathable, rugged, sleek looking and with shock absorbing gel will keep you going when extra hours are needed to get the job done.

10

. Oakley Light Assault 2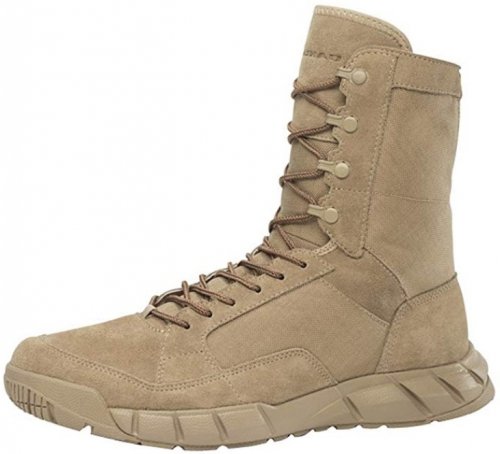 The Light Assault 2 from Oakley is a design created to ensure free movement, while still maintaining a high level of protection. In this eight-inch tactical boot, your ankles will be supported and less likely to get injured, while you will be able to run, roll and leap to your heart's desire, not being held back by your footwear. The Light Assault comes in several color options, and if you're required to wear black shoes with your uniform, you can definitely go for these.
This option has an upper made from Cordura, which is a synthetic material that promotes airflow through the design, creating a cool and dry climate around your foot. There are an EVA midsole and outsole which deliver cushioning and shock absorption so that your feet and joints don't suffer no matter what stress they're under. The laces on the Light Assault are nylon and made to last, and you can be sure that this design is sturdy enough to take on any adventure.

The Oakley Light Assault 2 doesn't skimp on safety, but it also doesn't skimp on mobility. It is a great combination of the two, and a great way for you to feel comfortable and supported, regardless of what you're required to do in the line of duty.

Subscribe to our Newsletter