Best Blundstone Boots Reviewed
In a Hurry? Editors choice: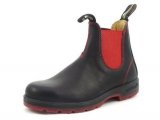 Test Winner: Super 1316

The company of Blundstone originated and has stayed in Tasmania, Australia since 1870 but has been steadily growing in popularity around the world. They have a variety of features for each different pair of boots for men, women, and children alike. It has always been extremely important to their company to provide comfort and style along with its numerous safety features. They have also been awarded the American Podiatric Medical Associated (APMA) Seal of Acceptance for products beneficial to foot health. Check out the best Blundstone boots available, today!
Standout Picks
Criteria Used for Evaluation
Weather Resistance
Although some of Blundstone's are more resilient than others, they are all made from weather resistant leather. This means they are resistant to water, exceeding temperatures, and even organic oils or fats (so if you work in fast food you do not have to worry about your shoes being ruined if the oil for the fryers gets spilled).
You can also rest assured that heavy rains or scorching days won't hurt your leathers either, most are guaranteed up to 290 degrees (Fahrenheit, not Celsius, but could you imagine? Converted that would be 554F!). Some of their work and safety boots though can resist up to 580F though so you can get a pair if you're planning on photographing a lake of magma. Although they will still melt, so it probably isn't a good idea.
Comfort
One of the most important items on our checklists when shoe shopping is comfort if the shoes hurt you're more than likely to return them or toss 'em in your closet and forget they existed.
Except it would be hard to forget the substantial amount of money you spent, which is why we are happy to report that this brand guarantees your comfort in every step. This is why they were awarded the APMA Seal of Acceptance because the underfoot comfort systems give the best comfort and absorb impact better than any other leather boots out there.
This brand uses one of nature's most versatile plants that also grow at rapid rates; bamboo. Bamboo is known for its strength, flexibility, and functional purposes. It has been used over the centuries for several different needs such as writing, art, construction, and even weaponry. Using treated bamboo for lining inside their leather boots puts them a step above everyone else because it flexes with the leather rather than being stiff and creating cracks or creases in the material.
Style
While style is often a matter of personal taste, we've checked thousands of online reviews to see what people are saying about each of the products on our list. Some things, such as sleek design, seamless construction, and overall weight and shape of the shoe, were common likes or dislikes among buyers of each product.
To evaluate style, we considered everything from the design, color, shape, weight, lines, and overall construction of the shoe in question. While no one wants to wear uncomfortable shoes, they also don't want a comfortable shoe to be ugly on the eyes. We've selected all of those on our top 10 to be not only stylish but also comfortable, true-to-size, supportive, and durable.
The higher the score on the "style" metric, the more fashionable we and the community of buyers we surveyed deemed the product to be.
Breathability
A shoe that breathes is critical to providing the wearer a comfortable and healthy experience when sporting a pair of shoes, sandals or boots. A lack of breathability will create a wet and humid foot, leading to discomfort and possible fungal or bacterial infections that are painful and difficult to cure.
How does a manufacturer ensure their product will allow maximum airflow? There are several ways to achieve this, including using special fabrics in the upper of the product, lining the midsole with moisture-wicking technologies and finally, the good old use of perforations of holes throughout the product.
If a product scores high on this metric, the buyer can rest assured that the manufacturer has used some or all of the above techniques to ensure the wearer a comfortable and dry wearing experience.
Fit
We all know how hard it can be sometimes to find the perfect pair of shoes that we not only love, but that also fit snugly and comfortably. With so many styles, brands, colors, and models, how can one compare hundreds of supposed "size 10s"?
To assess for trueness-to-size, we considered the opinions of thousands of wearers from across the globe to find out the answer to the ultimate question: do these 10s fit like a 10? While some things can give you a hint as to whether they will fit true, small or large; like brand name, shoe type and year of make; we believe that the opinion of buyers cannot be wrong. If they say the shoe doesn't fit the way it's supposed to, then you won't find it in our 10-best list.
You will find that a pair of shoes or boots or sandals that score high on this metric tend to experience a trueness-to-size that was verified by our large community of sampled buyers. Just don't forget to take into account the factors above to also make sure your favorite pair will fit you perfectly.
10 Best Blundstone Shoes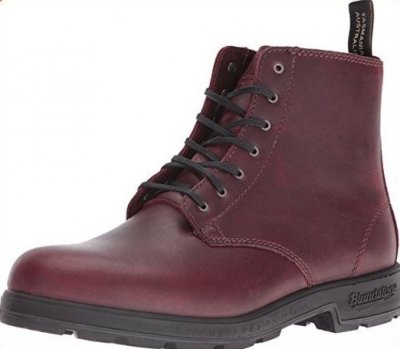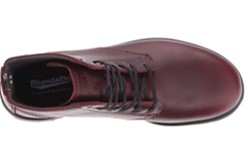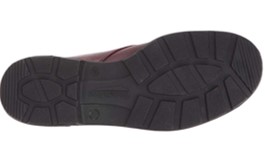 This product keeps on trend with 2018, sporting a military combat boot style, with premium leather uppers and sultry hue. Similar to others in the brand, it packs the 1357 Combat full of supportive cushioning and support, perfect for all-day wear and tear. Stylish and functional, the 1357 Combat is a great option to add to your collection of footwear for fall fashion, or for work.
Hot trends for 2018 fall footwear include ankle to mid-calf military or combat style, which the 1357 Combat delivers. The uppers have been constructed from 100% leather, rich and luxe in appeal, and functionally durable and rugged. Lace-up vamp hits ankle length, giving stability and support around the ankle, and an adjustable fit for your specific tastes. Fashionable and functional, it's perfect for your fall attire and will last season after season.
Inside the 1357 Combat lies a steel shank for extra support and stability, that is certain to last for the long haul. A removable footbed is anatomically shaped for superior fit and cushion, but can easily be taken out if you require orthotics. TPU outsole will keep you striding in confidence, with its durability and traction for any kind of surface. Poron XRD shock protection can be found in the heel, helping to absorb shock and eliminate foot fatigue. For a quality constructed boot, the 1357 Combat is averagely priced, similar to many other of the brand's models and styles. This one sets you apart with its military styling, giving it a bit of urban appeal with a clean lace-up vamp, rich luxe leather look, and sturdy sole. Great for anyone in search of a boot for this fall, it maintains great style for the trends of 2018.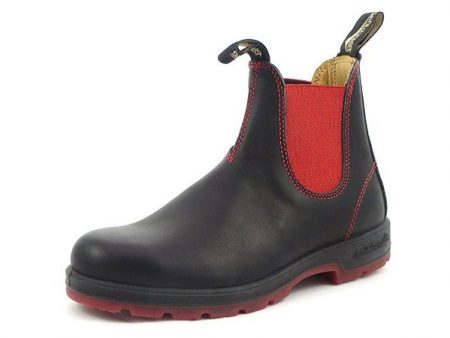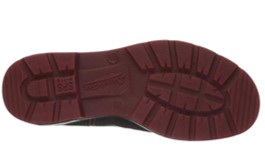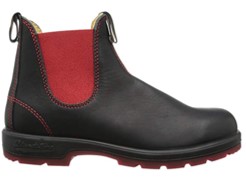 Hoping to find a pair of winter boots that will keep you looking instantly ready and protect your feet from the cold? Look no further. The re-vamped super 550 has added protection, added comfort, and added style. Although they are most popular in black and red, there are several other color options available. They also keep the cold out for those long brisk walks to your car from the door.
Blundstone is always trying to step up their game and with the 1316's they did just that. Lining the whole inside with leather only amplifies the waterproof abilities and keeps snow/slush from getting in. No more soggy, cold socks, hoorah!
By now you should realize that they make sure to use removable footbeds in all of their shoes, to keep them available for anyone in need of orthotic inserts. When ordering the 1316's you get an extra set of EVA footbeds for added comfort and a custom fit. This way you don't have to spend extra money buying inserts in case they don't feel right for you. Remember, we've talked before about how the more you get, the more you spend. That still applies to the winter Blunds, considering the extra leather and durability in cold conditions. Not to mention the slip-resistant outsole, so you don't end up on your butt walking across an icy parking lot.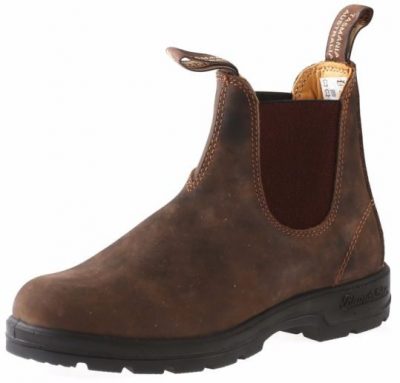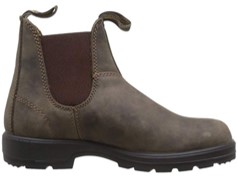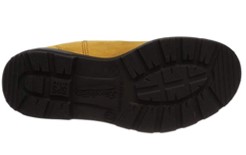 The most popular pair and most loved ones are their Supers, commonly referred to as 550. The company took its original design (the 500) and amped them up to the max. Better fit, comfort and all-around quality than the Originals. They even provide more protection, which seems impossible since they are well-known for making amazingly protective footwear.
Who doesn't love the soft, supple feeling of leather? The way it flexes and creases with every movement. Not only is the outside a beautiful walnut leather, but the inside of the supers are also lined in the highest quality leather around. So not only do they have the basic comfort of "blunders" (as Australians call them) they also have the bonus of smooth leather.
It's a bummer to receive a pair of shoes you've been waiting forever (so it seems) to only find out you need inserts because otherwise, they would be uncomfortable for you. Let's face it; not everyone has the same foot shape and can't all enjoy a pair of shoes based on a certain anatomical design. That's why you get an extra set of insertable footbeds for your shoes to customize your comfort. The ones already in the product are removable as well if you need a flat sole. Considering the extra leather and new, improved features compared to the originals they are based on it should come as no surprise that the 550s are at the top of the price bar. It's acceptable to feel a little like you're spending too much, but remember that your blundies will last 4 to 5 years compared to other leathers. Treat yourself; you deserve it.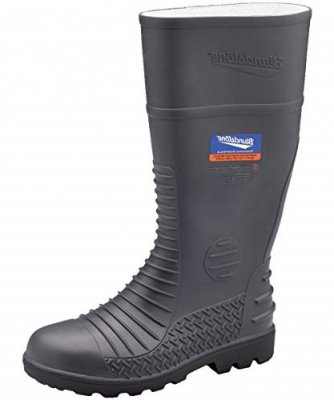 The Gumboot is a bit of a different style and flair compared to other options on our list, bringing some new flavor to the party, but also quite functional. The Gumboot has a metatarsal guard and is packed full of approved construction specs, making it a solid option for a work boot to brave the elements. Waterproof, electrical resistant, oil, and acid resistant, along with slip and penetration resistant, it meets all the needs of safety footwear required on worksites.
The Gumboot is made for those worksites where water is the main hazard day in and day out, or rainy climates prevail. It's waterproof construction, and knee-high length makes it ideal for wading or staying out in wet conditions for longer amounts of time. Internal PORON XRD metatarsal guard helps prevent any foot injuries, and a steel toe cap tops off the boot's safety for compression aspects on the job. Grippy rubber sole helps give ample traction with lugs throughout. Along with being waterproof, the Gumboot also meets a number of work hazard requirements, making it a great all-around boot for construction sites. Uppers contain a PVC/Nitrile component making them resistant to chemicals, oils, and acids. It's also resistant to electrical hazards, punctures, and the sole is slip-resistant. Durable and rugged, this boot was designed to fit all the needs of construction sites and beyond.
When compared to other hazard rated work ones of different brands, the Gumboot is quite reasonably priced. It does not have the lace-up ankle support features that some work ones do, but if you are in search of a 'wader' safety boot that keeps water out, and meets the specs needed or worksites, the Gumboot has you covered!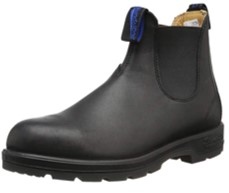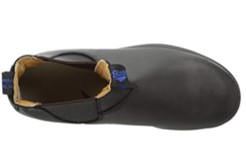 While the brand continues to make fashionable ones for everyday wear and business settings, their Thermal Series boots are made to help protect you against the winter cold, no matter if you're walking to your next big meeting inside or outdoors. With 3M Thinsulate that protects and insulates you from the cold, it's still a stylish pair of Chelsea's to pair with slacks or jeans. Feel free to hike around in the city snow with this pair on your feet, and have no worry about staying toasty and warm!
Not only does the Thermal Series pack a 3M Thinsulate insulated layer to help keep you warm, but it's also sporting a lined insole from sheepskin to add to comfort and warmth as well. This insole is removable but has been anatomically crafted to help give you the best possible wearing experience. It has two easy pull tabs at the heel and tongue, so you can slip this pair on easily before braving the cold weather outside. Elastic goring help to give it an adjustable, yet snug fit.
At the base of the Thermal Series boot is a rugged PU outsole, dual-density to provide greater stability, support, and durability over time of wear. Uppers are crafted from 100% leather, direct from Australia, so you know they'll stand up to wet snow and last over time. A lugged pattern sole helps to provide better traction and grip upon loose or slippery surfaces, while the slightly rounded toe helps give more toe room for a better fit. It's a pair worth a second look for wintertime from your favorite brand!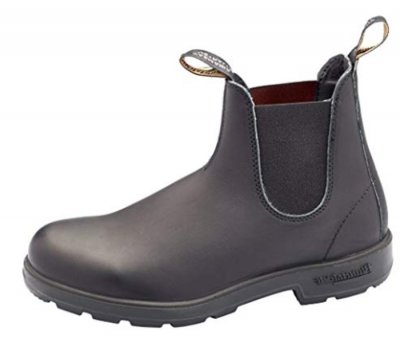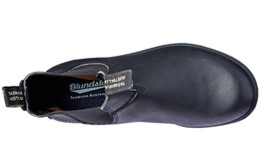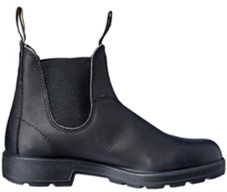 When it comes to Blundstone leather's you will notice they have all sorts of different kinds and their 510's are derived from the original design of this brand. They are definitely a more casual, everyday kind of pair. Technically all of their products are "slip-on" but these are more so, they easily slide onto your feet with little to no effort.
Even though they are "casual" leather ones the "Icons" as their website named them to have quite a bit of versatility. You can purchase them in a few different color schemes, but the classic black really does go with any occasion. A family BBQ or game night at a friend's place you can't go wrong with this modern slip-on.
It seems safe to assume you looked at the photos before going back and reading these tidbit reviews, so you should have noticed that they are known for their elastic sidings. Although this specific style is similar to others, they do seem to give a little more stretch to provide that ease of pulling them on quickly and not having to spend a few minutes trying to get your foot inside. Definitely a little bit on the higher end of the price bar the comfort and durability provided by the 510s make it rightfully so. Also being the trademark waterproof and classically stylish makes them take the cake in the Best Blundstone Boots.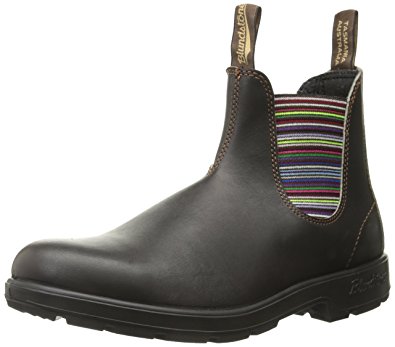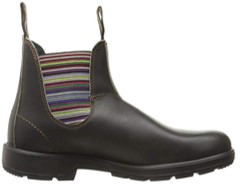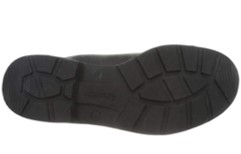 If you like a more modern pair but still want to stick with the classic Blundstone design, the (nicknamed) Chelsea's are for you. What they did is take their original boot design and added on some 21st-century flair. Such as a multicolor side panel, rather than their usual dark brown or black. They also added more comfort to the traditional footbed so once worn down they don't become unbearably hard.
Even though it is typically the norm for shoes to have a bit of cushion in them, the 1409's have an added bit in the midsole for those with arches that make any shoes feel uncomfortable. This helps anyone with high arches, or flat feet avoid painful impact as they walk, preventing soreness later. The footbeds are also removable which makes room for any personal orthotic inserts you may have.
Oil can make a huge difference when applied to the leather. In this case, it makes the leather become water-resistant and last longer than your traditional pair of leather's. Although Blundstone claims them to be waterproof, meaning they don't even become stained after exposure to H2O. That makes an added bonus. When you're looking for "hip" and "modern" you should be aware those types of styles will cost you a little more money, thanks to the way economy works. Thankfully they are a bit cheaper than several other pairs provided by Blundstone, but that's thanks to them not having extra technology added.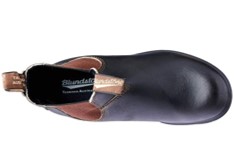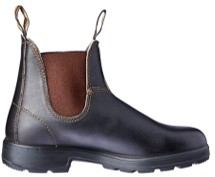 The Originals are one of the very first pairs created by Blundstone and therefore earn their "original" title. You could say that they are what started it all, making this small Australian company grow in popularity into a large, return client-based business. This pair comes in men, women, and youth sizes. Although most of their's do, which makes them even more desirable due to the diversity of sizing available. The originals are favorable for all types of weather, just pull them on and go.
You may have noticed each pair has two pull tabs; one in the front, one in the back. This nifty feature makes it way easier to pull them on (no more struggling to get out the door). This specific pair, being the original means they were the first with the pull-tabs that innovated the line.
Another thing you should have noticed by now is each pair has a stretch, gore side panel on each side of the boot. This lets your feet slide in and out with ease and doesn't hurt your shoes by creasing and bending. It also prevents any foot pain caused by trying to shove your feet in like we have all had to do (don't deny it). Just because they've been around longer doesn't mean their popularity has decreased any. Repeat and new customers love the Originals so much they just keep buying them after years of wear, because why change something you already love and think is absolutely perfect? Although you do get a better deal for these than most other pairs of this brand in leather, because they do not have all the fancy gadgetry (i.e., protecting feet from extreme temps).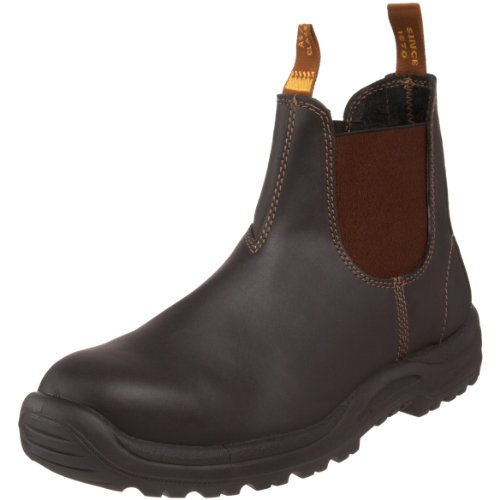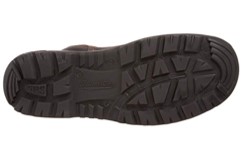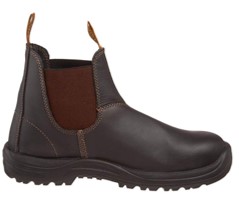 If you want a work boot that's not quite so heavy duty as others then we would recommend the 172's. Naturally, they have the steel toe that you need in a pair of safety boots but they are a little more on the casual side. Also waterproof with forepart inserts to keep you comfortable in the rigid toe box. Plus being manufactured to absorb impact and distribute shock for extra protection from pained feet later.
Hate it when the tips of your leathers become scuffed and shabby? Rest assured with the rubber kick guard on the toes of these boots you never have to worry about ruining your leather again. They'll bounce right off of surfaces and handle any scraping like a champ.
An outsole is supposed to take quite a beating considering it's the bottom of your shoes. They get dragged through all sorts of different things such as mud, water, and even sometimes acid. Just because these are a "light" boot does not mean they can't handle what you're going to be putting them through. The Thermo urethane outsole can resist hydrolysis (fancy word for water) and microbial attacks (corrosion caused by bacteria). You might be finding it difficult to choose a pair of these because they are all so great and the prices are just right for the quality you receive. Although the 172's are not nearly as expensive as some of the other available options which might make them more ideal for your wallet.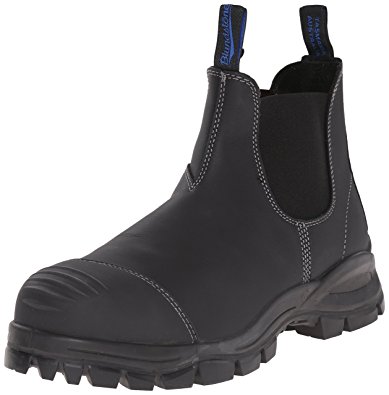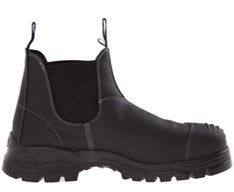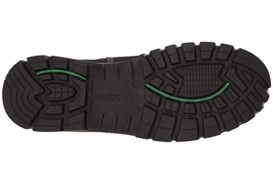 Just because you work hard and are rough on your shoes doesn't mean you have to give up your style. With Blundstone's work series it won't matter what you do to them, they'll survive. The signature waterproof is a given, but there are several other features including their steel toe cap and acid resistance. So if you're unloading a pallet of hazardous material and it turns out there's a leak, no worries you can just rinse it right off with minimal to no damage done to your leather boots.
Need a pair that can withstand ridiculously high temps? Well, we've found a pair for you. The 990s can handle up to five hundred and eighty degrees Fahrenheit! Although we may not be sure what jobs you're doing to need such high temp resistance, at least we know we've provided you with the best pair of boots for your needs.
One of the common aspects of Blundstone work and safety options is for them to be oil resistant. You can find oil in many different forms in all kinds of environments. Maybe you work on a rig and don't want your product soaking up all the oil residue around the workplace, or you're a mechanic and are constantly getting engine oils sloshed onto your feet. You can be at ease knowing your work ones won't be destroyed after a long day, just rinse them off and they'll be good as new.

Subscribe to our Newsletter