Best Winter Shoes Reviewed & Rated
In a
Hurry? Editors choice: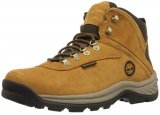 Test Winner: Timberland White Ledge

For some people, winter is an extreme situation that requires
heavy snow boots
, a shovel, and a lot of protection from the elements. On the other hand, winter can also be a casual season for some regions; while it does get colder, super-thick shoes are not always necessary. If you have to tuck your favorite
pair of kicks
in the closet for this season, don't worry, as we'll help you pick a pair to get you through the winter.
Standout Picks
Criteria Used for Evaluation
Protection
Many users believe that protection is limited to the shoe materials against physical elements that might hurt our feet. In reality, though, shoes have a wide variety of protective measures that involve much more than just physical contact with external things. When we're talking about a specific time of the year, such as winter, the climatic conditions become a paramount factor in the design of a shoe. Just as a bulky, sealed shoe might be a terrible decision for summer footwear; likewise, a thin and open shoe is not your best friend during winter, either.
Outfits, in general, start to change when winter is nearby; people start wearing jackets, jeans or pants, thicker headgear, gloves, scarfs, and so on. Your shoes should be part of this outfit change, as your feet need protection against the weather conditions, just as much as any other part of your body. Going out in harsh winters with regular shoes is the equivalent of wearing shorts; except, it's your feet that are affected. You might wear the thickest jacket possible, but your legs would still be exposed while wearing shorts. This is, exactly, what happens to your feet when the footwear is inadequate for the actual season.
So, what exactly is protection against winter weather? What does a shoe require, in order to be adequate for winter or similar climatic conditions? Here's where innovation comes in. There's a large list of technologies that can, considerably, improve the footwear experience during winter. Heat-retaining designs, for example, make a massive difference throughout the day, especially if you're constantly exposed directly to cold weather.
Certain regions have a severe climate during winter, which calls for thick and heavy winter boots. On the other hand, there are other regions in which such boots are neither comfortable nor practical. Instead, winter sneaker-like styles are a much more suitable choice. Winter sneakers, as it were, aren't nearly as protective as a full-size boot, as the shaft height is much lower. This, however, doesn't mean you're on your own if you don't own a pair of snow boots in winter. Sneaker-style winter shoes can, also, deliver the same warmth and winter features required to optimize your seasonal footwear. They just don't have the length associated with a full-length winter boot.
Heat retention is something you, definitely, want to consider during winter weather. Seams of shoes have a big role in the accumulation and retention of heat. Ordinary sewing is neither really effective nor efficient for winter, as it often leaves a considerable amount of spaces and openings. This not only allows air to flow freely within the shoe (which is a great feature in summer shoes) but it, also, can allow water and other elements to get in the shoe, as well. Because of this, bonded seams are by far the most practical choice for winter. Sealed seams consist of two joint fabrics leaving no space, literally sealing the shoe. This method guarantees a waterproof method of approach, rather than using waterproof materials and sewing them together, which may result in gaps, as previously explained.
Materials
You don't need to be a rocket scientist to know that the quality of a shoe can be directly judged based on the quality of its materials. It's as simple as that. Low-quality materials not only degrade quicker, but they're much easier to totally break or rip apart. During winter, as you can probably guess, the materials of a shoe should deliver greater protection than that of regular sneakers and/or summer footwear.
The most optimal design for a winter shoe consists of an equal balance between efficient materials and a protective frame. The standard qualities of shoe materials, such as flexibility, durability, and physical protection must be present in materials that, at the same time, provide protection against the weather. However, it all comes down to the type of footwear you need. For instance, an indoor house slipper may have a winter design and made with materials that provide warmth, but it lacks the adequate features for outdoor usage (i.e. lack of protection, etc.).
Performance shoes, on the other hand, involve a completely different approach. A performance shoe, regardless of the season, must have certain features associated with a specific event. Basic and standard midsoles are often not suitable for running footwear, for example. A running shoe is not only more flexible, but the frame and base of the shoe behave in a completely different manner. In fewer words, it's a very different shoe anatomy (with shock-absorbent midsoles specific to runners as part of that mix). Because of this, performance shoes shouldn't really have a thick design, as it would affect the flexibility, weight, and efficiency of the shoe. Regardless of the season, however, some sports shoes will always be lighter and slimmer than an average sneaker. This is the case for most aerobic sports shoes, whereas, mountain and extreme sports are an entirely different story and anatomy.
Typically, winter shoes consist of stiff, thick, and bulky materials that keep your feet warm at all cost. But, protection at all costs means sacrificing performance qualities. While those shoes offer winter protection, aspects such as the weight and flexibility fall behind; thereby, making it impractical when it comes to performance. Yet, this doesn't mean sports shoes must give up on protection, in order to deliver performance qualities. The evolution of synthesized materials allows shoes to offer the qualities of different types of materials at the same time. For instance, certain synthetic leathers provide both physical and weather protection, while still being smooth within flexibility.
Most shoe manufacturers, nowadays, have adopted synthetic approaches over the natural materials, as synthesizing allows combining the qualities of multiple materials into just one. This makes manufacturers able to choose the most optimal combination of materials for a certain activity. Keep in mind that performance doesn't, necessarily, involve sports; performance may be something as simple as walking. Unless we're talking, specifically, about sports shoes, by the performance, we may refer to the natural elements of the shoes that are engaged with each motion. In other words, we're talking about the quality of the movement in relation to a specific event (e.g. running shoes are for running).
Outsole
The outsoles of shoes are, possibly, the most important element, although this may depend on the specialization of the shoe. Regardless, as seasons change, your shoes should change, too, especially, if we're talking about winter. Now, winter doesn't, necessarily, involve loads of snow, even though it does happen in multiple regions. In most cases, you most likely won't need thick snow outsoles or deep lugs, with the exception of regions that experience considerable snow, of course. If that's your case, you'll need a completely different footwear, far better equipped than sneaker-style winter shoes.
As for winter sneakers, per se, the outsoles don't need to be too extreme. They should, however, support the changes that come with the winter season such as humidity, wet surfaces, slippery areas, and some snow. Keep in mind that this guide targets shoes that are adequate for winter in terms of comfort, performance, and efficiency; not all of these are, necessarily, adequate for constant use in snow. That being said, the outsole will depend on your style of shoe. In the case of running shoes, you want to make sure the outsole has everything a regular running sneaker has but, additionally, anti-slipping and anti-sliding properties are of utmost importance, as well. Ice grippers are a great alternative. Even if it's not snowing or raining, the climatic changes that come with winter, such as the humidity can affect most surfaces.
In the case of runners, it'd be wise to, carefully, select an adequate surface for running. Anti-slippage technology reduces your chances of slipping or sliding, but slippery surfaces still pose a threat. However, it's not just runners who slip. It can happen to anyone, anywhere, and at any time, especially during winter. Even casual wear footwear isn't an exception to this rule of thumb, and they should be equipped with an adequate outsole.
The ideal winter outsole delivers a mixed balance of short lugs and a rubber compound, preferably, vulcanized rubber or other derivate compounds that are stickier than traditional rubber. Additionally, the outsole materials should be able to insulate heat, as traditional outsole materials, most likely, won't stop cold from entering.
For those of you who didn't know, cold weather will affect your feet through the outsole if it's not adequately designed, especially if walking on snow. Keep in mind, there's a chance a shoe with lugs may become impractical once winter is over, as well. Depending on the thickness and height of the lugs, they simply won't be suitable for summer use or any other season, for that matter. We kept this in consideration while reviewing and rating the products of our list.
In general, winter not always requires a completely different outsole approach. If you're not under extreme weather conditions, you may get away with using your traditional footwear. In terms of performance, however, it's always best to be suitably adapted to the environment. In casual shoes, weather adaptation may not be necessary; as long as, you have a good outsole. If you're going for performance shoes, however, you should consider each of the points mentioned before, as they are what, ultimately, allows you to reach your top performance.
Features
Winter footwear is similar to snow footwear, but there are some subtle differentiations which can make the difference between dry feet or wet feet. Generally speaking, the two main concepts to consider are waterproofing and the ability of snow to find its way inside of your shoes. Obviously, few of us ever desire snow and sludge inside of our shoes, especially, in wintery conditions. Here are few of the more common differences between winter and snow footwear:
Snow Gaiter – is in place for snow footwear; whereas, winter footwear is, usually, absent in this area. A snow gaiter closes the gap at the top of the shoe, allowing no snow to drop in from the topside. Specific to snow boots, snow gaiters are the norm for snow footwear.
Warmth Rating – both winter and snow footwear will have some sort of warmth rating associated with them. The rating is in direct correlation with how much heat retention is held within a set of degrees. For instance, a pair of winter shoes having a Thinsulate rating of 200 grams is rated at -25 degrees Fahrenheit.
Waterproofing – snow footwear is 100% waterproof and without the need for treatments in doing so. If it isn't, then it is not snow footwear. Winter footwear; on the other hand, is not always 100% waterproof. There is, usually, a water-resistant property associated with them; thereby, making them repellant to light, watery conditions.
Specialty – snow footwear is a 'specialty' construction; that is, it is specific to providing the correct amount of protection for a given event. In this case, it is snow and an ideal choice for snow-related conditions, especially, heavy snow. Winter footwear, however, is not a 'specialty' construction but a 'general' construction. This means that the winter footwear is an ideal choice for lighter conditions while having the ability to keep your feet warmer than a regular pair of the same type of shoe (e.g. winter slippers versus summer slippers).
Insulation
In a generalized overview, 'heat retention' is the trapping of air molecules between an outside material and your body. Radiant heat reflects back to your body from the air molecules; thereby, 'trapping' the warmth inside.
Weights in Thinsulate technology, measure within the amounts of insulation per square meter. So, a rating of 200 grams of Thinsulate is equal to 200 grams per square meter. This rating gives you -25 degrees Fahrenheit protection and figures in with an active motion. In other words, if you were to lounge around outside, then, you would need to do so at a warmer temperature than -25 degrees Fahrenheit, especially, if you like your feet to remain healthy and intact.
Thinsulate is a set of microfibers which hold their shape better than other generalized fibers such as pure cotton. Thinsulate does not bunch-up, clump, or gather from one place to the other.
3M, the company behind Thinsulate, reports that the 'Clo' rating remains unchanging during repetitive washing (Yavorski, 2018). "The unit of the Clo is slightly subjective, but a Clo value of 1.0 is defined as the amount of clothing needed by an inactive person to feel comfortable at a room temperature of 71F (21C) in a light breeze (having a 20 ft/min or 10 cm/sec air flow rate) with a relative humidity <50%" (2017). With that being stated, the general idea here is the minimizing and compression of air molecules trapped within fibers, as air molecules are responsible for radiant heat bounce back. In essence, the bigger the gap between fibers, the more loss of heat you will have (e.g. cotton is breathable, whereas, rubber is not). Microfibers, such as those found within Thinsulate technology, reduce this 'gap' as much as ten times that of other fibers. This, in turn, creates an environment conducive to higher heat retention. In other words, your feet are much warmer with insulation technology than without it, because of this.
Subscribe to our Newsletter