Best Neoprene Socks for Added Insulation Reviewed
In a Hurry? Editors choice: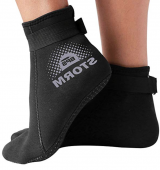 Test Winner: BPS Storm Smart Sock

Being able to provide a quality product, and yet – to respect the people's desire to fulfill their aesthetic criteria is a duty for each company, and nowadays, some of the manufacturers have learned how to do it way better than the others. The main function of neoprene socks is to keep feet warm by keeping body heat from escaping. During diving, everything gets wet and to prevent hypothermia purchasing items that keep body heat from escaping is very important and therefore, the socks made out of neoprene will provide you maximized comfort with a minimized risk of health issues. Once purchasing a quality product the wearer can feel safe and secure while exploring the great unknown.
Standout Picks
Criteria Used for Evaluation
Insulation
Novice divers may be confused as to which level of insulation is necessary for them. Any level below 3mm will be good for warmer water environments that are at the least 65 degrees Fahrenheit. The temperature range for insulation 4mm to 5mm will be effective in temperatures as low as 50 degrees Fahrenheit. Anything higher than this will be used for very cold water temperatures and is usually used by professional or technical divers. It's imperative that neoprene socks are designed to hold body heat against the body for as long as possible especially when water is fridged. This is a safety measure that will protect against hypothermia and related complications.
Overall Fit
There are various cuts of neoprene socks, from ankle, high-top, and knee-high available for diverse uses. Ankle height is usually a good choice for those who want a more casual item that will fit well with fins. These can help protect feet on hot sands or in water protect from sharp surfaces. The high-top neoprene sock is more used for full-fins and is very secure for usage. They also will protect ankles and help keep water out of the foot when walking on beaches. It's rare to find a knee-high shaft length but this length can be very beneficial. This length can help keep legs from rubbing uncomfortably and offering abrasion resistance. The fit of neoprene sock is incredibly important when choosing gear that must be rugged for the active explorer.
Durability
When wearing a neoprene sock that will constantly be getting wet and drying it's important to have strong seams for durability. There are generally two different seams that are used in neoprene socks. Flatlock stitching creates a flat flexible but strong hold. This kind of style causes small holes and should be sealed as well for higher quality. Blindstitching it when two panels are glued together and then stitched on the inside. This creates a watertight and flexible seam. This is the higher quality seam out of the two as well.
Versatility
When purchasing a pair of neoprene socks there are various uses for different items. It can get confusing very quickly as to which purchase will really be the best for personal use. Certain neoprene socks work better in cold water environments, while others are great for beaches and regular use. Depending on the type of routine usage or upcoming adventure that will be embarked upon different products should be used. This is why the intended use is very important and items that can be used in various environments offering versatility are desirable.
Safety Hazards
Neoprene socks that are used for enjoyment or technical diving need to be sturdy regardless of the usage. The ocean is a dangerous place and there is a very little margin of error allowed when exploring rocky coastlines or deep sea diving. Even if the most seemingly insignificant stitch fail it could be dangerous for those exploring below the waves. If fins slip off due to poor structure or sizing, it can lead to dangerous life-threatening situations.
Top 10 Picks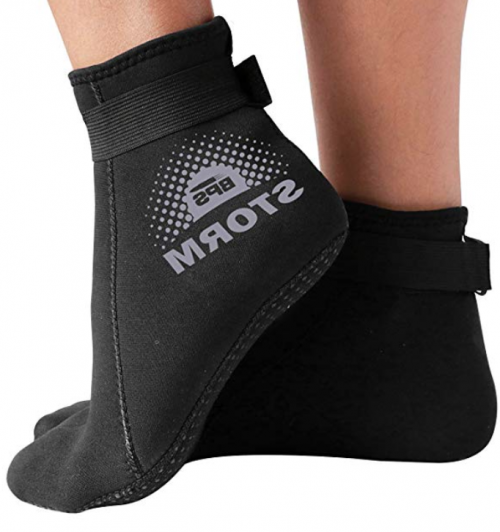 Security matters and attire designed to be secure will always be of utmost importance when going leagues under the sea. Visibility may be low, but gear needs to stay exactly in its intended place. BPS's Storm neoprene sock has been featured on multiple diving websites and blogs. This is for good reason, as this particular neoprene sock offers superior security for vigorous swims.
When exploring, especially in new areas, the experience can truly be a breathtaking, once in a lifetime, endeavor. Ensuring the previously purchased gear is operating correctly beforehand will make the experience smooth with no unfortunate mishaps. This neoprene sock is great for avid divers because the elastic adjustable strap around the ankle keeps this item firm and it helps to keep extra water from entering the top.
 
After exploring the great unknown the day may not be over and the beach or boat has so much to offer. In cases such as these, slipping can be a real problem, which is why it is important that this neoprene sock offers uncommon rubber grips on the bottom for stability on the beach or boat. These are not as sturdy as a sandal or sneaker so it's important not to wear neoprene socks on concrete for extended periods of time.
 
Getting holes in brand new footwear is very reminiscent of childhood. When mom would come outside and be very stern about you wearing shoes in the yard or to get in the house - she had it right! Who wants to constantly be buying neoprene socks?Innovation benefits the consumer as well as all of society, because mall changes can create a better item for the buyer. This neoprene sock has significant small changes that benefit the wearer in a very practical way.

2

. Seavenger SeaSnug High Cut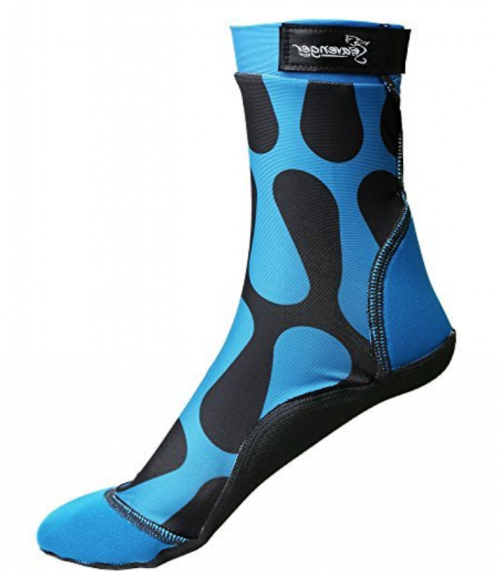 When purchasing quality gear there is no need to buy something that is a standard color and boring. Neoprene socks can be safe and fun for wearing featuring numerous colors and pattern choices for expressive equipment. If there is a fear of low cut neoprene socks slipping down at inopportune times then this item will alleviate any fears. This offers a high cut style that stays in place effortlessly. In Seavengers classic style, they offer neoprene socks for various occasions whether in the sand having a leisurely day or choosing to dive deep.
It's fortunate to find a neoprene sock that is insulated enough to protect feet and keep body heat from escaping during cooler aquatic adventures. Imagine finding attire that keeps hot sand and rocky surfaces from burning the bottom of feet. This neoprene sock offers this kind of protection that feet need when traveling across hot and that may have pockets of water hidden or rocks that will also gather water at times. This has very dependable protection from wetness and is quick drying as well. Ill-fitting neoprene socks can be a real bummer and having to return them can result in unwanted shipping fees. This is why knowing that size and shape of your particular foot is so important.
 
Considering the toe area width and wideness can be so helpful when deciding which product will off that coveted just-right fit. This neoprene sock gives in the toe area and offers a deep pocket for the heel. This provides a comfortable spacious fit for those who value comforting structured apparel. Colors are a feast for the eyes and when technical-wear is safe yet bright it can brighten the mood and lift the spirit. This neoprene sock offers superior security with a velcro ankle strap that is adjustable and will not slip off when kicking with fins can get vigorous. Be expressive while being safe and wearing footgear that can be trusted during arduous adventures.

3

. NeoSport Wetsuits XSPAN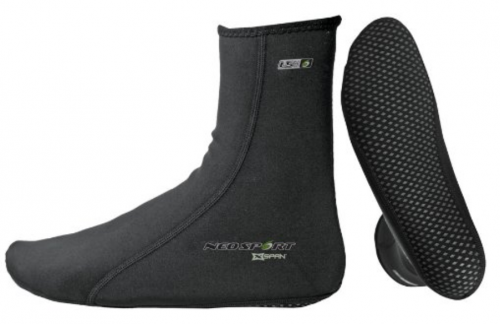 Henderson Aquaditcs was born in the 1960's; after World War II the US Navy decided it no longer required diving services. The Navy sold off its surplus to the founders of Handerson Aquatics which expanded to including NeoSport in the 1990's. Everett Edmund and Patrick Madison were ahead of the curve as scuba popularity began to grow in the following years. The mother company of Neosport has continued to enjoy national notoriety and success throughout the years. Being featured on multiple magazine covers throughout the decades and even rubbing elbows with a few famous faces. This has grown to one of the largest and most trusted scuba gear companies in the market today.
Stiff materials will not only cause possible chafing but possibly cause rashes as well. This neoprene sock is created for multi-use whether worn on the street or below waves. The 5mm material is very good for colder environments, keeping feet cozy and dry. The lycra material that on the trim offers flexibility and the construction of this neoprene sock offers extra padding on the bottom for maximum comfort. This will help keep feet feeling energized all day and keep fatigue at bay.
 
The problem with some aquatic wear is that the material used is slick and after submersion may become slippery on feet. This can be dangerous when seas become choppy, creating a risk of falling overboard or sustaining injury. Even on the shoreline moss and rocks can be very slippery and falling on hard surfaces can cause some nasty bruising or twisted ankles. The bottom of this neoprene sock is fitted with a honeycomb pattern to minimize slipping around inside footwear.
 
The deeper down explores go into the ocean, the colder waters become and this is when super warming neoprene socks will be beneficial. These neoprene socks are thicker than most items offered and even those who typically have cold extremities will feel cozy. This item stretches to the shape of the foot and the seams are created to lay against the foot without causing any irritation.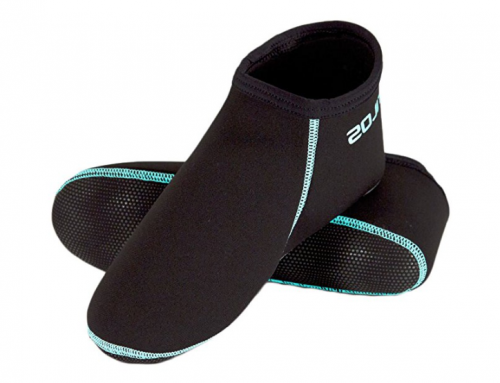 This neoprene sock comes from the serene surroundings of the East Coast of Taiwan, outside of the city, where temperatures rarely fall below 60 degrees Faranheight. These are a people who are surrounded by the ocean and creating gear for wet environments makes a lot of sense. This company has gone from a small family-owned business to offering over 350 products and being sold in over 14 countries. These have a very firm construction and feel like booties on the foot. This makes them very durable on a wide variety of surfaces and protective for feet as well.
This neoprene sock was designed for more leisurely diving and onshore adventuring. They are soft soled but constructed to have more sturdiness to them than other comparable products. The hemmed top helps to keep sand and debris out of the foot. This also helps to keep feet from burning when walking over hot sand. They are short on the top and that could mean that if they are ordered too small they won't fit the foot correctly. It's recommended to order a little bigger than normal since this doesn't offer a ton of stretch. T
 
The excitement of getting ready for a trip to an exotic land or island is very hard to contain. In today's world, many people are willing to forego brand name clothing and expensive rent in order to collect adventures. Having an item, like these neoprene socks, that can handle diverse environments can only benefit the explorers of the world.
 
This is constructed as a soft bootie and holds its shape very well. These can be used for; wading, diving, snorkeling, watersports, and much more. The seams lay flat against the skin to minimize blisters and chafing. These offer a medium amount of protection in terms of keeping body heat in, they can be used for cooler or warmer environments. These can be used for diverse recreational activities. This makes them a very useful item for those who travel frequently. The material is very soft against the skin, preventing blisters of chafing.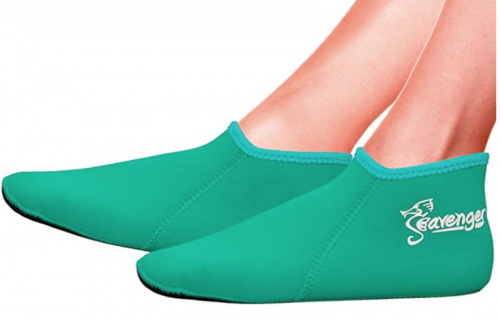 This company has a tagline that really says a lot about the spirit of the brand. "Together We Venture", says it all. This company not only creates quality products they actually listen to customers concerns in order to constantly strive towards creating innovative, effective gear. This is a company that is on the cutting edge of trends and technologies to consistently give dedicated explorers what they want and need. This neoprene sock provides essential features for those who need protection and comfort.
The biggest complaint with neoprene attire is that it is notoriously stiff and unforgiving. This will usually cause awkward sizing and an uncomfortable fit. This item does not have that issue which is alleviating for the wearer. This neoprene sock was made to stretch four ways for a fit that will stretch to the individual shape of the foot.
 
The comfortable firm fit makes this footwear valuable for explorers that don't typically have routine days. Time can be split between shorelines, boat decks, ocean exploration and much more. Holding up in various environments is where this item shines. The bottoms are created to minimize slipping with non-slip grips, the stitching is superior being blindstitched and glued. This adds an extra amount of durability and strength to the construction of this attire.
 
Considering the architecture of this product as well as the flexible nature this is a very fairly priced item. Those who tend to have cold feet will appreciate the care taken in the insulation provided in this item. Not to mention the various colors and patterns as expressive and fashionable attire.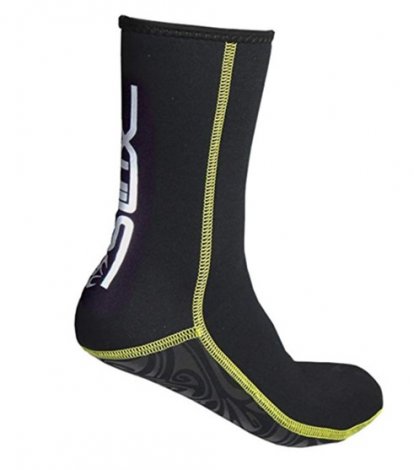 Skyone 3mm- These neoprene socks will keep you warm while out in the surf, or wakeboarding on the lake. Skyone's 3mm neoprene sock is flexible enough to help reduce foot fatigue when wearing, and to give you range of motion you need when in the water. Packed full of great design, they're sturdy, grippy, protective, and fit just over the ankle.
Neoprene sock thickness of 3mm is the component that will keep you insulated and warm in cooler water. At the base of the sock is a patterned anti-slip technology to help you keep your grip on surfboards, paddleboards, or other water craft. And while the neoprene sock itself is somewhat stretchy, it won't lose fit over time, making it durable for wear.
Blind stitching and glue help keep this sock together and durable, but won't rub or irritate your skin while wearing. You can also wear these with regular booties to help boost insulation in super low water temperature, so you can explore those polar surf spots you've always dreamed of! With availability in several sizes for both men and women, the Skyone 3mm neoprene sock is a solid option to consider.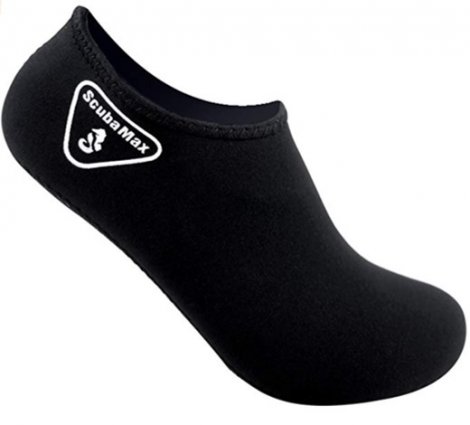 If you're into deep see diving, you know temperatures can plummet in deep water, and you'll need added insulation to help keep you going. The Low Cut 3mm neoprene sock from ScubaMax is meant to be worn inside your fins to help boost insulation when diving. Low cut design is ideal for wearing with scuba fins, or can be worn for other water sports as well.
ScubaMax designed this neoprene sock with 3mm neoprene insulation for warmth, but with a low cut design specifically for wearing with diving fins. Many ankle length neoprene socks may not be idea for diving fins, as the fin can slip off while you kick. It also helps prevent chafing from kicking through the water during a diving session.
Available in several sizes, you'll find a pair suitable for your foot's size and shape. Easy to slip on, they also come in a variety of color options. This pair of neoprene socks does not have extra grip on the sole, so they are best suited for simple walks along cooler water beaches, or for diving and snorkeling.



Akona is a company that was created as they say for a "Lifetime of Adventure". This company started with a simple mission to create high quality, affordable dive bags, and luggage. They recognized a need and found a way to provide what was needed for bottom dollar pricing. They have since expanded to creating adventure-wear for almost every aspect of seafaring exploration. This neoprene sock is strong yet flexible for a soft feel that feels good on the skin.
Nobody wants a neoprene sock that falls apart after a few uses. The neoprene material tends to be strong as is necessary for warmth and protection. If premature tearing occurs this is usually due to items not having strong seams and incorrect sizing.
 
Engaging in adventurous activities is an audacious undertaking that requires dependable gear. Gear that malfunctions last minute is not acceptable and can threaten safety. This particular neoprene sock is blindstitched which results in airtight yet flexible seams which are good for colder waters. The seams are also glued to help improve waterproofing and increase the strength of this item.
 
Surfing and other water sports may require a sturdy wetsuit with quick drying materials. Diving deep into crashing waves can be very inspiring, and when coming in and out of the water all day materials should be quick drying. This specific neoprene sock was designed with side drain holes for quick drying and the material was made to compress and keep feet warm even during long underwater exploration.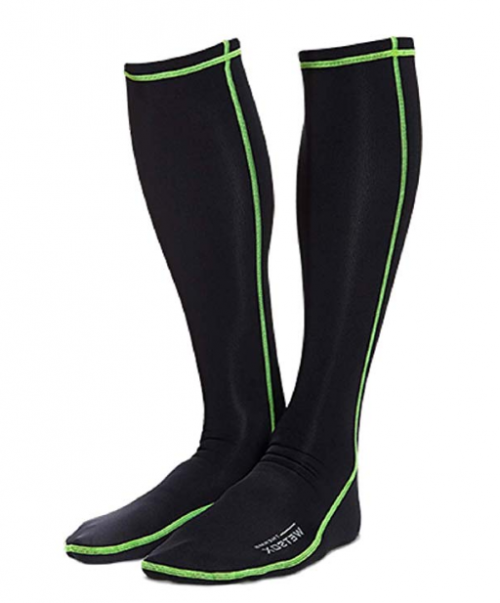 The WetSox brand is made for those who love the water any time of year. They say "Go Play Outside" and is designed for those who put fear in their back pocket and choose to live life to the fullest. Safety is always a top priority for the adventurous and keeping expensive gear lasting as long as possible as well. This neoprene sock is wonderful for keeping full wetsuits from tearing when taking on and off. This also offers some extra insulation when gearing up for a little more warmth.
A neoprene sock such as this one is rare because they actually come to the knee and offer a lot of flexibility. Some explorers prefer wet or dry suits that have full booties. It can be very difficult to take this plastic like gear on and off and they may tear in the process.

Repairing an expensive wetsuit can be a time consuming, costly process. If a tear is very bad it may not be repairable and need to be replaced. This neoprene sock minimizes the possibility of tearing occurring due to the blend of fibers that minimizes friction.

Another aspect to consider is durability. When things get rough on the seas or on land it's imperative to have products that are built for longevity. Coral, sharp rocks and uneven terrain are imperative for those who want footwear that will protect feet even when things get rough. When it comes to sock-wear that is made to stand up to the elements the seams will determine the life of the product. The seams on this neoprene sock are reinforced with heavy gauge and are bonded as well as using flatlock stitching. Flatlock stitching creates a strong seam that doesn't irritate that skin when it's pressed against the diver for hours.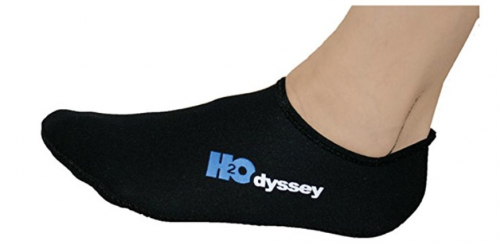 This company is a dive gear manufacturer & distributor offering a very wide range of products that go from exploring wrecks deep below waves to surface activities. This company was established in 1986, in California and has continued to blossom since then. This neoprene sock is particuarly exceptional. This company oversees their operations closely to give the snorkeler or deepsea explorer an item that is trustworthy.
When transversing warmer waters it's still a priority to keep extremities warm, especially for longer dives. This neoprene sock is good for those who want to keep feet feeling warmer even for spring temperature adventures. This gear also protects skin against ultraviolet rays, that can become concentrated in water, only letting in one-fifth of the damaging rays. This neoprene sock protects skin and the material is soft enough to keep unsightly rashes at bay.
 
Wear and tear is something no-one can avoid no matter how well items are cared for. This is why it's important to purchase items that are tough enough to withstand harsh conditions. These neoprene socks are tough enough to not rip on coral underwater or fall apart after just a few times wearing. The waterproofing ability of the seams is exceptional and prevents against chaffing. They use flatlock stitching that creates a flexible yet strong seam that lays soft against the skin.
 
Good fitting and strong attire are essential for environments that are demanding. Salt water will cause things to wear out easily. Tough, easy cleaning materials with a quick drying ability are essential for items that don't quit easily.

Subscribe to our Newsletter