Best Drysuit Boots Reviewed for Cold Water Adventures
In a Hurry? Editors choice: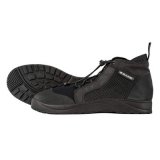 Test Winner: Bare Sports Force 1

A sea is a magical place and it's one of the final frontiers in terms of
exploration
. Most of the oceans waters have yet to be fully explored. Coming into contact with unique wildlife and seeing for yourself creatures that have been around since prehistoric times is exhilarating. The sheer vastness of to sea is daunting and causes the individual to re-examine their place here in the world. Getting lost in the wonder of it all is a dreamy prospect but
divers
must maintain a strict protocol for safety in order to prevent hypothermia. The ocean is nothing to mess around with and without proper gear, a pleasant dive can easily turn into a life-threatening ordeal.
Standout Picks
Criteria Used for Evaluation
Features
When the weather begins to cool down so does the water temperature, this means thicker drysuits that insulate the body to keep its temperature stable. Many divers are not gifted with warm tropical waters and in these situations, footgear needs to be protective and insulating. There are a variety of options out there that will suit different diving situations.
Some explorers may be dealing with rocky coastlines and need a boot that protects and insulates feet on land and in water. Other's may want a thinner breathable boot for warmer waters or shallow dives. The bottoms of boots may need to feature some slip resistance for wet docks or unpredictable terrain on shorelines. If the plan that day is to go deep, then footwear may need to not only be thicker, but supportive for heavier gear and lightweight to lessen fatigue. This is a highly specialized area and the right attire can ensure protection and a wondrous experience.
Protection
Footwear for diving can be made for a variety of environments. Some people may want a boot that is less insulated for shallow water in warmer environments. While others may opt for an item that is fitted with heavier warming insulation. No matter what the temperature many shorelines are riddled with hard rocks and sharp shells. Some shorelines may even have sharp sea-glass and water can be filled with unforgiving coral. If a product fails it could mean injury or worse it could mean bleeding out. In remote areas hospitals may be miles away this is why choosing protective attire is a must. There are a few features to look out for when choosing an item that will protect feet.
Reinforcement – This is such an important feature because it will keep the toe and heel protected against harder surfaces in and out of the water. These areas should be fitted with thick rubber. If possible the entire toes area should be encased. The heel should be protected past the Achilles area for superior protection.
Thick Bottom – While the bottom of footwear doesn't have to be so thick it feels heavy. If should be durable and thick enough for safe walking even if the rugged terrain is riddled with sharp objects.
Keeping in mind any other obstacles will help pick the best product for protection, especially for routine diving. New areas should be researched in advance for any potentially harmful elements. Footgear that can handle this should be purchased in advance to provide unrelenting safety.
Compression
Water can be a very tricky substance and the awesome power of the ocean is many times erratic. This is why choosing items that offer a fit that won't quit are so important. Items shouldn't be so tight they are uncomfortable to wear. Rather, footgear should be firm and instill confidence when wearing in or out of the water. When kicking becomes faster and stronger there should be no doubts about fins staying in place. Items must not fail divers ever because of the dangerous nature apparent with this kind of activity. There are features that can inspire unrelenting confidence.
Lacing – Some boots have traditional tie-up lacing and others have elastic speed laces with a hold at the end. Choosing this is a matter of preference. Speed laces are fasted but the fastener can loosen. Traditional lacing can be double knotted for security but should be made to be enduring to ensure no breaking.
Zipper – The easy of just zippering up attire and diving in is alluring. While this feature is easy zippers can easily slide down. This is why a top latch will offer extra security. Many boots also have a velcro enclosure for zippers but the top latch is perhaps the most secure.
Ankle Strap – This feature will allow boots to feel extra secure. An ankle strap fitted on a traditional lace-up item will stay secure even in deep mud. This does make on and off more complicated but for heavy duty dives this is a great feature to have fitted on attire.
Durability
A quality product is one that will follow you through the years and work the same way it did on the first day you bought the product. In regard to boots, we assessed durability in a few key ways, analyzing the materials, details, construction methods and brands to deliver to you a simple opinion: will this set of boots do the job and do it again and again? Take a look at each area we evaluated:
The Materials
Which type of materials were the product made from? Are they synthetic or natural? How do they smell out of the box? All of these are critical questions we asked when evaluating the materials of the product.
The Details
Extra buckles, complimentary cases and reinforced fabrics are all good indicators of a manufacturer that is setting you up for long term success with their product. Attention to detail separates the high-quality producers from the cheap ones.
The Brand Name
A reputable brand is a signal of quality and trust. Often, high performers continue to perform and out-endure the competition. While there are always exceptions to the rule, we gave higher marks to manufacturers with solid reputations.
The Construction
You can tell a lot about a pair of boots or shoes by how the zippers behave. Do they pull swiftly and softly, like cutting butter? Or do they jam and snap? What about the sew? If there was threading after a few wears, we considered that a warning sign of a lack of proper construction and durability.
Fit
We all know how hard it can be sometimes to find the perfect pair of shoes that we not only love, but that also fit snugly and comfortably. With so many styles, brands, colors and models, how can one compare hundreds of supposed "size 6s"?
To assess for trueness-to-size, we considered the opinions of thousands of wearers from across the globe to find out the answer to the ultimate question: do these 6s fit like a 6? While some things can give you a hint as to whether they will fit true, small or large; like brand name, shoe type and year of make; we believe that the opinion of buyers cannot be wrong. If they say the shoe doesn't fit the way it's supposed to, then you won't find it in our 10-best list.
You will find that products that score high on this metric tend to experience a trueness-to-size that was verified by our large community of sampled buyers. Just don't forget to take into account the factors above to also make sure your favorite pair will fit you perfectly.
Top 10 Picks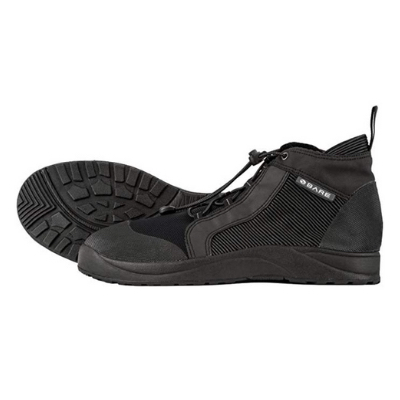 When life gets unpredictable this footgear will stand up to almost any environment. Bare is the company that produces this item. They have a legacy of producing handcrafted products that are designed and made by divers themselves. They go as far as to offer a lifetime warranty on many items. This brand also ensures their products are well made for the environment each customer may find themselves in. This footwear was made strong to be reliable and lasting.
Enduring
In the life of an adventurous person, days can take a turn for the awe-inspiring quickly. This is when being prepared becomes advantageous. Having footgear on hand that offers protection in even the most slippery environments. This item was made to be easy to wear when the terrain is unpredictable. The bottom was created to be heavy duty and protective when conditions get slippery. The reinforced toe and heel area offers safety against jagged surfaces over time.
Easy Wearability
In moist environments when visibility may not always be great and gloves can't always come off, items that are easy fasten or don is a necessity. Especially when seas get a bit choppy this product will offer simplicity. These are fitted with a thumb loop on the heel for quick donning. The lacing system was designed to not have to be tied. The elastic cord can be pulled with a loop at the end for the perfect amount of tightness. This system was incorporated to be easy even when gloves are being worn.
Cost and Value
This company has a long-standing tradition of designing products that are superior. They stand by every product and are proud of the craftsmanship and innovate culture they have produced. This sea-faring footgear comes with a price tag that matches its legacy. They are not outlandishly priced but fair for the quality and will be a staple for any marine life explorer. These will be long-lasting, easy to put on, provide protection and stability with ease.

2

. Neo Sport Premium Neoprene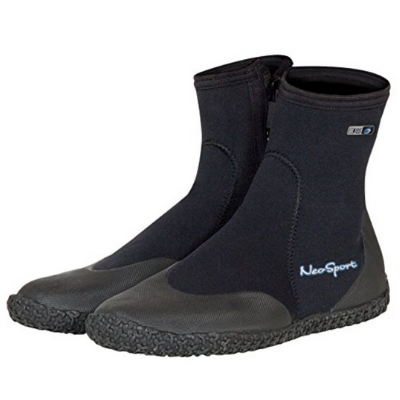 When being a professional or novice ready to have some fun surfing or engaging in diving the feet matter. Extremities can become cold and numb when the correct amount of snugness needed is not considered. This will gravely impact movement and range of motion. Those who are on the move, even when things get wet, need strong products that bend but don't break. Light in weight and flexible outerwear is an absolute necessity when needing to contend with the vastness large bodies of water provide.
Strong Zipper
Neo-Sport actually has a long-standing tradition of quality products. They were featured in Cosmo and Elle magazine back in the 80's and have even been worn by Navy divers. They offer quality construction and attention to detail. One notable detail is the side zipper with WEB technology. This technology keeps water from entering the boot through the zipper. This creates a snug secure fit that will not have an untimely malfunction. This is a very thoughtful design element that many who have a love for the under-explored can appreciate.
Tough Material
When choosing what kind of material is the best for warmth and flexibility it is important to consider something that offers snugness and ease of movement. Those who are allergic to latex may need an item like this. They actually end up getting a better quality item, however. Neoprene is the main material used in this footgear's construction. This material offers incredible flex, staying power under a wide variety of environments, and feels like a really warm hug. This is an incredible item that seasoned divers everywhere can appreciate.
Cost and Value
Neo sport is a company that has been trusted by the US Navy and Coast Guard for their standard issued wetsuits. Although these are boots that kind of attention to detail and craftsmanship doesn't just go away. This is a brand that can be trusted for the quality of architecture and innovative designs. This is what has kept them in business for so long. It's the unrelenting ability to keep prices fair and offer uncomplicated designs that are targeted for the needs of their customers.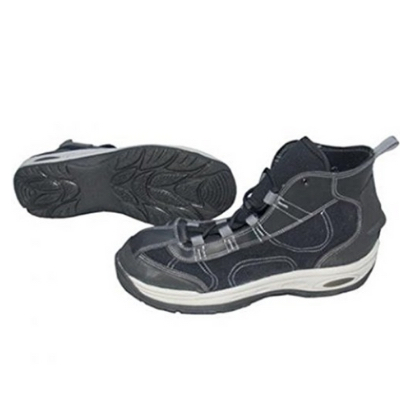 Nothing should stop a really good time. When salt water beckons even on the rockiest shorelines those who seek the ocean will come. More rugged terrains can be riddled with moss covered rocks, broken shells, and stones of all sizes. This is where a product that can handle even the most unkempt environments is a necessity. Typhoon was started 70 years ago by Oscar Gugen can to England and started one of the largest dive clubs, The British Sub Aqua Club. His passion for lifesaving quality apparel transformed into one of today's most sought-after brands. You can count on this footwear to provide the necessary quality that doesn't fail when it's most important.
Thick Bottoms
When shores get rough and diving is doable but gear that provides stability is required items that perform as promised can be a major lifesaver. Wasting money on products that don't perform to expected standards can be very frustrating. These are heavy duty while not adding extra weight to already heavy gear. The bottoms were designed to protect feet from sharp objects. They are also fitted with gripping rubber soles that will protect against slipping.
Customized Feel
Typhoon actually makes a lot of gear that can be customized when ordering. They have been consistent with providing items that are high quality. While these are not custom per say, the lacing is adjustable enough to give a secure feel. This will keep boots from untying and coming loose at times when it is inconvenient. The toe area and heel area are reinforced for extra protection.
Cost and Value
Reliable heavy duty outerwear is essential when environments are not so easy to transverse. Footwear that protects against rocky coastlines and hard coral can make exploring easier. These come from a company that has a longstanding reputation for products that are lasting and reliable. The pricing is fair as well and won't break the bank. These also have the nifty ability to keep air from becoming trapped in the sock.



This company was established in 1971 by Attilio Rapallini and Marco Arata, in the providence of Genoa. They have a history of striving for creating innovative designs and making their products widely available all over the world. They were finally available in the United States in 2012. It's been a long journey but this company continues to grow and listen to their loyal customers to provide gear that is just right. These medium warmth booties were created for ease when walking and warm water diving.
Stretch
Everyone has feet that are different shapes. This is a fact that many manufacturers have tried to tackle, this company has been able to find a very good balance in this area. Their items are created to be easy to put on with a side zipper and stretch to the shape of legs and ankles. The top fabric easily stretches to provide a custom feel for feet of different widths. The fabric used is also very strong and soft using a specialized aqua silk.
Comfort
Long walks on the beach and taking a leisurely plunge with friends can be uncomfortable without the right footgear. Vacationing in warmer water areas can be exciting for discovering new plant life and sea creatures. Since there is a measure of unpredictability amongst genuine laughs and lasting memories comfortable gear will be perfect for outings. The heel area of this attire is actually molded like an air bubble for some support and bounce while walking. The bottoms offer generous traction and a velcro zipper strap for extra security.
Cost and Value
Well constructed warm water attire makes everything more enjoyable. The surf, the sun and the things to be discovered! This footgear has your back when it comes long-term wearability. The pricing isn't bad either, they are very affordable for the sturdy construction. This item can be used for many different occasions. This makes them more versatile than other more targeted attire and can be used in different environments.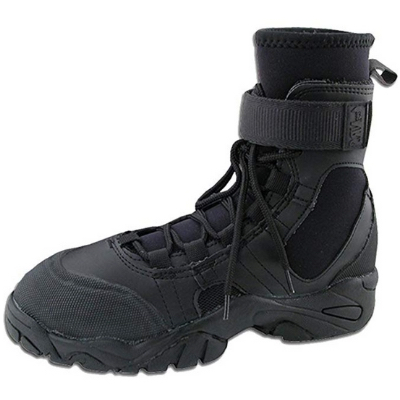 This is the company for dreamers and explorers. The founder Bill Parks has an unending love story with nature. He's passionate about his attraction to the water and started a watering running boating business with just 2,000 dollars. In the 80's NRS was born and Bill has never looked back. These workboot wet shoes work to stay in place even when mud is deep and will protect even when sharp shells or coral are present in the environment.
Firm Fastening
There are times when waterfront areas can get very muddy. The mud can get so thick that it could pull off footgear. When going from land to sea it's very important to have garb that will hold steady. They should also provide support and protection. This attire has an ankle stabilizing strap that is adjustable. The lace-up style makes it easy to tie and go for the perfect amount of support.
Rugged Construction
When the weather becomes wicked wearing gear that has staying power is reassuring. On the water, weather can turn very quickly and in some environments the terrain is unstable. This shouldn't keep individuals from important discoveries or work that needs to be accomplished. This item is fitted with heavy-duty lugging to provide superior traction in slippery environments. This item also provides absorption of shock for long days that can wear on ankles and knees.
Cost and Value
When a more heavy-duty attire is required purchasing wear that is tough is necessary. This is an item that is resistant to wear and tear and will stay in place when it is most important. These also are offered for pricing that is more than fair. They will not be strenuous on pockets or knees. This footwear is also long-lasting which is a relief in terms of value.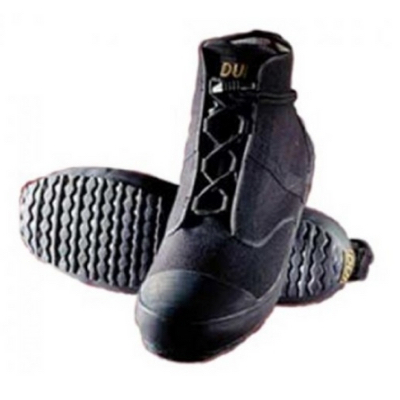 Those who really need extra warmth when taking the plunge will find this brand to be very accommodating. This company was created by Dick Long who is very slim at 6ft 2in but only weighing 130 pounds. He would always be cold in the water and began creating functional attire that is warm even for those who are always cold. In the late 60's his suits were worn by military divers and become known for his technology which allowed divers to go deeper than ever thought possible. This item can be trusted for stability and warmth. Coming from a company with an innovative approach to deepwater exploration.
Flexibility
Much wet attire offers such a heavy duty construction that they do not adhere to the natural foot flex. While support is very important it's healthy for feet to adhere to their natural flexion. This will alleviate pain for those who have sore feet when the interior of their shoe is too hard. The rubber used on the bottom of this foot-gear light yet tough and is fitted with traction that protects from slipping.
Easy On/Off
When attire has a lot of buckles and complicated lacing it could be very difficult to take off. If there is a lot of gear that is worn even for recreational diving. Adding an extra layer of complication is unnecessary in some situations. These were designed with an attached neoprene sock that features heavy-duty nylon laminate. This creates ease of wearing and extra warmth. The speed-lacing system was made for easy and secure lacing.
Cost and Value
This is a company that values warmth and innovation. They have a legacy steeped in overcoming and creating based on need. They take pride in asking the hard questions and creating products that provide an answer. This item not only comes fitted with a custom neoprene sock, speed lacing, and a flexible non-slip bottom. They are well-designed and a little pricey for some but are a good investment for those who value a flexible strong shoe.

7

. Hollis Canvas Over-Boot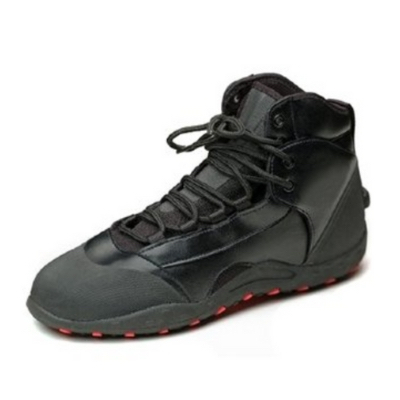 Hollis is very well known amongst novice and expert divers. They are simple and straightforward. This company culture has carried over into their candid approach to designing diving gear. This company sees no use in trying to skimp on designing and saving a few dollars. They work to create attire that only uses the best materials and most innovative construction. These are created to look like a regular boot but have an easy fin catch on the heel, quick lacing, and rubberized firm bottoms for protection and easy walking.
Cushioned For Luxury
Even when an item is being used for rugged adventures comfort does not need to be sacrificed. These boots have drain holes for quick drying. They offer an easy fin catch on the heel for ease when getting ready. The lacing is easy and quick which will help with a custom feel to choose the level of tightness that will work for you. The sides and tongue of this gear are padded for an extra luxurious feel that comforts feet.
Reinforced For Protection
When exploring more wild areas feet become vulnerable to the environment. This could mean rain, sharp objects, and unstable surfaces. Feet that aren't protected can become easily injured. Nothing ruins a great day like a pain in the feet from cuts or bruising. This footwear was created with a very well made molded bottom. This provides a very good amount of traction. The heel and toe areas are reinforced for extra security when traversing wild areas.
Cost and Value
If a casual boot that offers a secure cushioned design is wanted then this provides the perfect balance. These are rugged enough to stand up to the elements and protect feet. They offer ease of use with side drain holes and speed lacing. They also offer a very affordable price range that will satisfy novice and expert divers. This gear is great for ease of use and comforting appeal.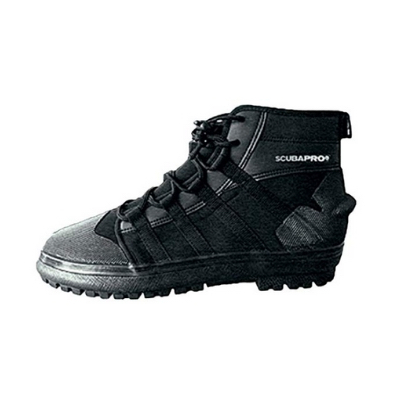 This company has been around since 1963. Their mission is to provide the best professional products for underwater exploration. They design products that are functional and reliable. This item was designed with divers in mind. They have managed to create an item with a cushioned tongue, easy lacing and a secure fin strap on the appendage.
Effortless Construction
When items are created for land and water it can be tricky choosing the best construction for a wear and go world. These are magical in that they make swimming with fins easy because the design was made for aggressive kicking. The fin strap keeper is molded on the back of the heel to prevent slipping when under water. Losing a fin isn't fun for anyone who spends precious time and money to ensure products have the right design for their needs.
Soft Fabric
One feature that tends to be overlooked when constructing hardy footwear is a relief. After long dives, a shoe that feels comforting is overwhelmingly appreciated. The top of this product is cushioned with neoprene that gives. The creates an item that is soothing. The lacing system was constructed with no-tie laces to make taking boots off really effortless.
Cost and Value
Nothing can replace a great pair of sturdy underwater boots except another pair when the old ones finally wear out. These are created for professional use and are sturdy for this purpose. The on and off ease is irreplaceable, however. These are higher on the scale for pricing but it's not outlandish. These are a great pair for the price. They offer the ease and sturdiness needed when areas are rocky and unpredictable.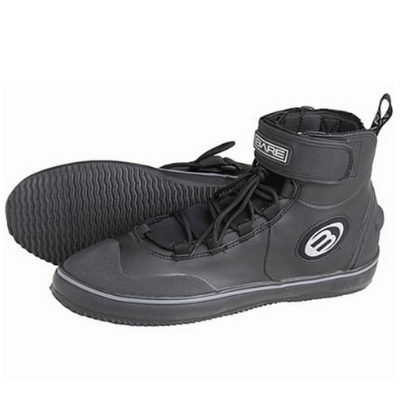 Some companies do actually put their money where their mouth is. Bare extensively researches and innovates items that are perfected for every aspect of diving. They have an extensive network of ambassadors who write about their diving experiences and provide the company with valuable feedback for only the highest quality products.
Adaptability
When a specific item is bought and it isn't adaptable to fit with your custom drysuit things can get very frustrating quickly. If footwear comes from a specific company it may be best to choose a drysuit from the same company for a more adaptable item. This company offers state of the art products. This particular footgear is made to fit no matter which drysuit is chosen for underwater wear. This makes them very adaptable in nature. Aside from tough bottoms expecting a perfect fit goes without saying.
Ankle Support
Unique features can make or break a dive. This activity not only demands endurance for participants but also for gear. These are easy to wear and very secure. The ankle strap ensures an item that won't slip off when diving deep or during vigorous kicking. The strap is secured with velcro that is easily adjustable. This footwear is unrelentingly strong so it's easy to go deep without any fear.
Cost and Value
Bare is a well-known company and strives to put the needs of explorers first. This has been a long-standing tradition. This item is more expensive than most. They do offer superior security, adaptability, and unrelenting protection. This makes them the footgear of choice for many divers. These also are created to be worn with any Bare drysuit, which isn't a feature that is widely available for many other items.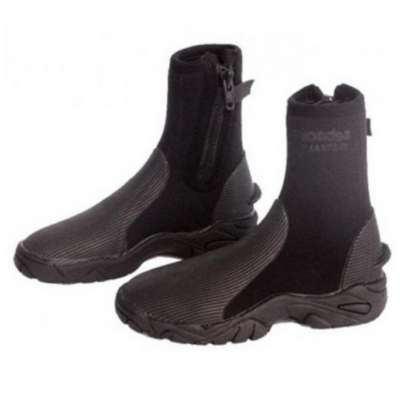 Going with the little guy has its benefits. Seasoft is a smaller company with a lot of moxie. They are on a mission to prove they deserve their spot among the elite companies and their products are a testament to that spirit. The founder Bruce Justinen has had a constant love affair with the sea since childhood. He has a lot of experience with deep water and is constantly creating cutting-edge products. This is one of the only items that offers arch support and an anatomical design for a secure sturdy feel.
Arch Support
Flat footwear can leave arches feeling achy and tired after long days carrying heavy gear. Not all feet are created equally and a small adjustment in design like adding support for arches can create a divine experience. This footgear is flexible with sturdy bottoms molded to support arches. This leave feet feeling serene after strenuous activity.
Secure Zipper Closure
In the water if zippers slip down it can be downright dangerous. Especially when exploring deep waters. Adventurers can be left feeling handicap if a fin slips off and swimming can become very laborious. This was taken into consideration when this soft bootie was designed. The zipper is easy and the latch closure ensures it does not slip down at inopportune times. This creates an item that offers unrelenting security.
Cost and Value
When choosing what is the best item for in and out of the water it can be a daunting task. If extra money is not an issue this item provides much of what water lovers need. These are not only superior for a design that is supportive of arches. The bottoms are very thick for terrain that is riddled with sharp objects and unstable surfaces. The latch closure adds another measure of security. The heel and toe will also be protected with strong rubber neoprene. This construction also offers a measure of warmth for colder waters.

Subscribe to our Newsletter