Best Kayaking Shoes Reviewed & Rated for Quality
In a Hurry? Editors choice: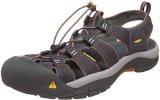 Test Winner: Keen Newport H2

Do you love to be
out on the water
but find that your shoes are not made for that kind of purpose? No reason to be discouraged any longer! You will find the most-excellent kayaking footwear available here, and each shoe has different properties which will help you maintain warm and comfortable feet, no matter where your kayak takes you. Protection to your feet is everything in kayaking. A good grip, flexibility, and lightweight,
waterproofed material
is the route to go.
Standout Picks
Criteria Used for Evaluation
Protection
Kayaking footwear varies in degrees of protection, which depends on the environment that you'll perform in. If you've kayaked before, you'll know there are different difficulties, surfaces, situations, and speeds at which kayaking is practiced.
As a kayaker, you may find yourself scampering up jagged rocks, walking through mud, over debris and sand. Thus, before considering anything else regarding protection, you should analyze the circumstances in which you'll go kayaking to determine the right level of protection you need.
You'll always want to make sure you have a certain degree of protection for safety purposes. Your soles should never be too slim; nor, made from materials that won't resist stinging objects. Unless you're an advanced kayaker and have a use for thin soles, we recommend sticking to at least medium sole thickness.
Protection doesn't only come from the underfoot, and we kept this in mind during research and evaluation of the best footwear. Waterproof protection, for example, is an essential aspect of protection that doesn't necessarily involve physical resistance.
At the same time, areas like the upper build shouldn't be forgotten, either. You never know where the next root, branch, or rock will land. Preferably, kayaking shoes should be equipped with a protective toe cap and at least one base material that protects the upper foot from impact.
We decided to make protection one of our evaluation criterions, keeping two things in mind while measuring it. First, is the overall protection that the shoe offers as a whole. Second, the protection the shoe provides concerning its purpose. This means that minimalist shoes, for example, provide less protection in general, but because they're designed to do so. Thus, they're meeting their purpose.
Protection doesn't end once you get in the kayak; this sport involves walking and moving on surfaces that are commonly difficult. Opt for gear that will keep you protected both inside and outside your boat.
Terrain
The terrain is the first thing you should examine before going on a kayaking trip. It's crucial that you know where you'll be walking, so you can protect yourself adequately under those circumstances. In other words, a beach shoe meant for sand is of very little use during an excursion to a rocky and branch-ridden location.
The rougher the terrain, the thicker you'll want the sole. You, also, wish to utilize materials that are resistant to abrasion; soft meshes and fabrics may easily be ripped by elements in similar environments. It's likely that you'll face moisturized and wet surfaces; thus, we advise looking for shoes with a grippy material.
Better safe than sorry; you'll want to be overprotected rather than exposed, in case you encounter an unexpected scenario. Unless you know the kayaking area with certainty, we recommend wearing footwear that is protective.
If you travel around walkable terrain, then you should opt for the most comfortable shoes you have. Keep in mind, you'll have to walk over a few obstacles but, also, keep in mind that you'll spend most of the time on the boat.
Heel
There are, typically, three size standards when it comes to the height of kayaking shoes: knee-high (high), ankle-high (mid), and low-top (low). Each height has different purposes, and the designs are entirely different from one another. There are multiple factors to keep in mind while choosing the right height for you.
Knee-high kayaking footwear is customarily used under circumstances that call for the most protection; generally, in cold climates or overly-rough environments. A knee-high shoe is expected to be waterproof, as their primary function is retaining heat both in and outside the boat. Because they're heavier and the bulkiest of them all, high kayaking shoes aren't too versatile and may not fit in small boats.
The high-top shoes call for a snug fit to prevent water from entering and pooling. In most cases, they're made of waterproof and physically-resistant materials. Ankle-high footwear is a middle point between high-top and low-top shoes; it's for intermediate occasions – not too protective, but not too light, either.
Ankle-high shoes are ordinarily waterproof, as well, and may offer heat retention or not (depends on the climate they're meant for). As the name suggests, these are high enough to cover your ankle. This provides better protection, but at the same time, reduces mobility. This is what most beginners use, as it's the ideal height for overall kayaking under neutral circumstances.
Last but not least, low-cut footwear is meant for hot environments that call for breathable and comfortable shoes. They are, also, the most versatile of all kayaking footwear heights and the most flexible and comfortable, as well. Do note: they offer the least protection, though. Low kayaking shoes, usually, feature a combination of neoprene and breathable fabric in the form of a mesh.
Water Resistance
For some users, waterproofing is an unnecessary feature, while for others it's vital. In most cases, what determines the need for waterproof materials is the climate. All kayakers who are out in cold water use waterproof shoes, and it's the best way to go.
Waterproofing is not limited to cold waters, though. Most users prefer dry feet at the moment of maneuvering and getting a decent grip on the boat. As you can probably guess, this is much harder if your footwear is soaked and lacks traction. It's, also, used in the form of moisture-wicking linings to prevent bacteria, fungi, and the development of adverse smells.
While it doesn't protect our feet from solid objects, waterproofing plays a vital role. In cold environments where it's paramount, the lack of waterproofing may translate into a cease in your performance. At some point in your kayaking, your toes and feet are very likely to go numb, due to constant exposure to cold water.
Materials like neoprene are favorites amongst kayakers and manufacturers alike. It's important that the closure system is easy to handle and functional. Sadly, this is where waterproofing fails the most commonly.
Breathability
Breathability is the opposite of insulation and is what you should look for in a warm-water kayak shoe. The hotter the environment, the more breathability you should opt for. Breathability may be hard to obtain under certain circumstances, as water can usually pass through the same spaces as air. It often comes in the form of mesh panels, but any water that reaches the mesh panel will compromise the inner build. This is why we commend breathing systems that are waterproof.
Gore-Tex, for example, is a membrane used to allow for breathability without allowing water to break in. This is done by placing small layers that allow for water in its gaseous form (vapor) to exit while blocking liquid water molecules. Because molecules in the way of gas are smaller, water is not able to get through.
If heat is retained within the inner build, a series of consequences will likely happen. Our body produces its heat, especially during a performance. The more effort we make, the more heat we generate. This includes our feet. If on top of the heat we generate by ourselves, we expose feet to concentrated heat within the shoe, irritation and excessive sweating are likely to happen.
Too much sweat brings consequences at the same time. The loss of inner sensibility and traction, as well as odors, fungi, and bacteria, are some of the effects of sweat. Our feet emanate a considerable amount of heat, just like our hands. Thus, it's crucial that warm-water footwear counts with a system that allows air to flow through freely.
Top 10 Kayaking Shoes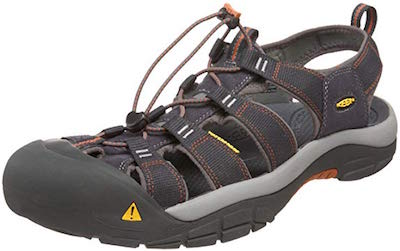 Although originally designed to be used for hiking, the Keen Newport H2 is actually a great water shoe as well, thanks to the upper and outsole materials used. It's a sturdy sandal made for serious adventurers, and it offers several nifty features you'd have a hard time finding with any other shoe. Additionally, you can expect great quality and comfort from this brand, so if you're after an investment piece of equipment, the Newport is highly recommended.
The upper of this model uses polyester webbing that's easy to dry and can even be machine washed when it becomes too dirty. You will easily find the right fit with the lace fit capture system that's easily adjustable on the go. As for the outsole, it's non-marking, razor siped for some of the best grip you can get on wet surfaces, and has multi-directional lugs to work on all types of surfaces, wet or dry.
The midsole of the Newport uses EVA foam for cushioning, and the footbed has a metatomical shape that supports your foot, so you can easily wear these for hiking or casual use. A quick-dry lining ensures that your feet are always dry, regardless of whether you're in the sea, or have just worked up a sweat, and you won't have to worry about toe bumps or pebbles, seeing that this is one of the most protective models on this list.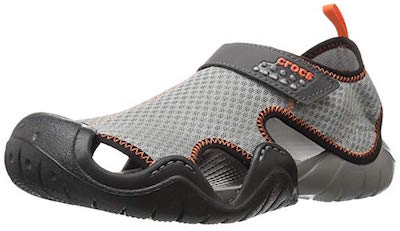 Now Crocs may not be a brand that comes to mind when it comes to athletic performance, but their Swiftwater model is actually quite great at providing you with all the features you need during water sports. It's a style that's available in men's, women's and children's sizes, so the whole family can enjoy the same comfort and support, and the way it was designed allows the wearer to use it both in water, as well as on dry land, without having to worry about pebbles and similar hazards.
The Swiftwater combines the brand's Croslite material that's used in the sole with a mesh upper that's fastened to your foot using a hook and loop strap. While the toe is raised for ultimate protection, the sides of the foot feature holes that can serve a dual purpose - in water, they will help with drainage while on dry land they'll act as breathability vents.
The Swiftwater is very flexible and lightweight, and evan has a pull tab at the heel so you can easily put it on (or hang it up to dry). Additionally, in true Crocs fashion, these will provide a good amount of arch support, which is great if you plan on doing some walking, and the material is cushioning, absorbing shock and keeping fatigue at bay. As for traction, these do very well on almost all surfaces, so that's not something you'll have to worry about. Though they cost slightly above average, you can always find them on sale, making these a good investment for a versatile water shoe.

3

. Merrell All Out Blaze Sieve


The Merrell All Out Blaze Sieve is all-around outdoor footwear for a day in the woods that leads to an afternoon on the water. These provide an ultimate and durable sole that is puncture proof and built with added comfort. With a leather and neoprene upper, this is made durable and flexible, without retaining water. With added odor-eating technology, this will stay odor-free, as well.
This model has an added technology that will deliver an endless comfort to the sole of your foot. The Unifly midsole is put in place to ensure maximum comfort and absorb any shock your day my deliver.
This footwear is made fresh and covered in a layer of anti-microbial treatments that helps eat and fight odors while they are on and off of your feet. The M-Select FRESH treatment will keep these shoes smelling fresh all day.
With so many added features, pricing is not an issue, even though it lies in the low-upper end of cost association. Furthermore, the durable outsole gives excellent traction and support to your feet and added technology prevents odors. Moreover, with a product this good, there is no need to worry about your feet, anymore!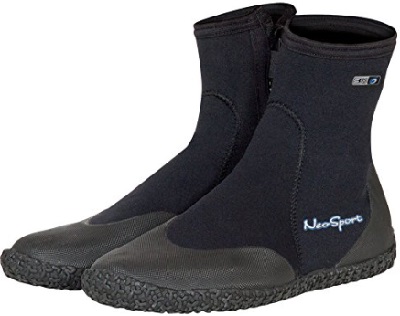 This is a great pair to take along on your next trip. They have thickness choices available for warm, moderate, and cold water; 3mm, 5mm, and 7mm, respectively. Furthermore, these are made with a synthetic/neoprene upper and have puncture-resistant outsoles. In addition, behind the heavy-duty zipper is a water entry barrier to help you remain dry.
The upper is made to handle various degrees of water temperature; depending on the choice you make. Moreover, this upper is ready for the action you are about to put this pair through. A perfect feature for those times when the kayak decides to knock you into the water, these have a puncture-resistant outsole. This means you will be a bit safer while on your trip.
WEB (Water Entry Barrier) lies behind the heavy-duty zipper to ensure no water penetrates your secure fit. This is wonderful when considering that you may be facing the cold water.
Cost and Value
This pair of water footwear is at the midrange in cost. With all of the available features, however, this price is understood. They are, truly, economical for what you are getting and worth every penny spent.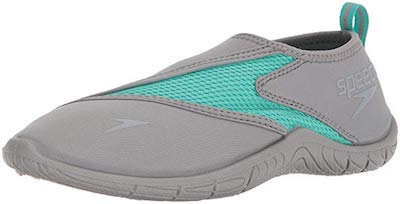 If you want a product that will work exceptionally well around water, regardless of the type of use you want to put it through, the Speedo Surfwalker 3.0 is highly recommended. A slip on water shoe made for training, it's a lightweight and easy to use on a variety of occasions. Another thing that's great about this model is the fact that it comes in a number of color options, which is great news for anyone tired of the standard blacks and blues.
The upper of the Surfwalker 3.0 uses a 4-way stretch material that combines neoprene and mesh, giving you not just a great product for water use, but also one that'll be easy to get on and off, and that won't constrict your feet, even when you're doing hard work.
The outsole is made with S-trac, a design that offers slip resistance on wet surfaces. Although it does not offer drainage holes, you'll find that moisture will easily be able to escape this shoe through the mesh insert in the upper, which will also help your feet dry more easily. In terms of cost, this is one of the cheaper models listed, so if you're after a versatile product that won't break the bank, the Surfwalker 3.0 is highly recommended.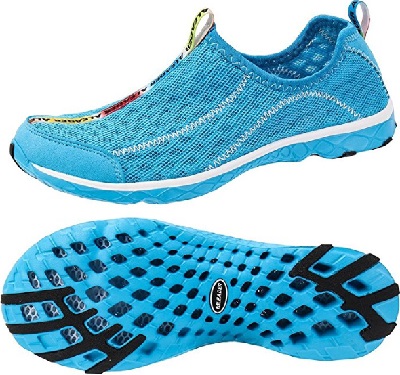 The ALEADER Mesh Slip-On is made for the water and everything in between! Offering maximum protection, this is made with your comfort in mind. Added technologies will ensure that you will not slip; giving ultimate traction control. Dry liners are added to give a comfortable and cooling feel that will benefit your foot's health for years to come.
These have a water grain outsole which will keep you in an upright position while on the most slippery of surfaces. Maximum grip and maximum comfort are what this pair gives.
This pair was made with your foot health in mind. The ComfortDry sockliner is in place to help keep your feet cool and dry. By doing this, they offer you a healthy climate for your feet at all times. Offering supreme protection, these have been designed to fit all of your water sport's needs and are worth the midrange price. Furthermore, the cool and comfortable sole inserts allow for maximum protection and amazing comfort while the mesh upper delivers constant airflow.

7

. Sea to Summit Ultra Flex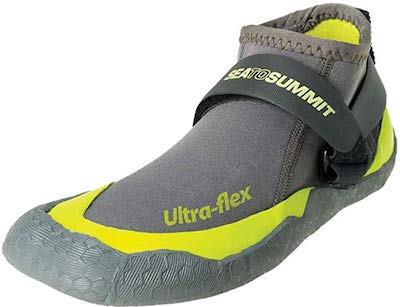 This is one of the rare pairs of footwear that was made specifically for kayaking, and is a great choice for stand up paddling, surfboarding, rafting, windsurfing and sailing as well. Made to give you the ultimate traction underfoot, regardless of wet conditions, and a functional upper, the Ultra Flex is lightweight and flexible, which ensures that all your movement is free, without constraints that could negatively affect your performance (or mood).
The upper is made with 3mm neoprene which is used in wetsuits and similar gear. It's a material that will help your body retain heat, even in less than perfect conditions, and it dries easily (once drained), all while offering a flexible fit. The stitching was made so as to prevent blistering and chafing, while the hook and loop strap ensures easy on and off, and an adjustable fit.
As for the outsole, you get a rubber laminated material that does great on wet conditions, but that's very flexible, and offers you the right amount of response you need for the job at hand. As for the price, these rank below average compared to the other models on this list, which means that you can easily invest in a pair and rest easy for the next season.

8

. Mares Equator Dive Boots


The Mares Equator 2mm Dive Boots are well known for being lightweight and incredibly flexible. Easy to wear, they are slip on and go. Added tread on the sole gives optimal grip while the neoprene makes for a waterproof fit. Make that bulky pair you have a thing of the past and use these. You will not be disappointed!
These are made from neoprene material which gives this boot a lightweight feel. Furthermore, they give you a natural feel and are easy to pack!
This pair is made with warmth and comfort in mind. Made with dive suit materials, they s are bound to keep your feet warm, even in the coldest of waters!
With a product, this well thought out, you'll be disappointed you didn't find them sooner! They have a well-insulated, neoprene material that helps to maintain temperature control within the water at all times. The neoprene, also, keeps dirt and debris out and avoids constant irritation and blisters! At a cost-efficient price you can't complain about, these are well worth the purchase price!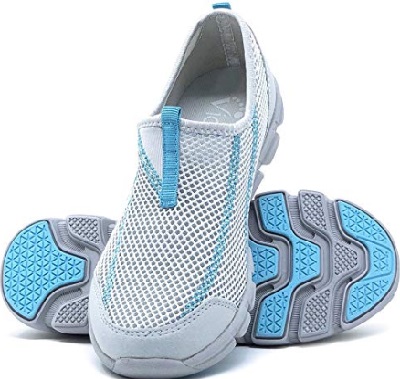 The Viakix Water Shoes are all about comfort. Designed with a mesh upper, these are incredibly breathable and drain water very well. No more soggy soles with these, as they dry incredibly fast! They are versatile for any situation. Best made for kayaking, these have excellent grip and stability, allowing you to maintain your balance for hours on the water.
These offer a one of a kind outsole that contributes to both durability and comfort. The added foam in the flexible, rubber sole gives you the ability to walk on a variety of surfaces with a no-slip grip.
The lightweight, quick-drying mesh gives your feet an incredibly healthy environment that remains non-soggy and clean. An added benefit of no foul odors assists in keeping a healthy environment. They offer it all to maintain a great environment for your feet.
The price of these is both affordable and worth it! Giving your feet a warm, dry climate while assisting in a healthy foot, this is made for anything in the water. As versatile as it is, the soft, comfort sole will support your feet while protecting them from debris and sharp objects. Furthermore, they are worth every penny.

10

. Cudas Shasta Water Shoe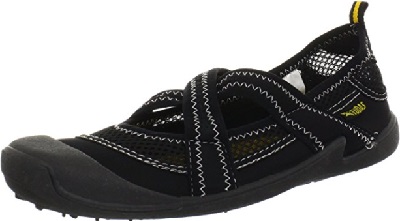 The amazing Cudas Shasta Water Shoe is one of the best to date! Made perfect for kayaking, this has excellent grip, toe protection, and the ability to dry incredibly fast. Added lining allows feet to stay warm in cool water while mesh allows the feet to air out and dry at the same time! With a pull tab on the back, these slip on and come off super easy, making them an all-time favorite.
Anything can happen while you're out on the water. You may find a spot you want to get out of the water and relax. This pair has you covered with added toe and heel bumpers that are a firm rubber to help protect against rocks and debris.
These have an anti-slip, non-marking outsole which is ideal for water sports and the swimming pool. Moreover, they will not allow your feet to slip out from underneath you and will keep you on your toes, as it were; giving you the ultimate push-off and go!
Cost-effective, these have all of the features you could want! Added comfort, warmth, and breathability, this pair is ideal for any occasion on the water. The toe and heel protection will keep your feet safe while the x-band will keep them secured. In other words, you don't want to miss out on something this great.

Subscribe to our Newsletter