Best Wetsuit Boots For Maritime Adventures Reviewed
In a Hurry? Editors choice:
Test Winner: Gul Dura-Flex T2

The concept of a wetsuit was invented in 1952, and has since become an irreplaceable piece of equipment for surfing, windsurfing,
diving
, canoeing and more. Of course, you also need appropriate footwear to go with your wetsuit. Wetsuits shoes and boots stop your feet from getting so cold that you lose their functionality, and can be worn with or without an actual wetsuit.
Wetsuit boots go over the ankle and are typically covered by the leg of the suit. The type and thickness of the boot you will choose depends entirely on what you intend to do in it, and how cold it will really get. Below, you will find a list of the best wetsuit footwear currently on the market. All you need to do is scroll down and pick out your favorite. It's that easy!
Standout Picks
Criteria Used for Evaluation
Materials
Currently, the industry standard when it comes to all surf and water wear is neoprene. Booties are made out of double-lined neoprene, with a thin layer of fabric on either side of it.
Neoprene is an exceptionally tough and durable material. It has qualities such as oil and chemical resistance, as well as the ability to withstand any type of weather and a ridiculously wide range of temperatures. It shouldn't be too surprising that all wetsuits and footwear are made from this.
Recently though, manufacturers have dabbled into what is called latex-dipped neoprene. This results in a boot which is incredibly light and flexible. It is a great choice for surfers especially, as it provides a better board feel, and makes them feel as though they're surfing barefoot.
However, while its performance is truly impressive, latex-dipped designs severely lack in durability. They wear out quickly, over the course of one season, so keep that in mind if you wish to try these new, innovative designs.
Upper
You must have noticed that this is one of the defining features of many designs in our list. Whether they are round toe or split toe is important, and members of surf communities are forever at odds about which one is better.
The truth is that both have their pros and cons, and it is really down to personal preference.
Round toe options are really just your regular boot design, only made out of neoprene. In it, all of your toes are together, which helps keep them warm and comfortable. However, this design isn't so secure. Your toes and feet might slide around in the shoe, and thus lower your performance.
Split-toe options, on the other hand, have a separation down the front, keeping your big toe in a different compartment than your other toes (think flip-flops). Some surfers claim that this design provides a more natural feel, a better balance, and allows them to feel the board better. It prevents the foot from sliding around inside.
On the downside, the split toe design makes it harder for your feet to stay warm. Since your toes are separated, especially your big toe can get cold quickly - as it doesn't have other toes to keep it warm - and this might be a problem in cold water. Moreover, the split toe design can be uncomfortable, though if you decide on it anyway, you will likely be able to adjust to the unusual feel after a few trips down to the surf.
Insulation
Wetsuit boots are most commonly manufactured in 3mm, 5mm, and 7mm thick neoprene. The general rule is that the thicker the material is, the warmer it will be.
Which one you will choose depends on a multitude of factors.
Firstly, think about the most important thing - the temperature of the water. If it is around 40 degrees F, then you should definitely go for the thickest neoprene there is. If it is around 45 F, then 3mm or 5mm should be just fine. If it is 66 F and above, you likely don't even need footwear. Unfortunately, if you are just starting out in choosing your footwear for water sports, there is no other way to know what works best for you until you test it out, as everyone's tolerance for cold is different.
However, there is one more aspect where neoprene thickness is important - protection. If you're not familiar with the terrain you'll be walking on, you want to be safe from sharp, pointy things that might cut into your foot and hurt you. This can be anything from walking on rocky surfaces or a coral reef to dangers such as getting stung by a fish hiding in the seabed. Thicker boots are useful in preventing stings and lacerations, as well as infections that might result from those injuries.
Fit
95% of the time, wetsuit footwear sizes are in men's, and they don't have half sizes. It would be ideal if you could first try the boot on before you buy it, so that you get a feel of what suits you the best, and to familiarize yourself with the brand's sizing chart.
The boot itself should be snug on your foot and around your ankle, but not too restrictive. Your toes should be touching its front edge. If there is more space there, the design is too big. If you find that your toes are curled in, then it's too small.
Sizes that are too small can have the opposite effect of what you intended - the neoprene can dig into your skin and cut off blood flow, making your feet even colder than they should be.
In the same vein, sizes that are too big will let in more water than you want. While there should always be a thin layer of water between your foot and the neoprene, there should not be so much water that it weighs you down. It will be difficult to find your balance like that, and you won't be able to perform to the best of your abilities.
Value
A stellar pair of wetsuit boots can cost you upwards of a $100, and depending on your skill level, as well as your personal needs, you may or may not be ready to pay as much for this product. Beginners and enthusiasts who only get to participate in sports such as surfing, kayaking, snorkeling or diving may find that a cheaper product will work out just as well for them, giving them the basic protective features.
Professionals, however, may choose to opt for more high-end products that are made with durable materials, fit features that make them easy to put on and off, as well as special additions that go hand in hand with certain pieces of gear such as scuba fins, etc.
The list above gives you several options for all budgets, but what will actually determine how long your boots last is the type of care you give them. They're relatively easy to keep clean and lasting long - all you need to do is rinse them with some fresh water after wear, and store them in a place where they can properly dry, but without being exposed to direct heat.
Top 10 Picks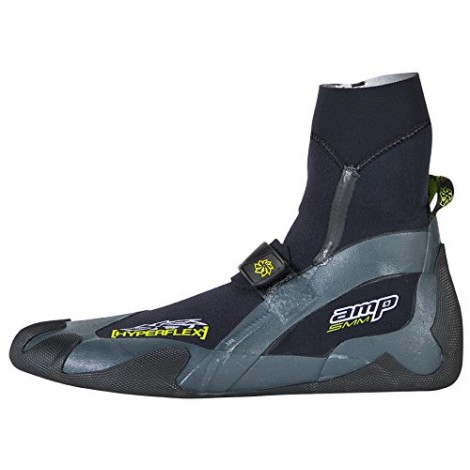 The Hyperflex AMP is designed to keep you warm and supported all throughout your ride. It is made out of 5mm neoprene with added AMP foam, has a diamond skin sole which increases traction and ensures the best board feel, and it also has an exo-shell and membrane for maximum fit and adjustability. The seams on the Hyperflex AMP are double-glued and blind-stitched in a way that does not puncture the outer layer of the neoprene. This design also sports a P4 thermal lining made out of microfiber fleece. Truly, there is hardly an option out there which isn't more decked out in special features, though not in a nonsensical way. The Hyperflex AMP has been carefully envisioned and put together, and it is truly an outstanding design!
AMP Foam
While neoprene in itself is a pretty durable material, the Hyperflex AMP goes a step further, in adding AMP foam to the regular material. This ensures that the neoprene has improved warmth and durability, while at the same time retaining the flexibility needed for a maximum range of motion and control.
P4 Thermal Lining
To boost the insulating features, the Hyperflex AMP comes with a special lining made out of feather-soft microfiber fleece. This adds extra cushion and comfort to the design but also boosts its heat retaining properties.
Cost and Value
After reading all of this about the Hyperflex AMP, you might be concerned that a design this advanced might come at a steep price. And that could not be further from the truth. In fact, we are quite shocked at the reasonable, middle-ranged price of the Hyperflex AMP. If you are drawn by its many advantages, you will definitely not regret going for this great, affordable option!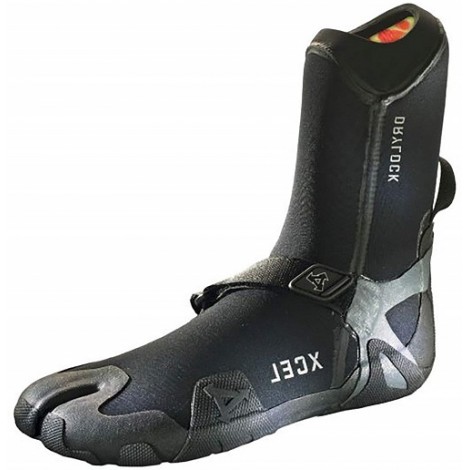 The Xcel Drylock doesn't come here to play. This technologically advanced design features the revolutionary TDC (Thermo Dry Celliant), the warmest lining currently available on the market. The Drylock also has an ergonomically angled Velcro strap and special ankle seals for a comfortable fit. It is made out of 3mm 100% UltraStretch neoprene, and has a thin, albeit a durable sole. The seams on this option are blind-stitched, glued and taped over, and even the back ankle loop is pressure bonded to the upper, to keep the warmth in and the water out. The Xcel Drylock is one badass wetsuit bootie!
Thermo Dry Celliant
The warmest inner lining in the world is made from mineral-enhanced smart fibers. What these actually do is that they convert body heat into infrared energy - this means that the Xcel Drylock provides more warmth, increased endurance, quicker recovery and a better performance overall.
Sole
We have already mentioned that the sole of the Xcel Drylock is thin. This enables you to have a better board feel and a better grip. However, the sole is also thick enough to prevent any leash hang-ups that might happen during your surf time.
Cost and Value
The Xcel Drylock is a bit higher in price, compared to most other designs in this guide. However, it is still not outrageously expensive, and for its cost, you get quite a handful of original technologies and design choices, all of which come together to provide you with the best surf experience.



Perfect for a range of water sports where one needs to stay warm, the Gul Dura-Flex T2 is one remarkable design. It is made out of 5mm thick Dura-Flex neoprene and boasts a Titanium T2 lining. It has a side zip with a free flex heel for ease of entry, and, of course, a blind-stitched seam construction. The heel and toe are reinforced for added protection, and there is an adjustable strap at the top which, together with the T2's snug fit, minimizes water ingress. On top of all of this - or rather, at the bottom - is the sole which is rippled in design for solid grip.
Dura-Flex Neoprene
D-Flex neoprene is 50% stretch neoprene. It is flexible, as in it you will have no problems with moving around, it will keep you warm even in cold water, and it is durable, allowing you to perform for longer.
Titanium T2 Lining
Gul uses this special Titanium T2 lining in most of its water gear products. It acts similarly to a survival blanket, in the sense that it reflects body heat back to its source, thus preserving your core temperature for extended periods of time.
Cost and Value
We actually can't believe the low price of the Gul Dura-Flex Titanium T2. With all of the features it has and the special materials it is constructed of, its cost is nothing short of marvelous. If you feel like this round toe design might be good for you, definitely go for it, as you won't even feel the dent in your budget!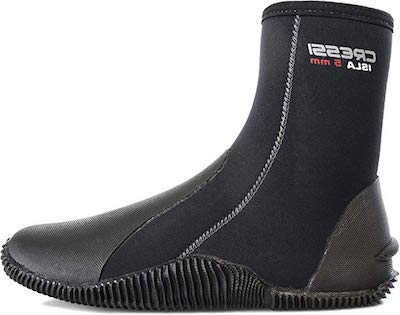 Cressi is an Italian company that specializes exclusively in scuba diving and snorkeling gear for all levels of experience, from amateurs to professionals. Their Isla Tall boots come in two thicknesses, so you can chose the level of insulation you need for the activities you're about to take on: it's available either in a 5mm or 7mm thickness, and is made with super flexible neoprene that won't restrict your movement, no matter what activity you're taking part in.
Fin Strap Holder
One of the great things about this boot is the built in fin strap holder located at the back of the heel that will prevent your fins from slipping off at the worst possible moment. While it's a handy feature to have on your boots, you won't feel it while participating in sports other than snorkeling and diving, as it doesn't influence the fit, or create unnecessary bulk.
Ribbed Rubber Sole
The outsole on these is made with flexible rubber that's been specially designed to perform on wet surfaces. Not only will it protect you from sharp rocks, but it'll also keep you steady on your feet when you're outside the water. This makes the Isla Tall appropriate even for surfing or sailing.
Cost and Value
This is an averagely priced product that's a good investment for anyone looking for an all-over great product. You'll definitely get a comfortable and secure fit, along with a few basic features that'll make your life easier.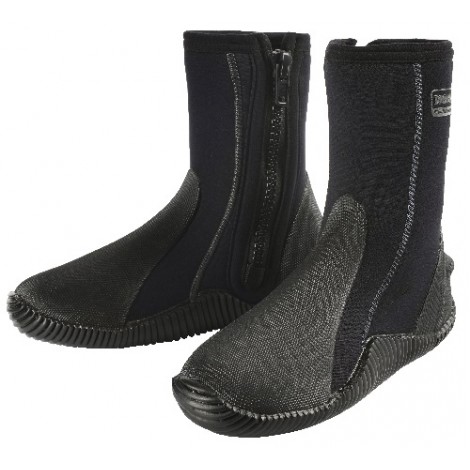 Typhoon is a company founded over 70 years ago in the United Kingdom. It is a leading manufacturer of watersports gear, and especially famous for its revolutionary dry suit designs. However, as our topic today are wetsuits, the Typhoon Surfmaster II is a great, well-rounded option for when you are looking for a sturdy, uncomplicated design. It is made not out of 5, not out of 7, but out of a 6.5mm thick neoprene, which is ideal for when you find the 5 too thin and the 7 too bulky. It has a vulcanized sole, as well as a curved zip. As additional features, the Typhoon Surfmaster II sports a fin block retainer and top reinforcement for bonus protection.
Vulcanized Sole
Vulcanization is a process of adding specific chemicals, such as sulfur, to rubber and then heating it. This increases the strength of the material, as well as its durability. The most important thing is, in the case of the Typhoon Surfmaster II, that this type of rubber doesn't weaken in wet conditions.
Curved Zip
We admit that having a zipper in the side can be somewhat uncomfortable. Depending on the design of the shoe, it can end up digging into your skin and causing discomfort, or even pain, especially if it is more rigid. However, the zipper of the Typhoon Surfmaster II is curved and flexible, effortlessly moving with your foot, and thus elegantly side-stepping this issue.
Cost and Value
Since the Typhoon Surfmaster II comes from a company which is renowned in the diving community and unflinching in its innovation, we expected the price of this design to be high. However, it turns out it is one of the cheapest options on this list, and now you can too enjoy these functional, comfortable boots without breaking your budget.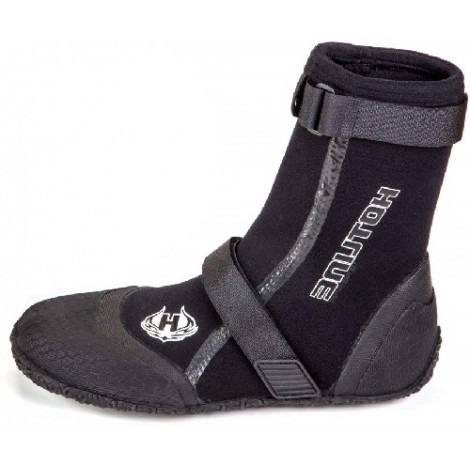 In our guide, we have covered split toe designs and round toe designs - but now, get ready for an option which has both! The Hotline Reflex is made out of 5mm neoprene, with an internal split toe, invisible to the eye, and round toe protection. It is put together with heat reflective metalite glue, has a high traction sole and durable rubber reinforcements on the front and at the heel. Wide base and foxing stabilizers provide a secure footing, and the Reflex is also outfitted with a shin and a foot strap for extra stability. After trying out this unique design, surfing will never be the same again!
Internal Split Toe
One of the key issues with split toe designs is that they lack protection, and cannot preserve heat very well. None of this is a problem with the Hotline Reflex, however, as it provides you with all the dexterity and board control of a split toe, as well as the protection and heat conservation of a round toe.
Straps
There are two adjustable straps around the shin and across the instep of the Hotline Reflex. These bring you an added layer of safety, and you can be sure that you will feel supported and stable every step of the way in the Hotline Reflex!
Cost and Value
The Hotline Reflex is neither cheap or expensive. If you are not sure whether to go for a split toe design or for a round toe one, then this option is the perfect compromise! Try it out, and see if this unique combination works for you.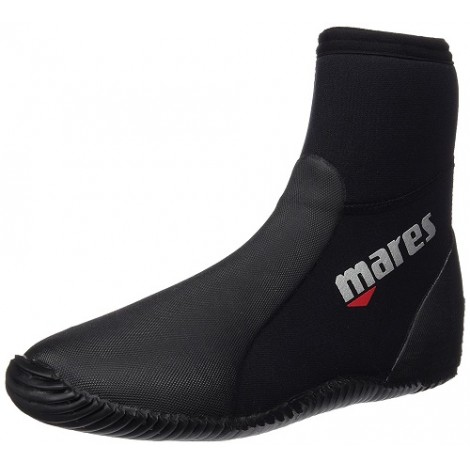 While so far we've considered designs for any type of water sport, now we're diving - pun intended - into something more specialized. The Mares Classic Dive is, as its name suggests, a model created for diving. It is made out of 5mm neoprene, and it has an anti-corrosive zip in the side both for a snug, comfortable fit and for a quick and easy way to get inside the shoe. The molded sole of the Mares Classic Dive is carefully constructed to allow for maximum comfort and movability when a fin is strapped on, and there are also anti-abrasion panels both over the top of the foot and over the heel. Enjoy the underwater wonders with the new Mares Classic Dive!
Fin Friendly
The sole of the Mares Classic Dive is contoured, meaning that it provides comfort and support to the wearer's foot. However, there is also a raised section of the sole which helps keep the fin strap in place. You no longer have to worry whether or not you will lose your fin as you explore the beauties of a coral reef!
Anti-Abrasion
The anti-abrasion panels on the top of the Mares Classic Dive are there to increase the durability of the design, but also to help your foot grip the fin pocket. Those same panels over the heel also protect the neoprene from the fin strap and ensure additional support.
Cost and Value
The Mares Classic Dive is not an expensive option. At first glance, it may seem simple and unimpressive, but it has actually been carefully constructed to provide the best diving experience you could have. It will keep you warm, safe, and will help you with the fit of your fins. Overall, a great choice!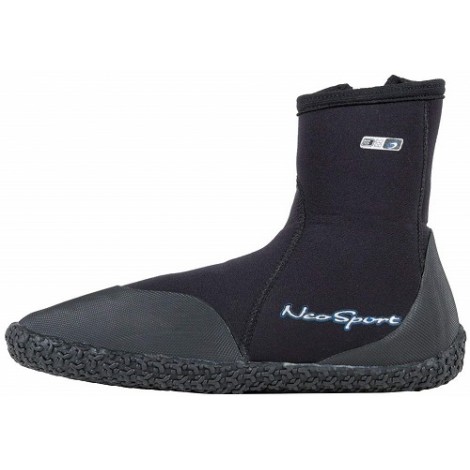 Among all of these high-powered choices with many new and revolutionary features, we will now take a step back and breathe out in relief, for the Neo-sport Premium is a refreshingly simple design. This a standard, neoprene boot, offered in all the different thickness options (3mm, 5mm, and 7mm), though that is not to say that it is inferior in any way. The Neo-sport Premium has a double-glued and sewn construction and a puncture resistant sole. It comes with a heavy-duty zipper on the inner side, which has a water entry barrier. Regardless of what your activity is - whether surfing, kayaking, snorkeling, or even just for swimming in cold water - this design has your back!
Zipper
Instead of painstakingly pulling the boot onto your foot, it is ridiculously easy to get in and out of the Neo-sport Premium thanks to its sturdy zipper in the side. This closure also has a water entry barrier, to prevent water from leaking in through the closed zipper while you're enjoying your swim.
Puncture Resistant
It happened to all of us - rocky beaches, challenging reef terrain, or even a hidden urchin or a spiky fish - too often when we go barefoot we can get hurt by surprises embedded in the ocean floor. However, the sole of the Neo-sport Premium is puncture resistant, meaning that in it you will be safe and protected no matter where you decide to go.
Cost and Value
Given that it is not as high-tech as some other designs in this guide, it is not surprising that the Neo-sport Premium belongs in the lower range of cost. If you are not interested in anything special and are just looking for a solid, simple option to take with you on your next vacation, then these booties are perfect for you!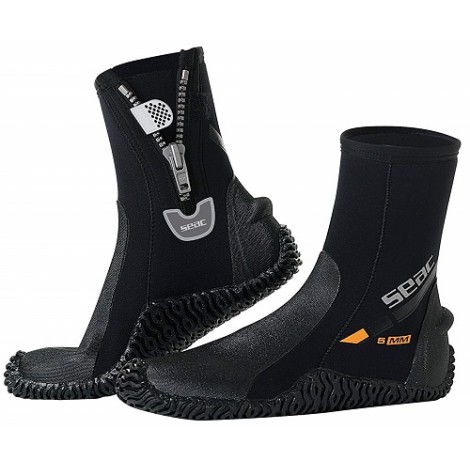 The Seac Basic HD design is a standard 5mm neoprene thick scuba boot. It has a zipper in the side with a velcro fastening at the top to stop it from sliding down, a semi-rigid sole which offers high traction, and an instep cushioned by polyurethane padding. As an extra detail, there is a strap-stop notch on the heel so that you can be sure that your fin isn't going anywhere while you're exploring the vivid ocean floor, and there is also a soft nylon lining which ensures that your feet are comfortable. Nothing about the Seac Basic HD is flimsy or thin, as it is a heavy-duty design which will keep you warm, protected and comfortable all throughout your adventure.
High Traction Sole
When you are venturing into the unknown, and aren't sure what type of surfaces you may find yourself on, it is a useful thing to have a sole which has your back no matter what. This is the case with the Seac Basic HD, as its high traction sole ensures a good grip and superior stability on any surface.
Protection
We can't stress enough the importance of safety and protection. While diving is certainly fun and exciting, it is also a sport where you need to be careful, as even a tiny misstep can result in injury. The Seac Basic HD has bonus protection on all the parts of your foot that are more subject to knocks, and you don't need to worry about hurting yourself in these.
Cost and Value
While it may not have any special buttons and dials on it, the Seac Basic HD is still a sturdy option. We love all of its features to keep your foot protected from the elements and dangers of the ocean, while at the same time you don't have to sacrifice warmth or comfort. What's more, the Seac Basic HD is quite an affordable design, making it a great deal overall!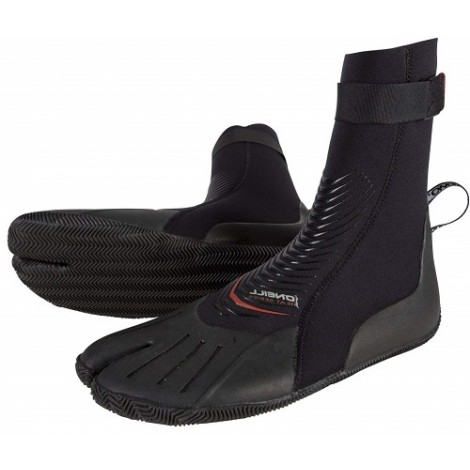 When it comes to water gear, there is hardly a manufacturer which can outshine O'Neill. Their suits and footwear are widely sought after, and the Heat split toe design is no different. This bootie is made out of 3mm 100% FluidFlex Neoprene. It has an ankle strap which prevents flushing, and glued, blind-stitched and taped seams to keep the water out. With this premium line of products, O'Neill aims to provide maximum support and heat retention in the harshest of conditions. Find out for yourself why the Heat is everyone's go-to choice, and a perfect addition to everyone's water sports equipment.
FluidFlex Neoprene
The FluidFlex technology is unique to the O'Neill brand, as this company takes pride in their innovation and technology advancements. FluidFlex neoprene is a material with high stretch abilities. At the same time, it is ultrasoft for the skin and uncharacteristically affordable.
Seams
The seams on the O'Neill Heat are finished in such a way that they don't allow even a drop of water to pass through. They are blind-stitched - meaning there are no stitch holes on the outer side of the neoprene - but they are also glued together and taped, to make 100% sure that there is no flushing.
Cost and Value
With all of what it is offering, the O'Neill Heat is actually quite an affordable design. It comes from a well-known apparel and footwear manufacturer, and it has been tried and tested by so many people over the years, always yielding positive reviews. You certainly won't go wrong if you choose the O'Neill Heat.

Subscribe to our Newsletter