Best Velcro Sneakers and Velcro Shoes Reviewed
In a
Hurry? Editors choice: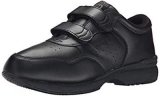 Test Winner: Propet Life Walker

We can all agree that walking in shoes makes life so much easier. While thousands of years ago, humans walked without shoes – such a lifestyle really isn't feasible anymore. That's why one of the most saturated industries is the shoe market. There are hundreds of different reputable shoe companies – and many more trying to make it. Now, one of the most competitive types of shoes out there is Velcro shoes. Not only are they one of the classic designs – but they are also one of the most comfortable.
Standout Picks
Criteria Used for Evaluation
10 Best Velcro Shoes
1

. Adidas Climacool Knit Golf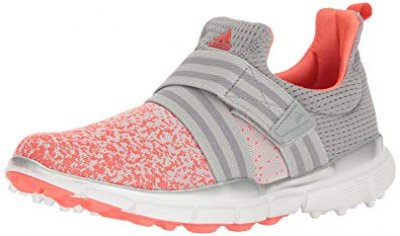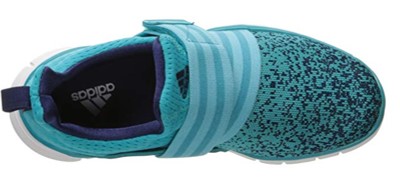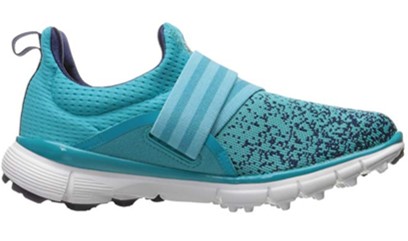 Our top pick is for those who want the convenience of a Velcro closure, but the athleticism of a quality brand sneaker. The Adidas Climacool Knit Golf merges those characteristics in one stylish looking and functional sneaker. Three hot color options make it easy to select one you'll be impatient to put on your feet for your next outing. With breathable knit uppers and cloud foam insoles, these running shoes will keep you running long after the competition has dropped off.
Circleknit uppers give the Adidas Climacool Knit Golf a lightweight aspect, as well as keeps the sneaker breathable. And, although the sneaker is designed for golf with lateral support and stability, it makes for a great casual shoe or workout shoe in general as well, since it's a spikeless sole. Stretchy knit comforts your entire foot to keep you cool, supported, and going for that extra round or two.
The Adidas Climacool Knit Golf uses a Velcro strap to give saddle support, enhancing stability and lateral side support. A cloud foam insole makes every step padded with cushion and will have you feel like you're walking on cloud nine. The wider midsole-outsole platform provides increased stability, acting as a base for your swing. For those in search of an athletic sneaker that uses Velcro to keep you snug and secure, the Adidas Climacool Knit Golf is a great option to consider. Designed with the golfer in mind, but suitable as a general athletic sneaker, it uses firm Velcro closure, breathable knit material, and cushioned cloud foam insoles to keep you riding in comfort all day long. Quite a bargain for the cost, it's a top pick on our list!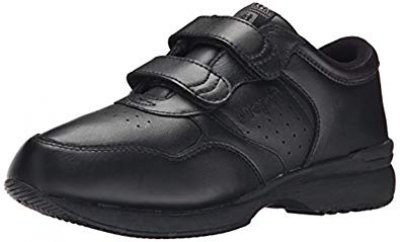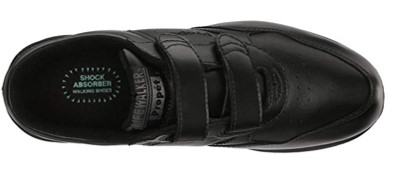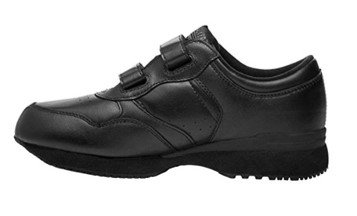 The Propet Life Walker is a Velcro sneaker shoe that those who need adjustable fit will love. Dual hook and loop closures seal with Velcro straps, giving it an adjustable width and fit. In addition, it's packed with stabilizing features to support and comfort you when walking. A sturdy sole maintains traction in the elements and on varying terrain, so you can step confidently to your destination.
The dual strap Velcro closure gives the Propet Life Walker a great adjustable fit so that you can tailor the width and snugness to your liking. The synthetic sole is great for long periods on your feet, with a thickness to help cushion footfall but also stabilize you. A contoured heel is built into the shoe as a stabilizer so that you can walk to your heart's content!
Inside the Propet Life Walker is an Ortholite insole, consisting of a top layer of memory foam. Cushioned and padded, you'll be taking stride after stride without pain or restriction. Leather uppers make these durable and easy to clean, and a brushed nylon lining helps provide some moisture-wicking capability and gives a soft foot feel. Similar to many on our list in terms of cost, the Propet Life Walkerare solid Velcro shoes for those concerned with adjustable widths in their footwear. Great for those with edema, the dual Velcro closures allow you to customize your width, and the tightness of fit. With plenty of stabilization features, you'll be high stepping it to your next adventure!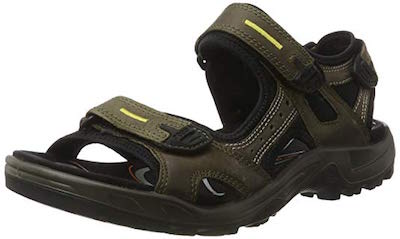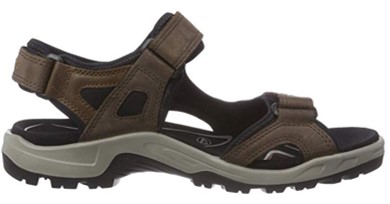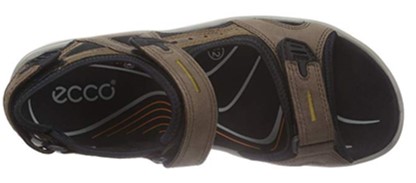 The Yucatan is ECCO's most popular hiking sandal, and one of the highest-rated pairs of summer hiking footwear overall. It's a style that was made for anyone who wants a sturdy but lightweight pair of Velcro shoes, and it will easily become one of your favorite items in your closet, considering the technology and comfort features included. As for looks, it gives you plenty of choices, seeing that the nubuck leather upper comes in a wide variety of color options.
The Yucatan is a sandal that is fully adjustable for the ultimate fit. Three points of closure allow you to customize the fit in the metatarsal area, around the ankle, as well as at the back of the heel, and the fact that these are all velcro straps means that adjustments on the go are quite easy. The nubuck upper is durable and supportive, even during taxing physical activities.
As for comfort features, the Yucatan offers a lot - from a stretch lining, to the cushioned dual-density foam midsole and stabilizing platform, you will want to wear this sandal as often as possible. The outsole was designed to work on challenging trails, which translates to aggressive lugs and slip-resistance. The cost is higher than most products listed, but if you're after a great pair of footwear, it's definitely recommended.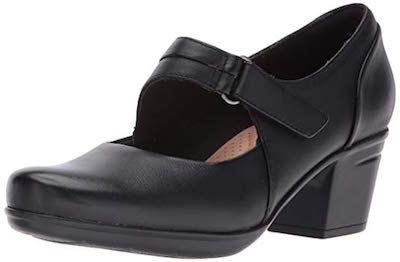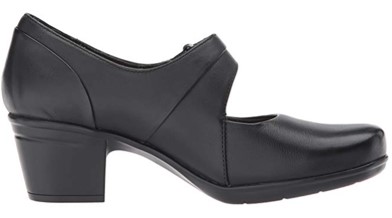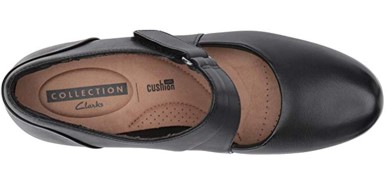 When you think of hook and loop closures, dress shoes and high heels rarely come to mind, but Clarks has managed to design a pair of Mary Janes that look amazing, and offer you all the benefits of this easy to use closure. The Emslie Lulin is a leather shoe ideal for both casual and professional wear, and it comes in a single color option - black. In true Clarks fashion, you can choose from three available widths, while the 2 inch heel provides the perfect amount of elevation, without causing pain or discomfort.
The upper of the Emslie Lulin is made with 100% leather for a customized fit that allows plenty of air flow, and molds to the foot with wear, creating a shoe that feels great, even during longer periods of wear. The adjustable hook and loop closure allows you to get the ideal amount of support over the top of the foot.
The best part about this pair of Velcro shoes is the Ortholite insole that's cushioned and absorbs shock from impact, while a Clarks Cushion Soft insert is added in the forefoot to reduce pressure on the ball of the foot. The TPR outsole is durable and does well in most conditions, and the chunky heel doesn't sacrifice stability, which is a huge plus.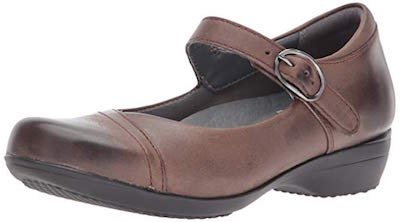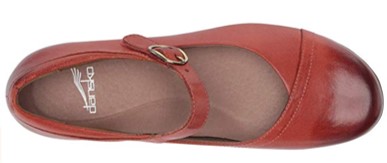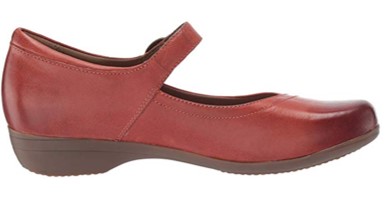 If you're after a pair of flats that don't look like they have hook and loop closures at all, but still allow for easy on and off, as well as quick adjustments during the day, the Dansko Fawna is highly recommended. This flat Mary Jane is a great pair of shoes that are stylish yet comfortable, and can be worn on a variety of occasions. It comes in five color options, so you can easily go with the one that will work best for you.
The Fawna uses velcro, but masks it with a decorative buckle, meaning that only you will know how fuss-free these actually are. Being by a reputable brand who make sure their footwear is healthy for your feet, you will benefit from a sole that supports the arch, and has the APMA seal of acceptance for promoting foot health.
This pair of Velcro shoes is supportive, thanks to the internal shank, but also the removable footbed that hugs the arch and cushions each of your steps. The textile lining is soft to the touch and allows a good amount of fresh air to reach your feet, and the rubber outsole performs well on all surfaces, including wet conditions. As for cost, the price of this model is comparable to the more expensive models listed here, but Dansko shoes are known for their quality and comfort, which makes the Fawna a good investment.

6

. Skechers Afterburn M. Fit Strike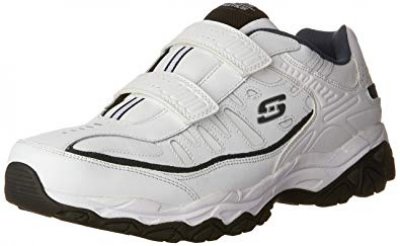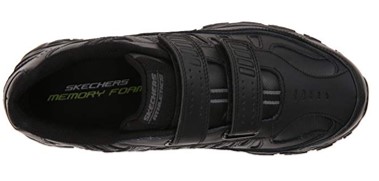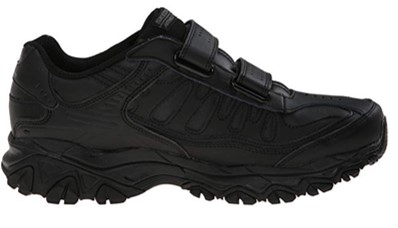 Skechers made the Afterburn M. Fit Strike On for the walker in mind, who appreciates the ease of a Velcro closure, and the comfort of a quality insole and sole for being active. With a mix of leather and textile uppers, it's durable, and lugged outsole provides great traction in any kind of weather. It's time to step up, strap on, and get going with these Velcro shoes!
The Skechers Afterburn M. Fit Strike On utilizes a dual hook and loop closure to snuggly secure you inside the sneaker. Using Velcro to keep these straps shut makes them adjustable and easy to fit, giving you control over the width and tightness to your liking. Padded tongue and collar give plenty of protection against rubbing, and provide comfort during your walks.
With its synthetic sole, the Skechers Afterburn M. Fit Strike On will keep you stable and with a firm grip on the ground, especially with lugged base for uneven terrain. Leather and textile uppers give it flexibility and durability, and some breathability as well for hotter days. With a couple of color options, you'll find one great to go with your workout gear. Similarly priced to others found here, it's averagely priced for a pair of Skechers brand shoes. Comfort, stability, and easy Velcro closure make this sneaker a no-brainer for those wanting adjustable fits and an athletic sneaker. It's a great option to consider when evaluating your next pair of Velcro shoes.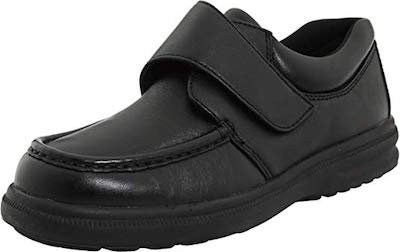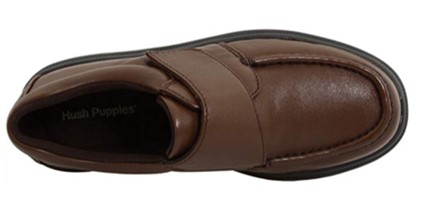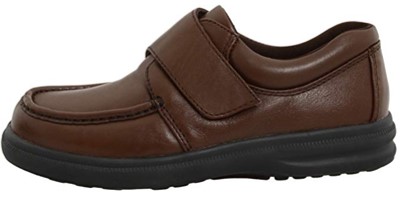 A sneaker you can wear to work, the Gil by Hush Puppies is a pair of footwear made for ultimate comfort and ease of use. This simple style is designed so as to provide wearers with a no-fuss, all-season shoe that comes in three different widths and three simple colors: white, tan and black. You can pair these with jeans or trousers, and may even want to wear them with shorts.
What has made Gil such a well-loved shoe is the fact that the materials used have been carefully thought out - from the soft, full grain leather upper, the generous foam padding around the collar, the durable velcro closure that makes on and off a breeze, as well as the lightweight materials in the sole that won't cause fatigue. Another great addition is the mesh lining that wicks away moisture, allowing you to wear these all day, without having to worry about foot odor.
The cushioning and support offered by this model are at a high level - the removable footbed is contoured so as to hug the foot, but it can also be replaced with custom orthotics. The outsole is flexible and gives great traction on most surfaces, and you won't have to worry about the fit, as the toe area is roomy enough to encourage the natural splaying of the toes. In terms of cost association, this is an averagely priced pair of footwear that will serve you well and should last a considerable amount of time, so if you're after something that is healthy for your feet, it's definitely highly recommended.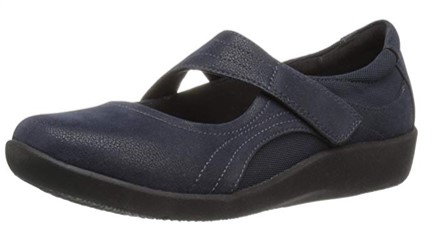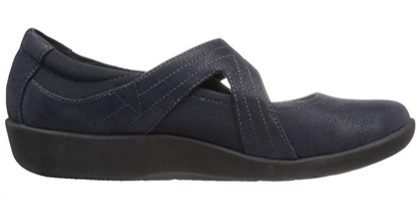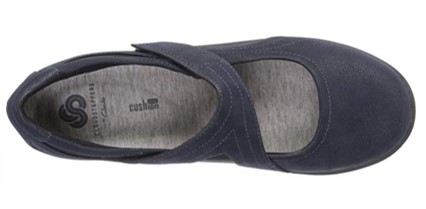 Clarks is a brand well known for its cushion and support built into superiorly crafted footwear, and the Sillian Bella is an option for those who simply prefer the ease of a Velcro closure. It's an adorable mary jane style of flat, with several varieties of colors to select, making it versatile for anything in your wardrobe! With Ortholite footbed for cushioning and textile uppers for a breathable shoe, it's sure to be perfect for work, casual, or play.
The Sillian Bella has uppers of textile material, allowing air in and out of the shoe to help cool feet and keep them dry. A padded collar helps prevent any blistering from walking longer durations of time, and the single Velcro closure makes them a snap to get on and off. Decorative stitching lines the outside of the uppers giving it a little bit of style sense, and it comes in a number of hues from neutrals like tan and black, to darker red and olive.
Inside, you'll find an Ortholite footbed, which pads each step in soft cushioning, along with Clark's Cloudstepper cushioning for an amazing on-foot feel. The Sillian Bella has a slight raise just over an inch, and the rubber sole will help provide traction on a variety of surfaces. Rounded toe allows for even greater room for those with wider feet, as well as proper toe splay when walking about. Its style is suitable for nearly any kind of event, making it a versatile shoe to add to your collection!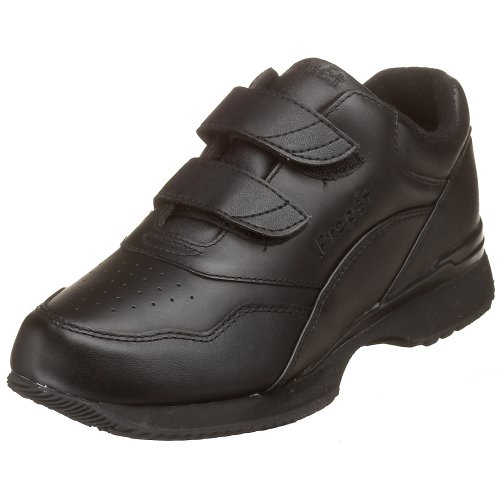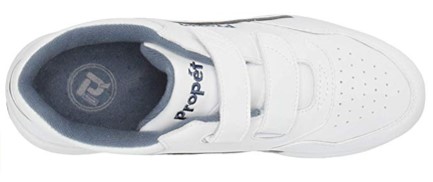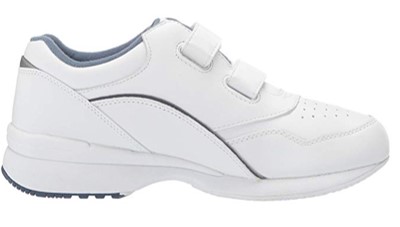 Today, consumers around the world are flocking to try the Propet Tour Walking Strap Sneaker. Now, you might be wondering, what makes these Velcro shoes so special? Well, once you get a glimpse of the types of materials the manufacturer used, alongside the support innovation and over 13 different color options -you might just understand as well. Let's explore some more!
This biggest selling point of this brand's product is how well the interior of the shoe is designed. I mean, the whole point of a shoe is to walk comfortably, right? Well, this brand carefully padded the insole of the shoe, alongside providing ample cushioning and protection in both the toe and heel region.
If you want to know if a shoe is high-quality, look at the outsole. This product is constructed with a high-quality rubber bottom, which helps with traction, control, and even stability. So, if you are looking for a pair of shoes for walking or work, this can rise to the challenge, and more! As far as cost and value are concerned these shoes are probably the cheapest on the market. Now, before you are quick to judge this – as many consumers do, you must consider the value of the shoe. To date, these might just be the most comfortable walking Velcro shoes on today's list, thanks to the comfortable padded insole and support embedded into the heel and toe portion of the shoe.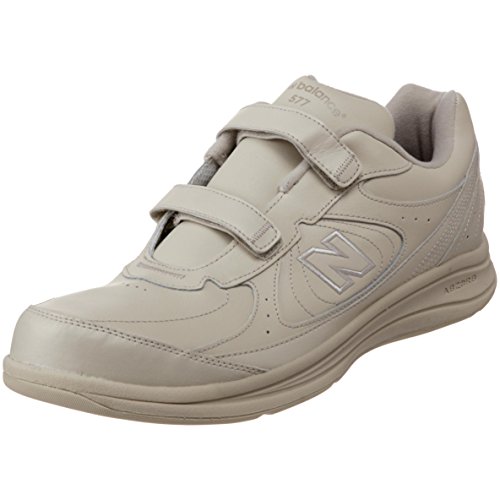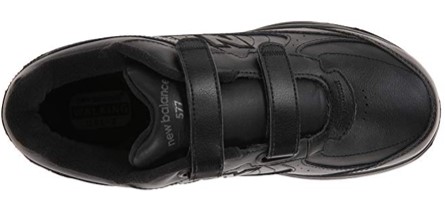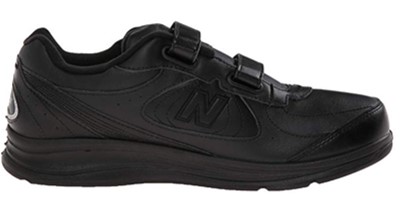 If you are looking for a pair of Velcro sneakers for life's special journeys, the New Balance 577 Hook and Loop are ready for you. Not only is this product made by one of the most infamous shoe manufacturers in the world – it's one of the most popular models to date. Packed with value and features, let's check out a few product highlights.
When it comes to the shoe industry, it's vital that companies take the time to make their products different. Otherwise, all shoes would be the same, right? Well, this specific brand decided to make their product in five different color choices for consumers, ranging from black to white to even a bone color.
When it comes to purchasing a pair of shoes, it's important to always assess the value of the shoe. When it comes to this product, the maker took the time to ensure that this product would last for many of life's big event. This can be directly attributed to the high-quality leather and rubber outsole. So, whether you enjoy walking around stores or work on your feet, these can handle it all. When it comes to the cost and value of this product, we can say that they are priced relatively competitively. In other words, this product is valued at a fair market price. However, the biggest thing that we would like to highlight is the immense value embedded in these shoes. I mean, if you are purchasing a product from this brand, you know what you are getting.

Subscribe to our Newsletter