Best Shoes for Gout Relief Reviewed & Rated
In a Hurry? Editors choice: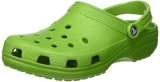 Test Winner: Crocs Classic Clog

Caused by uric acid crystal build up in the joints, gout is a form of arthritis that affects a large number of people. Fortunately, there are ways you can alleviate and prevent it from flaring up. Along with diet and lifestyle changes, the footwear you sport can help
when you are suffering
from a case of it or trying to prevent the painful episodes. The list below looks at the
best available footwear
for the condition, carefully chosen so that it doesn't cause any pressure on the sensitive parts of your feet.
Standout Picks
Criteria Used for Evaluation
Top 10 Picks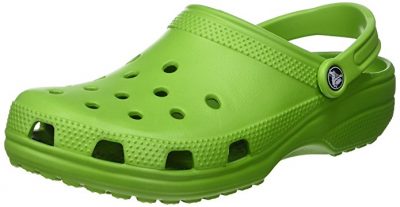 Perhaps one of the most recognized shoes is this classic style by Crocs. While most people did not give them much credit at the beginning of their entrance onto the fashion scene, they are now widely known for their podiatric abilities. These shoes are lightweight, extra roomy, promote great airflow, and easily cleanable. They won't create any pressure points and are a great choice for when you have achy feet.
One thing people who have this condition need is a wide shoe. These are extra roomy by natural design. You should have no trouble allowing your foot to take proper toe splay or room for swelling. The sole of the Croc is made from ultralight Crosslite patented foam. It absorbs all of the impacts from your steps and prevents the energy from entering your feet and joints.
For such a high ranking and highly-reviewed shoe, the Crocs are an excellent value and price. You can wear these shoes all day and not experience discomfort. Even in cold conditions, you could wear them with socks, thus making them an almost all year shoe. You will get your value for these shoes as they make a perfect companion for the beach, running errands, working around the house, etc.




While these are somewhat crazy looking because the sole is tapered underneath the footbed, they are highly reviewed for the great impacts they can have on the feet and joints. They absorb much of the shock from each step, they cushion the foot, and they are super lightweight. Oofos is a company that has taken the footwear world by surprise with all of the benefits their shoes bring to the forefront of therapy shoes.
The sole material of these flip flops absorbs around 37% more impact and shock than other materials used in shoes. This helps the pressure from entering into the foot and hitting the joints. These shoes are widely known to soothe and invigorate the feet thanks to the foam technology that is integrated into these shoes. A foot that is in pain only wants a shoe to take the pressure off of it; this foam does that.
These shoes are a little bit higher priced than some of the shoes in the category. However, these come highly recommended by many podiatrists for the benefits they have to offer. They can be a lifesaver for someone plagued with gout as well as many other foot ailments.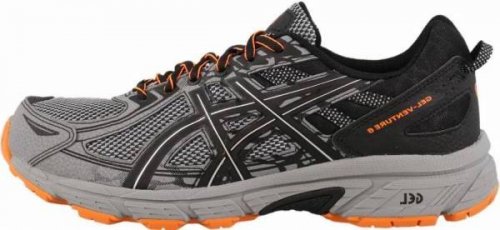 The Asics GEL-Venture 6 is an excellent all-around running shoe. It features a gel cushion in the heel for added comfort. The The Venture 6 is a versatile shoe, equally suited for pavement or trail running. The outsole has special lugs designed to promote traction and ASICS uses their patented AHAR technology to increase the durability of your shoe.
The Asics Gel Venture 6 is one of the most comfortable shoe in this review. It comes with a gel cushion for the rear of your foot that came definitely help when you need some extra support.
The Venture 6 looks stylish, plain and simple. It has great design and beautiful lines to complement the great fit. Add to that a wide selection of color combinations, and you have a shoe that's built to be noticed.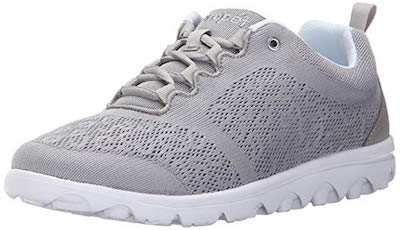 Made by a company entirely focused on providing wearers with comfortable, stylish and health-focused footwear, the Propet Travelactiv is the perfect choice for those who happen to lead active lifestyles, and prefer lightweight options that are made in sensible color options and with simple designs (unlike a large portion of running and athletic footwear available). This sneaker comes in a wide variety of color options, all of which look great, but give you the required features you need to battle your discomfort.
Made with a knit, mesh-like synthetic in the upper, this shoe has numerous openings that allow fresh air to reach your feet, as well as moisture to escape. This results in a summer-appropriate sneaker that'll do great even if you happen to work up a sweat. In addition to a cushy rubber outsole that gives plenty of traction, you'll also benefit from a removable footbed that ensures you can use your custom orthotics with these sneakers. It also means you can change your insoles regularly (every 3 months are recommended by podiatrists).
With a price that's affordable to almost anyone, the Propet Travelactiv is the perfect alternative to expensive sneakers by leading running shoes, seeing that it provides the same type of upper, has a functional outsole, and can be entirely modified in the footbed to provide you with the level of cushioning and support you prefer.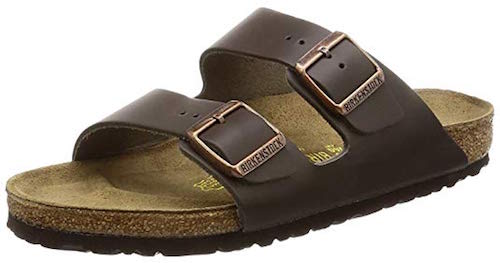 Choosing an iconic brand such as Birkenstock means you can't go wrong with your footwear choice. They are ubiquitously known for dependability, durability, and comfort. The shoes have their industry leading cork footbed that molds to your individual foot shape. This is great for someone suffering from this painful condition as it fully supports their specific foot and pressure zones.
The soles are engraved and provide a stable step every time. The cork is slow to wear so you can get many miles out of them. The sole of the shoe is good on most surfaces, however, it has a tendency to be slick on dirt or sand.
The straps of the Arizona style are going to be soft against your skin. They are a thick leather which means they will not cut into your skin either. Simply adjust if your foot is swollen and the straps will rest comfortably on your foot. Birkenstock shoes cost quite a bit, especially compared to other sandals. Nonetheless, if you opt for this brand, you are getting a durable, comfortable, and anatomically correct pair of footwear that's highly adjustable, and can last for years. Best of all, it can even be resoled if you find that you're in need of some renewed support.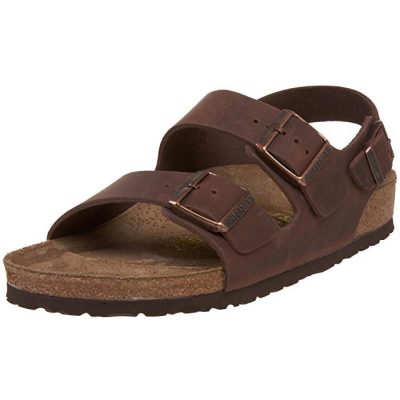 There are not many companies more recognized in the shoe industry than Birkenstock. They have been a top shoe manufacturer for hundreds of years. They originally formed in Germany and have built a name based on quality and dependability ever since. The iconic design is what helps them to stand apart from the crowd; however, the shoes have many benefits that most people are unaware of.
Cork is known to be antimicrobial and malleable. Once this footbed molds to your individual foot shape, you will have one of the most comfortable steps for the duration of the shoe. All three straps on this shoe are adjustable. This is a great feature because a healthy foot can fit normally in it, but when you suffer from gout and swelling, you can loosen the shoe to fit comfortably around your foot.
Birkenstocks are a highly-reputable company with terrific shoes. Some people have had their "Birks" for years with proper care. However, they do cost a bit more money up front than some of the other shoes in the category. Furthermore, the cost is offset as to how long the shoes last. Plus, once they mold you can wear them every day, add socks if in cold weather.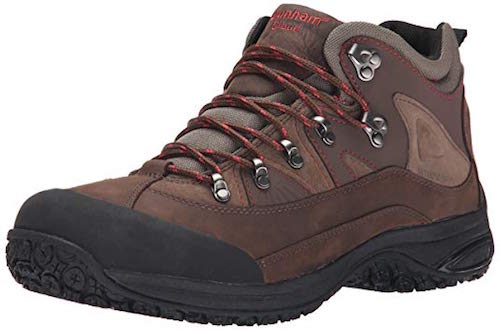 Not everyone lives in hot climates, and, unfortunately, this condition doesn't choose who and when to affect. If you need a pair of shoes to get you through an episode in cold, rainy or snowy conditions, then you need a pair of boots that'll protect your feet without constraining your already inflamed joints. This is a hiking boot that's available in four width options, so you can rest assured you'll find the perfect width for you.
The upper of the Dunham Cloud is made out of full grain leather that's rough to the elements, but will easily adjust to your feet. Additionally, this shoe is seam sealed, so as to give you a pair of footwear you can wear in rain without having to worry about having soaked feet.
The footbed in these boots is made out of molded EVA and memory foam, which completely adjusts to your feet. However, if you find that you need something different in terms of support, you can easily remove it and replace it with your own custom orthotics. Furthermore, being removable, the footbed will also be easier to keep clean and fresh.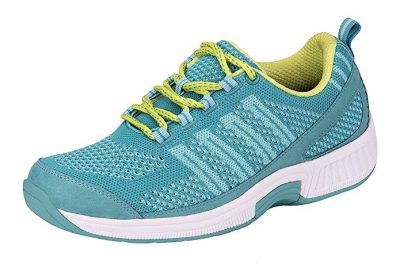 A trusted name over many years for shoes that really feel like they are helping your feet is Orthofeet. These athletic walking shoes will surely help ease the symptoms you're dealing with and hopefully even prevent them. While being helpful, they are also attractive and look like a regular sneaker. This gives you the opportunity to wear them every day.
To help reduce any feeling of pain, these shoes have a fantastic insole with great arch support. Both the arch and heel pad are soft and plush, allowing them to give you ideal orthotic support. Soft, non-binding upper has a wide toe box and large depth. Soft, seam-free padded interior lining eliminates pressure points and offers superior comfort and protection for sensitive feet.
These shoes are definitely at the higher end of the purchase range. However, they are a great shoe that is highly acclaimed and podiatrist recommended for numerous foot issues. They can be worn every day as they have an attractive design style. While it may be a larger cost up front, they will more than get used to recoup the value.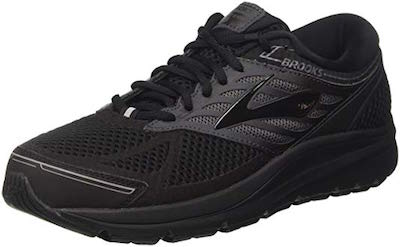 A motion control running shoe for road conditions, the Brooks Addiction 13 is actually one of the best athletic pairs of footwear you can invest in if you happen to suffer from swelling and joint pain. It's made by one of the most reputable running gear manufacturers in the world, and provides a cushioned but stable ride both for running, as well as for walking and daily wear. It even features a simple design with sensible color options, so that you can wear it at work.
What makes the Addiction 13 such a good choice is the roomy toe box, breathable mesh upper and moisture-wicking lining that ensures the best possible temperature control you can hope for. The midfoot area features synthetic overlays for improved support and stability, while the collar and tongue offer a padded, soft feeling that won't cause additional pain.
The Addiction 13 protects you from shock with the aid of BioMoGo DNA midsole cushioning that will adapt to your weight and way of walking. An Extended Progressive Diagonal Rollbar ensures that you walk properly, evenly distributing pressure on the correct parts of the foot to prevent misalignment and pain. Above average in terms of price, the Brooks Addiction 13 is a great running shoe for those who like to lead an active lifestyle, or who don't have to wear formal footwear on a daily basis. It's one of the highest quality motion control sneakers out there, appropriate for those with a low to medium arch who need a shoe that will help correct overpronation.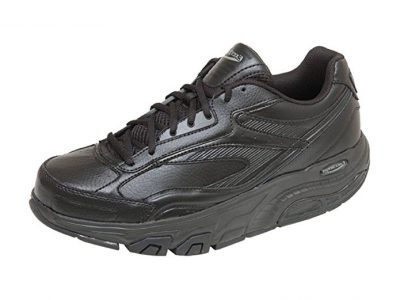 Upon first glance, you can tell these shoes have some major padding and spring back. The sole is a generous thickness that helps you to feel supported and cushioned as you walk. They have a soft leather upper which will keep your foot stabilized and add resiliency to the shoe. Leather has been used in goods for hundreds of years because of its ability to be long-lasting.
For ultimate shock absorption, the midsole has to be strong. This shoe has a strong inner midsole that really strengthens the entire shoe. It also provides stability. This shoe has a soft and cushioning sockliner that moves with your feet. You will feel like you have a sock on instead of a shoe. It also adds to the flexibility of a shoe which is important.
These shoes fall right in the middle of our price range. That makes them a purchase that can fit into just about all budgets. They are a nice looking shoe that is comfortable; which makes them a good choice to become an everyday shoe. They provide good traction and foot support. Finally, being made from leather you can expect them to be durable.

Subscribe to our Newsletter