10 Best Shoes for Arthritis Reviewed & Rated
In a Hurry? Editors choice: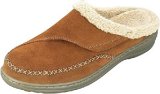 Test Winner: Orthofeet Asheville

Nearly 350-million people worldwide suffer from arthritis, a quarter of which are children, while 60% are women. More than half of the full number is people under the age of 65, which means that if you suffer from this condition, you are definitely not alone.
If you are in need of any help to choose the best shoes for arthritic feet for your specific needs, in this buying guide you will find a list of the best options available for any occasion
– from home or casual use, to more
sophisticated dress shoes
, to athletic footwear that you can wear for your more strenuous activities, such as walking, running or other types of exercise.
Standout Picks
Criteria Used for Evaluation
Size
About half of the thirty plus joints in your feet are located in the metatarsal and the toe area, meaning that if you have arthritis in any of these, you are most probable to experience swelling and pain from the slightest touch. When choosing your next pair of everyday shoes for arthritic feet, you need to think about how they are going to hug this area of your feet, and how much motion the chosen footwear is going to allow for. Even for people with completely healthy feet, wearing shoes with narrow toe boxes (especially pointy toe shoes) is a surefire way towards bunions, hammertoes, corns, and blisters. What you need to look for in your next pair, instead, is a wide toe box that will allow enough room to wiggle your toes, that will not put unwanted pressure on any part of your forefoot, and that is deep enough so as not to rest on any joints. It is, also, a good idea to go a width or even a size up when purchasing shoes, as you want to both eliminate pressure but, also, to accommodate any swelling that may occur.
Heel
High heels are out of the question if you suffer from arthritis in your feet. Even if you have absolutely healthy feet, podiatrists don't recommend wearing high heels for more than three hours per day and more than two days in a row. With a heel height of over 1 ½ inches, you put unnecessary pressure on the balls of your feet, increase the bend in the foot joints, shorten your Achilles, and distribute your weight in a way that is unnatural, bringing your knees, hips, and lower back out of alignment; thereby, creating room for a variety of joint issues down the road.
Skip any high heels if you suffer from arthritis but, also, make sure that the shoes for arthritis you opt for will provide an adequate drop in height. Makers of athletic shoes will always list the drop of the shoe, so you can look for that in order to ensure you are choosing a correct fit. Furthermore, what you want, in addition to a correct heel-to-toe drop, are shoes that are secure, that won't jam your fingers in the front (like high heels do), that will provide plenty of arch support, and that will cup your heels; so, they are completely secure when walking. If you work at an office or are attending a special event, opt for formal flats instead of high heels or sandals. Just be sure that they are wide enough in the toe area and are made out of a soft and flexible upper.
Materials
One of the most important qualities you want to look for in your next pair of shoes is a high quality upper that is soft, flexible, and allows for a good range of movement without constricting, pinching, or rubbing your feet in any way.
The ideal shoe will be made out of a soft and flexible upper – canvas, mesh, or knit. Certain types of leather can, also, be a good choice, provided that they are soft enough to mold to your feet – you can ensure this by taking some time to break in your shoes, choosing an appropriate length and width, and by treating the leather with the correct nourishing products that will make it more supple and keep it from drying out. Some makers are using new and innovative materials that are specially chosen due to their flexible and soft traits, such as the neoprene upper in the Propét Cush'N Foot which was developed with arthritic feet in mind.
Padding is another crucial feature, as you want both the over and underfoot parts of the shoe to be soft. Gel or silicone inserts in the forefoot and rearfoot areas are an excellent addition to have in your shoes, but so are memory foam features that can be found in the insole and, also, in the collars of some shoes. With the right amount of padding, you can ensure the footwear you wear day in and day out do not have any hard surfaces that could be causing unneeded pain to your already irritated joints.
When speaking about the collar of your shoe, it is important to mention that this needs to provide plenty of padding so that it does not rub your feet the wrong way, especially if your ankles are suffering from arthritis. In addition, if you are getting lace-up shoes, you should consider opting for footwear with a padded tongue which will prevent the laces from cutting into your feet and causing irritation.
Another thing to look for in the upper of your next pair of shoes is a seamless design which means that there is no stitching exposed inside the shoe that would create bulk and that could possibly cut into parts of your feet. ASICS and Orthofeet models offer this feature and are an excellent choice for a pair of shoes that will serve you well and with comfort.
Midsole
Rheumatologists agree that what is below your feet is just as important as what is on them. That's why choosing footwear with the correct type of sole is crucial. A perfect pair for arthritic feet will have durable, grippy outsoles that work well on all surfaces (inside and outside). They will also have a cushioning midsole that has shock absorbing properties, and that offers plenty of support for your foot type and pronation tendencies, as well as, an insole that is cushioned to make your daily steps as comfortable as possible.
The most important of these properties are provided by the midsole which acts as the part of the shoe that will make sure the balls of your feet, your heels, ankles, knees, and hips do not have to suffer too much stress when walking or exercising. Most midsoles, today, will be made out of EVA foam, which is excellent for this use, as it's durable but provides just the right amount of softness to take the stress off your joints. Furthermore, much of the supportive properties of shoes come from the midsoles, so if you tend to overpronate (or underpronate for that matter), the midsole can help with ensuring the correct alignment you need to keep weight distributed over the whole foot and to reduce the pressure on the ankles, knees, heels, and toe joints.
Another aspect that the soles of your shoes will greatly contribute to is the weight of your shoes. What you want is footwear that is light – not only will this allow you to walk longer distances, but it will, also, lower the pressure that is put on the upper part of your feet when taking a step. Running and athletic shoes are an excellent choice, as they are always weight-conscious and will aim for an as little load as possible. An added bonus is that they will usually have woven uppers that are breathable and flexible so as to accommodate the shape of your feet.
Ease of Use
Although a considerable portion of people suffering from arthritis in their feet is under 65 years old (almost half), it is still important to note that this condition can, also, mean a limited range of mobility. That's why it's important to consider how easy or difficult it can be to put on a pair of shoes. Some users may find laces too fidgety, which is why sandals or hook-and-loop closures are a good choice. So are slippers and slip-on shoes that do not require too much motion to be used.
If you are choosing a pair of shoes for someone who is elderly, has just had surgery, or is overweight, it is best to opt for these types of shoes; so, they can use them with ease and with little help from others as possible. Also, it isn't a bad idea to purchase a long shoe horn, as this will minimize movement and make putting shoes on that much easier. Additionally, if available, you might consider shoes with heel pull tabs; albeit, shoe horns are probably the best bet.
10 Best Shoes for Arthritic Feet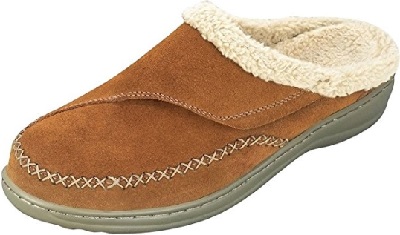 If you suffer from foot, heel, arch, knee, and back pain you need to check out the Orthofeet Asheville slippers. These shoes for arthritis offer special features that are meant to alleviate the discomfort that comes from wearing the wrong shoe. They are extremely soft and will form-fit to your foot due to the high-depth hook-and-loop closure.
The seamless inside features a premium orthotic insole that gives excellent arch support. The cushioning heel pad even further adds to the comfort. With all of these cushioning additions in the insole, you don't have to worry about sore spots on your feet as you walk.
The lightweight sole offers air cushioning that was biomechanically engineered to alleviate stress on your joints. It also helps to promote a natural gait that will help with over-or-under-pronation issues.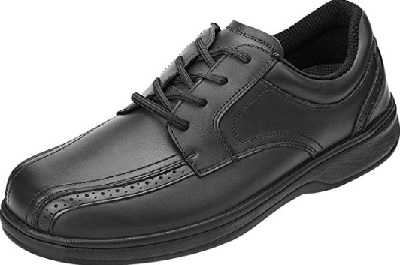 These dress shoes are ideal shoes for arthritic feet for people dealing with this kind of pain. They have extra depth, a wide toe box, can accommodate orthotics, have a leather upper, and are non-binding. Furthermore, these utilize the Ortho-Cushion™ system which works to soften each subsequent step and, additionally, add a bit of spring for easier gait management. This is, definitely, worthy of adding to your footwear collection.
This pair is made with extra depth and can, also, accommodate orthotics. In other words, this footwear has a design to aid those dealing with arthritic pain.
Sometimes, arthritis can lead to major swelling and discomfort. The wide toe box is a great choice in preparing for these uncomfortable moments in which some of us may face.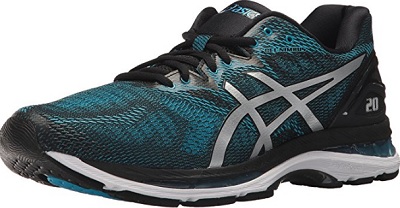 This pair of running shoes is the best in the ASICS GEL-Nimbus line which has been around for a long time, with improvements being added with every new release. These are made according to the high standard we have all come to expect from ASICS, and they feature excellent cushioning and a superior fit that was made with runners in mind. Although you may not be looking for shoes for athletic pursuits, these sneakers are an excellent choice if you suffer from arthritis, as they absorb shock, have a flexible upper, and gel cushioning inserts.
This pair of ASICS running shoes features the special Rearfoot and Forefoot Gel Technology which was designed to lessen the shock your feet suffer from walking or running. In addition, the midsole utilizes FluidRide technology which is not only light but, also, increases responsiveness. These are excellent for those who tend to underpronate or have a neutral movement (high and normal size arches).
The materials used in the construction of these do not include any bulky seams that could lower the comfort level or cause any sore spots. In addition, the upper is made out of a flexible material called FluidFit upper, which will adapt to your feet, as needed.




The Vionic Tide II are a pair of flip-flops which you wouldn't think of as the best footwear for someone with arthritis, but according to some research, this kind of footwear can actually eliminate some stress from the joints. If you find this type of footwear good for your condition, then you want to check out this pair.
These use EVA foam midsoles that provide shock absorption and cushioning. In addition, they feature a biomechanical design that will hug your arches and provide you with plenty of support. The TPU outsole is excellent for various types of terrain, as it gives enough grip on most surfaces.
The upper of these flip-flops are made out of woven fabric and leather, but the star feature here is the lining which is soft and provides additional cushioning. What it will do is to reduce the pressure you feel on the tops of your feet, making them perfect for prolonged periods of wear.

5

. Brooks Addiction Walker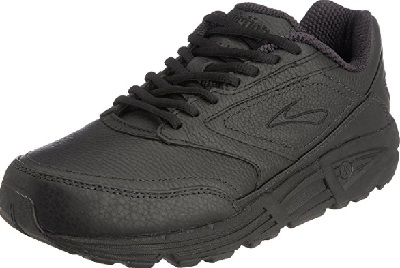 This pair of supportive, sensible walking shoes is an excellent choice for anyone who overpronates. They are great for arthritic feet because they give you a superior fit with plenty of cushioning, so there are no pressure points that may be causing you additional pain. These are podiatrist and chiropractor recommended for people with alignment issues, so you may find them helpful if, in addition to arthritis, you suffer from these ailments.
These feature Brooks' forefoot MC Pod construction which enables you to stay balanced on your feet. Furthermore, the soles have non-slip features, which makes your stride not just comfortable but, also, safe.
The midsoles of these walking shoes give them just the right amount of cushioning for day-to-day wear. With excellent shock-absorption features, they will keep your joints, knees, and back protected; even if you have to walk long distances throughout the day. A special bonus is the energy return which is provided by the specially designed midsoles.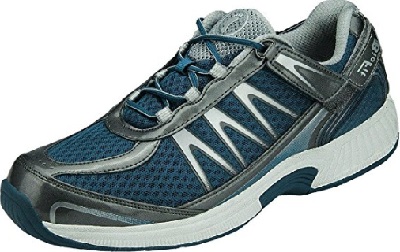 This pair of premium shoes with orthotic inserts, anatomical arch support, and cushioning heel pads was made to conform to your feet with every step you take. It's excellent if you suffer from arthritis in the feet, knees, hips, and back, as it was made to alleviate any pain that may come from prolonged periods of walking. These are, also, suitable for diabetic users, as well as, those suffering from neuropathy, plantar fasciitis, Morton's neuroma, bunions, corns, and other foot-related problems.
These are excellent for keeping you pain-free, as they offer plenty of room in the toe area, as well as, a seamless interior design that is guaranteed to keep you from feeling pressure on your metatarsal area which often suffers the most.
These sneakers feature the Ortho-Cushion™ system that is a lightweight cushioning sole for maximum shock absorption in the heel and forefoot area. In addition, they have energy-returning features that will keep you moving more easily, even after a full day on your feet.

7

. Rockport Cobb Hill Paulette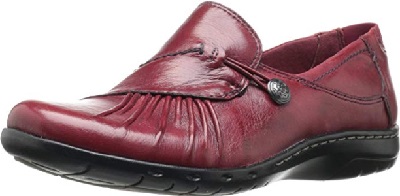 This is a pair of women's loafers that you can easily wear to the office if you need a pair of sensible but stylish shoes. Not only do they offer great comfort, even if you plan on doing lots of walking, they will, also, last you a long time with users having reported of owning them for over five years. They are especially popular among women who suffer from any type of foot pain, including arthritis and plantar fasciitis.
On the inside of these, there is a removable EVA foam footbed that offers comfort and support. Even if you need to use orthotics in your other footwear, you may find that the arch support provided by the Rockport Cobb Hill Paulette is enough. If not, just remove the insoles and substitute them for your own.
The upper of these is made out of full-grain leather which means they are durable, breathable, and will mold to your feet with wear. In addition, the inner lining is manmade and is soft to the touch. Also, the collar is soft, which eliminates any discomfort caused by rubbing.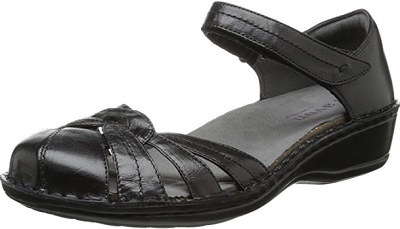 This pair of sandals is an excellent choice of footwear to all women who suffer from arthritis but want a pair that can be worn with various outfits. The fact that they are open means that you get a breathable shoe for the summer months, and the adjustable hook-and-loop closure can accommodate all feet, even if you suffer from swelling.
This pair provides excellent shock absorption and cushioning, so you can wear them all day long. The footbed is made out of EVA and cork, and is removable should you need to use custom orthotics in these sandals.
The straps of these sandals are made out of goat leather that is lined with breathable microsuede. What this means is that you will remain abrasion- and- blister-free, even if you choose to wear these for longer periods of time.



If you won't let your arthritis ruin your plans to take a stroll or a run through the woods, then the ASICS GEL-Venture 6 are the runners for you. A gel-infused midsole dissipates shock and helps prevent the pain experienced by those with arthritis, sore heels or most other medical conditions. Further, the removable sock liner permits the wearer to insert an orthotic or other type of insert.
The High Abrasion Rubber Outsole offers unparalleled grip and traction, regardless of terrain. Whether you live in downtown New York City or up-state New York, the Gel-Venture 6 works almost anywhere. Take them off-road, on-road or anywhere else you desire!
The style and clean lines found in the Gel-Venture 6 are great for runners that are also fashion-conscious. You can pair them with running gear, athleisure wear or even casual styles. A great pair of shoes for different activities, wear them running or walking around town.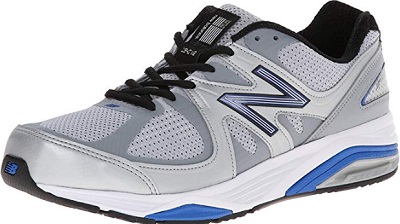 This is a motion control running sneaker designed for athletes, and you can take full advantage of the superior technology it uses to achieve the best possible performance. These are an excellent choice because they feature plenty of soft padding, in addition to foam midsoles that will absorb shock as you walk or run. The upper is stretchy, which makes them perfect if you suffer from any pain in from bunions or in the toe area.
The heel of these features a roller posting system that is meant to control the way in which you plant your feet. As it reduces rearfoot movement when walking and running, it will keep you more stable on all your walks and runs.
The upper of these is made of synthetic and mesh and is excellent because it stretches easily; accommodating all foot types, regardless of width or special characteristics, such as bunions. In addition, the collar features dual-density foam to give you even more comfort while wearing these running shoes.

Subscribe to our Newsletter