Best Boot Socks To Add Layers To Your Look Reviewed
In a Hurry? Editors choice: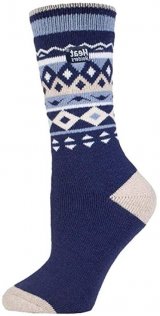 Test Winner: Heat Holders Lite

If the world of boot socks is unknown and strange to you, but still attractive and something you're interested in, allow us to be your guide and help you choose your brand new pair. Or maybe you just need a new pair of boot socks and are unsure where to look.

Either way, we are sure our list will be helpful, and a perfect guide through the warm and vibrant world of boot socks. For those who are already aware of the secret formula for a perfect outfit, we've prepared some socks that will help you meet your perfectionist taste, but this time, with increased attention to the quality as well.
Standout Picks
Criteria Used for Evaluation
Materials
The materials used to create boot socks can vary a lot. These materials are in the form of yarn because it's very easy to knit yarn together to create a good product. Usually, only six types of yarns are used in the sock industry (95% of socks are made out of these materials), and those are cotton, polyester, nylon, spandex, wool, and bamboo.

Cotton is the most common fiber used. It is soft, light and comes from the cotton plant. Cotton is breathable and strong and absorbs colors well, so you have plenty of choices.

Polyester is man-made, and it is the most used synthetic material today. Polyester is known for its moisture-wicking properties, drying much faster than natural materials and keeping you safe from sweat and odors. It's also very washable and resists wrinkles.

Nylon is also a man-made material but it differs from polyester. It's much more elastic, and it retains its shape better. Also, it has more strength while weighing less!

Spandex is a synthetic material that is very durable. It is resistant to natural body oils, so it won't break down as easily as others. What makes it remarkable is the fact that it can be stretched for over 500% of its original length without breaking apart!

Wool is what was originally used to make socks. It can come from a variety of animals, usually goats or sheep. It offers a lot of protection in all seasons, and it keeps us dry and warm in winter. Not only that, but wool is a good option for summer as well since it is wonderfully moisture-wicking and can keep you cool in high temperatures.

Bamboo is a material that is, believe it or not, even softer than cotton. But unlike cotton, it lasts much longer. This is because the threads used are very strong, just like Bamboo itself. It also has silk-like properties, because it is very smooth and light.

Boot socks can also be made from materials not listed here, but we thought that listing the most common ones can guide you on your way to owning a perfect pair!
Style
Today, socks come in various styles.
The earliest sock was invented by the Greeks. They were called piloi and were made out of matted animal hair. Since then, the sock has evolved a lot, and today, we have a whole world of different sock designs made to fit every kind of foot. The most common sock styles today are as follows:
 
Ankle Height - These tiny creations are usually worn during the summer and with low-cut footwear. As the name suggests, they reach your ankles, and that's about it. These are a great choice for casual opportunities, worn with loafers or any other type of informal footwear.
 
Quarter Height - These peek just above your ankles and stop before your shins. They provide better coverage while protecting you from blisters and shoe bites. They go along with informal footwear, best worn with sneakers.
 
Crew Height - Your new best friend when winter starts to knock on your door. Great for hiking, running, and other outdoor activities. Depending on how tall you are, they can even reach halfway up your calf muscles.
 
Mid-Calf Height - These truly do come to the middle point of your calves, no matter your height. Usually made out of wool or other warm materials to keep you safe and warm.
 
Calf-Height - As the name suggests, these cover your calves completely and keep the lower part of your legs insulated. Sports people adore them because they offer the best kind of protection.
 
Knee Height - These are mostly a favorite among women, worn under tall boots to offer even more protection and heat. They also cushion each and every step you make, thus making wearing shoes an easy job.
 
Thigh High - This is as long as a sock can get without turning into tights! They hug your whole lower leg up until the halfway-up point of your thighs. Usually used as a fashion detail by women, worn under skirts.
 
Slip-On Paddings - Last but not least, the tiny paddings are a great partner to formal footwear where you don't want to go barefoot, but wearing regular socks would make it uncomfortable or distasteful.
Fit
We have all seen many different boot socks in our lives, and without a doubt worn and gone through just as many.
Usually, aside from their colors and design, what makes one boot sock stand out from another is their knit pattern. The knit pattern is the way the threads on the clothing are woven together to create a single piece. It can vary a lot, ranging from different ways they are knit to create a pattern to the way each section of a sock is made.

Double-pointed needles are the most common choice of weapon used to bring boot socks to life. They eliminate the seams from the toes and heels, which creates a more comfortable fit. The toes, and sometimes the heels, are brought together using the kitchener stitch. The kitchener stitch is subtle, almost invisible.
Now, each sock is created the same way, starting from the top. The cuff is the starting point of each sock, and usually has the same amount of stitches as the rest of the product. Elastic threads can be worked in in this part, providing a snug fit.

Some boot socks may be topped with lacing or other types of decorations, and some are left bare.
The heel is the next part that is created and can be the same color of the sock, the same color of just the toes of the sock, or a completely different color altogether. The instep comes next, and that part connects the whole construction together. The foot is the bottom of our socks, that keeps us warm. The toes finalize the whole item and bring it all together, which leaves us with one perfect sock.

All of these things can affect the way our boot socks fit on our feet, and different knit patterns make different fits!
Versatility
As we have already mentioned, one of the most important purposes of boot socks is keeping our feet warm. But, that is not the only benefit provided.
Odor prevention is another key aspect. Our feet have a lot of sweat glands, and this article of clothing, in particular, absorbs all of that liquid and helps prevent smelly feet. This is great when combined with anti-bacterial linings because that way you are extra safe.
Disease prevention is also an important benefit. Boot socks keep us less exposed to diseases such as Athlete's foot or other types of fungi that can spread from foot to foot at places like public showers, pools, or the gym.

They also help us prevent foot pain. This is because they protect us from the harsh ground, its surface and various sharp and dangerous objects lurking out there. This is emphasized when you wear them with proper shoes - going barefoot does seem like a nice idea, but it carries plenty of perils!
And of course, boot socks make us look stylish. We can achieve this by combining them with various pants, skirts or dresses, no matter if they match the color completely or not.
Insulation
The main purpose of boot socks is making us feel warm and toasty.
The very first version was created in the 8th century by the Greeks, and it did not look like our modern day ones at all. However, it had the same goal as ours today, and that is to protect the skin on our feet and to make it balmy.
In today's more modern styles, various designs provide varying degrees of warmth, and that all depends on the type of material they are made out of.
Boot socks came to the scene when we realized that regular designs do not provide enough heat when the weather gets cold. So, combined with hiking or working boots, or even snow boots, these make the interior feel like an oven - which is a good thing during winter, since otherwise, we risk numbness in our toes, and even frostbite!


There are some specially designed boot socks to give the feeling back to numb, poorly circulated toes and feet. They are thick, usually made out of wool, and stretchy enough to be worn over regular pairs, making even the coldest of feet bounce back to their regular temperature.
All in all, warmth is one of the most important features, and should be sought after even when it gets a little bit sunnier outside!
Our Favorites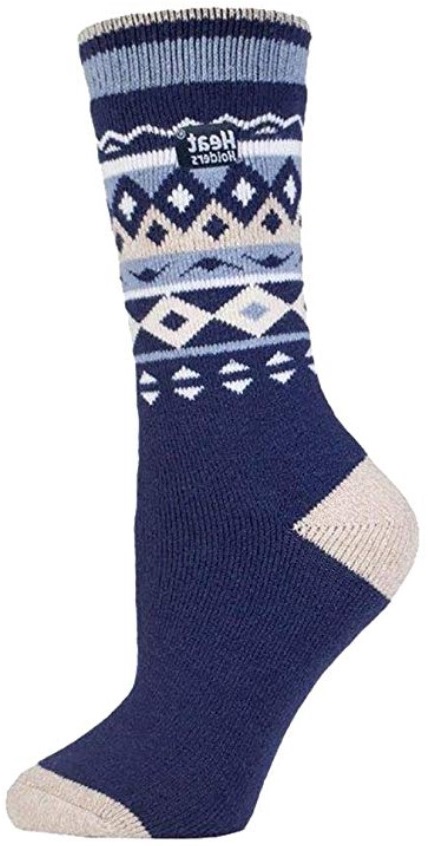 Heat Holders ventured out to create a warm, insulating boot sock that is not thick, heavy or bulky. And thus, we present you with their creation - this casual, Lite design! They developed a special thin yarn that provides high-performance insulation combined with moisture-wicking capabilities and enough airflow. The socks are also infused with intricate patterns, decorating your feet and fluffing up your outfit. Now, you have a great, warm pair of boot socks which is thin enough to be worn with almost anything!
The innovative minds of this brand didn't stop there - they produced unique, extra long looped cushion piles that work on holding in extra warm air. An expert brushing process further increases the warmth each individual sock provides, for toasty feels and comfortable walks. They even hired scientists to prove that these truly are five times warmer than your regular, basic cotton sock.
 
Last but not least, all of that yarn is colored differently, used in different combinations and bonded and looped together to create a whole palette of vibrant designs and trendy colors! You have a lot to choose from, as Heat Holders made sure you have a pair of boot socks that can match any design you have hiding in the closet!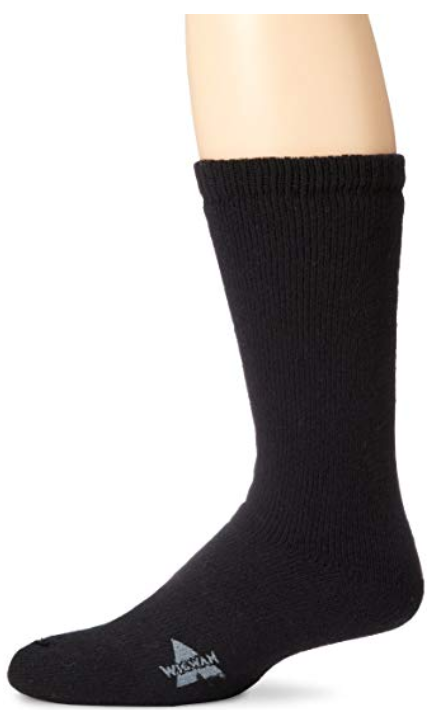 Wigwam is a company that was brought to life 110 years ago, and they spent all of that time perfecting the craft of making socks. They are a USA based company, and they use domestic yarns with the highest quality, ensuring you get the best kind of socks there are. Due to that, each pair is stamped with a Lifetime Guarantee. The Wigwam 40 Below will be your new best friend as soon as winter starts knocking on your door. A blend of wool and stretch nylon make their boot socks durable, while also cushioning your feet and your legs.
40 Below are heavyweight, because a cushion is present throughout their whole length, keeping you balmy and happy. The blend of the aforementioned yarns extend the life of the sock significantly, so you don't need to worry about losing them to your washing machine or boots too fast. The loops of wool yarn also act as insulation, trapping in the heat to keep you warm, while resolving extra moisture and humidity.
 
These boot socks are machine washable, so you don't need to waste any time cleaning them by hand. The top of the sock is reinforced with elastic, ensuring you don't lose them somewhere inside your boots. The toe seams are low profile, keeping you safe from blisters and irritation! They come in neutral colors, so no need to worry about vibrant patterns peeking out of boots, if that is not your thing.
All in all, the Wigwam Below 40 is an ideal boot sock for cold weather and cushy comfort.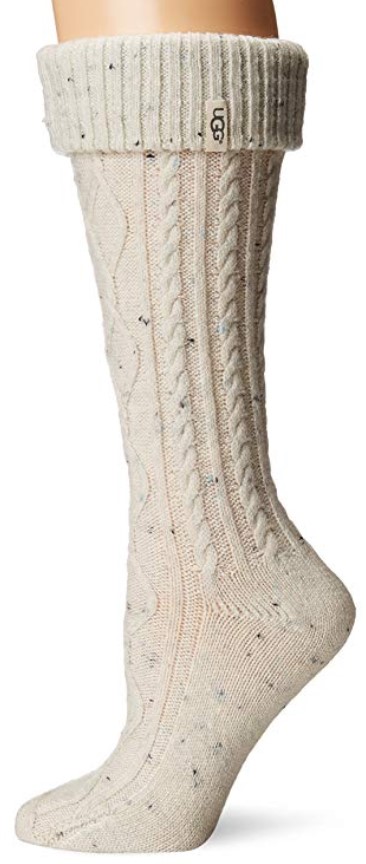 If you're surprised about seeing the well-known UGG brand in our guide - don't be! Other than producing cute, high-quality footwear, the brand also deals with boot socks, footwear cleaning products, and even warm insoles! The UGG Shaye is a cozy knit design meant to go over a rain boot, but thanks to its easy wear and versatile construction, it goes well with any other type of boot as well!
The Shaye is made from 46% acrylic for moisture-wicking and a dry, healthy environment. 30% nylon increases the durability of the design, as well as its colorfastness. For even more moisture-wicking and a soft, cozy feel there is 23% wool, and 1% spandex keeps everything stretchy and form-fitting. The Shaye is machine-washable and effortlessly easy to pull on.
The overall design of this sock reminds us of fluffy blankets, steaming cups of tea or hot chocolate, and crackling fireplaces. With the Shaye, you can be as comfy and as warm as you'd like in your favorite rain boots or a different type of boot altogether! There's nothing the Shaye boot socks can't match!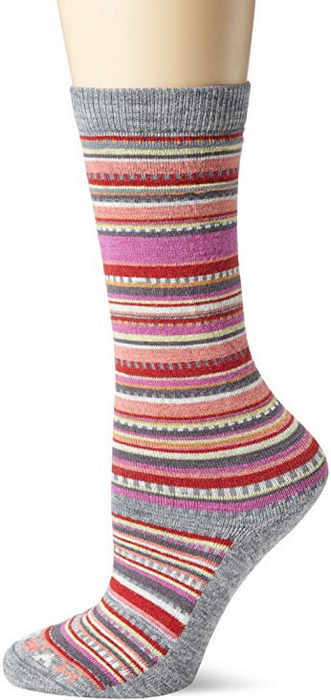 The Miley collection by Wigwam perfectly combines comfort, durability, warmth and cute, flirty colors! These boot socks are a blend of merino wool, nylon, and spandex, ensuring you get all the benefits of each and every thread that was used to create them. You can even machine wash them - worry-free! The merino wool makes them soft and fluffy, all while caressing your skin gently. Besides feeling like a cloud hugging you, they also bring you heat and keep you safe from the mean cold and its nasty bites.
Compared to regular wool, Merino wool will not feel itchy, and you won't feel like you're wearing a cactus! The Miley is lightweight but also durable, so you get long-lasting boot socks that will not feel overly-heavy or warm. They will not shrink after repeated washing, so you have a true fit every time you decide to wear them.
 
Combining both fashion and function, the Miley will last you a long time thanks to those nylon fibers. Your feet will get the air they need, and all of that while looking cute and colorful! The Miley is crew length so you get enough coverage and protection, and the top features an elastic seam that will keep them where they are supposed to be - on your legs, not scrunched up inside your boots!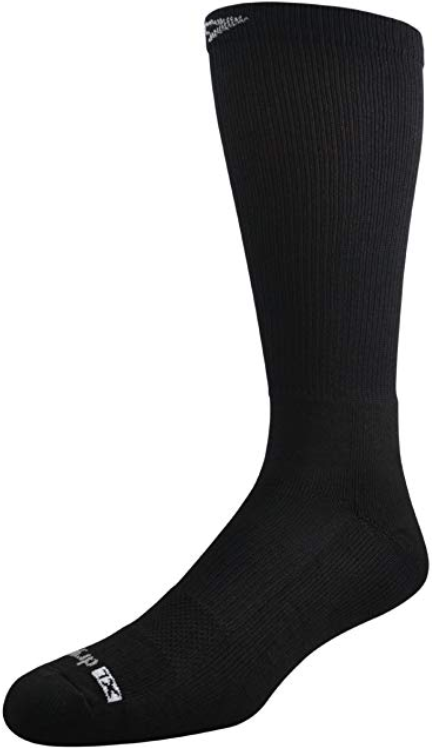 Finding the proper fit for boot socks can be a tough job because there are a lot of things to consider. Will they last long? Will they be comfortable, blister-free? Are bad odors going to haunt me, and am I going to be wet after a few minutes of strenuous work? Drymax answered all of those questions when they engineered this downright near-perfect design! Most socks in the same style are cotton, combined with nylon or spandex, which do have moisture-wicking properties, but they could be much better. This is the first pair of socks on our list which features olefin fibers, renowned for their strength, colorfastness, comfort, and their resistance to stains and mildew.
A special dual layer moisture removal system makes you as dry as the desert and leaves you smelling like a flower field during spring. This system sucks up each and every droplet of moisture your feet dare to create, through the inner Drymax layer to the upper, absorbent layer. The very same system is used for styles made for both marathon and long-distance runners, keeping them dry for the whole duration of the run.
 
It also proudly sports high-density protective padding. Dense padding, compared to thick padding, offers the same amount of protection without the extra weight or bulk. A great fit for both hot and cold weather, protecting you and making tough work appear like a walk in the park - Drymax boot socks could become your new best friends!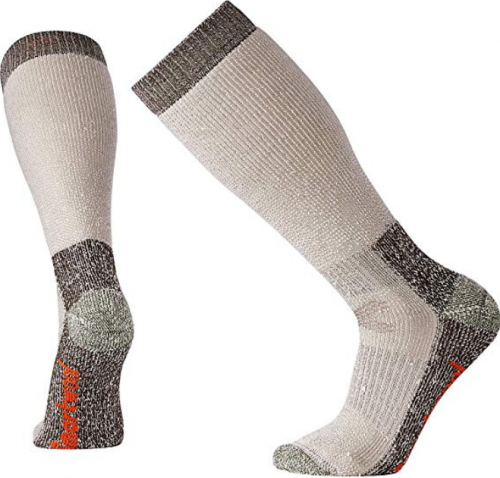 SmartWool is a company that was created on one hiking trip, with a wish to banish numb toes and frostbites for good. Their boot socks all feature Merino wool threads, which have been pushed above and beyond just to give you that extra amount of heat. No matter what kind of activity you have chosen for the day, be sure that the Hunt will be your trustful companion, making each and every step you take a soothing, comfy experience.
Merino sheep be blessed - if it wasn't for them, we would never experience all the amazing qualities their wool brings to the table. This wool, just like any other, has a natural protective quality, keeping your feet dry and safe from the elements. It also keeps you balmy when the air starts to chill, but cool when the sun begins showing its face more often. Wool also resists odors and fights moisture, leaving you carefree and safe from stinky feet. The only difference between regular and Merino wool is that Merino does all of that, only much better!
 
The Hunt's taller crew height accommodates all types of hunting boots, so these boot socks would be a great choice for avid hunters. Their arch and ankle support help you have a healthier ride and pain-free feet. SmartWool's fit system ensures they stay where they are meant to be! The toes feature a flat knit seam, eradicating skin pinching issues and unnecessary irritation and redness.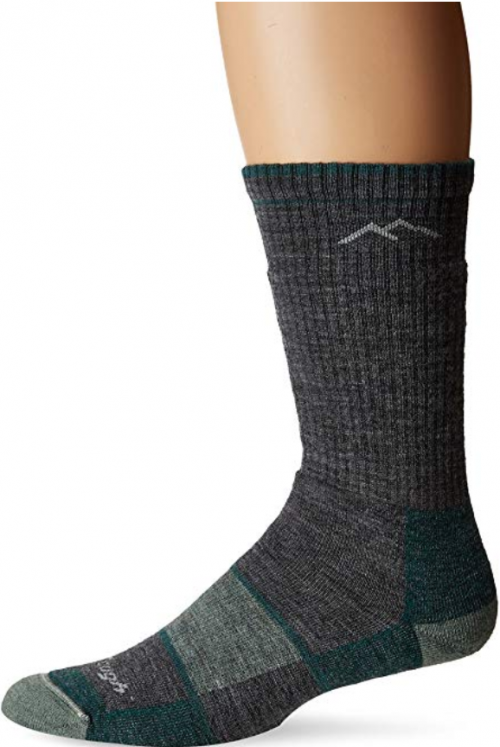 As the name suggests, these boot socks are truly darn tough! The Vermont is made out of the finest wool, taken from Merino sheep. These also feature nylon and spandex threads, making sure they stretch enough and last you for a long while. Their bottoms are fully cushioned, but not too much so that they don't make your shoes stuffy. All Darn Tough products are made in Vermont, and come with a lifetime guarantee!
The cushioning, besides providing comfort, also provides a certain degree of warmth, without the extra weight and bulk. These boot socks will not slip down into the area around your ankle, so you won't need to make stops every few minutes to adjust. They will not bunch up either since the top is able to stay secure and tight right where it's supposed to be. Blister-resistance is yet another fantastic feature, making long walks and hikes an infection-free breeze.
The Merino wool also adds one more sublime quality - moisture-wicking! It's fast-drying and breathable, so goodbye bacteria and pungent odors! It stays cool in the summer and warm during winter. Merino wool is also naturally bacteria resistant, making its odor and infection resistant properties even stronger!

8

. SmartWool Wheat Fields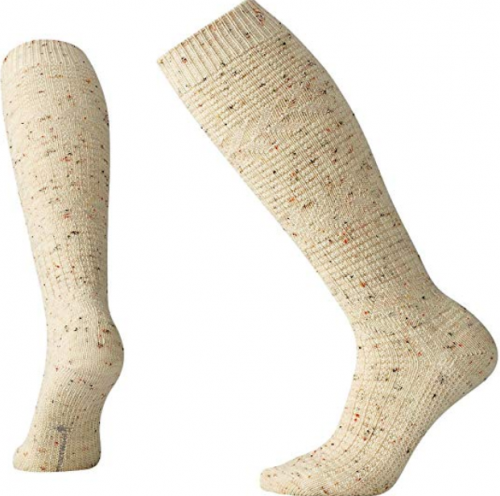 These knee-high boot socks from SmartWool offer just enough protection from the cold and rain during unforgiving winter months. They are mostly Merino wool, which is renowned for its great temperature regulating, moisture-wicking and odor-controlling properties. The yarns are imported, but they are knit in the USA, so they are homemade.
A supportive arch brace gives you all the support you may need even during the most physically exerting outdoor activities. The colors of this design are named after wheat fields, and after you look at them you'll see why - they have a soft, warm glow and colorful speckles scattered around the whole sock, making them a bit more stylish than your usual boot sock.
 
The top of these has an elastic band meant to help the socks stay put. They will not scrunch up, nor will they slide down into your boots to create unnecessary discomfort. The extra snug bands will make sure you don't lose your boot socks, and that you stay warm and toasty the whole day!

9

. Darn Tough William Jarvis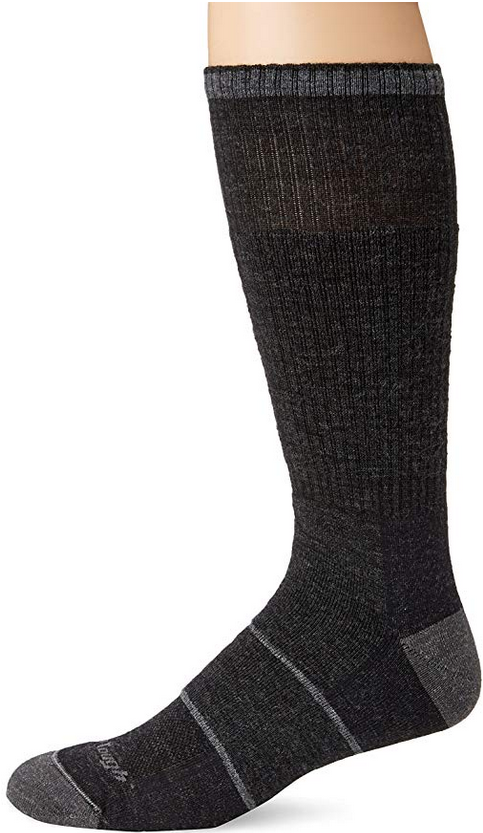 One more strong addition from Darn Tough! The William Jarvis is a combination of everyone's favorite Merino wool, nylon and lycra spandex, giving these boot socks extra strength and making them stretchy. As you already may know, Merino wool regulates temperature like a champ, and it helps us stay cool when it's warm and vice versa. It also wicks moisture, attracting sweat particles to the outermost layers and keeping you dry. And that upper layer dries fast, so you are left completely sweat and moisture-free. It also fights against bacteria that create unpleasant odors, so you can be both dry and smelling fine.
The bottom of the William Jarvis has a good amount of high density cushioning, providing you with comfort all day. High density cushioning provides the same amount of comfort as thick padding, without the extra weight and chunk. You will not slip around in these, nor will they sneak their way down into your boots. Going a step further, they will not even scrunch up, so you can enjoy a snug fit as long as you have them on. Say goodbye to blisters, as their material and scrunch-free properties keep your delicate skin free from irritation and pinching.
 
Unprecedented durability allows you to enjoy this pair of boot socks for ages to come, without the need to replace them. Their unique "put it on, forget it's on" feel makes it enjoyable to wear them, as they won't be warmer than necessary or tightly squeezing your legs. The seams are fused in a unique way, making them invisible and comfortable, and making your ride irritation free!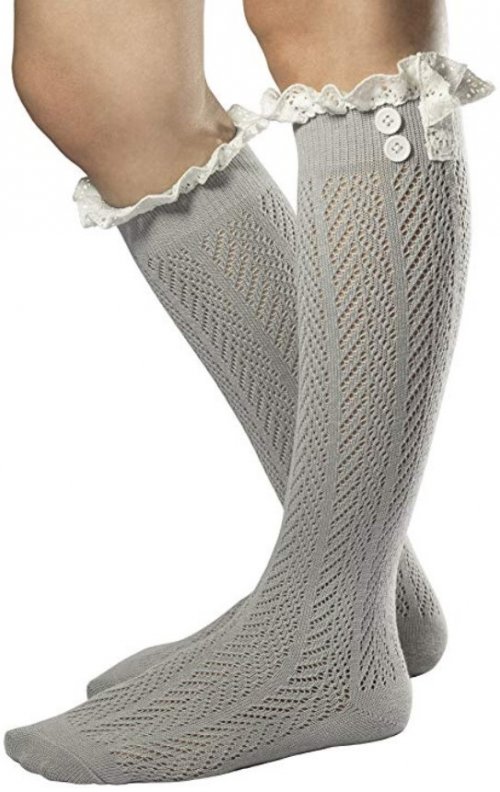 Have you ever wanted stylish, trendy boot socks that will also provide you with all the benefits they usually come with? Look no further! The Fiorelle Knee-Highs combine lightweight materials with flirty details. They are almost completely made out of cotton, with spandex threads that make up a small portion of the sock, making them stretchier. It's a one-size-fits-all, so no need to spend time measuring your fit and worrying about ordering the wrong size.
These boot socks are very soft, breathable, and won't add any extra bulk, so your boots will not be uncomfortably tight. The premium quality cotton also keeps its shape well and stays up, never slouching down. The charming pointelle knit slims your feet and legs, and also makes your skin visible a little bit, making already curious onlookers even more inquisitive.
 
The trim is adorned with a graceful white crocheted lace. Two little buttons sit under the lace making you cute as a button! What you see is what you get. And they even come in delightful packaging, so you get the complete cute experience!

Subscribe to our Newsletter