Best Bamboo Socks for a Luxurious Feel Reviewed
last updated
Aug 23, 2019
Seeing that sweaty feet are a big problem for many people, a quality pair of bamboo socks can do wonders in providing a dryer, healthier environment. Bamboo socks wick away moisture, let your feet breathe, fit you comfortably and clean easily so as to prevent the overgrowth of fungus and bacteria.
If you're interested in trying out all of these benefits that these socks have to offer - check out our list of top ten products below! Read through them, and make sure to glance at our Criteria section as well so that you learn just what it takes to select the best bamboo socks for yourself. Enjoy!
In a Hurry? The test winner after 7 hrs of research

Bolero Casual Crew
Why is it better?
Microseam Toe and Heel
Silky Soft
Odor Resistant
Eco-friendly
Perfect Moisture Control
In a
Hurry? Editors choice:

Test Winner: Bolero Casual Crew

5
Researched Sources
1790
Reviews Considered
7
Hours Researching
10
Products Evaluated
Materials
Breathability
Ease of Use
Comfort
Insulation
By Default
Bamboo Socks Reviews



Microseam Toe and Heel
Silky Soft
Odor Resistant
Eco-friendly
Perfect Moisture Control
Turkey's yarn specialist Bolero is determined to lead the way in bamboo socks. Known for exceptional variety in high-quality technical yarn compositions, cotton, wool, silk, Coolmax, Thermolite, Micro Modal, Tactel, Tencel and almost anything else you can imagine, Bolero brings this skill in creating socks made from bamboo from the highest quality source materials available.
Read more
Bolero is a major supplier of luxury fabrics to high-end designers and their own product is no less excellent. With 80% bamboo content and 18% polyamide for increased strength, these bamboo socks are wonderfully soft and light. Non-allergenic bamboo and its antimicrobial properties reduce the risk of everything from blisters to foot fungus or simple irritation. Soft and stretchy, these are over the ankle length, perfect for work or play.
Made in Bolero's own plant in Istanbul to guarantee the highest standards of manufacturing with their high tech management systems, these Crew length socks come at a very good price with 6 pairs to a package. They offer a variety of beautiful colors: pastel blue, orange, pink, green and lilac or deep purple.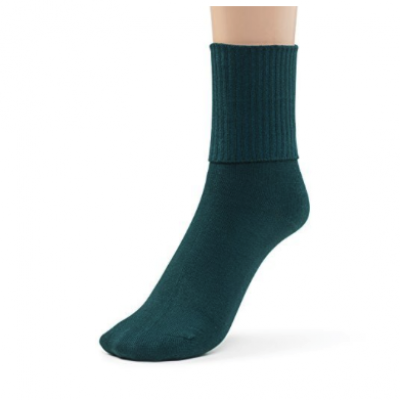 Many Color Choices
Smooth Seams
Moisture Control
Turn Cuff Style
Makers of fine hosiery for America in the 1950s, the family held Silkytones company has expanded to international markets with Silky Toes. They still use the traditional poly, super poly, cotton, wool, nylon, and acrylic fibers but they're also bringing out a fabulous line of modal and bamboo socks.
Read more
Comfort and durability are wonderful properties of the bamboo fibers but these are a wonderfully silky rayon of 80% bamboo. Moisture and temperature control with a high fashion look. Silky Toes Turn Cuff are very thin and lightweight but the fabric maintains its stretch even after normal machine washing. This once-popular now rare design is known as 'turn cuff'. It's a slight throwback to the 1950s when dress hosiery could be worn with skirts and loafers.
Truly high-end socks with all the benefits of sports socks, the Silky Toes Turn Cuff have a barely-there toe seam for sensitive feet and wonderfully snug fit without being too tight or wrinkling easily in your shoe. In black, burgundy, grey, white, khaki, hunter green, navy and red, for a dress sock, these are a steal but they'll endure everyday wear just as well as any sock in your drawer. Perhaps even better!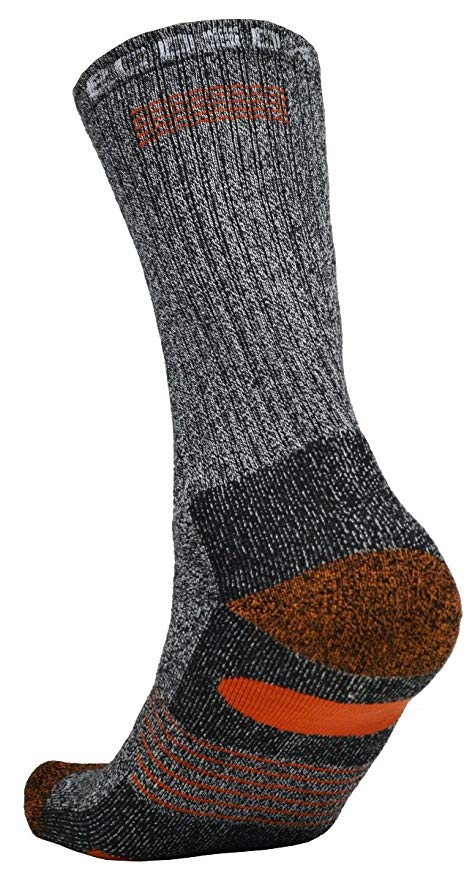 Great Breathability
Reinforced Heel and Toe
Great for Hiking
Fully Cushioned
Odor-Free
EcoSox contributes to the outdoor sportswear world with slightly less bamboo content at 70%. However, there are still lots of extra details to these bamboo socks worthy of recommendation. Much like the socks made for diabetic feet, these will take extra care to make your hike a comfortable, healthy one.
Read more
A great design for hiking and climbing, these have great arch support that holds the socks in place and helps combat foot fatigue. Frictionless weave at toes and heels are made for comfort and care of your tired feet. A fully cushioned footbed allows you to go all day and the amazing moisture wicking of the bamboo keeps you dry without needing to change socks or dry your feet.
These socks are a little more expensive than the rest, but the technology necessary to keep warm, dry and comfortable on a hike justifies the cost. With an excellent ergonomic fit and support, these won't move or slip or irritate, no matter the terrain. Antimicrobial, non-allergenic and thermoregulating, the EcoSox Full Cushion is a great buy.
4

. Yomandamor Diabetic Crew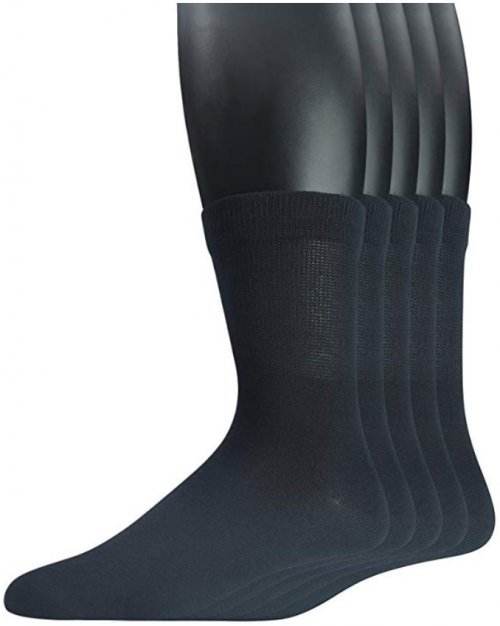 Non-Irritating
Allows Swelling
Extra Padded Areas
Antimicrobial
Good for Neuropathy
For diabetics, excellent foot care is an important health concern. One of the main problems is losing feeling in your feet or decreased blood circulation to the lower extremities. In order to make sure their feet stay in top shape, diabetics are often directed to wear socks specifically made for their condition. Yomandamor has invested a great deal of effort into creating great socks from 70% bamboo.
Read more
A seamless toe increases comfort and micro-mesh fabrication allows good airflow to control temperatures. These bamboo socks should work in all seasons, wicking away moisture and maintaining dryness. This textile blend includes 30% elastane so the socks keep their shape but are never too tight. The top is non-binding to promote good circulation and prevent infections.
There is plenty here to recommend the Yomandamor Diabetic Dress, including extra padding that helps prevent ulcers of the feet. These socks support and comfort without binding or impeding circulation and there are no uncomfortable seams to distract. Modestly priced, these crews have the added benefit of being antimicrobial which is beneficial in preventing infection, irritation and foot odors.



Different Vibrant Colors
High Bamboo Content
Seamless Construction
Luxurious Feel
For Smart Business Outfits
If you're looking for simple casual socks - ones that you can wear to work, to a lunch date with friends, even to a date night out - then the MeMoi Hand-Linked design is perfect for you. These bamboo socks come in several vibrant colors you can combine with your favorite outfits, and their high bamboo content and seamless construction will do wonders for your feet.
Read more
The Hand-Linked design is made from 80% bamboo rayon, which is an incredibly high percentage of this textile. There is 17% nylon for durability and color fastness, as well as 3% spandex which allows for a stretchy fit. You can be sure that the Hand-Linked won't be slipping down your legs any time soon. The construction of these socks made from bamboo contains no seams so there are no blisters as well.
What we love the most about the MeMoi Hand-Linked design is that it is so versatile. It is not a sports sock that you can wear only in the most casual of situations. Rather, it is stylish and fits most occasions, and you will have no trouble finding a place for it in your wardrobe.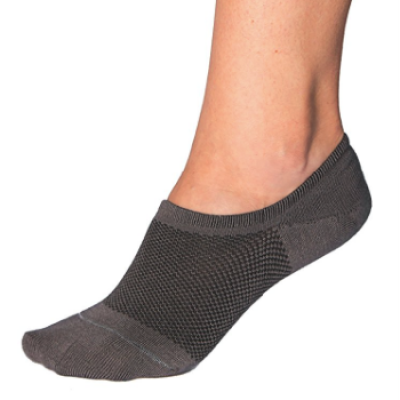 Manufacturer Warranty
Machine Washable
Odor Control
Antibacterial Fabric
Seamless Design
Quality is a Bam & Bu priority, making sure the bamboo socks you purchase from them are just right for you. The no show style is popular for active lifestyles and athletic activity. Protecting your feet from overheating and excessive moisture is next on the list to keep your busy feet healthy and comfortable.
Read more
The super-light material and a breathable weave keep your feet dry and cool no matter what you're doing. Just right for tennis or running or working on your feet all day. A seamless transition from toe knit to the body of the sock and ankle are made for your comfort. The ribbing around the top gently hugs your ankle and prevents skin from shoe rubbing.
Slip grip strips across the heels keep these socks made from bamboo from crawling down into your shoes so you never have to worry about stopping to pull them up. With moisture and temperature control and excellent fit in a no show foot covering, these are nicely priced for a very comfortable, soft textile.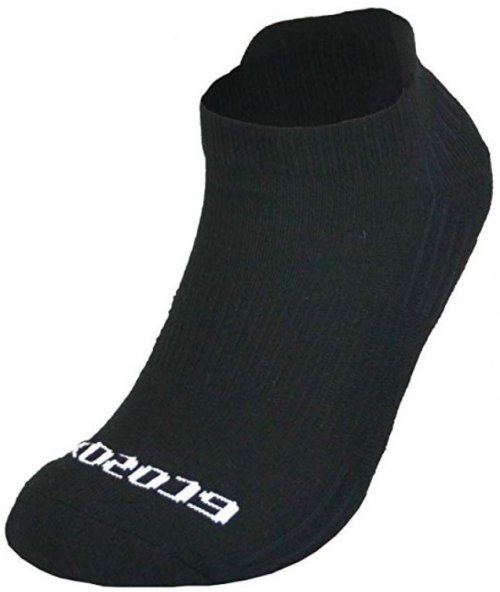 Normal Wash
High Bamboo Content
Great Arch Support
Ultra Comfortable
Padded Foot
BBS Hosiery has been making hosiery since the early 1980s, bringing quality products to customers for a great price. More recently they've been making high-end sports bamboo socks under their newer EcoSox label. With a tradition of using sustainable resources and recycled fibers, EcoSox makes eco-friendly products.
Read more
With 80% viscose rayon made from bamboo, EcoSox Active Sport have a very high bamboo content. They include 10% polyester to improve shaping, along with a little nylon, spandex, and rubber to give you as much stretch as possible. The Active Sport brings super softness in the padded foot and extra comfort with an amazing arch support. This prevents foot fatigue with a snug hug and keeps you moving longer. The tab in the back keeps the sock up and pads your heel, keeping you safe from blistering.
These bamboo socks are great for sports and running, long walks and general use. The low cut makes them perfect for wearing with loafers as well. They come in all black or black with a touch of pink and white with various color trims. A very good price for a great pair of socks made from bamboo.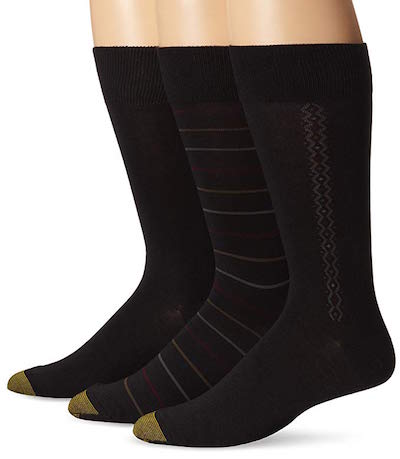 66% Bamboo Rayon
Reinforced Toe
Appropriate for Dressy Outfits
Pack of Three
High Shaft
Gold Toe is a company that makes a variety of socks, mainly focusing on dress and athletic styles that provide a good fit, great durability, and are easy to care for thanks to the combination of materials used in the manufacturing process. The Freshcare line aims at providing a comfortable fit that's slightly more breathable than the regular dress sock, mainly thanks to the use of rayon made from bamboo fibers.
Read more
Featuring a mid-height and simple colors such as black and brown, the Gold Toe Freshcare socks are perfect for those looking for something breathable, but that won't stand out when worn with a pair of jeans, slacks, or even a suit. The toe part of these Gold Toe bamboo socks, in addition to standing out due to the contrasting color, also ensures a higher level of durability that can be an issue with other styles. The reinforced toe ensures your favorite hosiery gets no holes in it, while still maintaining a construction that's not too rough and won't cut into your skin.
If you're looking for a pair of socks made from bamboo that'll work well with a more dressy outfit, then these are definitely the ones to go with. Plus, the pack of three allows you to save a bit, as well as to get more for a single shipping charge.



Cariloha Signature Arch Support
Highest Bamboo Content
Vegan
No Slipping
Extra Cushioning
The Cariloha brand creates just one thing: bamboo products. You can expect high-quality fabrics for their exclusive collection of bedding, clothing, linens, jewelry and even mattresses. Their proprietary bamboo blends include rayon from bamboo, bamboo viscose, polyester from bamboo and bamboo charcoal. Cariloha is proud of its 'green footprint' while supplying natural luxury to customers all over the world.
Read more
With the highest content available at 85% bamboo viscose, Cariloha bamboo socks are truly Crazy Soft. For even more comfort, there's an added thickness in the footbed and the fabric's thermo-regulating function keeps your feet cool during activity. Made with well-known Cariloha arch support, these socks have a compression band right around the middle. Hand-linked stitching in the seamless toes adds to the comfort.
These socks made from bamboo with 85% bamboo content provide antimicrobial protection, odor prevention, and great construction. Cariloha knows a lot about making bamboo into truly super soft textiles with added comfort designs. In blue with green, gray with black and white with blue, the Crazy Soft low cut athletic socks are great for everything from sports to work to weekend and vacation activity.



Light Arch Support
Fully Padded Footbed
Non-Irritating Seams
Odor Resistant
Super Soft
The Hoerev brand specializes in leisurewear and yoga clothing with light breathable fabrics to keep the temperature under control and enhance workouts with comfort. Beachwear and hosiery are showing up more and more in their line and these diabetic socks made from bamboo are an indication that bamboo textiles are here to stay.
Read more
With 76% bamboo fiber, this fabric will fight the bacteria and fungus that take up residence in other natural fabrics. The 21% polyester increases strength and helps these socks hold their shape. Smooth, integrated toe seams are non-irritating and a fully padded footbed adds to your comfort. Light arch support is there to keep your foot energized and hold the bamboo socks in place.
These are a great buy for diabetics. With all the same antimicrobial, non-allergenic properties as any bamboo fabric, these crew style calf-high bamboo socks will keep your feet dry and cool without inhibiting blood flow, pinching or causing friction.
Criteria Used for Evaluation


Materials
Bambusa Vulgaris is considered a more eco-conscious material for a variety of reasons. It grows incredibly fast, under some pretty extreme conditions, it isn't vulnerable to boll weevils and never requires the attention of a veterinarian so that's helpful.
It's so light that you can cut the cane and carry it off with little trouble, reducing fuel costs, and you don't need to plant more because the stalks will simply continue to grow. In China and throughout Southeast Asia, the Bambusa plant has been used for a variety of purposes. It is incredibly strong, yet the fibers can be made into an extraordinarily soft textile. It's fairly hardy and now grows in many places in the world.
One very important eco-friendly aspect to the cultivation of Bambusa is the fact that it grows without chemical interventions like manufactured nutrients and fertilizers or the use of pesticides at the time of harvest. This is unusual even for a food crop and a great benefit to the environment. It also prevents any allergic reactions to these chemicals while wearing the fabrics.
However, it's important to note that plant fiber fabrics will be blended with other materials, like polyester for shaping or spandex and other elastics to increase the stretch in the fabric. The higher the bamboo content, the more eco-friendly the pair of bamboo socks is.
This is why we ranked all our socks made from bamboo according to their bamboo content. Choose ones off the top for the highest percentage of bamboo, or if this is not important to you, the ones from the bottom of the list will do just fine as well.


Breathability
Bambusa grass is an excellent source for making textiles for many reasons. It's strong and doesn't fray easily so you won't find holes in your bamboo socks as often as you might with a cotton or wool fabric. This, alone will cut down on the chances of developing hot spots or blisters during high activity.
But there are even greater health benefits in wearing socks made from bamboo. This material can draw in moisture and it allows for greater airflow, allowing that moisture to dry up. This is known as 'moisture-wicking' which keeps the skin drier and it keeps these socks from stretching out of shape or bunching up into something that your skin rubs against.
Bambusa is also a deterrent to bacterial and fungal growth which improves your chances of having sweet-smelling feet after the worst workout. For all of these reasons and because the fabric doesn't bind, these socks are ideal for use as diabetic socks.
Let's sum up what we know about the breathability and soothing features of bamboo socks:
Moisture-wicking to keep feet dry
Cooling
No allergens
Prevents bacterial and fungal infections and rashes
Good airflow to cool and dry feet
Holds its shape, no bunching or rubbing
No foot odor
Soft
Since none of the typical chemicals for fertilizers are used to grow this plant and growers do not use herbicides, the plant does not absorb the associated toxins that are often irritants to sensitive human skin. No pesticides are used to harvest the product either, and there are no inherent allergens in Bambusa; nothing needs to be removed to prevent reactions, like the lanolin in wool.
Other skin irritants that are commonly caused by hosiery are little dust mites that tend to invade fabric. They live on dead skin and feet are a great source for this but human skin can have a bad reaction to the toxins these little creatures emit. Good news: socks made from bamboo prevent them from coming in contact with your skin!


Ease of Use
Despite the many benefits of bamboo socks, you still have to wash them as they will simply not clean themselves.
Given their antimicrobial properties, it isn't necessary to wash them in hot water to kill bacteria, fungus, etc. It's best to wash them in cold water to preserve the fibers, though some will tolerate warm water. If you're in a big hurry, you can toss them in the dryer with minimal heat, but they will last longer if you just hang them up to dry on their own.
Do not use bleach, fabric softener or dryer sheets with your bamboo socks and other fabrics and always separate colors to avoid color bleeding.
The ease with which you will be able to care for your bamboo socks depends on the type and amount of other materials included in the construction. If there are more synthetic materials, such as polyester or nylon, then you can wash your socks in the washing machine without a second thought. If, however, the blend also contains cotton, or some other type of more delicate material, it would be best to follow the manufacturer instructions on how to take care of your socks.
We sorted the bamboo socks on our list according to how easy it is to care for each pair, so that you have a better time finding what you're looking for.


Comfort
When shopping for bamboo socks, it is quite important to make the right choice. Just as everyone has their own preferences with shoes, the same goes for this clothing item that will cover your feet, and that you'll likely be spending a whole day wearing.
First and foremost, it is best to consider what type of socks you like wearing. If you're someone who's into crew styles, you will probably want to go with the same type of model when shopping for bamboo socks. Although many may write off sock height as a simple stylistic preference, it's possible that you get uncomfortable with a pair that's either too high and too low.
The second thing to consider when making a purchase is the construction. Those with more sensitive skin will want to stay away from bamboo socks with pronounced stitching details, and will probably do best in a pair of seamless socks that won't cut into the skin or create any sensitivity issues. Others, on the other hand, won't have any problems with sock construction and will be able to wear anything comfortably, as long as it's the right size.
Last but not least, how your bamboo socks feel on your feet will greatly depend on what you're wearing them with. If you're going out in a pair of hiking boots, it would be smart to stay away from no-show styles. Similarly, a thick and padded sports style may not yield the best comfort results when paired with summer sandals.


Insulation
One of the main reasons we even wear socks is the fact that they keep our feet warm, and add a layer of protection against the outside elements. As you're already probably aware, there are socks that will do better in certain situations than others, and this often depends on the amount of insulation they provide.
How a specific pair of socks will perform is easy to determine by just one look. Thicker, more padded styles are almost always warmer, as are those with a bit more synthetic added to them. Thinner models, especially those with mesh-like perforations, on the other hand, provide more breathability, making them a better choice for the summer months.
When choosing your socks made from bamboo for the day, it would be smart to consider the temperature, the type of footwear you'll be wearing, as well as the activities you'll be performing. Models that are too warm will definitely keep you uncomfortable in the summer, making your feet sweat and opening you up to health issues such as blisters or infections. Too thin of a model in winter, on the other hand, may lead to even more serious side effects, including freezing.
If you're interested in bamboo socks with more insulation, sort our items by this criterion and choose off the top. If, however, you're looking for thinner, more summer-appropriate designs, definitely go for the ones with the least insulation.
Expert Interviews & Opinions
Most Important Criteria
(According to our experts opinion)
Experts Opinion
Editors Opinion
Users Opinion
By Default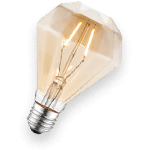 Caring For Bamboo Socks
Similar to any kind of fabric or clothing care, you can easily wash bamboo socks in the washer with warm water and detergents. However, they can shrink if place in the dryer at high temperatures. To avoid this, just remove them when they are still slightly damp to air dry the rest of the way!
Benefits Of Bamboo Materials
Although more difficult to process, bamboo materials in fabrics and clothing do have benefits to other materials. Bamboo is moisture wicking, which will help keep your feet dry when sweating, and it has antimicrobial properties. It also can help keep you warmer in the winter, and cooler in the summer!
Other Factors to Consider


Bottom Line
Shopping for bamboo socks can be difficult and frustrating if you haven't got your grip on what it is that makes a pair suit your needs. In addition to figuring out designs and styles, you will probably also have to consider materials, as well as construction, which may make you feel like you're out of your league.
In order to make the entire process as easy and quick as possible, the best thing to do is to go back to styles that work best for you, as well as to try to invest in pieces that are made with quality materials and better construction.
Of course, this may sometimes necessitate a higher cost, so you also need to consider whether a pair of bamboo socks is worth the asking price. Ideally, you will find a good product, maybe even sold in a pack of 3, 5, or 10, that comes at a low cost and that's made well enough to last you a couple of years.
A way to ensure your bamboo socks don't get ruined is to wear them in the correct conditions, to wash them according to instructions, as well as to rotate between pairs so that all get equal use, and none develop holes that'll make them unwearable.
With all of this, you should have no problems selecting the right pair of bamboo socks for yourself!
Frequently Asked Questions
q:

Why is a wood fiber textile so much more eco-friendly than cotton which is also a plant?

a:

Some wood fibers aren't quite as environmentally sound but Bambusa Vulgaris grows incredibly fast so it replaces itself without using energy to replant and extra water to encourage new growth.
q:

How can a tree be made into soft yarn for socks? Won't I get splinters?

a:

No. The wood fibers are broken down in a mash which is then forced through something like a sieve to make fibers which are spun into yarn. By the time it reaches this phase, there are no splinter fragments left.
q:

Isn't bamboo made from the tree leaves?

a:

No. One could make bamboo fabric from the leaves if they were treated correctly but this fiber comes from the 'wood.'
q:

How can a bamboo socks kill bacteria? Are they treated with something?

a:

No the wood fiber itself - the bamboo - is antibacterial, antifungal and repels dust mites, thus your bamboo socks are antibacterial without the need for external antimicrobial agents.
q:

Since wood isn't flexible, don't they have to add some kind of elastic to the fabric?

a:

Yes, in fact, there will probably also be some synthetics added to your bamboo socks to give them a little stretch and to hold the shape. You can opt for a blend of bamboo and organic cotton if you want to avoid synthetics, but it's less flexible and may not be as durable.