Best Crew Cut Socks Reviewed & Rated
In a Hurry? Editors choice: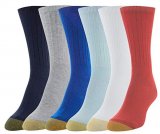 Test Winner: Gold Toe Casual Ribbed

The crew is probably one of the most common heights for socks, other than no-show designs. This height can vary depending on the brand and the style of the sock, but in general, crew socks reach from 6 to 8 inches from your heel to the top of the cuff. They are a great choice for
sports socks
, casual ones, and for more dressy designs, as you'll see in our list.
If you're looking for best crew socks to either add to your running or hiking gear, or to complete your office look, or perhaps just to introduce some whimsy into your life, you've come to the right place. Let's take a look at what this wonderful world of mid-height has to offer!
Standout Picks
Criteria Used for Evaluation
Style
You can choose between an athletic, a casual or a dress sock depending on your preferences.
Obviously, the most important aspect of our selection of best crew socks would be their crew height. However, this doesn't offer many variations, since all crew heights are more or less the same, with the difference perhaps being one inch here or there, depending on the brand.
This is why, instead, we are going to focus on a style. Which style you will go for is determined by your own personal style and by the situations you're planning on wearing your socks in.
For a more convenient understanding of style, we've divided these designs into three categories:
Athletic: Athletic and sports-specific socks are probably the most common ones in our list. They are outfitted with special materials and technologies which give them properties such as moisture-wicking, temperature-regulation, compression, and others which serve to enhance your athletic performance.
They are great to wear for running, hiking, cycling, team sports, CrossFit, you name it. It would be best if you would do a bit of research beforehand, to figure out what features would be the most useful to you given the sport you're engaging in.
Casual: While also being suitable for some light exercise, casual designs usually don't come with any hi-tech features to them. They are made from soft materials that sometimes aren't even suitable for training (such as cotton), but that is great for everyday wear. Casual socks can be monochrome in color, but they can also be on the sillier side, vibrant and patterned and with fun prints all over.
These are perfect for your casual outings, to pair with jeans and shorts and skirts and dresses, and to add a touch of whimsy in your life.
Dress: The last style we will mention are dress socks. These are more serious in appearance and are suitable to wear to the office, to a meeting or any formal gathering where you are expected to look impeccable. Dress designs come in monochrome colors, often neutral tones such as white, black, navy, gray, etc., and they're meant to be paired up with suits, tuxes and other types of smart wear. To make sure that you are always presentable at work or a similar event, go for a standard, unembellished dress sock, and you won't make a mistake.
Comfort
Natural materials, cushioning and a seamless construction all work together to provide maximum comfort.
Whether you're about to go for a run or start a new outdoor adventure or you simply have some errands to take care of in the city - comfort should be one of the most important aspects of all footwear and clothing you're wearing. If something isn't right, if it's causing irritation or even pain, then not only will our mood be sour but we also might walk away with a blister or two that we will keep feeling for days to come.
So, what does, exactly, make a pair of crew cut socks comfortable?
We will go into more detail in our Materials section, but the first factor is the type of material design is made from.
The material should be light and soft to the touch, without causing any friction or undue rubbing against the skin. Natural materials such as cotton, wool, and bamboo are widely thought of as some of the most comfortable out there. A special place goes to combed cotton which is even softer than regular cotton.
Compared to these, synthetic materials are not as nice to wear. They aren't bad and probably won't cause any problems, but if you're looking for maximum comfort, try to go for a natural option.
Another aspect you should keep in mind is the construction of the sock. Cushioning greatly increases comfort because it absorbs impact and smoothes the ride. If you like to have some bounce in your step and prefer to feel your feet gently cradled, then socks with thick cushioning should do the trick.
Furthermore, don't forget to take a look at the seams of the design. They should be flat, invisible, or seamless so that they don't dig into your skin as you move and cause indents or even lacerations.
Materials
Get to know the pros and cons of the most common materials found in socks.
There is a large selection of materials that can be utilized in the construction of the best crew socks. Rarely is a design made from only one material; blends and different combinations are often used to introduce other features that only one material may not have.
Here are some of the common materials found in this guide, and some of their pros and cons.
Polyester/Polyamide: These two are not the same material, but they belong to the same group - synthetics - and have largely the same characteristics. Polyester and polyamide are durable and colorfast, meaning able to retain color for longer periods of time. In addition to that, they are adequately breathable and not uncomfortable.
Natural materials are a bit softer and more comfortable than these, but the difference isn't drastic. The downside to synthetic materials is that they are not biodegradable and thus not environmentally friendly.
Acrylic: Acrylic is also a synthetic material, but it is softer in touch than polyester and/or polyamide. It is also quite durable and colorfast. Its other properties are mostly the same as in the previous synthetic options.
Wool: Wool is a natural material that has a whole arsenal of positive qualities. It is moisture-wicking, meaning that it pulls moisture away from your skin and to the outer layers of the sock, eliminating dampness and sweat. It is also temperature-regulating, which is why wool socks are suitable to wear all year round. It is also breathable and comfortable to the touch.
However, wool socks tend to lose shape over time, so they are not the most durable.
Cotton: Cotton is another natural material that is unparalleled when it comes to comfort. It is soft to the touch and certain varieties of it, combed cotton, for example, are even hypoallergenic and suitable for sensitive feet. Cotton is amazingly breathable and is lovely to wear on a regular basis.
Unfortunately, cotton has the tendency to absorb moisture, which makes it a poor choice for high-impact activities.
Nylon: Nylon is added to material combinations because it provides durability and stretch. It has exceptional wear and tear resistance, and the higher the percentage of nylon in design, the more durable it will be.
Spandex/Lycra/Elastane: Finally, these three names are used interchangeably to describe the same type of fiber. Spandex is an incredibly elastic fiber that provides stretch to your socks. Thanks to it, socks are able to fit snugly to your feet, and they don't restrict your movements no matter what activity you're engaging in.
Fit
Look for stretchy designs that are not too tight or too loose.
You may think that how design fits is not that significant, but we are here to tell you that the fit is quite important in many ways. It is what determines whether or not your new pair of crew cut socks will be comfortable, whether they will aid in your performance or perhaps hinder it. Fit is what can separate a good design from a bad one, even if all the other features are the same.
So, how exactly is a crew sock supposed to fit?
First off, it shouldn't be too tight. Even designs that come with some degree of compression to them should never be constricting. The cuff, or any other part of the sock, shouldn't leave dents or markings on your skin, and it certainly shouldn't be cutting off your blood flow. Poor circulation will lead to cold feet and numbness and maybe even worse consequences if you continue wearing a design that is too tight.
In the same vein, a sock shouldn't be too loose-fitting either. Excess material will bunch up in your footwear and start causing discomfort. If you're engaging in some sort of athletic activity, this friction will quickly lead to hotspots and blisters. At the same time, a loose design will also slip down your leg, and you will find it frustrating that you have to keep pulling it up.
It is important to strike a good balance between tight and loose. The fit should be snug, let's say, but not limiting your movements. Look for a good percentage of spandex, elastane or Lycra to make sure you're getting a stretchy material that can easily accommodate your foot shape.
Versatility
Decide what type of sock you want depending on where you intend to wear it.
If you're looking for best crew socks, you may not be looking for one specific design for one specific purpose. Perhaps you're looking at your options and trying to find one that will work in your everyday life. Perhaps you're looking for something that will be good both for sports and for casual wear.
This is why we felt it was important to rank the items on our list according to their versatility as well. How suitable they are for different situations and different events, and how likely it is that you are going to wear them not only to work and to school but also to the gym or to a fun time with your family.
Technically, you can wear any socks for any occasion. However, there are those which simply might not be worth spending money on if you're going to wear them like a casual everyday choice.
We're talking about the special athletic designs, of course. They are outfitted with innovative materials and advanced features, and their price is thus higher than that of a regular option. This is why it would be best to stay away from running socks if you won't be running or hiking socks if you won't be hiking. They are high in performance, that's true, but you won't have any need for that if you're not active in those sports.
For everyday wear, a simple cotton design, especially if it is cute and/or fashionable in appearance, will do the trick just fine. You could easily wear it to work, to the classroom, to lunch dates or to the ballgame, and you will love how well it serves you in all of these situations.
Top 10 Crew Cut Socks Reviews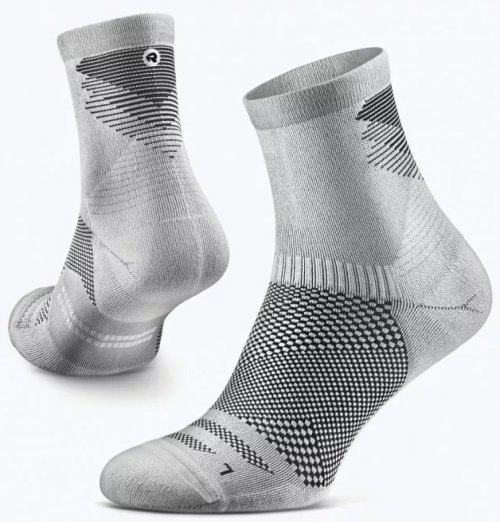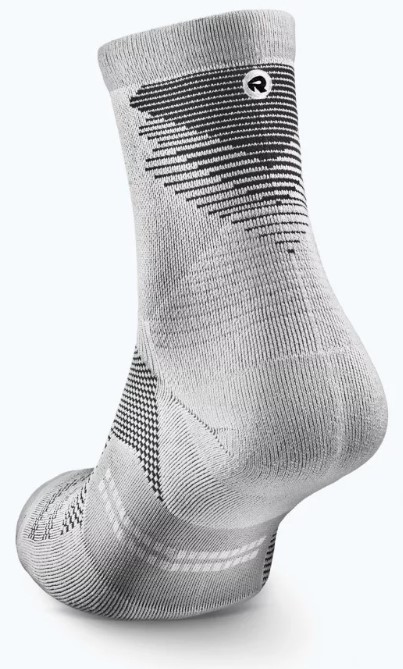 We're starting our list off with a design that is meant for trail running. It is suitable for road or track running as well, but it is definitely a specialist in getting your blood pumping on the trail. The Razer Trail from Rockay is an option made from 100% recycled materials, meaning environmentally-friendly, and it features everything you need for a good run: cushioning breathable mesh, and arch support to keep you going for longer.
The materials the Razer Trail is made from are Econyl regenerated nylon for durability and some stretch, recycled polyamide for even more durability and colorfastness, and recycled elastane to increase that stretch. It also comes with mesh strategically placed over the top of the design to improve breathability and allow air to freely flow in and out.
Arch support is essential if you're taking on challenging terrain and expect to be on your feet for long periods of time. This will keep your gait well-balanced and natural, and it will also stave foot fatigue. Performance cushioning enhances comfort, and a seamless toe structure ensures there are no blisters at the end of the run.
The truth is that, despite its name suggesting it is only for trail running, the Razer can be easily used in other types of running as well, and for walking, hiking and any other activity too. It is also a decent casual option, but we would definitely advise saving its incredible performance features for your next workout so that you can make the absolute best of it.

2

. Smartwool PhD Outdoor Light
Perhaps you're the type of person who likes spending time in nature. Maybe you like doing that all year long, even in autumn when the temperatures drop and the leaves turn red, orange and yellow. For these autumn trips outside, you need adequate socks to keep you warm and maybe even to fit the upcoming holiday theme. Behold, the Smartwool PhD Outdoor Light! Enjoy the benefits of wool crew socks and their outstanding features as you bravely take on the cooler weather.
The PhD Outdoor Light is made from Merino wool. Wool is a great material for socks, as it provides moisture-wicking so that your feet stay dry, and also temperature-regulation. This means that these socks will keep you warm in the winter but pleasantly cool in the summer! Aside from wool, the PhD Outdoor Light also contains nylon and elastane.
Smartwool is a champion of technologies, and thus this design comes with a number of them. There's the 4 Degree elite fit system for flexibility at the ankle and a performance-oriented fit. There is light cushioning for both trail and road terrain, and there's also Indestructawool, a special wool blend constructed to be incredibly durable.
The Smartwool PhD Outdoor Light is a perfect sock for hiking, for embarking on new adventures even when the summer dies down. It is outfitted with all the latest systems to ensure your comfort and safety, and you will absolutely love its cute, winter-inspired patterns! Start your autumn with a smile on your face thanks to the Smartwool PhD Outdoor Light.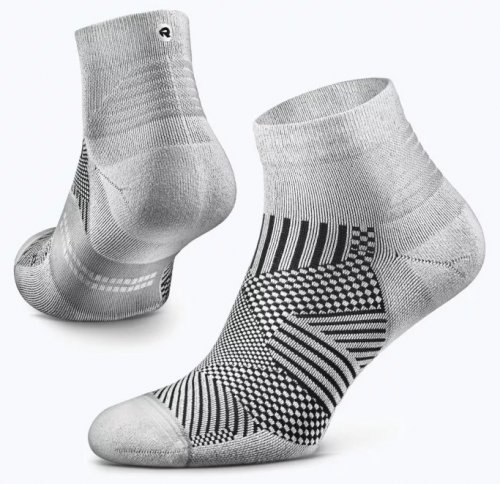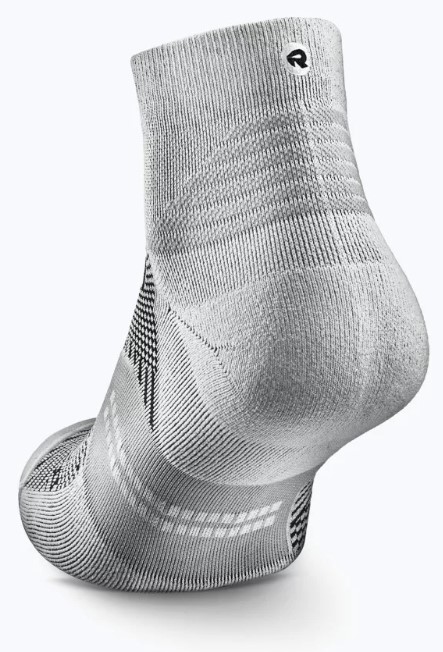 We might be cheating a little bit on this one since Flare is more of a quarter sock than a crew one, however, its performance and comfort features demand a place in this list of the best crew socks on the market. Similar to the Razer Trail, the Flare is made from completely recycled materials for a reduced impact on the planet. It has arch support, cushioning, a seamless toe, and it even comes with Rockay's lifetime guarantee!
The Flare is a great choice for running, especially if you don't like the look or feel of no-show socks but are also not a fan of knee-highs. It is made from Econyl regenerated nylon, recycled polyamide, and recycled elastane for a combination that protects the environment and reduces pollution.
Comfort is there in the form of cushioning that will absorb impact while you run, and arch support will keep your feet feeling light mile after mile. Mesh zones promote breathability and easy airflow. To round up the design is a seamless toe construction for an irritation-free workout.
The Rockay Flare is a sock that will quickly become your favorite for running. It is also great for other types of activities such as hiking, walking, rucking, even cycling and team sports. You will love its level of durability, the compression it offers at the arch, and its cushioning that will make you feel as though you're walking on clouds.

4

. Gold Toe Casual Ribbed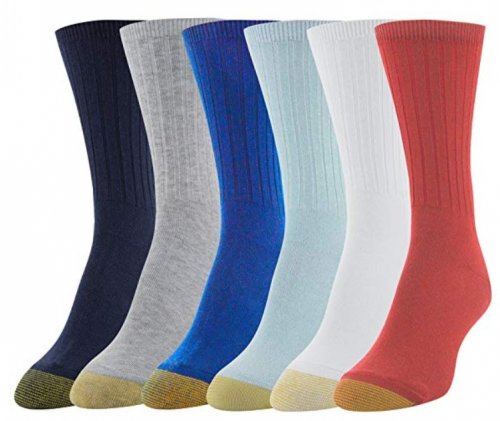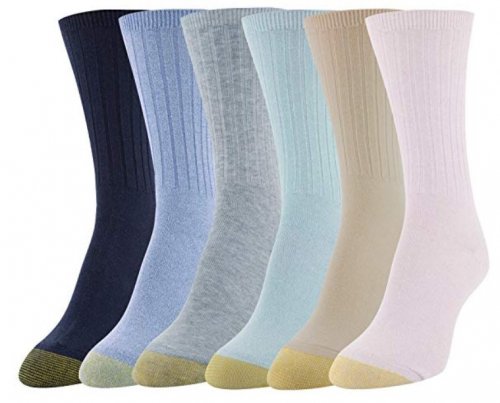 Gold Toe is a brand easily recognizable thanks to the gold toe area all of its designs come with. The Casual Ribbed is found in many different colors, but all of them have that trademark gold toe that we instantly want to reach for. This option is, as its name suggests, a casual design that is meant for everyday wear. It is made from combed cotton, which is a premium type of cotton that elevates this entire construction to a luxurious level.
Combed cotton is a type of cotton that goes through a strict yet careful production process, where it is cleaned from any dirt and debris that might pile up on its fibers. It is a natural material and considered hypoallergenic, thus great for sensitive skin. Its feeling is softer than that of regular cotton, though these qualities also come at a higher price.
Other than combed cotton, the Gold Toe Casual Ribbed also has polyester and nylon for durability and spandex for elasticity and a better fit. Thanks to their ribbed leg part, these won't slip down as you walk or bunch up in any way, making for perfectly comfortable wear.
The Gold Toe Casual Ribbed shouldn't be worn for vigorous exercise because of its cotton content. However, precisely this combed cotton adds a softness that you won't get enough of in your regular wear. They are cute and versatile, and you will certainly find a color - or several - that you can easily match with all of your favorite outfits.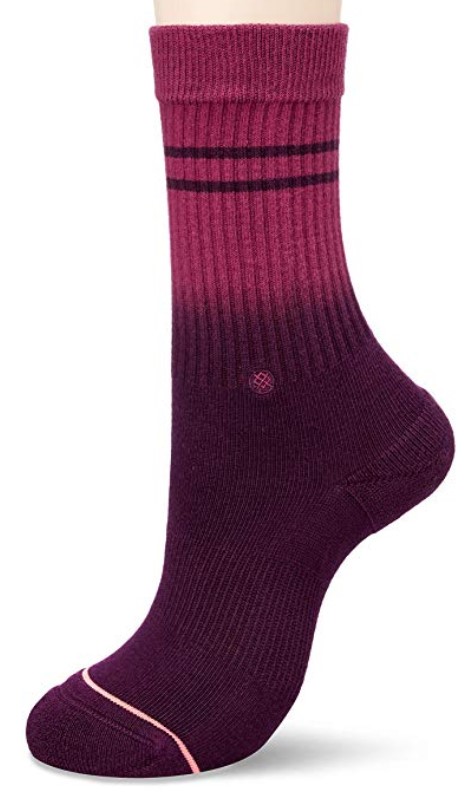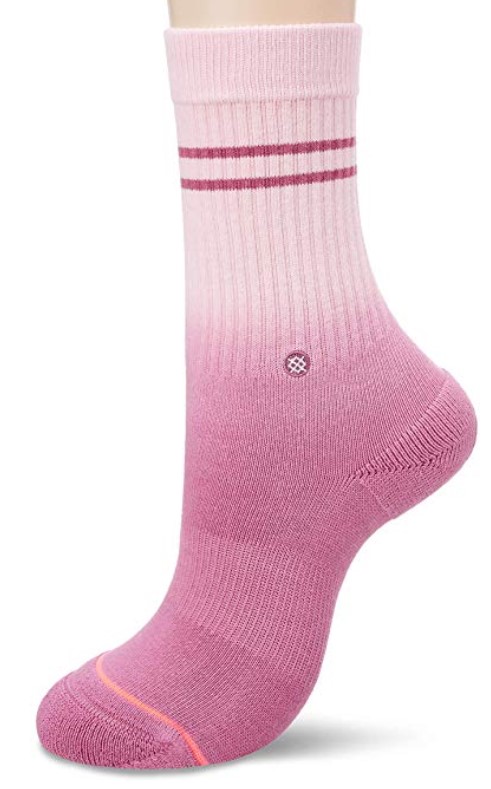 Spice up your days with a little ombre effect in the Uncommon Dip from Stance! This design comes in several gorgeous colors and with a fading effect that you will love to incorporate in your everyday style. It is outfitted with cushioning and support in the arch, as well as a seamless toe for less chafing. Its material build makes the Uncommon Dip incredibly soft and gentle on the skin, which you will appreciate on those days you're always on the go.
The Uncommon Dip is made from cotton, a natural material that provides softness and comfort to design, then polyester and nylon for durability, and elastane for elasticity. The percentage of cotton in this option doesn't make it ideal for exercising, but it is a wonderful choice for everyday, casual comfort.
A special terry loop construction provides medium cushioning to the forefoot and heel areas that will keep your feet gently cradled as you walk. On top of that, there is also arch support for reduced strain on your feet, and a seamless toe that won't cause any blisters or hotspots.
The Uncommon dip is a design you can wear in transitional seasons, such as autumn and spring. It is meant for weather that is not warm, but not too cold either. Thanks to its many color options, you are sure to find one that you love and that you will easily match with all of your favorite outfits!

6

. Hot Sox Food and Drink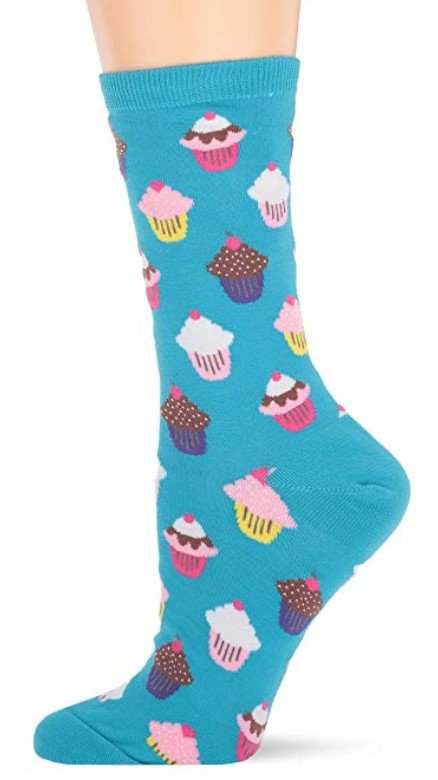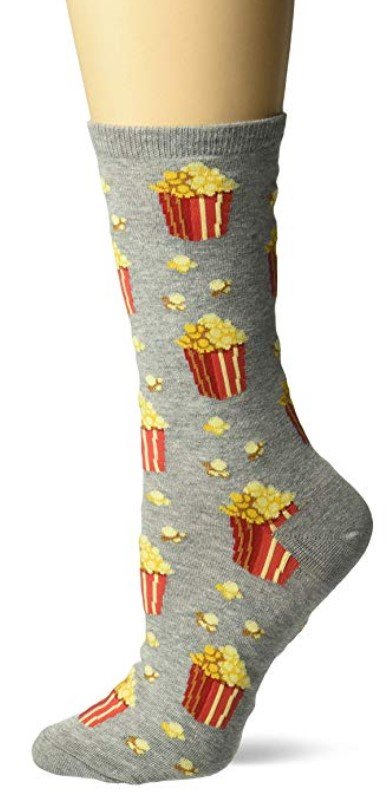 As a much-needed breath of fresh air, color, and silliness, we have the Hot Sox Food and Drink collection of crew socks. These are obviously not meant for hardcore gym training and will be frowned upon if you pair them with a suit on a formal occasion, but we can't help but find them absolutely adorable. Choose between popcorn, cupcakes, cocktails, waffles, pizza, sushi, gummy bears, and all other types of foods and drinks to mix and match on a fun night out with your friends.
Food and Drink socks are made mostly from cotton, which makes them breathable and comfy to wear even all day long. There is also a percentage of polyester and nylon, to add durability to the not-so-durable cotton, and spandex for stretch and a superior fit. They are easy to wear and easy to take care of, and we are lowkey in love with their playful patterns and colorful choices. Maybe a little hungry, too.
The Hot Sox Food and Drink doesn't come with any of the fancy bells and whistles our previous designs have. There are no special systems, no technologies - just a plain sock design with a pattern that will put a smile on your face. And sometimes, that is just what we need to help us get through the day.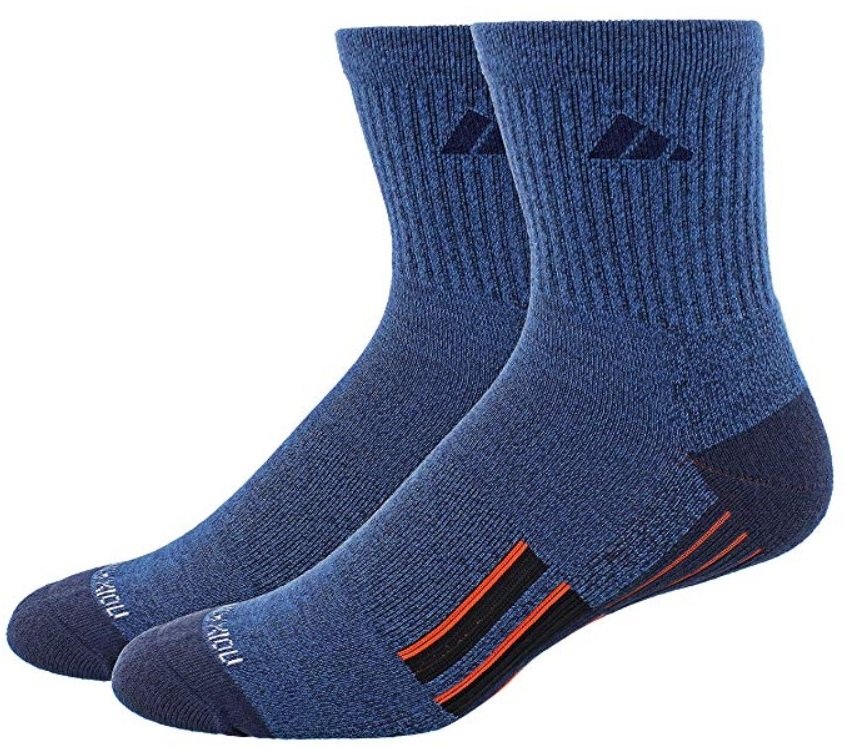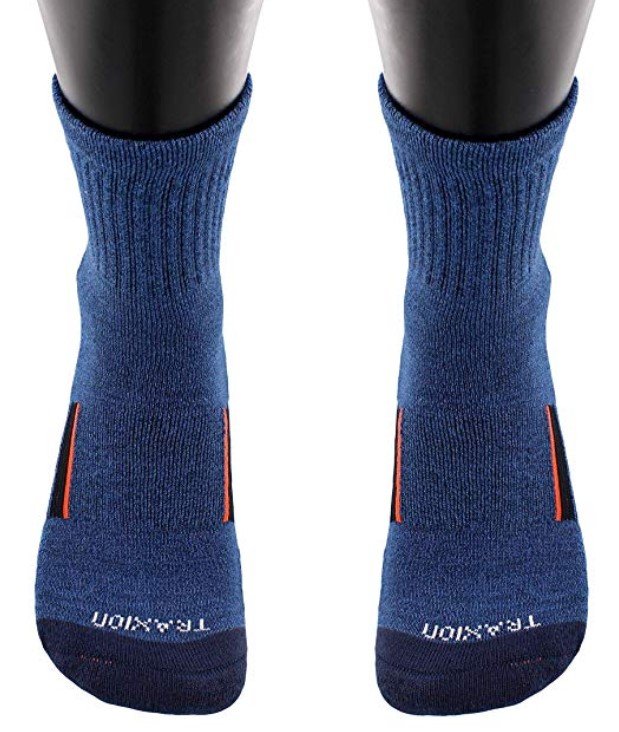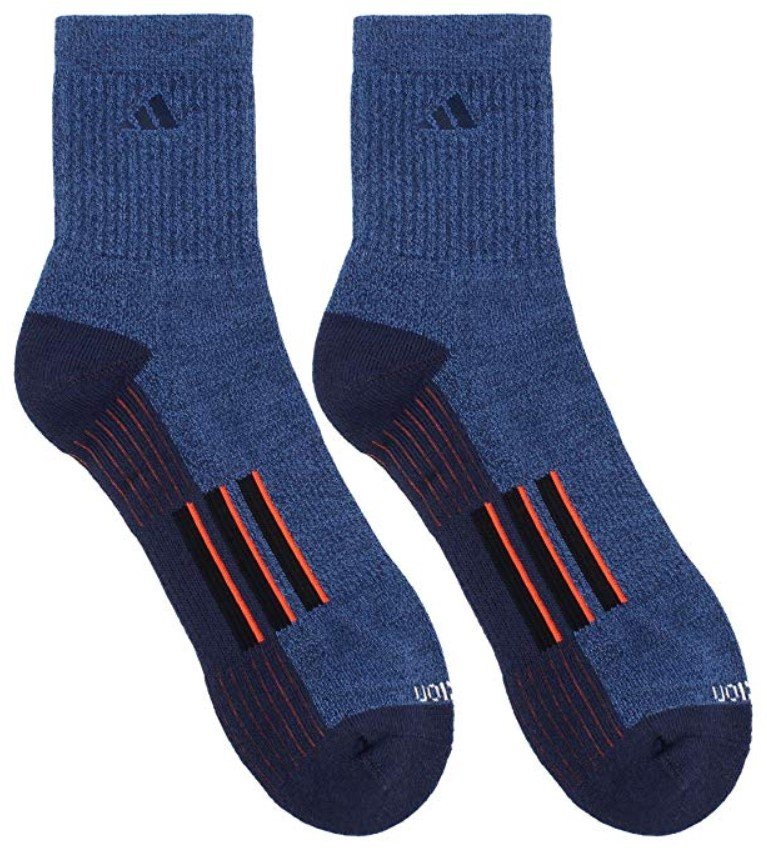 This list wouldn't be complete without an Adidas design to match the Nike one. The Climalite X II is a performance sock, one which is great for a run, for a hard workout at the gym, even for a more casual walk through the park with your dogs. It features Adidas' Climalite technology for moisture-wicking, as well as special Traxion footbeds. Climalite X II is a great all-around exercise option that you can take with you no matter what sport you want to practice.
The material make-up of the Climalite X II is micro acrylic, a denser version of regular acrylic, polyester and nylon for extreme durability and abrasion resistance. There is also spandex and natural latex rubber for elasticity and a better fit. The Climalite technology we mentioned wicks moisture away from your skin and keeps it dry and comfortable throughout the wear.
The Climalite X II has arch compression for added stability and cushioned areas for even more comfort and shock-absorption. The Traxion footbed is there for increased shock-absorption but also because it is non-slip due to special ribs knitted into it.
In terms of performance features, it doesn't get any better than the Adidas Climalite X II. It is a design meant for all athletes, and its moisture-wicking and grip technologies will keep you cool, dry, and safe on any type of terrain. If you're looking for the best pair of athletic crew socks, you've definitely found it.

8

. Nike Performance Cushion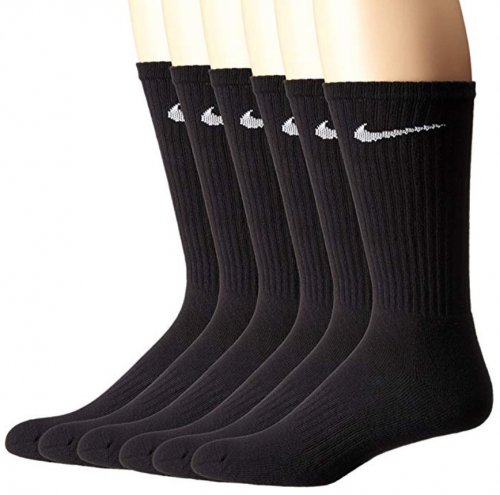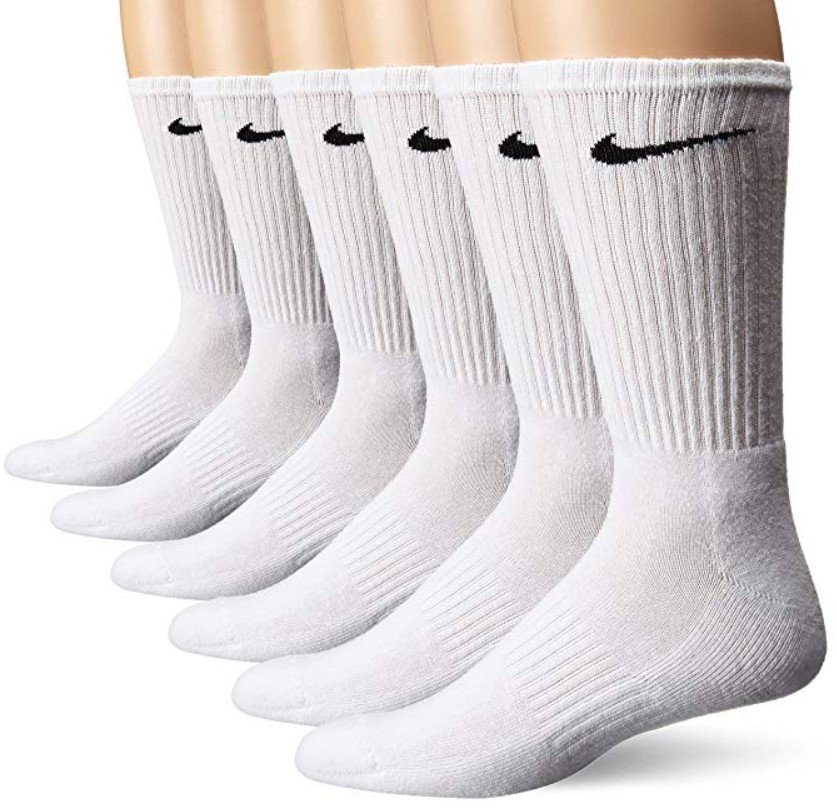 Here is finally a design that you can wear pretty much anywhere - baring the most formal of occasions. The Nike Performance Cushion is that type of a sock that you will reach for over and over again, morning after morning, because you need something comfortable and casual yet supportive that won't develop any unpleasant odors or cause you to discomfort during the day. Thanks to Nike's advanced engineering, the Performance Cushion will quickly become your go-to daily sock.
With a significant percentage of cotton, this design is amazingly soft and comfortable on the skin. It may not be ideal for sweating or exercising, but the nylon and polyester that come with the cotton offset cotton's unwanted moisture-absorbing properties. To finish off this material blend is spandex, for much-needed stretch and a secure fit.
The heel and toe areas of the Performance Cushion are reinforced to reduce wear and tear, and there is arch support in the form of a band around your foot that helps fight foot fatigue. The ribbed cuff will stay up and stay snug, no matter what you're doing or how many times you wash these socks.

Technically speaking, the Hiker from Dan Tough is not a crew but a micro-crew, a specific height that is rarely seen. As you might have guessed from its name, Hiker are hiking socks, with all of its materials and performance features geared towards an easier, more satisfying time out in nature. It contains Merino wool that is naturally antimicrobial and is great to wear in all types of seasons, whether they're hot or cold.
The Darn Tough Hiker has Merino wool that is perfect for hiking because of its moisture-wicking properties. Wool is also antimicrobial in itself, meaning you won't have to worry about any bad odors or even infections. Other materials used in the construction of the Hiker are nylon and Lycra.
There is mid-level cushioning under the foot for warmth and comfort as you take on previously unexplored terrain. The performance fit ensures the Hiker won't be slipping down, bunching or in any way causing blisters. Its fine gauge knit ensures durability and a 'put it on, forget it's on' feel, as Darn Tough says.
While it is true that the Darn Tough Hiker is a number one choice for hiking, it doesn't mean you can't wear this design in other situations as well. If you wish to be cozy and warm and dry on any type of walk or even while you're commuting to and from work, these wool socks will get the job done without question.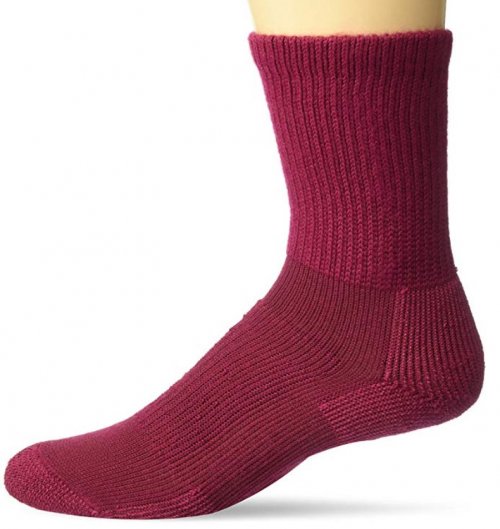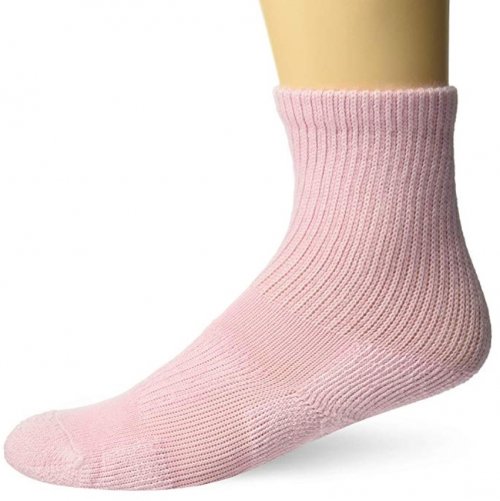 The Thorlos WX Walking is designed for feet that hurt, as the brand itself declares. If you're prone to blisters, if you're experiencing any foot pain or discomfort, then the WX Walking is an ideal choice for you. The design is meant for those who lead an active lifestyle, whether that be walking around the neighborhood or exploring the countryside - anything that is low to moderate impact.
The WX Walking is made from the brand's exclusive THOR-LON fabric. These fibers deliver superior softness, moisture-wicking and durability, as well as wear- and tear- resistance. They keep your feet dry and comfortable throughout the day. Other materials included are acrylic and stretch nylon, as well as spandex.
In terms of comfort, the WX Walking comes with cushioning in the instep and special elastic fibers in the arch to ensure a good fit, to provide support and relieve pressure while you're walking. The toe seams are low profile and won't cause any chafing. The carefully placed padding clinically reduces pain, pressure, and moisture around your feet.
You can take the Thorlos WX Walking out with you whenever you're going to be on your feet for longer periods of time. It is specifically designed to relieve pain and discomfort, and if you have sensitive feet, they will surely be grateful to you for this gentle, protective experience.

Subscribe to our Newsletter