Best Boot Dryers 2022
In a Hurry? Editors choice: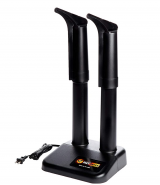 Test Winner: Peet Original

Filling your wet boots with newspaper and placing them under the radiator is an all too familiar image for many of us. Your boots will inevitably get wet at some point and newspaper is normally the go-to solution.

There is, however, a much more effective solution. Boot dryers are a great choice to help you dry your boots quickly and safely. They come in a variety of sizes, speeds, and prices. Therefore, to help you navigate through the alien world of boot dryers, we have selected some of the best options available on the market.

Picking one of the quickest and most cost-effective dryers from our list, you won't know how you lived without one! 
Standout Picks
Criteria Used for Evaluation
Effectiveness
Nobody wants to be in their dream element, only to get frustrated by how long it takes to air-dry their damp footwear and clothing items.
Being able to head out exploring with the peace of mind that comes with knowing your battered gear will dry fast and well in the time it takes for you to rest up is of paramount importance.
Another reason why fast-drying action is so desired is because of the odds of gear molding and degrading and the speed at which that happens increases exponentially with drying time. The sooner your boots are restored to their toasty goodness, the better. Many boots are multilayered and have corners that are hard to clean. If these areas aren't dealt with as soon as possible after moisture enters, they are subject to the highest risk of detriment. Using a dependable boot dryer is important for this very reason. Air drying may alleviate moisture from the open areas of boots, but it will most certainly be ineffective in reaching all affected regions.
Factors that affect drying time include how evenly heat is dispersed as well as the force with which the air is dispelled. This varies among the models included in the above list as some use warmer air and some use convection rather than motorized air release for example, but the fundamental drive to dry fast is present in all of the dryers. In user comments on all of the product pages, drying time tended to take top priority and bias the feedback of the product heavily. The most commonly seen complaints had to do with lengthy or inconsistent drying times.
Whether you live in a city that gets a lot of rain or you enjoy adventuring in the mountains, drying your favorite equipment fast should be on your mind as you search for a consumer solution. For the sake of both your comfort and the lifetime of your footwear, pick your dryer carefully and ensure that its designers had drying speed at a high value on their minds.
Safety Hazards
Many people assume that dry footwear implies clean footwear.
Unfortunately, resilient pathogens remain unaffected by the dampness of its environment, making them quite difficult to eradicate. Furthermore, they multiply at an alarming rate, so leaving your boots untreated will rapidly make a bad situation worse.
Moist boot interiors can attract all sorts of bad characters, including bacteria, viruses and just plain old mold. Bacteria can cause infection if a person is left exposed to it for long enough. Viruses result in sickness and colds. Mold releases bad chemicals that react with skin, causing irritation or in some severe cases, mild poisoning. Why risk these discomforts when a reliable shoe dryer can have your back?
The boot dryers on this list deal with sanitization in different ways, but some of the common mechanics involve UV light or the use of small amounts of chemicals. The former is a non-invasive way to clean out boot interiors in tandem with heat, while the latter is a comprehensive and time-tested disinfection method.
No matter the machine or type of footwear or garment being dried, it is important to consider the elimination of moisture and sanitization as separate issues of equal importance. It is a problem that is often glossed over by consumers in their reviews of boot drying products, simply because it is something less measurable than dryness. Don't make the same mistake as most people and save both your own health as well as that of your hallowed equipment.
Use
We're all familiar with the musty smell of most second-hand shoe stores and for good reason.
Most people probably aren't too concerned with thoroughly cleaning their footwear before shipping it off for transferred use. You, however, should be, especially seeing as you're a continual use of your gear.
This section is related to the previous one in many ways, and there is a definite correlation between the two. Odor usually comes about due to untreated sweat or the mold residue formed inside the shoe from excess moisture. Odor development doesn't necessarily depend on the intensity of footwear use. Anyone from casual walkers to hardcore mountaineers has to be wary.
That being said, odor is an enemy that acts both quietly and relatively slowly. Leaving sweat in your boots may not incur noticeable effects after a dozen uses, but after a few months, it will become apparent and extremely hard to eliminate. Regulating your footwear from the start is the wisest course of action for this very reason.
Odor doesn't just affect the well being of your footwear. It can also transfer over to your socks and even clothing, depending on how large the boots are and how their opening is shaped. A good rule of thumb is to clean your boots as regularly and properly as you do the rest of your wardrobe. Since it's impractical and harmful to put your boots through a washer and dryer every week, it's well worth the investment to grab a trusty boot dryer and deodorizer that you can use as often as you need to.
Ease of Use
Gadgets can often get out of hand, especially when there is little to no user control integrated.
It's a good feeling knowing that you have complete control over the mechanisms of the machines you use, big or small. Boot dryers aren't as complex as cars, but they still have multiple features that need to be adjustable to user needs. These mainly include heat level, drying time and drying tube shape, among other lesser significant settings.
The heat level is crucial to the drying process, as minute as it may seem. Too hot and your boot insides will get damaged or even burned. Too cold and it will take forever to dry your goods. Being able to toggle the heat level to a certain degree allows you to tailor the drying experience exactly to your needs. Are your shoes completely waterlogged? Then perhaps a higher temperature is necessary to get the job done successfully. Are they only partially damp? Then you might want to tread a little bit more carefully to ensure that they dry completely but not excessively.
Being able to time the drying process is important for similar reasons as stated in the above paragraph. Sticking your footwear on a dryer and leaving it without being able to set an alarm announcing the finished process can be downright dangerous if you wander to another room or occupy yourself with another task. Consequences ranging from damaged boot interiors to the whole setup catching fire are best left avoided. By simply implementing a timer dial, many of the top 10 shoe dryer units make your life easier and worry-free, at least in the footwear drying department.
A detachable drying tube extension is a luxury, but not a necessity. It comes in handy when dealing with footwear of odd shapes and sizes that need every one of their nooks and crannies thoroughly dried and cleaned. A few of the models on our list are proud to offer this feature. Spoiler alert: one of them is in the first place.
The last thing you should have to concern yourself with when it comes to drying boots is trust. A good dryer bypasses any doubt and places the essential features in your hands. Dry your items exactly how you want them dried.
Portability
Portability is one of those features that some users can't live without but others can.
It's of extreme importance for individuals who are always on the move. As functional and powerful as some of the large size boot dryers on this list are, they would never fit into a suitcase. A bulky dryer would generally not be worth its weight to lug around when on a trip, simply due to its specificity of use. However, for the hiker or explorer who's constantly surrounded by changing weather and elements, having a portable boot dryer is a life saver. This is where the balance of product design comes into play.
Compactness and versatility are pretty self-explanatory concepts, but there's room for elaboration thanks to some of the well designed small size products on this list. One of the downfalls of size compromise is often the lack of other essential features. A pocket-sized boot dryer would be easy to have on hand, but if its drying power was significantly weaker than its normal-sized counterparts, it would be of no use.
Luckily, the compact units presented on our list don't skimp on any of the above four essential features, namely, speed, sanitization, odor elimination, and user controls. Some of these concepts are less intricate or fleshed out as in the larger models, but justifiably so. Being on the move means rationing energy in every sense of the word, so a compact fully functional dryer that may lack a few bells and whistles will do no harm in the eyes of its target user demographic.
All in all, portability is, for the most part, a perk rather than a must-have, but for some people, it is invaluable and for that reason, it's worth mentioning.
Boot Dryer Reviews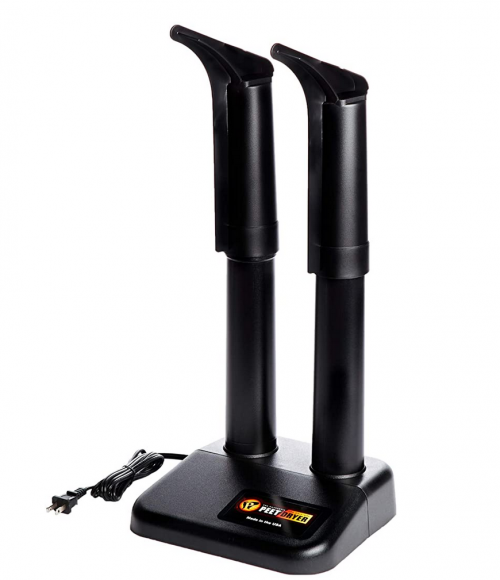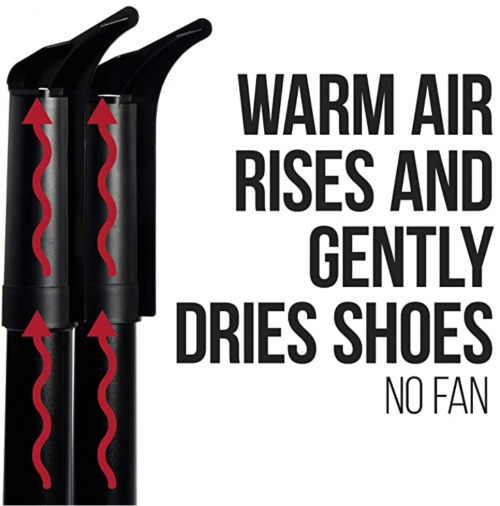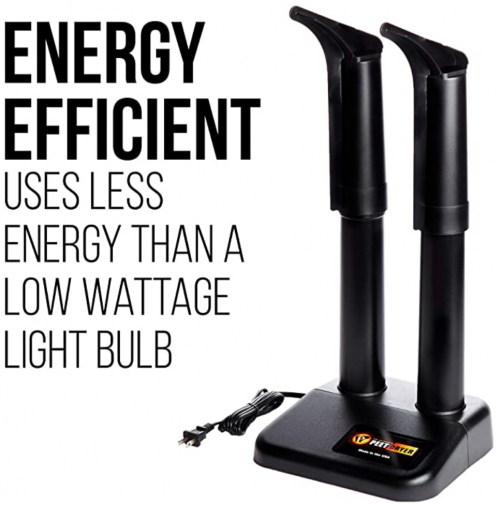 The Peet Original Two-Shoe boot dryer showed up on so many sites with positive feedback that it was impossible to not put it in first place for our list as well. Taking the role of the ultimate multitasker, this boot dryer truly does it all, from drying to deodorizing shoes. That being said, it doesn't brag useless features that do little except hike up the unit cost. It's the ultimate bang for your buck.
Drying your wet gear is only half the battle. Moisture often causes nasty odors to build up that are nearly impossible to remove. Good thing the Peet Original Two-Shoe can take care of that with ease.
Mildew is a true enemy to the preservation of your favorite boots. Five hours subject to this boot dryer, however, and that green force of decay is wiped out. All using just the amount of electricity in a typical light bulb.
At its very fair price point, it's hard to argue against the value of this boot dryer. It exceeds expectations in all facets and does so with complete affordability.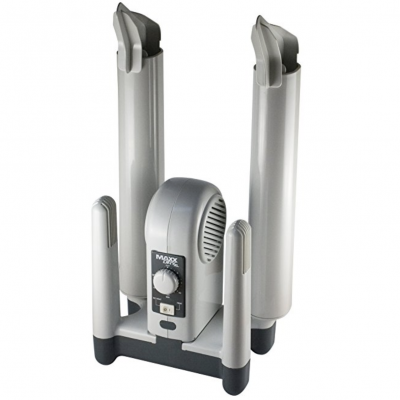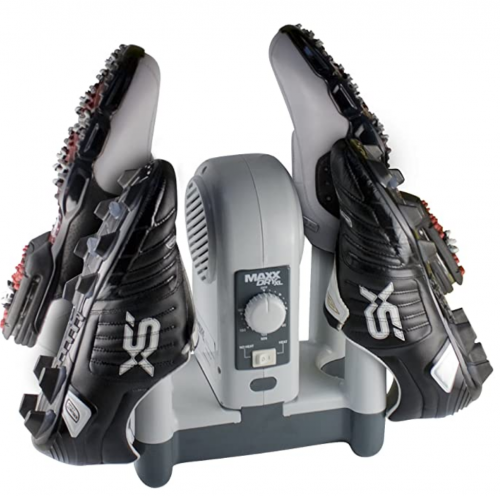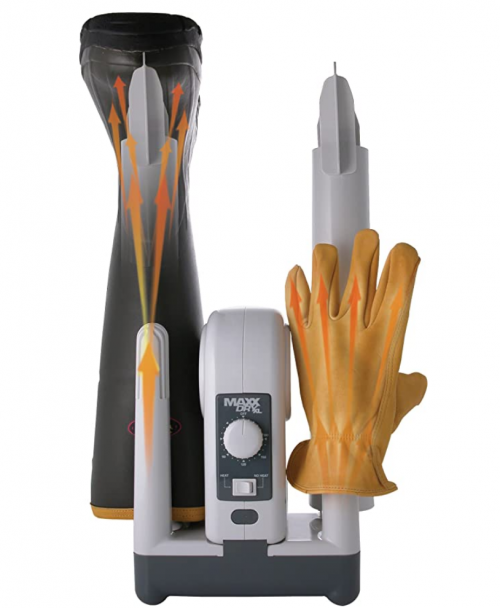 This behemoth of a shoe dryer truly lives up to its appearance. Able to dry up to a whopping four any-size garments (boots too of course), it can take care of all of your drying needs simultaneously. It runs quietly in the background as it eliminates moisture, odor, and bacteria in only one hour. Its extendable ventilation tubes offer great versatility for a truly tailored drying experience.
The ball bearing motor used in this model is a true champ. It's rated at 80,000 hours of performance meaning it might even outlast your boots. It's also quiet as a mouse, so running the MaxxDry XL at night can be done worry free.
This dryer will get its job done in half the time of a typical movie, and not in a half-hearted way either. The MaxxDry XL will cut all odor and bacteria out of your damp shoes and/or clothing without question.
This comes in at a bit of a higher price than some of the smaller boot dryers on the list, but for good reason. Paying a bit more for heavy duty gear that multitasks wonderfully is worth it for those who brave the elements on the regular.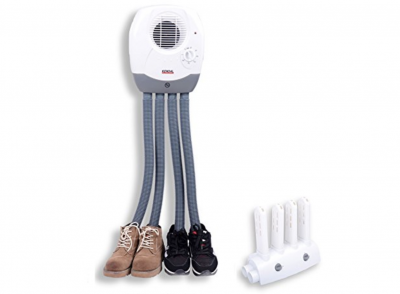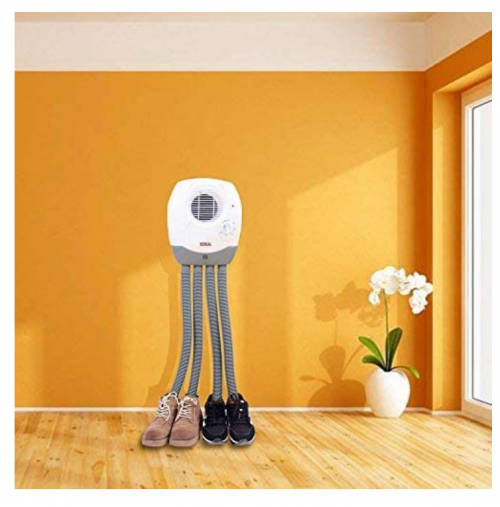 It's not an octopus, but its many arms work just as fast and efficiently as one. This boot dryer's claim to fame is speed. Working on up to four pieces of footwear in just half an hour, this lightweight juggernaut will clear out bacteria and moisture, effectively sterilizing any object subjected to its drying power. Rinse, dry, repeat.
The Kendal SI-SD06G doesn't just dry out boots, it makes them smell good. Aroma-active carbon absorbs all unwanted odors and bacteria, making your boots look as good as new when all is said and done.
This boot dryer and shoe deodorizer is certainly portable given its slim profile and lightweight (3.5lb), but should the user want it incorporated into their home or garage, a wall mount kit is included for even more customization of use.
This unit is a bit pricier than the other portable boot dryers on this list, but given its four-shoe multitasking ability and quick turnaround time, all is justified.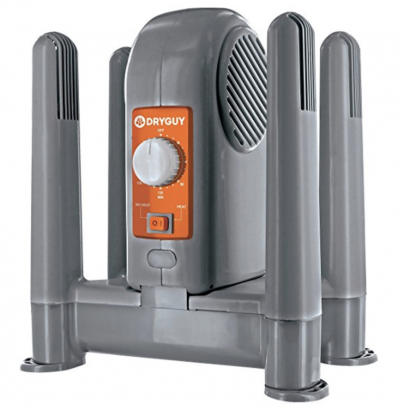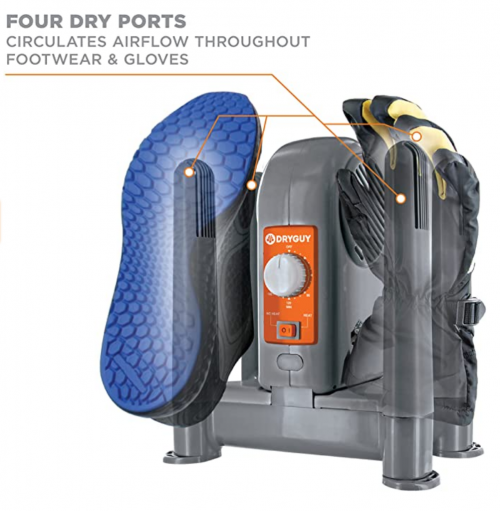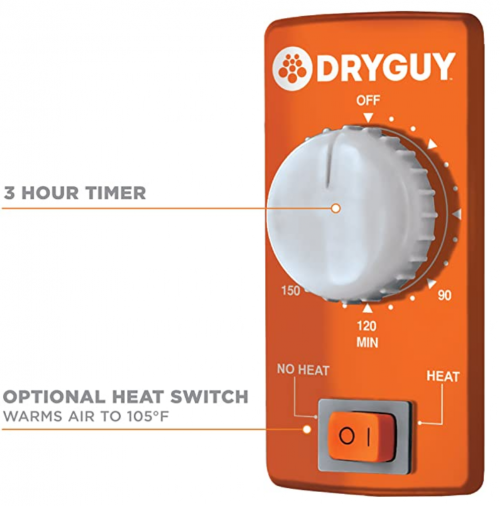 Similar to the MaxxDry XL, this unit is a gentle giant that works as hard as you play. Taking a bit of a different shape and packing slightly different features than the MaxxDry, it nonetheless gets the essentials done including simultaneous drying of four shoes/garments in record time. Extension tubes are present for those with strangely shaped boots and a timer is on the unit to let the user know when they can go play outside again.
The rotary blower used in the DryGuy DX is seriously quiet. So quiet in fact that the DryGuy has a built-in timer to remind you that your stuff was actually drying and that it's now finished.
This unit heats to a nice 105 degrees Fahrenheit which is warm enough to get the job done in one to two hours, but not so hot that it damages any fabric. Happy mediums don't get happier.
Compared to similar items like the MaxxDry, it falls in the same price bracket which is totally fair. The DryGuy gets the job done fast, well and covertly.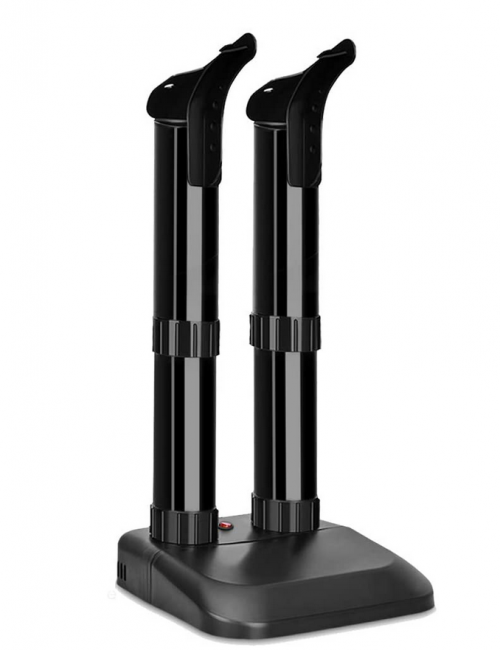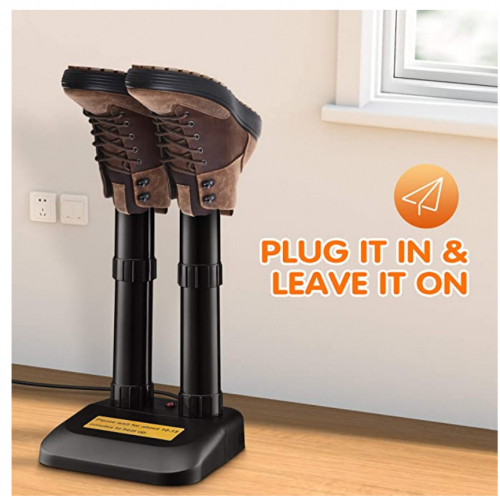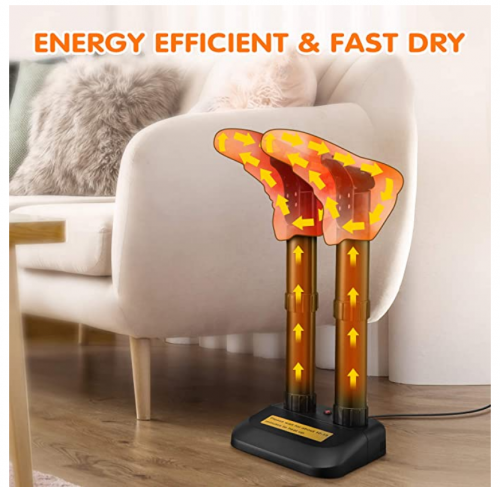 Known best for its fast and silent drying features, you will wonder why you did not buy the Air Choice option sooner! When plugged into a standard 120V household electrical outlet, this dryer will produce thermal convection air drying your boots in no time at all. One of the benefits of this dryer is that it has no motor so operates extremely quietly; you may even forget it's on.
The dryer consumes very little electricity. It has been carefully designed so it protects your belongings and does not overheat. It features a 45-degree adjustable setting and has detachable tubes.
Whether you want to dry your sneakers, leather boots, or slippers, or even winter gloves, this foot dryer is designed to be extremely versatile and accommodating to your needs. As well as ensuring your boots are dry, it eliminates odors and dampness. The dryer releases just the right amount of heat, preventing any build-up of bacteria which can result in the damp. 
Sold for a mid-price, this dryer may be a little high for some budgets, however, we think it is a great investment piece that will be used over and over again.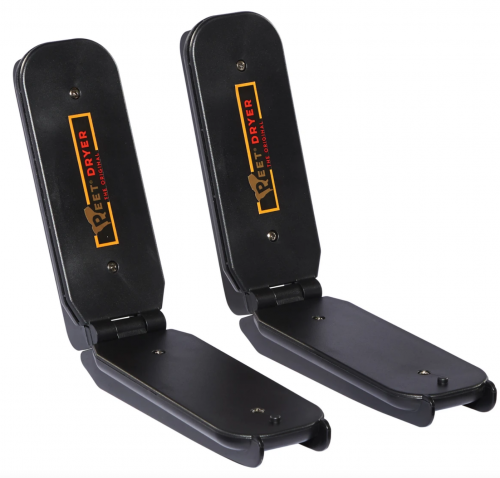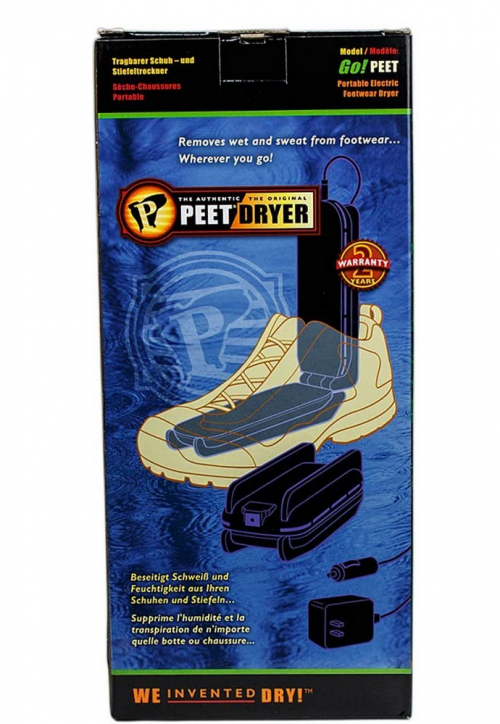 If you enjoy exploring the outdoors and require a convenient and eco-friendly portable boot dryer, this option may be exactly what you have been looking for! The PEET Portable 2-shoe electric dryer comes with a 12V car adapter, allowing you to power the dryer from your car.
The portable boot dryer comes with a travel carrying pouch, making it super convenient to throw in the back of your car and keep safe. With the ability to dry your boots between 3 – 8 hours, this electric shoe dryer uses less electricity than a standard light bulb. 
It has been designed to safely dry a variety of materials including rubber, canvas, leather, neoprene, vinyl, fleece, microfiber, synthetics and felt.
Available for a higher price, this option may not be suitable for everyone; however, if you need something to dry your boots when camping or hiking, this is a great solution. Keep in mind that the dryer comes with a 2-year warranty when registered within 10 days of purchase.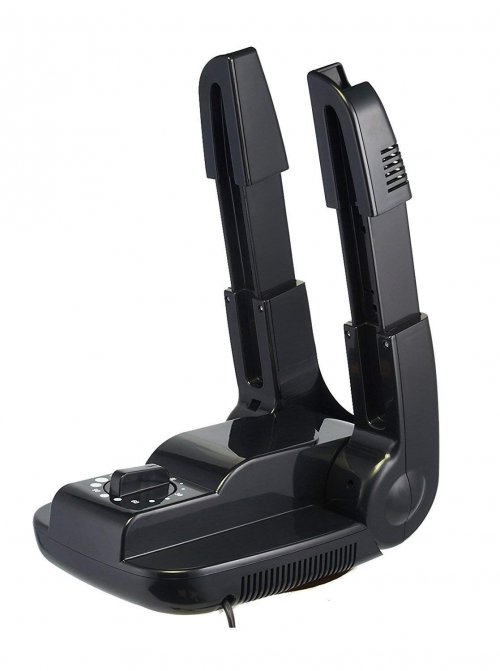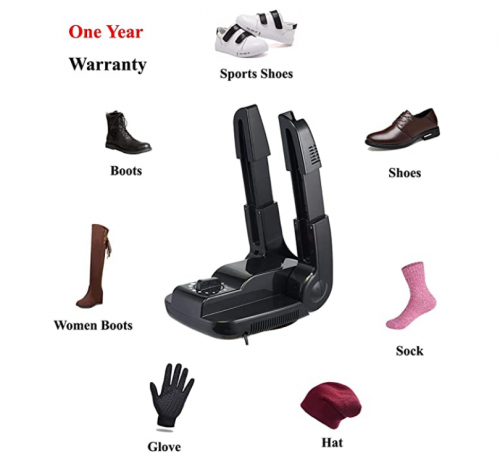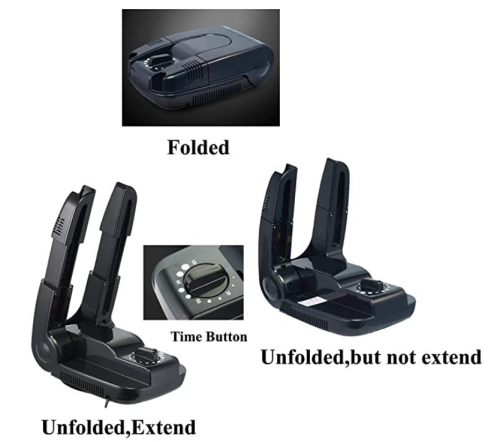 This versatile boot drying station can dry your boots, warm them up, and deodorize for great functionality at a reasonable price. You can use it for a number of other accessories as well, making it a very useful, multi-purpose dryer. This dryer helps to make your shoes last longer and smell better by reducing the smell that is caused by moisture in the boot or shoe.
Water and perspiration feed bacteria and mold which in turn create foul smells that are taken care of if you get the boot dry quickly and thoroughly enough.
The dryer can handle boots, shoes, gloves, skates, socks, hats, scarves and other items that get wet in the weather and need a dry out. It is also gentle and effective on rubber, leather, and synthetics.
Definitely in the lower range of the prices on our list, this option is a real bargain. It is a quiet, efficient and versatile machine that you won't regret having, especially during winter and rainy springs.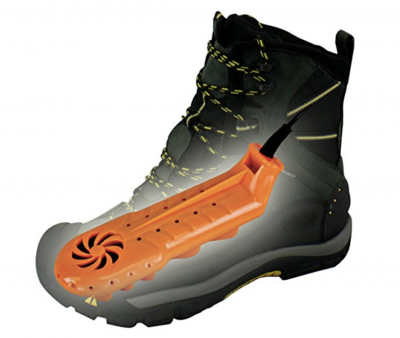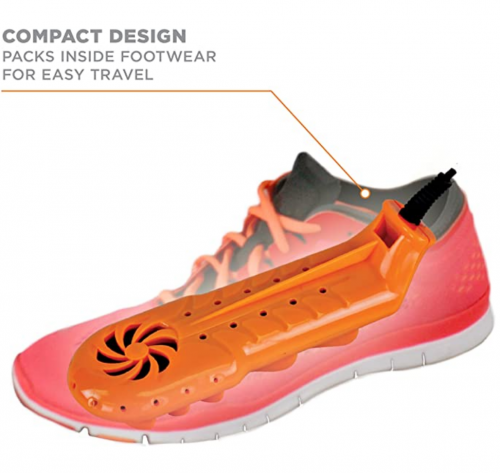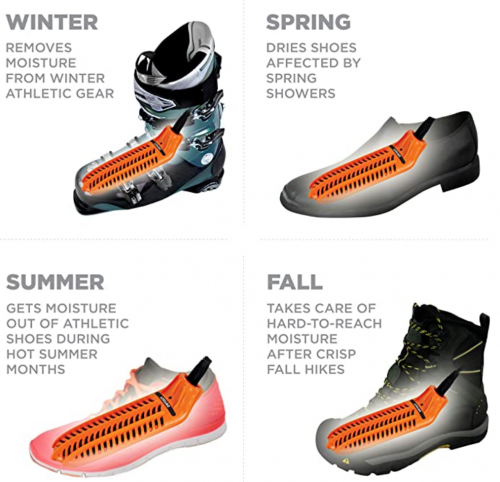 The DryGuy Travel boot dryer does best what its name advertises: it saves boots during road trip traveling. This is the portable shoe dryer you want with you when things get messy on the road and you're far from home. Driving in wet boots is horrible, but what's worse is the realization that your boots will still be soggy the next morning.
Save your vacation by letting this boot dryer work its no-nonsense magic on your beaten-up boots, all within the confines of your vehicle.
Just like the Peet Go! option, the DryGuy Travel comes with an AC/DC car adapter for use on the road. You're not going to be wearing your wet boots while you drive anyway, so why not restore them instead of letting them mold.
Forced air and convection work side by side in this compact machine to make sure your footwear gets the best of both drying worlds. This drying system is fully functional but still goes easy on the insides of your boots to make sure no damages are incurred.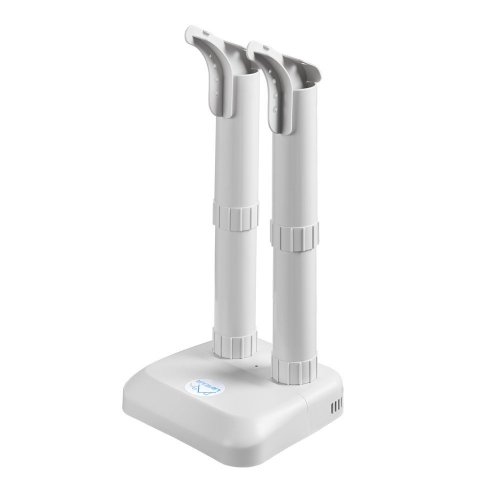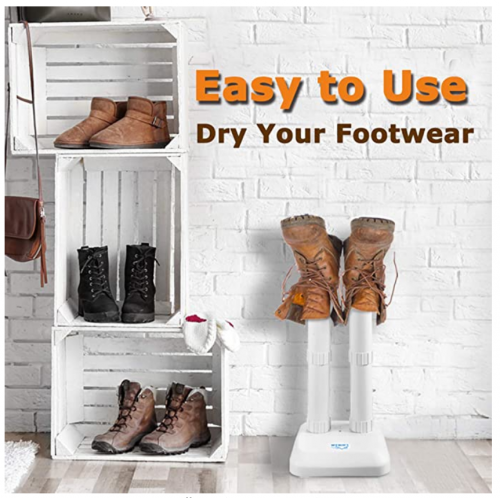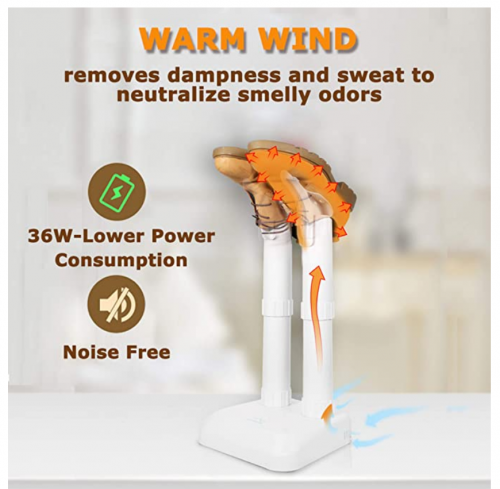 This is a reliable shoe dryer that can handle a number of materials and comes with a reasonable warranty for the price. It is also pretty quiet and a gentle, deodorizing drier. It absorbs all unpleasant odors and makes your shoes smell lovely and fresh. Using this dryer, your shoes will dry in just a few short hours so you will not have to wait long for results. 
The Lavieair dryer is backed by a 2-year warranty and even though the price is very affordable, that should give people some assurance that in the event it stops working, it will be taken care of.
The dryer is very quiet. It gently heats the boot, shoe, skate or other items you place on it without a noisy fan. This does mean that your boots will dry a little slower but the lack of noise is a plus for most users.
This dryer is in the bottom range of prices making it very affordable. The warranty backing is a plus for the price, as is the fact that it operates silently and can handle almost any material for drying.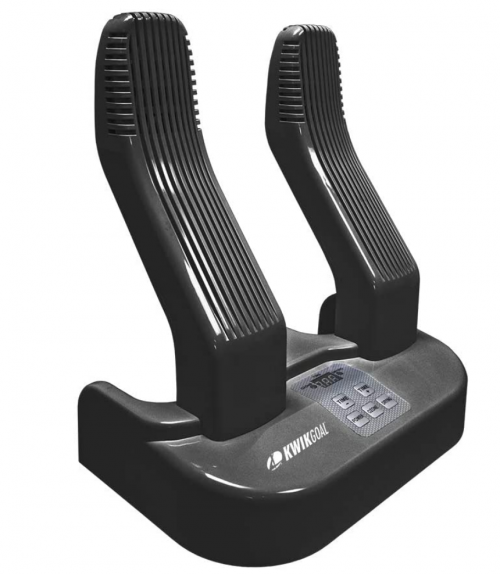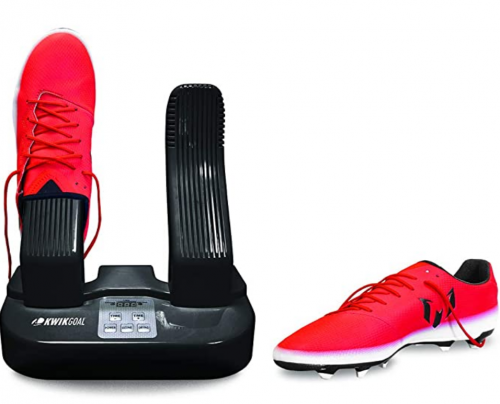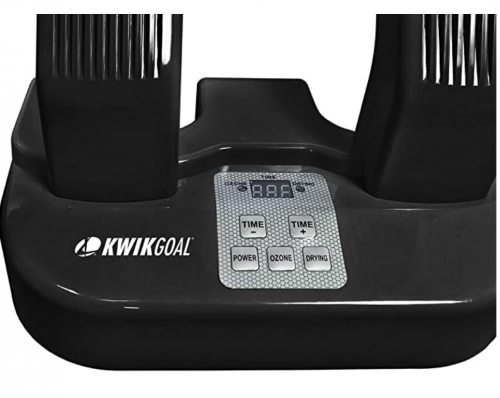 This lightweight and compact Kwik dryer is ideal for use on the go and fits perfectly in small compact spaces like gym lockers or car boots. Great for athletes and running shoes, the Kwik option features an odor-fighting ozone setting that works by removing odors and sweat from your shoes.
The dryer also has an antibacterial UV light that works by reducing the growth of odor caused by the build-up of bacteria. This dryer is particularly useful for athletes who have smelly sneakers. 
To work, the dryer needs to be plugged into a standard household outlet. The compact dryer can also run off a 12V DC car port plug so is great if you need to use it when you are out in your car.
It weighs approximately 4.0lbs and features a control panel that has an LCD and timer. Priced at a mid-price, this is a great buy, not to be missed. 

Subscribe to our Newsletter